Hiking in winter. Don't you love it – the quieter trails, the satisfying crunch of snow under your feet, the stark contrast between the blanket of white below and the bluebird skies above?
However, snow-covered trails can be challenging to navigate, and downright dangerous to hike without the right traction devices on your feet.
To stay upright in snowy and icy terrain, you'll either need crampons, or their less gnarly cousin microspikes. Many use the terms as synonyms. However, they are different and have specific intended uses. Both will give you extra traction in winter conditions, but that's pretty much where the similarity between the two ends.
In this post, we aim to cast a little extra light on the debate. We'll start by providing a brief overview of each device and how it's used. After that, we'll delve into the conditions and circumstances in which you should opt for one over the other.
Winter Traction Devices Explained
What are Crampons?
Crampons are winter traction devices with a stiff frame and sharp 'teeth' that provide aggressive traction that allows you to move confidently on slick, slippery surfaces.
They are designed for ice climbing, mountaineering, and technical hiking. If what you're doing involves climbing with an ice ax, you want crampons on your feet while doing it. They give a deeper bite than other winter traction devices and can be used to climb frozen waterfalls, vertical ice, steep icy slopes, and steep snow slopes, or to travel in glaciated terrain.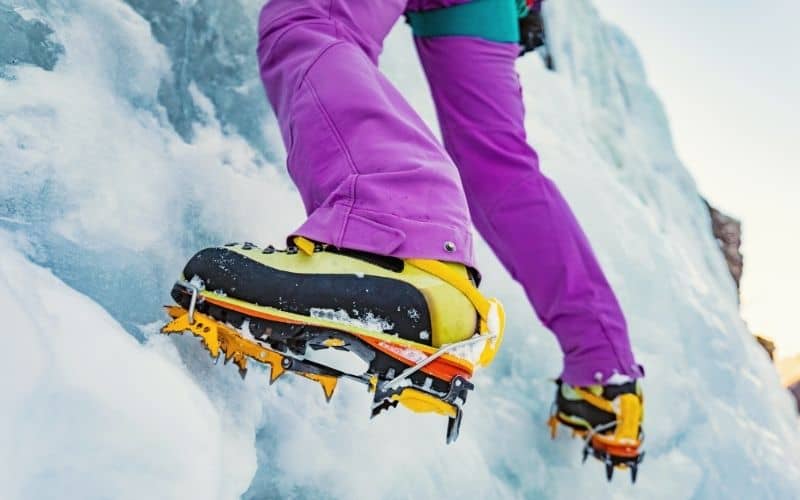 Crampons, however, require training to use properly. At an absolute minimum, we recommend spending a few hours learning the French technique (flat foot), German technique (front-pointing), and American technique (hybrid) before heading for the hills.
Most crampons have thick straps, foot frames, bindings specific to certain boots, and 6-14 Chromoly steel crampons (spikes or points). You will, however, have to choose the right crampons for the type of boot you plan to use.
Pros
Traction on steep terrain

Aggressive spikes can grip the ice

Necessary on steep, ice-covered rock
Cons
Don't work with flexible hiking boots

Harder to walk on flat surfaces

Requires training in various techniques
What are Microspikes?
Microspikes are best thought of as the smaller, less badass cousin of regular crampons.
Microspikes are small, corrosion-resistant spikes embedded in a rubber sole that you can slip over any type of boots (or even trail running shoes) to give you more traction on snow and ice.
Unlike crampons, microspikes allow you to use your natural walking gait, so they're much easier to use and no specific technique is required.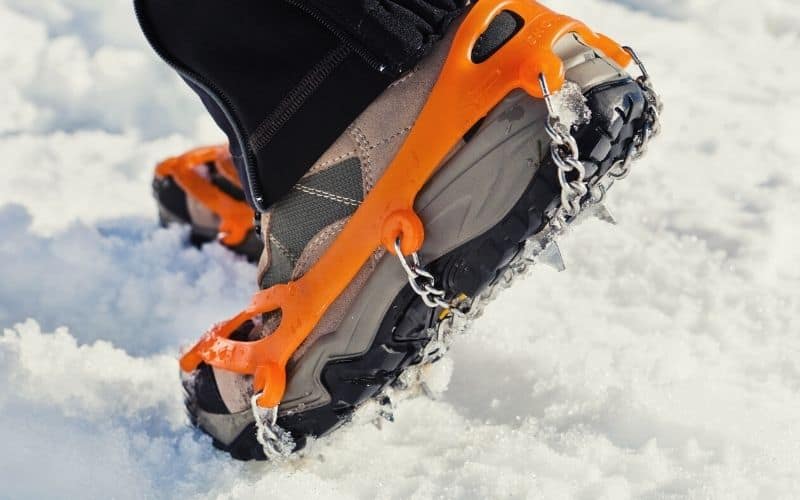 The spikes on microspikes aren't long (usually ¼ or ½ an inch), so they work best on flat terrain and moderate snowy conditions (hard snow and packed snow), but they won't suffice for hiking on steep trails or mountaineering. Because their short spikes mean they're less likely to snag, they're a better option for trail runners or hiking on thin snow and ice.
Pros
Can be worn with any footwear
Light and packable
Better for trail running
Better for flat terrain or thin ice
Cons
Not great traction on steep terrain
What are Snowshoes?
Snowshoes are large flotation devices you attach to your feet to prevent you from sinking in the white stuff.
Snowshoes are best for fresh powder and deeper snow because their large footprint increases the surface area of your feet, which helps to prevent post-holing. Most snowshoes also have serrated edges and cleats that provide additional traction in icy conditions.
You can wear any hiking boots with snowshoes, but we like to use ankle-height winter boots and gaiters to prevent the white stuff from sneaking in at the cuff of our boots.
Pros
Ideal in powdery or deep snow
Prevent post-holing
Spikes provide traction on hard snow and ice
Cons
Big and cumbersome when not in use
Difficult to walk in
Not ideal on ice or steep ground
Crampons Vs Microspikes: Where and When Each Type of Winter Traction is Needed
The easiest way to determine which type of traction device you need is by considering the conditions you'll be using them in and the steepness of the terrain.
Conditions Underfoot
Microspikes and crampons both work great in crunchy, frozen snow and on hard ice.
Microspikes work best in shallow and packed snow or ice. If you aren't the first out on a trail after a fresh snowfall, microspikes are all you'll likely need for winter traction. In these conditions, the long spikes on crampons, on the other hand, could potentially reach through the snow and snag on things, which could lead to a trip or fall, or a twisted knee or ankle.
On thick, hard ice, crampons work better because the spikes will sink deeper into the ice and feel super solid. Microspikes will give you added traction on ice, but the small and blunt spikes won't dig into it quite so well.
In powdery conditions, neither microspikes nor crampons will help you much. In these conditions, you're more concerned about sinking than slipping, so – unless you're in very steep alpine terrain – snowshoes are the best option.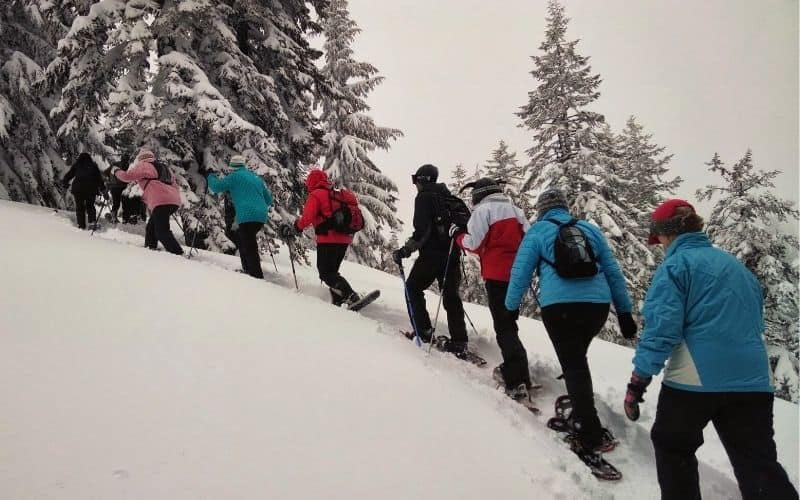 Aspect of Slope
This is perhaps the easiest way to differentiate between the appropriate usage of each type of traction device.
In a nutshell, microspikes work best on flatter terrain, while crampons work best on steeper slopes.
If what you're climbing is consistently higher than a 20-25% percent gradient, you should be using crampons. The long spikes allow your foot to dig into the sloped surface and be sure of every step, while the toe spikes help on steep slopes as this is the part of your foot making contact with the ground.
Microspikes, on the other hand, work best on flatter terrain and low-angle slopes with about a 15% gradient at the steepest. Because the spikes are so short, and there are no front points, they won't provide the necessary traction or grip to prevent slips when things are any more vertical.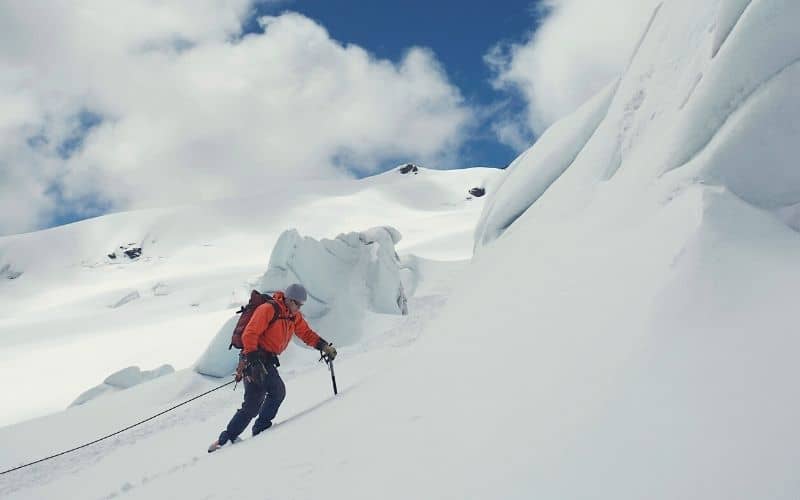 Here's the bottom line: crampons are best for climbing; microspikes are best for walking. There is some crossover between the things you can do in both, such as walking moderate uphills in icy conditions. Generally, however, if you plan on walking rather than climbing, microspikes will work best. If climbing's on the cards, crampons are what you want.
The Verdict
As you have seen, there is some overlap between the conditions and circumstances in which you can use crampons vs microspikes. However, the bottom line is that this overlap is far smaller than many people are apt to imagine.
In a few words, crampons should be your go-to if you plan on tackling steeper slopes or ice-covered terrain, but microspikes will serve you better on flat ground or low-angled slopes, and when there's only a thin covering of snow or ice.
Have something else to add? Leave us a comment below! And, as always, feel free to share this post with your friends!