Don't get too liquored up on moonshine right when you get to Gatlinburg, there's hiking to be done!
Gatlinburg is the gateway to Great Smoky Mountains National Park, where you'll have access to over 850 miles of awesome hiking trails. And the best bit? Every mile here is unique.
We put together this helpful guide to find the perfect hike in the Great Smoky Mountains for you and your friends or family.
1. Trillium Gap Trail to Grotto Falls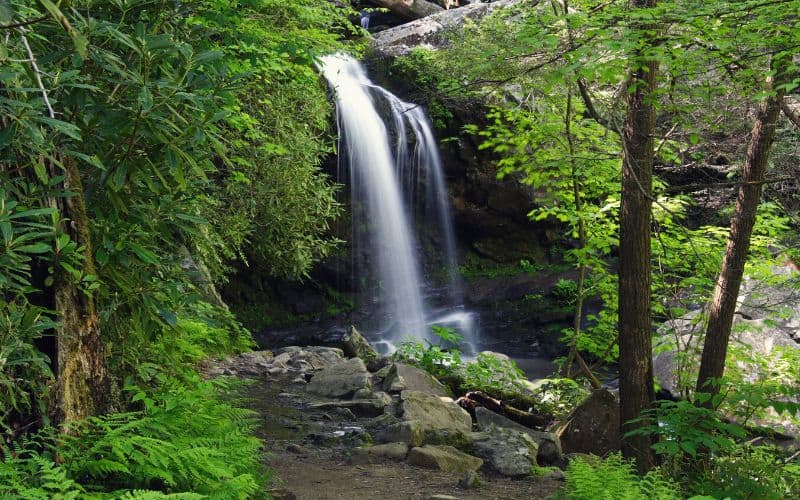 2.6 miles
Elevation: 585 Feet
Difficulty: Moderate
Type: Out-and-back
This waterfall hike to Grotto Falls is very popular, and with good reason. You'll walk through forests of old-growth hemlock and beautiful wildflowers on your way to the falls.
Grotto Falls is 25 feet of stunning waterfall. And, a trail passes through a grotto behind the waterfall. You'll get wet here, but it's worth it. There are some good rocks on the other side to sit on and enjoy the scenery. There's a smaller waterfall nearby with a swimming hole, too, so you can take a dip and cool off when hiking in summer!
There is only a small parking lot at the trailhead. So, arrive early to get a spot or come late in the day to catch the sunset.
The hiking trail is well-maintained, though you will find some big exposed roots. Elevation gain isn't too crazy, but be sure to set aside around 3 hours to complete the hike.
RELATED READING: Fore more outdoor adventure check out our guides to other Tennessee Hiking Trails.
2. Laurel Falls Trail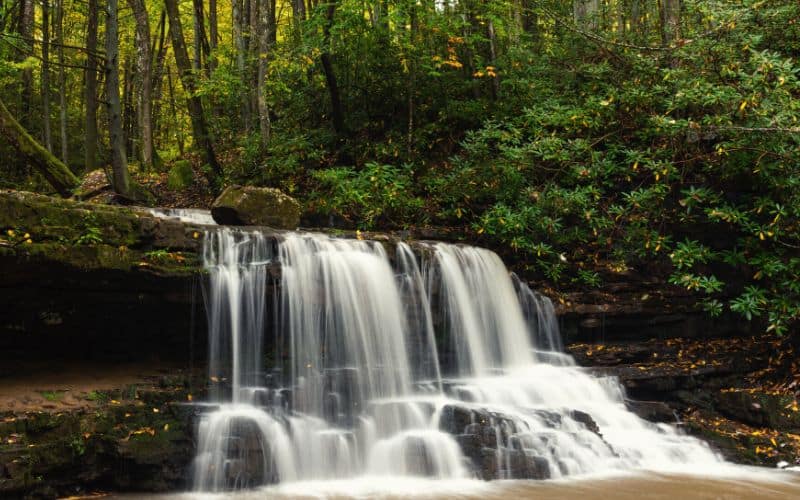 2.5 miles
Elevation: 396 feet
Difficulty: Easy
Type: Out-and-back
This is perhaps the most photographed waterfall in the park. This may be because it's so accessible, but more likely because of the sheer beauty of the cascading, 80-foot falls you pass along the way.
The route climbs past the falls to the summit of Cove Mountain, where you'll find the Cove Mountain fire tower, which offers great views of the surrounding forest.
While this is a family-friendly, paved hiking trail, the paving is cracked and chunky in sections, so isn't ideal for strollers or wheelchairs.
3. Abrams Falls Trail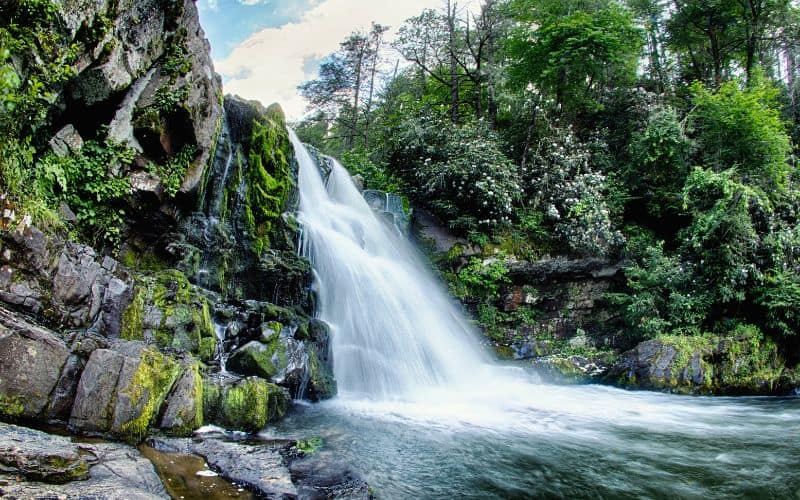 5.5 miles
Elevation: 629 feet
Difficulty: Moderate
Type: Out-and-back
Abrams Falls has the highest volume of water falling in Great Smoky Mountains National Park, and the deepest pool at the bottom. Even though this waterfall is only 20 feet high, it's a wonder to behold.
This is a classic hike in the Smokies. The route follows Abrams Creek and is well-maintained, with some exposed roots and rocks. But, there isn't much climbing to struggle with. You'll pass through Oak, Pine, and Hemlock forests. There's lots of moss and rhododendron flowers are everywhere to be seen.
There is a nice sandy area to kick back and ogle the waterfall from. Even though it looks inviting, don't be tempted to swim here. This is a lot of water and the currents are strong.
4. Porters Creek Trail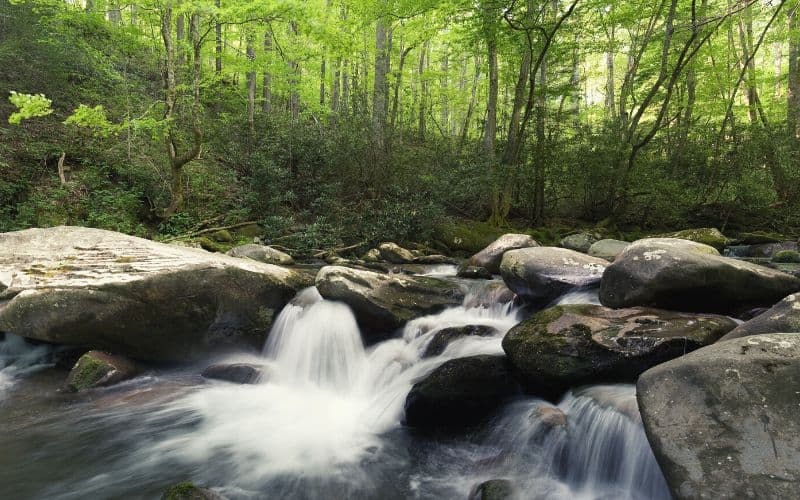 7 miles
Elevation: 1,512 feet
Difficulty: Moderate
Type: Out-and-back
Porters Creek is located in the Greenbrier section of Great Smoky Mountains National Park, a less busy part of the park. Another family-friendly hike, this starts on a wide gravel path through dense woods.
You'll pass John Messer's cantilever barn and Historic farm site, which has been around since 1875. Just past this you'll find the Smoky Mountain Hiking Club cabin, which was built in 1934. After these historic cabins, the gravel path ends. Take the left trail for a mellow ascent along a creek to the waterfall.
Close to the end of this hiking trail is Fern Branch Falls. This one is 60 feet tall and a good place for a swim. It's on a spur path and can be easy to miss, so keep an eye out for it. In spring there's great wildflower viewing here, too.
5. Cataract Falls Trail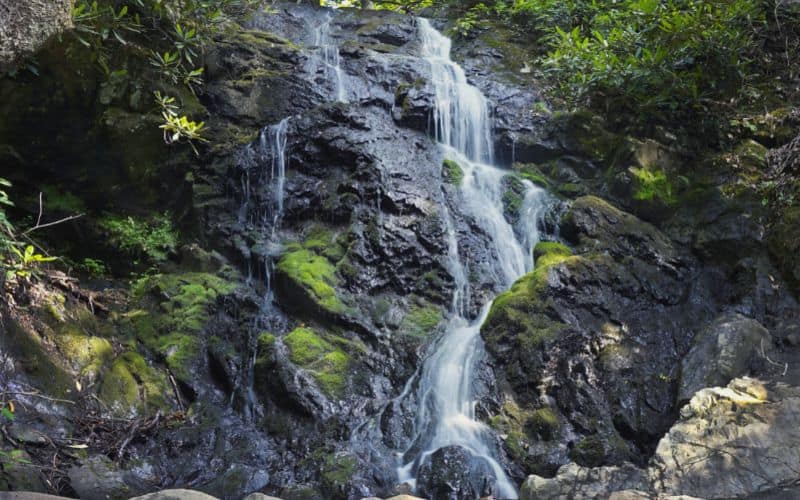 1.1 miles
Elevation: 29 feet
Difficulty: Easy
Type: Out-and-back
On this short hike to Cataract Falls, you'll experience a mixed bag of surfaces and terrain: cement, asphalt, a boardwalk-style path, and packed dirt. There is also a shorter, wheelchair-accessible route to the Falls from the same trailhead, where you'll also find benches and picnic tables for a pre- or post-hike lunch.
This is one of the more popular hikes and is great for kids. It follows a creek through old-growth forest on the way to the falls. Cataract Falls isn't a big waterfall by Great Smoky standards, but it's still very pretty and worth the short trip.
6. Cades Cove Loop Nature Trail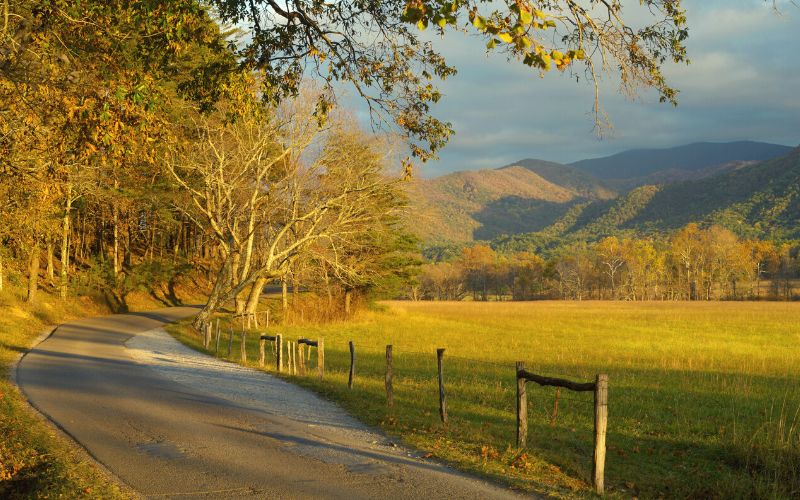 10.3 miles
Elevation: 2,700 feet
Difficulty: Moderate
Type: Loop
Skip sitting in traffic on the driving loop and do this beautiful hike instead. This goes through dense forest most of the way, crossing several creeks and passing an old cabin and several small waterfalls on the way. You might even see a black bear along the way!
You'll get some spectacular views at the top of the climb, too, and will probably forget you're in a busy National Park. The going can be quite muddy, so good footwear is recommended.
7. Ramsey Cascades Trail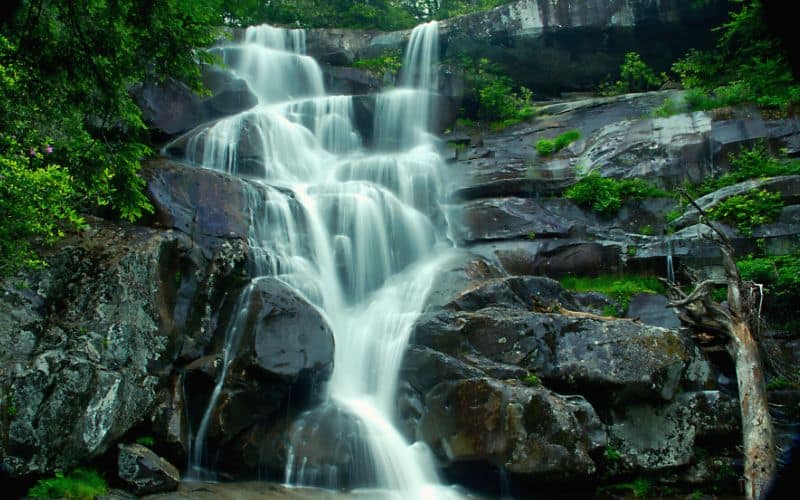 8.1 miles
Elevation: 2,224 feet
Difficulty: Challenging
Type: Out-and-back
At over 100 feet, Ramsey Cascades is the tallest waterfall in Great Smoky Mountains National Park! This hike is right next to Mt. Guyot, the second highest mountain in the Park.
You'll follow an old gravel road for the first couple of miles, then the way becomes narrower as you walk through old-growth forests of tulip, silverbells, yellow birch, and basswood trees. In the last mile, things start to get very steep, and you might consider this part less hiking and more boulder climbing. The take-home: take care!
Tip: Look out for Salamanders in the pools at the bottom of the falls!
8. Andrews Bald Trail via Forney Ridge Trail
3.6 miles
Elevation: 875 feet
Difficulty: Moderate
Type: Out-and-back
This popular hike goes from the Clingman's Dome parking lot to Andrews Bald. Since Andrews is so bald, you'll have great views of the Smokies up there, including the southern part of the park and Fontana Lake.
Expect to find a very busy parking lot at Clingman's Dome, an observation tower, which is well worth visiting at the end of your trip. Try to time it so you get back for the sunset, when the views are extra-special.
9. Mount LeConte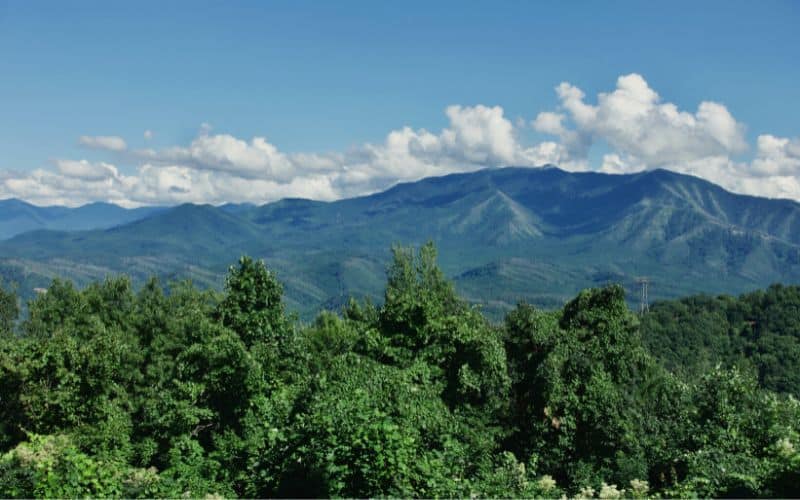 Length: Varies
Elevation at the peak: 6,593 feet
Difficulty: Moderate-Challenging
Type: Varies
Mount LeConte is the third tallest peak in Great Smokies National Park, reaching an elevation of 6,593 feet. There are 6 trails you can take to the summit of Mt. LeConte.
You can expect a challenge no matter which way you go. Whatever you choose, you'll get all the highlights of the Smokies in one hike.
From the top, there are panoramic views in every direction. Cool rock features are everywhere on the way up this mountain, too.
The LeConte Lodge is also up here (at 6,590 feet!). You can make reservations to stay the night or call ahead to reserve a spot for lunch on a day hike.
None of these are easy trails, but they all lead to the highest point on Mount LeConte. Each involves about 4000 feet of elevation gain:
Alum Cave Trail (see below) is 5.4 miles and is the shortest and steepest.
Boulevard Trail is 9 miles, takes the Appalachian Trail for a stretch, and is beautiful each step of the way.
Bullhead Trail is 6.9 miles and probably the hottest, most exposed route. But, it has great views.
Rainbow Falls Trail is 6.5 miles and features a gorgeous waterfall halfway up.
Trillium Gap is 8.9 miles, goes by Grotto Falls, and is less consistently steep.
Brushy Mountain Trail is 9.1 miles and has over 3,000 feet of elevation gain, so ain't for the weak of calf or quad!
10. Alum Cave Trail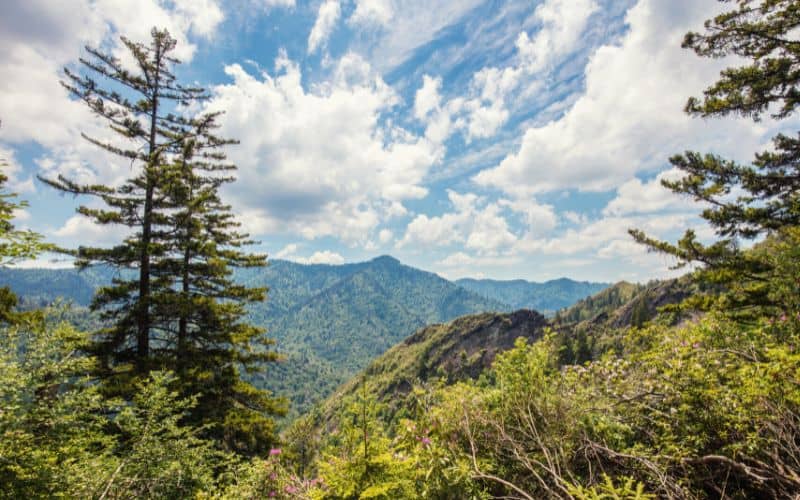 4.6 miles
Elevation: 2,600 feet
Difficulty: Moderate
Type: Out-and-back
This is the most popular way to the top of Mt. LeConte. However, you don't have to go all the way to the top. Instead, take a short hike to the concave bluff that is Alum Cave. Here you'll see some orange clay rocks reminiscent of Utah, all the way out east!
Before you get to the bluff, you pass under Arch Rock, a very cool rock formation. Then, stop at Inspiration Point and take in the views. Shortly after that you'll get to Alum Cave, where further great views await from the top of the cave.
11. Baskins Creek Falls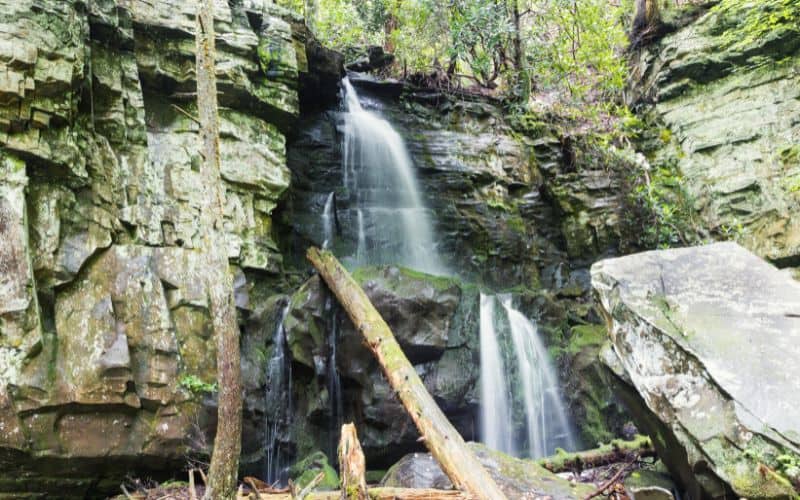 3.1 miles
Elevation: 912 feet
Difficulty: Moderate
Type: Out-and-back
This hike starts just outside Gatlinburg city limits and serves up awesome views of the Smokies and Gatlinburg from the top.
From the trail's highpoint, you'll follow a small stream downhill, before coming to a steep, downhill scramble leading to Baskins Falls, a 2-tiered, 40-foot waterfall. You can climb up next to the waterfall on the first tier, too, to take some really cool pictures.
On the way back, check out the side trail to the old cemetery for a spooky detour.
12. Rainbow Falls Trail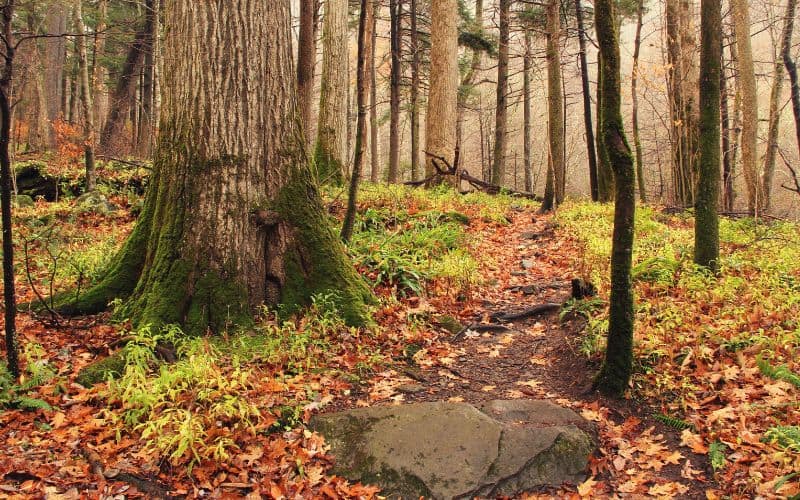 5.1 miles
Elevation: 1,617 feet
Difficulty: Moderate
Type: Out-and-back
Rainbow Falls is the second tallest waterfall in the Smokies. If you hike this moderate trail in the morning, when the light is hitting the water, you'll see rainbows in the mist spraying outward from the 80-foot falls.
This trail can be rough in spots and pretty rocky. Part of it also goes across a boulder field and the rocks around the falls can be slick with water and algae, so take care!
13. Gatlinburg Trail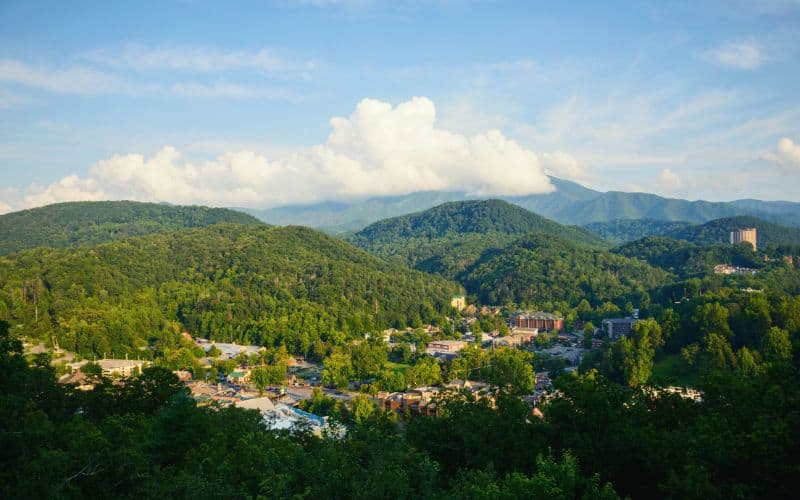 3.9 miles
Elevation: 164 feet
Difficulty: Easy
Type: Out-and-back
This is an easy trail and one of the only hikes in the area on which you can bring your dog. It's best to start this out-and-back at the Gatlinburg end. This way, you can end your hike by visiting the Sugarland Distillery.
You'll pass a historic log cabin with sweet mountain views on the way. At the halfway point of your hike, take the diversion to Cataract Falls. Be sure to pop into the Sugarlands Visitor Center as well. Now, it's all downhill from here!
RELATED READING: For more fun check out our guide to some of the best hiking near Nashville, as well as top Tennessee campsites.
Best Hikes in Gatlinburg!
Didn't we tell you Gatlinburg had some great hiking trails? Now, it's time to kick back with that good ol' glass of moonshine.
We hope you enjoyed our guide to the 13 best hikes in Gatlinburg, TN. If you have any questions about any of these hikes or are planning some nearby hiking, drop us a line in the comment box below. If you liked this guide and want to share it with your friends, please share away!