You'll find some of the best hikes near Nashville a short drive from downtown. That's right, the Music City is a hiker's paradise.
You can hike through epic forests to stunning waterfalls. You and your crew can go on hikes near Nashville along beautiful lakes and rivers, too. Or, do it all in a long day hike with time to make it back for a concert.
We've compiled a list of some of the best hiking trails near Nashville, TN. And, we've included something for everyone in this list. All the hikes are within 2 hours of downtown Nashville. So, lace up your boots and check out some great hiking trails during your time here!
RELATED READING: Check out more of our guides to Tennessee Hiking Trails.
The Nashville, Tennesee Area's Top 10 Hikes
1. Cummins Falls, Cummins Falls State Park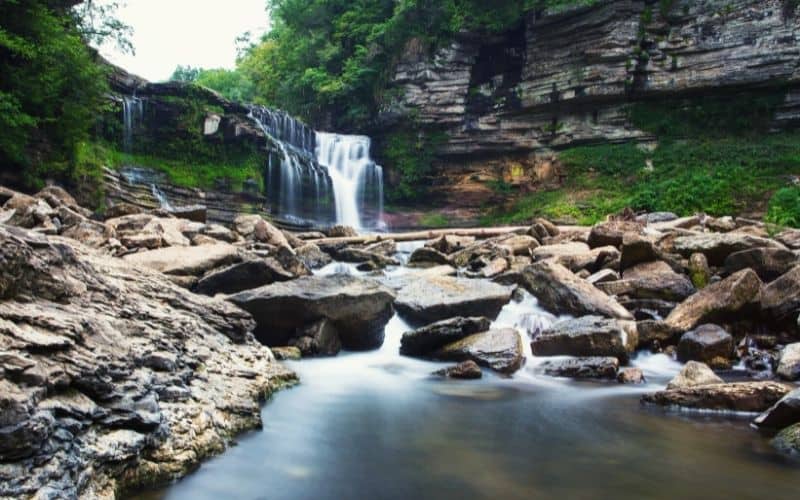 Distance from Nashville: 84 miles
Length: 3 miles
Elevation Gain: 452 feet
Type: Out-and-back
Difficulty: Moderate
Hike to Cummins Falls, one of the largest waterfalls in Tennessee. This moderately difficult hike is only 90 minutes from downtown Nashville, so can be easily done as a day trip.
Be sure to pack your trekking poles and a swimsuit. At the end of the trail is a beautiful cascading waterfall and swimming hole. And on the way out, you can expect some stream crossings over algae-covered rocks. You might even have to wade in deep water depending on the time of year. Expect some rock scrambling, too
This is one of the most popular places to hike near Nashville, so go early to avoid the crowds. Cummins Falls is subject to seasonal closures and the base of the waterfall is only accessible in good weather. So, check conditions before you go.
You need a permit to access the waterfalls. Get the permit here.
2. Mossy Ridge Trail, Percy Warner Park
Distance from Nashville: 0 miles
Length: 4.9 miles
Elevation Gain: 882 feet
Type: Loop
Difficulty: Easy/Moderate
The Mossy Ridge Trail in Percy Warner Park is a moderately difficult nature retreat within the city limits. As such, it's a great pick for those who want to go hiking in Nashville instead of venturing farther afield. The Ridge is also dog-friendly, so your pooch can join for added fun.
You'll be hiking through mossy forest with plenty of shade. The Ridge Trail is hilly, with lots of up and down. Your balance will be challenged by lots of exposed roots and rocks, so go carefully. It can be muddy in the spring and fall, so be ready to get a little dirty, too.
This urban hike passes a few picnic areas, so be sure to bring along lunch to make a day out of it.
3. Narrows Of The Harpeth & Hidden Lake Trails, Harpeth River State Park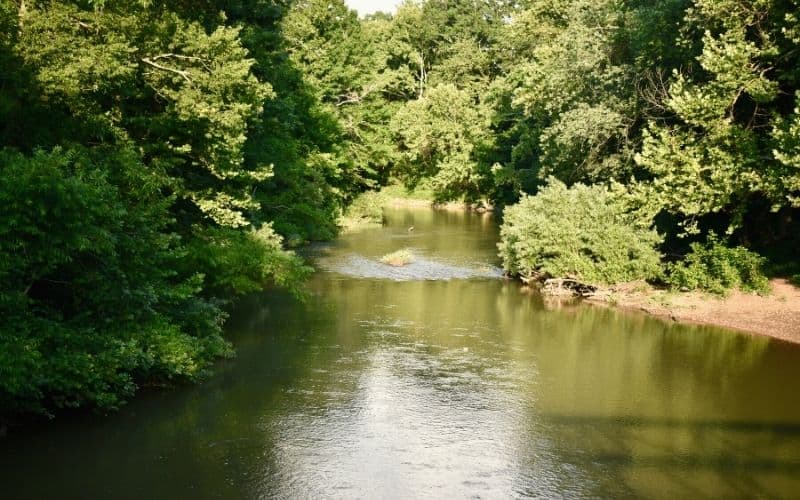 Distance from Nashville: 26 miles
Length: 1.1 miles
Elevation Gain: 223 feet
Type: Out-and-back
Difficulty: Easy/Moderate
This easy-to-moderate trail follows an old railroad bed through two bends in the Harpeth River.
Along the way, you'll travel through woods and see several cool rock formations. The trail ends at a unique waterfall coming out of a tunnel in the rocks. You can also hike up to a bluff to a spot overlooking the waterfall for a better view.
Harpeth River State Park is a popular summertime destination for canoeing, kayaking, swimming, or just floating the river, and is situated less than 30 minutes from the city.
While you're in the area, check out the nearby Hidden Lake hike, a 1.9-mile double-loop hike also in Harpeth River State Park.
4. Radnor Lake, Radnor Lake State Park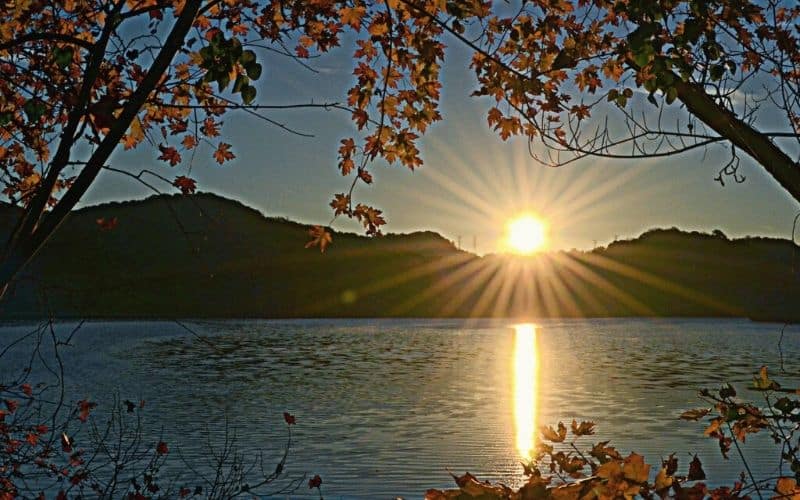 ​​Distance from Nashville: 11 miles
Length: 2.4 miles
Elevation Gain: 170 feet
Type: Loop
Difficulty: Easy
The Radnor Lake hike is an ADA-accessible, dog-friendly, and stroller-friendly hike near Nashville. It's a paved trail, and mostly flat, so it's good for hikers of all kinds. Because it's such a popular hiking trail, get there early or expect to wait for a parking spot.
You'll mostly be in wooded areas as you circle Radnor Lake, so there will be plenty of shade. However, there are spots to step out of the trees and look out over the water, too. This hike is great for walking, running, or bird watching. And if you're lucky you might even see a wild turkey or two along the way!
5. Laurel Woods Trail, Beaman Park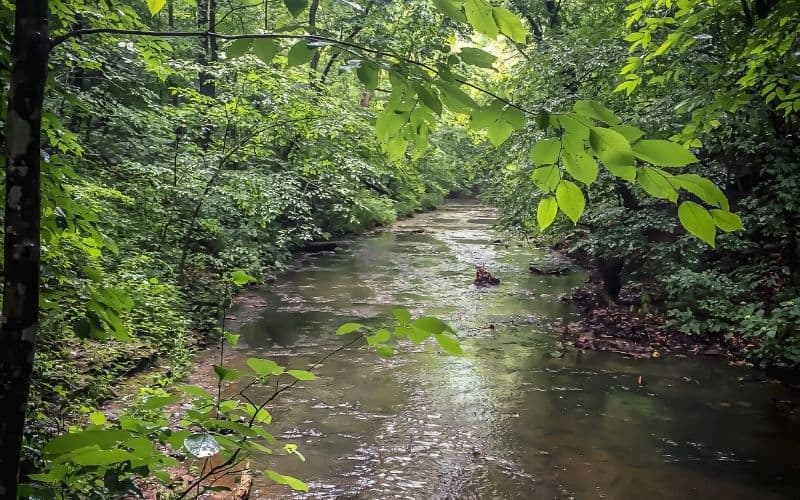 Distance from Nashville: 12 miles
Length: 12 miles
Elevation Gain: 1541 feet
Type: Loop
Difficulty: Moderate
Located in Beaman Park, the Laurel Woods Trail is new as of October 2020. It replaces and follows a similar path to the Ridge Top Trail, which is now closed. Laurel Woods Trail goes farther into the Beaman Park backcountry and is a great pick for hikers who like their trails a little more rugged and challenging.
This hike meanders through dense hardwood forest. On this hike, you will descend to a creek, cross the creek, then climb back up several times. Though it's mostly in tree-covered areas, there are a few spots where the forest opens up to provide awe-inspiring views.
If you're not looking for an all-day hike, there is an option to do a shorter loop via the Shortcut Trail, near Hollow Creek. This shortcut makes the hike about 6 miles long.
6. Burgess Falls, Burgess Falls State Park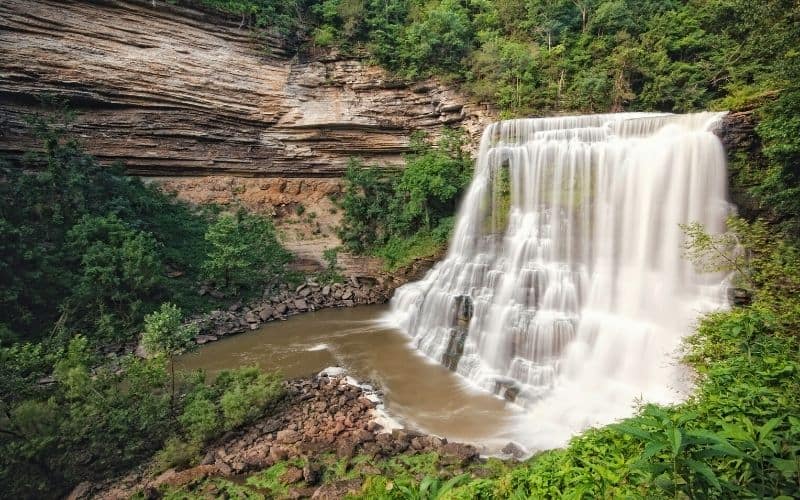 Distance from the City: 80 miles
Length: 1.1 miles
Elevation Gain: 134 feet
Type: Out-and-back
Difficulty: Moderate
This hike is just over an hour from the city. It is short, yes, but that doesn't mean it'll be easy. On the way to Burgess Falls, you'll encounter muddy trails, rocks, roots, and many steep segments. There are also a set of very steep stairs leading to the top of the waterfalls.
At the end of the trail, you'll see one of the most stunning waterfalls in Tennessee – the 135-foot Burgess Falls. This unique waterfall wraps around the corner of a cliff, creating quite the effect! Burgess Falls is especially beautiful when frozen, so it's well worth bundling up and trying this hike in the winter.
On the way up to the falls, you will see a bunch of smaller waterfalls, too. And if you're looking for a longer day, you can combine this with other hikes in Burgess Falls State Park.
7. Volunteer Trail Day Loop, Long Hunter State Park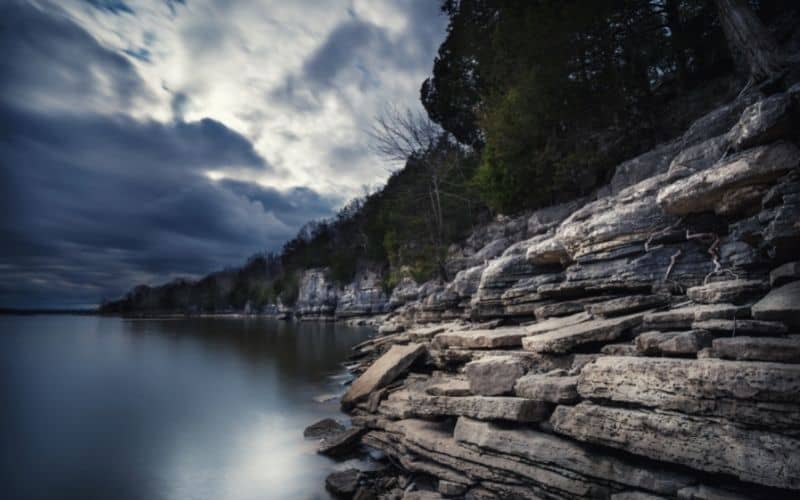 Distance from the City: 24 miles
Length: 3.9 miles
Elevation Gain: 269 feet
Type: Loop
Difficulty: Easy
The Volunteer Day Loop Trail in Long Hunter State Park is a great choice if you're looking for easy hiking near Nashville. It follows the shores of Percy Priest Lake, a very popular waterfront in the area. On the lake you'll see a lot of boats, and you'll hear those boats even when you can't see them.
If you're looking for a bit more hiking, the Volunteer Trail can easily be extended. And the farther you go from the trailhead, the more rocky and challenging the going gets. If you go all the way to the end, you'll hike a total of 5.3 miles.
The Volunteer Trail is mostly tree-covered, so expect plenty of shade to keep you cool in the summertime. At the end of the trail there are also two backcountry campsites, so you can extend your stay to prolong the adventure!
8. Base of The Falls Trail, Fall Creek Falls State Park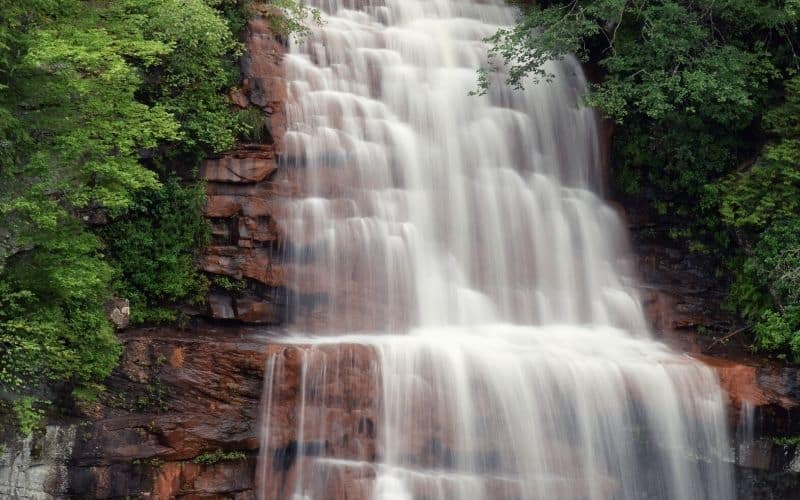 Distance from the City: 129 miles
Length: 0.8 miles
Elevation Gain: 288 feet
Type: Out-and-back
Difficulty: Easy
This is another shorter hike to an epic waterfall and is located about 2 hours from the city. Even though it's short, however, don't expect it to be easy.
At the end of your short hike on the Base of The Falls Trail, you'll be rewarded with a single stream waterfall falling 256 feet off a vertical cliff. To get there, you'll climb downhill a steep, rocky path with plenty of exposed roots. You can even walk behind the waterfall once you get there. But be careful – the wet rocks behind the falls are very slippery.
Fall Creek Falls State Park sits on 2,600 acres of land, so you'll have easy access to several other trails if you want to do more hiking while in this national park. The park is also home to some awesome rock climbing spots, swimming holes, lodges, and campgrounds.
9. Fiery Gizzard Trail, South Cumberland State Park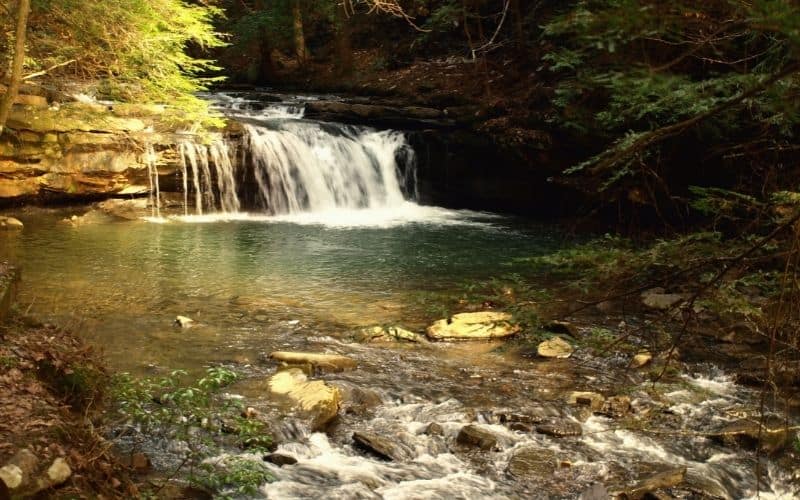 Distance from the City: 95 miles
Length: 12.5 miles
Elevation Gain: 1,758 feet
Type: Point-to-point trail
Difficulty: Moderate/Challenging
This point-to-point route goes from Grundy Forest to Foster Falls. It is a very popular trail and was ranked by Backpacker Magazine as one of the top 25 hikes in the country. At only a 90-minute drive from the city, this is a no-brainer if you have the time and ability.
You'll see old-growth forests, countless waterfalls, pretty wildflowers, and beautiful ravines. You'll navigate boulder fields and steep, rocky climbs. You'll also walk through rocky gorges with mind-blowing rock formations.
There are many stream crossings, too. Some of those are pretty tricky, so don't forget your trekking poles. Be sure to make time for the Raven Point side trail. It is worth the short climb for the views of the surrounding forest at the top.
Camping is available at both ends of this trail, so you can make a weekend out of this one if you so wish!
10. Twin Falls and Downstream Trails, Rock Island State Park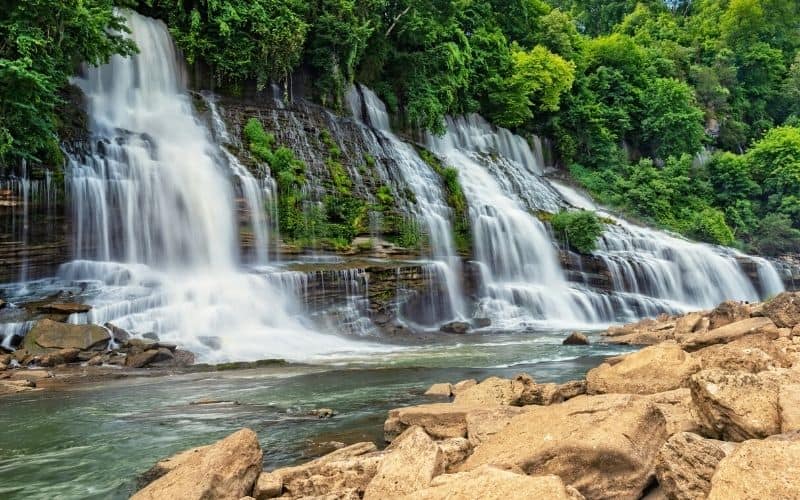 Distance from the City: 90 miles
Length: 1.6 miles
Elevation Gain: 223 feet
Type: Lollipop
Difficulty: Easy/Moderate
This hike near Nashville is just an hour and a half from the city center. It follows mostly easy terrain, but expect a few more challenging sections along the way.
Many of our favorite hikes near Nashville culminate at a beautiful waterfall. This hike, however, features not one, but two!
Rock Island State Park sits at the confluence of the Collins and Caney Fork rivers. This trail follows the Caney Fork River and requires some rock hopping on the way to the waterfall at its end. There are some rocky sections and many exposed roots, too.
Want to see more waterfalls? Go and explore the short side route to the Blue Hole. Though this side trip is only 0.2 miles, there are many more water crossings that require extra care.
RELATED READING: For more outdoor fun check out our guide our picks of the best hiking near Gatlinburg.
Hiking in Nashville: A Nature-Lover's Dream!
We hope the above list shows that Nashville, Tennessee has a lot more than just live music and nightlife!
If you're in the city and looking to stretch your legs, any of the above trails will scratch that itch. Once you've seen any of the beautiful natural areas around town, we're sure you'll want to keep exploring. Just one hike to a waterfall is never enough!
How did you like our list of the top Music City hikes? Did we miss any of your favorite trails in Nashville and the surrounding area? If so, let us know in the comments box below! Reach out if you have any questions or need more info about hiking trails, Nashville, TN.