When you think of Washington D.C., good hiking, we're sure, isn't the first thing that springs to mind. That's a real pity. Why? Because, while Washington D.C. may be famous for politics and as the US capital, the area is also full of beautiful parks and hiking trails to explore. Many are even located right inside the city limits!
History buffs are in for a special treat since many of these hikes include some fascinating historic sites. You can, for instance, hike to the top of an overlook once used by Confederate soldiers or explore centuries-old colonial houses or even a working, turn-of-the-century mill!
From family-friendly Theodore Island to a challenging hike to the summit of Old Rag Mountain, we've come up with a list of 13 of the best. We've included trails for all skill levels along with info on the must-see stops along the way.
1. Theodore Roosevelt Island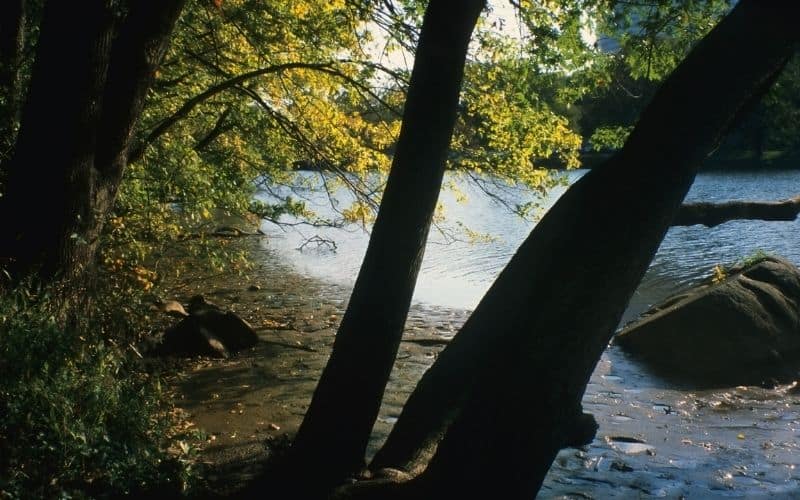 Type: Loop
Length: 1.6 miles
Rating: Easy
On the Potomac River lies a charming wildlife sanctuary known as Theodore Roosevelt Island. This 90-acre natural oasis is full of easy, family-friendly treks with little elevation gain, so it's ideal for hikes with kids.
Thanks to its convenient location in the heart of Washington D.C., Theodore Roosevelt Island is easy to reach by public transportation. Because trail closures are common on the island, make sure to check before you head out.
If you're short on time, we recommend doing the Swamp Trail, the 1.6-mile loop that runs along the outer edge of the island. You'll enjoy clean, wooded forest paths and pass over picturesque footbridges across tidal marshlands and swamps.
Make sure you venture to the centre of Theodore Roosevelt Island too, where you'll discover a memorial statue of Teddy himself!
2. Rock Creek Park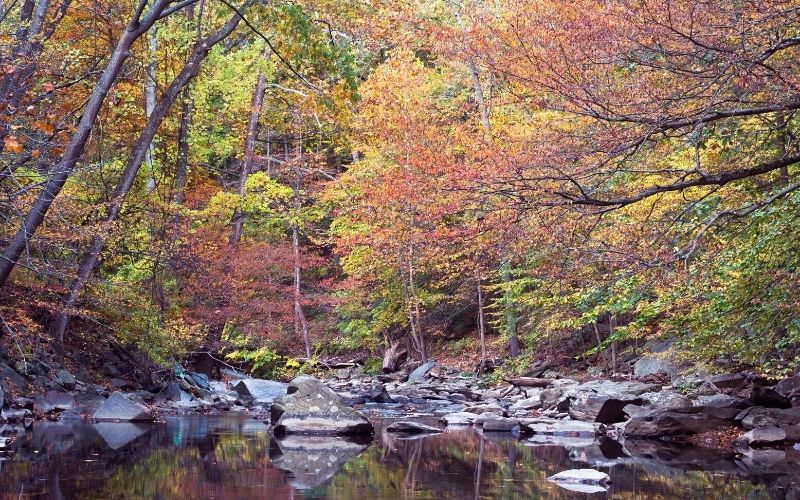 Type: Various
Length: 32 miles of trails
Rating: Easy to strenuous
Rock Creek Park offers 32 miles of majestic woodland paths to explore. As one of Washington D.C.'s biggest parks, you'll find almost unlimited activities to enjoy. On top of easy to strenuous hikes, you can try cycling, swimming, rock climbing, horseback riding, and even boating.
If you only have time to do one hike at Rock Creek Park, make it the Valley Trail. At roughly 11 miles, it's the longest point-to-point trail in the park. Thanks to its well-maintained paths and moderate elevation (300ft), it's an easy trek accessible to all skill levels.
Along the way, you'll even get the chance to explore some old, historic landmarks. Don't miss the colonial houses, civil war fortifications, and even a working mill, the Pierce Mill!
3. Mount Vernon Trail, George Washington Memorial Parkway/Potomac Heritage Trail
​​Type: Point-to-point
Length: 18 miles (82ft ascent)
Rating: Moderate
The Mount Vernon Trail stretches from the birthplace of George Washington to Theodore Roosevelt Island. The easy-to-navigate, paved paths are a favorite amongst cyclists and offer spectacular views of the DC skyline and Potomac River.
The trail is mostly flat apart from a few hills. While the majority of the route is paved, you will encounter some boardwalks over typical DC marshland. Expect to see lots of local wildlife in these sections!
The trail is easy to access, making it a local favorite. Stop at one of the many parking lots along the way or take the D.C. Metro's Blue and Orange lines.
4. Prince William Forest Park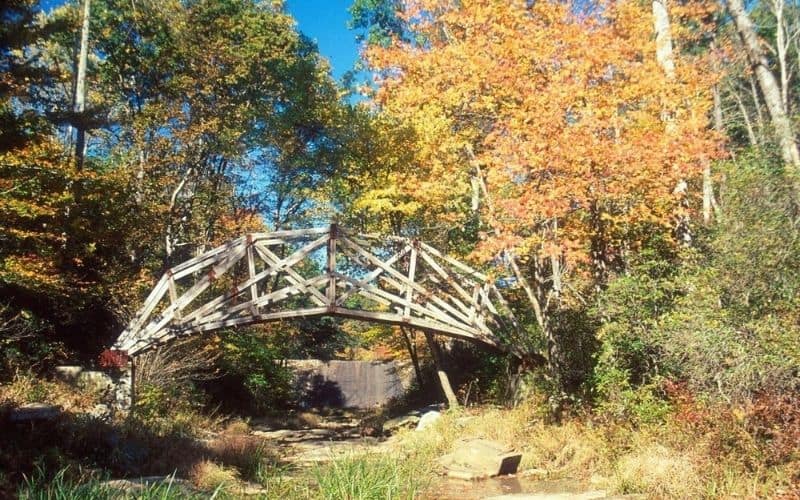 Type: Various
Length: 37 miles of trails
Rating: Easy to moderate
Those looking for a natural refuge in the DC metro area will find it at Prince William Forest Park. It's hard to believe that such captivating woodland trails, streams, and cascades are hiding right in the center of the city!
With 37 miles of trails to explore, it's not easy to choose just one trek to feature. If you're looking for an easy path to stroll, take the High Meadows Trail. It's a scenic, low-elevation trek through the woods that passes by a 100-year-old farm, the Taylor Farm.
Those looking for a challenge should head down the South Valley Trail. At almost 10 miles, it's the longest route in the park. The trail follows a creek closely and you'll have lots of opportunities to view local wildlife along the way.
5. Catoctin Mountain Park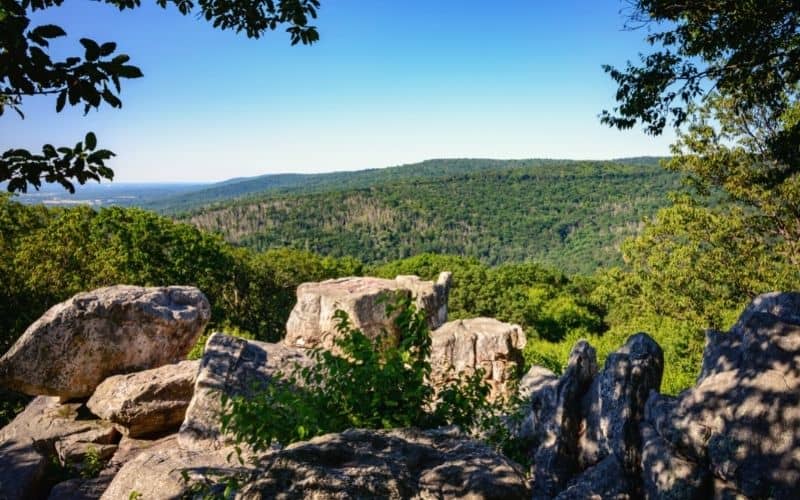 Type: Various
Length: 18 miles of trails
Rating: Easy to Strenuous
Serving up some of the best hikes near DC, Catoctin Park is the place where hikers and rock climbers looking for a challenge will find it! With over 18 miles of trails, including a waterfall hike, there's something new and exhilarating to discover around every corner. 
We suggest taking the 8 Mile Loop up the eastern side of the Blue Ridge Mountains. The trailhead begins at the visitor center, where you can grab a map of the park.
First, you'll pass by Chimney Rock, one of the most iconic and famous rock formations in the park. Here you'll also find one of the park's best picnic areas, so be sure to bring lunch! From here on out the climb steepens, but you'll be rewarded by reaching a 78-ft waterfall known as Cunningham Great Falls.
Looking for a short hike instead? Just loop back at Chimney Rock, this will cut the distance in half.
6. Scott's Run Nature Preserve, Fairfax County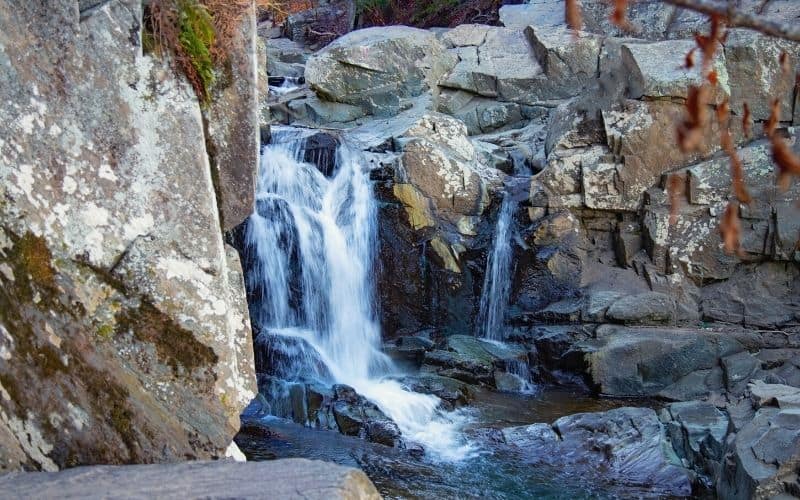 Type: Loop
Length: 3.1 (331ft ascent)
Rating: Moderate
If you want an accessible waterfall hike check out Scott's Run Nature Preserve. This quaint, 350-acre forest features well-maintained forest trails suitable for all skill levels. 
Most people take the Heritage Trail directly to the waterfall. If you do, you'll be missing out on lots of scenic routes, creek crossings, and quiet forest trails along the way.
We suggest taking Scott's Run Outer Loop instead. On this, you'll cross over two creeks with stepping stone bridges before arriving at the Scott's Run Waterfall.
7. Maryland Heights Trail, Potomac River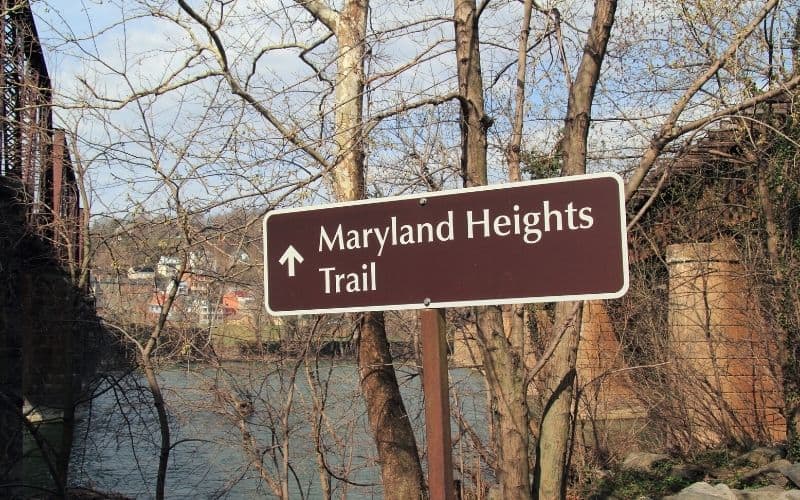 ​​​​Type: Loop
Length: 4.1 miles (1,200ft ascent)
Rating: Moderate to strenuous
Both history lovers and outdoor enthusiasts will find something to love on the Maryland Heights Trail. This area along the Potomac River is rich in American Civil War history. Journey to the top of the overlook for beautiful views of historic Harpers Ferry and the point where the Potomac and Shenandoah rivers meet.
For the first part of the hike, you'll be following the Maryland Heights Trail. At the first junction, you'll have a choice between two trails: the Overlook, which is shorter, or the Stone Fort Trail, which is longer and more strenuous.
The Overlook Trail will guide you to an overlook with a view of the town of Harpers Ferry. This is the same outlook Confederate soldiers used to capture the town in 1862.
The Stone Fort Trail is the longer and more challenging of the two. Along the way, you'll get the chance to explore some historic sites including the ruins of an old, stone fort.
8. Whiteoak Canyon Falls, Shenandoah National Park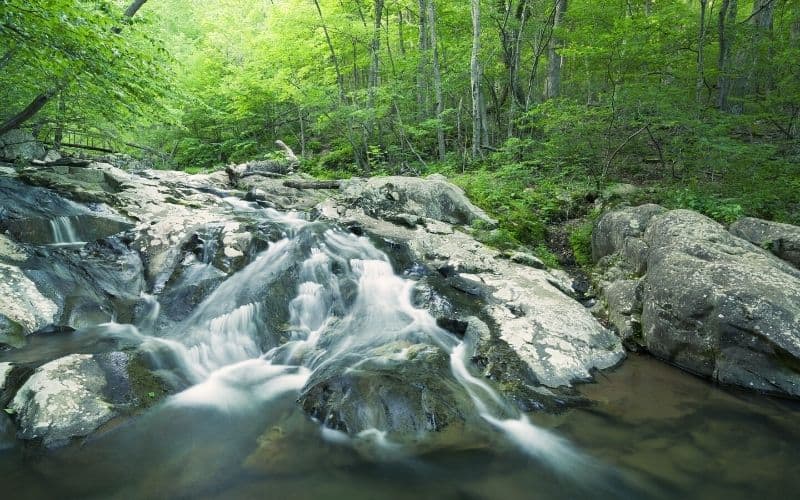 Type: Out-and-back
Length: 2.9 miles (417ft ascent)
Rating: Moderate
Shenandoah National Park is located less than 2 hours from DC and features heavily on our list thanks to its scenic overlooks, picturesque forest trails, and abundant waterfalls. Situated in the rolling hills of Virginia, just west of Washington DC, the park includes part of the Blue Ridge Mountains and even part of the famous Appalachian Trail.
This hike leads to Whiteoak Canyon Lower Great Falls along the Whiteoak Canyon Trail. Many longer trails lead to the Lower Great Falls, but this one is beginner-friendly, well-maintained, and involves very little elevation gain. For most of the hike you'll be following along the bubbling Robinson River.
9. Dark Hollow Falls, Shenandoah National Park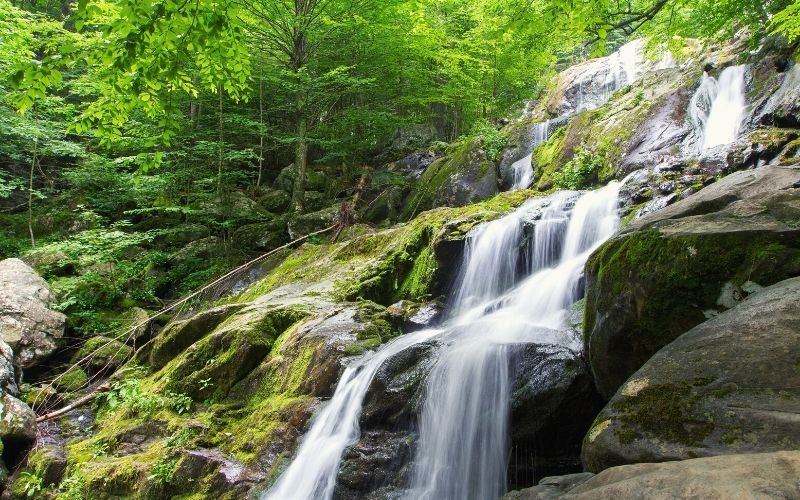 Type: Loop
Length: 1.4 miles (440ft ascent)
Rating: Moderate
Don't let the spooky name fool you, this is actually a fairly easy trail through a quiet forest. The only thing stopping you from reaching the 70ft waterfall is a steep and rocky descent. The path is broad and well-maintained, but hiking boots/shoes are still recommended to help you keep your footing.
The area is great for spotting local wildlife and birdwatching. Keep an eye out for many of the 190 bird species found in the park, such as the elusive dark-eyed junco and the grey catbird.
10. Sugarloaf Mountain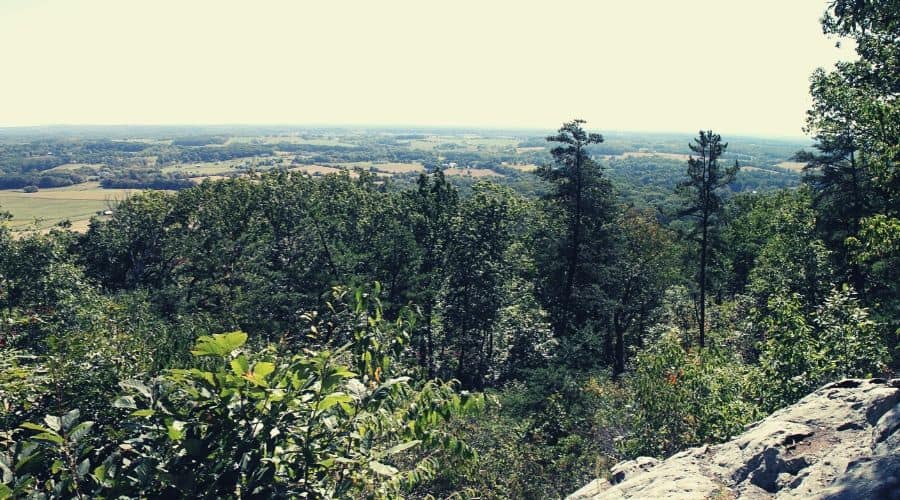 Type: Loop
Length: 6.75 miles (1,300ft ascent)
Rating: Moderate
If scaling a 1,300ft mountain is your idea of a good time, then Sugarloaf Mountain is for you! Located in Dickerson, roughly one hour outside of the city, Sugarloaf Mountain is a natural oasis teeming with local wildlife and fauna.
While there are many low-elevation trails around the mountain that are perfect for beginners, we had to feature this leg-busting, 6.7-mile trip. You'll be climbing to the summit of Sugarloaf Mountain along the Northern Peaks Trail (also called "the blue trail"). At the top, you'll enjoy stunning views of the rolling hills and farmland of Maryland.
The trailhead starts at the West View parking lot and blue markers will guide your entire ascent. Don't forget to bring a $5 voluntary donation to access the trail!
11. Old Rag Mountain, Shenandoah National Park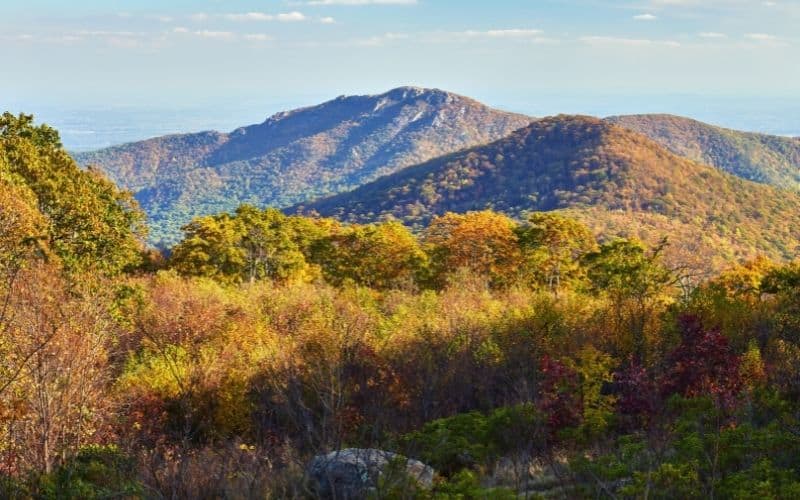 Type: Loop
Length: 9.5 miles (2,300ft ascent)
Rating: Challenging
Climbing to the summit of Old Rag isn't for the faint of heart. Rag Mountain offers some of the best views of the Shenandoah National Park, but you're going to have to work to get there!
This is a very strenuous trek and not suitable for beginners. You'll be undertaking a 5 – 6 hour journey on beautiful woodland trails leading up the side of the mountain. Along the way, you'll face rocky terrain, narrow corridors, and a 2-3 mile-long stretch of moderate rock scrambling.
Remember that this hike is famous for "false summits," so don't turn back until you see the official National Park sign announcing the "Old Rag Summit"!
12. Billy Goat Trail, Chesapeake & Ohio Canal Trail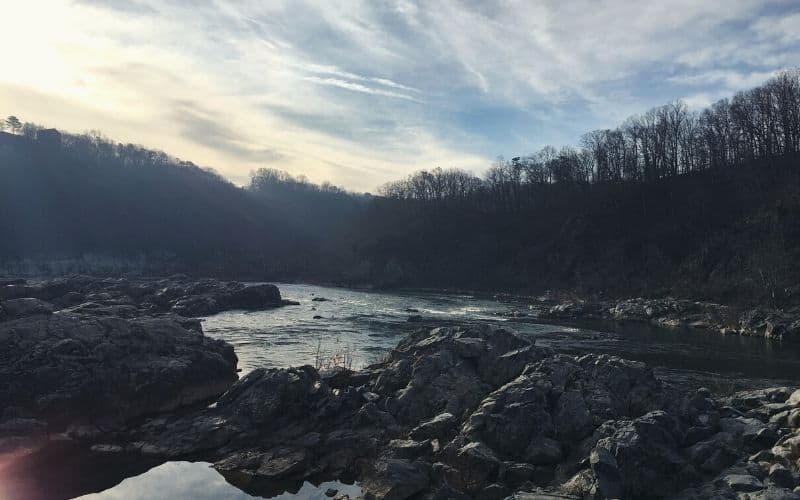 Type: Loop
Length: 7.8 miles (280 ft ascent)
Rating: Moderate
The Billy Goat Trail is aptly named – you'll be scrambling like a billy goat yourself as you conquer this steep and rocky route! Located in the Washington D.C area and right beside Great Falls Park, you'll enjoy gorgeous vistas of the Potomac River along the way.
The hike is actually made up of three sections. Section A is the hardest and involves a famous rock scramble up the side of a cliff. Take this section seriously, over 400 people are injured each year on the cliffs!
Not into scrambling up a cliff face? No problem, try section C. It's an easier, 1.4-mile path that's dog and family-friendly. If you can't bear to go home just yet, consider visiting the Great Falls Park nearby for more day hikes and some lovely picnic areas.
13. Little Devil's Stairs, Shenandoah National Park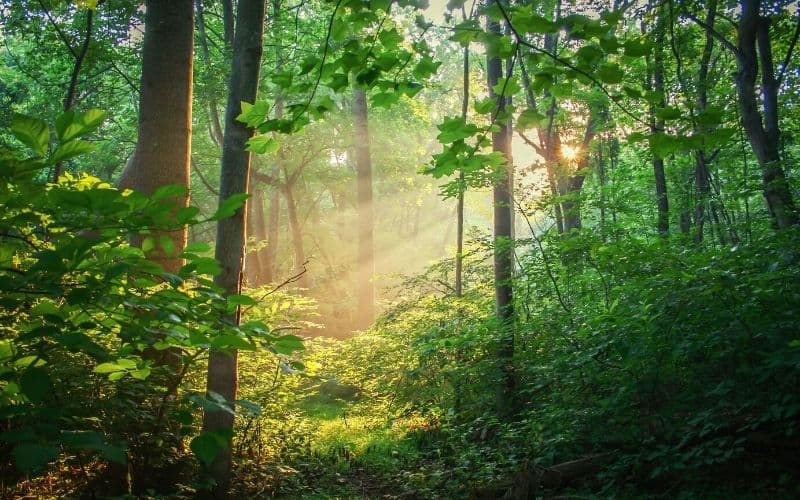 Type: Loop
Length: 6 miles (1,500ft ascent)
Rating: Moderate/Challenging
This strenuous waterfall hike delivers gorgeous views of the Shenandoah Valley and is one of the most popular trails in Shenandoah National Park. The only thing devilish about this 5-6 hour hike, in fact, is its 1,500ft of descent!
This is a difficult trail and only suitable for experienced hikers. Not only is the ascent challenging, but you'll also need some technical expertise to handle the rock scrambling near the summit. Make sure you wear hiking boots and bring along the proper hiking gear.
The trailhead begins at the end of Keyser Run Road. The parking lot is extremely small and there's nowhere else to park, so get there early!
Best Hikes Near DC: (Surprisingly) Dang Good for Hiking!
We hope this list of our favorite hikes has demonstrated that Washington D.C. has so much more to offer than just stuffy museums and a big white house. Hiking in the DC area offers a real opportunity to combine both nature and history into one exciting adventure!
In fact, Washington D.C. offers so many fun hikes we couldn't list them all. If you're still itching for more after checking out the trips we've featured, check out Great Falls Park, the Appalachian Trail, Rolling Meadow Footbridge, or the Monongahela National Forest located nearby in West Virginia. Here you'll find plenty of other trails to keep you entertained!
Make sure to let us know in the comments below all about your favorite trails near DC (or any cool historic landmarks we missed, we love those!). And if you have any questions, ask away!