Specialized pants might not seem like an essential piece of hiking equipment until you give them a try. That is, in most cases, the moment when you realize that walking in a pair of jeans or sweatpants does not afford you the flexibility, breathability, and mobility that you need to enjoy your hikes in comfort.
There are many different kinds out there in terms of fit, style, features, and more. We help you weigh up all of these variables and more in our review of our favorites.
Editor's Choice
Outdoor Research Ferrosi Pants
The Outdoor Research Ferrosi are the most versatile, breathable, and weather-resistant on our list. They top out due to their combination of all the best traits we could ask for in a pant.
The fabric is a combination of 86% nylon and 14% Spandex. This combo keeps them abrasion-resistant and durable while still allowing you plenty of freedom of movement. They only weigh in at 12.2 ounces, which is impressive for such a high-performing and feature-rich pair of hiking pants.
The design includes a gusseted crotch, knee articulation, deep front pockets, zippered back pockets, cargo-style side pockets, drawcord ankles, and belt loops. The only thing they don't come with is the belt itself. A low-profile waist and a standard fit keep it comfortable in all kinds of weather and during any adventures, including those involving a harness.
OR has made these to be wind-resistant, helping you stay warm in cold, windy weather. The wind-resistance doesn't detract from their breathability, though, and they offer outstanding performance in warm weather, too. The best bit? They do all of this while costing half the price of many other pairs from other big-name brands.
Bottom Line: A highly versatile option that excels in all weather conditions and boasts all the hiking-specific features needed to maximize your comfort on the trail.
The Difference Between Hiking and Regular Pants
You might think that hiking pants don't make much of a difference on your treks in the outdoors. However, they can bring significant increases in comfort and mobility, especially on more demanding trails.
Breathability is the most impactful difference between different kinds of pant. The material for outdoor gear should allow air to move freely from inside to out, control your body temperature better, and reduce sweating in areas that could cause chafing or discomfort over long periods.
Not only does the material increase the pant's breathability, but it should also help keep you warm and comfortable. It should be supple and soft enough to not cause painful chafing (like rougher jeans will), but tough enough to deal with the rigors of the trail.
Altogether, outdoor pants are generally more abrasion-resistant and are often made with ripstop fabrics that are less vulnerable to tearing or punctures than standard city-wear models of pants.
Water-resistance is another difference. Some companies treat their fabric to give it slightly better water-resistance in wet weather. Don't expect this to keep you completely dry, but it can help fend off a drizzle or moisture from heavy fog.
The fabric isn't the only upside. Outdoor companies design hiking trousers purposefully for comfort and ventilation. Some handy features to look for include zippered pockets, mesh ventilation panels in the thighs, roll-up bottoms, and quarter-length ankle zippers that let you remove them/put them on without taking off your boots.
A gusseted crotch and knee articulation are also key features that make life a whole lot more comfortable by increasing your range of motion. You have less restrained movements, allowing you to climb over or up things without getting pinched or, most embarrassing of all, having them rip.
Best Characteristics in Quality Hiking Pants
Hopefully, we have convinced you that hiking pants are worth the investment. Now it's time to help you choose the right pair for you. The choice primarily comes down to your preferences and finding those produced to a high standard of quality and design.
Type of Hiking Pant
The three main types of hiking pants available are standard, roll-up, and convertible.
Standard
As the name suggests, these are regular-sized trousers with hiking-specific add-ons, such as a gusseted crotch, knee articulations, or ankle zippers. They might have all of them or a combination of only a couple.
Convertible
This style hails back to the 80's fashion trend of zippered pant legs. You can "convert" them from full-length pants by unzipping them around the knees and – tah-dah! – they are shorts. A convertible style is handy for treks you do in variable temperatures or for making early starts when you anticipate temps will increase significantly during the day.
Roll-up
You can adjust roll-up pants to one or more lengths using straps on the interior of the leg and exterior buttons. Just roll them up and button them in place to fix the length. Some of these offer more than one length adjustment point, letting you convert from full-length to capri style to shorts throughout your hike.
These are different from convertible models since the material stays on your leg instead of getting unzipped and then removed.
Materials
The material of a pant is its most important aspect. The materials influence the beneficial differences that we listed above, most notably breathability, durability, and mobility. There are multiple combinations of materials as well, each influencing the pant's characteristics in different ways.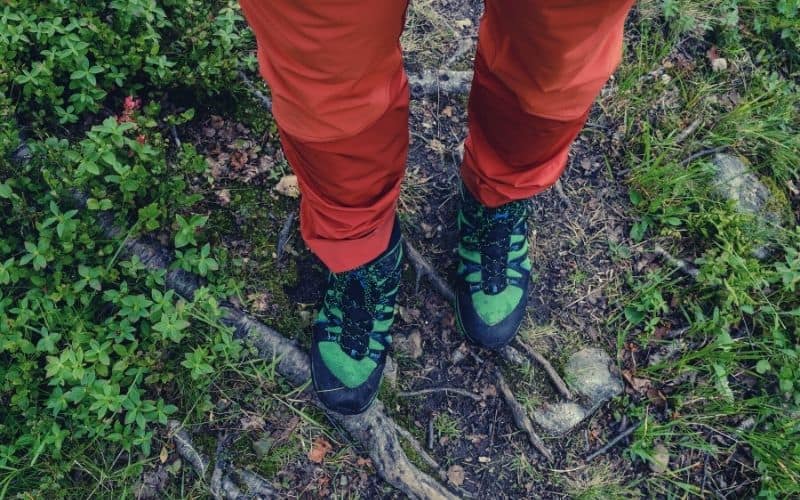 Typically, the material used for outdoor clothing is a blend of nylon, spandex, and/or polyester. Nylon is the most common material because it is more abrasion-resistant than polyester while also offering polyester's quick-drying and moisture-wicking capabilities.
Spandex or elastane are then added into the mix to add that extra bit of "give" or stretch needed for added comfort and free movement.
The nylon and spandex combination often has a natural UPF rating of 30-50+, thus giving you an extra layer of sun protection that's ideal for warm-weather wanders.
Water-resistant Treatments
Not many fabrics include a durable water repellent (DWR) treatment, but it is something you can keep an eye out for if you typically hike in wet weather. DWR treatments give you extra protection against the rain, which could save you the hassle of having to pull out rain gear during a light shower.
RELATED: If the weather turns nasty, make sure to check out our guide to the Best Rain Pants
Breathability
A good pair of hiking pants combines comfort, breathability, and freedom of movement. Water resistance is a bonus. Having all of these features, of course, would be lovely. However, if you have to choose one feature over anything else, we would recommend breathability.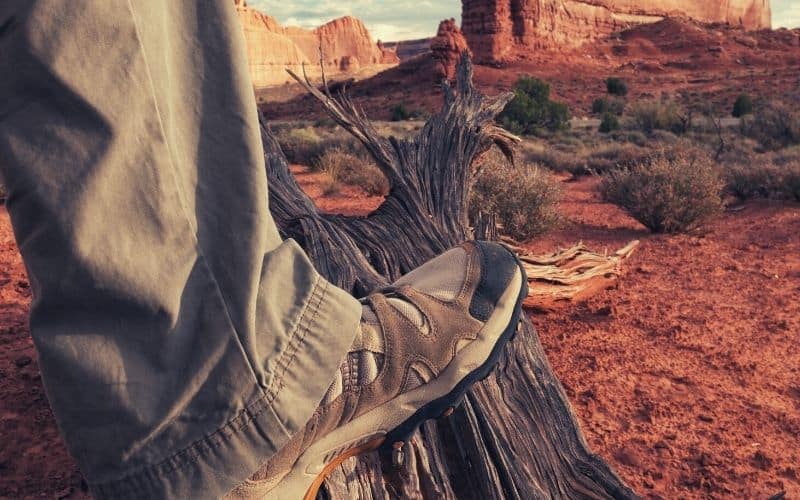 If trousers aren't breathable, the consequences can take the form of either a) a very sticky environment in the nether regions, b) chafing, c) a serious bout of the chills when all that sweat cools down on your descent, d) all of the above.
Fit
There are typically only two fits for hiking pants: fitted and relaxed. Fitted rests closer to the skin, hugging your form and allowing less air between your leg and the material. Relaxed maintain about the same diameter for the leg from top to bottom and aren't meant to squeeze anywhere.
Generally, to accommodate our varying anatomies, the best men's hiking pants have a more relaxed fit, while the best hiking pants for women tend to be more of a slim fit.
Our advice? Choose a comfortable fit for you but also one that isn't too loose or long. Either of these can present hazards on the trail. Also, be sure to shoot a size up if you buy trousers for cold weather so there's plenty of room for thermal underwear underneath your top pair.
Designs and Features
A handful of features can really set any pair of hiking pants apart from its competitors.
First up: pockets. You can have pockets galore along the leg, stitched into the seams, a thigh pocket, or cargo-style. Zippered pockets are the safest, but it is also handy to look for depth so you can squeeze in maps, compasses, or anything else you want to keep to hand.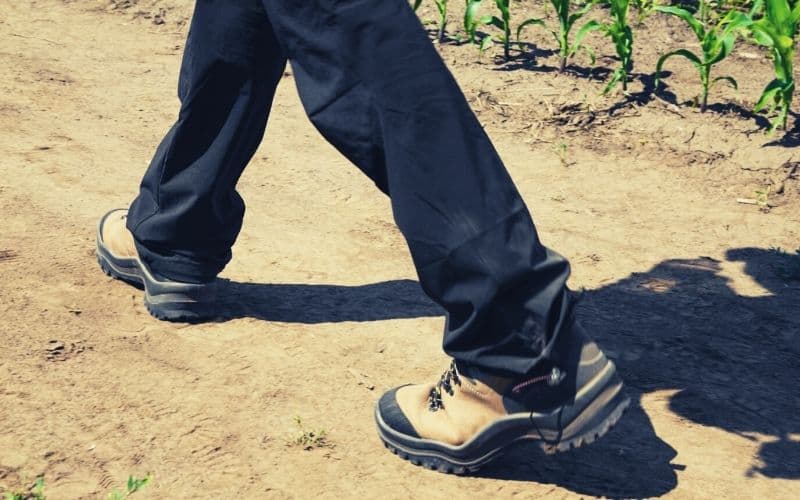 Since breathability is so important, extra ventilation features score extra points every time. Mesh thigh or hand pockets are a good start, but zippered thigh vents with mesh interiors are the best feature for anyone who plans on hiking in warmer climates.
For freer movement, design additions like a gusseted crotch, which is especially important in mens outdoor pants, are often included. Articulated knees, or extra fabric added to the knee area, will also increase your range of motion when you hike or climb up steep inclines.
Finally, the waistband. Many products come with elastic waistbands, while others have integrated belts and wider waistbands to allow you to adjust the tightness to suit. If they don't have either of these, check to make sure belt loops are included so you can get a hiking belt and stop them sliding down mid-hike.
The 9 Best Hiking Pants in 2023
Now that you know what to look out for in hiking trousers, it is time to get into our list of the top products. All kinds of designs, fits, and styles are listed here so that everyone can find their perfect pair.
Outdoor Research Ferrosi
Best Pants for Hiking Overall
The Outdoor Research Ferrosi are a well-rounded pair of pants suitable for all types of outdoor adventures.
Their light weight combined with enhanced mobility lets you get to where you need to be on challenging hikes in the utmost of comfort. The weather protection keeps you dry, yet they are still breathable enough to keep you cool in the summer. Best of all, they do all of this for almost half the price of other pairs.
The Ferrosi has a standard fit and design. They are not very adjustable but are still quite versatile, especially in different climates, and are impressively wind-resistant and hard-wearing.
The nylon-spandex blend gives the Ferrosi plenty of durability and elasticity. The pant's versatility is boosted further by a low-profile waist that makes it a comfortable fit under a harness, while the drawcord ankles allow you to shorten the legs and increase airflow when needed.
Beyond these helpful additions to the design, the Ferrosi also have belt loops, a gusseted crotch, deep front stash pockets, and zippered back and cargo-style side pockets. In other words, they have all the bells and whistles. The only thing it doesn't have is an integrated belt.
Material: 86% Nylon and 14% Spandex
Weight: 12.2 ounces
PROs

Many design additions to increase comfort and versatility
Stretchy fabric enhances mobility
Wind-resistant fabric

CONs
Bottom-Line: The Outdoor Research Ferrosi bring to the table every attribute and feature a three-season hiker could possibly ask for.
Arc'teryx Lefroy
Best Lightweight Pants
The Arc'teryx Lefroy are a cut above the rest of their lightweight competitors, designed with premium materials by peeps who really know what goes into the making of a great, trail-worthy pant.
The Arc'teryx Lefroy are intended for use as backpacking pants. At 9.7 ounces, they're among the lightest models on the market, while their fine nylon-elastane fabric makes them about as breathable as they come.
The Lefroy is built to perform best in warm conditions. Its AirPerm fabric gives it excellent stretch and allows air to pass between the fabric, while also reducing moisture retention. The fit isn't too tight or too loose, making it suitable for a wider range of users.
As you might expect from a lightweight piece of gear, it comes with fewer features than comparatively priced competitors. It has two mesh pockets in the front, and two thigh pockets with zipper closures, but there are no back pockets. Handily, it does come with an integrated webbing belt for a tight fit.
Although these might be light, unfortunately, the price tag that comes with them isn't.
Material: 86% Nylon and 14% Elastane
Weight: 9.7 ounces
PROs

Incredibly lightweight
Hard-wearing materials
Very breathable

CONs
Bottom-Line: The Arc'teryx Lefroy are a lightweight backpacker's dream.
REI Co-op Sahara Roll-Up
Best Budget Product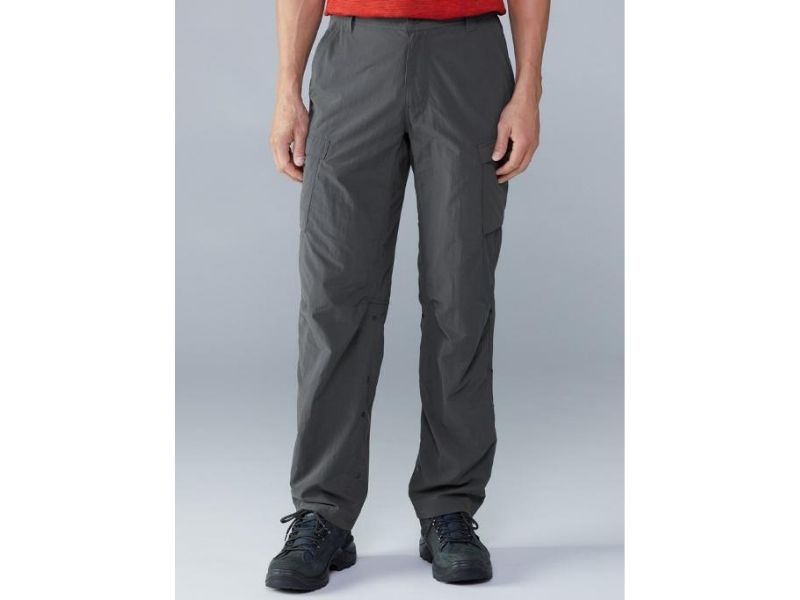 The REI Co-op Sahara Roll-Up are an excellent choice for those hikers that want a high-quality pair of trousers without a hefty price tag.
The Sahara have plenty of hiking-specific add-ons and boast a well-thought-out design that makes them a great starter pant and ideal for those who appreciate a baggier fit. Keep in mind when purchasing, however, that they do tend to run small, so you might want to size up if you are on the fence.
The Sahara trekking pants are made in a roll-up style. You can easily roll them up to cut their length almost in half, making them more like hiking shorts.
The mixture of nylon to elastane makes them slightly less flexible or stretchy than many of the other styles in our review. However, the extra nylon gives them a boost in durability, and the reinforced bottom cuffs withstand rough terrain better. There is extra elastic built into the hips for extra mobility and also an integrated belt to help keep them in place when your pockets are full.
Material: 94% Nylon & 6% Spandex
Weight: 10.2 ounces
PROs

Built-in belt
Lightweight and baggy for added comfort
Easy conversion between two lengths

CONs
Bottom-Line: A great pick for buyers on a budget and newcomers to hiking looking to build a basic outdoor wardrobe before splurging on more technical gear.
Prana Stretch Zion Pants
Best for Climbing and Bouldering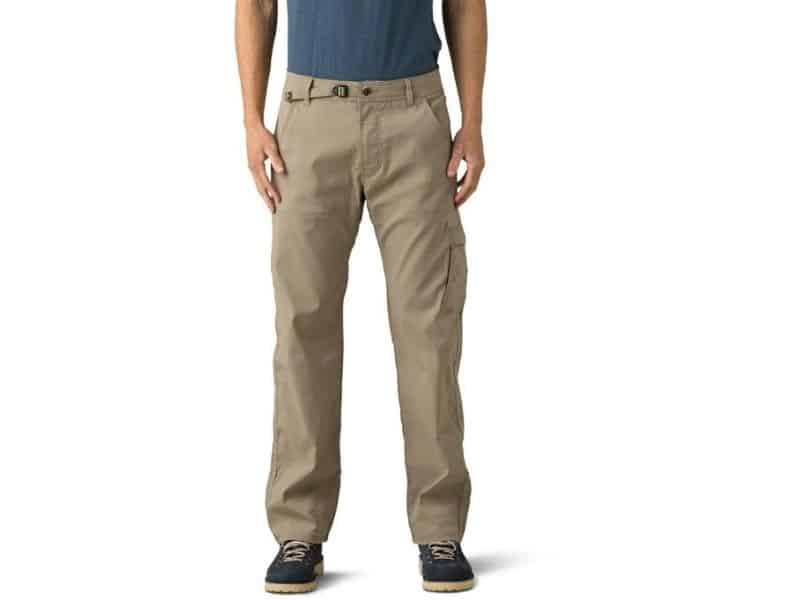 No matter what kind of activity you want to do outside, stretchy hiking pants are good hiking pants. As the name suggests, the Prana Stretch Zion are just that kinda pant, providing all the stretch climbers and hikers need for free, unrestricted movement on the trail or at the crag.
Interestingly, there is a minimal amount of Spandex incorporated into the fabric. It shows that it isn't about the amount of stretchy material you use but where you put it, and the Stretch Zion put it in all the right places. The Zion are pretty baggy, but the stretchy inserts in the thigh and crotch are what make them more comfortable and flexible than other slim hiking pants.
The Zion are somewhat adjustable thanks to their roll-up design, which makes them more like hiking capris than shorts. There are also mesh pockets that help you cool down in hot weather. They are meant to be lightweight but come in as one of the heavier products on the list. Fortunately, that extra material helps to make them extra durable and even resistant to wrinkles.
The fun additions incorporated into this pant's design include a ventilated inseam gusset, an adjustable waistband that mitigates the need for a belt, deep front, and back pockets, and a zippered cargo pocket on the left leg.
Material: 97% Nylon and 3% Spandex
Weight: 14.2 ounces
PROs

Built-in belt
Excellent stretch
Full of handy pockets

CONs
Bottom-Line: Prana's Stretch Zion are a wonderfully comfortable pant that give climbers and hikers alike all the extra stretch they need.
Columbia Silver Ridge Convertible Pants
Best Low-Cost Convertible Pant
The Columbia Silver Ridge Convertible are a highly versatile option that combine impressive breathability and lightweight fabrics with a pleasingly palatable price point.
The Silver Ridge style does not have any Spandex or elastane mixed in with the nylon fabric, which makes them feel pretty tight around the quads and can restrict your movement if you try scrambling or taking large steps. That said, the baggier fit does help increase mobility to a certain extent.
The upside to the Silver Ridge is that their 100% nylon construction makes them highly durable and reasonably breathable. They also boast a surprising array of nice features for a budget pant, including deep, mesh-lined front pockets, Velcro pocket closures, an elastic waistband, a built-in belt, and, of course, knee-height zippers that let you convert them into shorts.
The Silver Ridge are available in both men's and women's versions and these models win our vote as the best men's convertible hiking pants and best women's convertible hiking pants respectively.
Material: 100% Nylon
Weight: 10.8 ounces
PROs

Convertible
Lightweight and breathable fabric
Elastic waistband with built-in belt

CONs

Velcro instead of zipper closures
Can feel restrictive due to lack of stretch
Bottom-Line: A great option if you want the option for hiking in variable temps and for buyers looking for a basic, low-cost pant that scores high on durability and abrasion resistance.
Patagonia Quandary
Best Travel Pant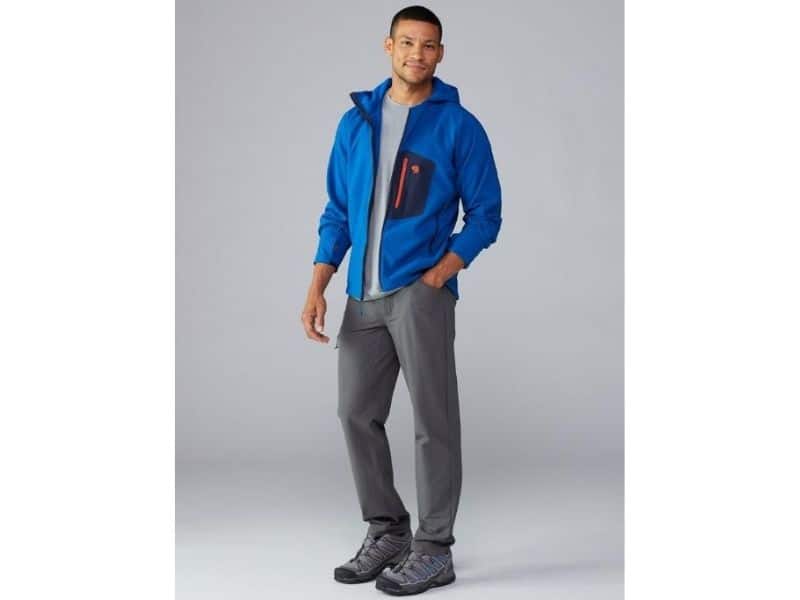 The Patagonia Quandary are lightweight, fitted, and a little more stylish than other options in our review, making them a good choice for both hiking and traveling or wearing around town.
Even though you can easily wear these travel pants almost anywhere, they are still clearly made for hiking and other outdoor activities.
Beyond its fit, other useful characteristics and features include moisture-wicking and wrinkle-resistant fabric, five pockets, two of which have zippers and two of which are handwarmer pockets, and a UPF rating of 50+.
The primary appeal of the Quandary is their mobility-enhancing design, which combines stretchy fabric with a gusseted crotch and articulated knees to provide entirely unrestricted movement.
While there's no built-in belt and no ankle zippers, the Quandary do have an internal mesh waistband and a drawcord that lets you convert them into a capri-style pant when temps are high
Material: 95% Nylon and 5% Spandex
Weight: 10 ounces
PROs

Lightweight
Stretchy materials
Handwarmer pockets

CONs
Bottom-Line: A high-performing pant that's equally at home on the trails as it is in the town. 
KUHL Renegade Convertible
Best Convertible Hiking Pants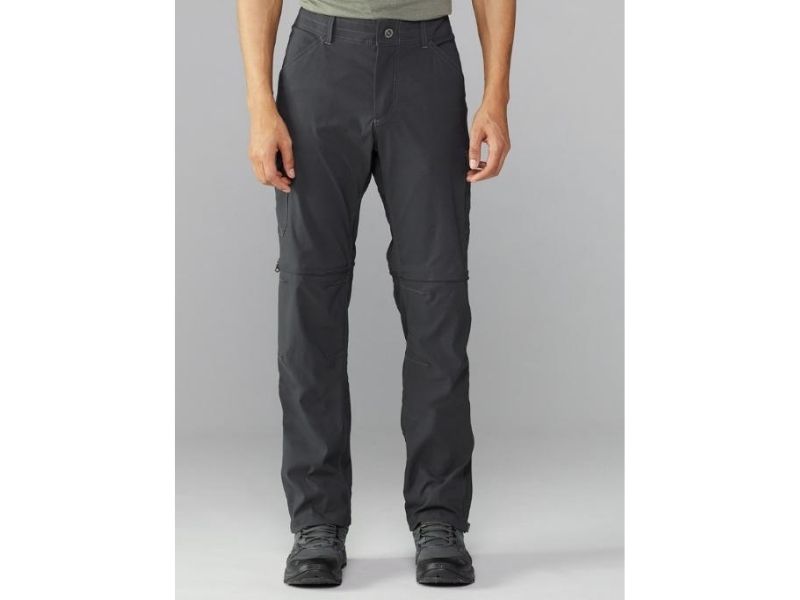 Looking for hiking cargo pants that pack all the trail-specific features needed for comfortable climbs and hikes? If so, the KUHL Renegade Convertible could well be the pant for you.
The Renegade are made from a durable yet flexible mix of fabric that makes them suitable for any hike or trek. They use DURALUX, a nylon-spandex fabric that's soft and comfortable against the skin yet still resistant to tears. Their well-designed zip-off legs make them even more versatile, allowing you to change between shorts and full-length pants in a matter of seconds.
The Renegade are one of the few on our list that have a water-repellent DWR coating for extra protection against the elements. Other winning features that make these a standout are "storage-friendly," cargo-style pockets (eight of them!), a nicely gusseted crotch, and articulated knees.
While the Renegade are a little on the heavy side and don't come with the belt, they're still a great pick for buyers who like convertibles and extra storage points for frequently used gear items.
Material: 95% Nylon and 5% Spandex
Weight: 14 ounces
PROs

8 cargo pockets
DWR treatment
Durable and flexible

CONs

No belt included
Quite heavy
Bottom-Line: A slightly heavy but highly functional pair of cargo hiking pants that work well in varying conditions and score extra points for their convertible styling. 
Mountain Hardwear Chockstone
Best Pant for All-Around Comfort
The MH Chockstone is an excellent option for the outdoorsperson who wants to maximize comfort while still benefiting optimal performance.
The Chockstone are made with a nylon-elastane blend that makes them nicely stretchy but also durable enough to deal with the demands of life on the trail. Adjustable cinch ankle cuffs also allow you to customize the pants for varying conditions, while a removable buckle-closure belt allows for easy size adjustment with one hand only.
The Chockstone also include gusseted inseams and articulated knees for added mobility, and zip pockets in the front and back, and cargo pockets in the thighs for stowing all your essentials. Another non-standard feature that's sure to appeal to climbers is the micro-chamois waistline, which is specially designed to provide added comfort when the pants are worn under a harness.
Material: 91% Nylon & 9% Elastane
Weight: 12.4 ounces
PROs

Stretchy materials
Micro-Chamois waistline for added comfort under a harness
Adjustable waistline and ankle cuffs

CONs
Bottom-Line: An incredibly well-made pant that's geared towards climbers but is equally at home on the trails.
Arc'teryx Gamma LT Pant
Best DWR-Coated Walking Pants
The Gamma LT Pant is a feature-rich softshell hiking pant that prioritizes comfort but ticks just about every other box that needs ticking for the three-season hiker.
The Gamma series includes both mens hiking pants and womens hiking pants that truly cater to the specific needs of trail-goers. They do so by combining mountain-ready toughness with versatile, comfortable fabrics, and a range of features designed to optimize convenience.
The softshell material used in the Gamma has a nice feel against the skin, four-way stretch for added mobility, and a high enough nylon content to ensure ruggedness and long-term durability.
With regard to bells and whistles, the most notable are the zippered pockets, a large map pocket in the thigh, and an integrated belt buckle. The new version of the Gamma LT also includes a DWR finish, meaning you can get away with wearing them in light rain showers without having to stop and pull out your waterproofs.
And the downsides? None, other than the price tag…
Material: 88% Nylon & 12% Elastane
Weight: 12 ounces
PROs

DWR treatment
Softshell fabric for extra comfort and durability
Zippered map pocket

CONs

Quite expensive
Slightly noisy fabric
Bottom-Line: A feature-rich and superbly comfortable pair of pants that tick every box that needs ticking for three-season hikers.