The 8 Best Rain Pants for Hiking & Backpacking
Looking for The Best Waterproof Pants?
You're in the right place! In this guide, we will be covering the following:
Our pick of the top waterproof hiking pant overall
Factors you should consider before purchasing a pair of rain pants
The advantages & disadvantages of different types of rain pants for hiking
Mother Nature is full of surprises. From wildlife sightings and spectacular flora to outlandish rock formations and awe-inspiring natural features. There's no telling what awaits us around the next turn in the trail.
The same, of course, applies to the weather. Notorious for refusing to play ball and respect our wishes for rain-free, fair-weather wandering.
So, what to do?
Well, in addition to kitting yourself out with appropriate footwear and a "bomber" rain jacket, protecting your pins with the best rain pants for hiking and backpacking that your budget will allow for is, without doubt, the wisest way to go.
Aside from the obvious, good rain pants bring many other benefits to the table. Find out what these are, as well as discovering eight of the best hiking rain pants out there to suit the budget, taste, and technical requirements of any adventurer!
Editor's Choice
Arc'teryx Zeta SL 225
It's rare that the most expensive model in one of our reviews also walks away with the "best in class" award. However, the all-around awesome performance offered by Arc'teryx's Zeta SL warranted it our top spot even with its premium price tag.
The Zeta provides the perfect balance of everything we could want in waterproof rain pants – robust waterproofing, optimal breathability, long-term durability, and a lightweight design. They also have a wealth of intelligent features that make them more practical and straightforward to wear than the best of the rest.
There's no getting around the fact that the Zeta SL are pricey. However, in return for the additional outlay, you get a performance-oriented pant that provides plenty of comfort and unrivaled protection no matter how grim hiking conditions get.
Bottom line: If you're willing to spend a little more for the best protection your money can buy, the Zeta SL should be somewhere very near the top of your shortlist!
At a Glance: The Best Rain Pants for Wet-Weather Hiking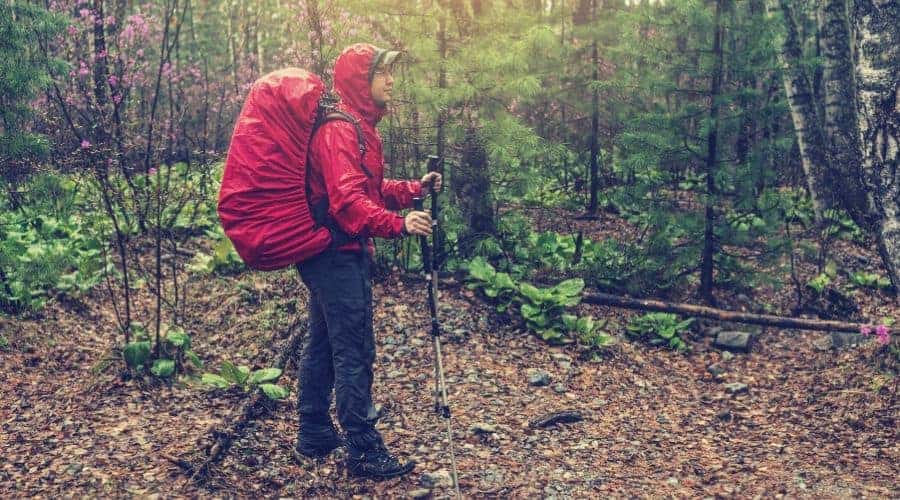 Further Reading: Our guide to the Best Hiking Pants
The Best Wet-Weather Hiking Pants Reviewed
Arc'teryx Zeta SL 225
Editor's Choice
Whether you hit the trails no matter how hard the rain's falling or are looking for an emergency backup to throw in your pack in case conditions turn bad, you can't go wrong with the Zeta SL.
Granted, this is the priciest option on our list by far. Nevertheless, their outstanding performance in every metric there is in which to measure a pair of water-resistant pants by means they provide great value for money regardless.
Along with the Outdoor Foray and REI XeroDry GTX, these are the most waterproof and breathable rainproof pants on our list, boasting a hydrostatic head of 28,000mm and MVTR of 25,000 g/m²/24h. This combo makes them both "bombproof" in regards to waterproofing and breathable enough for use in warm conditions and more high-output activities.
Weighing just 8.6 oz., the Zeta SL are also the second lightest rain pant on our list after the OR Helium. There is a thigh-length zipper for ventilation making them easy to take on and off without removing your hiking boots. They also have articulated knees, a gusset crotch, reinforced cuffs, and a pair of water-tight zippered pockets.
The only downsides to the Zeta are their hefty price tag and lack of lining, which can make them feel a little uncomfortable when worn over shorts.
Specs
Waterproofing: 2-layer Gore-Tex Paclite Plus
HH: 28,000mm
MVTR: 25.000 g/m2/24 h
Zipper: Cuff to thigh
Weight: 8.6 oz.
PROs

Solid waterproofing
Highly breathable
40D ripstop fabric
Excellent mobility
Cuff-to-thigh zippers

CONs
Bottom-Line: Boasting a lightweight and performance-oriented design, outstanding waterproofing and breathability, and tough, hard-wearing fabrics, it's easy to see why these are our favorite rain pants on the market.
Outdoor Research Foray
Runner Up
Combining the benefits of Gore-Tex's lightweight, ultra-breathable, and highly waterproof PacLite technology with an impressively dialed-in, well-thought-out design, the OR are a solid option for all types of adventure in inclement weather.
With a hydrostatic head of 28,000 and MVTR of 25,000 g/m2/24 h, the Foray are the most waterproof and breathable rain pants on our list, along with the Arc'teryx Zeta SL and REI XeroDry GTX. While a little heavier than both these models, the Foray includes a few nice touches that are worth the extra weight.
In addition to mobility-enhancing features like knee articulation and a gusset crotch, the Foray have two-way zippers for easy ventilation, an elastic drawcord waist, snap closure cuffs, loops for instep laces, and a handy carabiner loop that lets you attach them to the outside of your pack.
Specs
Waterproofing: 2-layer Gore-Tex PacLite
HH: 28,000mm
MVTR: 25,000 g/m2/24 h
Zipper: ¾-length, two-way
Weight: 11.5 oz.
PROs

Highly breathable and waterproof fabric
Gusset crotch
Articulated knees
Two-way zippers
Rear pocket doubles as a stuff sack

CONs
Bottom-Line: These waterproof pants for men might be a little on the heavy side for some but offer outstanding protection and durability.
REI Co-op Essential
Best Budget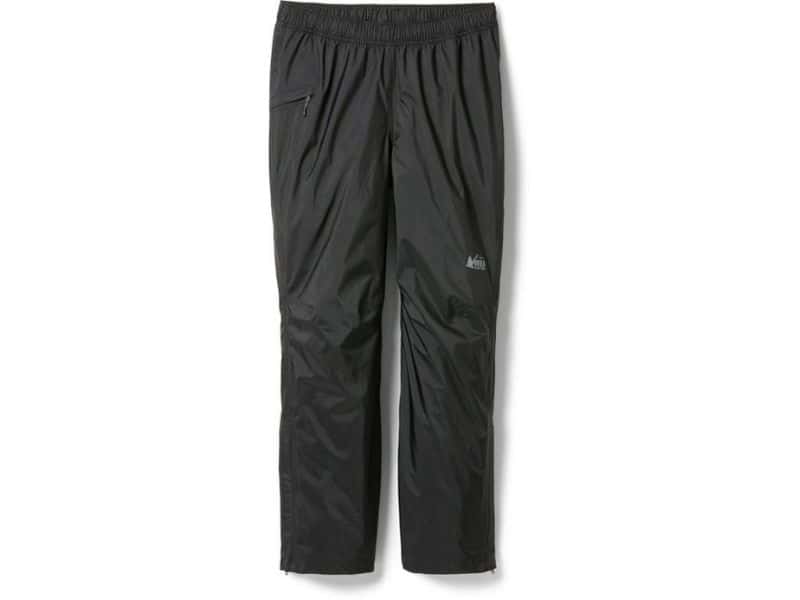 Looking for a simple but reliable rain pant that does exactly what you need it to when the wet stuff starts falling? If so, you could do a lot worse than plump for the REI Co-Op Essential.
Despite this option being geared towards the average hiker it still offers significantly above-average performance and at a very palatable price point. They're made with 2.5-layer waterproof-breathable fabric that provides enough airflow for moderately intense hikes and is more than capable of fending off heavy rain showers.
At 9.5 oz., these are also the third lightest in our review after the Arc'teryx Zeta SL and OR Helium.
Compared to the next cheapest pant on our list, the Marmot PreCip, the Essential are a little more basic. There's no ripstop fabric, only one zippered pocket instead of three, and they aren't quite as breathable. However, the Essential do have nicely articulated knees, sealed seams, an elastic waist, and pack into a similarly tiny bundle when not in use.
Specs
Waterproofing: 2.5-layer waterproof-breathable fabric
HH: N/A
MVTR: N/A
Zipper: ¼-length
Weight: 9.5 oz
PROs

Cheap!
Waterproof and breathable
Lightweight

CONs

Not as waterproof or breathable as pricier options
Only one pocket
¼-length ankle zippers
Bottom-Line: A simple and unpretentious pant that does what most hikers will need it to do and to a relatively high standard. 
Mountain Hardwear Stretch Ozonic Pants
Best for Comfort
Made with Dry.Q Active 4-way stretch fabric for added mobility, the Ozonic are a great pick for hikers who normally feel a little too constrained by the stiffer, unyielding materials used in most other rain pants.
This soft and stretchy fabric not only makes the Ozonic ideal for more technical hiking and steep ascents but also makes for the most comfortable pant we've ever pulled over our pins and posteriors.
The 40-denier fabric used in the Ozonic makes them among the most rip-resistant and durable options in our review, second only to the Marmot PreCip and Arc'teryx Zeta SL.
The design of the Ozonic is carefully dialed into the needs of the hiker. There's an integrated belt, an elasticated waist, articulated knees, and a roomy enough crotch that no extra gusset is required. While there's only one zippered thigh pocket, this is big enough to stow most small essentials.
Specs
Waterproofing: 2.5-layer Dry.Q Active
HH: N/A
MVTR: N/A
Zipper: Full-length
Weight: 10 oz.
PROs

40D Dry.Q Active Stretch fabric
Waterproof and breathable
Lightweight
Full-length zippers
Integrated belt

CONs

A little "baggy" for some
Bottom-Line: A well-thought-out option that combines the comfort of a lightweight hiking pant with the robust protection of the most high-end rain pants. 
Outdoor Research Helium
Best Ultralight
Weighing a mere 5.4 oz. and packing down into a tennis-ball-sized bundle, the OR Helium are the most packable and ultralight rain pants on the market.
While most rain pants in the "ultralight" category make a few compromises in terms of comfort, durability, and/or features, the Helium holds its own in each of these metrics. They're made with tough, 30-denier ripstop fabric, have a gusset crotch for added mobility, an elasticated drawcord waist, and a nicely sized zippered back pocket.
While we would have preferred a full-length side zipper, hand pockets, and a little more articulation in the knees, it's hard to quibble given the Helium's emphasis on keeping weight to an absolute minimum.
Specs
Waterproofing: 2.5L Pertex Shield
HH: 20,000 mm
MVTR: 20,000 g/m2/24 h
Zipper: ¼-length
Weight: 5.4 oz.
PROs

Ultralight
Highly waterproof and breathable
Tiny packed size
Ripstop fabric

CONs

¼-length zipper
No hand pockets
Bottom-Line: The ultralight Outdoor Research Helium pants have a tiny packed size and robust waterproofing making them a shoo-in for those who like to travel fast and light, whilst still being among the best backpacking rain pants out there.
Marmot PreCip Eco Full-Zip Pants
Best Value
Looking for a tough, reliable outer layer that provides solid wet-weather protection without breaking the bank? If so, the Marmot PreCip Eco Pants are well worth considering.
The Marmot PreCip have been around for a while now, and in that time have amassed a slew of rave reviews from hikers everywhere. While not the most "technical" option on our list, they do what most hikers need a rain pant to do…and do it at a very reasonable price.
With a hydrostatic head of 10,000 mm, the Marmot PreCip pants lag far behind all other pants on our list in the waterproofing stakes. They're also the second heaviest option after the OR Foray and offer a middle-of-road degree of breathability (17,000 g/m2/24 h).
While these factors make them less suitable for high-output activities and exposure to sustained, heavy rainfall, they're still ideal for buyers seeking an affordable protective layer to pack in case the weather turns during their hikes.
Specs
Waterproofing: 2.5-layer, PFC-free DWR Marmot NanoPro™
HH: 10,000 mm
MVTR: 17,000 g/m2/24 h
Zipper: ¼-length
Weight: 11.4 oz.
PROs

Durable
Recycled nylon ripstop fabric
Zippered pockets in front and rear
Ample breathability for most

CONs

Heavy
Low waterproof rating
¼-length zipper
Bottom-Line: A basic but highly durable pair of waterproof shell pants that are more than adequate for the needs of the average hiker.
REI XeroDry GTX
Best Gore-Tex
When outdoor clothing brands use Gore-Tex technology in their rain gear you can usually count on a corresponding price tag that will rule out the more budget-conscious buyer. Not so with the REI XeroDry GTX!
The REI XeroDry use 2-layer GORE-TEX PacLite, one of the most waterproof and breathable performance fabrics on the market. Nevertheless, they cost significantly less than both the Arc'teryx Zeta SL and OR Foray, the two other Gore-Tex rain pants on our list.
In terms of features, the XeroDry is up there with the best of them. They have articulated knees, zippered hand pockets with storm flaps, an elasticated drawcord waistband, and under-leg gussets that prevent restriction when hiking uphill.
The only real downsides to the XeroDry are the quarter-length zippers and polyester lining, which can feel a little sticky when you wear them with shorts. That said, it feels unfair to hate on them too much for these minor flaws when otherwise there's so much to love about them.
Specs
Waterproofing: 2-layer GORE-TEX PacLite
HH: 28,000 mm
MVTR: 25,000 g/m2/24 h
Zipper: ¼-length
PROs

Highly breathable
Robust waterproofing
Great value for money
Adjustable waist

CONs

¼-length zipper
Polyester lining is a touch uncomfortable when worn with shorts
Bottom-Line: An affordable pair of waterproof gore-tex hiking pants that offer comparable levels of breathability and waterproofing to most models that cost twice as much.
Black Diamond StormLine Stretch
Best Mobility
One of the main drawbacks to most rain pants is that they tend to restrict movement when we're hiking upslope or negotiating trickier terrain. If you'd prefer a rain pant that doesn't hold you back when you're hiking hard, the Black Diamond StormLine Stretch may provide the perfect solution.
These ultralight men's rain pants are made with BD.dry 2.5-layer technology. This isn't the most waterproof or breathable option out there, granted. However, its two-way stretch outer fabric, in combination with the pants' gusset seat and full knee articulation, means the StormLine are far more mobile than almost anything else out there.
If you're buying pants for extremely wet conditions, then there are better options out there. The Zeta SL and REI XeroDry, for example, are more practical options in a downpour. If, however, you want a pant that marries the best bits of a technical hiking pant – comfort, mobility, durability – with the waterproof capacity of a rain pant, then the StormLine are well worth considering.
Specs
Waterproofing: BD.dry 2.5L with DWR
HH: 10,000 mm
MVTR: 10,000 g/m2/24 h
Zipper: ⅓-length
Weight: 7.65 oz.
PROs

Lightweight
Stretchy fabric
Gusset seat
Full knee articulation
Tiny packed size

CONs

Less waterproof and breathable than competitors
Not quite as comfortable as the MH Stretch Ozonic
Bottom-Line: A stretchy, extra-mobile pair of rain pants that are ideal for technical hikes, scrambling, mountaineering, or anyone who places a priority on unhindered movement.
Critical Considerations Before Buying a Pair of Hiking Rain Pants
Water Resistance
Needless to say, the most important characteristic of any pair of rain pants is their ability to keep out the wet stuff and all models marketed as such are made with this core competency in mind. However, when it comes to blocking out the wet, not all are created equal.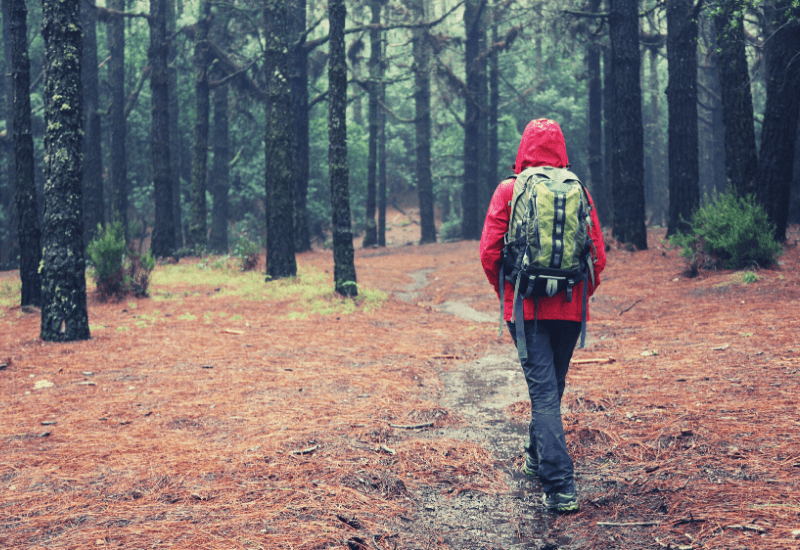 The level of water resistance provided is determined mainly by the fabric, but also by the use of taped or welded seams, and waterproof or storm-flapped zippers.
Waterproof Fabrics
The waterproofness of the fabric used is measured in the hydrostatic head test, which is used to determine how much water pressure any fabric can withstand before starting to leak. Hydrostatic head ratings are given in millimeters (i.e. 10,000mm, 15,000mm, etc.), and the higher the figure, the more waterproof the fabric is.
The rain pants with the highest HH in our review are those that use Gore-Tex PacLite such as the Arc'teryx Zeta SL, OR Foray, and REI XeroDry GTX (all 28,000mm). These are followed by the Patagonia Torrentshell and the Outdoor Research Helium (both 20,000mm), while those with the lowest HH are the Marmot PreCip (10,000mm).
Some rain pants double down on waterproofing by using a durable water repellent (DWR) coating that causes water to bead up on the surface rather than saturate the fabric. This acts as a "first line of defense" against rainwater and improves breathability by making it easier for your sweat to escape through the minuscule pores in the membrane of the water repellent pants.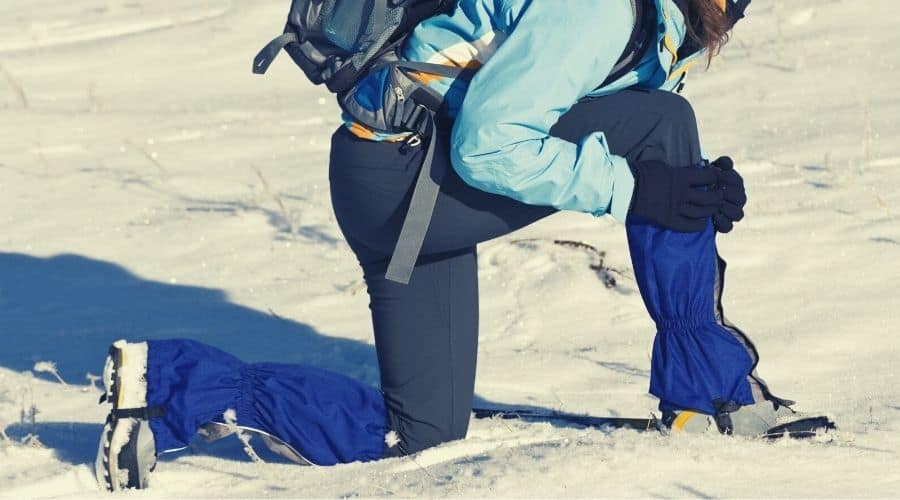 Sealed Seams
When the sheets of fabric used to make rain pants are stitched together, the "join" between the two sheets is pocked with a myriad of tiny holes through which the pants' defenses can be breached by H2O.
To avoid leaving this part exposed, the best water resistant hiking pants use either welded or taped seams to create a water-tight seal. With welded seams, the fabric is joined without stitching using glue or sonic bonding. With taped seams, a waterproof tape is applied to the inside of the pant leg along the line of the stitching.
The difference between taped and welded seams is minimal, though the welded variety are usually more resistant in the longer term since taped-sealed seams often fray and need to be replaced every year or so.
Waterproof Zippers
Most manufacturers use water-resistant zippers or "storm flap" zippers to prevent rain sneaking in at the pockets and/or sides of your pants. While using one of the above is pretty much standard across the industry, it's worth double checking if you choose to buy a pair not included on our list.
Of the options on this list, the Arc'teryx Zeta SL 225 and Mountain Hardwear Stretch Ozonic use water-tight zippers, while the others use storm flaps.
Breathability & Ventilation
Any rain gear that lacks breathability and ventilation is likely to leave you as soaked in sweat as you would have been by rainwater. As such, breathability is every bit as important as waterproofing when choosing your rain pants.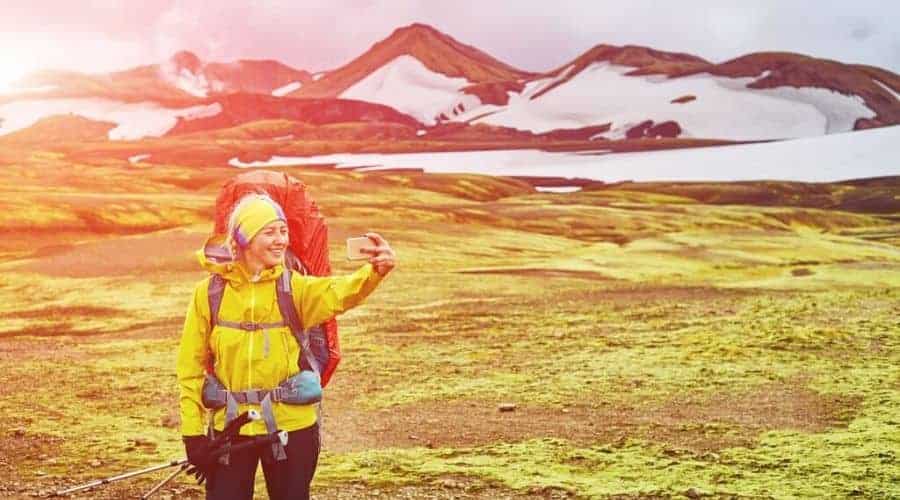 The breathability of waterproof-breathable rain gear is measured with the Moisture Vapor Transmission Rate (MVTR). This tells us how much water vapor can pass through the fabric from inside to out in a 24-hour period. In product specs, this is shown as a figure followed by "g/m²/24h" (e.g. 15,000 g/m²/24h), and the higher the figure, the more breathable the fabric is.
Below, we've put together an at-a-glance overview of the performance you can expect from various MVTR's:
Less than 10,000 g/m²/24h: These are the least breathable pants and therefore more suitable for short hikes, camping, and more stationary activities like hunting or outdoor photography.
12,500-17,500 g/m²/24h – Wearing rain pants with this rating hit the sweet spot for general hiking.
20,000+ g/m²/24h – The most breathable of the bunch, these are ideal for high-output activities like mountaineering, ski touring, and more intense, fast-paced hiking.
The most breathable models in our review are the Arc'teryx Zeta SL 225 and REI XeroDry GTX (both 20,000 g/m²/24h). The least breathable are probably the REI CoOp Essential (there's no MVTR stated by the brand, but they left our legs a little sticky after an hour or so's steady hiking).
Whatever the MVTR of your slacks, it's handy to have a model with two-way side zippers that let you dump heat quickly when need be. Full-length zippers like those on the Mountain Hardwear Stretch Ozonic, Marmot PreCip, and REI Rainer are the best option in this respect as they allow you to unzip as much as is required when things start getting a little sweaty under the waistband.
Comfort and Mobility
Rain pants for hiking should provide enough mobility to let you move freely. The features most conducive to both unrestricted movement and overall comfort are a gusseted crotch, articulated knees, and stretchy fabrics.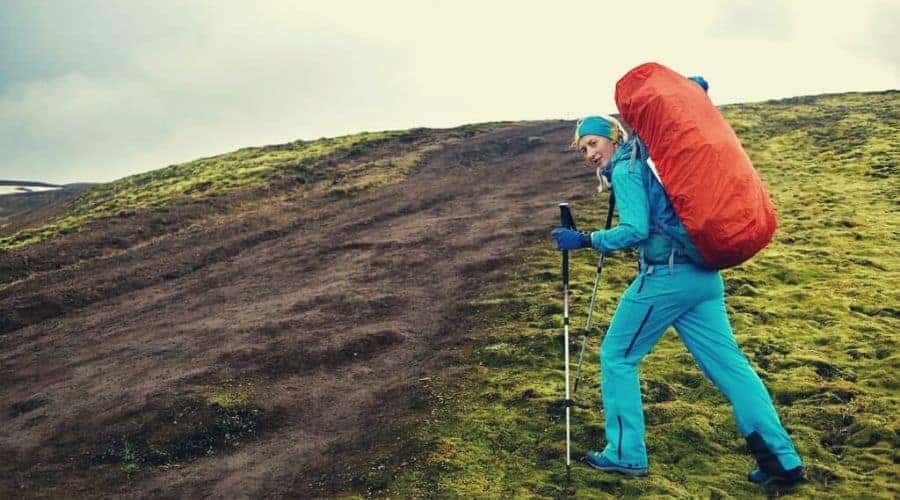 Articulated knees: these prevent the fabric bunching up at the back of the leg when bending your knees.
Gusseted crotch: a diamond-shaped insert of extra material provides a little more room for movement in the groin area and upper legs, as required when hiking uphill.
Stretchy fabric: this allows for more unhindered movement and is usually found in models geared towards more technical pursuits.
Aside from the Marmot Precip, all the models in our review have articulated knees. The Arc'teryx Zeta SL, OR Foray, OR Helium, and REI XeroDry GTX have a gusseted crotch. Only the Mountain Hardwear Stretch Ozonic use a stretch fabric.
Materials
Coating or Membrane?
Brands use one of two methods to make their rain pants resistant to the wet stuff: a waterproof coating or microporous waterproof-breathable membrane.
These usually take the form of a polyurethane layer applied directly into the interior of the fabric. While usually far cheaper, these are typically less breathable than membranes. The only coated model in our review is the Marmot PreCip.
These are extremely thin layers attached to, or sandwiched between, the other layers of fabric. Pocked with thousands of minuscule pores that are too small for rainwater to pass through but large enough to let your sweat escape as a vapor. Membranes let garments "breathe" whilst simultaneously keeping you dry.
The degree of waterproofing and breathability provided by membranes varies from model to model, though almost all outperform coatings in both of these metrics.
A waterproof membrane is used on 2-layer models like the Arc'teryx Zeta SL 225, Outdoor Research Foray, and REI XeroDry GTX, 2.5-layer models like the REI Co-op Essential, Mountain Hardwear Stretch Ozonic, Outdoor Research Helium, Marmot PreCip Full Zip, and 3-layer models like the Patagonia Torrentshell.
Although there are a few exceptions, 3-layer models are normally the most durable but also heavier, bulkier, and less flexible than 2.5-layer models. 2-layer models, which are usually the cheapest, are typically the heaviest, bulkiest, and least durable pants of the bunch.
Durability
Durability depends on a variety of factors, but none more so than the density of the fabric used. Fabric thickness is measured in denier (D), and – as a general rule – the higher the denier rating, the more tear-resistant and durable the fabric is.
All of the models in our review use fabrics in the 30-to-40D range, making them more than tough enough for use on rugged trails. If we were to pick one as the most resistant to rips and wear and tear, it would be a toss-up between the Arc'teryx Zeta SL 225 and Marmot Precip, both of which use 40D ripstop nylon.
Weight & Packed Size
Because your rain gear is likely to spend a lot of time in your pack, waiting to be deployed when conditions take a turn for the worse, the weight and packed size of your rain pants is a vital consideration.
Of all the models in our review, the Outdoor Research Helium (5.4 oz.) are the lightest and the Outdoor Research Foray mens rain pants (11.5 oz.) are the heaviest.
Pant Features
A few non-standard features can vastly improve performance and practicality. The most important to look out for are as follows:
Elastic waistband: Prevents your slacks falling down and guarantees a good fit at the waist.
Cuff closures – Keep the ankle fabric tight around the boots area to stop groundwater sneaking in.
Pockets – Handy for storing small items you want to keep to hand like a GPS device, phone, compass, camera, etc.
Reinforced Insteps – This refers to tougher, thicker material used in the inner ankle to prevent scuffing, wear and tear, or rips caused by crampon spikes.
RELATED: Best Winter Hiking Pants
RELATED: Best Women's Winter Hiking Pants
Looking for more information on hiking clothing? Then take a look at some of the other clothing related topics we've covered.
Last update on 2021-12-02 / Affiliate links / Images from Amazon Product Advertising API