The 7 Best Rain Pants for Hiking & Backpacking [2021 Update]
Looking for the Best Waterproof Pants?
You're in the right place! In this guide, we will be covering the following:
Our #1 overall pick for the top waterproof pants for hiking
Factors you should consider before purchasing a pair of rain pants
The advantages & disadvantages of different types of hiking waterproof pants
Mother Nature is full of surprises. From wildlife sightings and spectacular flora to outlandish rock formations and awe-inspiring natural features, there's no telling what awaits us around the next turn in the trail.
The same, of course, might be said about the weather, which is notorious for refusing to play ball and respect our wishes for rain-free, fair-weather wandering.
So, what to do?
Well, in addition to kitting yourself out with appropriate footwear and a "bomber" rain jacket, protecting your pins with the best rain pants for hiking & backpacking your budget will allow is, without doubt, the wisest way to go.
A good pair of rain-proof pants brings many benefits to the table. To find out what those benefits are and discover six of the best hiking rain pants out there for adventurers with all budgets, tastes, and technical requirements, read on!
Editors Choice
Marmot Minimalist Pants
Marmot's Minimalist Pants are one of the toughest, most packable, most waterproof, and most affordable high-performing wet-weather pants in the business.
Given the wealth of worthy competition out there, that's one heck of a lofty claim, we know.
So what is it that led us to hand the Minimalist the title of best rain pants for hiking and backpacking?
Let's start with that all-important core competence: waterproofing.
Boasting a durable, tear-resistant, 2.5-layer construction that includes a Gore-Tex Paclite membrane and DWR coating, the Minimalist have their bottom line covered with room to spare.
And with taped seams and water-resistant zippers sealing off the most frequent leak-points, it's easy to understand why these are Marmot's most popular bad-weather hiking pants.
As the name implies, the Minimalist don't offer much in the way of fancy features. While that may seem like a criticism, it's not. By leaving out the optional bells and whistles, Marmot have been able to keep the weight of the Minimalist to—you guessed it—a bare minimum.
Weighing in a mere 11 ounces, these aren't the lightest pants on our list but also far from the heaviest. And given the protection and fuss-free functionality you get in return, the extra ounce or two of additional weight compared to ultralight alternatives is a small price to pay.
Bottom line: Hard-wearing, lightweight, packable, and about as water-resistant and breathable as they come, the Marmot Minimalist are ideal for any adventurer who prioritizes practicality and performance over frills.
Best Value
Outdoor Research Helium Pants
The Outdoor Research Helium Pants are ideal for campers and hikers who like to keep weight to an absolute minimum.
Tipping the scales at a mere 6.5 ounces, these are among the lightest pairs of mens waterproof pants on the market. They also pack down to a tiny, pack-space-friendly bundle and could even be stored, in a pinch, in a jacket pocket.
But it ain't all about weight and pack size…
In terms of waterproofing, breathability, durability, body-heat management, and comfort, the Helium outperform all but a few of their heavyweight peers.
These mens' rain pants are made with 30-denier, ripstop, 2.5-layer Pertex Shield+. They have a hydrostatic head rating of 13,000mm and a moisture vapor transmission rate of 20,000. This means they're more than well enough equipped to keep you dry in heavy downpours whilst also ensuring things don't get too sticky on the inside when you're working up a sweat.
Other nice touches in the Helium include articulated knees and a slightly gusseted crotch that provide greater freedom of movement, an elastic waist for enhanced comfort, and fully taped seams.
Bottom line: Lightweight, packable, and just about as breathable and water-resistant as they come, these tiny but tough rain pants are the perfect pick for gram-counting minimalists, high-intensity athletes, and rain-averse aquaphobes alike.
Best Budget
Columbia Rebel Roamer
Columbia's Rebel Roamer pants are the ideal pick for occasional hikers looking for a pair of reliable, heavy-duty rain pants that won't deal too big a blow to the old bank balance.
Made with tough, 70D nylon and using Columbia's Omni-Tech technology, the RR offer above-average weather protection and breathability while throwing in absolutely oodles of durability.
Given the above and the pants' low price, you might ask, why aren't we all kitted out in the Rebel Roamer when we head for our wet-weather wanders in the wilds?
Well, there are a few downsides. While these pants tick the rain-resistance and ruggedness boxes surprisingly well given their friendly price tag, they leave quite a lot to be desired in the way of convenience-enhancing features.
The most notable absence is found in the lack of side zippers and pockets.
This may not seem so egregious an oversight if you're carrying them as a just-in-case fallback for foul weather, granted. However, it does mean you'll have to take your boots off to get them on, are missing two fairly fundamental ventilation points, and will have nowhere to stuff your map/phone/hands if your jacket pockets are already occupied.
Bottom line: A tough, reliable, low-cost rain pant that lacks a few high-end features but covers the basics very well. Frill-free but perfectly functional, the RR are probably the best waterproof pant you're ever likely to come across at this price point.
Benefits & Features of Hiking Rain Pants
What To Look For In Rain Pants For Hiking And Backpacking?
The key feature every camper needs to look for in rain trousers is waterproofing. It doesn't matter whether you're a casual or serious hiker; high-quality waterproofing technology is a must.
RELATED: The Best Hiking Pants
After you've ensured that the product has good waterproofing technology, other major considerations include breathability, durability, affordability, and weight. These secondary features will, of course, change in order of importance depending on your specific needs for your hiking or backpacking rain gear, which are largely determined by your activity type.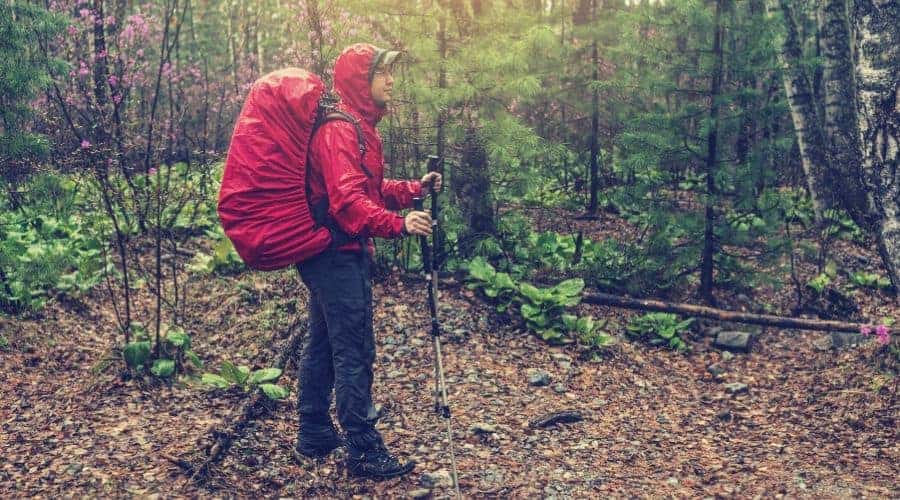 Waterproofing Versus Water-Resistance: Is There A Difference?
Many people use the terms waterproof and water-resistant interchangeably. It's important, however, to draw a distinction between these products because they offer hikers different degrees of weather protection.
Simply put, water-resistant pants are not as hydrophobic (i.e. water-repellent) as waterproof ones. Only invest in water-resistant hiking pants if you plan to use them as an emergency backup or when you're not expecting a great deal of heavy rain. For everything else, waterproof models are the way to go.
What Are Waterproof Ratings?
Over the years manufacturers have devised a standardized rating system measured in millimeters that lets consumers know how well products block out moisture. This is known as the hydrostatic head (HH) rating.
The HH rating is measured in millimeters, and the higher the rating, the more waterproof a product will be. Any product crosses the threshold from merely water-resistant to waterproof when it has a hydrostatic head rating of 1,500mm.
Standard Waterproof Rating Ranges
As mentioned above, any product that measures 1,500mm or slightly below is merely considered water-resistant. But what does this mean in the field? Well, any water-resistant product is likely to help you stay dry in short-lived drizzle, but leave you in for a soaking in anything heavier.
Let's take a quick look at what various HH ratings translate into in terms of performance.
Low-end products have a HH rating of between 1,500mm and 5,000mm. This range is best for protection against light rainfall and is best suited to occasional hikers or campers looking for something to throw on in the event of an unexpected shower.
However, we wouldn't recommend products with this rating to anyone planning on spending a more significant amount of time on the trail in wet weather.
RELATED: Best Winter Hiking Pants
Mid-range rain pants measure between 5,000mm and 10,000mm hydrostatic head. These are good for hikers expecting moderately heavy and sustained rainfall on their trek. They might not be able to keep out moisture from torrential downpours, but they usually offer the best mix of lightweight construction, breathability, and weather protection.
Products with a HH rating over 10,000mm are designed to keep you dry in heavy, sustained rainfall. As such, they're ideal for people who anticipate spending a lot of their trail time in the rain and mountaineers.
What's The Hydrostatic Head Test?
To test any rainproof product, manufacturers take a piece of fabric and put it underneath a cylindrical container of water. Scientists then record the amount of water in milliliters they can pour into the container before water starts leaking through.
The minimum amount of water required to leak through a piece of fabric gives us its hydrostatic head rating. Hence, manufacturers call this standard screening the Hydrostatic Head Test.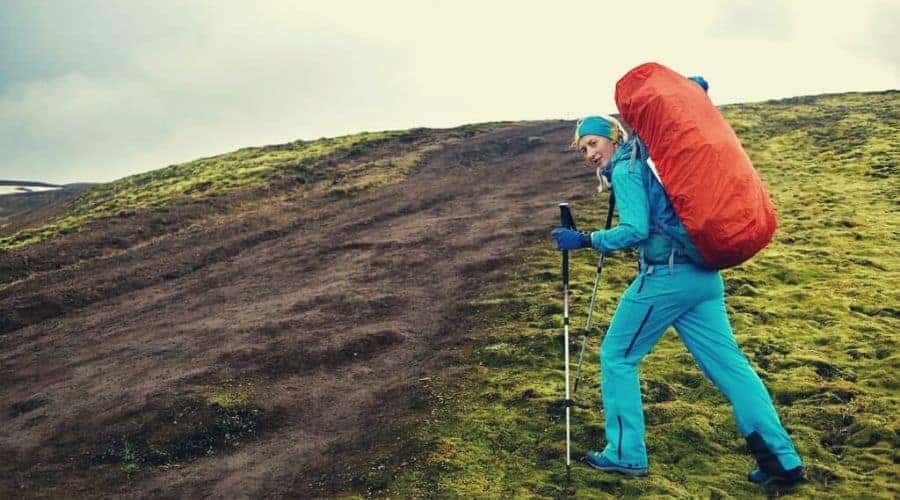 The Pros & Cons Of Waterproof Membranes Versus Water-Resistant Coatings
There are two major distinctions in the world of waterproof vs water resistant design: membrane inserts and water-repellent coatings. While membrane products offer more solid waterproofing than those with water-resistant coatings, there are advantages and disadvantages to investing in either of these constructions.
Waterproof Membrane: Durability Over Compressibility (and Cost)
In addition to keeping rain out, membranes are designed to effectively vent, or "wick" sweat. Manufacturers do this by tightly bonding a thin membrane to the pants' face fabric. The internal membrane usually has billions of tiny pores that are too small for rain to penetrate, yet large enough to release your sweat as a vapor.
The greater breathability and durability membrane products offer makes them the preferred choices for serious hikers. Name-brand membrane products like Gore-Tex hiking pants, however, tend to cost and weigh more than less advanced waterproof trousers that rely on water-repellent coatings.
While Gore-Tex is a prominent name in the industry, many people mistakenly refer to all membrane constructions as "Gore-Tex." There are, however, many other big names in the membrane manufacturing industry such as eVent, H2No, and MemBrain Strata.
Lightweight Waterproof Coating (DWR)
Microporous coatings are designed to keep water from penetrating the fabric; they aren't designed to let sweat out. For this reason, you can often get an accumulation of sweat on the inside of the material if a DWR coating is combined with a breathable membrane. On the plus side, products with waterproof coatings are easier to pack and much more affordable.
The coating often used is called Durable Water Repellent (aka DWR). DWR fabrics are essentially a thin chemical layer that uses fluorocarbons or fluoropolymers to effectively wick off moisture on the trousers' outer layer.
Whether it's on a raincoat or pants, DWR's main purpose is to stop water from building up on the face fabric and soaking through. DWR products also require occasional reapplication with a DWR detergent.
Importance Of Taped Seam Construction
Even if your product has the highest-quality waterproof membrane, you won't get the full benefits of rain-protection unless it's made with taped seams. These heat-sealed seams are an essential design feature because they help keep water from trickling through your materials' stitching.
Common Layering Of Membrane Pants
Most pant models use a 2-layer, 2.5-layer, or 3-layer construction. Although they will often appear to only have one layer when you hold them in your hands, manufacturers bind these fabrics so tightly that you won't be able to notice them.
What Layering Design Is Best For Casual Hikers?
2 and 2.5-layer products are made with an exterior fabric (aka "face fabric") and an internal membrane. Usually, the inner lining of 2-layer products is made with some combination of polyester and mesh fabric. In the case of 2.5-layer trousers, manufacturers use a thin layer of polyurethane laminate to provide extra breathability and moisture-protection.
2-layer products are ideal for casual campers who expect to face moderate rainfall on their hikes, while 2.5-layer models are a better bet for backpackers and hikers who anticipate spending more time in wet conditions.
3-layer garments are made with an outer face fabric, an internal membrane, and another internal bonded lining. These three fabrics are woven so tightly together that they can feel like one layer. Three-layer products are best suited for serious hikers who expect to face torrential downpours.
RELATED: Best Women's Winter Hiking Pants
Obviously, 3-layers are more durable and long-lasting, but they are typically also heavier than the 2.5 and 2-layer options.
So which should you buy?
Casual hikers who expect to experience light to moderate rainfall will prefer 2.5 and 2-layer fabrics because they are lightweight and easier to pack, whereas those who expect to do their trekking in more inclement conditions will benefit from the added protection and performance of a 3-layer construction.
Breathable Rain Trousers?
After considering how much protection you need from rain, it's time to look at how well they shed internal heat and moisture. If there's no way for sweat and body oils to escape from your clothing when hiking in rain pants, then expect to deal with soggy legs on your hike.
As with hydrostatic head, breathability has its own rating system, which is called the Moisture Vapor Transmission Rate (MVTR). This measures how quickly any breathable fabric allows sweat to pass through the fabric as a vapor. Measurements are given as grams per square meter per day (g/m²/24h) and the higher the rating, the more breathable the product is.
Here's how various ratings perform in the field:
5,000 – 10,000g/m²/24h: Fine for camping and slow-moving hikers, but will get a little bit sticky in any higher-intensity activities.
10,000 – 15,000g/m²/24h: Ideal for general hiking purposes but, again, unlikely to be able to shed enough heat and sweat in more intense activities like trail running or hiking on steeper inclines.
15,000 – 20,000g/24h & above: Excellent in warm climates or activities when you'll be sweating heavily (intense hikes, trail running, mountaineering).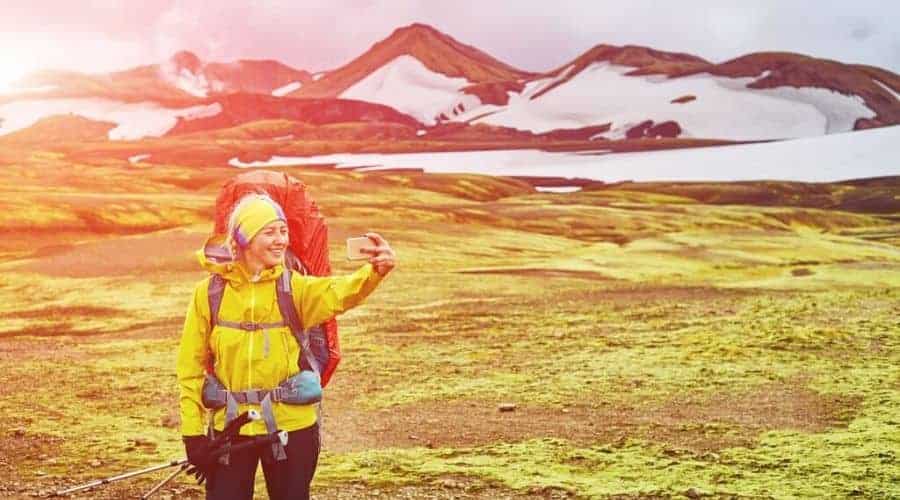 How Is Durability Measured?
For most hikers, durability is as much of a concern as water-resistance and breathability. Durable products obviously have the benefits of increased longevity, which translates into better value for money. However, most also tend to be heavier and more difficult to pack, meaning there's always likely to be a degree of trade off if durability is a priority.
You'll often see denier (abbreviated "D") used when describing fabric type and durability. A denier rating refers to the density of fabric per length and weight of the garments' fibers.
One denier is measured as a single strand of fabric, so higher denier counts mean each strand of fabric has a greater diameter. Higher denier counts, then, equate to added tear-resistance and durability.
Extra Features To Look Out For In Waterproof Gear
The two most important "additional features" to look for are side pockets and side-zippers. Their mere existence alone, however, isn't enough to make any pant more convenient or comfortable than another. When buying, therefore, pay close attention to the details of each feature.
Convenience of Side Pockets
Side pockets are a handy feature for keeping your hands warm in cool temps and storing a few handy items for quick access. Often rain trousers have either a pair of side pockets or a back pocket in their design. Sometimes these pockets double as a stuff sack, which makes them much more packable when not in use.
When examining pockets, be sure to look into whether they are made out of a breathable material – mesh-lined pockets are the best option. It's also important to consider if these pockets have a zipper and whether or not the zipper will repel H2O. And while having two is nice, having three or four may be preferable if you like to keep lots of bits and bobs close to hand.
The Benefits Of Side Zippers
Zippers are all about ease of use. Garments with waterproof zippers on the sides of the leg (as opposed to just ankle zippers) are easier to pull over your boots while on the go. In addition to the ease of pulling zippered pants on and off, ones with side zippers allow you to quickly vent if your legs start to feel clammy.
One thing to look out for when examining zippered products is how far the zipper goes up the leg.
Quarter length: allow for easy ventilation but in most cases can't be put on without removing your boots, which is a huge pain in the posterior when the rain's already falling.
Both half and full-zip rain pants: best for convenience because they let you put the pants on and take them off without removing your boots.
What's The Ideal Weight For Hiking Rain Pants?
The answer to this question largely depends on what you'll be getting up to in the outdoors. Given that a pair of rain pants are likely to spend most of their life inside your backpack, weight is, of course, a concern. That said, it's too easy to see weight savings as the be-all-and-end-all and, in the process, end up compromising on the product's core capacity, i.e. waterproofing.
So, which weight of pants are best for you? Well, for backpackers and thru-hikers, the ideal weight is anything under 10 ounces, whereas casual hikers can stretch to around 18 ounces if more concerned with weather protection. Because ultralight products also tend to be pricey, there are usually a few bargains to be found at the heavier end of the scale.
The Results
Outdoor Research Foray
Best for Heavy Rain
Made with 50D polyester with a waterproof Gore-Tex membrane, the Outdoor Research Foray is ideal for hikers and mountaineers looking for extreme protection against the elements.
With a hydrostatic head rating of >28,000 mm, the Foray are a pair of pants that are ideally equipped to deal with the very worst the weather can throw at you. These Gore-Tex rain pants are also among the most breathable men's rain pants in our review.
Outdoor Research used their patented PacLite Technology to make the Foray easier to compress and lightweight. The average weight of these hovers around 12 ounces and they are available in five sizes ranging from small to xx-large. Considering these use a 3-layer Gore-Tex construction, these waterproof shell pants can pack down quite nicely in your backpack.
Other nice features in the Foray include an elastic waistband with a drawcord, articulated knees, a gusseted crotch, loop attachments for suspenders, and three-quarter length water-resistant zippers.
Overall, the Foray have a looser fit, leaving plenty of room to wear pants underneath if you're traveling in colder weather.
The only slight negative with the Outdoor Research Foray is that they only have one zippered pocket in the back of the right hip. A nice feature of this back pocket, however, is that it doubles as a handy, space-saving stuff sack.
PROs

Easily compressible
Gore-Tex membrane
Three-quarter length zippers
Lifetime warranty

CONs

Short on pockets
At 12 ounces, slightly heavier than other models.
Bottom-Line: The best waterproof hiking pants for buyers who prioritize weather protection over weight savings.
Mountain Hardwear Stretch Ozonic
Best for Mountaineering
The main feature of the Mountain Hardwear Stretch Ozonic is that they are the most flexible on the market. As the name suggests, Mountain Hardwear designed them with four-ways stretch to provide greater mobility and freedom of movement, which makes them perfect for more arduous hiking, mountaineering, and climbing adventures.
Another nice feature of Mountain Hardwear's Stretch Ozonic is that they have side zippers that run up the full length of the leg. This means anyone with bulkier boots won't have any issues getting these pants on in a hurry when the rain starts falling.
For a comfy fit around your waist, Mountain Hardwear added an elastic waistband with a clipped belt. There are also Velcro tabs on the sides for a tighter, weather-resistant seal.
The Stretch Ozonic are made out of 40D ripstop nylon treated with the company's patented Dry Q Active waterproofing technology, which makes them both highly durable, waterproof, and breathable. Their 2.5-layer design also makes them easy to compress and relatively lightweight at 10 ounces.
PROs

Excellent for hikers or mountain climbers who want increased flexibility
Five sizes available
Full-length side zippers
10 ounces

CONs

Not as storm-worthy as other options on our list
Bottom-Line: While these aren't the most breathable or rainproof pants on our list, the Stretch Ozonic are ideal for hikers who want a great pair of pants that offer reliable protection in combination with performance-enhancing features.
Marmot Minimalist
Best Pants for Rain
Marmot's Minimalist are made of 50D polyester with a 2.5-layer Gore-Tex Paclite membrane. Despite their durability and rugged construction, they pack up quite well and only weigh 11.2 ounces.
The Minimalist boast a HH rating of 10,000mm and provide further protection from the elements courtesy of a DWR coating and welded zippered pockets.They also feature a comfy elasticized waist belt, a quarter-length leg zipper, and robust, reinforced cuffs around the ankles.
Marmot's Minimalist are best for intermediate or advanced hikers looking for a great balance between durability and packability. It also doesn't hurt that they're much more favorably priced than many competitors in their performance range.
For a lighter version of the Minimalist, we recommend taking a peek at the Marmot Precip Eco.
PROs

Gore-Tex membrane
11 ounces
DWR finish
Side pockets

CONs

Quarter-length leg zippers
Only three sizes available
Bottom-Line: A relatively lightweight, relatively low-cost, and relatively high-performing pant that's ideal for all hikers who don't plan on moving at higher speeds. Our pick for the best rain pants.
Outdoor Research Helium
Best Backpacking Rain Pants
Looking for ultralight rain pants? If so, then the Outdoor Research Helium might just be the best option for you. The OR Helium weigh in at only 6.5 ounces a pair, making them one of the lightest available on the market.
Although the weight of the Helium is their main selling point, they don't scrimp too much on performance. They are made with 30D nylon ripstop with a 2.5-layer Pertex Shield construction featuring a 13,000mm HH membrane. This makes them waterproof enough to withstand the odd downpour and durable enough for general hiking.
And the downsides?
While the Helium have water-resistant zippers on the sides, these are only quarter-length, which might be a bit of a dealbreaker for some buyers. There's also only one pocket in the back of these pants, meaning you'll have to stow any bits and bobs you want to keep close to hand in your jacket or backpack.
The Helium come in six sizes ranging x-small to xx-large. All have elasticated waistbands with a cinch cord to help tighten them around your hips.
PROs

Highly packable: weigh 6.5 ounces and easy to compress
2.5-layer Pertex Shield
Six size options available

CONs

Quarter-length side zippers
Only one back pocket
Bottom-Line: If you're looking for the lightest and most compressible rain gear in the industry, and don't mind sacrificing conveniences like full-length zippers and side pockets, Outdoor Research's Helium Pants may be the best option for you.
Patagonia Torrentshell
Best All-Rounder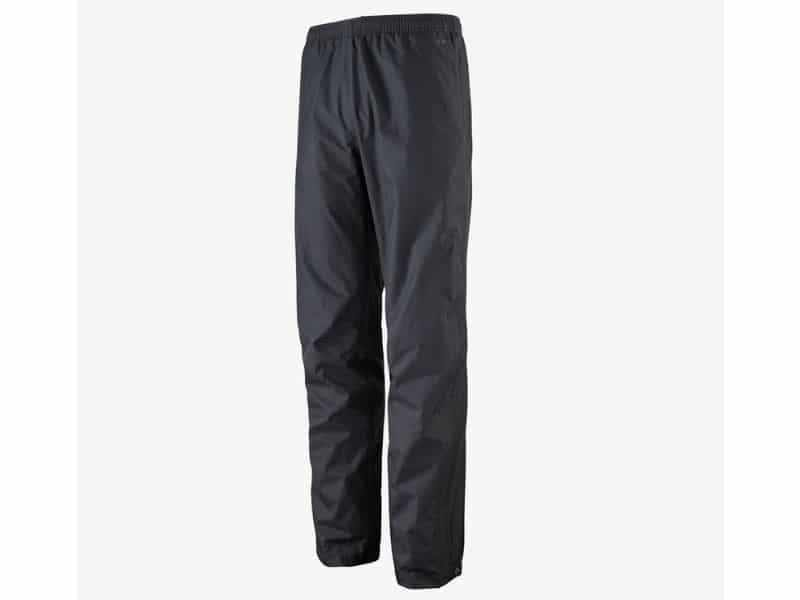 While not the top performers as regards breathability or waterproofing, the Torrentshell are a great choice for buyers who want the best of both worlds without paying over the odds.
Made with 100% recycled nylon that's recycled and BlueSign-approved, the Torrentshell are a great pick for more conscientious buyers. In that construction, Patagonia included its unique 2.5-layer H2No Performance Standard waterproof fabric technology, which combines a high-performing waterproof-breathable membrane with tough face fabric and a DWR coating.
The Patagonia Torrentshell pants have side zips that run from the ankle to the knee, so it's easy to pull them on over your hiking shoes and open them for ventilation when things are getting clammy. There are also two zippered pockets on the sides with mesh interiors for additional comfort and the left pocket doubles up as a stuff sack when not in use.
The Torrentshell weigh in at just 11 ounces but pack an impressive array of features. These include an elasticated waistband, articulated knees, two front pockets with storm flaps, and partially elasticized cuffs that adjust with a snap-tab closure.
PROs

11 ounces.
Side zips go up to the knees.
Made out of environmentally-friendly recycled nylon.
DWR finish.

CONs
Bottom-Line: A great choice for eco-conscious hikers who prioritize comfort and a wide range of features.
Columbia Rebel Roamer
Best Value
The Columbia Rebel Roamer is a great choice of pant for buyers who want reliable rain and wind protection and above-average durability without breaking the bank.
The Rebel Roamer are made with tough, 70D nylon fabric and a layer of Columbia's proprietary Omni-Tech waterproof technology. While this isn't as waterproof as membrane-based systems, it will provide more than enough protection for the needs of most hikers.
One interesting feature about the Rebel Roamer's construction is that there are smooth taffeta inner linings that are sure to keep your legs comfortable and warm. On the flipside, this lining, combined with the lack of a membrane, does make the Roamer a little less breathable than many of their peers, so they're not the best option for high-intensity hikes.
The main downside to the Rebel Roamer is their lack of features. There are no pockets or side zippers, so you'll have to take your boots off to get them on and stow your map, phone, and other bits of smaller gear elsewhere.
PROs

Cheap!
Made with rugged 70 D nylon
Soft taffeta inner linings

CONs

Less durable than other options on our list
No pockets
Less waterproof than other options in our review
No ventilation and minimal breathability
Bottom-Line: A frill-free but functional pair of water-repellent pants that are ideal for occasional hikers or buyers on a tighter budget.
The North Face Venture 2 Half Zip
Best 2.5-Layer
The North Face Venture 2 are a solid choice for hikers or backpackers looking for a pant that does everything to a high standard without necessarily doing anything to an exceptionally high standard.
The Venture 2 use a 2.5 layer construction that combines 40D poly-nylon face fabric, a DryVent polyurethane insert, and a soft polyester lining. This combo makes them a little more comfortable, breathable, and waterproof than most other 2.5-layer models in their price range.
The Venture 2 also packs a handful of handy features. These include Velcro straps on the ankle tabs, knee-high side zippers that will allow all but the biggest boots to pass without removal, and two zippered hand pockets in the thighs, one of which serves as a handy stow sack.
North Face's Venture 2 comes in four sizes available from small to xx-large. The waist is elasticated. Expect to add about 12 ounces to your backpack with them.
PROs

Half-length side zippers.
DryVent polyurethane insert.
Two side pockets.

CONs
Bottom-Line: Hikers who can spare a few extra ounces in their backpack and want an affordable pair of waterproof-breathable rain pants could do a lot worse than the North Face Venture 2.
Looking for more information on hiking clothing? Then take a look at some of the other clothing related topics we've covered.
Last update on 2021-09-17 / Affiliate links / Images from Amazon Product Advertising API