In recent years, more and more hikers have made the shift from big and burly hiking boots to lighter shoes. And with good reason. Once frowned upon by all and sundry in the hiking community, hiking shoes are now recognized as the ideal solution for hikers who want to enjoy most of the benefits of a hiking boot, but without the weight.
Sound good to you? If so, read on! In this post, we'll introduce you to a selection of our favorite lightweight and ultralight models and provide you with all the info required to make the right choice for your needs, feet, and activity type.
Whether you're looking for cheap hiking shoes, trail runners for hiking, a Gore-Tex climbing shoe, an ultralight trail shoe, or trail shoes for backpacking, our review has you covered!
Top Choices by Category
Budget: Merrell Moab 2 Ventilator, Columbia Redmond, Vasque Juxt
Waterproof: Salomon X Ultra 3 GTX, La Sportiva Spire, Adidas Terrex Swift R3 GTX
Backpacking: La Sportiva Spire and Salomon X Ultra 3 GTX
Comfort: HOKA ONE ONE Speedgoat 4, The North Face 109 GTX, Altra Lone Peak 6
Editor's Choice
Salomon X Ultra 3 GTX
What makes any shoes the best lightweight hiking shoes in the business? For starters, we wanted a shoe that ticks the weight box without compromising on all the other necessities. This meant a shoe that's supportive, tough, water-resistant, grippy, breathable, and durable enough to withstand long-term use and abuse.
This, folks, is the Salomon X Ultra 3 GTX (click here for women's version) in a nutshell…!
The X Ultra 3 weigh in at a little over 1.5 lbs. but, despite their featheriness, are among the most stable and comfortable trail shoes we've ever tested.
Much of this owes to the use of an EnergyCell high-performance EVA midsole that absorbs shock and provides pillow-like cushioning for the soles of your feet, and the Advanced Chassis molded insert in the outsole, which provides all the support, mobility, and protection needed to tackle technical terrain.
Sneaker-like comfort aside, the X Ultra 3 has a lot going for it. We're big fans of the plush cushioning in the tongue and collar, and also the deep chevron lugs in the Contagrip outsole, which allowed us to take on steep descents at speed without fear of slipping.
Quicklace lacing systems are, in our experience, hit or miss, but the one used in the X Ultra 3 is a keeper (it appears that Salomon has learned from previous iterations and made them more user-friendly and robust).
To top it all, the Gore-Tex waterproofing in this shoe is top-notch. Of all the shoes that claim to be "waterproof," only a small handful live up to the billing in the field. The X Ultra 3, however, kept our feet dry when wading through thick mud and boggy ground and shed rainwater dripping off our rain pants with ease.
While the Gore-Tex version of the X Ultra 3 (a non-Gore-Tex model is available) might be a touch too warm for summer hiking in hot climates, for everything else, they're unrivaled.
Salomon has also released an updated version of this shoe in the Salomon X Ultra 4, but we chose not to feature this here due to the discomfort caused by its high collar (see below).
Bottom Line: Waterproof, lightweight, grippy, durable, and as comfortable as they come.
At a Glance: Quick Recommendations
Best Lightweight Hiking Shoes for Men & Women Reviewed: Our Top Picks
Salomon X Ultra 3 GTX
Editor's Choice
Over the past few years, the Salomon X Ultra 3 GTX (click here for women's version) has established itself as the top-rated lightweight hiking shoe in the business. This year we expected its latest version, the Salomon X Ultra 4, to oust it from the top spot but, after careful consideration, the Ultra's third version remains our favorite.
At a little over a pound and a half, these are among the lightest waterproof hiking shoes out there. What's even better is that they don't forsake much in the way of stability and comfort.
They boast an EVA midsole, which provides ample cushioning, a Contragrip sole, known for providing good grip even on slippery terrain, and are capped with thick rubber, which comes in handy when walking in snow or rocky ground. The leather uppers provide additional protection on the sides.
The X Ultra 3 GTX incorporates a Quicklace system with a plastic lock, four eyelets, and Kevlar laces. The laces slide into the apertures easily and equalize tightness as you walk (the same cannot be said of the laces in traditional hiking boots or most hiking shoes!)
There is a mesh pocket at the top of the tongue where you can stow the excess laces, so they won't be dangling around and annoying you. Another notable comfort feature is the Ortholite insole, which is nicely contoured and promotes air circulation.
These Salomon shoes have a few other features worth mentioning. Firstly, a molded shank between the outsole and midsole offers extra lateral stability. Secondly, a wide forefoot (4.5″) that provides ample support while allowing your toes to spread naturally. Finally, a large brake lug at the back of the outsole prevents the heel from sliding out when going downhill.
There are lighter shoes available, to be sure, but none that offer the same performance as these. Our opinion? The best lightweight waterproof hiking shoes out there.
Key Features
Waterproof leather uppers feature breathable polyester mesh panels to keep feet comfortable
Gore-Tex waterproof bootie liners let feet breathe while protecting them from the elements, keeping feet dry and comfortable
Mudguards and integrated rubber toe caps provide durable protection from roots and rocks
Advanced chassis is light and stable underfoot, maximizing motion control for an efficient and responsive ride without excess weight
Compact and secure lace system with 1-pull tightening for easy-on/off; lace pockets provide easy storage
Luxuriously soft polyester lining wicks moisture away from feet
Weight: 1 lb. 10 oz.
PROs

Great water resistance
Aggressive traction
Quite versatile
Lightweight
Excellent support and stability

CONs

Quicklace system isn't for everyone
Bottom-Line: Everything you could ask for in a waterproof hiking shoe and a solid option for backpacking, too.
La Sportiva Spire
Best Shoes for Backpacking
On thru-hikes or backpacking trips, you need a shoe that's built to withstand a little more use and abuse. The La Sportiva Spire (click here for women's version) is just that kinda shoe.
Weighing in at just under two pounds, the Spire is the second heaviest shoe on our list. For us, however, that isn't a dealbreaker. In return for those extra few ounces you get a far burlier, sturdier, more durable, and supportive shoe than you'll come across at a lighter weight.
The main differences between the Spire and other hiking shoes on our list are its extra-beefy midsole and stiffer feel. The midsole provides all the protection and cushioning needed when carrying heavy loads or racking up high mileage on the trails, while that added rigidity all but eliminated the calf strain on ascents.
We were also smitten with the Spire's breathability, light but effective protection, and extra-aggressive tread, which provided simply awesome traction and grip on loose and wet terrain.
The Spire aren't the cheapest hiking shoes out there, granted. However, their high-quality build and long-term performance make them well worth the added outlay.
Key Features
Innovative Nano-Cell™ 2.0 Technology upper wraps the foot in protection while allowing maximum breathability and waterproof protection
EVA midsole with side ventilation outlets in TPU
Vibram XS Trek outsole with Impact Brake System for reliable grip on hard and soft terrain
Gore-Tex® Surround™ Technology allows 360-degree breathability without compromising the waterproof nature of the shoe
Weight: 1lb. 12.8 oz.
PROs

Beefy midsole
Grippy Vibram sole
Gore-Tex surround
Breathable
Tough

CONs
Bottom-Line: Comfortable, well-made, and tough enough to take on the gnarliest and longest of backpacking trails.
Vasque Juxt
Best Value
Let's get straight to the bottom line: the Vasque Juxt has its limitations but is one of the most versatile lightweight trekking shoes you will ever own. It's comfortable enough for long days on the trails, nimble enough for scrambling, tough enough for short backpacking trips, and stylish enough for the odd night on the town (depending, of course, on what part of town you hit up!).
The only time we wouldn't be tempted to wear the Juxt in the great outdoors is on a trail run. (If you'd like hiking shoes that can moonlight as trail runners, check out the Speedgoat 4 and Lone Peak 6, below).
The Juxt is relatively lightweight (1 lb. 13 oz.), but boasts a burly 1.6mm suede leather upper, plenty of ankle padding, and a TPU plate in the midfoot for added support. This was our first spin in a shoe with a Vibram Off-The-Grid outsole, and we found it up there with the MegaGrip used in the TX4 and Speedgoat 4 but preferred the deep lugs in the X Ultra 3.
The company did a great job with the lacing system. It includes eight alternating webbing loops and traditional eyelets that make it easy for you to adjust and fine-tune the tightness of the shoe.
The Juxt aren't waterproof, but the suede upper does enough to keep your feet dry in light rain.
Key Features
Polyurethane-coated suede leather upper material offers durability, flexibility, and water resistance; molded rubber toe caps provide excellent protection for feet and shoes
Close-to-toe lacing offers a fully tunable, secure fit
Wicking nylon linings absorb excess sweat and disperse it quickly for fast drying
Removable dual-density footbeds add cushioning to compression-molded EVA midsoles for all-day cushioning and shock absorption
Thermoplastic urethane shanks deliver support and add rigidity for a stable ride
Weight: 1 lb. 13 oz.
PROs

Nice and snug fit
Flexible forefoot is good for day hiking with medium loads
Extra support around the ankle makes it ideal for backpacking trips, too
Inexpensive, lightweight, and breathable
Wide enough to wear with chunky hiking socks

CONs
Bottom-Line: A fairly priced, breathable, and durable shoe that has a few shortcomings but ticks most of the most important boxes.
Altra Lone Peak 6
Best Ultralight Hiking Shoe
The Altra Lone Peak 6 (click here for women's version) is the only zero-drop shoe on our list. While this means you get more 'trail feel' and stability on technical terrain than with a traditional hiking shoe, it also means more strain will be placed on your Achilles tendon and calf muscles.
If you're not accustomed to a low drop, we'd recommend familiarizing yourself with a mid-drop shoe before dropping to zero.
Both the current and previous versions of the Lone Peak are designed as light trail runners but have quickly established themselves as favorites of long-distance hikers who've fallen for their marshmallow cushioning, featherlight weight, and all-day comfort. Our testers have even seen a few pairs on the Appalachian Trail and Pacific Crest Trail.
The Lone Peak 6 tip the scales at a piddly 1 lb. 5 oz., making them the lightest option on our list. Despite this, they pack the beefiest cushioning by far (25mm) and are surprisingly durable and protective. Compared to the Hoka One One Speedgoat, moreover, their lower stack height made them feel more reliable on rocky ground.
On the downside, we found the LP6 to be a little too flexible for technical terrain, while some of our testers weren't overly endeared by the extra-wide toe box.
Key Features
MaxTrac outsole with TrailClaw canted lugs
Quick-Dry Air Mesh upper
Balanced Cushioning platform encourages better foot alignment and low-impact landing
Responsive Altra Ego dual-nature midsole
Footshape toe box allows toes to spread out naturally to increase stability and comfort
Weight: 1 lb. 5 oz.
PROs

Very comfortable
Zero heel-to-toe drop
Great cushioning
Ultralight
Wide toe box (a 'con' for some)

CONs
Bottom-Line: A lightweight trail runner that can happily moonlight as a hiking shoe thanks to its tough build, grippy sole, and plush cushioning.
La Sportiva TX4
Best for Scrambling
The La Sportiva TX4 (click here for women's version) is a bit of a wild-card entry on our list. As an approach shoe, it's a very different beast to the other options above and below, but this also makes it a standout performer on any hikes that involve rock scrambles.
The TX4 is a burly shoe, combining a suede upper with a 1.5mm PU rand to deliver superior ruggedness to almost any other hiking shoe out there. They aren't waterproof, but that suede upper and a 360-degree rand do a good job of keeping the wet stuff out in all but the heaviest of downpours.
We wouldn't recommend the TX4 for hiking mellow trails or backpacking as there are more suitable options out there. However, these shoes come into their own the second you step off of the dirt and onto the rock.
The TX4's Vibram outsole is less aggressive than others on our list, but the flatter profile means it smears on rock almost as well as an out-and-out climbing shoe. That burly rand also protects your toes from bumps and bangs and the smooth "climbing area" of the toe allows for precise footwork on tricky scrambles.
All of the above makes the TX4 a highly versatile shoe. While many of the options on our list are better suited to well-formed trails, the TX4 will serve you well on anything except backpacking trips, for which we'd want a little more cushioning, comfort, and a deeper tread to improve traction on loose or muddy terrain.
Key Features
1.5 mm PU TechLite rand and rubber toe for extra protection and abrasion resistance
Vibram MegaGrip sole with a climbing zone at the toe and Impact Brake System at the rear for tackling technical terrain
STB Control System provides structure, support, and stability
Ortholite Approach 4 mm insole
Weight: 1 lb. 10 oz.
PROs

Awesome on rock
Lightweight
Tough
Highly protective 360-degree rand
No break-in period

CONs

Suede upper restricts breathability
Not the grippiest on muddy trails or loose ground
Not waterproof (GTX version available)
Bottom-Line: Our go-to when taking on more technical terrain.
The North Face Ultra 109 GTX
Honorable Mention
The North Face Ultra 109 GTX offers the perfect balance between performance, durability, and hardiness.
This shoe is designed to provide comfort, even when worn for long hours. This is achieved with a full-length midsole and ample ventilation. The upper is made with burly, hard-wearing leather but has a mesh lining that allows ample airflow on hot-day hikes.
When you combine the shoe's tough leather upper with its robust waterproofing, you get a shoe that will get you through even gnarly and/or rain-soaked terrain with ease.
A rigid snake Plate TM works together with a midfoot shank to provide great protection for your toes and feet. The leather upper midfoot support system also plays a crucial role in boosting the shoe's protection. The UltrATAC outsole isn't as sticky on rock as Vibram alternatives but bites into mud and loose ground as well as anything.
Key Features
GORE-TEX® waterproof stability trail-running shoe delivers subtle pronation correction
Upper: GORE-TEX® Extended Comfort Range waterproof, breathable membrane
PU-coated leather uppers; midfoot support with ESS midfoot shank
Compression-molded EVA midsole
TPU Snake Plate™ forefoot protection and protective TPU toe rand
UltrATAC™ rubber outsole
PROs

Designed for use in different kinds of weather and terrains
Perform well both on and off-trail
Maximum protection for your toes and feet to hike long distances
Incredibly comfortable as long as you choose the right fit
Roomy toe box
Weigh just 1 lb. 11 oz. per pair

CONs

Not the best for extremely rough terrain
Bottom-Line: Well-made, lightweight, waterproof, and extremely comfortable men's hiking shoes that excel in various conditions and terrain types.
Merrell Moab 2 Ventilator
Best for Summer
The Merrell Moab 2 (click here for women's version) is one of the most popular hiking shoes on the market and has been since it was first released. The reasons for this are simple: it's relatively light, comfortable, grippy, and a cut above the rest on hot days on the trails.
The Moab 2 are made with suede leather and mesh uppers with a mesh interior lining that allows ample airflow. The unique Merrell air cushion in the heel absorbs shock and adds stability, while the Vibram TC5+ outsole provides awesome grip on rock, mud, and grittier trail surfaces.
A nylon arch shank provides extra support and leverage on steep ascents while the springy EVA midsole provides additional stability and comfort.
At 1 lb. 15 oz., the Moab are on the heavy side, but they're also one of the most comfortable out there so will be well worth the added ounces for some, particularly if you do most of your hiking in hot and dry climates.
They also aren't the most durable hiking shoes available, so are better suited to well-trodden, established trails.
If you'd prefer a little more water resistance, be sure to check out the waterproof version.
Key Features
Vibram TC5+ outsole provides improved performance on challenging terrain
Kinetic Fit ADVANCED removable contoured footbed with reinforced heel provides added cushioning
Molded nylon arch shank
Shock-absorbing Merrell Air Cushion heel
Lightweight EVA foam midsole
Weight: 1 lb. 15 oz.
PROs

Highly breathable
Grippy outsole
Protective toe cap
Ideal for day hikes on mellower trails
Comfortable

CONs

Quite heavy
Not waterproof (waterproof version available)
Lack agility of performance shoes like the X Ultra 3
Bottom-Line: Not the most technical or agile, but affordable, comfortable, and one of the top lightweight hiking shoes out there for hot and dry conditions.
HOKA ONE ONE Speedgoat 4 GTX
Best Hiking Shoes for Comfort
The Hoka One One Speedgoat 4 (click here for women's version) are outstandingly well-made hiking shoes that up the stakes in the comfort department by using multiple density rubber soles that provide added cushioning and shock absorption.
This hiking shoe absorbs shock better than most models at its price range and is incredibly comfortable thanks to a chunky midsole and thick insole that provide pillow-like cushioning, underfoot protection, and ample arch support.
We took the Speedgoat 4 GTX for a test drive on a rainy day in England's Lake District and were impressed by the waterproofing when traipsing through puddles and shallow, boggy ground. True to the brand's word, the midsole was highly responsive and provided great energy transfer when striding up steeper slopes, while the wider toe box seemed to add some stability.
The only quibbles we had with this shoe were that its protection is minimalist at best, and lacked the stiffness, stability, and precision needed on even the low-grade scrambles we ran into. In its defense, it wasn't built for such terrain and performed admirably on more established sections of the trail. It was also by far the most comfortable shoe we've ever had the pleasure of wearing.
Key Features
Vibram® Megagrip rubber outsoles
3D-printed overlays provide midfoot support and a secure fit
Hydrophobic gusseted tongues
Midsole features lightweight foam for a more responsive ride
Strategic tongue cutouts for added breathability
Weight: 1 lb. 8.4 oz.
PROs

Very grippy outsole
Great cushioning
Solid waterproofing
Nice midfoot support

CONs

Lack stability on steep ground
Not the most durable
Bottom-Line: Crazily comfortable but lack the burliness and stability of a true hiking shoe.
Adidas Terrex Swift R3 GTX
Best Traction and Grip
Adidas has a long line of great running shoes. What sets the Terrex Swift R3 GTX (click here for women's version) apart is that it was actually designed for use as a hiking shoe.
At 1 lb. 12 oz., it is one of the lighter trail running shoes for hiking out there. Nevertheless, they're burly enough to deal with just about anything you might encounter on the trails.
There is a thick rubber rand around the toes that provides added protection and a stiffer TPU rand that covers the heel. The EVA midsole provides ample cushioning under the forefoot and arch, while a Gore-Tex liner and a tall, gusseted tongue help to keep your feet dry in wet weather.
One thing you will notice about the Terrex Swift R3 GTX is that it is quite stiff in the midfoot but still manages to flex in the forefoot. This makes it extremely comfortable but provides all the stability needed for steeper and uneven ground, even when you're hauling a heavy pack.
The Terrex aren't quite as supportive or robust as hiking shoes like the La Sportiva Spire or Salomon X Ultra 3, but they're the best hiking sneakers out there for any hiker who prioritizes weight savings, nimbleness, and performance above all else.
Key Features
Ripstop mesh upper for breathability and light weight and TPU overlays for durability and added support
GORE-TEX® lining for waterproof, breathable performance
Speed lacing construction for fast lacing and a snug fit; LACE BUNGEE stows laces to help avoid tangling
ADIPRENE® under the heel for superior cushioning at impact; Molded rubber toe cap for protection
TRAXION™ outsole for optimal grip in all directions; Superhigh-traction rubber outsole for optimal grip in wet conditions
Weight: 1 lb. 12 oz.
PROs

Speed lacing tightens quickly with the pull of a plastic sliding lock
Best for narrow to medium-volume feet
The upper is made of ripstop style nylon and has synthetic overlays
Pronounced heel brake gives you added confidence when going downhill

CONs

The midsole can prove harsh on longer trail days
Bottom-Line: A winner if you're looking for something that offers a bridge between trail runners and more traditional hiking shoes.
Keen Targhee III
Best for Wide Feet
Designed for wide and high volume feet, the Keen Targhee III (click here for women's version) is one of the sturdiest and lightest hiking shoes on the market.
It comes with a ¾ length shank that offers added support and hence less fatigue on long hiking trips. The cushioned cuff extends to the ankles, and the interior of the shoes feels very roomy. We love the fact that Keen used nubuck leather on the upper. This region of the shoe also has textile detailing, and the mesh on the tongue allows for breathability.
There is a substantial EVA foam midsole that provides added cushioning and comfort. The noticeably large rubber rand offers extra toe protection against rocks and roots. Another notable feature is that the dual-density EVA footbed is removable and offers extra cushioning for long hikes or heavy loads.
All in all, the Keen Targhee III is an excellent investment for those who prefer trekking in aggressive terrain.
Key Features
Waterproofed nubuck leather and flexible nylon mesh uppers offer ample durability, flexibility, and breathability for comfort on the go
Secure-fit lace capture system with sturdy nylon webbing eyelets and heel wrap help lock feet to footbeds for increased support
Metatomical EVA footbeds are shaped to provide ample cushioning and arch support; can also accommodate orthotics
KEEN.DRY™ waterproof breathable membranes keep feet dry while allowing perspiration to dissipate before it saturates the inside of the shoe
Webbing pull loops at heel and tongue allow easy entry/exit; padded, gusseted tongues keep out debris and moisture while relieving lace pressure
Compression-molded EVA midsoles offer shock-absorption and padding for all-day comfort
Weight: 2 lbs.
PROs

Great ankle support
Shank prevents foot fatigue on long hikes
Large toe rand is good for rocky terrain

CONs

A little too roomy for narrow feet
Bottom-Line: A supportive, tough, burly hiking shoe at an affordable price.
Columbia Redmond
Best Budget
The Columbia Redmond is a durable and lightweight shoe that is suitable for all kinds of outdoor activities, from day hikes and low-grade via Ferrata to lightweight backpacking trips.
It has an exceptional Omni-Grip sole that provides excellent traction in different terrains. The upper of the shoe is a combination of mesh, suede leather, and webbing. This prevents water from sneaking into the interior of the shoe while boosting airflow on hot days. It's also equipped with a waterproof Omni-Tech membrane.
We're fans of Redmond's Techlite lightweight midsole as it offers long-lasting comfort, high energy return, as well as great cushioning for such fairly priced and light hiking shoes.
All in all, the Redmond offers similar performance (and looks very similar to) the Merrell Moab 2 but are a little more affordable.
Key Features
Omni-Tech™ waterproof breathable seam-sealed membrane bootie construction
A durable low cut waterproof hiker that provides great traction and comfort
UPPER: Combination of suede, mesh, and webbing
MIDSOLE: Techlite™ lightweight midsole for long-lasting comfort, superior cushioning, and high energy return
OUTSOLE: Omni-Grip™ non-marking traction rubber
Weight: 1 lb. 14.1 oz.
PROs

Outsole is made from Omni-Grip non-marking traction rubber
Omni-Tech waterproofing
Wide fit makes them ideal for wide feet
Multi-directional lugs provide excellent traction

CONs

Runs small and is a little too narrow for wider feet
Bottom-Line: An affordable, lightweight trail shoe that isn't as performance-oriented as our top picks but ticks more than enough boxes for the needs of your average hiker.
Critical Considerations When Buying Lightweight Hiking Shoes
Hiking Shoe Weight
All of the hiking shoes featured above fall into the "lightweight" category of shoe. However, the difference between the lightest shoe on our list (Altra Lone Peak 6, 1 lb. 5 oz.) and the heaviest (Merrell Moab 2, 1 lb. 15 oz.) is significant, and that 10-ounce difference could translate into a serious disparity in performance.
But not in the way you might expect…
While it might seem logical that heavier hiking shoes will be the burliest and most durable, the opposite is often true. The toughest shoe on our list is, without doubt, is the La Sportiva TX4 which weigh in at 1 lb. 10 oz. Other tough lightweights include the La Sportiva Spire and the Salomon X Ultra 3. The Moab, on the other hand, are among the least durable on our list.
The take-home? Gauge every shoe on a case-by-case basis, paying close attention to the materials used in the upper and checking if there's a protective rand. In our experience, the more leather/suede a shoe has, the more durable it will be, as mesh panels tend to tear or disintegrate over time.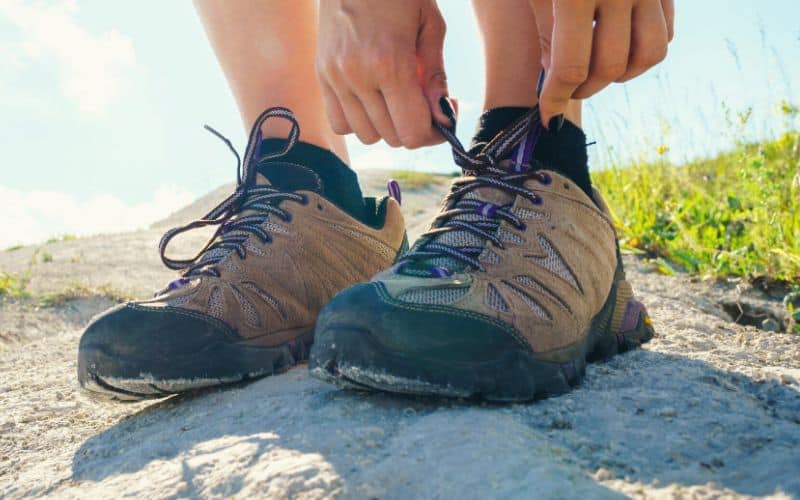 Only plump for an ultralight shoe if it ticks all the other boxes on your priority list and you're especially keen to reduce leg fatigue by shedding weight from your feet.
Materials
The ideal trekking or hiking shoes are those made with durable materials that let them withstand a little bit of rough treatment on the trails without compromising breathability and comfort or adding too many ounces to their weight.
Durability depends a lot on the material used in their construction.
Two of the most durable materials or fabrics used in hiking shoes are nubuck leather and suede. Both of these are soft and supple, but also very hard-wearing and resistant to punctures, rips, and tears. They're also naturally water-resistant.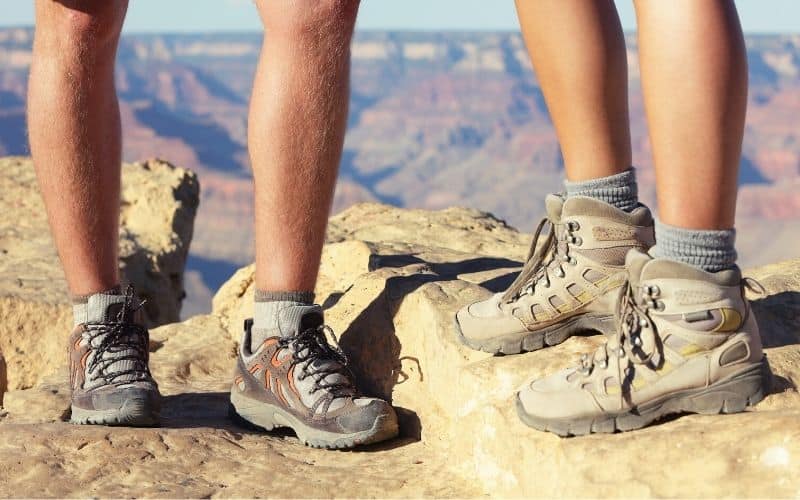 On the downside, both of these materials are far heavier than the lightweight synthetics used in other models and don't offer nearly as much breathability.
The most breathable and lightweight hiking shoes typically use a combination of leather, suede, or nubuck and synthetic fabrics. While these are great for hikers who like to travel fast and light, and breathe well when you're working up a sweat, they usually lack durability and are less water-resistant (unless that is, they use a waterproof membrane).
When weighing up the options, therefore, it's best to know your priorities and what conditions you plan to do your walking in.
Waterproofing
Nearly all hiking shoes can be made water-resistant by applying a DWR treatment post-purchase. However, buying hiking shoes that are designed for use in wet conditions is always likely to yield better results, especially if you plan on walking in the mountains or during the wet season.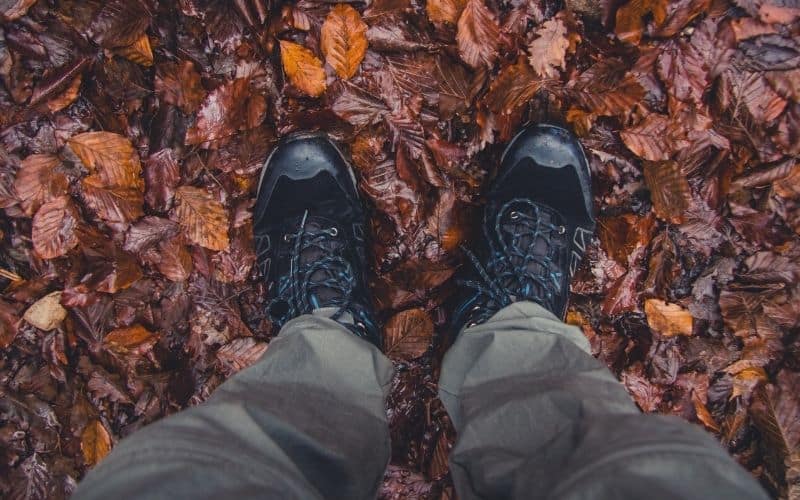 Waterproof hiking shoes use a waterproof-breathable membrane sandwiched between the outer and inner fabric of the shoes. This membrane provides far superior protection to DWR treatments and also saves you the hassle of having to reapply your DWR every few months.
The only downside to waterproof hiking shoes is that they usually cost considerably more and are a fraction heavier than their non-waterproof cousins.
Leather hiking shoes are naturally waterproof. However, you will need to apply a waterproofing treatment now and then to keep the level of protection high and leather is far less breathable than a high-quality membrane.
Lacing System
This easily overlooked factor can have a large bearing on how practical and user-friendly any pair of hiking shoes is. It also plays a crucial role in comfort and fit.
The last thing you need is to readjust the lacing continually while on the trail. As such, it is essential that the lacing system isn't susceptible to loosening. It needs to secure your heel well to prevent blisters and hotspots that arise as a result of up and down walking motion.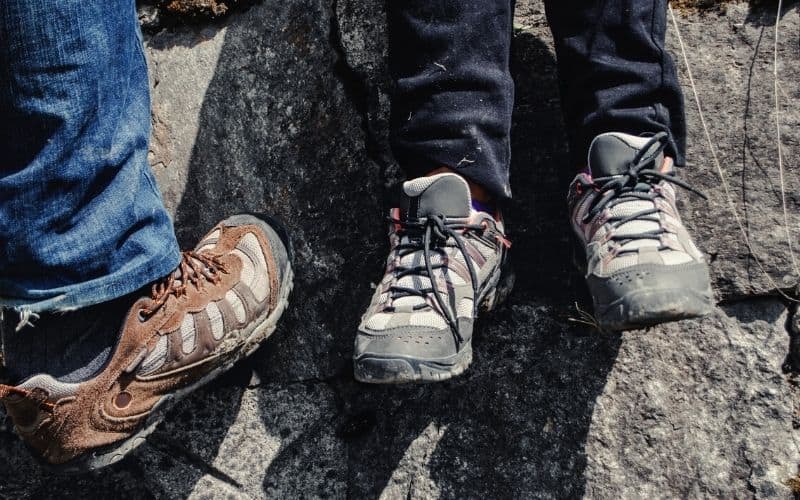 If the laces are the only problem, there is nothing wrong with purchasing quality replacement laces. However, don't hesitate to look elsewhere if the whole system proves to be problematic.
The single-pull lacing system is quite convenient and allows for an equally tight fit across the foot. Those that need to fine-tune their laces for a comfortable fit, however, are better off avoiding quick-lace systems.
Outsole And Traction
One of the main reasons for choosing a real backpacking shoe over a flimsy cross trainer is that the former offers improved traction. The patterning of the tread and depth of the lugs in your hiking shoes together provide far superior grip in loose, muddy, and slippery terrain, which helps to prevent accidental falls and slips.
The type of outsole is equally important. Vibram outsoles are generally the most grippy, but Salomon's Contagrip is also a good choice.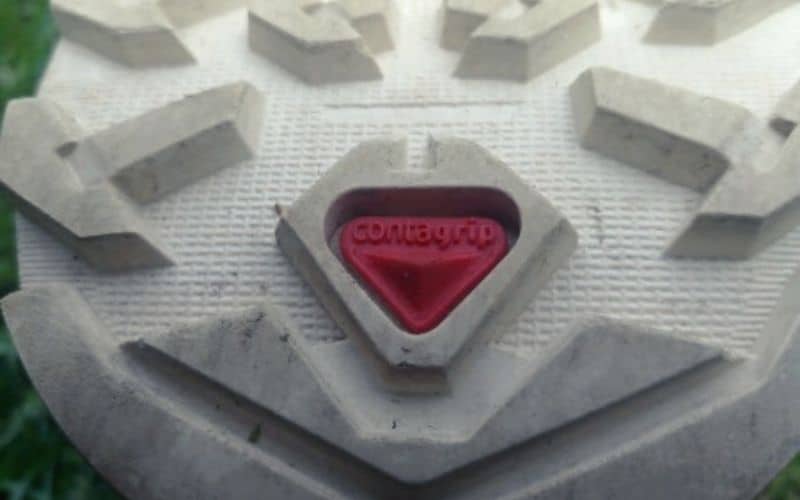 It's important to note that because some manufacturers tailor the design of each shoe for specific brands or uses, Vibram models should not all be treated as equal. Those designed for serious grip in the mud (e.g., Vibram MegaGrip) have larger lugs while models designed for scrambling over rocks prioritize sticky rubber (e.g., Vibram Dynamis).
Midsole Construction
The midsole and cushioning have a vital role to play when it comes to the level of comfort a shoe can provide. The purpose of cushioning is to provide an extra layer of protection from rocks and to absorb shock.
Many midsoles incorporate TPU, EVA, or a combination of both. Thermoplastic polyurethane (TPU) is usually found on performance-oriented hiking shoes. Models that use TPU last longer than those with EVA and do a better job of handling heavy loads. They are also less cushy and aren't as susceptible to compressing as EVA models.
On the other hand, foam EVA midsoles are incredibly lightweight and popular for hiking and running shoes. Some manufacturers use proprietary versions of EVA, which may vary from super soft to slightly stiff.
The bottom line? Go for a firm and more supportive midsole if you like logging serious miles in rougher and uneven terrain, a softer sole if you'll be walking on well-maintained paths, and prefer pillow-like cushioning.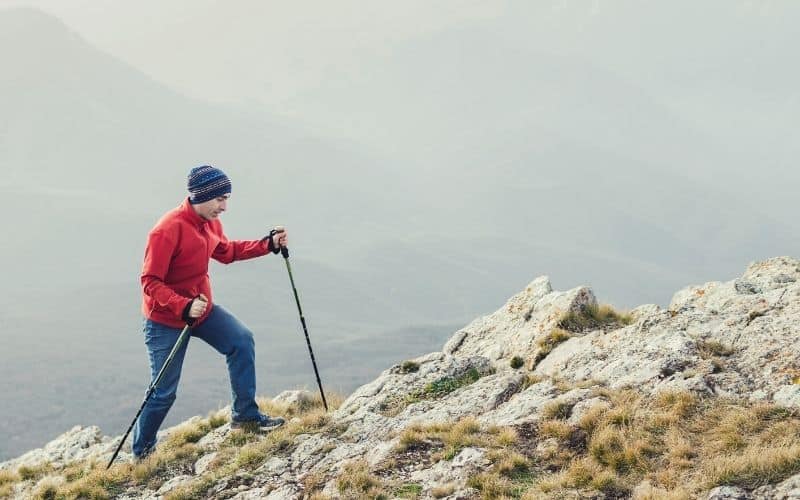 Insoles
Almost every hiking shoe on the market comes with cheap insoles. And while this may not always be noticeable, the quality of the insole can make the difference between comfort and utter misery.
The good news is that removing the insoles and replacing them with a high-quality, aftermarket model specially designed for your feet is easy. The best thing about aftermarket insoles is that they provide an improved fit under the arch. They also offer enough volume to fill out the shoe and added cushioning to improve shock absorption.
Toe Protection
Hiking trails are filled with all kinds of impediments that might do your toes a bit of damage as a result of a misplaced or clumsy step. This is why choosing a shoe with some form of toe cap (aka "toe rand") is usually a wise decision.
Some trail walking shoes come with a full rubber toe rand that encircles the entire shoe. However, most lightweight hiking models have a trimmed-down version that covers only the toe area.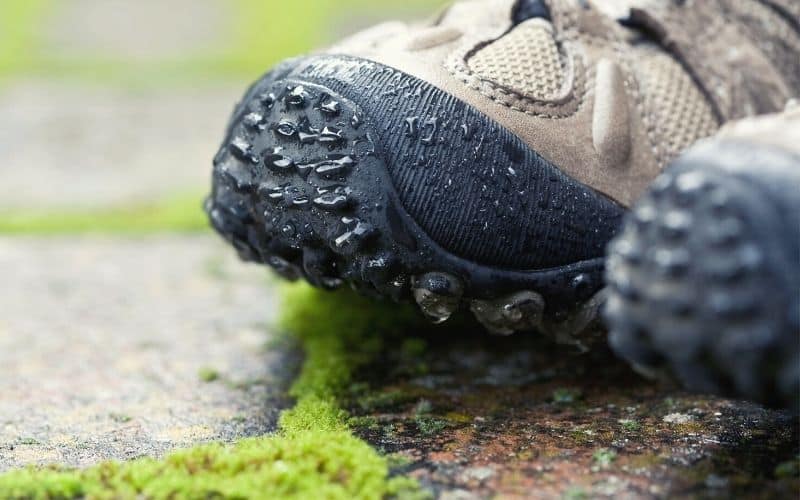 If you're a scrambler or tend to hike on rougher trails, this "extra" is an absolute must. If you tend to hike on well-maintained trails only, then you could probably get away without one, but it's always nice to have, just in case you stray into something hard while admiring the scenery.
Stability And Support
The importance of internal support and built-in shanks cannot be stressed enough. While they do lead to a degree of stiffness that might take a little getting used to for some hikers, they are what separate good backpacking shoes from ordinary road running shoes or super flexy trail runners.
A shank is a semi-rigid insert that fits into the insole of a shoe to prevent it from being too floppy. It helps both to improve traction and provides additional support on steeper ground by preventing the shoe from buckling. While not so necessary on flatter terrain the benefit of this feature in technical terrain, or when you're carrying a heavy pack, can't be overstated.
For flat and less technical terrain, a light and reasonably flexible shoe like the Keen Targhee III is a great option. When your pack weight is topping the ten-pound mark on longer hikes a beefier shoe like the Salomon X Ultra 3 GTX is a safer bet. While we loved the added support provided by the new X Ultra 4, the high collar will prove uncomfortable for some.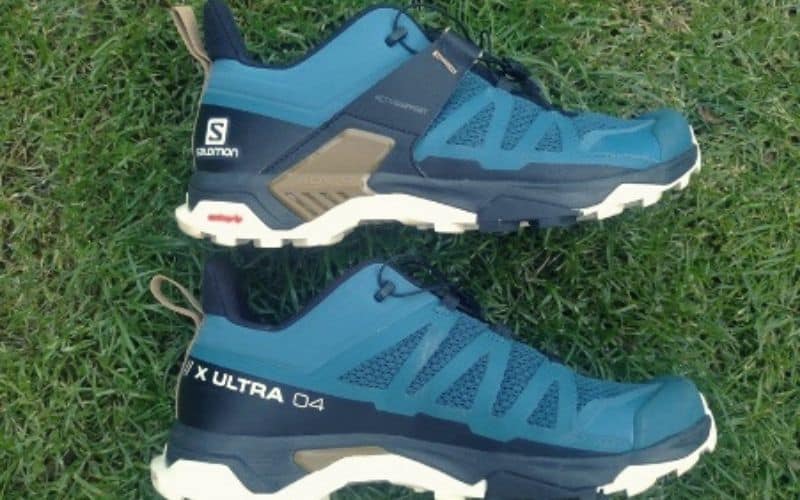 The Verdict
Just in case you're still undecided, let's have a little recap to help you out.
After much testing and deliberation, our standout favorite hiking shoes are the Salomon X Ultra 3. The X Ultra are everything a modern hiking shoe should be. They're lightweight, reasonably tough, very grippy, and supportive enough for trickier trails of carrying heavy packs. They're also among the most comfortable shoes we've ever had the pleasure of wearing.
If the X Ultra 3 are a little too pricey for your budget, the Vasque Juxt and Columbia Redmond are solid alternatives. Neither of these shoes are as lightweight or agile as the X Ultra, but they're both very well made, comfortable, and offer enough in the way of performance for the needs of most hikers.
So, how did you like our article? If we missed anything or you have any questions, let us know! And if you'd like to share this post with your friends, please do!