Tired of uncomfortable pants that hold you back as you climb? We understand!
If you're trying to send hard in the mountains, you need a pair of pants that are water-resistant, durable, rugged, and mobile enough to let you do your thing no matter how technical your adventures.
To help you find the perfect pair for your needs, we put together this guide on the best pants on the market for alpine pursuits. We'll introduce you to our top 7 favorite mountaineering models. And as a bonus, we've even included a guide to selecting the perfect pair for all your future climbs.
At a Glance: Quick Recommendations
What are the Best Mountaineering Pants?
After much deliberation, our team of testers picked the following shortlist of great mountaineering pants.
Outdoor Research Cirque II
Black Diamond Alpine
Black Diamond Dawn Patrol Hybrid
Rab Kinetic Alpine 2.0
Arc'teryx Beta SV Bib
Mountain Equipment Ibex
Patagonia Simul Alpine
Outdoor Research Cirque II
Editor's Choice
For cold-weather adventures in the alpine, the OR Cirque II (women's version) is your go-to pair of mountain hiking pants.
Engineered out of a highly breathable 90D nylon/polyester stretchy fabric, the Cirque II is perfect for use in truly frigid temps. It's also treated with DWR to help shed light rain and snow as you climb.
Where the Cirque II really shine, however, is in terms of their durability and functionality. In addition to the harness-compatible waist-belt and pockets, it also features a set of rugged scuff guards on each leg. As a result, this is a comfortable pant designed to last and perform, even after years of use in the mountains.
The downside to the Cirque II, though, is that their thicker weight makes them less-than-ideal for warmer temperatures. However, if your goal is to have a reliable set of winter climbing pants, the Cirque II deserve a place very near the top of your shortlist.
PROs

Warm enough for wintery conditions
Robust weather protection
Reinforced insteps for added durability
Nice belt loops
Harness-compatible waist

CONs

Too thick and heavy for summer use
Bottom-Line: The OR Cirque II are an amazing set of softshell pants that offer great performance in cold temperatures.
Black Diamond Alpine
Best Budget
If you're looking for a lightweight, lower-cost pair of weather-resistant pants for three-season mountaineering, the BD Alpine (women's version) are well worth considering.
The BD Alpine are among the best hiking pants out there but pack enough in the way of performance to make them one of our favorite soft shells for mountaineering too.
The Alpine are among the lightest options on our list, weighing in at a mere 14 ounces. They're made with a 180 g/sm fabric that combines 88% nylon and 12% elastane for the perfect balance of durability, ruggedness, and stretch.
The Alpine are highly breathable, so ideal for high-output mountaineering. Their adjustable ankles and integrated belt loop also help let you to dial in the fit, while a DWR finish is added to keep you dry in light rainfall.
Compared to the other options on our list, the BD Alpine lose a few points due to their lack of reinforced patches in the knees or ankles. However, given their fair pricing, it would be harsh to quibble too much with this small shortcoming.
PROs

Articulated knees and gusset seat
Stretchy fabric
Durable
Lightweight and breathable – ideal for shoulder seasons
Stylish enough to wear as casual or everyday wear!
Adjustable cuff and waist

CONs

No reinforced knees or ankles
Not warm enough for cooler weather
Only one thigh pocket
Bottom-Line: A lightweight, mobile, water-resistant pant that excels in fast-paced and high-output pursuits.
Black Diamond Dawn Patrol Hybrid
Best For Ski Mountaineering
Whether you like to hike, climb, or ski, the Black Diamond Dawn Patrol Hybrid (women's version) is a fully-featured pair of mountaineer pants that's ready to provide the performance you need on any expedition.
Crafted specifically with ski mountaineers in mind, the Dawn Patrol is made from a burly woven fabric with four-way stretch for enhanced comfort in the backcountry. It also features an enhanced DWR treatment for water and wind resistance and boasts integrated snow gaiters to keep your boots dry at all times.
With breathable soft shell fabric on areas partial to overheating and built-in zippered vents on each leg, the Dawn Patrol strikes a great balance between weather resistance and breathability in colder weather.
The primary downside to this model, though, is that they're a bit pricey and they're fairly heavy for summertime use. But, for a cold-weather softshell pant like this, the Dawn Patrol is a fantastic choice.
PROs

Built-in snow gaiters for skiing and ice climbing
Great water resistance
Integrated vents on each leg let you shed excess heat
Reinforced legs provide durability

CONs

Thick fabric makes them too heavy for summer outings
Fairly pricey
Bottom-Line: If backcountry snowsports are your jam, it's hard to go wrong with the Black Diamond Dawn Patrol Hybrid.
Rab Kinetic Alpine 2.0
Best For Light & Fast Climbing
For light and fast missions into the mountains, look no further than the ultra-lightweight and very breathable Rab Kinetic Alpine (women's version).
This durable pair of pants are made with a high-end Proflex outer fabric with a durable water repellent treatment for top-end performance. It also boasts a quick-drying inner liner that's amazing at wicking away sweat as you climb.
At the same time, the Kinetic alpine features articulated knees to help make sure that you have a full range of motion at all times. It even offers zippered pockets for gear storage and webbing loops at the hem for a more secure attachment to your boots.
It's worth mentioning that the Kinetic Alpine's weight savings come at the cost of some durability and functionality. In particular, they don't have a thigh pocket, nor do they have reinforced insteps. Despite this, they're still well suited for alpine climbs in rugged terrain.
PROs

Quick-drying inner liner
High-end Proflex outer fabric
Articulated knees for added freedom of movement
Lightweight and highly breathable
Zipper pockets

CONs

No thigh pocket for gear storage
Doesn't have reinforced pant leg
Bottom-Line: The Rab Kinetic Alpine are a solid pair of soft shell pants for alpine ascents in tricky terrain, warmer weather, and for fast-moving mountaineers.
Arc'teryx Beta SV Bib
Best For Waterproof Protection
With the Arc'teryx Beta SV Bib (women's version), foul weather is no reason to stay home and put off your day in the mountains.
These fully waterproof trousers are made with high-quality N80d Most Rugged 3L Gore-Tex Pro to block out wind and water. They also use Keprotec instep guards on each leg for increased durability in all terrain.
As far as comfort goes, the Beta SV are engineered with a gusseted crotch and articulated patterning to make sure you don't feel restricted as you climb. They also have a drop seat design for when you have to answer nature's call and a set of suspenders to help you find the perfect fit.
The downside? The Beta SV aren't exactly budget-friendly. Plus, they don't have many pockets, which might be a bummer for some climbers who like to keep a few bits and bobs easily accessible. If you need tough, fully waterproof mountaineering pants, though, the Beta SV are well worth considering.
PROs

Fully waterproof design – ideal for wet-weather mountaineering
Comfort-focused construction for range of motion
Drop seat functionality
More resilient fabric

CONs

Very expensive (but worth the extra cost!)
Could do with an added pocket or two
Slightly baggy fit
Bottom-Line: If you're planning climbing trips in foul weather conditions, the Arc'teryx Beta SV Bib should be your go-to gear.
Mountain Equipment Ibex
Best For Shoulder-Season Adventures
If shoulder-season climbing trips are your kind of expedition, the Mountain Equipment Ibex is one pair of pants that you won't want to leave home without.
These water- and wind-resistant pants are made from EXOLITE 210 stretch softshell fabric, which is breathable enough for more aerobic, all-mountain use. They also feature an alpine-inspired fit with a regular ankle, making them versatile enough for a wide range of outdoor activities.
Plus, the Ibex comes with ankle zips and an internal gusset panel so they fit well with all mountaineering boots. They also have a zippered hand and thigh pocket on each leg for improved functionality.
While the Mountain Equipment Ibex is a great pair of pants, we should mention that they don't have reinforced ankles. They also don't have a DWR treatment, so may soak through in light rain. Nevertheless, their overall functionality and comfort mean they're still a super selection for shoulder-season adventures in relatively nice weather.
PROs

Designed to work well with all boot styles
Durable EXOLITE 210 stretch softshell fabric
Great zippered pocket selection
Ankle zips for easy on/off with boots
Stylish enough for everyday wear!

CONs

No DWR treatment
Don't have reinforced pant legs
No boot lace hooks
Bottom-Line: Not a bombproof pair of rain pants, but one that excels in comfort and packs the added performance needed for three-season adventures.
Patagonia Simul Alpine
Best Value
When it comes to budget-friendliness and outdoor gear for mountain climbing, the Patagonia Simul Alpine are a sure bet.
Decidedly durable, the Simul Alpine is made with 100% polyester stretch double weave fabric with four-way stretch. As an added bonus, they are made with materials that are both bluesign-approved and Fair Trade Certified sewn.
Plus, the Simul Alpine features a DWR finish to make them water-resistant, and articulated patterning for comfort. They are even designed to fit under a harness for alpine or ice climbing, thanks to their OppoSet adjustable integrated belt.
It is worth noting, however, that the Simul Alpine don't come with reinforced insteps, which makes them prone to damage when used with crampons. However, when affordability is a concern, they're a great choice.
PROs

Fair Trade Certified and bluesign-approved
DWR finish for use in all weather conditions
Integrated waist belt for an improved fit
Harness-compatible design
Cargo pocket

CONs

Lack of reinforced insteps is a durability concern
Bottom-Line: The Simul Alpine offers a nice mix of affordability and functionality, whilst also maintaining the ruggedness and reliability needed for ascents in alpine terrain.
Top Choices by Category
Budget: Patagonia Simul Alpine and Black Diamond Alpine
Hardshell: Black Diamond Dawn Patrol Hybrid and Arc'teryx Beta SV Bib
Softshell: Rab Kinetic Alpine 2.0 and OR Cirque II
How to Choose the Best Alpine Climbing Pants?
Finding the ideal mountaineering pants starts with knowing what to look for as you shop. So, here are some key things to keep in mind when searching for your next alpine climbing pants.
Soft Shell Vs Hard Shell
Durability
Fit, Comfort & Range Of Motion
Pockets
Hard Shell Vs Soft Shell Pants
When shopping for mountaineer pants, you'll first have to decide if you want a softshell or hardshell model.
The primary difference between softshell and hardshell pants is whether or not they're waterproof. While hardshell models are meant to be fully waterproof, softshell pants are generally just water-resistant.
This means that hardshells are ideal in situations where you can reasonably expect a lot of rain or snow. While this hardshell fabric comes with a decrease in breathability, it is designed to keep you dry in the gnarliest conditions.
Alternatively, softshell pants are the gold standard when it comes to breathability, stretch, and comfort. They might not be able to block out all water and snow, but they provide some wind resistance and excellent freedom of motion as you climb.
Moral of the story? If lots of rain and snow are in the forecast, hardshells might be the better option. Otherwise, most folks find that a softshell model is more than sufficient.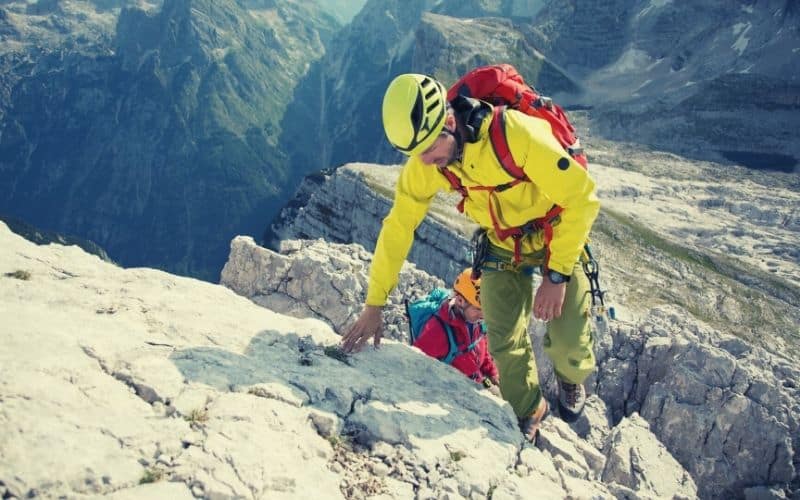 Durability
No one likes to invest in a quality pair of mountaineering trousers only to have them fall apart after a few climbs. Therefore, the durability of your potential pants should be at the forefront of your mind as you shop.
When it comes to alpine pants, there are 2 key durability-related features to look out for. These include:
Reinforced Instep Patches: Climbing with crampons is a solid way to put holes in your pant legs. This being so, many gear manufacturers, like Mountain Hardwear, Arc'teryx, and The North Face, place reinforced instep patches at the ankles.
These patches offer an extra layer of protection against sharp crampon points. That way, you can climb without fear of damaging your pants.
Thick Fabrics: Because climbing and mountaineering are rough-and-tumble pursuits, all alpine pants need to be relatively abrasion-resistant.
To accomplish this, many manufacturers opt to use thicker fabrics (usually more than 60D). While these fabrics might result in a decrease in breathability, most folks won't mind if it means added durability.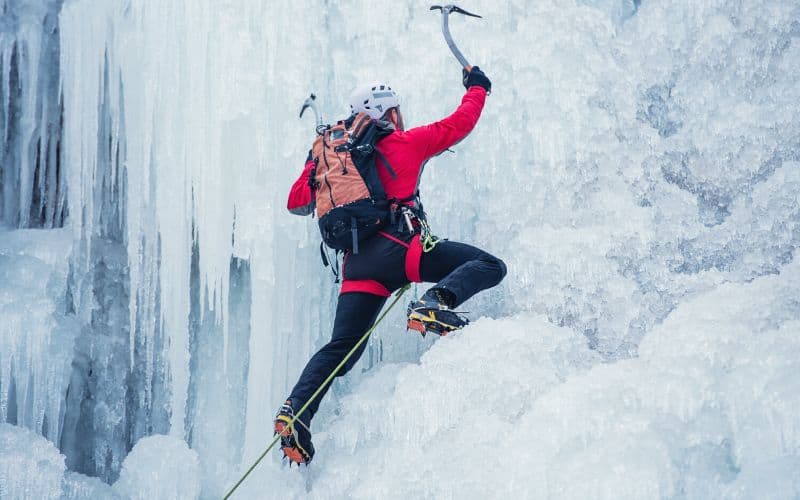 Fit, Comfort & Range Of Motion
As with any piece of outdoor clothing, the fit and comfort of your mountaineering pants are critical considerations. Comfort is unique to every individual, of course. However, there are some comfort-focused features particular to alpine pants that you should know about as you shop.
RELATED: Best pants for hot weather hiking
In fact, comfort and range of motion in trousers boils down to 3 key features: stretchy fabrics, knee articulation, and crotch gussets. Here's what you need to know:
Stretchy Fabrics
If there's one feature that has a direct impact on your comfort in the alpine, it's the stretch of the pant fabric itself.
Fabrics that don't stretch simply can't provide the range of motion you need to climb through tricky terrain. So, looking for pants with a high percentage of spandex or lycra, and/or four-way stretch fabric, is essential.
Articulated Knees
Many mountaineering trousers have something called "articulated knees." This might sound complicated, but articulation in pants simply refers to the shape of the leg.
Pants without articulated patterning will have straight legs, which can reduce your range of motion as you climb. Meanwhile, models with articulated knees are designed to mimic the natural shape of your leg. As a result, they provide unrestricted movement in all types of activity and terrain.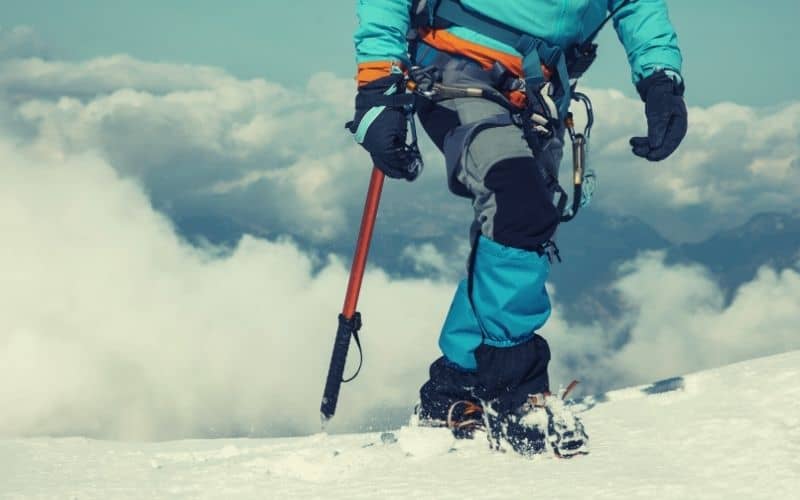 Gusseted Crotch
A crotch gusset is a little-known pant feature that has a major impact on your climbing experience.
Essentially, a crotch gusset is a small, diamond-shaped piece of fabric that connects each leg. This diamond-shaped fabric eliminates the need to have a single point in the middle of the trouser crotch where the four seams connect.
By doing so, the crotch gusset allows for an unparalleled range of motion, durability, and comfort as you climb.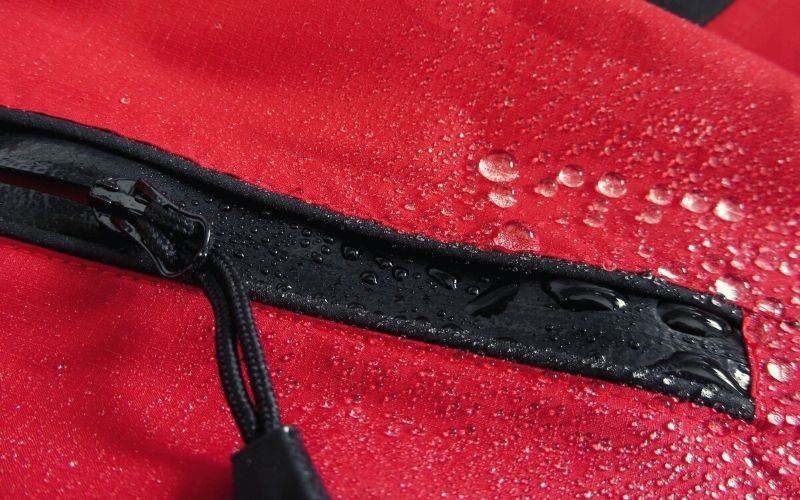 Pockets
When you're in the mountains, having a quality set of pockets on your pants can have a major impact on your climbing experience. While a small, inconveniently placed pocket won't get you very far, having quality thigh pockets or hand pockets can make a huge difference.
So, as you shop, pay close attention to the number, size, and layout of each model's pockets.
In particular, look for a model that has zippered hand pockets and the occasional thigh pouch for gear security as you climb.
Furthermore, if you expect to wear a harness during your adventures, pants with harness-compatible pockets can be a major asset. Otherwise, your gear will be uncomfortably trapped between your leg and your climbing harness if you take a fall—ouch!
Best Pants for Mountaineering: The Verdict
Just in case you're still undecided, let's have a little recap to help you out.
Our standout favorite mountaineering pant is the Outdoor Research Cirque II. They're tough, breathable, mobile, and the most well-thought-out of all the options we tested. While geared toward cold-weather mountaineering, they're light and breathable enough for the shoulder seasons too.
If the Gamma AR is a little too pricey for your budget, the Patagonia Simul Alpine and BD Alpine Pant are solid alternatives. Neither of these is quite as hard-wearing or water-resistant as the OR Cirque II, but they're both very well made, comfortable, and offer enough in the way of performance for most alpine adventures.
So, how did you like our article? If we missed anything or you have any questions, let us know! And if you'd like to share this post with your friends, please do!