Staying cool while trekking in the heat means choosing the right hiking attire.
That being said, while there are plenty of great pairs of trekking pants out there, not all of them are up to snuff when it comes to breathability.
Since we want you to have the perfect pants for all your summertime adventures, we've put together this guide to the most moisture-wicking and breathable options on the market today.
Coming up, we'll introduce you to our favorite warm-weather options and, as an added bonus, we'll also offer some tips to help choose the right pair for your next hike.
Editor's Choice
Mountain Hardwear Chockstone/2
If you want the perfect hot-weather hiking trousers, the Mountain Hardwear Chockstone/2 are our number one choice.
When designing these trousers, the company used a nylon/elastane blend for added stretch and breathability. These pants also come with articulated patterning, a crotch gusset, and a harness-compatible waist for all-around mountain performance.
As with many high-end trousers, the Chockstone/2 aren't the most affordable option. But when quality trumps all, we think these trousers are a sure bet for hikers of all shapes and sizes.
Bottom line: The Chocksone/2 is your go-to pair of hiking trousers for use in hot weather conditions.
The Best Hiking Pants For Summer: What To Look For
Trekking trousers might seem like your run-of-the-mill pants. However, there's a whole lot of technology that goes into designing the perfect hot-weather trousers for mountain pursuits. Here are some key things to look for as you shop for trekking pants for hot weather.
Materials
When it comes to trekking trousers, the materials used to make your pants have an outsized impact on your hiking experience.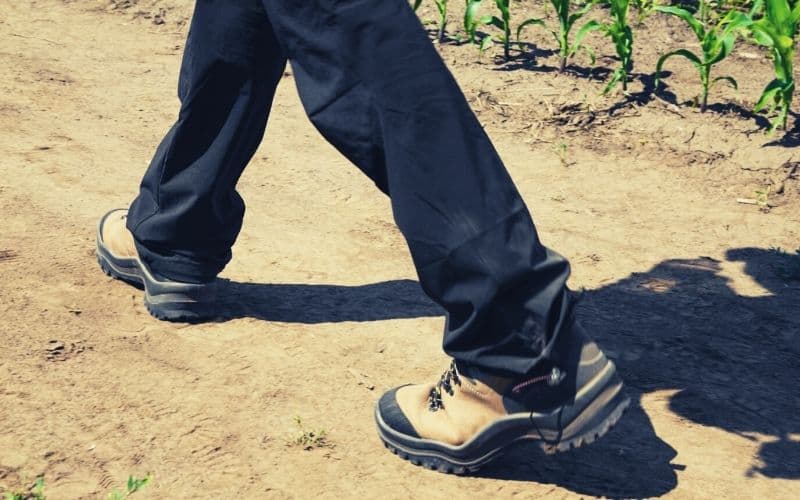 The majority of trousers designed for outdoor activities are made with a select number of materials such as nylon, spandex (a.k.a elastane), and polyester. Most companies, in fact, will craft pants using a blend of all three of these different fabrics. Doing so allows them to create a comfortable set of pants that pack the durability needed for use in mountain environments.
Pants with high nylon content are typically the most rugged and durable, while those with a high polyester content are usually the most breathable.
Whichever type you choose, it's important to look for a model with a large percentage of spandex in their fabric. That's because spandex is both highly breathable and really stretchy—two characteristics that are prized when trekking in the heat.
Breathability & Ventilation
If you're planning on trekking in hot conditions, the breathability of your hiking pants is of the utmost importance.
Therefore, you'll want to pay particular attention to a number of ventilation-focused features as you shop. Some of the features you might see include:
Built-in side vents with zippers
Mesh paneling in the crotch gusset
Fabrics with high percentages of spandex
Moisture-wicking fabrics
Roll-up legs for ventilation
Zip-off legs (a.k.a. convertible trousers)
Each of these features allows for increased breathability on the trail, either by wicking away moisture or allowing for ample airflow to your legs. So, if ventilation is a concern, keep an eye out for these features as you shop.
RELATED: Best Mountaineering Pants
Fit, Mobility & Comfort
While fit, mobility, and comfort are all subjective, there are some trekking trousers whose design is more likely to provide all-day comfort in high temps than others.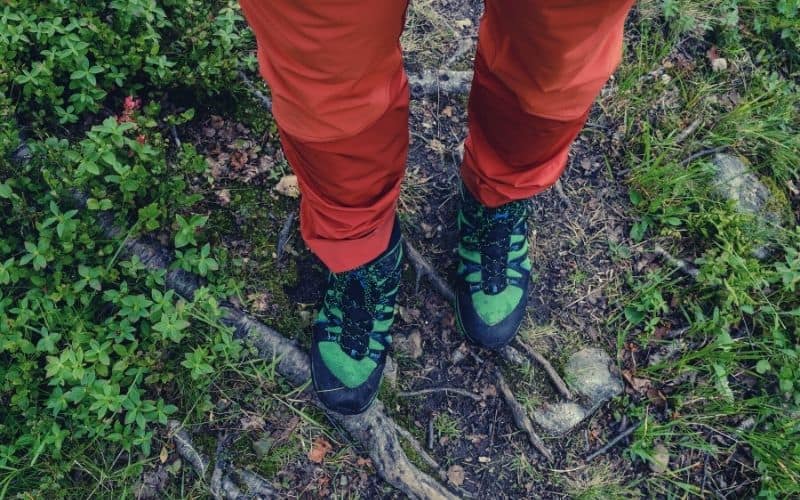 In particular, comfort-focused trousers for hot weather will often have a crotch gusset or articulated patterning around the knees to improve mobility. Both of these features help give trousers a more natural ergonomic shape, improve your range of motion, and provide more airflow.
Furthermore, you'll want to look for models that have a high quantity of spandex in their fabric. That's because spandex is super stretchy and allows for unrestricted movement while you hike.
Versatility and Style
If you're looking for a pair of trousers that you will use only on the trail, versatility and style might not matter too much. However, if you'd like trousers that you can also wear around town without looking like you just came out of the woods, style is sure to be a concern.
RELATED: Best Waterproof Women's Pants
With hot-weather hiking trousers, you'll need to choose between straight-leg models and convertible models.
Straight-leg models are your standard type of trousers, so they're versatile enough to wear on a regular basis. They're designed to completely cover your leg, though they can be rolled up at the ankle in hot weather.
Alternatively, convertible trousers have zip-off legs that allow them to change into shorts. These are useful if you expect that on-trail conditions will change so much that wearing trousers is just impractical. However, convertible trousers usually aren't overly stylish and might not be the most suitable for that post-hike date or visit to the in-laws!
Weight
The weight of your trousers is always a concern because it's directly linked to breathability.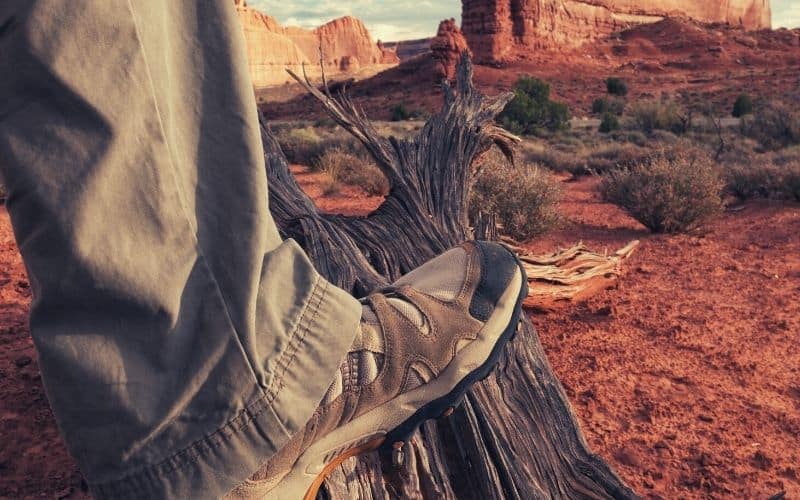 Thin, lightweight fabrics tend to be the most breathable option, which is ideal if you're trekking in hot weather. However, buying pants made with lightweight materials often means compromising on durability and ruggedness. Such models, of course, are generally less versatile because they lack the insulation needed outside of the summer season.
This being so, if you think that you may want to use your trousers throughout a range of adventures and not just in hot weather, you'll need to find a nice balance between fabric weight and breathability.
The 11 Best Hot-Weather Hiking Pants
Prana Stretch Zion
Best for Versatility
A versatile set of hot-weather hiking pants, the stylish Prana Stretch Zion are an ideal choice for all-weather adventures.
They're made with Prana's Stretch Zion fabric, which mixes nylon and spandex for added performance and mobility in hot weather. Furthermore, they feature UPF50+ sun protection to shield you from harmful UV rays.
In addition to their PFC-free durable water repellent (DWR) treatment, these trousers are also quick drying. That makes them ideal for occasional drizzles on the trail. These roll-up pants also have a ventilated inseam gusset to provide increased breathability as you hike.
The downside to these trousers is that their fabric is a bit on the thick side. However, most folks will find that this is offset by the Zion's exceptional breathability and handy ventilation features, both of which make them a great option for warm conditions nonetheless.
PROs

Built-in ventilation
Eco-friendly DWR treatment for water-resistance
Quick-dry design
Comfy Stretch Zion fabric (97% nylon, 3% spandex)

CONs

Fabric is a bit thick for summer trousers
Bottom-Line: If you need a pair of pants that's versatile enough for all your outdoor activities, the Prana Stretch Zion are a sure bet. 
Arc'teryx Lefroy
Best for Breathability
When breathability is your chief concern, it's hard to go wrong with the Arc'teryx Lefroy.
These high-quality trousers are ideal for hiking in hot weather because they're made with Fair Trade Certified Aequara AirPerm fabric. This fabric has a high percentage of elastane to provide increased breathability and stretch as you hike.
Furthermore, Aequara AirPerm fabric is designed to wick sweat to keep you cool during high-octane pursuits. It also has a gusseted crotch and articulated knees to ensure that you have full range of motion at all times.
Do keep in mind, however, that the Lefroy doesn't have DWR or a UPF rating. As such, it may not provide a lot of sun protection or be as water-resistant as other models on our list. But if ventilation and quick-drying abilities are your key concerns, the Arc'teryx Lefroy is a winner.
PROs

Fair Trade Certified fabric and production
Very stretchy Aequara AirPerm fabric (86% nylon, 14% elastane)
Crotch gusset and articulated knees provide extra mobility

CONs

No DWR treatment for water-resistance
Doesn't have a UPF rating
Bottom-Line: They may not be ideal in rainy conditions, but in warm weather, the Arc'teryx Lefroy truly come into their own.
Outdoor Research Ferrosi Pants
Best for Sunny Conditions
If sun is in the forecast for your next hike, the Outdoor Research Ferrosi Pants are a solid choice.
Built using Outdoor Research's famous Ferrosi fabric, these trousers are both highly breathable and stretchy as can be. Their blended nylon/spandex construction also boasts a UPF 50+ sun protection rating, so they're perfect for hiking in hot climates or users particularly concerned about protecting their skin from the sun's harmful rays.
That said, the Ferrosi trousers aren't just for those super-sunny conditions alone. In fact, their DWR treatment makes them water-resistant and quick-drying enough for hiking in light rain showers. Plus, they offer a zippered thigh pocket for gear storage and a harness-compatible waist for alpine ascents.
The Ferrosi are a bit too thin for use in cool and windy conditions. Nevertheless, if you plan to stick to summertime adventures, it's hard to find any further fault.
PROs

UPF 50+ sun protection
Very stretchy fabric for range of motion
DWR-treated fabric
Highly breathable materials

CONs

Thin fabric isn't very versatile or rugged
Bottom-Line: These highly breathable UPF 50+ trousers are ideal for use in especially warm temps.
Marmot Arch Rock Pants
Best for Variable Weather
With the Marmot Arch Rock Pants, a little bit of rain in the forecast is no reason to cancel your next trekking trip.
These abrasion-resistant pants are made with bluesign-approved fabric with a UPF 50 rating for superior all-mountain, all-weather performance. They also have articulated knees for freedom of movement and a slew of front, thigh, and back pockets for gear storage.
At the same time, the Arch Rock Pants have a DWR finish to keep you dry in inclement weather and dry as quickly as any other pants we've ever had the pleasure of pulling over our pins.
While some folks might find that the fabric in these trousers is a bit noisy on the trail, most hikers will be too focused on the scenery to notice. Ultimately, these trousers are a reliable choice for variable conditions during the hotter months of the year.
PROs

DWR finish for water-resistance
UPF 50 rating provides protection from the sun
Bluesign-approved material (94% nylon, 6% elastane)
Excellent range of motion

CONs

Fabric can be a little noisy
Bottom-Line: When the weather doesn't want to cooperate during the summer months, the Marmot Arch Rock Pants should be your go-to gear.
Fjallraven Abisko Midsummer Pants
Best for Durability
Tired of having trekking trousers that wear out after just a few seasons on the trail? If so, then the Fjallraven Abisko might just provide the solution to your problems.
These durable hot-weather hiking pants are made from award-winning G-1000 Air Stretch fabric (65% polyester, 35% cotton). This quick-drying material is exceptionally breathable and is made from recycled polyester for eco-friendliness.
Furthermore, Fjallraven crafted these trousers with zippered vents on each pant leg that provide all the breathability you need on a hot-weather hike. This pair of hiking pants also has some of the best pockets we've ever seen, including two front cargo pockets on the thigh.
With that in mind, the Fjallraven Abisko are far from cheap and they're not water-resistant unless you treat them with Greenland wax. Nevertheless, if durability is your chief concern, you'll be hard-pressed to find anything better.
PROs

Highly durable G-1000 Air Stretch Fabric
Eco-friendly materials
One cargo pocket on each thigh
Zippered side vents

CONs

No built-in DWR coating
Fairly pricey
Bottom-Line: Burly as can be, the Fjallraven Abisko Midsummer are some of the best hot-weather hiking pants on the market for use in rough terrain.
Helly Hansen Tinden Light Pants
Best for Freedom of Movement
When you're cruising up the trail, the last thing you want is a hiking pant that holds you back. Enter: the Helly Hansen Tinden Light Pants.
With these high-quality trousers, Helly Hansen used 100% polyamide fabric. As a result, they feature a lightweight construction and 4-way stretch without skimping on durability.
Additionally, the Tinden Light has an integrated belt, articulated knees, and a gusseted crotch for an improved fit. For added convenience, these trousers also come with two front and rear pockets so you can safely stash all your essential items on the go.
However, the Helly Hansen Tinden Light don't have a UPF rating, nor any DWR coating for rain-resistance. As such, they're best for situations where range of motion is your main priority.
PROs

Super stretchy polyamide fabric to keep you cool
Great selection of pockets
Integrated belt for adjustability
Articulated patterning provides a better fit

CONs

No UPF rating
Doesn't have a DWR treatment
Bottom-Line: They might not be the best in rainy conditions, but the Helly Hansen Tinden Light is second to none in terms of stretch and comfort.
KUHL Renegade Cargo Convertible
Best Convertible Pants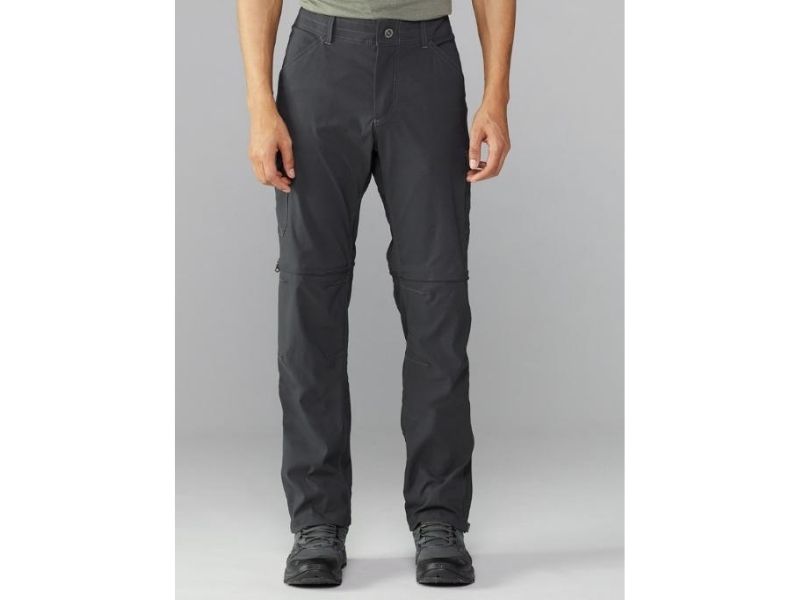 Offering a mix of functionality and durability, the KUHL Renegade Cargo Convertible hiking pants are a trekker's best friend in sunny locales.
They're made with a DURALUX fabric that combines nylon and spandex for both stretch and abrasion-resistance. The Renegade are also rated to UPF 50 and they have a DWR coating to help keep you dry in a drizzle.
The best part about these trousers is their convertible pant legs, which use KUHL's incredibly convenient, easy-to-use STEALTH zippers to simplify the on/off conversion. Meanwhile, these zippers stow away nicely when not in use to give you a stylish trouser in colder temperatures.
Some folks do find that the zippers on these convertible pant legs rest a little too low on the thigh for comfort. However, if you plan to use them mostly in shorts mode anyway, this might not be a major concern.
PROs

Highly abrasion-resistant DURALUX fabric
UPF 50 protection from UV rays
Converts from full-length pants to shorts

CONs

Zippers are sometimes too low on the thigh for comfort
Bottom-Line: For folks who value both durability and versatility, a rugged option like the KUHL Renegade Cargo Convertible is well worth considering.
Columbia Silver Ridge Convertible
Best Value
For hikers on a budget, the Columbia Silver Ridge Convertible hiking pants offer simply spectacular value.
Designed for functionality, these convertible pants are made with OMNI-SHADE fabric to keep you cool on the trail. This fabric is as moisture-wicking as it gets and it has UPF 50 protection against harmful UV rays.
Furthermore, Columbia crafted these trousers with breathability in mind, using several built-in mesh panels for ventilation on the go. They also come with 2 hand pockets, two back pockets, and one thigh pocket for gear storage.
Although these trousers are a pretty solid deal, however, they don't offer any water-resistance. They're also not very stretchy, meaning they offer less mobility than other items on our list. Nevertheless, when affordability is a priority, the Silver Ridge Convertible are well worth a place on your list.
PROs

Built-in mesh panels for breathability
Plenty of hand, thigh, and back pockets
Superb moisture-wicking abilities

CONs

Fabric isn't very stretchy
No water-resistance
Bottom-Line: A practical and functional low-cost option that doesn't compromise excessively on performance.
Prana Halle Pant
Best for Women's Hiking
Finding women's specific trekking trousers isn't always easy. But, the high-quality Prana Halle Pant is a must for folks with a smaller frame.
Built out of the same Zion fabric used in Prana's other award-winning pants, the Halle is a stretchy, lightweight choice that's ideal for all keen adventurers. It is quick to dry, rated to UPF 50+, and fantastically durable, so it's a nice option for long days in hot locales.
For extra functionality, Prana also crafted these trousers with a roll-up leg. As a result, you get all the style and benefits of full-length trousers with the option to roll up your pant leg in very warm conditions.
Like many pairs of women's trousers, however, the Halle has a fairly narrow fit, so won't be ideal for everyone. But if durability, versatility, and breathability sound awesome to you and you don't mind a slightly tighter fit, the Halle Pant might be just what you need.
PROs

Roll-up leg for extra ventilation
UPF 50+ protection from the sun
Nicely stretchy fabric
Women's specific design

CONs

Fit is quite narrow, so it's not ideal for folks of all body shapes
Bottom-Line: For a women's trekking trouser that's as functional as it is stylish, the Prana Halle Pant is in a class of its own.
The North Face Paramount Trail Convertible
Quickest-Drying
In hot, muggy conditions, quick-dry trousers are a must. Thankfully, The North Face Paramount Trail Convertible is ready for any adventure, come rain or shine.
Engineered out of lightweight FlashDry fabric, the Paramount Trail is a great choice for outdoor activities. Their breathable fabric is designed to dry quickly to help wick away moisture as you cruise toward the summit.
Meanwhile, the trousers' zip-off legs allow you to seamlessly transition into shorts when the sun is out in full force. Regardless of whether you're in pants or shorts mode, the Paramount Trail also boasts a gusseted crotch and an integrated belt for an improved fit and increased mobility.
While these trousers might be great at drying off after a light rain, their lack of thigh pockets leaves a lot to be desired. Lack of pockets aside, however, it's very hard to find fault with these very trail-worthy and comfortable pants.
PROs

FlashDry fabric is very quick to dry
Zip-off legs for added breathability
Gusseted crotch for freedom of movement
Integrated belt allows for a better fit

CONs

Poor selection of pockets
Bottom-Line: Inclement weather and muggy trail conditions can't hold you back with The North Face Paramount Trail Convertible.
Mountain Hardwear Chockstone/2
Editor's Choice
A fan-favorite, the Mountain Hardwear Chockstone/2 is our number one choice for hot-weather hiking pants.
As one of the most technical trousers in the company's lineup, the Chockstone/2 is an ideal choice for a range of activities. For starters, they're made with a nylon/elastane blend fabric with a UPF 50 rating for overall functionality.
Additionally, the Chockstone/2 has a removable belt for the perfect fit and a harness-compatible waist for alpine adventures. It also comes with a gusseted seat for mobility and an adjustable cord at the hem if you want to cinch them around your ankles for ventilation.
That being said, the Chockstone/2 is one of the most expensive pairs of trousers in our review, which is a bit of a disappointment. Nevertheless, if you're okay with spending more for quality, these pants are a worthy choice.
PROs

Adjustable belt for a better fit
Very stretchy fabric
Gusseted crotch provides increased mobility
Harness compatible waist for vertical adventures

CONs
Bottom-Line: A solid all-around performer in warm conditions, it's hard to find fault with the Chockstone/2.