Which are the best hiking pants for hot weather?
We've reviewed the following pairs of lightweight hiking pants for hot weather in our quest to find the best.
Mountain Hardwear Chockstone/2
Prana Stretch Zion
Arc'teryx Lefroy
Outdoor Research Ferrosi Pants
Marmot Arch Rock Pants
Fjallraven Abisko Midsummer Pants
Helly Hansen Tinden Light Pants
KUHL Renegade Cargo Convertible
Columbia Silver Ridge Convertible
Prana Halle Pant
What to look for in summer hiking pants?
Trekking trousers might seem like your run-of-the-mill pants. However, there's a whole lot of technology that goes into designing the perfect hot-weather trousers for mountain pursuits. Here are some key things to look for as you shop for trekking pants for hot weather.
Breathability & Ventilation
Fit, Mobility & Comfort
Materials
Versatility & Style
Weight
Breathability & Ventilation
If you're planning on trekking in hot conditions, the breathability and ventilation of your hiking pants are of utmost importance. Therefore, pay particular attention to the following ventilation-focused features as you shop.
Built-in side vents with zippers
Mesh paneling in the crotch gusset
Fabrics with high percentages of spandex
Moisture-wicking fabrics
Roll-up legs for ventilation
Zip-off legs (a.k.a. convertible trousers)
Each of these features allows for increased breathability on the trail, either by wicking away moisture or allowing for ample airflow to your legs. So, if ventilation is a concern, keep an eye out for these features as you shop.
RELATED: Best Mountaineering Pants
Fit, Mobility & Comfort
While fit, mobility, and comfort are subjective, the design of some trekking trousers are more likely to provide all-day comfort in high temperatures.
In particular, comfort-focused trousers for hot weather will often have a crotch gusset or articulated patterning around the knees to improve mobility. Both of these features help give trousers a more natural ergonomic shape, improve your range of motion, and provide more airflow.
Furthermore, you'll want to look for models that have a high quantity of spandex in their fabric. That's because spandex is super stretchy and allows for unrestricted movement while you hike.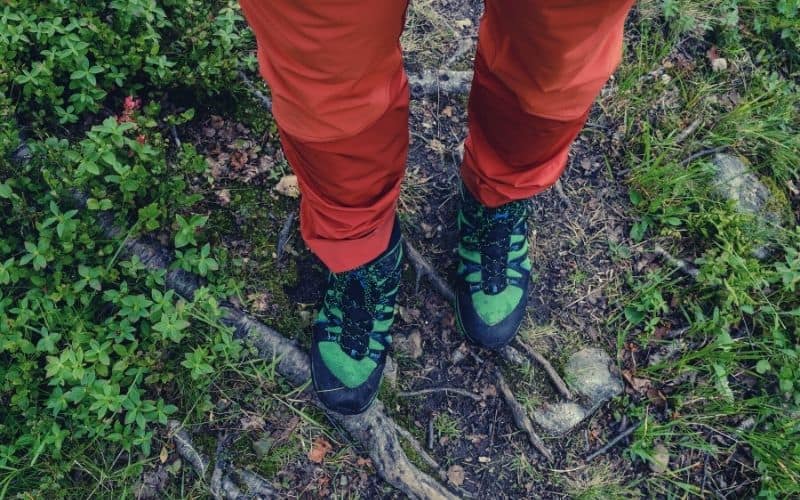 Material
The majority of trousers designed for outdoor activities are made with materials such as nylon, spandex (a.k.a elastane), and polyester. Most companies craft pants using a blend of these fabrics, creating a comfortable yet durable option for mountain environments.
Pants with high nylon content are typically the most rugged and durable, while those with a high polyester content are usually the most breathable.
Whichever type you choose, it's important to look for a model with a large percentage of spandex in their fabric. That's because spandex is both highly breathable and really stretchy—two characteristics that are prized when trekking in the heat.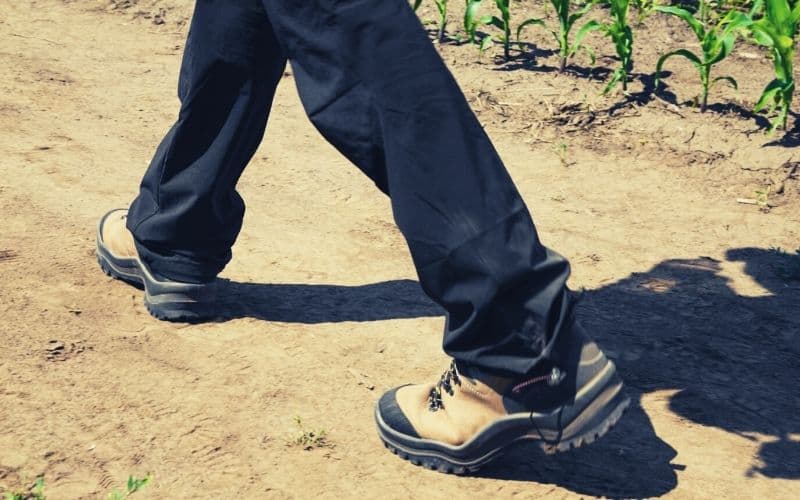 Versatility & Style
When it comes to hot-weather hiking pants, versatility and style become important for wearing them off the trail as well as on, or for converting them from pants to shorts with convertible models.
Straight-leg models are your standard type of trousers, so they're versatile enough to wear on a regular basis. They're designed to completely cover your leg, though they can be rolled up at the ankle in hot weather.
Alternatively, convertible trousers have zip-off legs that allow them to change into shorts. These are useful if you expect that on-trail conditions will change so much that wearing trousers is just impractical. However, convertible trousers usually aren't overly stylish and might not be the most suitable for that post-hike date or visit to the in-laws!
Weight
The weight of your trousers is a concern for hot-weather hiking as it is directly linked to breathability.
Thin, lightweight fabrics tend to be the most breathable option, which is ideal if you're trekking in hot weather. However, buying pants made with lightweight materials often means compromising on durability and ruggedness. Such models, of course, are generally less versatile because they lack the insulation needed outside of the summer season.
This being so, if you think that you may want to use your trousers throughout a range of adventures and not just in hot weather, you'll need to find a nice balance between fabric weight and breathability.