Question: when you head out on a camping trip, do you want to spend your precious downtime wrestling with uncooperative poles and rainflys, etc., or spend it kicking back and chilling with your family and friends? If the latter sounds more like your jam, we're here to help!
Over the last year, we've been busy trying and testing scores of pop-up shelters in a bid to find the crème de la crème. Below, we've put together a list of our 9 favorites and have also included a comprehensive buyer's guide that will help you choose the perfect option for your needs and group size.
Ready to do some stress- and struggle-free camping? Read on!
Editor's Choice
Toogh 3-4 Person Automatic Pop-Up
It's rare that we should find ourselves handing out our "best in class" award to a product at the lower end of the price scale. However, the Toogh 3-4 Person Pop-Up is proof that you don't have to splash serious cash to get your hands on a high-quality pop-up tent.
But what makes the Toogh the best instant tent out there this year?
The short answer is simply this tent ticks all the boxes! It's lightweight, a breeze to pitch, sturdy, durable, roomy enough for a family of four, and offers enough weather protection for 3-season camping.
As we'll go into more detail in our extended review (below), the Toogh outperforms many far pricier pop-up tents in almost every important metric.
It's made with burly, 210T Oxford fabric with a silicone coating and has a waterproof rating of 3,000 mm on the walls and 10,000 mm on the flooring. While this has you covered for wet weather, two huge doors, and a mesh rooftop ensure you won't overheat in hot and humid conditions.
Although not as easy to pitch as other tents on our list, the Toogh can be transformed from packed to pitched in a maximum of a minute, and its 6-pole frame and central pole hub make it a far sturdier tent than most pop-up shelters of its size.
Bottom Line: A burly, stable, waterproof pop-up tent that is ideal for camping couples and small families.
At a Glance: Quick Recommendations
9 Best Pop-Up Tents Reviewed
Toogh 3-4 Person Automatic Pop-Up Tent
Editor's Choice
Size: 110 sq. ft. ⸱ Peak Height: 66 inches (external) ⸱ Weight: 13 lbs. ⸱ HH Rating: 3,000 mm
The Toogh Automatic Pop-Up Tent is a great choice for camping couples or small families looking for a durable, uber-convenient three-season shelter.
It's made with extra-burly Oxford fabric and uses six folding poles that open like an umbrella from a central pole hub. Setup, even for slackers, takes no more than a minute.
In terms of weather protection, the Toogh is a standout in its price range. The tent body has a hydrostatic head rating of 3,000 mm and the bathtub floor is rated at 10,000 mm. This makes it capable of withstanding even the heaviest and sustained of downpours and, as such, a shoo-in for three-season camping.
The Toogh is also a decent performer in warm weather thanks to the use of no-see-um mesh panels in the roof and the huge double doors, which together provide enough ventilation to stave off stuffiness. What's better, both doors can be extended to create a huge awning on either side, giving you a nice, sheltered spot to store gear or get some shade on sunny days.
PROs

Waterproof
Easy setup
Stable in strong winds
Extendable awnings
1-year warranty
Touch, durable fabric
Tent stakes, guy lines, and carrying bag included

CONs

Center seam on flooring uncomfortable to lie one
Bottom-Line: A tough, waterproof, and sturdy tent that's roomy enough for 3 adults or 2 adults and 2 kids.
Teton Sports Vista 1 Quick Tent
Best for Solo Campers
Size: 20 sq. ft. ⸱ Peak Height: 39 inches ⸱ Weight: 4.6 lbs. ⸱ HH Rating: –
Solo camper? If so, the best pop-up tent out there – by a country mile in our opinion – is the simply awesome Teton Sports Vista 1 Quick Tent.
Pop-up tents are renowned for being heavy, but not so with the Teton Quick. It tips the scales at just 4.6 lbs., making it a great option for both solo car campers and backpackers.
The Teton Quick is a roomy tent, offering 20 square feet of floor space and a decent peak height of 39 inches. This means it boasts enough space for a large, one-person sleeping pad, all your camping gear, and possibly even a canine companion.
What we love most about this tent, however, is its double-walled design, which makes it the most versatile option on our list. In wet conditions, throw on the waterproof rain fly and you'll stay dry no matter how hard the wet stuff's falling. In warm weather, you can ditch the fly and enjoy the airflow provided by the full mesh ceiling.
PROs

Lightweight (4.6 lbs. – not much more than a regular tent!)
Awesome ventilation
Double-wall versatility
20 square feet of floor space

CONs
Bottom-Line: A well-made, versatile, waterproof tent that's light enough for backpacking.
Coleman (4-Person) Instant Pop-Up Tent
Best Budget
Size: 59.6 sq. ft. ⸱ Peak Height: 40 inches ⸱ Weight: 7.07 lbs. ⸱ HH Rating: 3,000 mm
Need a four-person, three-season tent that can be set up in under ten seconds? If so, look no further than the Coleman Pop-Up.
The Coleman is ideal for buyers who want a lightweight tent that still scores highly in terms of practicality and livability. While its main selling point is how quickly it can be set up, the Coleman trumps its 4-person competitors in the pop-up market on account of its roomy dimension and frill-free but functional design.
The Coleman measures a fairly mighty 9 ft. 2 in. x 6 ft. 6 in. and boasts a 3 ft. 6 in. center height, meaning it's big enough to accommodate four adults and offer plenty of headroom. Even more impressively, it tips the scales at a mere 7.07 pounds, which is around 3 pounds lighter than our list's other 4-person tent, the Moon Lence.
While the Coleman's single-walled design makes it a little less waterproof than most three-season campers would like, it's still more than capable of keeping you dry in light rain showers. In warm weather, however, this easy set-up tent comes into its own, mainly thanks to extensive mesh ventilation panels that can be exposed by rolling back its pre-attached rainfly.
Other nice features include a duo of large storage pockets, large windows, taped floor seams to prevent leaks, storm-proof zippers, and a flatpack design for easy transportation.
PROs

Light enough to use as a backpacking tent
Sets up in ten seconds (15 for slackers!)
Multiple ventilation points
Double doors and two large windows
Plenty of room for four people

CONs

No vestibule
Liable to leak in heavy rain
Bottom-Line: A lightweight and practical tent for four people that's ideal for fair-weather trips and the odd outing in light rain.
Moon Lence 4-Person Pop-Up Instant Tent
Best 4-Person
Size: 54 sq. ft. ⸱ Peak Height: 49 inches ⸱ Weight: 10.25 lbs. ⸱ HH Rating: 2,000 mm
The Moon Lence Instant Pop-Up is the ideal pick for buyers who don't mind carrying a little extra weight in return for superior waterproofing and wind resistance.
This tent weighs in at a fairly ponderous 10.25 lbs. and offers buyers 54 square feet of floor space, a peak height of 49 inches, and a robust, waterproof shelter that's fit for use in all three-season conditions.
The Moon Lence is made with 190T PU material and a 210D Oxford groundsheet, both of which have an impressive 2,000 mm hydrostatic head rating and provide solid UV resistance. It also has four large, mesh-lined windows for bug-free ventilation and one large, D-shaped door for easy entry and exit.
While this one isn't quite as quick and easy to set up as other pop-up tents on our list, its one-minute pitch time hardly makes it a slouch.
PROs

Takes 1 minute to set up and take down
Waterproof and wind-resistant design
Sturdy frame
Spacious

CONs
Bottom-Line: A sturdy, weatherproof backcountry bolthole that despite being a little heavy is nonetheless a great easy-up tent for three-season car-camping adventures.
Timber Ridge Pop-Up 6-Person Tent
Best Value
Size: 100 sq. ft. ⸱ Peak Height: 78 inches ⸱ Weight: 23.15 lbs. ⸱ HH Rating: –
If you're looking for a lotta tent without spending a lotta cash, the Timber Ridge is a great option.
This tent for 6 people measures 10' x 10', giving you a total of 100 square feet of floor space, and has a generous peak height of 78" inches. This means there's more than enough space for 6 sleepers and all their gear, and you can move around inside without having to hunch.
While not as easy to set up as the Coleman, Moon Lence, or Toogh, it can still be pitched in under 5 minutes by two people.
In terms of features, the Timber Ridge isn't a standout but includes a few wall pockets for gear storage, 3 large mesh windows, an oversized O-shaped door, and an integrated "doormat".
Two of the Timber Ridge's main strengths are also its biggest downsides. Its partial-coverage rainfly makes it well-ventilated, but also a poor performer in wet weather. Likewise, its steep walls maximize headroom, but also mean it isn't the most stable in strong winds.
PROs

Spacious (100 sq. ft. and 78" peak height)
3 mesh windows with roll-up, zippered panels
Large, O-shaped tent door
Wall storage pockets

CONs

Partial-coverage rainfly
Takes longer to set up than other instant tents
Bottom-Line: A great pop-up tent for families of up to 6 people.
Core 9-Person Instant Cabin Tent
Best for Family Camping
Size: 126 sq. ft. ⸱ Peak Height: 78 inches ⸱ Weight: 37 lbs. ⸱ HH Rating: 600 mm
Tents that are quick and easy to pitch, and also boast enough space for all your family, are few and far between. The CORE 9-Person Instant Cabin, however, is just that kinda tent.
This roomy, 9-person easy-up camping tent can fit two queen air mattresses with room to spare. It uses a pre-assembled frame with telescoping poles that makes pitching a cinch for either one or two people.
And once it's up, the CORE performs none too shabbily either. For starters, there is simply oodles of room, with a whopping 126 square feet of floor space complemented by a lofty 78-inch center height.
It also boasts a huge, easy-access doorway, an adjustable ground vent, a room divider for privacy, an electrical cord access port, and large wall storage pockets to help keep things neat and tidy.
Tents that don't use a full-coverage rainfly are never going to win any awards for waterproofing, granted. However, the CORE's rooftop fly is more than capable of fending off the odd rain shower while the highly durable 125gsm polyurethane flooring prevents groundwater from sneaking in while you sleep.
PROs

Easy setup
Holds up well windy conditions
Good ventilation
Two doors
Taped seams
Room divider

CONs

Rainfly only offers partial coverage
Heavy (37 lbs.)
Bottom-Line: The CORE 9 Instant Cabin Tent might be a little on the heavy side, but is nevertheless the ideal easy-assemble tent for families who need a little extra space and privacy. 
Gazelle T4 Plus Camping Instant Tent
Best Basecamp
Size: 110 sq. ft. ⸱ Peak Height: 78 inches ⸱ Weight: 56 lbs. ⸱ HH Rating: 2,000 mm
The Gazelle T4 Plus is a great option for campers happy to pay a premium price in return for a high-quality pop-up tent.
This spacious tent is composed of two parts – a sleeping area that sleeps five and a large screened room that you can convert into another sleeping area for three.
Although styled as an "8-person" tent by the brand, the T4's 110 square feet of floor space (screen room included) makes it more of a 6–8-person tent, particularly given that filling the screened room with sleepers will leave you short of storage space.
Size aside, the T4 is impressive in every important metric. The body is made with burly, durable fabric and it has multiple zippered mesh windows for ventilation and taking in the views. While the included rainfly only offers partial coverage, it leaves just a small portion of the front and rear exposed. The fly can also be rolled up to let in cool air when temps are high.
PROs

Easy setup given its size
Good weather resistance and UV protection
2 doors
Aluminum tent poles
Plenty of pockets for your camping gear

CONs
Bottom-Line: A versatile, luxury, high-quality tent that has enough room for 8 sleepers or 6/7 sleepers plus gear.
Ozark Trail Dark Rest 10-Person Tent
Best 10-Person
Size: 140 sq. ft. ⸱ Peak Height: 78 inches ⸱ Weight: 20 lbs. ⸱ HH Rating: –
With a peak height of 78 inches and 140 square feet of floor space, the Ozark Trail Dark Rest is one of the roomiest instant pop-up tents out there. However, it has a lot more to celebrate than size alone.
The most lovable attribute the OT Dark Rest boasts is its "dark room" technology, which effectively blocks out 90% of sunlight. This helps to keep things cool inside on hot days and lets you carry on getting your beauty sleep long after the sun rises.
Despite its size, the Dark Rest can be pitched in around 2 minutes thanks to its use of pre-attached, telescoping poles and a central pole hub that opens like an umbrella. Also, it weighs just 20 pounds, which ain't bad at all – most tents of this size weigh almost twice as much!
Inside, there are multiple pockets for gear storage, an e-port for electrical hook-ups, a lantern hook, two doors, and huge mesh-lined windows for ventilation.
Compared to other tents on our list like the Toogh Instant Pop-Up and Moon Lence Instant Pop-Up, the Dark Rest's wet-weather performance isn't great. While the flooring is fully waterproof, its use of a partial-coverage rainfly and less waterproof fabric means it will keep you dry in light rain only.
PROs

Blocks out sunlight
2 ground vents and 2 large doors for ventilation
Roomy
Room divider
Affordable
Practical carry bag

CONs

Not the most waterproof
No vestibule or awning
Bottom-Line: Easy to pitch, roomy, well-ventilated, and one of the best pop-up tents for campers who like to carry on getting their shut-eye after the sun rises.
Ozark Trail 12-Person 3-Room Tent
Best Multi-Room
Size: 168 sq. ft. ⸱ Peak Height: 82 inches ⸱ Weight: 61 lbs. ⸱ HH Rating: 600 mm
Need a little more legroom for your camping crew? If so, the Ozark Trail 12-Person 3-Room Instant Tent should be a shoo-in for your shortlist.
The Ozark Trail 3-Room is a beast of a tent, giving you 192 square feet of floor space, another 64 square feet under the awning and boasting a peak height of 82 inches. While it weighs a mighty 61 pounds, its pop-up design means it can be pitched in just a few minutes if you have one of your camping cohorts lending a hand.
This tent's multi-room configuration makes it ideal for large groups of friends or families who like a little privacy come bedtime. It can accommodate up to 12 sleepers and all their gear inside, while the huge awning provides additional sheltered space for extra gear, kicking back in the shade, or for evening card games.
As regards features, the Ozark is also a standout. In addition to that huge front awning, it has seven mesh-covered windows, a power outlet, and several ground vents to improve airflow and stave off condensation.
PROs

Huge!
Converts into 3 rooms
Easy setup
Two large doors
Seven windows
Sturdy steel poles
Practical carry bag

CONs

Heavy
Not great weather protection
Bottom-Line: An extra-large pop-up tent that's ideal for warm-weather camping in large groups.
How to Choose a Pop-Up Camping Tent
Size
As with a traditional tent, the easiest way to determine which size of instant camping tent you need is by deciding just how much room you'll need.
As a general rule, you should aim to allow every adult sleeper around 14 square feet of floor space. However, it's also wise to consider how you plan on using your instant tent and how much camping equipment you'll be bringing with you on your trips.
On cold-weather trips, you'll likely have more gear with you, so a bigger tent will be needed. This is especially true with pop-up tents because very few have vestibules or a screened room for gear storage. The exceptions to this rule in our review are the Ozark Trail 3-Room (awning space) and the Gazelle T4 Plus (screen room).
Generally, larger pop-up tents weigh considerably more than their smaller cousins, so you'll have to keep the weight versus space trade-off in mind when buying. Having a large, heavy tent isn't likely to be an issue if you're car camping, but if you're backpacking then you may want to sacrifice a little space to make your load easier to carry.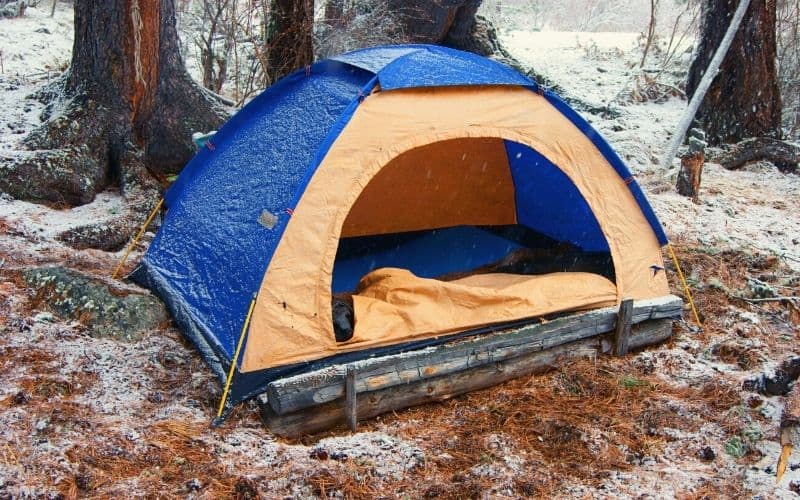 Because humans aren't the only things that will be inside – you'll have some gear along for the trip too – it's a good idea to shoot for a slightly larger size tent to give yourself plenty of living room. Features like vestibules, gear lofts, or wall pockets will also help to free up interior floor space for sleepers.
Weather Protection
You don't want a little (or a lot) of rain and wind to ruin an otherwise perfect trip, right? Given this, it's always wise to opt for a weatherproof pop-up tent that offers both solid wind resistance and waterproofing.
While wind resistance will largely depend on the design of the tent and the type of poles (geodesic dome tents and aluminum poles are best), its water resistance is determined by several factors.
The first of these is the tent fabric, which should have a hydrostatic head rating of at least 1,200 mm if you plan to camp in wet or iffy weather. Because the tent floor is more likely to leak, the lowest hydrostatic head rating we recommend you go for flooring is 2,000 mm if you don't plan to use a separate groundsheet.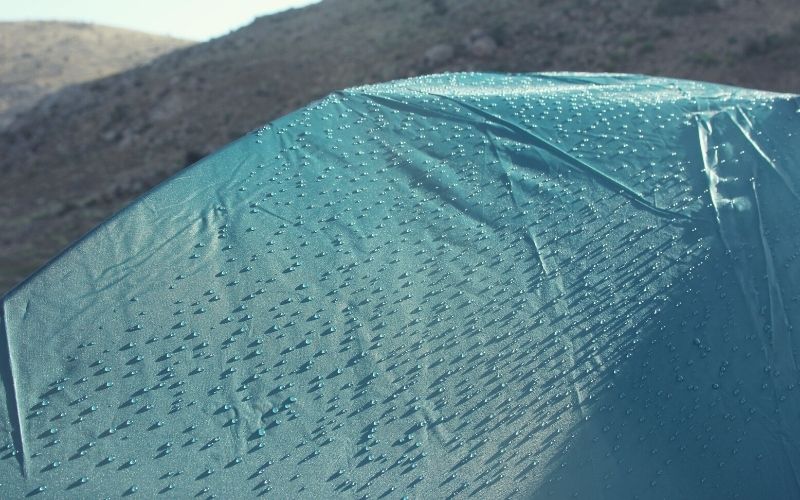 Other features that contribute to a tents overall waterproofing include inverted or sealed seams that prevent water from sneaking in at stitch points and storm flaps that cover the zippers.
Ventilation
As with traditional tents, instant tents can get a bit humid inside, especially if you're out in warmer weather or the capacity is maxed out with sleepers. And while humidity itself isn't such a big problem, this inevitably and invariably leads to condensation, which is a pain in the posterior at best and a serious problem at worst.
Proper ventilation is an important factor to think about before you make a purchase. Ventilation can come in many forms, but the things to look out for most when buying a tent are mesh doors and windows, ventilation panels in the walls, and ground vents, all of which will let you boost airflow when you need to without letting in any bugs.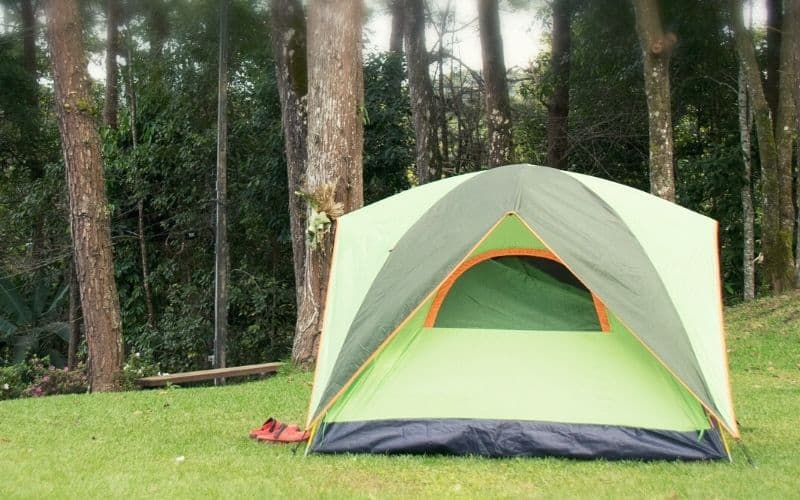 Our favorite pop-up tents for hot and humid conditions? It's a toss-up between the Teton 1-Person, Coleman 4-Person, Gazelle T4 Plus, and the CORE 9-Person. Handily, this gives you plenty of choice across a range of capacities.
Ease of Use
Pop-up tents are, by definition, designed to maximize ease of use, and for this reason, are far more convenient than regular tents. Nevertheless, some are easier to use than others.
Of all the tents on our list, the easiest to set up was the Coleman Pop-Up Tent. This tent automatically assembles in around 10 seconds when you remove the storage straps, so is a shoo-in for campers who are keen to keep setup time to a minimum. The slowest to pitch was the Ozark Trail 3-Room (2 or 3 minutes), though this is understandable given its size.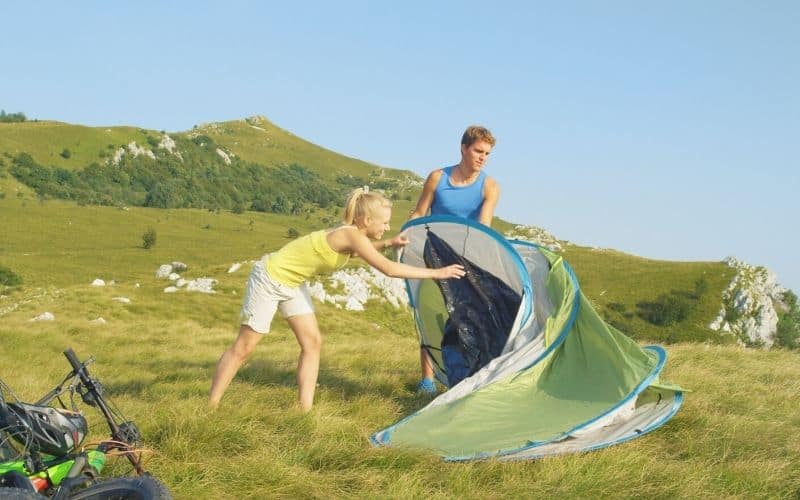 Weight
The main benefit of pop-up tents, of course, is that they maximize convenience by eradicating the need to mess around with poles, pole sleeves, grommets, separate rainflys, etc. However, the weight of your pop-up could be a major inconvenience if you don't happen to have forearms like Popeye or bench press small vehicles in your lunch breaks.
Not only will a heavy pop-up tent be tricky to carry from your vehicle to your campsite (even if that's only 20 yards or so), but wangling the thing into position so it can be "popped up" could take some serious elbow work.
Plan on backpacking? If so, we recommend a lightweight tent such as the Teton Sports Quick (the lightest pop-up tent on our list – not all instant tents are heavy and cumbersome!) or the Moon Lence if you share the weight with a partner.
If choosing a heavier tent like the Ozark Trail 3-Room or Ozark Trail Dark Rest, make sure you have an able-bodied buddy handy to help with setup!
Tent Features
Most pop-up tents have a few extra features designed to boost comfort and convenience. The most important of these include biggies like a vestibule, screen room, or awning, though smaller features like wall pockets, a gear loft, mesh-lined windows, vents, and an e-port are all well worth having.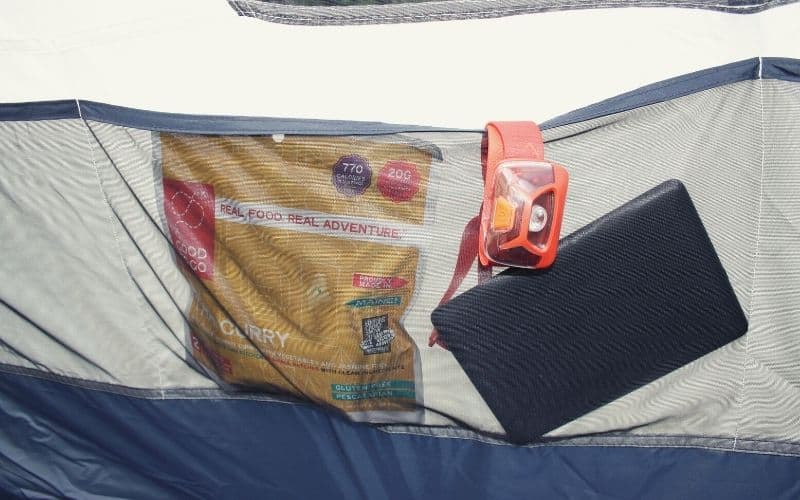 One newfangled feature that has taken the market by storm in recent years is "dark room" technology. This essentially means that the fabric blocks out more sunlight, which allows you to carry on catching Zs after the sun rises and means the interior stays cooler in hot weather. The only tent on our list that uses this technology is the Ozark Trail Dark Rest.
Best Pop-Up Tent: The Verdict
With so many pop-up tents to choose from on our list, it's maybe best to quickly run through our top picks one more time.
Having tried and tested scores of pop-ups, the proverbial apple of our eye is the Toogh 3–4 Person. This classic pop-up tent ticks all the boxes, setting up in under a minute and providing a sturdy, roomy, waterproof tent for families of four or three adults.
If you're looking for a cheaper alternative, the Coleman 4-Person Pop-Up is a great choice. This tent pops up in around 10 seconds, provides decent weather resistance, and can easily accommodate 4 adult sleepers.
Need something bigger? If so – and depending on just how big your camping crew is – you can't go wrong with either the Ozark Trail 3-Room or the Core 9-Person Instant, both of which are ideal for summer group camping adventures when space is a top priority.
So, how did you like our post? If you have any questions or comments, drop us a line in the box below. And please feel free to share this post with your friends!