Editors Pick
Quechua 2 Second Fresh & Black 2-Person Pop-up Camping Tent
True to its name, the Quechua 2-Second Fresh & Black is easy as pie to pitch and a great pick for any campers who value a breezy, stress-free setup. This F&B uses a free-standing design that lets you pitch it on your lonesome in combination with a spring-loaded pole hub that does all the assembling for you – in two seconds flat!
Weighing in at 7.3 pounds, this isn't the lightest pop-up model we came across. In spite of this it has solid weather protection, spacious interior, and wealth of handy, convenience-enhancing features.
The Quechua is waterproof to keep you dry in heavy rain showers and offers enough ventilation options to ensure things won't get clammy if you're doing your camping in warmer weather.
Bottom line: It's practical, convenient, well made, and big for two adult sleepers to catch their Zs in comfort. Oh, and did we mention that it pitches in a mere 2 seconds? What's not to love?!
The Best Pop-Up Tent for Stress-Free Camping Trip
Looking for the best popup tents for camping and backpacking?
You're in the right place! In this guide, we will be covering the following:
Why you need an easy pop-up tent
What you should consider when buying an easy setup tent
Unbiased pop-up tent reviews of the top pop-up tents on the market
Our pick for the best pop-up tent in 2021
Nights in the backcountry should be a time of enjoyment and creating memories with friends and family. They shouldn't be spent on agonizing over setting up a tent. To help remove some stress, we hunted down five of the best pop-up tents for an easy camping experience.
We took into consideration all of the important factors to consider and included a comprehensive buyer's guide that will help you choose the best popup tent for your needs and group size.
Ready to do some stress- and struggle-free camping? Read on!
How To Choose The Best Pop-Up Tent
In order to choose the best pop-up tent for camping, it helps to know what goes into the making of a great pop-up tent. We'll take you through all the ins and outs of pop-up tents so you can choose the perfect shelter for you and your camp companions.

Size – How Much Room Is Needed?
As with regular tents, pop-ups come in a variety of different sizes. The easiest and quickest way to determine which size you need is deciding how much room you'll need. Do you plan to camp with one other person or in a larger group? Another concern to focus on is how many adults, teenagers, or children will use it. The former, of course, will need a little more legroom.
It's wise to consider how you plan on using the tent and how much gear you'll be bringing with you on your trips. 
Of course, larger tents weigh more than their smaller cousins, you'll have to keep the weight versus space trade-off in mind. Having a large, heavy shelter isn't likely to be an issue if you're car camping, but if you're backpacking you may want to sacrifice a little space to make your load easier to carry.
Further reading: Check out our guide to the best four-person tent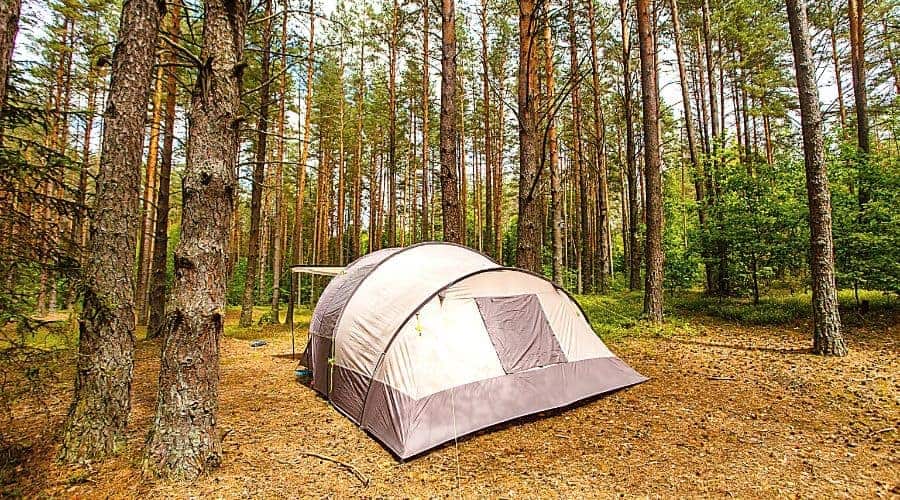 Deciding On The Shape
Tents come in several different shapes, each of which has various pros and cons. The shape of a tent has a significant bearing on it's performance in different conditions, and how practical and convenient it will be for the user(s). In the case of pop-up tents, the common shapes are as follows:
Dome
Dome-style is the top shape for "easy up" tents because the pole configuration lends itself to simple assembly. In most cases, dome-style pop-ups can be folded into a small, compact bundle for easy transportation in a backpack, and weigh less than geodesic or cabin tents.  
That said, this shape is best in tents designed for six or fewer people. This is because, as a general rule, the bigger a dome tent is, the less stability it will provide in strong winds.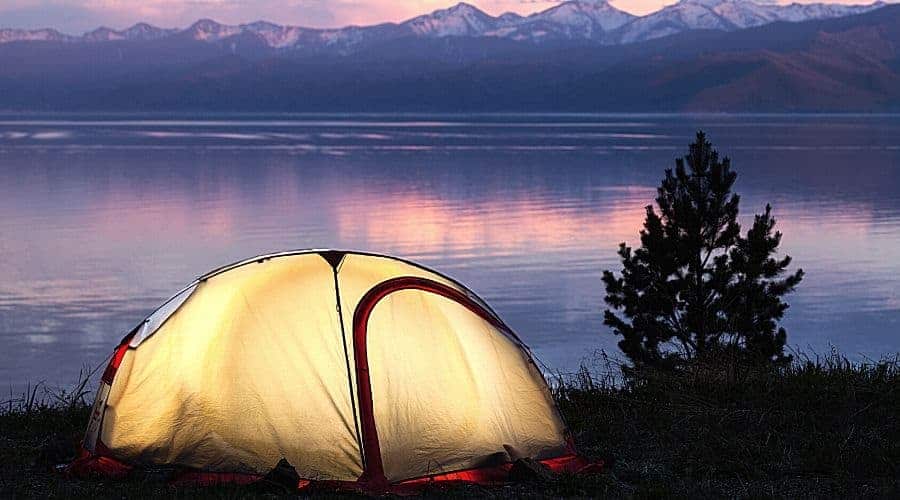 Geodesic
Geodesic tents are, in short, upgraded versions of dome tents that use extra poles to provide added stability. While this makes them suitable for use in exposed, backcountry terrain (or places that you might experience high winds), it means they are a little heavier.
Cabin
Though cabin-style tents are designed to accommodate more people, there are a number of pop-up tents in this style. They're not straightforward to pitch like dome-style tents and most models will take a full minute to pitch as opposed to a mere ten seconds.  
Ventilation
Tents can get a bit humid if you're camping in warmer weather. And while humidity itself isn't such a big problem, this can lead to condensation, which is a pain in the posterior at best and a serious problem at worst. 
Proper ventilation is an important factor to think about before you make a purchase. Ventilation can come in many forms, but the things to look out for are mesh doors, mesh windows, ventilation panels in the walls, and ground vents, all of which will let you boost airflow when need be without letting in any bugs.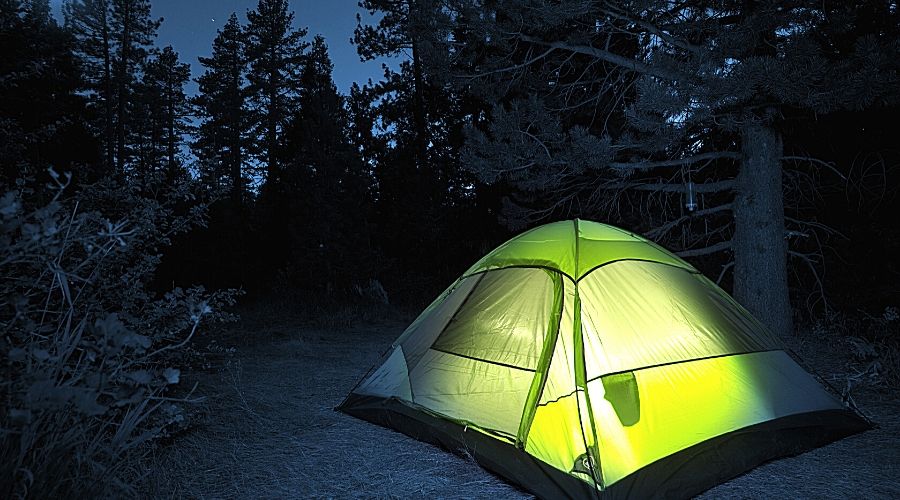 Weatherproof Capabilities
You don't want a little (or a lot) of rain and wind to ruin a perfect trip, right? Given this, it's wise to opt for a weatherproof pop-up tent that offers both solid wind-resistance and waterproofing.
While wind-resistance will depend on the design of the tent and the type of poles (reinforced aluminum kinds are best), its water-resistance is determined by a number of factors.
The first of these is the tent fabric, which should have a minimum hydrostatic head rating of 1,200mm if you plan to camp in wet or iffy weather. Because the floor is more likely to leak, a hydrostatic head rating of 2,000 in the flooring is the lowest we recommend (if you aren't using a separate groundsheet).
Other features that contribute to overall waterproofing include inverted or sealed seams that prevent water sneaking in at stitch points and storm flaps that cover the zippers.
Ease Of Use
Pop-up tents are, by definition, designed to maximize ease of use. Besides pitch time (which can range from one second to a few minutes), be sure to check they're carryability, whether or not they use a freestanding design that's suitable for single-person pitching, and the overall weight of the tent. While a 4-pound 2-person tent will be easy to pitch for one person, a 15-pound six-person tent might require another pair of hands. 
The 5 Best Pop-Up Camping Tents Reviewed
Quechua 2 Second Fresh & Black 2-Person Waterproof Pop-Up Tent
Best Pop-Up Tent Overall
The Quechua 2-Second Fresh & Black is the ideal pop-up shelter for couples who want to enjoy all the benefits of a quick setup time without compromising on performance.
This two-person tent is made with a combo of lightweight yet robust fiberglass poles, a waterproof polyester rainfly, and reinforced polyester flooring, all of which make it a solid performer in inclement weather.
One nice touch that sets this tent in front of its competitors is the use of dark "blackout" fabric on the tent interior.
This feature enables it to block out 99% of light even during the daytime, which means it's a great pick for afternoon naps or staying in busy campsites near neighbors using lanterns or flashlights. It also has two covered ventilation panels in the walls to help keep things fresh and condensation-free in clammy conditions.
While this tent is a little heavy (7.3 lbs), its robustness and spacious interior are worth carrying the extra weight for. Measuring 47.2″ X 82.7″ X 38.6″, there's plenty of room inside the F&B for two adults and their outdoor gear. Although there's no vestibule, additional gear can be stored under the two extending ventilation flaps on either side in wet weather.
PROs

Waterproof
Performs well in strong winds
Sets up in 2 seconds
Blackout technology blocks out daylight or light from headlamps

CONs

Quite heavy
Relatively low center height
Bottom-Line: A low-cost tent that takes convenience and practicality to a whole new level, the Quechua F & B is the ideal 2-person pop-up tent for car camping and backpacking in all weather conditions.
Coleman 4-Person Pop-Up Tent
Best Backpacking Pop-Up Tent
Need a four-person, three-season shelter that can be set up in under ten seconds? The Coleman Pop-Up Tent might be the one for you!
The Coleman is ideal for buyers who want a lightweight shelter that scores top marks in terms of practicality and livability. While its main selling point is it's fast set up, the Coleman trumps its 4-person competitors in the pop up market on account of its roomy dimension and frill-free but functional design.
The tent measures a mighty 9 ft. 2 in. x 6 ft. 6 in and boasts an impressive 3 ft. 4 in. center height, which means it's sufficient to accommodate four adults and offers plenty of headroom. It tips the scales at a mere 7.07 pounds, which is at least a pound or two lighter than most other 4-person tents.
While the Coleman's single-walled design makes it less waterproof than most three-season campers would like, it's is more than capable of keeping you dry in sustained rain showers. In warmer weather this easy set-up tent comes into its own, thanks to extensive mesh ventilation panels that can be exposed by rolling back its pre-attached rainfly.
Other nice features in this shelter include a duo of large storage pockets, large mesh windows, taped floor seams to prevent leaks, storm-proof zippers, and a flatpack design for easy transportation.
PROs

Light enough to use as a backpacking tent
Sets up in ten seconds
Multiple ventilation points
Double doors and two large windows
Plenty of room for four people

CONs

No vestibule
Liable to leak in heavy rain
Bottom-Line: A lightweight and practical 4-person tent that's ideal for fair-weather trips and the odd outing in light rain.
Pacific Breeze Easy Setup Beach Deluxe XL Instant Tent
Best for Beach Campers
The Pacific Breeze Easy Setup Beach Deluxe XL is the go-to pop-up tent for beachgoers. While roomy and offering an impressive head height of 51 inches, it's lightweight and compact to carry on the trail and is stable choice in stronger winds.
This family tent takes around a minute and a half to transform from packed to pitched, which is a little longer than some of the other tents in our review. This is offset by its freestanding design and the fact that it requires no guylines or pegs.
Around the skirt of this four-person tent there are five sand pockets that substitute traditional pegs. Once you've opened it up, all you have to do is kick a little sand in each pocket and you're good to go.
While not designed for use in wet weather, this tent is ideal for summertime adventures. It's made with breathable polyester material with a UPF 50+ sun protection rating and boasts an oversized, exposed entrance that ensures the interior is ventilated.
On the downside, that exposed entrance does mean this shelter isn't much use in rain and doesn't provide any protection against bugs. For fair-weather family camping trips, it's a winner!
PROs

Gearloft storage pockets in canopy
Roomy interior
Lightweight, strong material
Practical carry bag

CONs

Not sturdy in a breeze
Not suitable for use in wet weather
Bottom-Line: Lightweight, sun-resistant, and designed for use in sand, the Pacific Breeze Easy Setup Beach Deluxe XL is a great choice for families or groups of 4 people who plan on doing their camping on the beach.
Moon Lence Instant Pop-Up Tent 4/5-Person
Best Waterproof Pop-Up Tent
The Moon Lence Instant Pop-Up Tent is the ideal pick for buyers who don't mind carrying a little extra weight in return for superior waterproofing and wind-resistance.
This shelter weighs in at a ponderous 10.25 lbs, but in return offers buyers over 90 square feet of floor space, a generous peak height of 53 inches, and a robust, waterproof shelter that's fit for use in all three-season conditions.
It's made with 190T PU material and a 210D Oxford ground sheet, both of which have an impressive 2000mm hydrostatic head rating and solid UV resistance. It has 4 large mesh windows for bug-free ventilation and one large, D-shaped door for easy entry and exit.
While this one isn't quick and easy to set up as other tents on our list, it's one-minute pitch time doesn't make it a slouch.
PROs

Takes 1 minute to set up and take down
Waterproof and wind-resistant design
Sturdy frame
Very spacious – could accommodate 6 people at a squeeze

CONs
Bottom-Line: A sturdy, weatherproof backcountry bolthole that might be a little bit heavy but is a great family easy up tent for three-season car-camping adventures.
CORE 9 Person Instant Cabin Tent
Best Large Pop-Up Tent
Tents that are quick and easy to pitch and boast enough space for all your family are few. The CORE 9-Person Instant Cabin is that kinda tent.
This roomy, 9-person easy up camping tent can fit two queen air mattresses with room to spare, but uses a pre-assembled frame with telescoping poles that makes pitching a cinch for either one or two people.
And once it's up, the CORE performs. For starters, there's oodles of room, with a whopping 131 square feet of floor space complemented by a lofty 78-inch center height.
It boasts a huge, easy-access doorway, an adjustable ground vent, a room divider for privacy, and electoral cord access port and large wall storage pockets to help keep things neat and tidy.
A tent without a full-coverage rain fly is not going to win any awards for waterproofing, granted. The CORE's rooftop fly is capable of fending off the odd rainshower while the durable 125gsm polyurethane flooring prevents groundwater sneaking in while you sleep..
PROs

Easy to set up
Holds up well windy conditions
Good ventilation
Two doors
Taped seams
Room divider

CONs

Rain fly only offers partial coverage
Heavy (30.5 lbs.)
Bottom-Line: The CORE 9-Person Instant Cabin tent might be a little on the heavy side, but is the ideal easy-assemble tent for families who need a little extra space and privacy.
Last update on 2021-10-23 / Affiliate links / Images from Amazon Product Advertising API