There is no shortage of tents on the market these days, but not all tents cut the mustard for all times of the year. When it comes to camping in hot weather you need a tent that will keep you cool and comfortable. Otherwise, you'll be dealing with condensation, overheating, stuffiness, and plain unpleasant sleeping conditions.
To help you find the best option for you, we've compiled a list of the cream of the crop. We've also included some buying advice to help you narrow down your choices based on your particular needs. With our help, you can find the perfect tent for a comfortable and enjoyable camping trip no matter how hard the sun's shining.
Top Choices by Category
Budget: Coleman Skydome Dark Room and Coleman Sundome
Family: REI Co-op Wonderland 4, Kodiak Canvas Flex-Bow, and Core 9-Person
Dark Room: Coleman Skydome Dark Room and Ozark Trail Dark Rest
Ventilation: REI Co-op Wonderland 4 and Core 9-Person Instant Cabin
Editor's Choice
REI Co-op Wonderland 4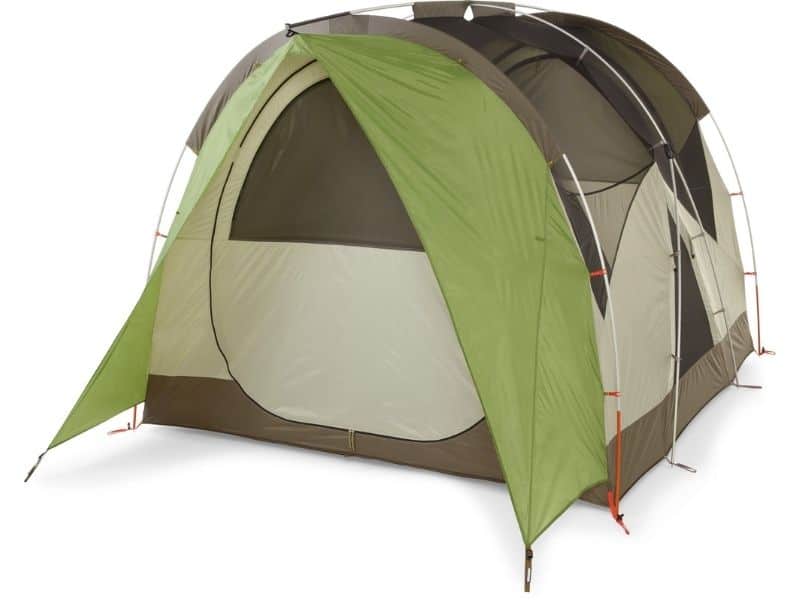 The REI Wonderland 4 scoops the award as the best summer camping tent in our review thanks to its stellar specs across the board, particularly its awesome ventilation, spacious interior, solid waterproofing, and excellent gear storage options. All in all, it's the perfect shelter for camping trips in the sweaty season.
The Wonderland 4 has a "scalloped" fly that, together with a total of six air vents, creates ample airflow no matter how stuffy the weather. There's also a duo of huge entrances covered by large awnings that let you leave the doors open to boost airflow further.
The Wonderland is also one of the roomiest four-person tents out there, boasting a whopping 69.4 square feet of floor space (enough room to fit two double air mattresses), and a tunnel-style design that maximizes headroom throughout the tent.
Unlike most of the other hot weather tents on our list, the Wonderland is also extra-durable and a solid performer in wet weather, while its gear storage options leave the competition trailing in its wake.
Bottom line: A standout in every important metric and unrivaled when it comes to keeping its occupants cool in hot weather.
At a Glance: Quick Recommendations for Summer Tents
Best Tent for Hot Weather Camping: Our Top 7 Picks
REI Co-op Wonderland 4
Editor's Choice
Size: 69.4 square feet ⸱ Peak Height: 75 inches
Thanks to its awesome ventilation, great features, and extra-roomy interior, the REI Wonderland 4 is the hands-down winner of our award for best tent for hot weather.
This four-person tent boasts a generous 69.4 sq. ft. of floor space and a peak height of 75 inches, so there's plenty of room to move around and enough interior volume to dissipate the body heat of four sleepers. These dimensions also make it roomy enough to fit two double air mattresses with room to spare.
The Wonderland's "scalloped" design, which boosts headroom and encourages airflow between the tent body and fly, works wonders in warm weather. This, combined with the dark mesh body, floor and roof vents, and its two huge doorways allow for steady air circulation no matter how stuffy and humid conditions get.
And if conditions turn wet, the Wonderland has you covered. The 1500mm 75D rainfly and 150D bathtub floor are among the most waterproof on our list, not to mention the most durable.
The Wonderland's only drawbacks are its sizable price tag and lack of vestibule space. In its defense, however, it still offers excellent value for money and there are plenty of interior pockets and ample interior space for gear storage. If storage is a deal-breaker, you can always purchase the REI Mud Room (sold separately), which adds an extra 56 sq. ft. for camping gear storage.
PROs

Roomy interior
Large awning
Color-coded poles
Great peak height
Great ventilation
Waterproof

CONs

Higher price point
Heavy and large packed size
No vestibule
Bottom-Line: Spacious, easy to pitch, waterproof, well-ventilated, and, all in all, a great family tent for car camping adventures.
Core 9-Person Instant Cabin Tent
Runner Up
Size: 126 sq. ft. ⸱ Peak Height: 78 in.
The Core 9-Person Instant is a great pick for families who do most of their camping in the hot summer months.
With 126 square feet of floor space and a peak height of 78 inches, this tent is one of the most livable on our list. And despite its size, it's a breeze to pitch. The poles are pre-attached, so you just need to unpack, unfold, extend, and you're good to go!
The Core isn't waterproof enough for three-season camping but comes into its own in hot weather. In addition to oversized mesh windows, an all-mesh ceiling, and a huge double-door entrance, it features advanced, adjustable vents that draw cool air into the sleeping area to cool down the tent's occupants while simultaneously forcing hot air out through the ceiling.
As for features, the Core is none too shabby. There's no vestibule or gear loft, but you do get a room divider for privacy, tons of storage pockets, and an e-port for use at campground hookups.
PROs

Spacious (fits two queen air mattresses)
Affordable for its size
Zippered privacy panel/room divider
Adjustable air vents
All-mesh ceiling
Multiple storage pockets
Easy setup

CONs

Partial-coverage rainfly and low hydrostatic head rating
No vestibule or screen room
Bottom-Line: Breezy to pitch for such a large tent and well equipped to keep you cool when the mercury's through the roof.
Coleman Sundome Tent
Best Budget
Size: 49 sq. ft. ⸱ Peak Height: 52 in.
If you're in the market for an affordable tent for summer camping, you really can't go wrong with the hugely popular Coleman Sundome.
The Sundome only has one door, one window, and one vent, which might strike some as a dealbreaker for summer camping. However, its design is such that it's actually one of the most well-ventilated four-person tents out there.
The Sundome has a partial-coverage fly that sits a good few inches above the all-mesh roof, so all the hot air inside can easily escape. There are also awnings that extend over the window and doors, so there's a steady flow of fresh air at all times. With the vent open, and fabric covers on the mesh door and window zipped down, we were impressed by how well air circulated inside.
Weighing in at 7.5 pounds, the Sundome is the lightest tent we reviewed and could be used for backpacking if you distribute the weight amongst your camping companions. It is, however, also the smallest, offering just 49 square feet of floor space and a peak height of 4 feet and 4 inches, so one of the poorer scorers in the livability metric.
PROs

Cheap!
Good ventilation
Relatively lightweight
Roomy
Easy to pitch
1-year warranty

CONs

Not very waterproof
No vestibule
Only one door and one window
Bottom-Line: A basic, no-frills summer tent that exceeded our expectations on warm-weather camping trips.
Quechua Pop-Up Tent
Best Instant
Size: 42 sq. ft. ⸱ Peak Height: 41 in.
The Quechua Pop-Up is a good all-rounder that's best suited to campers who prioritize performance over space.
This pop-up, instant tent sets up in roughly 2 seconds. All you have to do is open the storage case and stand by while it assembles itself before you can say "holy crap that was fast"!
Pop-up tents tend to get a bad name due to early iterations' inferior construction and poor performance in wet and windy weather. These limitations, however, categorically do not apply to the Quechua, which is surprisingly sturdy, well-made, and also the most waterproof tent on our list.
In hot weather, the Quechua is a solid performer. It has a huge entrance that essentially takes up one entire wall, two large vents, and an awning that lets you sleep with the door open even when it's raining.
With just 42 square feet of space, the Quechua could be thought of as either a pokey three-person or roomy two-person tent. As explained in our buying advice (below), we recommend a max occupancy of two in hot summer weather as fewer occupants equal less heat.
PROs

Super-fast setup
Robust rain protection
Good ventilation
Affordable
Bathtub-style floor

CONs
Bottom-Line: A cheap and cheerful summer tent that pitches in next to no time and offers surprisingly robust protection in wet weather.
Coleman Skydome Dark Room
Best Value
Size: 56 sq. ft. ⸱ Peak Height: 55 in.
Coleman is renowned for churning out high-quality tents that don't break the bank, and the Skydome is no exception. This one, however, comes with a bit of a bonus feature that sets it apart from anything else in the brand's catalog.
Like the Ozark Trail Dark Rest (review still to come), the Skydome uses Dark Room™ technology that blocks 90% of sunlight. This means the interior stays cooler during the day and you can carry on getting your beauty sleep longer after the sun rises in the morning.
The partial-coverage fly and large interior mesh walls also help to promote airflow when temps are high, while the near-vertical walls add 20% more volume than other tents in the Coleman range, so thermal efficiency is low (a good thing in hot weather!).
Measuring 56 square feet with a peak height of 55 inches, the Skydome is a little on the pokey side for four sleepers but will feel palatial for three. It also weighs a manageable 11 pounds, so could feasibly be used as a backpacking tent if each camper carries a portion of the load.
In short, we wouldn't recommend the Skydome if spaciousness is high on your list of priorities, but think it's ideal for camping couples or trios who want a shelter with proper ventilation and dabble in both backpacking and car camping.
PROs

Dark-room technology blocks out sunlight (and, hence, heat!)
Great value for money
Handy carry bag
Pre-attached poles make setup a cinch
20% more volume than traditional Coleman tents

CONs

On the small side
Low peak height
Bottom-Line: With its dark room technology the Coleman dark room tent packs great value for money.
Kodiak Canvas Flex-Bow Canvas Tent
Premium Pick
Size: 140 sq. ft. ⸱ Peak Height: 78 in.
Canvas tents are steadily coming back into fashion, and with wonders like the Kodiak Canvas Flex-Bow on the market, it's easy to see why. This beast of a tent is pricey and far heavier than the others we reviewed, but it's a standout in every applicable metric, whether you're camping in summer or the dead of winter. If we were judging on versatility alone, this would be our top pick.
The Flex-Bow's wall fabric is Kodiak's proprietary Hydra-Shield canvas, which is highly durable and silicone-treated, making it all but impermeable in wet weather. Canvas tents are also naturally cooler than synthetic ones in hot conditions, as the thick fabric repels heat instead of creating a greenhouse effect.
In terms of ventilation, the Flex-Bow goes the extra mile. There's a huge, walk-in entrance, mesh windows, and vents in both the base and ceiling, all of which give it a nice, airy feel when temps are high.
Like most tents on our list, the Flex-Bow doesn't have a vestibule, but this shortcoming is partially offset by the ability to transform the entrance into a large awning. Barring the hefty price tag, this is the only drawback we can see for this tent!
PROs

Robust
Waterproof enough for winter camping
Durable
Huge extendable awning
Huge windows
Gear loft and customizable gear organizer

CONs
Bottom-Line: The priciest tent on our list for good reason – it's a standout in every metric and an especially high performer in the heat.
Ozark Trail Dark Rest
Best for Families
Size: 140 sq. ft. ⸱ Peak Height: 78 in.
The Ozark Trail Dark Rest scores highly in each of the metrics we use to rate a tent's merits but its use of dark-room technology is what sets it apart on summer camping trips.
OT's "dark room" technology effectively blocks out 90% of sunlight, which helps to keep the tent cool inside on hot days and lets you carry on sleeping long after the sun rises. This, combined with its six oversized windows, walk-in mesh doors, all-mesh ceiling, and two ground vents make it a great tent for hot summer days.
The Dark Rest is a breeze to pitch, setting up in around 2 minutes thanks to a central pole hub that opens its pre-attached poles like the spokes on an umbrella.
Inside, you have 140 square feet of space, so there's plenty of room for eight to ten sleepers. Its 78-inch peak height also means even the tallest campers will be able to walk around inside without hunching. Although the Dark Rest doesn't have a vestibule, there are a ton of wall pockets for gear storage.
The only real downside of this tent is its lack of weather resistance. While great in warm weather, its partial-coverage rain fly leaves large portions of the inner exposed, which could be an issue in heavier showers.
PROs

Blocks out sunlight
6 large windows and 2 large doors
2 ground vents
Roomy
Room divider
Affordable

CONs

Not great in rainy weather
No vestibules
Bottom-Line: Great ventilation, easy to pitch, spacious, and blessed with sunlight-blocking technology that helps keep the interior temperature down in warm weather.
How to Choose a Hot-Weather Tent
Ventilation
Four features in particular help to boost cooling airflow inside your tent: doors, windows, vents, and mesh panels.
Ideally, your hot-weather camping tent will have two doors. This provides cross-ventilation and lets stuffy, warm air escape from one entrance while cool air comes in through the other.
Windows need no explanation – the more of them you have and the bigger they are, the more fresh air will enter and circulate inside your tent.
Vents are the feature that distinguishes regular tents from summer camping tents more than any other. Most tents have either no vents or a single vent in the base of the inner tent or fly, while genuine summer tents will have multiple vents at the base of the walls and roof. The Kodiak Canvas and REI Wonderland are good examples.
Summer tents that don't have multiple vents usually make up for this shortcoming with the inclusion of extensive mesh panels in the canopy and walls.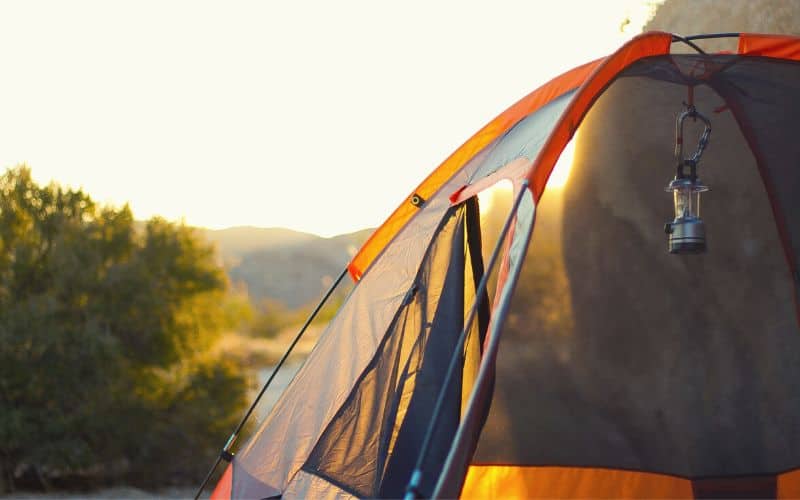 Dark Room?
In recent years, dark-room technology has become all the rage in tent design. This technology does two things. By blocking out sunlight, it keeps your tent cooler in warm weather, meaning you don't have to find a shaded spot to pitch. This also means that you can hit the hay early or lie in bed late without sunlight disturbing your sleep.
We reviewed two dark-room tents, the Coleman Skydome and Ozark Trail Dark Rest, and found both to be game-changers as regards to limiting the "greenhouse effect" experienced in regular tents and keeping things cool in hot weather.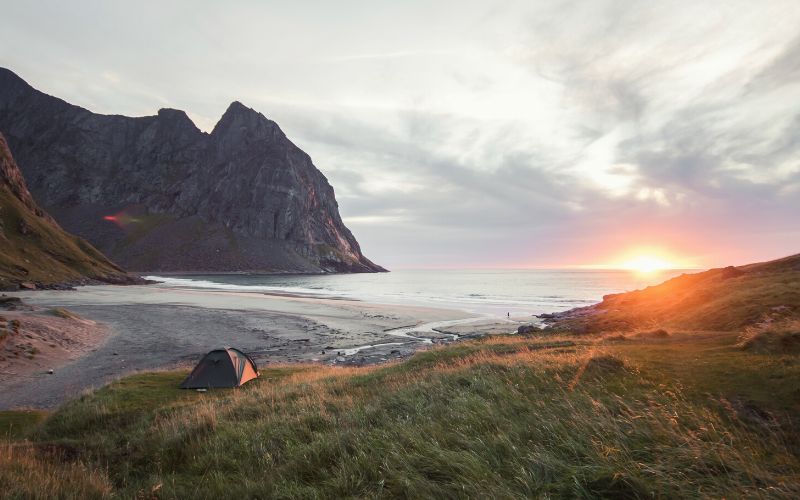 Livability
Livability is determined by several features, but none more so than floor space, peak height, and storage space.
Naturally, the more floor space you have, the more livable any tent will feel. We generally recommend you choose a model with around 14 square feet of floor space per adult sleeper. In hot weather, however, a larger tent will serve you better because more space equals poorer thermal efficiency, which is a bad thing in cold weather but a boon in hot weather.
Peak height refers to the height of the tent at its tallest point. The higher this is, the easier it will be to move around inside the tent and the more volume the tent will have. Again, volume is a key consideration in summer because the more space there is, the cooler things will be inside.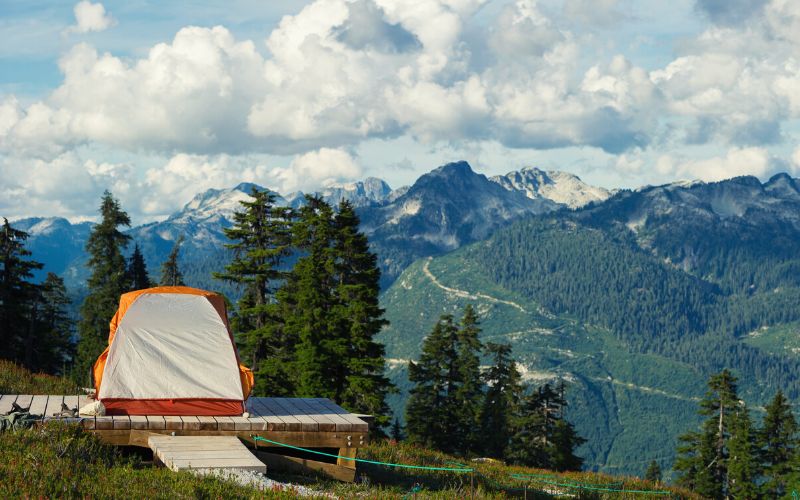 Storage features like gear lofts, wall pockets, and vestibules boost livability by freeing up floor space for humans. As above, storing gear outside will increase unoccupied space inside, making the tent less thermally efficient.
Waterproofing
As all campers know, camping in the sunny season is no guarantee that the weather gods won't poop (or pee, rather) on your party. This being so, choosing a tent with decent waterproofing is always a good idea.
Waterproofing is mainly determined by two things. The extent of coverage provided by the rainfly and the hydrostatic head of the fabric.
Most of the tents on our list have a partial-coverage rainfly, meaning the tent fly covers only part of the tent. These shelters are, for the most part, far less waterproof than models that have a full-coverage fly. That said, the majority use some form of treatment in the exposed part of the tent that provides decent water resistance, i.e. enough to fend off a few light showers.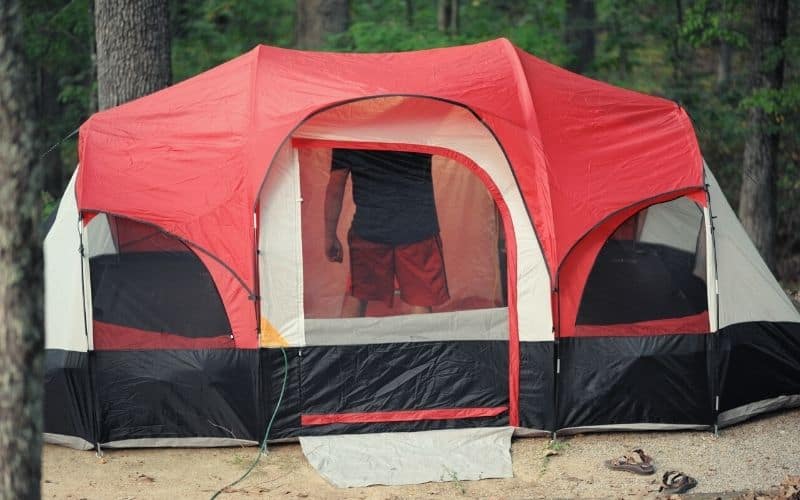 Whether the fly provides partial or full coverage, it should have a good hydrostatic head rating. Hydrostatic head refers to the amount of water pressure the fabric can withstand before it begins to leak. In product specs, it is represented by a number, in millimeters, plus 'HH', e.g. "1,500mm HH". The higher the number, the more waterproof the fabric.
The most waterproof shelters on our list are the Kodiak Canvas, REI Wonderland, and Quechua Pop Up, which have a hydrostatic head of 3,000mm, 1,500mm, and 2,000mm respectively. The least waterproof is the CORE, which has an HH of just 600mm (good enough for only light rain).
Weight
If you're car camping, weight isn't an issue. But if you're backpacking, every ounce saved is an ounce less on your back.
The only tent suitable for backpacking on our list is the Coleman Sundome, and even this is a little heavy at 7.5 lbs. The other options are designed for frontcountry use at car-accessible campgrounds – something that's reflected in their (often hefty weight).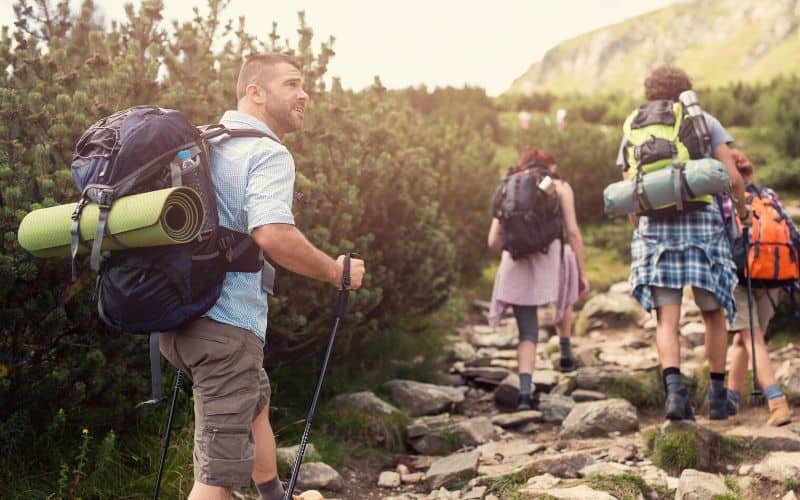 If you're worried about the weight of your tent even when car camping, you might want to pass on a few of the options we reviewed. At 79 lbs., the Kodiak Canvas tent takes top prize for unwieldiness, and the 37-pound Kodiak Dark Rest and CORE 9-Person are sure to test your forearm strength too.
Features
Whatever weather we're camping in, we love a few non-standard features that boost practicality and convenience. Things like lantern loops, e-ports, and wall pockets are great, but a good gear loft, room divider, and/or an extendable awning could be a deal-maker.
The Kodiak Canvas is the only tent on our list with a door that extends into an awning. The Coleman Skydome, Kodiak Canvas, and Ozark Trail Dark Rest are the only three with gear lofts. Both the Ozark Trail Dark Rest and Core 9-Person have room dividers.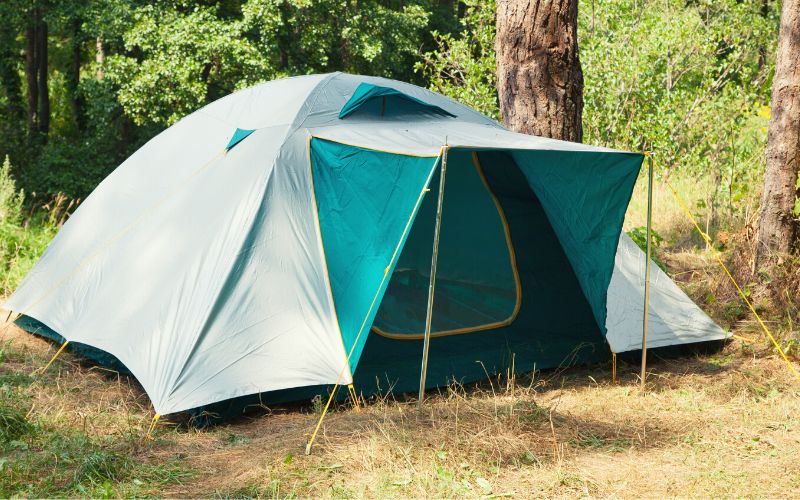 Best Summer Tents: The Verdict
Still undecided? Just in case you are, let's have a little recap of our top picks.
Our hands-down favorite summer tent is the REI Co-op Wonderland 4. The Wonderland doesn't just boast the best ventilation of all the tents we tested, but is also great in wet weather, spacious, a cinch to pitch, and built to last a lifetime.
If you're looking for a cheaper option, we recommend the Coleman Skydome Dark Room. This tent has light-blocking technology that keeps the interior cool in hot weather and also great ventilation and storage.
If you liked this article or have any questions about our top summer tents, drop us a line in the box below. And if you'd like to share it with your friends, please do!