If you've ever done any camping in the warm months of summer, the chances are you've suffered through many a sweaty night, tossing and turning while begging the weather gods to turn the thermostat down a notch (or ten!).
Over the years, campers have taken many kooky, quirky, and desperate measures to beat the heat, carrying enough ice to put out the fires of hell, covering themselves in soaked towels, camping so close to a creek that they're almost swimming in it, or dunking themselves in said creek at regular intervals throughout the night.
These days, however, a far simpler solution is at our disposal: the tent fan.
Camping fans are a worthy addition to the kit of any dedicated summer camper, but not all models on the market cut the mustard. To help you find the ideal camping fan for your needs, we did a little digging, a little testing, and now present you with the best products out there this year.
Editors's Choice
Geek Aire Rechargeable Outdoor Floor Fan
If pressed to choose one fan as the best fan for camping, we'd have to recommend the Geek Aire Rechargeable Outdoor Floor Fan.
The Geek Aire does everything we need a fan to do. It's lightweight, powerful enough for larger tents, robust, charges in next to no time, and has a few handy, non-standard features that elevate it above the best of the rest.
But what makes the Geek Aire such a standout for camping?
For starters, it has an impressive battery life and can run for two full nights on a medium setting on a single charge.
Next, its build – this fan isn't only rugged enough to deal with regular use and abuse, it's also safe to use with kids around, has anti-slip rubber feet that will keep it in place throughout the night, and is also water-resistant.
Last but not least, the Geek Aire is a super-quiet fan for being such a powerful device, so the only thing that will be disturbing your sleep are those noisy neighbors or your partner's snoring.
Bottom line: A safe, effective, powerful little device with impressive battery life.
At a Glance: Quick Recommendations
Best Tent Fans for Camping: Our 5 Top Picks
Geek Aire Rechargeable Outdoor Floor Fan
Editor's Choice
The Geek Aire Rechargeable Outdoor Floor Fan is rechargeable and runs on Li-ion batteries. The runtime of the batteries depends on use, but it can last more than a day on a low setting and up to 20 hours on a medium setting. It comes with a 24V power charger and also has a USB port that you can use to charge cell phones and other devices.
There is only a single knob to control the fan speed, so it's easy to use. For adjustability, the fan is designed to tilt to a 120-degrees angle, giving you more control over airflow direction.
Other endearing features include anti-slip rubber feet, an LED battery indicator, and a sturdy metal frame that prevents any fingers from making their way in beside the blades of the fan.
PROs

Easy-to-see battery life indicator
Has decent water-resistance
Battery can last up to two nights on medium speed

CONs

Could do with an alternate charging option
Top-speed isn't as powerful as expected
Bottom-Line: The Geek Aire Rechargeable Outdoor Floor Fan is an incredibly durable camping fan thanks to it being waterproof and having a sturdy frame, ideal for medium-sized to large tents.
Odoland Portable LED Camping Lantern with Ceiling Fan
Best Budget
The Odoland Portable LED Camping Lantern with Ceiling Fan is a versatile model that can satisfy more than one need. It has two speeds to choose from: a low and high setting, and you can adjust it according to what you need at any given time. As a bonus, at low speed, it makes a minimum amount of noise so as to not disrupt your sleep.
In addition, the fan comes with an LED lens to provide lighting at night. The lens can also be adjusted by 0 to 360 degrees allowing you to change the angle of the light to suit your needs. The lens is powerful enough to light up a medium-sized tent, so you can leave the lantern at home!
This fan also features a hook on the top that attaches to gear loops in the roof of your tent, though a sturdy, ring-shaped base is also included in case you prefer to keep it on the floor,
As regards battery life, the Odoland Portable isn't a standout but can run for up to 15 hours when used as a fan alone, or 20 hours when used only as a light.
PROs

LED light and fan combo
Hooks onto gear loop in tent roof
Decent battery life

CONs

Fan could do with more power
Plastic frame is a bit flimsy
Battery not included
Bottom-Line: Not the most powerful fan out there, but ideal for smaller tents and/or buyers on a tighter budget. 
O2COOL 10-inch Portable Camping Fan
Most Compact
The main selling point of the O2COOL 10-inch Portable Camping Fan is that it is small and light enough to carry on backcountry camping trips or backpacking trips.
The fan has two speeds, high and low, and is easy to adjust. It does require six batteries to run, but can also be used with a power adapter (not included) if you are carrying a portable battery.
This camping fan also has LED lights with three settings: high, low, and nightlight. These lights can rotate so you can focus the beam where needed. To make traveling with it more manageable, it comes with a built-in carry handle.
PROs

Long-lasting batteries
Compact and lightweight
LED light with adjustable settings

CONs

Not the most powerful (suited for 2 to 4-person tents)
Requires 6 batteries
Bottom-Line: One of the best camping fans out there for ounce-counters and backpackers.
Coleman CPX Lighted Tent Fan
Best Value
As with all things Coleman, the CPX Lighted Tent Fan offers outstanding value for money.
This fan offers 2-in-1 functionality. Not only does it help keep you cool when temps are high, but it also lights up your tent with a warm, cozy glow.
We love that this lighting and cooling system can be shifted around your tent with ease. If you're short on floor space, attach the detachable magnetic base to the ceiling and then attach the fan itself with a steel plate. Otherwise, you can place it on the floor using the integrated, folding stand.
The Coleman has only two speed settings (high and low) and isn't as powerful as the Geek Air fan, but it's fairly priced and packs enough punch to circulate air within a 4 to 6-person tent.
Other endearing features in this fan are the kid- and finger-friendly soft foam blades and its CPX system compatibility, which lets you power up the device in various ways – using D-cell batteries, a CPX 6 rechargeable power cartridge, or a CPX 6 A/C adaptor cartridge.
PROs

2-in-1 system (fan and light)
Can be mounted on floor or ceiling
Multiple power/charging options
Quiet

CONs

Only has high and low settings for speed
Not ideal for a larger tent (8-person+)
Bottom-Line: A quiet, effective fan that doubles as a light and is plenty powerful for 4 to 6-person tents.
Comlife Battery Operated Clip On Portable Fan
Honorable Mention
The Comlife Battery Operated Portable Fan is a versatile rechargeable fan that can do more than simply keep you fresh. Thanks to its USB port, you can charge up small devices such as your cell phone while you relax in your tent.
This battery-operated fan is quiet to run and rechargeable. You can even use the USB connection to hook up to a computer and recharge that way.
It uses a brushless motor that offers high speeds at a low noise level. It also has a clip-on design so you can position it where you need it, and 360-degree rotation both vertically and horizontally.
The main downside to the Comlife is battery life. Its run time when used as a fan alone is in the region of 6 hours, but this drops significantly if you're using it to recharge other devices.
PROs

Highly portable and travel-friendly
Versatility in its placement
Powerful
High-quality brushless motor
5000 mAh rechargeable batteries
Works with a power bank

CONs

Batteries don't last very long
Fiddly cover for the battery compartment
Bottom-Line: A highly portable standing fan that packs enough punch for 4 to 6-person tents.
Fans – Aspects and Features to Consider
When you're deciding what camping gear to bring with you on a camping trip, if you know the weather's going to get hot, a camping fan is a great addition to your list. Finding the best camping fan isn't always easy, so we put together some features you should consider when shopping. This includes type, size, power, and durability.
Types of Fans for Camping: Hanging or Stand-Up?
There are two main types to choose from: hanging and stand-up. Which type you decide to get depends mainly on how you plan to use it.
For starters, hanging fans act similar to ceiling fans. These tend to work well in larger tents with an open-plan interior. By hanging the fan from the ceiling, air is circulated from above, which allows the coolness to reach a wider area of the tent.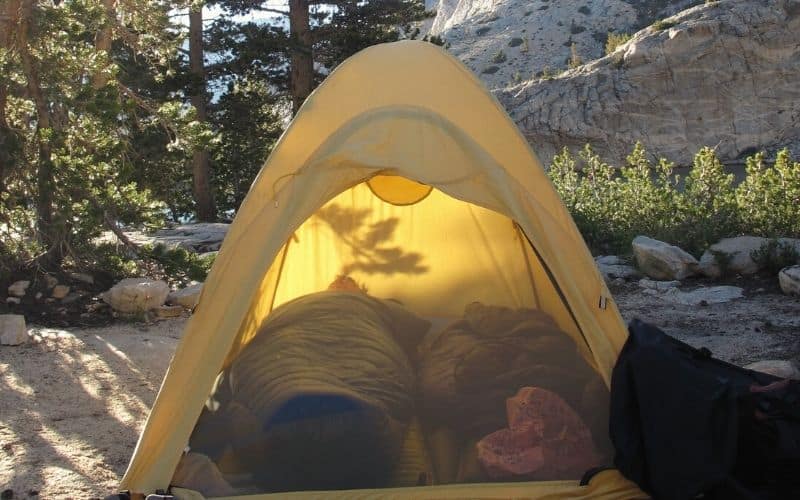 Stand-up tent fans usually have a broad base so that you can set them up anywhere you need them to be. They're quicker to install than a hanging fan due to their simple design. On the other hand, they don't circulate as well as hanging fans as they generally send cool air in a single direction. As such, it can take some time for a stand-up fan to circulate air throughout the entire tent.
If you'd prefer the best of both worlds, opt for a fan that can be hung up or used on the tent floor, such as the Odoland Portable or Coleman CPX.
Power Source: AC or Battery Operated Fans for Camping
Camping fans are typically powered using an AC adapter or batteries. There are even some that can be used both ways. Those powered with an AC adapter are ideal for long camping trips when you have a power source or generator. If you have a tent with electrical port AC power access you can use it as a power supply for your fan.
As such, it is more common to find camping tent fans powered with a rechargeable battery or with regular batteries. While not as convenient for long-stay adventures, some models have long battery life and can be recharged directly from a power bank.
The Importance of Size
How much room do you have to spare in your tent? If you have a smaller or medium-sized tent and decide on a hanging fan, then you want something smaller that doesn't weigh much, otherwise, you might collapse the tent.
If you have a backpacking tent, then ideally you'll want to go smaller. This way, you aren't weighed down by carrying the tent, the fan, and other accessories. Stand-up fans may be better in this case. Always check on the type of shelter you have when determining what size fan to go for.
Durability
Camping can be a rough experience, so you want a tent fan that can withstand all the abuse that's part and parcel of life in the outdoors. If it breaks on a hot night, your otherwise fun camping trip can take a stuffy and uncomfortable turn. So, you need a camping fan made from quality materials – ideally steel or aluminum as opposed to plastic.
Noise
Tent fan noise levels vary greatly from model to model. More than likely, you'll use your fan as you sleep. If you're a heavy sleeper, then you can buy any fan that suits your needs. If you're a light sleeper or don't fall asleep easily, however, then you may consider opting for a fan with plastic blades (these are generally quieter than models with metal blades) and a brushless motor.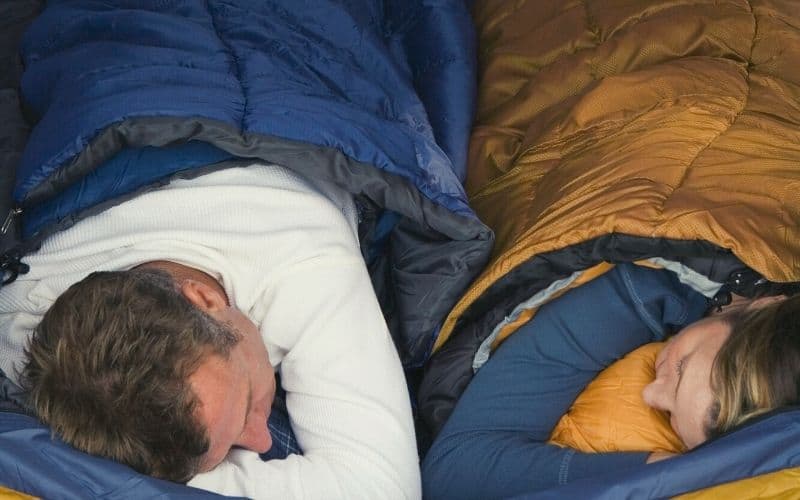 Another thing to look for that can affect the noise is the speed of the fan. Setting to a high speed usually means more noise, so multi-speed fans that allow you to adjust according to your needs are the way to go.
Other Features
Some portable fans are designed with a few non-standard add-ons that make them more practical and convenient. These include things like built-in lights and USB ports you can use to recharge the fan and/or other small devices.
Best Fan for Camping: The Verdict
If you're looking for a tent fan that ticks all the boxes, we recommend the Geek Aire Rechargeable Outdoor Floor Fan. This fan doesn't have LED lighting or other fancy features but offers outstanding battery life and powerful cooling
If you'd prefer a cheaper model, or one that can be hung from the roof of your tent, check out the Coleman CPX or Odoland Portable. Both of these fans can be used on the tent floor or ceiling, double as lanterns, and are powerful enough for small or medium-sized tents.
Got any questions or comments? If so, drop us a line in the box below. And please feel free to share this post with your friends!