Which is the best camping fan on the market?
Whether you need a lightweight fan for backpacking, or a heavy-duty car camping fan we tested multiple fans and recommend the following products.
Geek Aire Rechargeable Outdoor Floor Fan
Odoland Portable LED Camping Lantern with Ceiling Fan
O2COOL 10-inch Portable Camping Fan
Coleman CPX Lighted Tent Fan
Comlife Battery Operated Clip On Portable Fan
What to look for in a Camping Fan for your Tent?
When packing for a hot-weather camping trip, adding a camping fan to your gear list is recommended. However, finding the ideal camping fan can be challenging, so we've compiled a list of features to consider as hown below.
Build: Hanging vs standing
Power source
Size
Durability
Noise
Extra features
Build: Hanging vs Standing
The floor space within your tent will be the main factor in determining whether you choose a stand-up or hanging tent fan.
For starters, hanging fans act similar to ceiling fans. These tend to work well in larger tents with an open-plan interior. By hanging the fan from the ceiling, air is circulated from above, which allows the coolness to reach a wider area of the tent.
Stand-up camping fans usually have a broad base so that you can set them up anywhere you need them to be. They're quicker to install than a hanging fan due to their simple design. On the other hand, they don't circulate as well as hanging fans as they generally send cool air in a single direction. As such, it can take some time for a stand-up fan to circulate air throughout the entire tent. They also tend to be larger and only suitable as a car camping fan.
If you'd prefer the best of both worlds, opt for a fan that can be hung up or used on the tent floor, such as the Odoland Portable or Coleman CPX.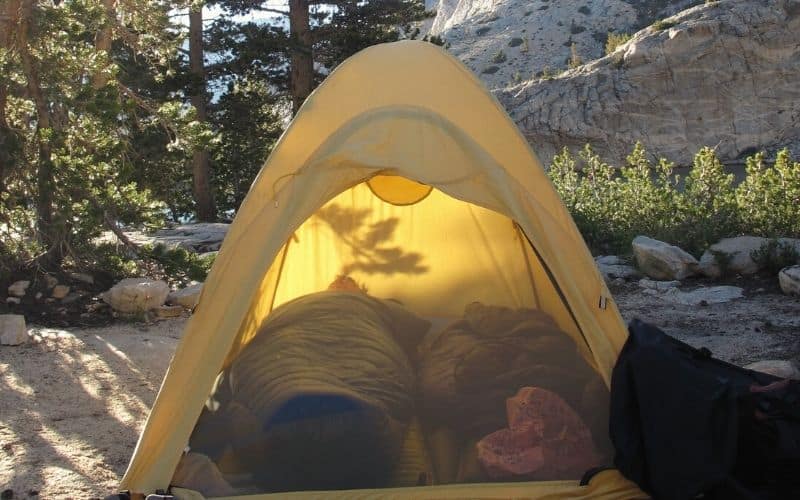 Power Source
Camping fans for tents usually run on an AC adapter or batteries, with some operating using either power source.
Those powered with an AC adapter are ideal for long camping trips when you have a power source or generator. If you have a tent with electrical port AC power access you can use it as a power supply for your fan.
Without a power source, it is more common to find camping fans powered with a rechargeable battery or with regular batteries. While not as convenient for long-stay adventures, some models have long battery life and can be recharged directly from a power bank.
Size & Weight
The size and weight of your camping fan will depend on your camping style and tent size. With car camping you don't need to be concerned with the weight or size of your fan but it still needs to fit comfortably in your tent.
If you have a smaller or medium-sized tent and decide on a hanging fan, then you want something smaller that doesn't weigh much, otherwise, you might collapse the tent.
If you have a backpacking tent, then ideally you'll want to go smaller. This way, you aren't weighed down by carrying the tent, the fan, and other accessories. Stand-up fans may be better in this case. Always check on the type of shelter you have when determining what size fan to go for.
Durability
A durable camping fan will be constructed from materials like steel or aluminum, providing better longevity than plastic. Given the rough nature of camping, it's crucial to have a tent fan that can endure the challenges of outdoor life. A broken fan on a warm night can quickly turn an enjoyable camping trip into an uncomfortable experience.
Noise
Tent fan noise levels vary and are crucial to consider, particularly for light sleepers or those who struggle to fall asleep easily. Opt for a fan with plastic blades and a brushless motor for reduced noise if you are sensitive to sound. However, if you're a heavy sleeper, any fan that meets your requirements will suffice.
Another thing to look for that can affect the noise is the speed of the fan. Setting to a high speed usually means more noise, so multi-speed fans that allow you to adjust according to your needs are the way to go.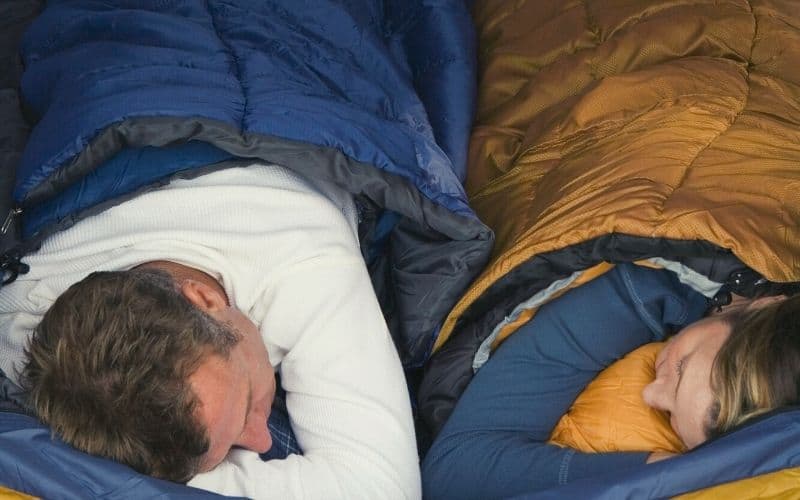 Other Features
Certain portable fans come with additional features that enhance practicality and convenience, such as built-in lights and USB ports for recharging the fan or other small devices.
Best Camping Fans: The Verdict
If you're looking for a tent fan that ticks all the boxes, we recommend the Geek Aire Rechargeable Outdoor Floor Fan. While it may not have LED lighting or other fancy features, it boasts exceptional battery life and powerful cooling capabilities.
If you'd prefer a cheaper model, or one that can be hung from the roof of your tent, check out the Coleman CPX or Odoland Portable. Both of these fans can be used on the tent floor or ceiling, double as lanterns, and are powerful enough for small or medium-sized tents.
Got any questions or comments? If so, drop us a line in the box below. And please feel free to share this post with your friends!