Sleeping in a tent is one of life's greatest gifts. No two trips are ever the same, either. One night you can be sleeping on soil full of pine needles. The following day, a sandy beach, gravel, or bogland. If you're an all-year camper, then you know the next ground condition – snow.
Given all these different conditions, things can get a little uncomfortable, or cold, without a little extra gear in the form of additional flooring inside your tent. There are various ways you can go about flooring your shelter and in this guide, we introduce you to six of the best.
At a Glance: Key Takeaways
Options abound – There are types of flooring to suit all needs and budgets.
Size matters – Whether in a one-person or ten-person shelter, your flooring needs proper planning and sizing.
Summer or winter? – Combat the challenges of each season to ensure a peaceful night's sleep.
Reasons to Use Extra Flooring on a Camping Trip
Add insulation
Add water resistance
Boost comfort
Make cleaning your shelter easier
Protect your tent from abrasion and rocks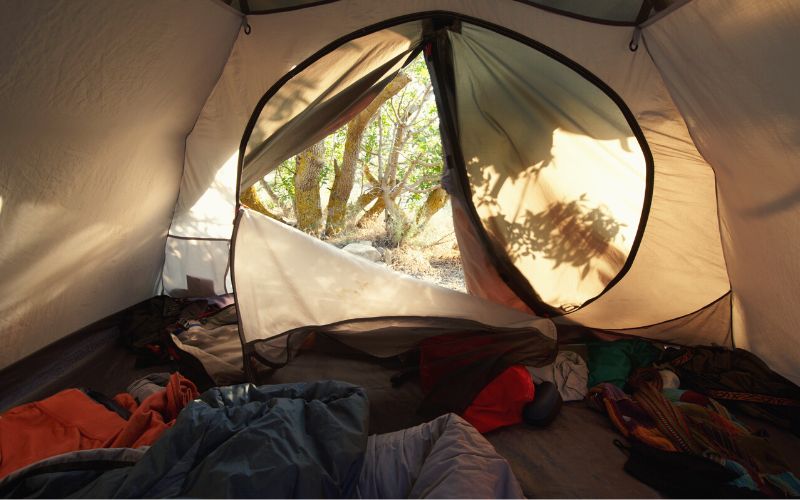 6 Awesome Ways to Floor Your Tent
1. Puzzle/Interlocking Foam Tiles
You may remember these colorful foam puzzle tiles from when you were in school, but these are a very popular way to insulate tent floors. It can be hard to find bare spots to pitch your shelter: uneven ground, rocks, roots, and twigs are all antagonists to a comfortable surface. However, flooring tiles of high-density EVA foam provide the perfect flat surface and are quick to set up.
And the best part? They are extremely affordable.
Interlocking foam tiles are stackable and lightweight, making them great options for RV campers. They are easily stored in your car, RV, truck bed, or on the outside of your backpack. When you're ready to set up, their puzzle edges make them easy to assemble into large foam mats.
Foam tiles are not often marketed to campers as floor padding for tents. They're a little secret. But, at such a low price per square foot, you'll not want to forget it. For soft flooring, look for cushioned foam tiles with connecting edges, like puzzles. This gap-free puzzle connection prevents the foam tiles from moving and provides an extra layer of insulation.
The closed-cell EVA foam does not absorb moisture either, so if you spill a drink or leave them out in the rain after using them as outdoor mats, your foam mats can quickly be wiped clean.
It is worth noting that because a perforated tile floor is thin, it is not the warmest option. However, these are fantastic for summer camping trips.
2. Tent Carpet or Rug
A carpet . . . for a tent? Yep, it sounds odd, but after spending an hour in a carpet-lined tent, you'll understand why this is a popular option!
Carpets provide a slip-resistant surface, are warm, and stylish, and help your sleeping or living space feel like home. They provide a more comfortable walking surface (especially with bare feet) than your simple groundsheet. And, if you're camping in early spring or autumn, a carpet is a great insulator. It keeps your feet and body warm.
Some carpets have a durable PVC plastic construction, too, adding an extra waterproofing layer. They can also be used outside for picnics – win-win!
There are two types of carpets. Fitted carpets are measured for your shelter and line it wall to wall (for even the largest models!). Universal carpets, on the other hand, come in a variety of shapes and sizes. They may not fit your shelter exactly, but they will fill the majority of your floor space and can be used in more than one tent.
3. Polar Fleece Blankets
If you're on a tight camping budget and want to stay as warm as possible, then polar fleece blankets are a great way to insulate tents. They are soft, multi-functional, and when you're bundled up in all the blankets, you'll be tricked into thinking you're right back in your own bed!
The biggest benefit to using a fleece blanket is that, unlike down-filled blankets, even when fleece gets wet, it remains warm. There is nothing worse than accidentally spilling something in your tent and having to freeze all night!
You can also use your fleece blanket as a picnic blanket, as a sleeping bag cover or liner, or for extra warmth around the fire. They'll remain soft regardless of what you put them through!
When you've dismantled your makeshift sleeping area and finally arrived home from an amazing camping experience, you can simply throw your fleece blankets in the washing machine!
The only con to using polar fleece blankets is that they're not fixed to the floor, so the more you shift around inside, the more the blankets will, too.
4. Floor Mats
A floor mat may perhaps be the most popular option on this list, since it is specifically listed as camping equipment and sold for one purpose: to line your tent floor.
Floor mats come in various sizes, shapes, and materials, and can either be placed inside your tent or underneath it. In short, it is a floor protector and creates a padded floor – they are scuff resistant, thick, and rigid, and make cleaning a muddy mess from hiking boots easy.
Tent floor mats are made of polypropylene, so are non-rot and non-absorbent. Scared of a trickle underneath your ripped groundsheet? A good floor mat will prevent you from getting wet.
Although they are thicker than yoga mats and carpets for tents, they are still relatively lightweight. However, we wouldn't recommend a floor mat for big outdoor expeditions. They are better suited for car campers.
5. Oversize Yoga Mats
You've surely seen yoga mats outdoors, used them inside on hardwood floors in your bare feet, or simply laid down on one because it looked comfortable. Well, it should come as no surprise that they also make for great floor mats for tents. Not only can they easily be rolled up and strapped to the outside of your backpack, but they come in various shapes and sizes to suit any shelter.
However, the best part? Yoga mats don't move once they're on the ground. Put it under your sleeping pad and you'll have a solid bed . . . one might say, close to a bed frame!
The price range for a yoga mat is surprisingly enormous; however, for the purpose of camping, erring on the cheaper side is recommended. This will bring you between the price of foam tiles and carpets.
As for weight, since traditional yoga mats are thin, we recommend the thickest ones you can find. This may mean a heavier yoga mat, but you'll be happy with it. A thicker yoga mat provides more insulation and warmth.
6. Heavy-Duty Foam Tent Floor Pads
If you're setting up a large shelter for the family or are stationed in one place for a while, then heavy tent floor pads are for you. These mats are thick and heavy, but the comfort they provide is unrivaled.
If you find yourself constantly cleaning mud with your drying towel and want to take a slight pressure off your camping adventure, then laying these floor mats down is the way to go. UV-treated, closed-cell EVA foam mats are easy to clean, while the rubber ensures the floor pads stay in place and don't move around when walking or sleeping.
Tent Floor Padding FAQs
Which tent floor padding idea will work best in winter?
The two basic principles to consider for your tent's floor in winter is proper insulation between you and the ground, and avoiding moisture buildup.
The first step is to use a groundsheet or tarp, lining the footprint of your tent. This will retain heat inside your shelter. Then, depending on whether you're backcountry camping or car camping, your floor padding might vary.
If you have the luxury of space and ease of transportation, foam tiles or blankets are your best option. If you're limited, then a thick yoga mat will make a solid tent floor pad.
Do you need to put a groundsheet under a tent?
Although groundsheets aren't necessary, the benefits of using one are manifold. They help mark the shape, size, and footprint of your shelter, which makes setting up much clearer and easier.
Groundsheets also come in a variety of thicknesses, from ultralight to thick and durable, which help protect your shelter from rocks, twigs, roots, and debris. It also helps protect the bottom of your shelter from the constant pressure and movement from foot traffic.
A groundsheet cut to the footprint will keep your tent dry and prevent wet soil, moisture, and rainwater from getting in. It will also keep you much warmer, especially in the winter. A groundsheet traps the heat in.
All of these lead to the final benefit: a groundsheet will prolong the life of your shelter.
What can I put under my tent on gravel?
While inconspicuous, gravel can be the reason why a great camping trip turns into a sleepless cacophony. Popped mattresses, ripped tents – trust us, these things happen.
The most simple and affordable option to protect the bottom of your shelter is to use a tarp. These fold easily, are made of thick and durable material, and can be cut to fit the footprint. The tarp would go below your groundsheet.
camping tent flooring… you decide!
So, whether you're camping in the summer or winter, there are camping tent flooring ideas to keep you warm and comfortable, wherever you pitch your tents!
If you liked this post, feel free to share these creative ideas with your friends! Drop us a line in the box below if you have any questions or comments.