Best Budget-Friendly Hiking Boots by Category
3-Season: Merrell Forestbound Mid, Salomon Quest Prime GTX, Timberland White Ledge
Lightweight: Merrell Moab 2 Vent Mid, Timberland White Ledge, Adidas Terrex Eastrail Mid GTX
Leather: Merrell Forestbound Mid, Timberland White Ledge
Waterproof: Merrell Forestbound Mid, Salomon Quest Prime GTX, Timberland White Ledge, Adidas Terrex Eastrail Mid GTX, Hi-Tec Men's Altitude Lite I, Columbia Newton Ridge Plus II
Reviews of the Top Affordable Hiking and Backpacking Boots
How to Choose Boots To Fit Your Needs
Not sure how to choose the best boots for your needs? Read on!
What Should I Look for in Hiking Boots?
When buying, there are a few things you need to look out for. The most important are the cut, upper material, midsole material, outsole material, traction, weight, and water resistance.
Cut: Low, Mid, or High?
Hiking shoes and boots come in a variety of cuts (i.e., shoe heights), which are classified as low-, mid-, or high-cut.

Low-cut shoes are ideal if you want to travel fast, are hiking in warm conditions, and/or want to save some weight on your feet, though offer less support for your ankles, less protection, and less water resistance. We haven't included any low-cut shoes on our list. If this is the style you want, check out our guide to lightweight hiking shoes.
High-cut boots are the best bet for three-season hiking or hikes in rougher terrain. While heavier and more likely to lead to leg fatigue on long trail days, they offer superior ankle support, protection for your lower legs, and waterproof models will keep your feet dry even when you're hiking through boggy terrain or in heavy rain.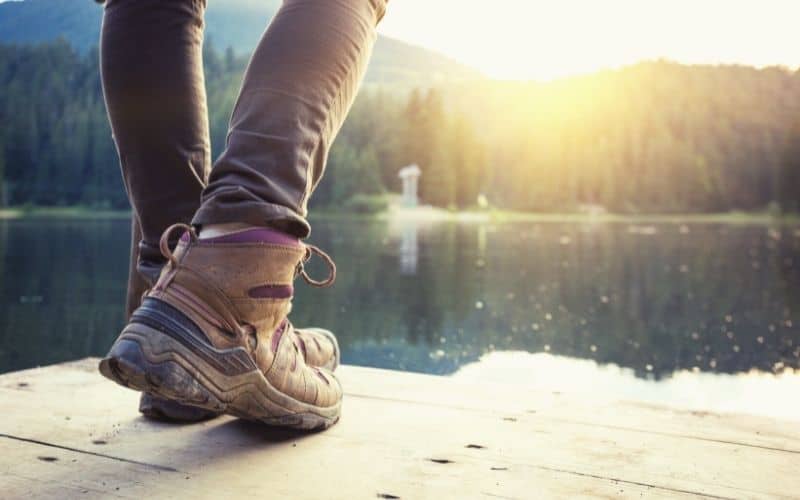 Mid-cut models like the Columbia Newton Ridge and Merrell Moab 2 are becoming an ever more popular pick with hikers everywhere. The reason for this is that they're highly versatile, striking a happy medium between the support and stability of a high-cut boot and the nimbleness and light weight of a trail shoe.
Upper
The most common upper materials used in hiking boots are leather, suede, and synthetics. As a general rule, leather and suede are the most durable materials, though also the heaviest and the hardest to break in.
Leather is also naturally waterproof, so a good bet if you tend to do a lot of wet-weather hiking. While many synthetic models use waterproof membranes and score better than leather models in breathability, their main shortcoming is their tendency to get torn up by rough trail conditions. If durability is a priority leather is the way to go.
Midsole
The midsole of your boots is the insert wedged between the rubber outsole and the (usually removable) insole. It is primarily responsible for arch support and cushioning.
The two most common types of midsole are EVA and PU. EVA is often considered more comfortable than PU, but tends to lose its bounciness over time. PU retains its cushioning capacity for years and is also slightly stiffer, which means it's a better option for hiking rougher trails and more supportive when hiking uphill.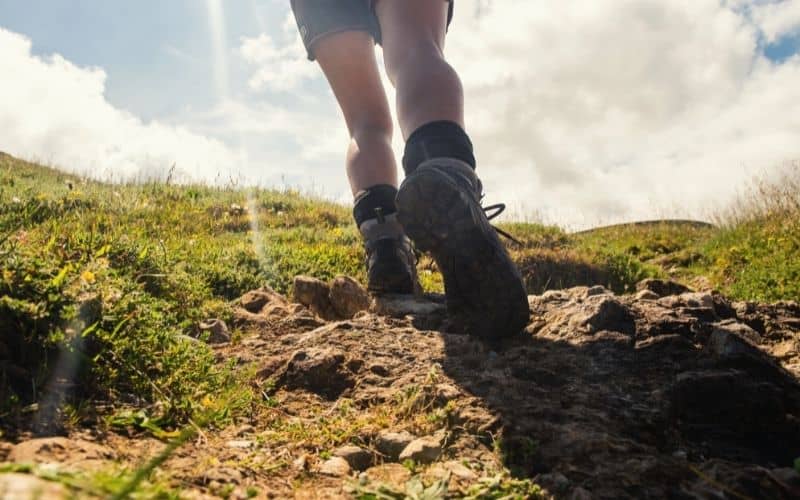 All of the boots on our list use some form of EVA midsole. We found the one used in the Salomon Quest Prime GTX the cushiest of the bunch.
Outsole & Traction
The outsole of your boots is the part responsible for keeping you on your feet. Compared to regular footwear, the outsoles on hiking boots use deep lugs and aggressive tread patterns that provide better grip and traction on loose and wet terrain.
Let's unpack that a little bit…
"Lugs" are the indentations in the rubber of the outsole, which dig into the ground underfoot. An "aggressive tread pattern" means that the pattern of the tread is multidirectional, which gives you added grip when hiking uphill, downhill, and when changing direction. This can be contrasted with the tread and lugs on regular footwear, which are usually shallow and unidirectional.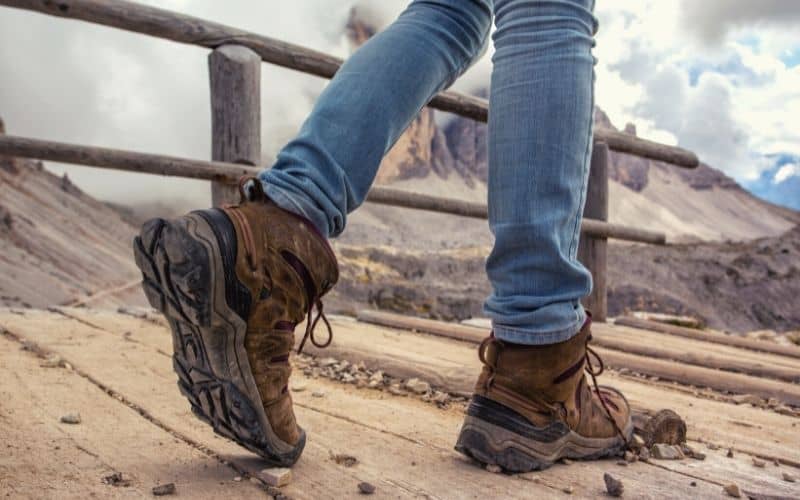 Waterproofing
Unless you are a fair-weather-only kinda hiker, buying boots with some degree of waterproofing is highly recommended. Even if you don't get caught in a downpour, a waterproof boot will help keep your feet dry if you have to hike through shallow streams, dewy grass, boggy terrain, or puddles on the trail.
The only downsides to waterproof boots are that they tend to cost more than non-waterproof models and are less breathable.
The most waterproof boot on our list? It's a toss-up between the Merrell Forestbound Mid, Adidas Terrex, and Timberland White Ledge, all of which provide solid enough weather protection for three-season hiking.
Weight
It is said that "A pound on your feet equals five on your back".
While there's no real evidence to support this claim, it's only logical that wearing a few more ounces on your feet is more likely to lead to muscle fatigue in your legs than wearing fewer, something that's bound to be noticeable on longer hikes.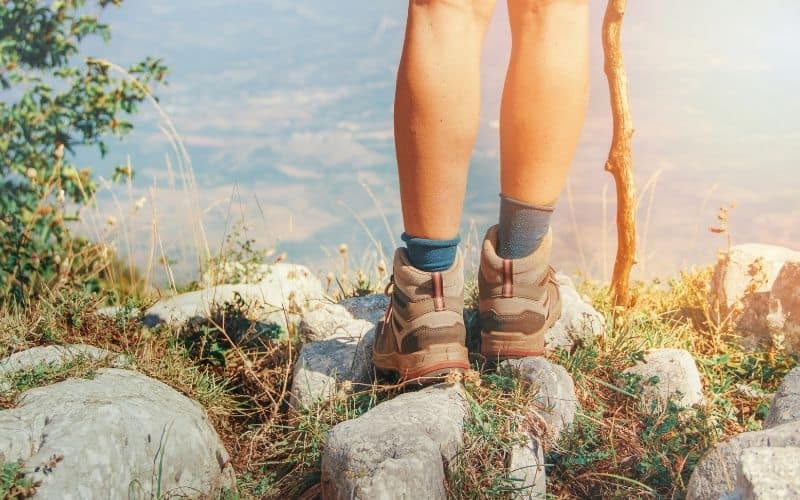 Here's the rub: The trouble with opting for a pair of ultralight boots means you almost always have to compromise on one or two important features or attributes. In most cases, this means durability, support, and/or waterproofing. While there are lightweight boots out there that are tough, supportive, and waterproof, they usually cost a pretty penny.
The above is demonstrated by the specs of the lightest and heaviest boots we reviewed.
The lightest boots on our list are the Merrell Moab 2 Vent Mid, which aren't the most durable and aren't waterproof.
The heaviest boots are the Merrell Forestbound Mid, whose all-leather upper makes them both fully waterproof and extremely durable.
Once I Find The Right Boot, What Can I Do To Keep Them In Top Condition?
A little TLC is needed to make sure your hiking boots last.
With leather boots, we recommend using a wax or silicone treatment after every 15-20 hikes. These treatments will not only boost waterproofing but also keep the leather soft and supple, which boosts comfort and makes the leather less prone to cracking.
With synthetic models, we recommend using a fabric cleaner and waterproof spray.
Store your boots in a cool, well-aired cupboard or room, and make sure to dry them out thoroughly before placing them in storage.
Best Cheap Hiking Boots: The Verdict
Just in case you're still undecided, let's have a quick recap of our top picks.
Our favorite budget boots for hiking and backpacking are the Timberland White Ledge. The White Ledge have a few minor flaws, but ticks every important box and offers outstanding value for money. Unless you're out hiking long, hard, and/or technical trails every weekend, these are a great pick.
If you'd prefer something a little lighter, we recommend the ever-popular Merrell Moab Vent. The Moab are among the most comfortable boots on the market and lighter than many trail shoes. And if leather's your bag, check out the Merrell Forestbound Mid, a tough, waterproof, full-grain leather boot at a surprisingly affordable price point.
If you liked this article or have any questions, let us know in the comments box below. And if you'd like to share this post with your friends, please feel free to do so!