Expansive alpine meadows, famous forests, crystal-clear moraine ponds, granite peaks towering into the sky, and the highest summit within the contiguous United States…all in one hike.
If that doesn't sound like a worthwhile endeavor, your adventurous spirit may need a serious reboot. The High Sierra Trail connects the western expanses of Sequoia and Kings Canyon National Park, home to the world's largest trees, to the 14,508 ft. summit of Mount Whitney, found within the eastern Sierra.
Due to the vast wilderness present throughout much of the Sierra-Nevada Mountain Range, hiking this trail is one of the only ways to experience a crossing of the Western Divide. In fact, there is not a single road within the entire national park boundary where this feat is accomplished.
Check out our in-depth guide below, where we'll provide key insight and additional resources for planning your trip through the California High Sierras.
RELATED READING: If you are looking to go backpacking in California, then check out our main guides page.
Key Takeaways
Plan your trip well in advance and pick up permit

Don't underestimate how difficult this hike is – its length and 15,154 ft of elevation gain make it a tough challenge

Always use storage boxes en route 

Pack crampons or microspikes if hiking in the shoulder season
High Sierra Hike Overview
Intro
The trail is located within California's Sequoia National Park and extends 72.2 scenic miles, providing the only connection between the eastern and western sections of the park.
Most hikers travel eastward, over the course of 6-9 days, beginning at Crescent Meadows and finishing at the famed Whitney Portal. Notable ascents, paired with towering forests, expansive valleys, and granite peaks at elevations over 13,000ft provide a trek full of diverse sights, sounds, awesome views, and epic adventure!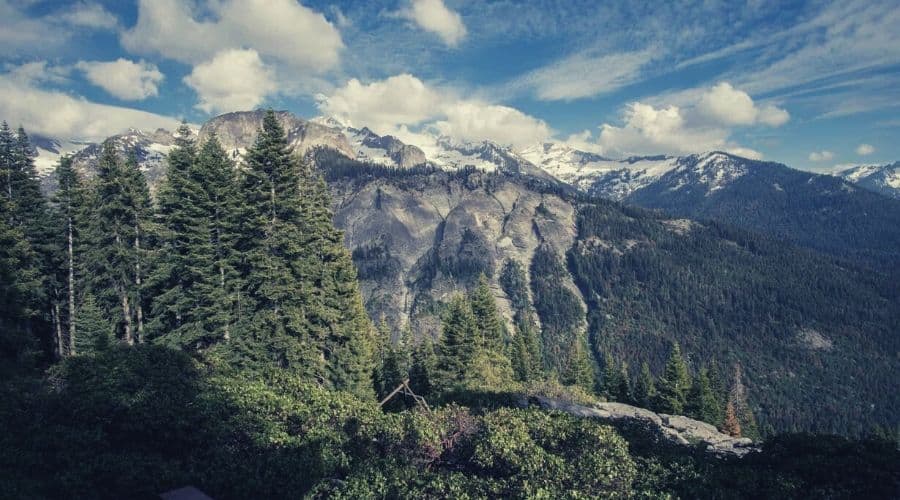 History
The existence of the trail is the direct result of a rather significant expansion of Sequoia National Park in 1926 that nearly tripled its overall acreage. In addition to the giant sequoias, which served as the original inspiration for creating a national park, the park now included the highest elevations of the entire Sierra-Nevada Mountain Range.
This created a dilemma for, then park supervisor, John White: How to connect the two sections?
A commitment to doing so without the use of roads, combined with the focused attention of numerous trail crews, engineers, and the Civilian Conservation Corps resulted in the opening of the trail in 1932.
Type Of Trail
The appeal of such a scenic hike, which can be completed with just a single week off from work, makes the High Sierra Trail a popular destination for backpackers. As a result, the trail receives considerable maintenance, making it easy to follow throughout most of the hike.
Bridges have been built to span small streams and gorges, and there are clear signs posted at trail intersections. The linear nature of the trail, which leads hikers 72 miles from where they began upon completing the hike, does require extra transportation planning (see below).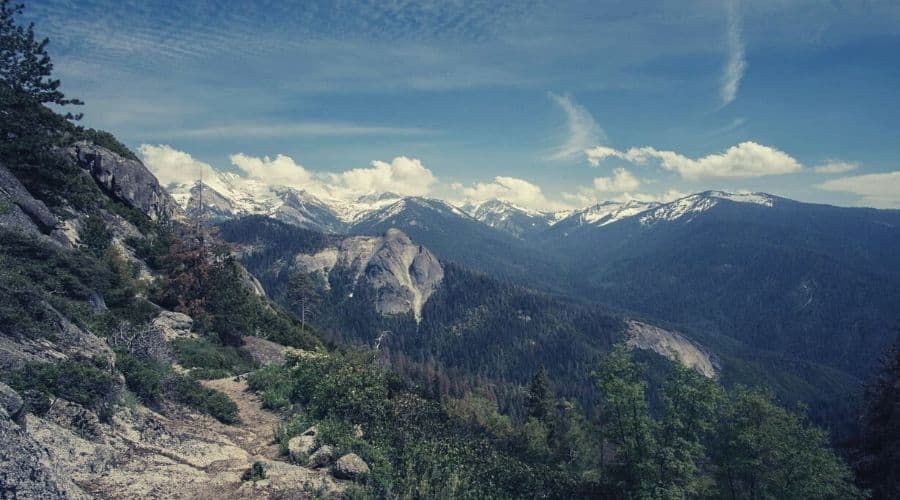 Difficulty
Despite the easy navigation for those on the trail, a 6+ day thru-hike across the Sierras should be considered a serious undertaking. Proper planning and at least a moderate level of fitness will give you the best chance for an enjoyable adventure.
While the HST is a 'trail' in the sense that you will just be following an obvious path, there are still numerous obstacles to overcome. Stream crossings, narrow paths along steep gorges and avalanche chutes, sections of snow/ice, and significant changes in elevation have forced many prospective thru-hikers to turn around.
Planning
Best Time To Hike The Trail
On the High Sierra Trail, conditions can play a big part in whether your trip is a success or not.
To minimize the impact that snow may have on the route, particularly at the higher elevations seen atop Kaweah Gap and Mt. Whitney, most thru-hikes take place in the months of July and August.
Spring conditions on the trail can leave hikers with long, exposed sections of snow and dangerous stream crossings, a greater hazard with colder water, and higher flows, common during that time of year.
There is potential to encounter snow throughout the year, so be sure to study the latest weather patterns and trail conditions in the weeks leading up to your hike. Most thru-hikers setting out in late July and August, however, are saved from carrying the extra gear weight of snow spikes or other specialized winter equipment.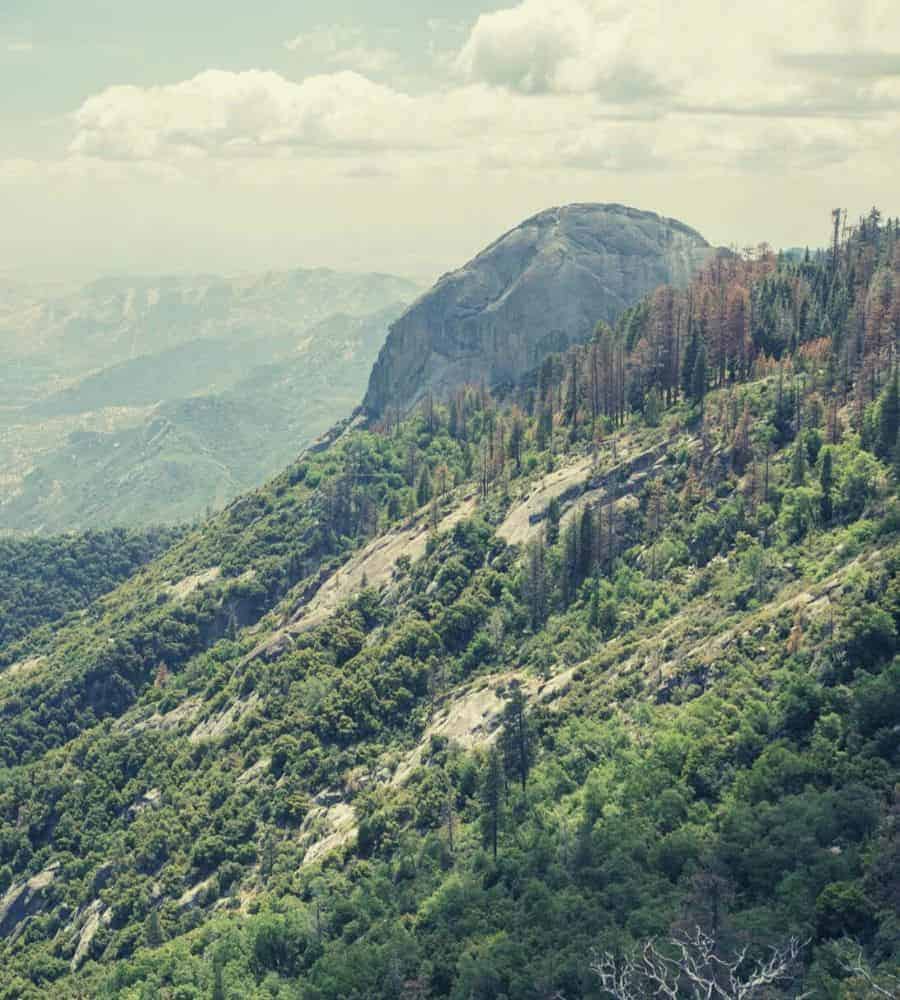 Early September can also be a great time to experience moderate temperatures with fewer crowds.
Permits
Anybody planning to spend a night in the backcountry of Sequoia National Park is required to obtain a permit. The method for doing so is determined by your expected travel dates.
Sequoia and Kings Canyon National Parks utilize a quota system, which limits permit availability and requires an advance reservation, for any overnight stays between May 25th and September 22nd. Travel outside of those dates will still require a permit. These, however, are self-assigned at kiosks near the trailhead and at visitor centers. Check out our 'Additional Resources' section below for a direct link to the NPS permit application.
Trailheads
The linear, traversing nature of the High Sierra Trail creates, only, two main trailheads with which future thru-hikers need to familiarize themselves with. Crescent Meadows parking area, located less than three miles off of Generals Highway, contains the High Sierra Trailhead. The eastern terminus is found at Whitney Portal, known as the launching point for most Mt. Whitney ascents.
Both trailheads provide ample long-term parking and, to the delight of many, The Portal has a small restaurant frequented by exhausted hikers returning from the summit. Although there are a few other options for accessing the HST via additional trail networks, they are seldom used by those wishing to experience the classic traverse of the Sierras.
Shuttle/Transportation
Get your creative juices flowing, because crafting a transportation plan for a thru-hike of the High Sierra Trail can be a logistical challenge at best and an absolute nightmare at worst.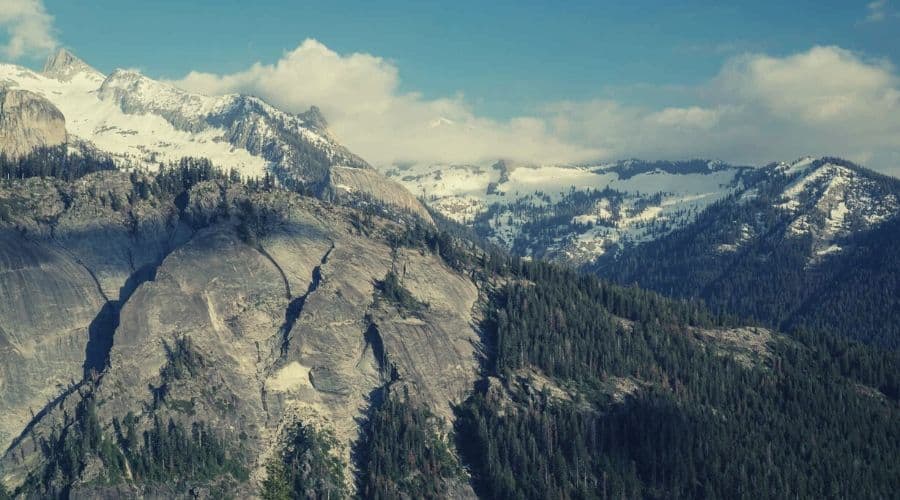 How you choose to handle the 6-hour drive between the start and finishing trailheads of the HST will, likely, be one of your biggest planning tasks before a successful hike. There are many ways to do this, but here are a few popular options:
Free shuttles from Visalia
​Fly, take a train or rent a car to get yourself to Visalia, CA. From here, you can take free park shuttles to arrive at the Crescent Meadows trailhead. This approach saves you from retrieving a car left at the start.
Arrange private shuttle transport from Whitney Portal to Lone Pine
Shuttle services, like East Side Sierra Shuttles, offer a variety of options based on your needs. Once in Lone Pine, a relatively short and cheap shuttle ride, you can then rent a car, one-way, back to Visalia, utilizing the shuttles to retrieve your car.
Hire a professional driver to take you, or your car, from one trailhead to the other
Key switch
Arranging to switch keys with a group hiking the trail in the opposite direction may work in some instances. Upon arriving at your concluding trailhead, you drive their car, and they yours, to a predetermined meetup spot that saves you both a considerable amount of time and driving.
High Sierra Trail Route
A traverse of the High Sierra Trail begins at Crescent Meadows trailhead, which is less than 5 miles from the General Sherman Tree, the largest tree in the world. Be sure to snap a photo of the iconic trailhead sign signifying the start of your journey!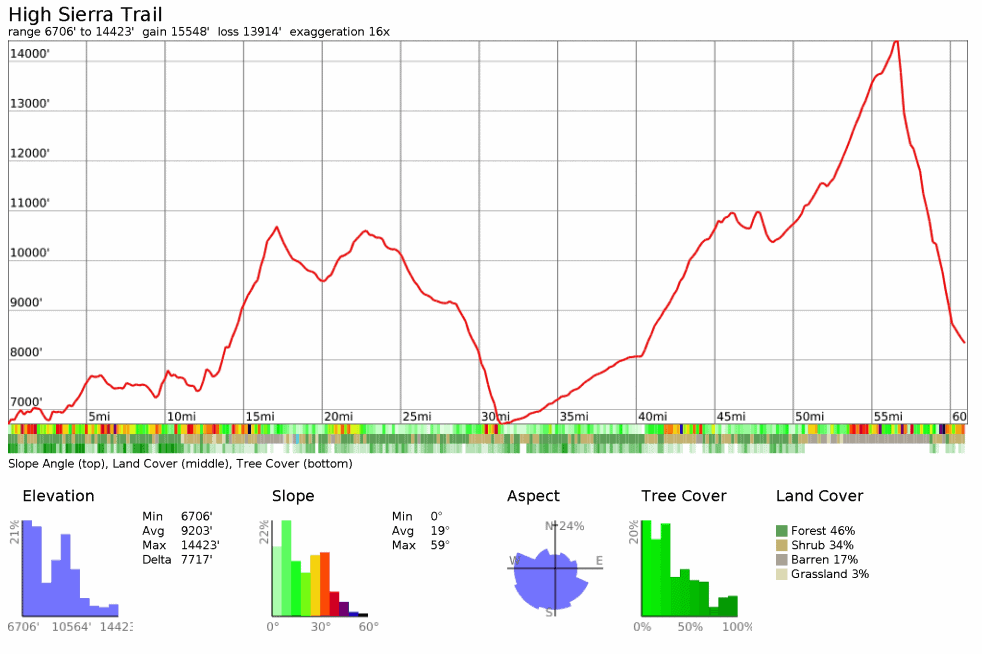 Crescent Meadow To Kaweah Gap (19.1 Miles)
The trail from Crescent Meadow quickly climbs through the Hamilton Lakes Basin and then follows a steep canyon alongside the middle fork of the Kaweah River. This is also where hikers get their first view of the impressive peaks forming the Western Divide, a powerful reminder of what lies ahead.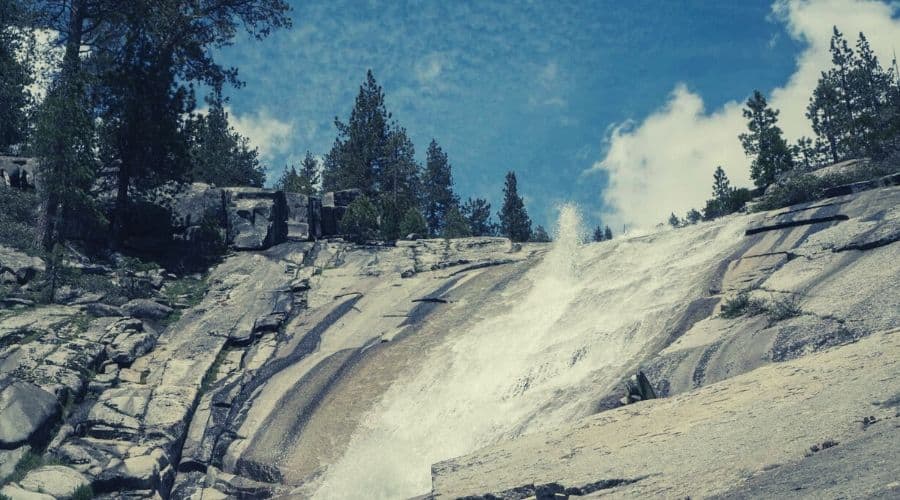 The trail will pass Bearpaw meadows, a popular choice for camp on night one, before continuing the push upward. Hikers will then explore some of the most iconic sections of the trail as they traverse narrow Hamilton Gorge, soon arriving at one of the country's most idyllic bodies of water, Precipice Lake.
There's a reason Backpacker magazine named this one of the top 20 backcountry lakes in 2015. Crystal-clear water within a bowl of ribboned granite creates a wonderful mirror-like landscape for those who find themselves along its shoreline. It's a steep, albeit short climb from the lake to reach the first of two notable crests on the trail, Kaweah Gap.
This is where you officially cross the Great Western Divide.
Kaweah Gap To Junction Meadow (24.4 Miles)
From here, the trail begins its 4,000 ft descent to the Kern River below. Before reaching the Kern River Canyon, however, hikers will travel past Big Arroyo and onto the Chagoopa Plateau. Soon thereafter, you will need to make a decision on your preferred route.
Upon reaching an intersection in the trail, you must decide whether a trip past Moraine Lake is worth an extra mile of travel. Most will agree that the addition of another scenic alpine lake is well worth the nominal mileage addition (approx. 1 mile).
Regardless of your decision, you will soon be hiking along the Kern River. Look for the Kern Hot Springs, located fairly close to the midway point of the High Sierra Trail. A dip in these naturally warm waters is sure to replenish your spirits, and your body, for the push to Mt. Whitney over the coming days.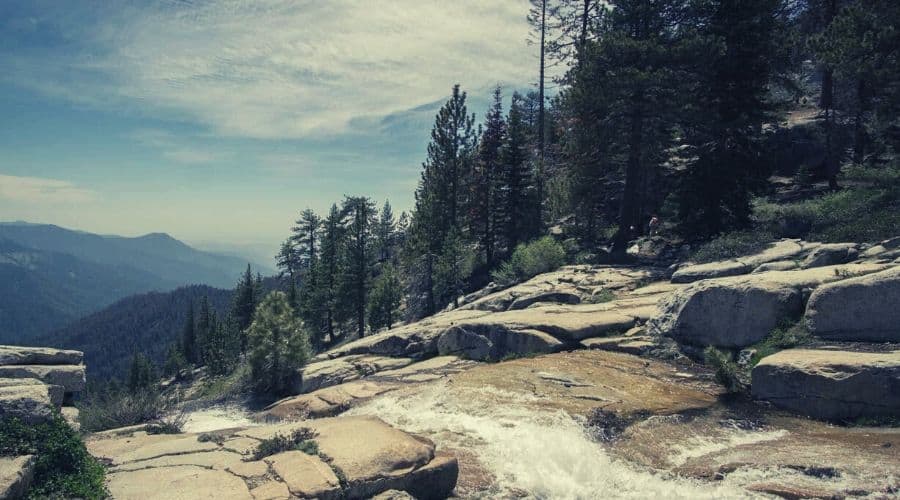 Junction Meadow To Whitney Portal (27.5 Miles)
This final section of trail includes over 11,000 feet of elevation change, so make sure you are ready for the challenge! Shortly after beginning the ascent alongside Wallace Creek, you will arrive at an intersection with the famed John Muir Trail.
The final 22.2 miles, including a summit push of Mt. Whitney, are now shared with one the country's most famous trails.
Notable landmarks along the way include the Crabtree ranger station, Guitar Lake, and the Trail Crest intersection, where hikers make the final push along the 2.4-mile Mt. Whitney summit trail. After summiting Whitney, you will encounter the '99 switchbacks', eventually arriving at the Whitney Portal parking area, which contains a restaurant and other amenities.
Campsites
The High Sierra Trail can be completed by linking together numerous, established, backcountry campsites.
While an experienced backpacker will notice infinite options along the trail, staying at the designated sites helps to reduce impact. Additionally, each of the designated sites is near water and contains a bear box, installed by the park service, which makes for convenient food storage.
Many savvy HST hikers will forgo carrying a heavy bear canister, which are recommended, or even required, for other areas of Sequoia & Kings Canyon National Parks and, instead, camp only at sites with food storage boxes. Check out the list below, provided by the National Park Service, for campsite classifications and distances for your hike:
Summary of distances along the High Sierra Trail
| | | | |
| --- | --- | --- | --- |
| Site | Distance from Previous Point | Distance from Crescent Meadow | Distance from Whitney Portal |
| Crescent Meadow | | | 72.2 mi./115.5 km |
| Nine Mile Creek | 8.8 mi./14.1 km | 8.8 mi./14.1 km | 63.4 mi./101.4 km *** |
| Bearpaw Meadow | 2.6 mi/4.2 km | 11.4 mi/18.2 km | 63.4 mi/101.4 km *** |
| Lone Pine Creek | 1.7 mi/2.7 km | 13.1 mi/21.0 km | 59.1 I/94.6 km *** |
| Big Hamilton Lake | 3.5 mi/5.6 km | 16.6 mi/26.6 km | 55.6 mi/89.0 km *** |
| Big Arroyo Junction | 5.9 mi/9.4 km | 22.5 mi/36.0 km | 49.7 mi/79.5 km *** |
| (Moraine Lake * | 8.0 mi/12.8 km | 30.5 mi/48.8 km | 41.7 mi/66.7 km ***) |
| Upper Funston Meadow | 12.0 mi/19.2 km ** | 34.5 mi/55.2 km | 37.7 mi/60.3 km *** |
| Kern Hot Spring | 2.3 mi/3.7 km | 36.8 mi/58.9 km | 35.4 mi/56.6 km *** |
| Junction Meadow | 7.4 mi/11.8 km | 44.2 mi/70.7 km | 28.0 mi/44.8 km *** |
| Wallace Creek Junction | 4.7 mi/7.5 km | 48.9 mi/78.2 km | 23.3 mi/37.3 km *** |
| Crabtree Ranger Station | 4.2 mi/6.7 km | 53.1 mi/85.0 km | 19.1 mi/30.6 km *** |
| Guitar Lake | 3.5 mi/5.6 km | 56.6 mi/90.6 km | 15.6 mi/25.0 km *** |
| Mt. Whitney Summit | 4.9 mi/7.8 km | 61.5 mi/98.4 km | 10.7 mi/17.1 km |
| Trail Camp | 4.2 mi/6.7 km | 65.7 mi/105.1 km *** | 8.3 mi/13.3 km |
| Outpost Camp | 3.0 mi/4.8 km | 68.7 mi/109.9 km *** | 6.5 mi/10.4 km |
| Whitney Portal | 3.5 mi/5.6 km | 72.2 mi/115.5 km *** | 3.5 mi/5.6 km |
* If you take the side trip to Moraine Lake, add .8 miles (1.3 km) to all subsequent distances.
** From Big Arroyo Junction, excluding the trip to Moraine Lake
Good To Know
Acclimatize
Altitude sickness is a serious concern for those traveling above 8,000ft. The High Sierra Trail features almost 30 miles of hiking above 10,000 feet, and the summit of Mt. Whitney is over 14,500ft. Familiarize yourself with the signs, symptoms, and methods of treatment for altitude-related sickness before your hike.
Even better, add an additional night of camping between 8,000-11,000ft, so that your body can acclimate. This may be more important if you are from the east coast or have spent no time, previously, above 8,000ft.
A handy High Sierra map and High Sierra Trail elevation profile chart can be found on the hiiker app.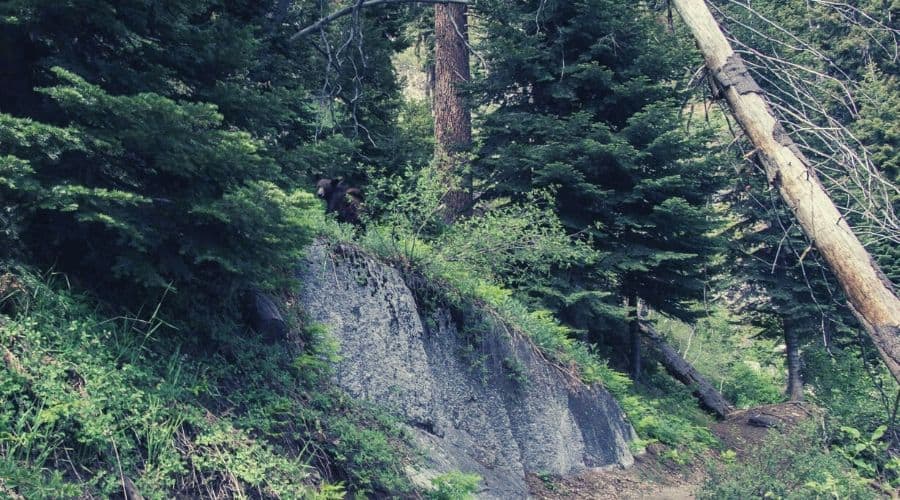 Black Bears
Sequoia National Park is home to many black bears, and it is common for HST travelers to encounter one during their hike. Proper use of the 'bear boxes', located at the listed campsites above, has greatly reduced these encounters.
You should still know how to react, however, if you do come across one.
Suggested Gear List
Clothing
Merino-wool base layer top–chest zip for ventilation a big plus!
Fleece pullover – integrated baklava and ventilation zip preferred
Optional: down-insulated jacket for cold nights
2 pair socks
2 pair quick-dry underwear
Light or midweight baselayer to sleep in – don't hike in this or you'll soak it with sweat
Optional: hat – sun protection can be important at high elevations
Footwear
Camp
Canister or liquid-feed stove – A canister will be lighter, but liquid fuel works better at elevation & it will be easier to calculate and carry the exact amount of fuel
Sleeping bag rated to 30* F, or lower – nights can be cold, even in summer
Optional: air pillow
Water purification device – we love the Steripen ultra
Optional: camp chair for comfort
Plate/bowl & utensils
Misc Gear & Toiletries
Trowel & toilet paper – wag bags are required once on Mt. Whitney
Toothbrush, toothpaste, biodegradable soap
Sunscreen &/or bug spray
Sunglasses
Daily journal or camera gear
Related California Backpacking Articles
Additional Resources
Links
Steps for obtaining a wilderness permit
Detailed High Sierra Trail route description, provided by National Park Service
East Side Sierra Shuttle Company
Maps/Guidebooks
Sequoia and Kings Canyon National Parks Trail Map
'Plan & Go-High Sierra Trail: All you need to know to complete the Sierra's best kept secret', by Zebulon Wallace