Do you want to enjoy 25 miles of rugged coastal trail hiking along a secluded coastline in one of the prettiest portions of Northern California?
Then check out the Lost Coast! This trail is a few hours north of San Francisco and connects Mattole Beach to Black Sands Beach.
In between these wilderness beach trailheads, there are miles of rocky beaches, beautiful creeks, and even some shipwrecks! You'll also see spots where rugged cliffs jut out into the Pacific Ocean, encounter sea lions and shorebirds, and if you're lucky even see (from a distance, we hope) a black bear or rattlesnake.
Sound like an adventure unlike any other? Spoiler alert: it is!
In this guide, we'll tell you everything you need to know including how to obtain King Range wilderness permits, what time of year is best to go, gear recommendations, and a detailed, stage-by-stage route description.
So lace up those boots, we're going for a walk on the beach!
Lost Coast Need-to-Know Info
When to Go
The best time of year to hike this coastal trail is late spring through early fall, from late May to October.
Since you'll be along the Pacific Ocean temperatures should remain stable and amenable even in winter. However, heavy winter rains are the biggest factor preventing an off-season trip. Paired with slightly colder temperatures, the wet conditions can make for fairly miserable hiking.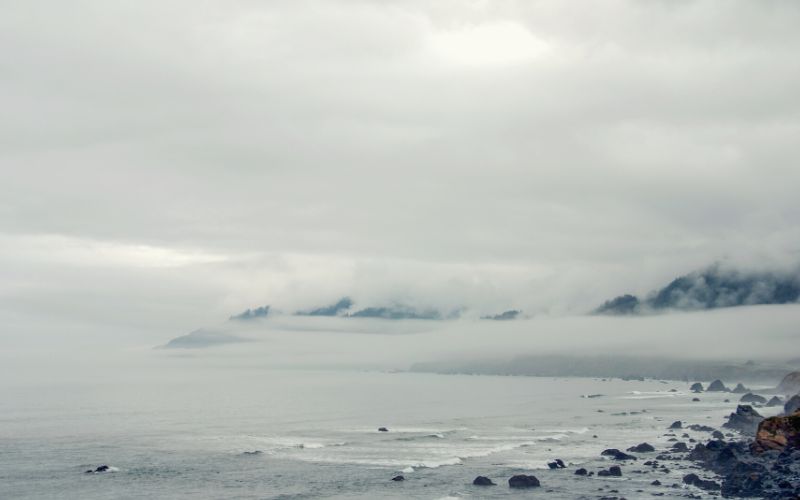 Lost Coast Logistics (Camping, Permits, Transportation)
Length
The Lost Coast Trail is a 24.6-mile point-to-point (one-way) hike. Typically, it takes 3 to 4 days to complete. Depending on what pace you want to keep, you'll either want to plan for a 2-night, 3-day trip or a 3-night, 4-day trip. 
If you don't want to organize a shuttle back to get from one of the trailheads to the other, you could hike it as an out-and-back. If you do this, that will make this a 50-mile and truly challenging, epic round trip. 
Permits
You need a King Range wilderness permit to camp overnight on any part of this trail. This is true all year round in all of the King Range National Conservation Area. Permits are only required for backpacking trips. They're not required for day hikes. 
One permit can cover up to 3 people. You must start your hike on the start date listed on your permit. This is strictly enforced. There are no walk-in permits. You must use the King Range online permit system to obtain a permit.
You can get a permit at any time if they're available, but permits tend to go quickly. Every year, permits are released on October 1st for the next year. If you're hoping to take on the Lost Coast Trail in 2023, your best bet for obtaining a permit for the 2023 season is to get a permit on October 1st of 2022. 
Though most permits are snatched up almost immediately, you can get lucky if there is a cancellation – just be prepared to check the website frequently!
Transportation
The King Range National Conservation Area is roughly 230 miles north of San Francisco. If you're coming from the north, it's 60 miles south of Eureka. Every road to this conservation area is steep and narrow with lots of winding turns. Make sure your car is in good working order with plenty of gas before you drive out here.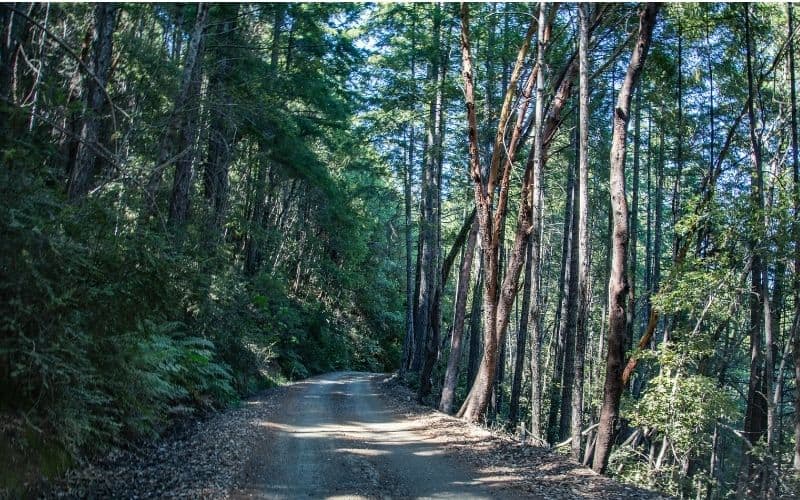 Most people who hike the Lost Coast park their car at one trailhead and organize a shuttle to get back to their car after completing the hike. We recommend organizing this shuttle at the start of your trip so you won't be pressed for time to make your shuttle at the end. 
To book a shuttle between trailheads, call as soon as you have your permits to book the pick-up date, time, and location for your trip.
The following shuttle services have all the necessary recreation permits to transport you and other backpackers in the King Range Conservation Area: Mendocino Insider Tours and Lost Coast Adventure Tours. Remember, book your shuttle early to ensure this essential part of your trip is planned.
Camping
You can camp anywhere along the trail if you have a King Range Wilderness permit. However, you should try to camp in spots that have already been camped in. This will keep you safe from the ocean tide and preserve the wilderness you're sleeping in. Camping is allowed at the Mattole Beach Trailhead, but not at the Black Sands Beach trailhead.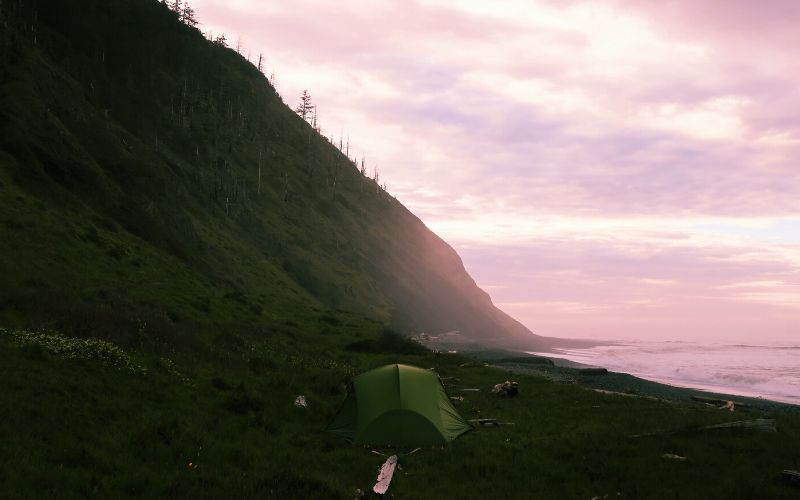 Hazards along the lost coast
Tidal Zones
There are three areas along the trail that are impassable when the tide is higher than 3 feet. You should not try to pass these areas during high tide or when the tide is rising faster than you can get across them. 
Consult the NOAA tides and predictions page for more information on when high tides are predicted. There are usually two high tides and two low-tide periods per 24-hour period. Plan ahead, and consult the tides predictions page when you're selecting a permit date as well.
If hiking southbound, the first impassable zone you'll cross is just south of Mattole beach trailhead. The second impassable zone is about 4 miles long and is just south of Punta Gorda Lighthouse between Sea Lion Gulch, Cooskie Creek, and Randall Creek. The third zone is also about 4 miles long as well, between Miller Flat and Gitchell Creek.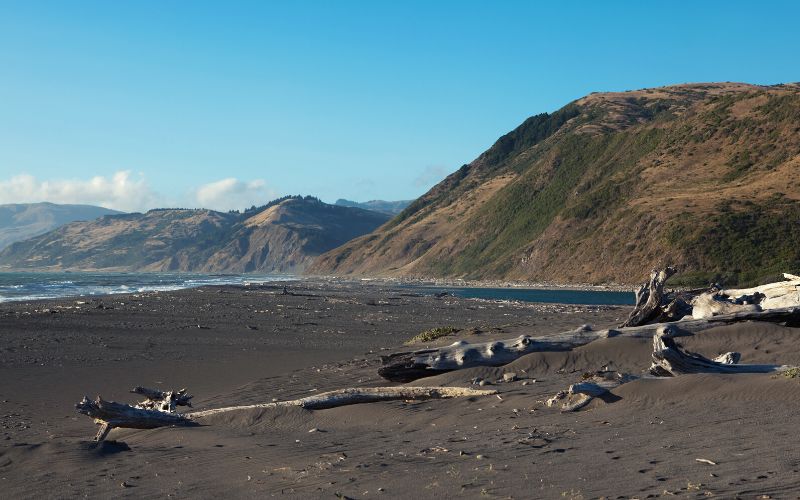 Rattlesnakes
The Northern Pacific Rattlesnake is common throughout northern California. Pay attention to where you step, especially when you aren't on the beach.
If you see a rattlesnake, it will probably have already noticed you. It will be warning you with its rattle not to come any closer. Give it space – a rattlesnake will only strike if it feels threatened and that will only happen if you get too close. Rattlesnakes hang out in sunny, protected spots, so be aware of where you're stepping in these areas.
Bears
As with every wilderness area in Northern California, bear encounters on this trail are relatively frequent. Be sure to use a bear canister (more on this below) and carry a bear spray for extra peace of mind. 
Ticks
There are lots of ticks on the Lost Coast. Most people choose to wear pants and long sleeves for this reason. It's important to do your best to avoid tick bites because some carry Lyme disease. Treat your clothes with Permethrin and use Deet bug spray on your legs if you aren't wearing pants. 
The best way to avoid ticks is to not walk through overgrown areas with tall grass. If it looks like there could be ticks hanging out somewhere waiting to find a mammal to latch onto, don't walk through that spot unless you have to. Perform tick checks periodically throughout the day, especially after taking breaks where you sat in grassy areas.
Poison Oak
"Leaves of three, let it be". Remember that! There is plentiful poison oak in the brushier areas along the Lost Coast Trail. Learn to identify poison oak and watch out for it, especially near the many creeks.
This is another reason to wear pants on this hike, if your skin does touch poison oak, vigorously wash the area with soap and water as soon as possible. Wash your trekking poles and any other gear that might have touched the plant after your hike is over, too. The oil from this plant stays toxic for a long time, and you don't want a surprise rash later.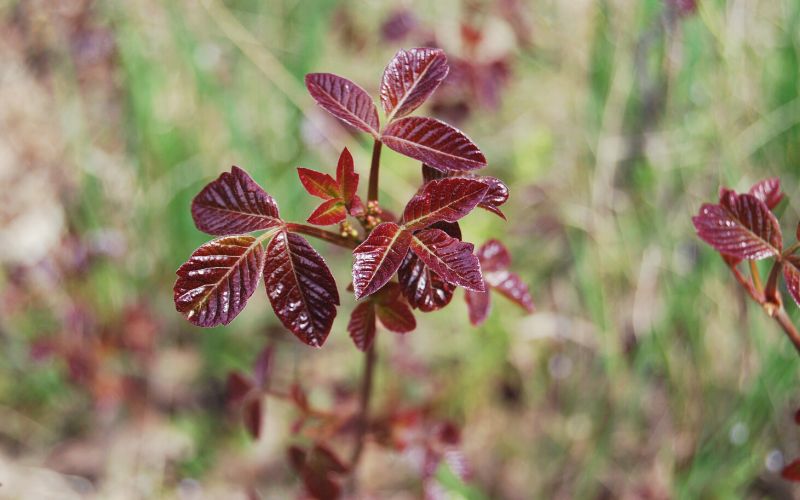 Sneaker Waves
Sneaker waves are known for sweeping unsuspecting hikers away into the ocean. These are big ocean waves that come up from the water with no warning. They are a common occurrence on certain portions of the Lost Coast. To steer clear of them, pay attention to the tides, don't stand with your back to the water for long periods, and avoid hiking at night.
Uneven Terrain
Beach hiking the Northern California coastline is not easy. The terrain will quickly change from packed sand to small pebbles, to larger rocks.
The uneven-sized pebbles and rocks on the California coast are notoriously difficult to walk over, so this is not a hike for someone with bad knees or ankles. There are also sections where you'll have to do some scrambling over rock outcroppings where the coastal cliffs stick out into the ocean. Make sure your hiking boots have adequate traction for this.
Wear sturdy hiking boots for your backpacking trip and bring trekking poles for balance.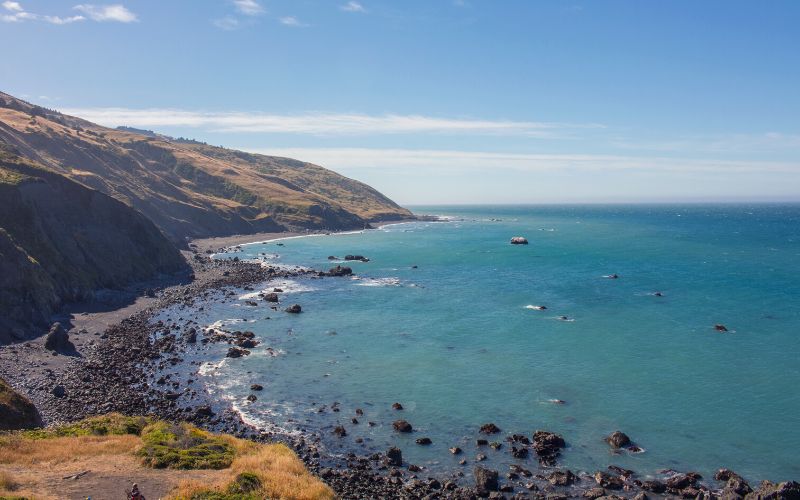 Gear
Bear Canisters
You need to store your food in an approved, hard-sided bear canister like the BV500 in the King Range Wilderness. Here's a complete list of approved bear canisters. You can also rent a canister from the ranger station, but during the summer they might all be taken already, so plan accordingly.
You'll need to store all your food and scented items in your bear canister overnight. Bear canisters are also convenient for protecting your food from all the "mini-bears" – raccoons and squirrels!
Rain Gear
The Lost Coast can be chilly and wet year-round. Even in the summer, the fog and mist from the ocean can give you a good soaking, so bring a quality rain jacket and rain pants to stay dry. 
Cold-Weather Gear
Overnight trips are often surprisingly cold, even in the summer. This is certainly the case when you're camping on the beach. Bring a quality sleeping bag, puffy jacket, gloves, and a beanie to ward off those chilly ocean breezes.
Bringing a camping stove is a good idea, too. A hot cup of coffee while watching the ocean in the morning sounds nice, doesn't it?
Water Filter
There are plenty of creeks to collect water from along the Lost Coast Trail. But, you'll need to filter this water before you drink it. Bring a lightweight water filtration device for this reason. We like the Sawyer Squeeze because it's small and convenient.
Stage-by-Stage Route Description
Stage 1: Mattole Beach to Punta Gorda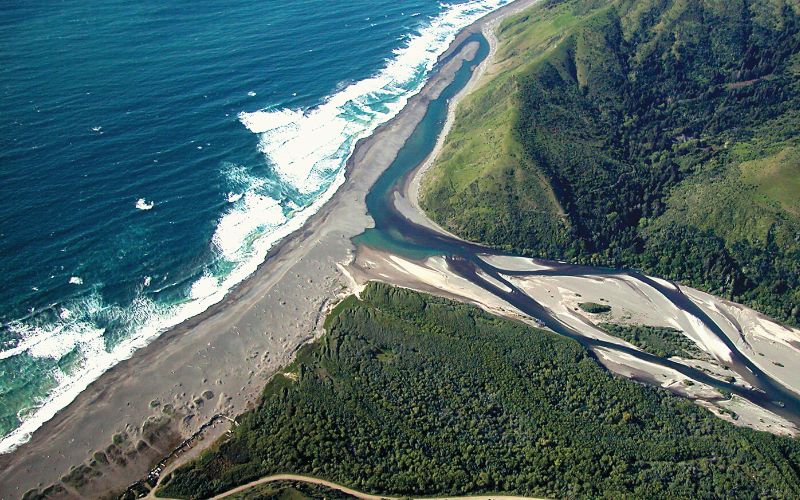 The northern end of the trail begins at the Mottle Beach Trailhead. There is a campground here that sits on the northern edge of the King Range Wilderness Area. The campground has 15 tent and trailer campsites. This is a primitive campground, but it does have potable water and vault toilets. 
The Mattole River Valley and Mattole Beach are worth exploring before you start backpacking the Lost Coast, so get there early. It's also a good idea to start your hike in the morning.
The trail begins close to the Mattole River and heads through grass-covered dunes for the first two miles. This is a coastal prairie ecosystem, and you may see a jackrabbit or two, and possibly a rattlesnake! This part of the trail has long been used to bring supplies to the Punta Gorda Lighthouse.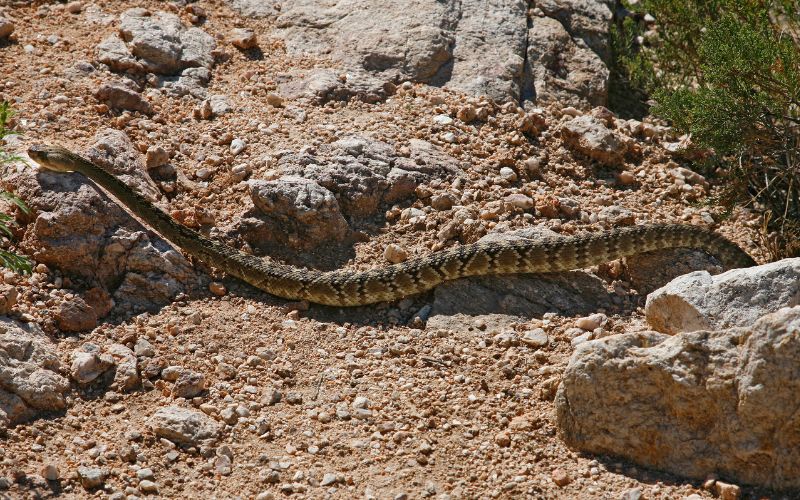 The trail then goes onto the beach and goes around Punta Gorda, which is inaccessible at high tide. Once you come around this corner, you'll be able to see the Punta Gorda Lighthouse. Sea lions can often be seen on the rocks in this area, so get your camera ready!
At this point you'll cross Fourmile Creek, one of several creek crossings on the route (look out for river otters!). In the summer it usually isn't deep, though. Now, you're just about at the Punta Gorda Lighthouse.
The Punta Gorda Lighthouse
The Lighthouse that sits here on the Lost Coast was built in 1908 and first lit in 1912. In the 10 years before the lighthouse was built, at least 8 ships were wrecked in this area. The lighthouse is no longer in use, but you can go inside for a break from the weather.
Stage 2: Punta Gorda to Cooskie Creek
After you leave the lighthouse, the trail leaves the beach for a bit. The walking will be easier here as you leave the sand behind. You'll follow a dirt trail on the grassy hills looking down on the beach for another mile. From here you can see the remains of some shipwrecks, which make quite the spectacle.
You'll be getting close to Sea Lion Gulch now. The cliffs along the beach are steep here as the trail winds back down to the waterfront. This section of beach is a 4-mile stretch that is impassable at high tides, so make sure you research the tide schedule before you start down to the beach.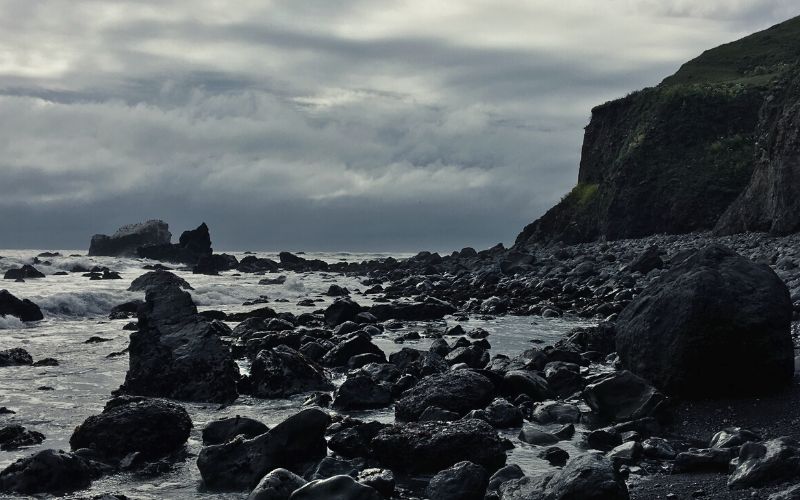 The next few miles are challenging. The beach consists of baby-head rocks that will shift as you step on them. Watch for falling rocks from the crumbling cliffs above, too. There will probably be more sea lions in this area, too, but don't let them distract you from your footing!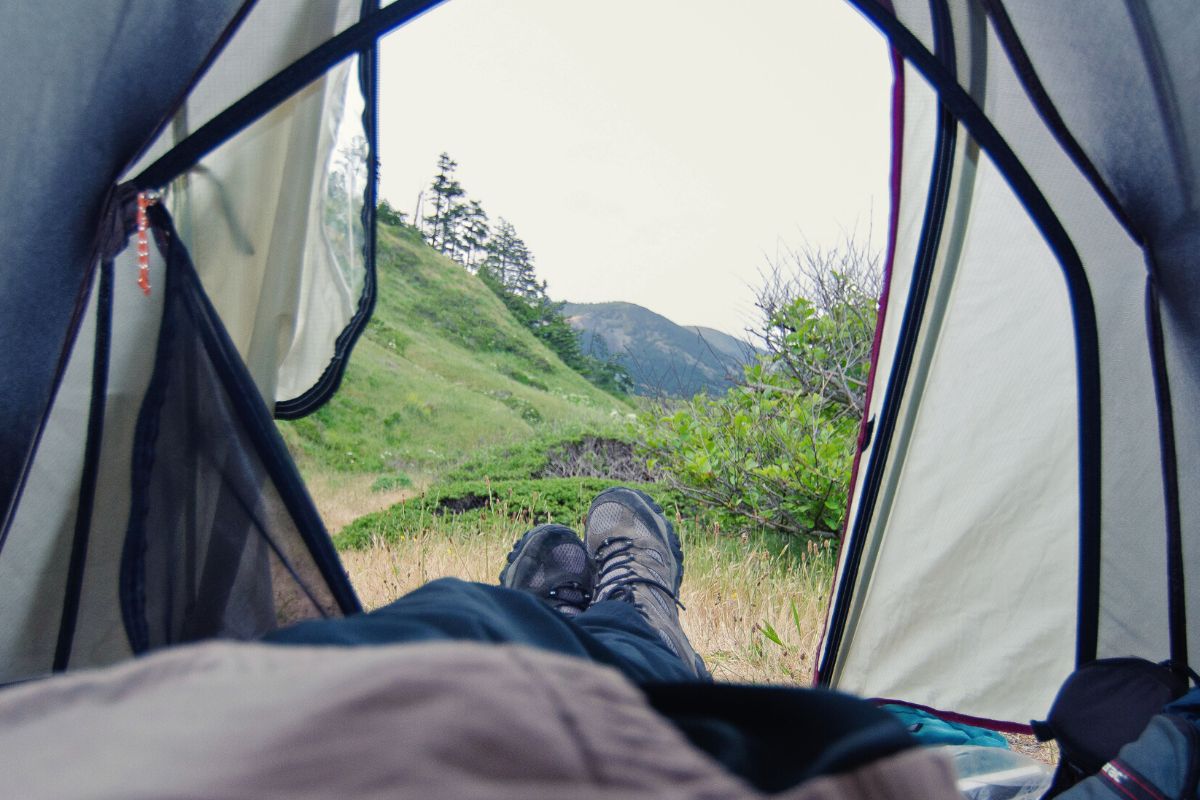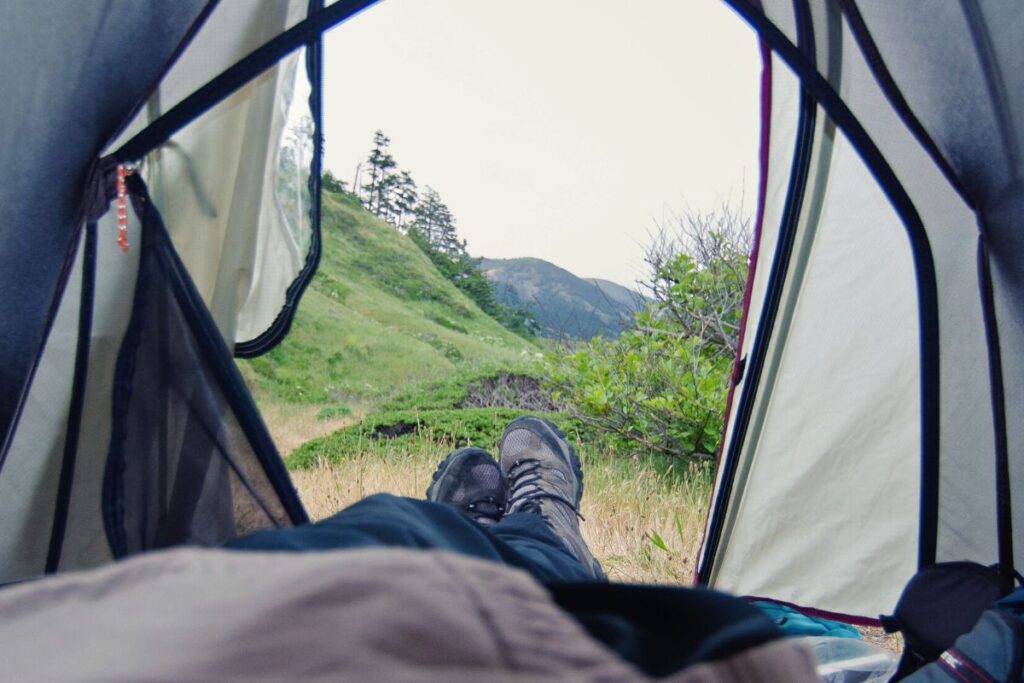 After two miles of walking the beach, you'll arrive at Cooskie Creek, where you'll find a safe spot to camp above the high tide line.
Stage 3: Cooskie Creek to Big Flat
From here to Randall Creek, the trail is a beach that is underwater except during low tide. This is where the real coastal wilderness hiking experiences begin. You'll walk below cliffs that are constantly pummeled by the ocean, and they look like it, too. You'll see evidence of landslides–exposed hillsides, the works. Keep moving through here, but be sure to take it all in!
When you get to Randall Creek, you'll probably want to take a break or even stop for the day. There's great camping in this area if you're ready for a rest.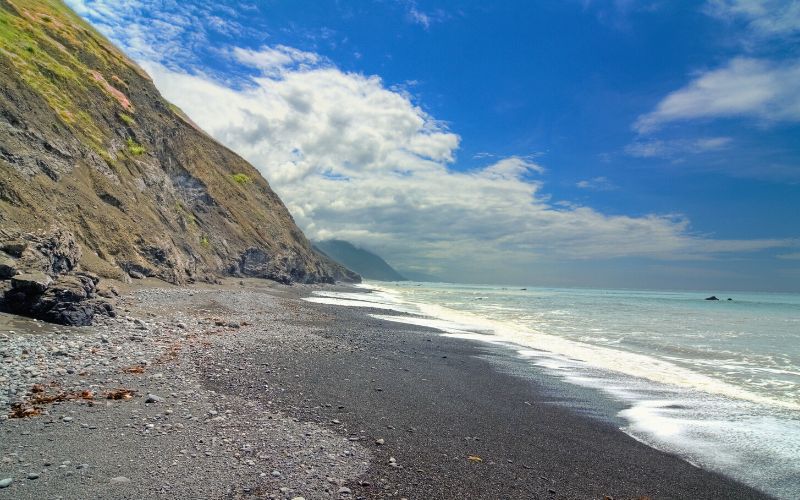 As you go further south, you pass the Spanish Ridge Trail. This is a worthwhile side trail and provides awesome views from the high terrain above the Lost Coast. It's steep though, so be prepared for plenty of calf burn!
After the Spanish Ridge, you'll once again leave the beach and walk through coastal prairie. This will be a nice break from the sand and rocks you've been walking over for the last few miles. There is a lot of good overnight camping in the area as you cross Spanish Creek, too.
In another 1.5 miles, you'll see another side trail, the Kinsey Ridge Trail. Then, you'll cross the impressive Kinsey Creek, before passing Big Creek. If you haven't caught on yet, there are plenty of creeks on the Lost Coast Trail.
Next, you pass below Shubrick Peak, which looks down over the beach from its 2,797-foot summit, before climbing up to a spot with an epic view of Big Flat. Yes, Big Flat is big and flat. This is a spot where driftwood likes to congregate, too. There are also some private cabins in the area.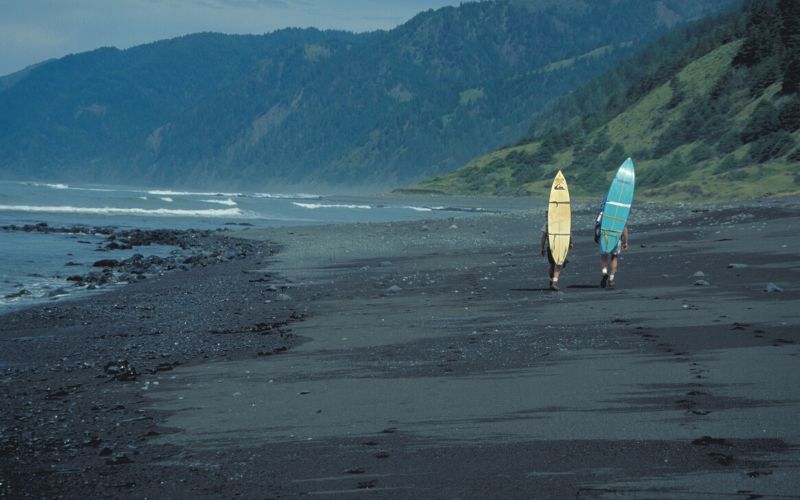 Big Flat is home to a wide variety of wildlife. You might see deer, jackrabbits, foxes, bobcats, or black bears around here. This area is also popular with surfers, who will hike their boards in from the Black Sands Trailhead to catch some waves. There is ample camping near Big Flat Creek, too.
Stage 4: Miller Flat to Black Sands Beach (Shelter Cove)
​​Once you cross over Big Flat Creek, Big Flat becomes Miller Flat (it was just too big to have one name!). In all seriousness, Miller Flat has one major difference from Big Flat, and that is the massive ridge you'll be walking beneath. With Miller Ridge to your left and the ocean to your right, the next 4 ½ miles are impassable at high tide.
You'll walk along a slim strip of rock, with the ocean on one side of you and towering cliffs on the other. You do have a couple of options to wait out the high tide during this stretch. Shipman Creek and the sandy beach at Buck Creek both have spots to camp to avoid the tide.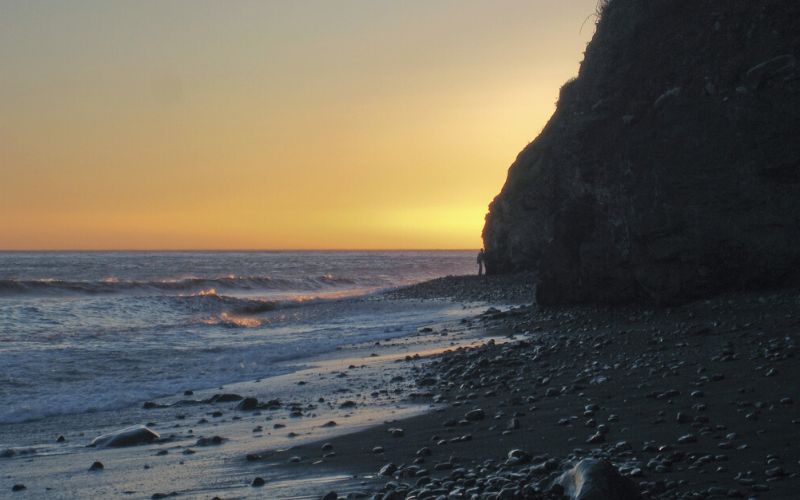 As you get close to Gitchell Creek the beach gets wider. This area is passable during high tide. You will have made it through all the unpassable zones by now. However, the sand here is loose and more like gravel, so the going is slow in this area. There's plenty of driftwood around tide pools, and shorebirds are everywhere as well.
Soon, you'll be arriving at Black Sands Beach and Shelter Cove, which is the end of the northern section of the trail. Stop to take some pictures of the black sand beach with the Pacific Ocean as a stunning backdrop.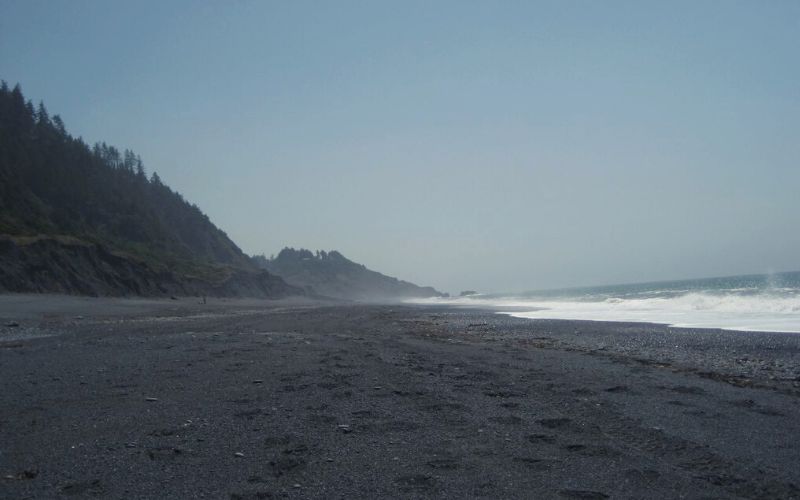 At the Black Sands Beach Trailhead, you will be officially done with your Lost Coast backpacking trip. There are food and drinks at the Shelter Cove general store nearby. There is no overnight camping at the Black Sands Beach Trailhead, but you can camp close by – the Bureau of Land Management allows camping north of Telegraph Creek.
That's it! Now you will have completed the entire hike of the Lost Coast…
…unless that is, you want to extend your trip with a visit to Sinkyone Wilderness State Park. This park is south of here, and technically the Lost Coast Trail continues through here. If you want to hike Sinkyone Wilderness State Park, your best bet is to drive three miles south to the trailhead.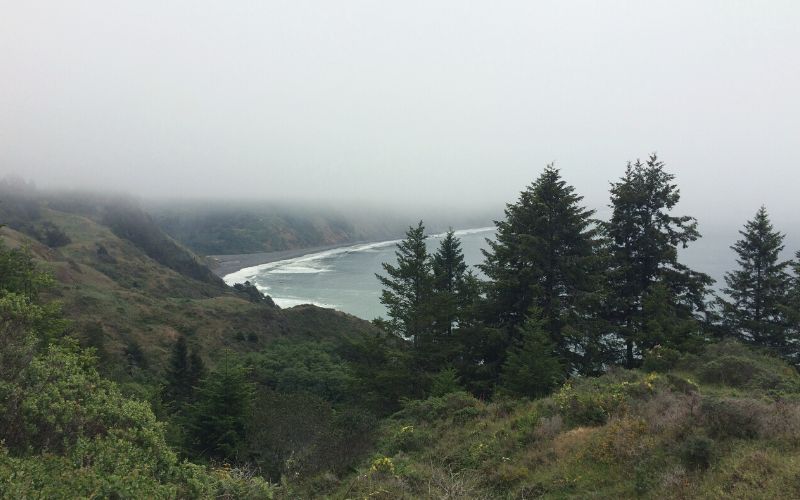 Enjoy Your lost coast trail hike!
We hope you found this guide to hiking the Lost Coast Trail helpful in planning your next adventure. Have any questions? Did we miss something? Leave us a comment below!
And as always, feel free to share this with a friend!