Connecting eight 4,000+ ft. summits throughout the western half of the beautiful Pemigewasset Wilderness, the Pemi Loop is considered one of the most sought-after accomplishments for all hikers in the northeast United States. Incredible ridgelines and numerous miles hiking above the treeline make for an awe-inspiring adventure through some of the White Mountains' most impressive scenery.
It's a serious undertaking, however, and just like the nearby Presidential Traverse, requires high-mileage days, considerable elevation gain, and lots of stamina to complete. There's a reason Backpacker Magazine once named this as the United States' second hardest day-hike.
Overview
Type of Trail
The Pemigewasset Loop is not a, formally, recognized trail. You won't find any signs indicating its existence or directing you to its start. Instead, the 'Pemi Loop' is achieved by connecting numerous trails that, ultimately, form the memorable loop for which this hike is designated.
It is popular, not just for its rugged terrain and powerful views, but also for its circular routing that allows you to start and finish the hike at the same point, with no shuttle or complicated transportation logistics required.
Further reading: If you fancy trying a few more hikes in the area, then check our guide to some of the best campgrounds in NH article.
Terrain Considerations
While the Pemi-Loop does follow maintained trails throughout its circumference of the western half of Pemigewasset Wilderness, varied terrain is an integral part of the experience. You will pass through dark forests, over and down exposed, rocky summits, and across numerous undulating ridgelines. Difficult footing will be a theme and you shouldn't expect many sections where you can, simply, cruise without minding where you are placing each step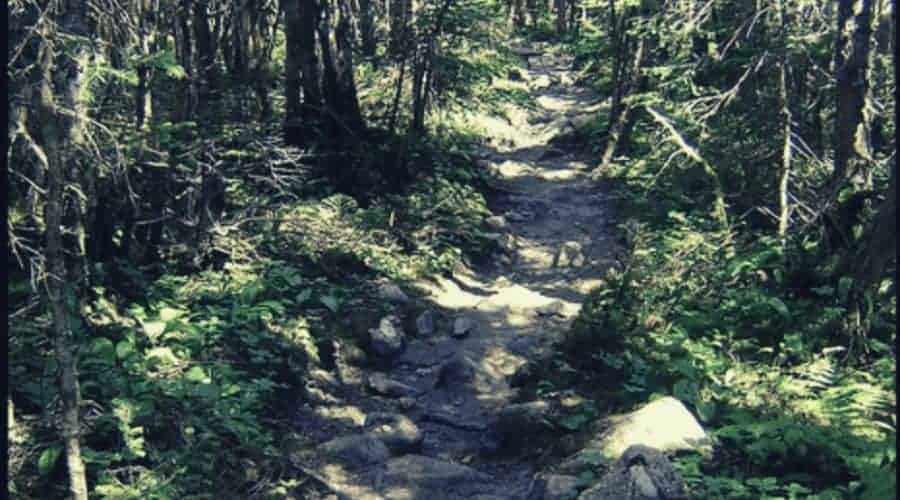 Difficulty
The challenge presented for Pemi Loop hikers can vary considerably based on weather conditions. Here are the key stats that contribute to the trail's difficulty:
31.5 miles in length (If summiting the four, optional, nearby summits, add 6.9 miles)
9,000+ ft. of elevation gain (18,000+ ft. change)
Rocky, rooty, uneven footing
Undulating ridgeline terrain (constant ups and downs)
Hiking above the treeline exposes you to high winds and colder temperatures
Water sources are far apart, meaning you must carry extra water weight for long stretches
Planning for the Pemi Loop
Best time to hike the Pemi Loop
As with most hikes within the White Mountains National Forest, the Pemi Loop can be completed during any month of the year. If you are not familiar with the contributing trails or don't own the specialized equipment necessary for winter travel, we recommend June through September as the ideal window for favorable conditions. Dry rock and long daylight hours will, significantly, aid you in your first attempt on the Pemi Loop.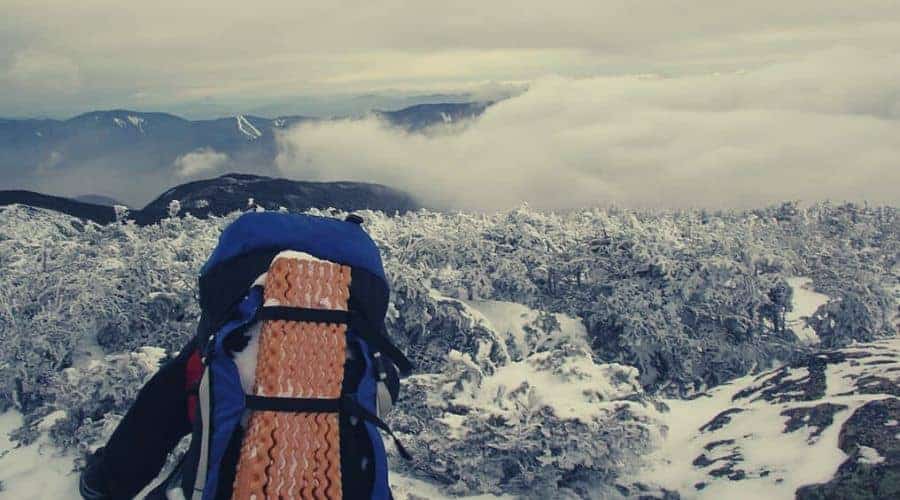 Permits
There is a daily recreation fee required ($5/day) for leaving your vehicle at the Lincoln Woods Trailhead. Backcountry camping within the Pemigewasset Wilderness does not require a fee or permit. Consider an annual pass, which is only $30, if you'll be spending 6 days or more in the Whites.
Those planning to utilize the lodging and meal services offered at one of the famed Appalachian Mountain Club huts will need to reserve online in advance of their hike. Stays at the huts are expensive, but they can add a unique element to your hike with fresh meals, camaraderie amongst other hikers, and a lighter pack due to less camping equipment.
Trailheads
The main access point for the Pemigewasset Wilderness and the traditional start to the Pemi Loop is located at the Lincoln Woods trailhead, immediately off of the scenic Kancamagus Highway (Rt. 112). Look for it on the north side of the highway, 2.5 miles east of Loon Mountain Resort.
There are several other access points to the trails and individual summits contained within the loop for day hikers or those who want to scout a smaller section of the overall route. While these access trails are seldom used by Pemi Loop hikers, being aware of their location can be helpful in the event of an emergency or early exit from the full loop.
Pemi Loop Trail Description
Below, we have described the traditional Pemi Loop hike, which begins at the Lincoln Woods Visitor Information parking lot and traverses the loop's many peaks in a clockwise direction. We have, also, listed each trail that comprises the larger loop so that you can begin to familiarize yourself with the different trail names to spot once on your hike.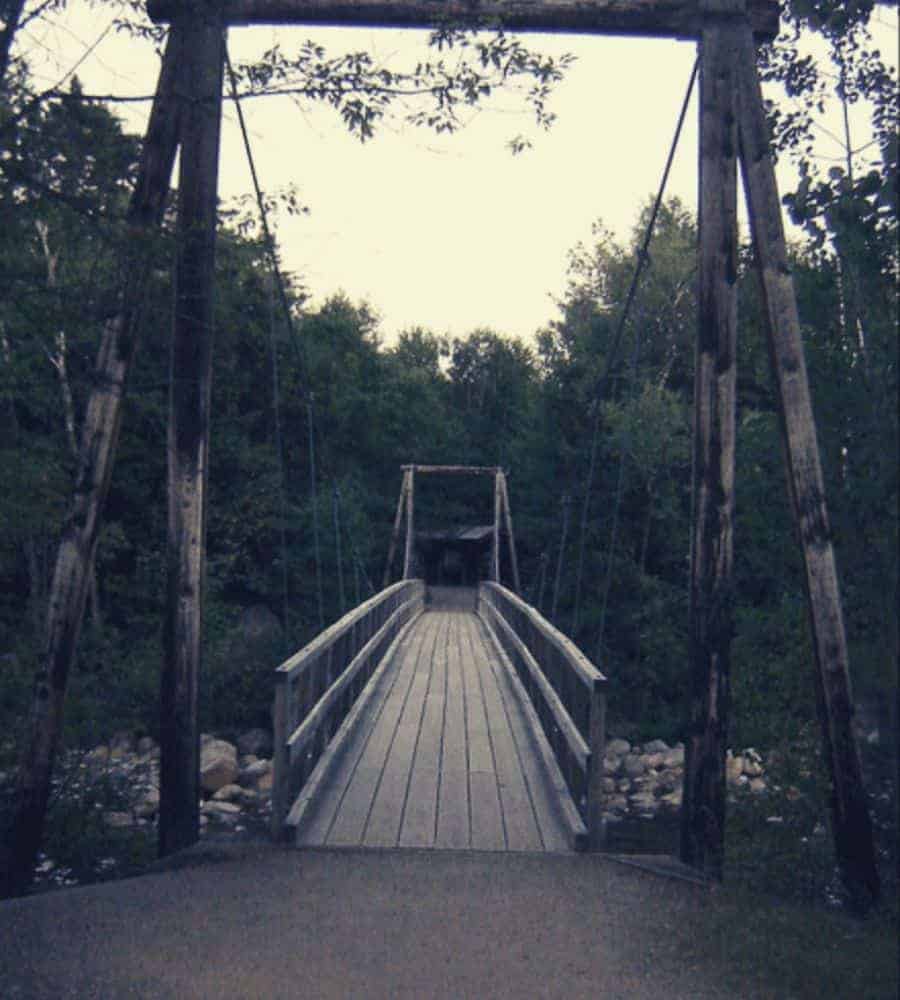 Outside of elite endurance athletes or experienced backpackers who may choose to attempt the hike within a 24-hr period, most will enjoy the Pemi Loop via a multi-day backpacking trip.
The trails that form the Pemi Loop (Listed in the order of their appearance when hiking the loop clockwise)
Lincoln Woods Trail
Osseo Trail
Franconia Ridge Trail
Garfield Ridge Trail
Twinway Trail
Bondcliff Trail
Lincoln Woods Trail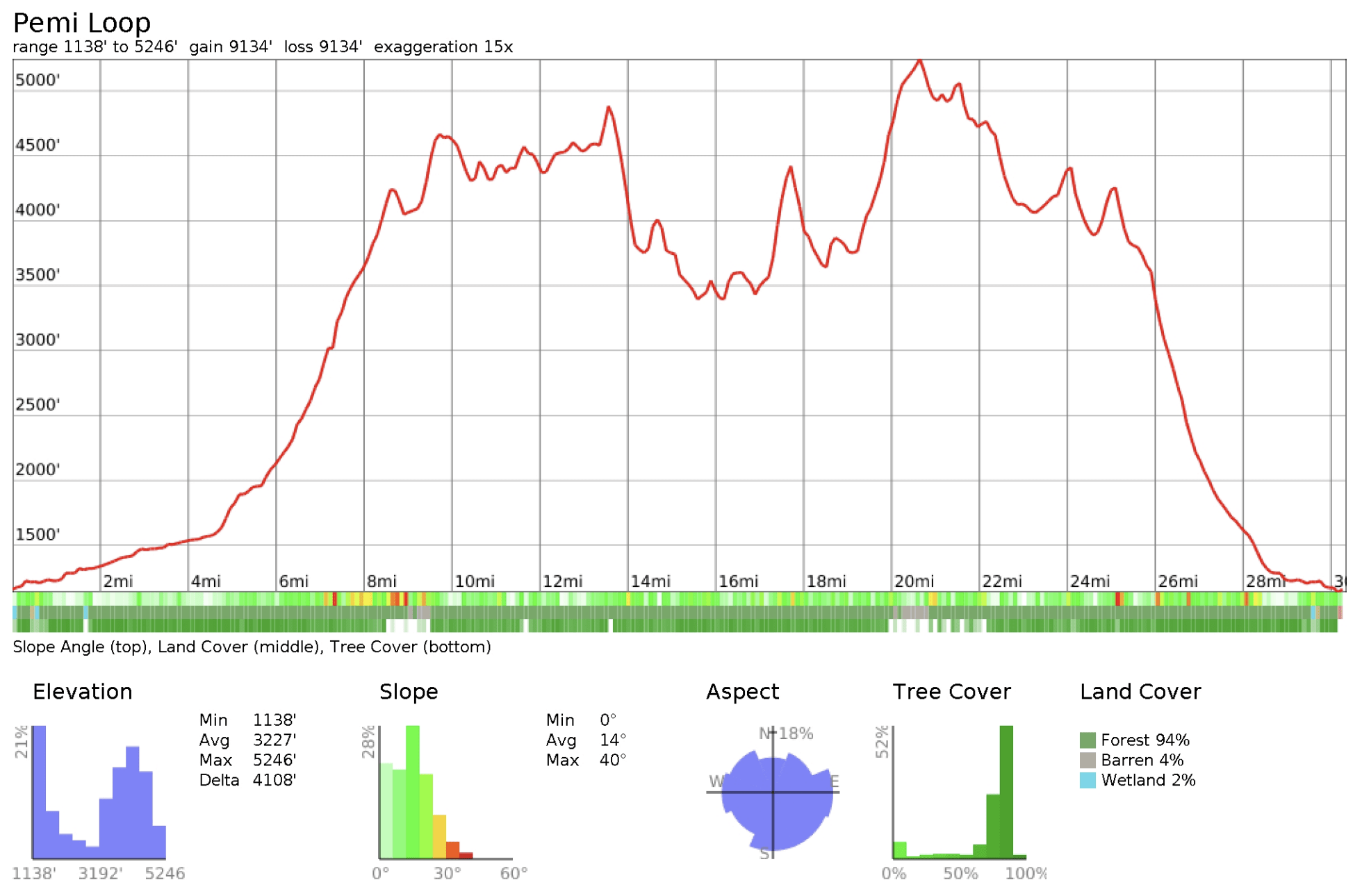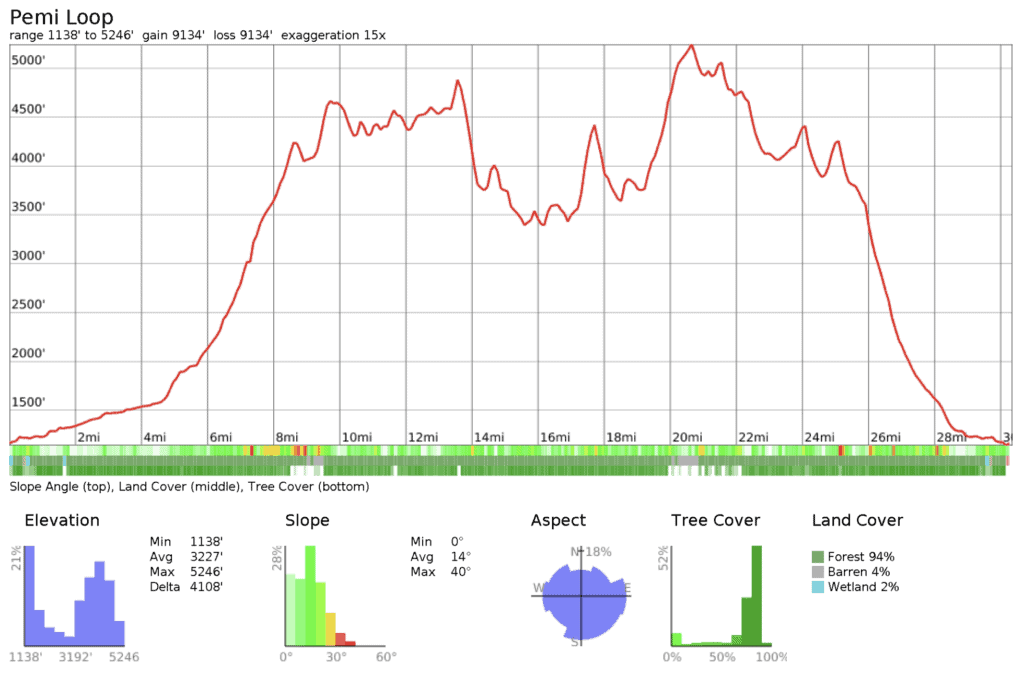 Lincoln Woods Parking to Garfield Ridge Shelter
After parking your car at the Lincoln Woods Visitor Center (remember to display your annual pass or self-pay at the kiosk), look for the suspension bridge that spans the east branch of the Pemigewasset River. Follow the wide, easy path that begins on the other side of the bridge, through the forest on the Lincoln Woods Trail. Turn left onto the Osseo Trail where you'll begin the first of many climbs.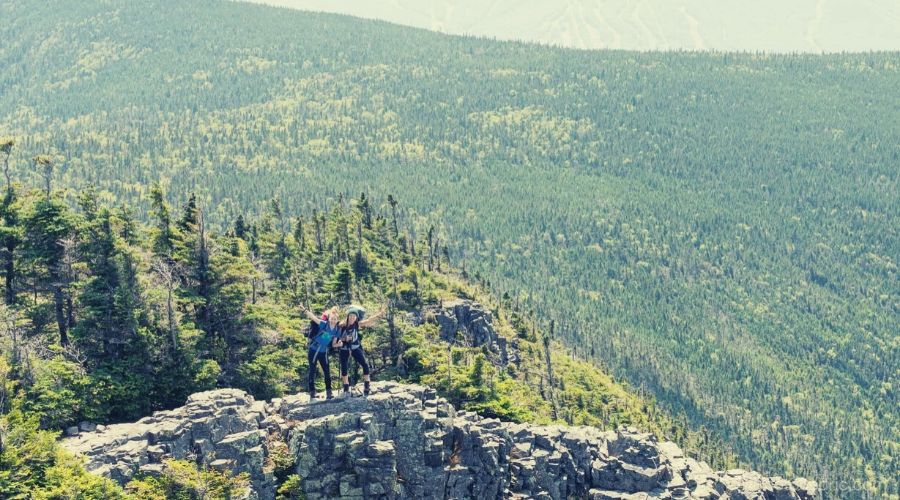 Consistent uphill hiking and numerous staircases through the woods will leave you longing for a break and a view when you arrive atop the first prize along this loop, Mt. Flume. Once you reach the 4,328 ft. summit of Mt. Flume, you will have completed the single biggest elevation push along the entire hike.
Incredible vistas and many miles of iconic ridgeline hiking are your rewards as you begin the traverse along the Franconia Ridge, which takes you to Mt. Liberty and Little Haystack Mountains, both 4,000+ ft. peaks.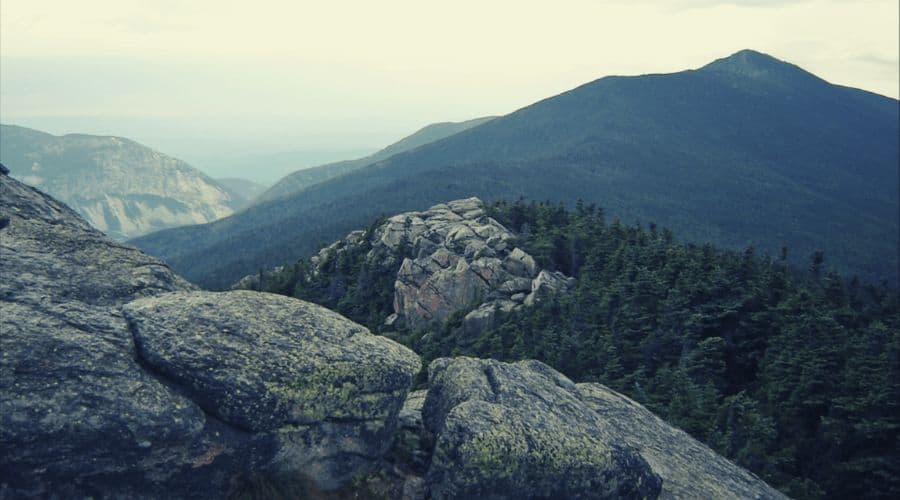 *Note: There is a designated tent site location and a natural spring for refilling water, which is sparse along the ridge, on a trail that you pass 0.3 miles on the left after the Mt. Liberty summit.
The section of trail that takes you above the treeline over Mt. Lincoln and Mt Lafayette is a favorite for many Pemi Loop hikers. Moderate hiking, paired with 360° views throughout, is more than enough incentive to keep moving forward.
As you transition onto the Garfield Ridge Trail, get ready for some 'techy' hiking without the expansive views seen earlier that can help with motivation for tired legs. The trail descends steeply before re-establishing the uphill push past Garfield Pond to the summit of Mt. Garfield. Rocky, steep, wet sections of trail will require constant focus on your footwork. Scrambling will be necessary for some sections.    
Garfield Ridge to Guyot
As you continue along the Garfield Ridge Trail, which is also the Appalachian Trail for the entirety of this section, you'll notice several changes in elevation which can make for strenuous hiking. Once you reach the Galehead Hut, a scenic place to refuel and share stories with fellow hikers, you will have to make your first optional summit decision.
The standard Pemi Loop can be completed without summiting Galehead Mountain. For those who'd like to claim this additional 4,000+ ft peak, however, it is only a 1-mile round-trip hike via the Frost Trail. There is a wonderful lookout just shy of the summit (forested, no view), from which you can scout the three 'Bond' mountains, the Pemigewasset Wilderness' central expanses, and the Galehead Hut where you were moments earlier.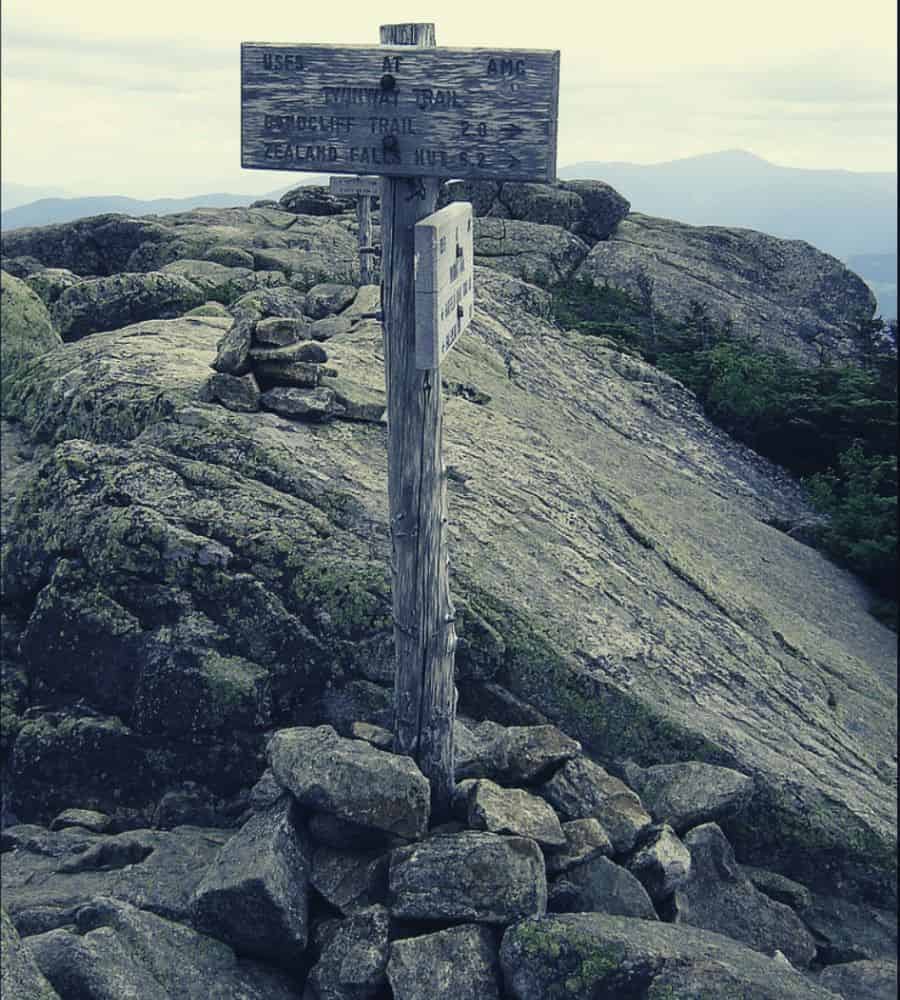 Regardless of whether you added Galehead Mountain to your trek, you will now continue onto the Twinway Trail for a final push to the 4,902 ft. summit of South Twin Mountain. Backpackers and day-hikers alike should be prepared for an exhausting section of trail, thanks in part to the number of miles already accumulated, and the steep, rocky nature of the terrain here.
Thankfully, the final three miles along the Twinway to the Guyot campsite and shelter mellow out considerably as they navigate past Mt. Guyot (only a short spur from the Bondcliff Trail turnoff).
Guyot back to Lincoln Woods
Rejoice, you're on the home stretch! Passing the Guyot campsite will bring you to another optional summit. West Bond sits exactly 0.5 miles from the Bondcliff Trail and is a popular way to add another of the, famed, 4,000+ footers of New Hampshire.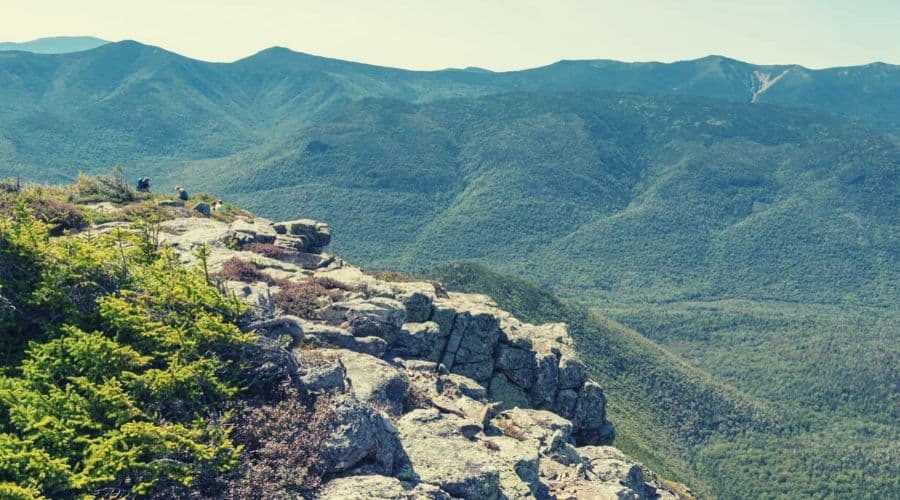 The final ascent of your journey takes you to one of the most iconic places in all of the White Mountains, the summit of Bondcliff. There is no route to the top of Bondcliff that requires less than 9 miles of difficult hiking. This remote, rocky, summit ridgeline is a powerful place from which to soak in the wildness through which you've been hiking. Be sure to identify the Franconia Ridgeline to your west, as an impressive source of reference for how far you've come.
Here is where the real advantage of hiking the Pemi Loop clockwise shows itself. When your legs are at their most tired, nearing the end of your hike, you get 9.1 miles of moderate, downhill trail. The final 4.7 miles along the Bondcliff and Lincoln Woods Trails can seem to go on forever but enjoy the fact that the footing is great and the terrain is flat.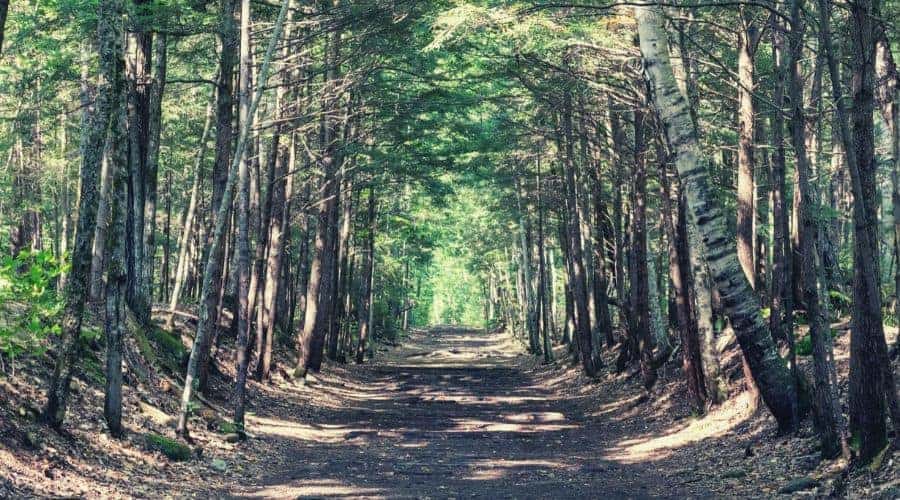 Relish the accomplishment that comes from crossing the bridge where you began your journey many miles earlier. Completing the Pemi Loop is regarded as one of the top accomplishments for many White Mountain hikers.
Good to Know
This hike is hard…even by New England standards
If you and your friends are the masochistic types who find immense joy during sufferfests within beautiful landscapes, then rest assured, the Pemi Loop is more than capable of delivering. Backpacker Magazine once listed the Pemi Loop as the second hardest day-hike in America.
This hike is guaranteed to test you physically and mentally whether you attempt to hike it in 8 hours or 4 days. Oh yeah, did we mention that the Pemi Loop's 18,000ft. of overall elevation change was more than any other hike listed in Backpacker's top ten? Might as well accept it now. If you do this hike, you are going to get worked.
New Hampshire's liability statute
New Hampshire law allows for you to be billed for any search and rescue that was the result of poor planning or other negligence. This can include a lack of weather preparedness, improper gear, or the lack of stamina to justify participating in a big mileage hike.
The state's HikeSafe website states very clearly, "Hikers who aren't prepared for the extremes of New Hampshire's terrain and weather may want to reevaluate their plans for outdoor adventures."
AMC Huts found along the Pemi Loop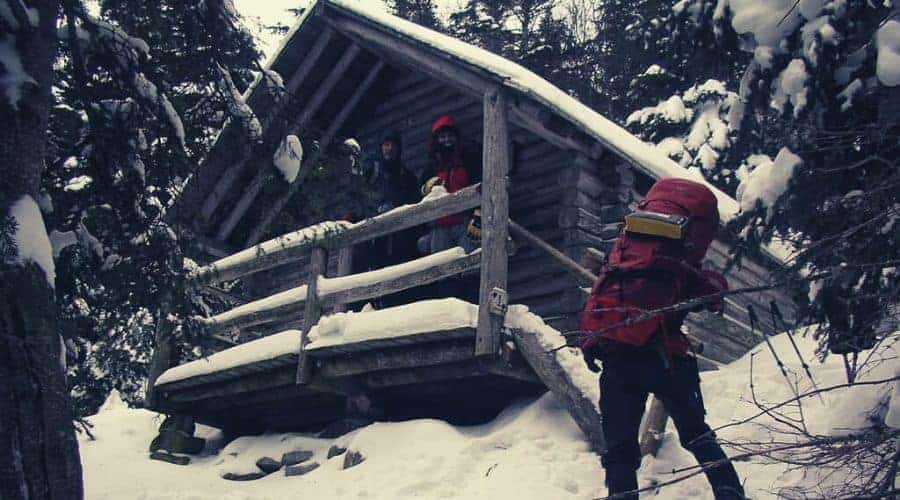 The Appalachian Mountain Club has operated a series of huts within the White Mountains for over 125 years. These backcountry huts provide passing hikers with a place to stay, along with, seasonally, staffed kitchens for home-cooked breakfasts and dinners, all within stunning locations.
There are two of these huts located along or near the Pemi Loop. If you are looking for a unique way to experience the Pemi Loop in a more comfortable fashion, consider a night, or two, at either the Greenleaf or Galehead Hut. While the luxury of running water and home-cooked meals does come at a price, it's hard to beat the joy of delicious food with new friends after a long day of hiking. Advance reservations are required for an overnight stay at any AMC hut.
Designated campsites along the Pemi Loop
Camping along the trails that comprise the Pemi Loop can be a difficult task considering the undulating terrain and strict forest service regulations (see below). To help minimize impact and provide overnight hikers with suitable campsite locations and water access, the forest service has established three designated campsites along the route.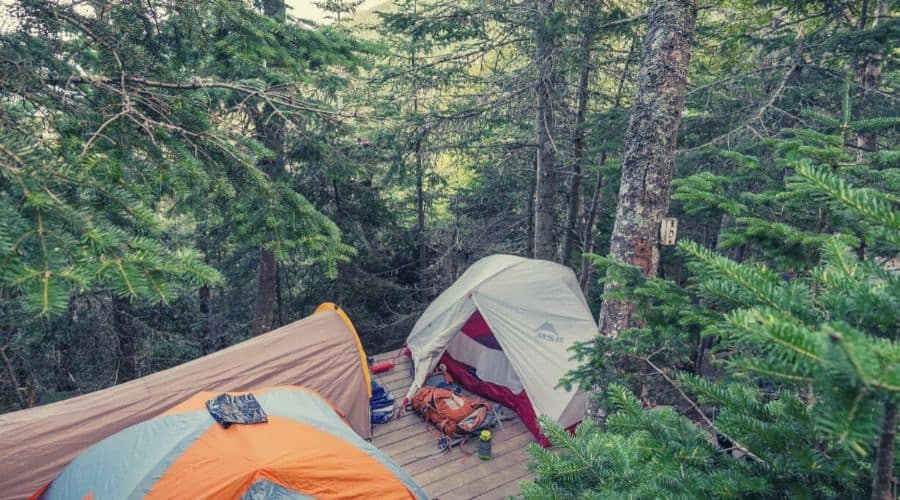 If you are planning to do a multi-day backpacking trip on the Pemi Loop, these will be your best options for overnight camping. They are first-come, first served and cost $10/night during the caretaker season.
| Campsite | Distance | Water? | Shelter? |
| --- | --- | --- | --- |
| Liberty Spring | 7.3 miles | yes | no |
| Garfield Ridge | 14.9 miles | yes | yes |
| Guyot | 20.5 miles | yes | yes |
White Mountains National Forest Backcountry Camping Regulations
Those who may scoff at the notion of paying for a backcountry campsite should know the following USNF regulations for camping within the White Mountains:
No camping within a ¼ mile of any hut, shelter, trailhead, or designated campsite
No camping above the treeline (dictated by areas where trees and vegetation are less than 8 feet in height)
No camping within 200 feet of any trail
No camping within a ¼ mile of the Pemigewasset River
There are several backcountry campsite options along the Pemi Loop that meet these criteria, however, they are few and far in between.
Suggested Gear Lists
Choosing what to carry for a hike of the Pemi Loop will, largely, be determined by your time objectives, your preferred style (comfort vs. ultralight backpacking), and general gear preferences. Remember, there are certain essentials that should always be a part of your kit, especially on terrain as rugged and remote as found on the Pemi Loop.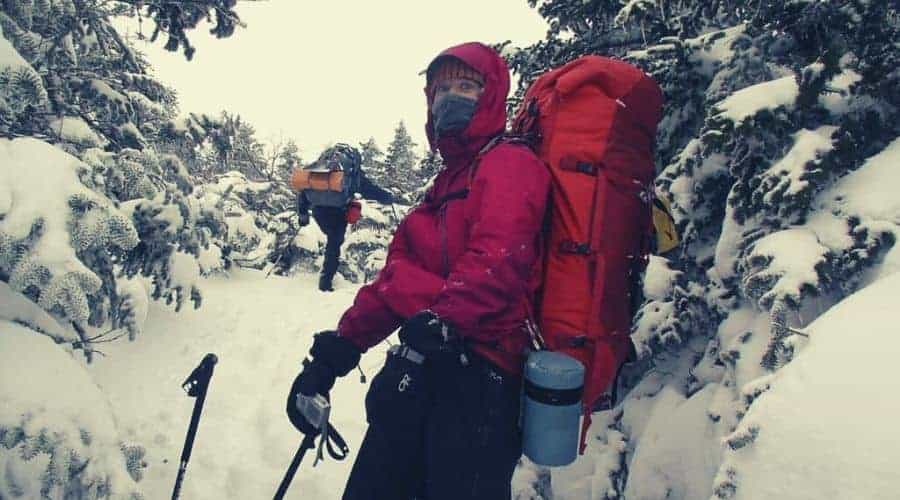 We've provided a sample list below of gear to consider for an overnight backpacking trip on the Pemi Loop. Since the 31-mile loop is a popular test for mountain endurance athletes, we've also included a sample list for done-in-a-day missions.
Gear for backpacking the Pemi Loop
Clothing
Hiking shorts or pants
Synthetic or merino-wool base layer top – I prefer a chest zipper for increased versatility!
Packable rain jacket
2 pair socks
2 pair of quick-dry underwear
Light or midweight baselayer to sleep in – don't hike in this or you'll soak it with sweat
Optional: hat – sun protection can be important along ridge traverses
Footwear
Lightweight trail runners or hiking shoes
Optional: camp shoes – usually not necessary if you avoid hiking all day in heavy boots
Gear
Lightweight backpacking tent
Sleeping bag rated to 40℉ or colder – nights can be cold in the White Mountains, even in summer
Sleeping pad
Optional: air pillow
Water purification device – we love the Steripen ultra
Optional: camp chair for comfort
Plate/bowl & utensils
Misc Gear & toiletries
Trowel & toilet paper
Knife
Headlamp
Map & Compass
First-aid kit
Toothbrush, toothpaste, biodegradable soap
Sunscreen &/or bug spray
Sunglasses
Daily journal or camera gear
Gear for trail running the Pemi Loop
Clothing
Lightweight, comfortable shorts – keep in mind chafing potential
Synthetic or merino-wool tee shirt
Socks with your desired level of cushioning
A windbreaker/rain shell can be crucial on this route due to the alpine feel of the ridgeline traverses – I'm a big fan of either the Patagonia Houdini or Black Diamond Alpine Start Hoody
Footwear
Gear
Minimalist pack or vest (preferred option for limiting movement while running yet still enough room for essential foods, hydration, and emergency items)
Headlamp and extra batteries
Folding sheath knife
Sunglasses
Optional: hat for added sun protection or to help with sweat management
Hydration reservoirs
Water treatment/filter device – Check out the Steripen Ultra which is small, lightweight, and needs only 90 seconds to treat a full liter of water
Food and water
You'll want multiple sources of food/energy – If you haven't run enough to know what works best for you (gels, chews, pretzels, sandwiches, etc.), then you are not ready for the Pemi Loop in a day!
Have the ability to carry 2L of water for long sections between water sources
Additional Considerations
A personal locator device capable of sending a message to a friend or family member is strongly recommended for anyone who plans to hike the Pemi Loop alone
Small camera or cell phone to help capture memories from your big day
Additional Resources