We know the score. You want to keep all of your essential gear or irreplaceable items in your backpack with you in the cabin. However, if it doesn't fit the airline's carry-on standards, you'll need to check your pack into the hold and take some steps to ensure it arrives undamaged.
With carry-on restrictions on size and weight, it might take a bit of planning before you board, but it is possible to take your pack with you on the plane.
If this sounds like a lot to consider before taking a flight, don't worry! Check out the guide below and we'll explain everything you need to know before flying the friendly skies with your pack on board.
Remember, the following is a guide only, so always check with your airline for specifics before flying.
Can You Take Your Hiking Backpack in the Cabin?
If it fits in the restrictions for size and weight and any other specific airline rules, hiking backpacks would be considered a carry-on item.
Most airlines allow 35 pounds for a carry-on bag, although some are as low as 22 pounds.
The most common maximum size is 22 inches x 14 inches x 9 inches. Backpacks with a carrying capacity of up to 30 liters in size are typically within the guidelines, but it depends on the airline. Larger backpacks are usually too big for carry-on requirements, but this will also depend on how much stuff you squeeze in them, as many have more slender frames.
Weigh and measure your pack at home, well before your departure date, to give you time to adjust if needed.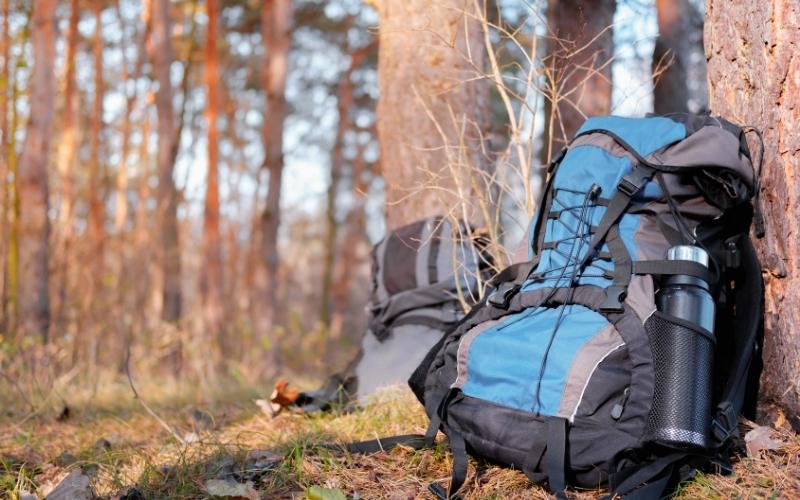 How to Pack a Backpack for Air Travel
Anytime you travel, you should keep all essential items in the luggage you take on board the plane with you.
For backpackers, that's basically everything you're taking to survive in the wilderness. But think about what you could and couldn't replace once you land. That custom sleeping bag that took almost two months to get to you? Shove it into a stuff sack and don't let it leave your side.
Take all your expensive or irreplaceable gear with you on the plane and check everything else in a cheap duffel bag or travel pack.
If you have to check your pack, secure or remove any loose shoulder straps, compression straps, hip belt, or clips – anything that could get tangled up in the conveyor belts or stuck on something as workers transport luggage. The last thing you want is to land at your destination with a torn shoulder strap or a broken clip.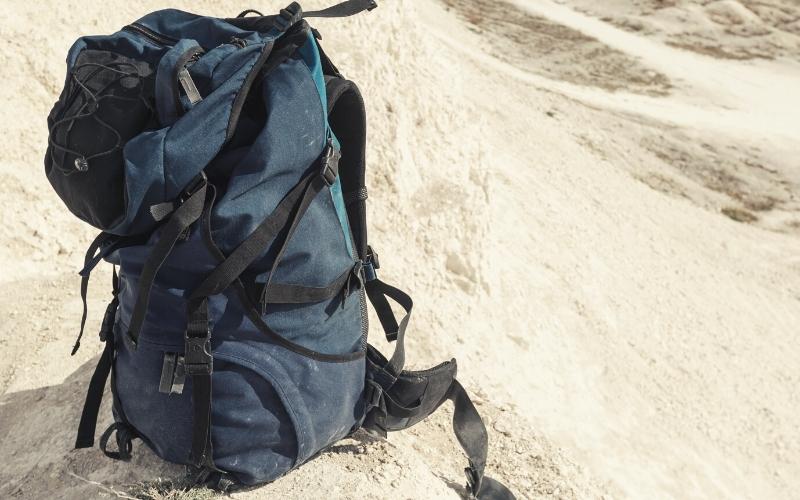 You can also use a backpack travel cover to help protect your precious cargo. Some of the same brands that design packs offer these covers, so you might find one specifically made to fit your hiking pack. You can also use your pack's included rain cover to tuck in any loose ends.
What Hiking Gear Items Can I Take On a Plane?
There are specific items prohibited from being brought on board a plane, primarily for safety reasons as mandated by the TSA. As frequent fliers know all too well, individual liquids of more than 100ml (3.4 ounces) or a combined allowance over 1 liter (1 quart) are prohibited. But there are a number of hiker-specific items on the TSA list.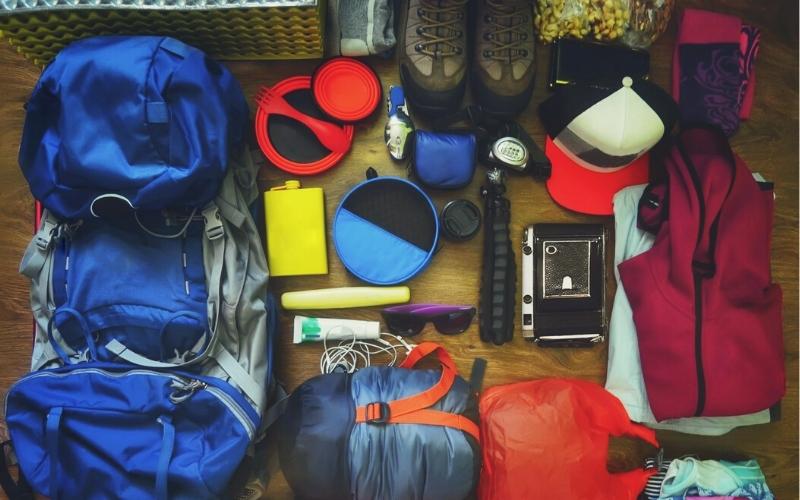 Sharp Objects
The TSA also bans sharp objects like large and small pocket knives, ice axes, and tent stakes and poles from your carry-on bag. These items are allowed in checked baggage but should be sheathed or securely wrapped (so the baggage handlers and inspectors don't accidentally get injured).
Typically, crampons are allowed in your hiking backpack carry-on. However, direct from the TSA: "officers have the discretion to prohibit an item if they feel it may pose a security threat." The decision is up to the individual TSA officer whether an item is allowed through a checkpoint, so to err on the side of caution and not be forced to leave them behind, put your crampons in your checked bag.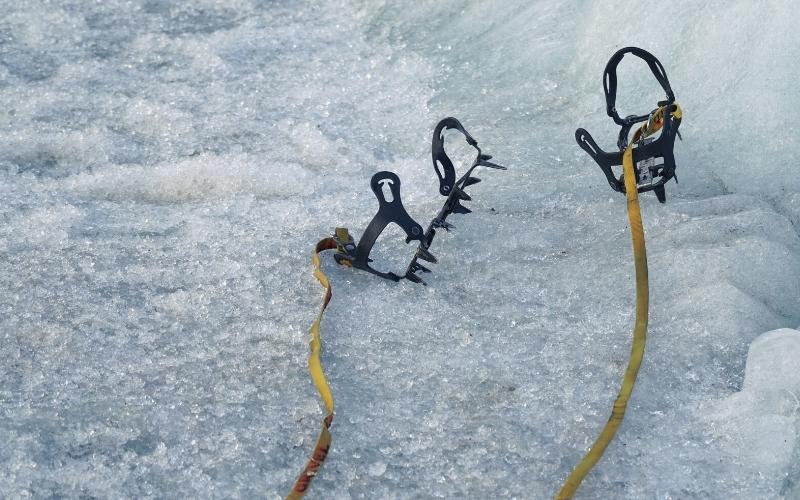 Aerosols
Bear repellent is not allowed in either piece of luggage. Pepper spray can be checked. Bug repellent can be brought on board (less than or equal to the allowed 3.4oz/100 ml) or checked, but only bug sprays that are applied to the skin (not repellents designed to be sprayed in the air or at the insect). But there are special instructions for all of the above.
The total amount of aerosols allowed in checked baggage is limited to 2 kg (70 ounces) or 2 L (68 fluid ounces) per person by the FAA. The capacity of each container must not exceed 0.5 kg (18 ounces) or 500 ml (17 fluid ounces).
The aerosol nozzle/release device must be protected by a cap or similar to prevent accidental release.
Trekking poles are allowed in checked bags. Some adventurers have been known to take their hiking poles in the cabin with them, but it's up to the TSA officer whether or not to allow them. 
Other Hiker Gear
A backpacking stove is allowed in either a cabin or checked bag, but only if they are empty of all fuel and cleaned so that no fuel vapors or residue remain. Since you can't carry stove fuel with you at all, look at the inventory of outdoor stores near your destination before deciding what stove to bring.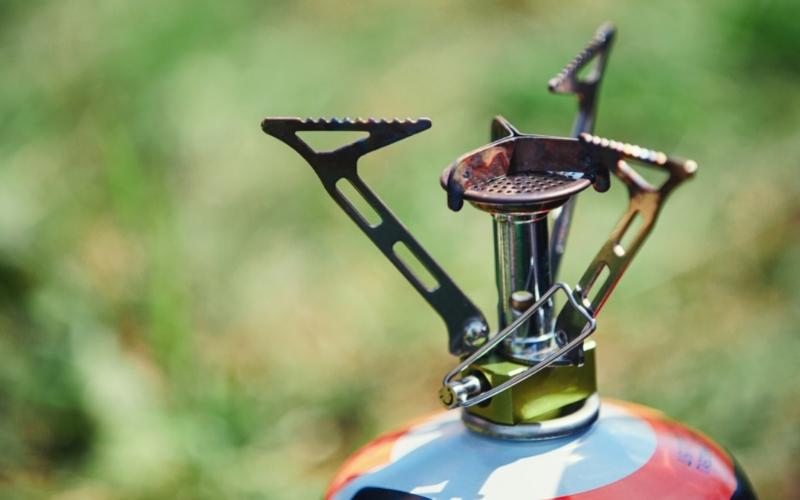 Tools like garden trowels that are shorter than 7 inches are allowed in your bag on board with you, but this is another item the TSA agent at the checkpoint has the final say on whether to let through or not.
Also not allowed to be brought onto the plane are firearms, lighters, matches, or other flammable items.
You can check specific items on the TSA website.
Further Tips
Some airlines allow for an additional "personal item" like a purse or smaller bag. Take advantage of that storage space if you have a few extra gear items you don't want stuffed into the overhead compartment, like a camera or personal locator beacon, or heavier items you don't want to be included in the carry-on baggage weight.
If you can't take an item on board the plane, but don't want to check it and it's too expensive or customized to purchase when you land, you could ship gear to your destination. If you're hiking along a popular thru-hike trail, there are sure to be a number of resupply stores that will accept packages for you.
Use every compression bag or stuff sack you can to try and minimize bulky backpacks. This will help fit your pack into the measurement standards.
Wear your heaviest hiking clothes to help your luggage meet the weight restrictions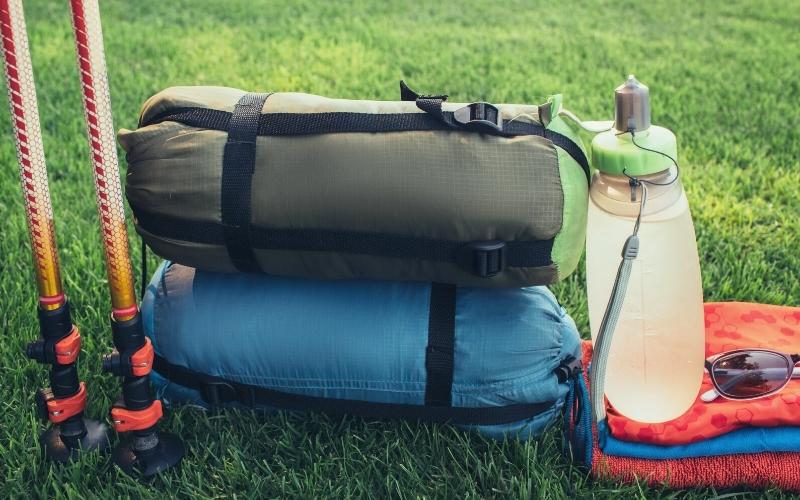 Our Favorite Carry-On Compliant Travel and Hiking Backpacks
1. Osprey Stratos 36 L
While the dimensions of this travel backpack are a little outside the common carry-on measurements, you might find an airline that allows slightly bigger bags on board. If you have to check it, you can use the removable and integrated rain cover to help tuck in any loose straps. As with all Osprey packs, it's a winner on the trails.
2. Patagonia Nine Trails 28 L
This lightweight hiking backpack just barely fits under the common measurements for the maximum size of carry-on bags, so it's your best bet to bring your pack on board with you. This awesome bag has a u-shaped main zipper that allows you to get to your gear quickly, which you might need to do while at the airport.
3. Gregory Zulu 30 L
The measurements of this extremely durable day pack are also right on the edge of the typical maximum carry-on bag size. With some creative packing and compressing, you have a good chance of boarding the plane with it by your side. The u-zipper also helps you access anything you need quickly.
Hiking Backpack as Carry-On Luggage: Final Thoughts
If you plan before your flight and pack accordingly, you should be able to make it through TSA with all your gear along for the ride (either with you or in the cargo bay), and you'll be out on the trail in no time.
Remember to check your specific airline's regulations and TSA restrictions, as things may change before your flight.
Hopefully, this guide helped you plan for your next flight with all your hiking and backpacking gear (and at no extra cost!). If you have any questions, ask them in the comment box below. And feel free to bookmark this post for any future flights to your next outdoor adventure!