The Best Stoves for Backpacking
Looking For A Great Folding Camp Stove?
You're in the right place! In this guide, we will be covering the following:
Why you need a backpacking stove
What you should consider when buying small stoves for camping.
Reviews of the top backpacking stoves on the market
Our unbiased recommendation on the #1 pocket stove for backpacking
Backpacking is a great experience, but when you are out in the wilderness, do you expect to have a warm dinner at night before you settle in for the evening? Do you like to enjoy a cup of coffee as the sun rises in the morning?
If this sounds like you, then camping stove systems may make your backpacking experience more memorable. This guide is designed to help you decide to take which stoves backpacking with you..
Soto Windmaster
Jetboil Minimo
MSR Windburner
MSR Dragonfly
MSR MicroRocket
Jetboil Flash Lite
Editors Choice
MSR Windburner
Standing above the rest, the best canister stove for backpacking is the MSR Windburner – it is a great fuel efficient option that does not lose its dependability in windy conditions. It can be used to boil food in as little as three minutes.
It also has a very stable base that can accommodate most of your backpacking needs, and it has a convenient cup that you can eat from.
When you're on "the hoof" it folds down small, and weighing only just over a pound it'll do little damage to your overall pack weight.
Overall, the MSR Windburner performs well in all categories and is our preferred pick as the perfect stove for your wilderness needs.
Backpacking Stove Fuel Type
There are a few different fuel types when it comes to backpacking stoves that you should consider. Each stove fuel type has its pros and cons, so you will need to figure out which type works best for your needs. Let's take a look at a breakdown of each starting with the fuel type.
Liquid Fuel Stoves
Liquid fuel stoves are perfect for longer expeditions where you will be out in the wilderness for quite some time. They work especially well when you are traveling with others because they are an extremely versatile option. A liquid fuel stove is very stable and can be used with most types of cookware. Also, they offer a fuel efficient burn that gives you the possibility of more meals over a longer period of time. They can burn any type of liquid gas, including diesel and white gas, and when you are done cooking, the stove can easily be taken apart to be cleaned.
Integrated Canister Stove System
Integrated canister stoves are very popular choice for when you want to boil food or water on your backpacking trip. Canister stoves are designed so that a heat exchange pot sits right on the burner, which makes this a canister stove a great option for boiling water for coffee, tea, or even hot cocoa.
You can also quickly cook hot dogs, ramen, soup, or even pasta dishes when you are hungry. Canister stoves are very fuel-efficient because they are designed with an insulated pot that holds the heat. High winds can affect the temperature, so if it is freezing and windy, then there may be a need for a sheltered location to block some of the weather.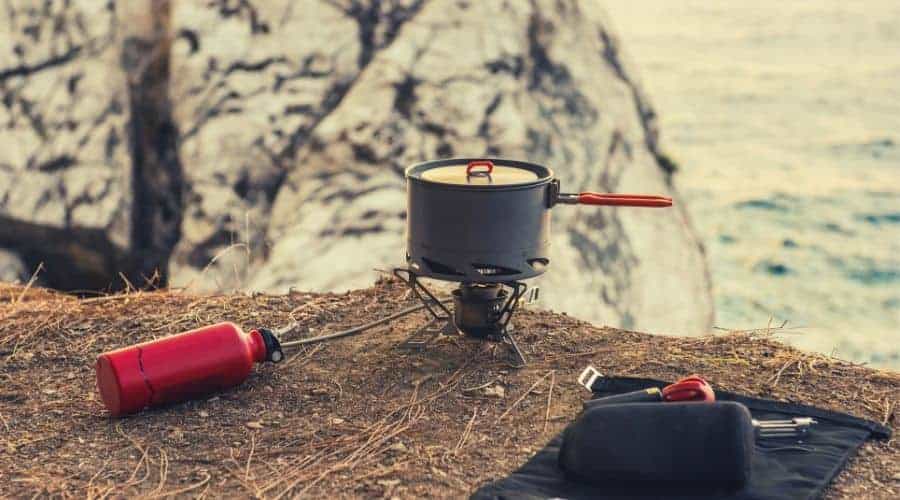 Solid Fuel Stoves
These solid fuel stoves are perfect for lightening your backpack and the load that you need to carry on your expedition. These backpacking wood stoves are highly appreciated by ultralight enthusiasts who view their lightweight as a plus.
A wood stove for backpacking does have some limitations though, as they are less functional when compared to a canister stove, as there is no way to control the temperature of the heat as you cook, and since you are cooking at such a high heat, food can quickly burn.
With wood burning stoves, you also are required to find wood as fuel, which means that during your backpacking trip, you could hike into an area where everything is damp, making dry wood difficult to locate. The flip side of this is of course again, weight as you do not have to carry fuel with you.
Alcohol Stoves
An alcohol stove is perfect for when you need to restock fuel during a long trip because it is much easier to find alcohol off of a trail than actual fuel bottles. They are ideal for boiling food and liquids. However, there is no precise way to control the cooking temperature of alcohol stoves.
Factors For Consideration
Not all stoves are made equal, nor are the needs of every user similar. Like most things in life, it is not often that you can have it all. Hence, it is important to consider what you wish to use it for, and as such which factors will be of greatest importance to you.
Fuel Efficiency
The category of fuel efficiency takes more than the burn time of the fuel into account; it also considers factors like the insulation of the pot and the wind resistance as well. Having a fuel efficient stove is imperative so that you can use less fuel each time that you need to cook. If you are traveling for a few days, you will not need to take quite as much fuel with you, which means that when packing a backpacking pack you have more room for other important things.
Backpacking Related Further Reading
Looking for a little bit of foodie inspiration for your next trip, then check out our guide to the backpacking meals.
Not sure what else you need to take? Then check out our 3 day backpacking checklist.
Just be careful that you bring enough fuel because running out when you only have dried or frozen food remaining in your pack could mean that you have to go without a meal or two. A more fuel efficient stove is also better for the environment. The best way to prepare for a backpacking trip is to calculate the amount of fuel that you will need for each day and bring a little extra, just in case you fall behind schedule during your expedition.
Integrated Canister stoves tend to be some of the most fuel efficient options because they are more wind resistant, which helps to keep the pot from cooling down, making it so that you need less heat to maintain the same cooking temperature. The screens act as a reflector as well, so the heat from the pot is reflected back, which increases the heat that you are cooking with.
Boil (Or Cooking) Time
This refers to the amount of time that it takes for the liquid in the pot to reach the boiling point. Most liquid fuel stoves tend to take a bit of time to reach this point because the pot needs to be primed before the water can begin to boil. The pot will be able to be primed in less than two minutes of time, so you should have boiling water in, at the most, about five minutes.
Small canisters stoves are a quicker option; in fact, with many of these we found that you had a rolling boil after about two to three minutes. The same time range is also required for an integrated canister stove to achieve a good boil.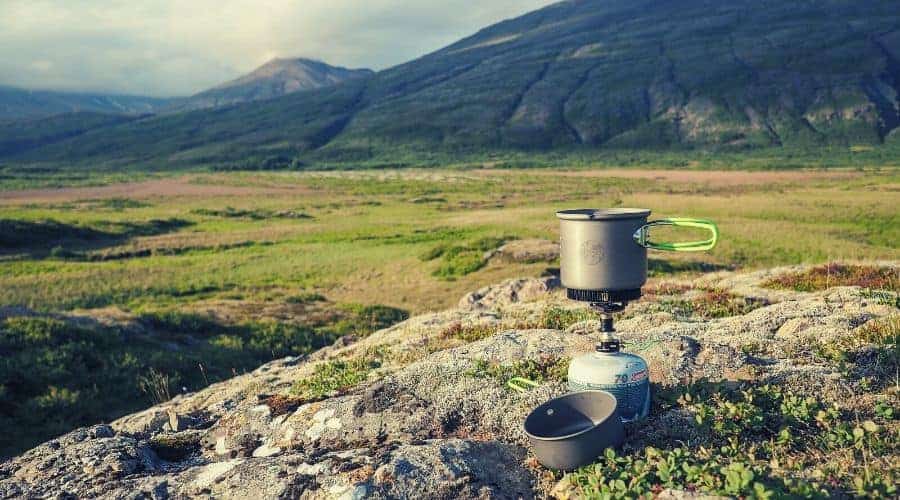 Stability
Remember, you will be putting a pot on the top of the stove that you decide to purchase, so it needs to be able to stay on the burner without the fear that it will become top heavy and fall over. Mini camping stoves that are lower to the ground with a wider base are often the best option, but they are not the only choice available to you. You can even find a stove that has legs to increase the stability. The downside is that these types of stability legs will add more weight to your pack, which may not be an option for longer trips.
Weight & Packed Size
The backpacking stoves on the market tend to vary in weight. You can find them as light as 2.5 ounces, but some weight as much as 15 ounces. Remember that you will be putting the stove in your pack, so you need to purchase one that is not going to be heavy or take up a lot of space. One of the considerations that you should make is whether or not the pot is included in the weight because if you have to carry an additional pot, it may end up weighing more in the end than a stove that includes the cooking pot.
Make sure that stove you select packs neatly in your backpack. Some models pack down so that the burner and the fuel can conveniently fit inside the pot while it is packed away, which can save a lot of space for other necessities that you may need.
Versatility
When you are in the wilderness, versatility is the key. You may want a backpacking stove that can use multiple fuel types so that you will never have an issue being able to cook after a long day of hiking. Is cooking on the stove that you are thinking of purchasing easy to do? Some compact stoves require you to use specific cookware, so if you already own cookware, make sure it is compatible with the stove. You will also want to consider the cooking options of each stove. Some only allow you to boil your food, while others offer a cooking surface that gives you more options.
Backpacking Stoves – Helpful Tips
Never use a folding campfire stove in a tent, it could cause a fire that would leave you without shelter for the night or put you at risk of getting carbon monoxide poisoning.
Always make sure that the fuel lines are not leaking before you turn on the stove.
Carrying storm proof matches could help ensure that you can always get a warm meal.
Always cook on a level surface.
For canister stoves, a pressure regulator will help to burn the fuel more efficiently.
Keeping the canister warm for a canister stove will help maintain the pressure up as well, which will ensure a better burn.
If you store your liquid fuel stove, it is best to empty the fuel tank of white gas before storing it for the winter.
The Best Backpacking Stoves Reviewed
Soto Windmaster
Best Ultralight Backpack Stove
One of the lightest mini camp stoves on the market. This compact stove only weighs a mere 2.3 ounces, so you will not notice it in your pack. In addition, the unit is capable of becoming rather small by simply removing the pot support on the device, making it easy to fit in amongst the other necessities in your bag.
The Soto Windmaster is, as the name implies, a great backpacking stove to use in windy conditions. In fact, it only took a pot of water about two minutes and 15 seconds to come to a full boil in strong winds. The flame is not affected by the wind, so the heat remains consistent as you cook. In normal conditions, the pot heats to a boil just as quickly.
To see the full review, then click here.
Key Features
Uses Isobutane-propane gas canisters
Has a micro-regulator to maintain a constant flame even when you are running low on fuel
Extremely lightweight at only 2.3 ounces
Easily adjustable flame
Minimal space between burner and pot to provide a more efficient heat transfer
PROs

The boil time is easy to maintain, especially with the built-in flame control.
The unit is extremely fuel efficient.
The design makes it the perfect option for cooking in windy conditions.
Extremely lightweight and packs down small

CONs

The price point is a bit high.
The pot support is a lower quality than the rest of the device.
Bottom-Line: For those gram counters looking for something that won't add a lot of weight and can stand up to some tough weather conditions, the Windmaster is our top pick for best ultralight stove.
Jetboil Minimo
The Jetboil Minimo stove is one of the variations that can boil your food as well as simmer it at a lower temperature. When you can simmer the food that you are cooking, then you can prepare meals like pasta by cooking the noodles in a simmered sauce.
This unit comes with some of the features that are a little rarer to find in a mini stove. It comes with a lid that allows you to sip your soup directly from it as well as a strainer and a measuring cup. We loved the fact that the pot had collapsible handles that make it more compact when it is packed but easier to hold when it is being used. This is a great addition to make use of when you are simmering your food.
To see the full review, click here.
Key Features
Holds a full liter of water & will typically bring 1/2L of water to a boil in 2 min 15 sec
Stability stand to keep the fuel canister level on uneven ground
Simmer control knob allows for precise cooking temperature control
Weighs 14.6 oz (415 g) without fuel canister
PROs

The pot is small and stout, which makes it easy to eat from.
Water boils in less than three minutes.
The handles are great for maneuverability after the food has been cooked.
Fuel efficient; will boil 12 Liters of water per 100g fuel can

CONs

The design of this unit makes it difficult to see the height of the flame.
The rivets of the handles can be annoying to clean.
Bottom-Line: Does everything well but is a master of none. If you are looking for a general purpose hiking stove the Jetboil Minimo may be just the ticket.
MSR Windburner
Best Backpacking Stove
The next stove on our list, which is the MSR Windburner, is another great option that is designed to block the wind and keep the fuel efficiency as high as possible. Since this type of stove does not use flame jets, there is no way that the wind can blow out the flame, which increases the heat intensity in any weather condition.
The surface of the heat source is designed in a concave shape with a mesh cover. It comes with all of the components that you need for a backpacking trip. It includes a pot, a stability stand, and even a cup to eat from. The downside of this stove is that there is not a built-in igniter so it can be tricky to light in adverse weather conditions.
If you want to read the full review, then click here.
Key Features
Lid with drinking and straining parts
Insulated cozy with handle
1.0 L Pot with Heat Exchanger
One of the fastest half liter boil times at 2 and a half minutes (around 3 minutes in wind)
Secure connection
Radiant burner
Attachable 16 oz. bowl
PROs

PROs




The pot is fairly straightforward to clean.
This unit heats water very quickly.
The canister conveniently fits into the cook pot to make it a more compact device for travel.

CONs

There is not a built-in ignition source, so you will need to always have matches on hand.
It can be tricky to control the heat at lower settings, so simmering your food is difficult.
MSR MicroRocket II
If you're looking to take a lightweight stove backpacking, then consider the MSR MicroRocket. It weighs a slender 2.6 ounces. It also collapses into a very compact sized unit that will easily fit in your pack. The size of this stove may be small, but it offers a lot of power. In fact, the flame is designed to target the center of the pan so that it heats more quickly than its competitors.
During our tests, the water boiled in less than three minutes each time. Also, this stove is also extremely efficient in windy conditions. Due to it's lightweight, make sure it is on a stable flat surface to avoid it tipping over.
Key Features
Extremely lightweight at only 2.6 ounces
Folds down small, and fits inside MSR Insulated mug (sold separately)
Adjustable flame allowing everything from simmering to a full on boil
Tri-sectional WindClip™ helps shield the flame from the wind
Includes handheld piezo lighter
Boils a liter of water in three and a half minutes
Simple to operate, turn it on and start cooking immediately
PROs

This device is very lightweight.
Due to the design of the fuel valve, you have more control over the flame.

CONs

It has a rather steep price tag.
The igniter has been known to fail on occasion.
Bottom-Line: Another great Ultralight option that is dependable and brings water the boil fast (even in the wind).
Jetboil Flash Lite
The final stove on our list is the Jetboil Flash. It is a great cooking system that offers a way to boil as well as simmer your food. Cooking times are very low, and it takes less than three minutes to bring two cups of water to a steady boil.
It utilizes propane to cook and is super efficient, with a single canister lasting out on extended trips. The Jetboil Flash even works in windy conditions, but the boil time increases to just under five minutes.
The unit is very lightweight, so you can easily take it on a long expedition, and it becomes even smaller when you are ready to pack it away.
Key Features
Push button ignitor
Brings to cups of water to boil in only a few minutes
Color change heat indicator helps you get the correct cooking temperature
Cooking cup clips onto the burner, preventing accidental spills
Drink through lid with spout and strainer
Holds 1.0 L
Burner and cup stow inside the cup for minimal packing size
Fuel canister tripod ensures overall stability
PROs

It comes to a boil very quickly.
You can simmer your food, which gives you more options in the wilderness.
There is a fuel control valve that you can use to adjust the heat.
The base of the stove is very stable.

CONs

It heats a bit slow in cold weather situations.
The cup can be annoying to remove.
Bottom-Line: Another generalist, that wins our best value prize for it's cheaper price tag.
MSR Dragonfly
The next stove on this list is another one that is capable of boiling food as well as simmering it. It does have a rather large base, though, so it may be a better option on backpacking expeditions where you have a base camp that you stay at each night. However, the large frame makes it a very stable option that will be able to hold any pot with ease.
One of the best features is that you have the ability to control the temperature. It burns most liquid fuels, including kerosene and diesel, and repairs and troubleshooting are simple to do with the MSR Dragonfly.
It is very fuel efficient; in fact, it has a windscreen to help ensure that the temperature can be maintained in windy conditions. It typically takes about 2.5 minutes to boil water after the pot has been primed.
Key Features
Uses 2 control valves for more precise control over the flame
Burns almost any fuel
The lightweight pump is easy to use and is adjustable
Legs spring open for extra stability, and retract to fit inside MSR cook sets (sold separately)
Comes with windscreen
PROs

It produces reliable heat in colder temperatures.
It is a very versatile pot that can use several different types of fuel.
It is easy to use, set up, and maintain.

CONs

Cooking can be loud.
The pot sits a bit above the flame.
It is a heavy device.
Bottom-Line: If you are looking for a bit more versatility and stability, then the MSR Dragonfly wins out.
Last update on 2021-07-30 / Affiliate links / Images from Amazon Product Advertising API