We know what the post-hike blues feel like. You're standing atop the final summit of your big hiking trip, the sun is setting, the hills roll on for miles, the sea…then, out of nowhere, the thought pops into your mind: I've got work tomorrow.
Well, what if work meant hiking?
Yep, these jobs exist! There are many different ways to integrate your skill set into your regular hiking practice. Whether you're a passionate group leader, a writer, a photographer, or love to serve your community, there is no doubt a way to hike every day . . . and get paid for it!
1. Guide
As the pandemic revealed, more people are seeking pleasure in the outdoors. For keen outdoor enthusiasts, maybe nothing has changed. But, if you've never gone hiking before, where to start? If you're a hiker, you have tools to share, as well as a passion for the outdoors.
So, the job? An outdoor guide!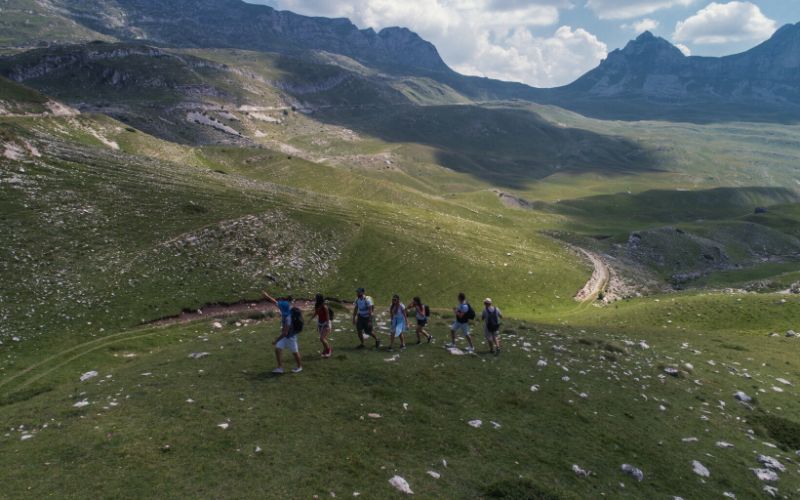 Pros
Making a significant difference in someone's life
Constantly refine your skills, gain confidence, learn, and share knowledge and outdoor experiences
Always being forced outside – even if you don't want to (!)
Cons
A lot of training, which can be expensive
Long hours, often moving at a slower pace than you're used to
Work is weather-dependent
2. Trip Leader on Hiking & Backpacking Trips
Chances are, if you're reading this article and looking for a job that keeps you on the trail, you have someone to thank for bringing you on your first hike. Whether they brought you for an epic summit haul, a meander in one of your neighborhood parks, or to a beautiful camping spot, showing someone the way is so rewarding.
Getting into the backpacking industry to lead groups on trails is tough, but after taking a course and getting qualified, it's entirely possible.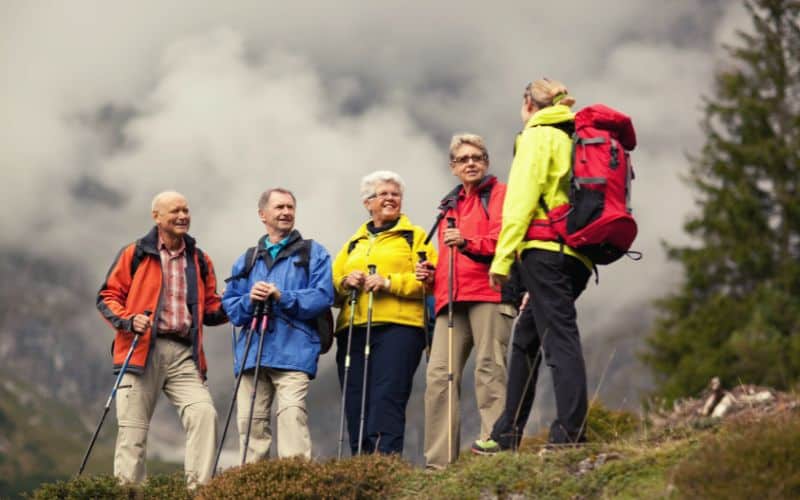 Pros
So, so rewarding – you get to watch people push their limits, get scared, then conquer their fears, every day
Working with people of all ages, from young school children to retired folk
Going on remote trails and expeditions
A good platform to branch out into rock climbing and mountaineering
Cons
Very hard to land a first job with a good company
Qualifications are expensive and time-consuming
High pressure – responsible for the safety of many people at once, often alone
3. NOLS Instructor
If you're a qualified outdoor guide and have a passion for developing the next generation of leaders, then working as an instructor for the National Outdoor Leadership School is a great way to pay it forward.
Pros
Share the skills you've learned both in school and in the field with young adults
Develop the next generation of leaders as a teacher
You still get to hike every week!
Fun!
Cons
Syllabus and teaching practices can be very different than those you've learned
You're responsible for ensuring the next generation is well equipped
High-demand job, very stressful
4. Park Ranger in State or National Parks
Hiking isn't just about cranking out miles and getting fit. We're drawn to these trails because of their beauty and the ways in which nature makes us feel. Our landscapes need protecting. Park Rangers do this, yes, but they also enforce rules and regulations, make sure park users are safe, lead groups into the backcountry, go out on search and rescue missions, and much more.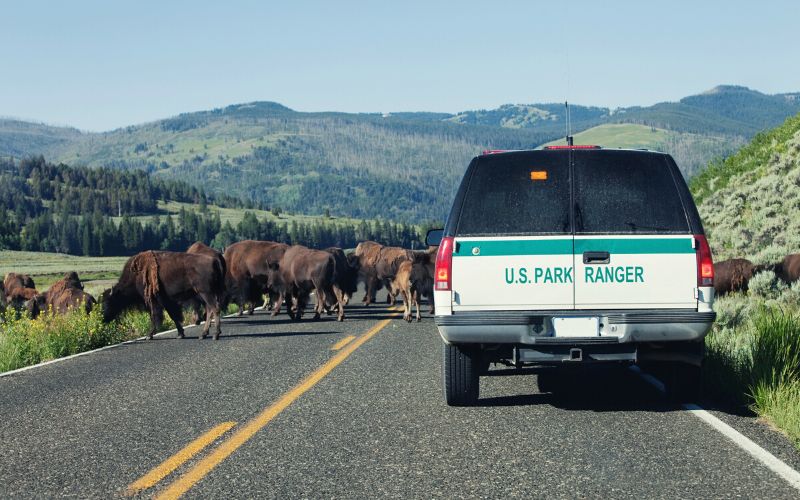 Pros
Being in an incredible park – all day long
An integral member of the community – both human and natural
Gaining incredible insight into the land
Leading guests on educational hikes
Cons
Not always being treated kindly by park users
Requires a lot of schooling
Difficult market to enter
Unpredictable hours, working weekends
5. Wildland Firefighter
Heroes: protecting our forests and, quite often, whole villages. With climate change worsening and more wildfires setting ablaze, Wildland Firefighters have a significant role in our communities.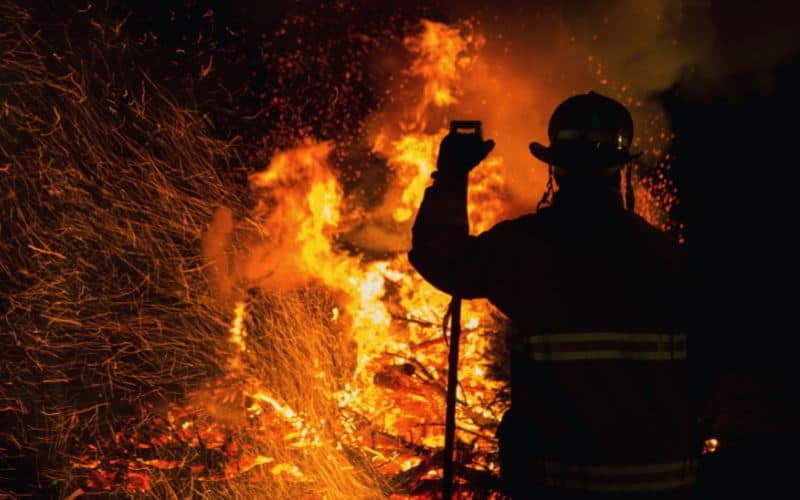 Pros
Protecting communities and preserving landscapes
Camaraderie (like no other!) between your team
Doing cool, adrenaline-pumping things to extinguish flames – jumping out of helicopters, cutting down trees, driving bulldozers
Visit some of the most incredible, beautiful places
Cons
Long, exhausting hours carrying heavy gear
Lack of sleep and time away from your family and friends
Very dangerous, sometimes with few benefits
6. Tree Planter
If you're the type who enjoys all things suffering, then tree planting is a no-brainer job for you.
You may not be hiking, but you'll be outside all day – rain or shine. You'll encounter wildlife and, yes, you may be dirty, but you're not alone. The friendships made along the way are some of the best you'll ever have. The locations? Well, those are unrivaled.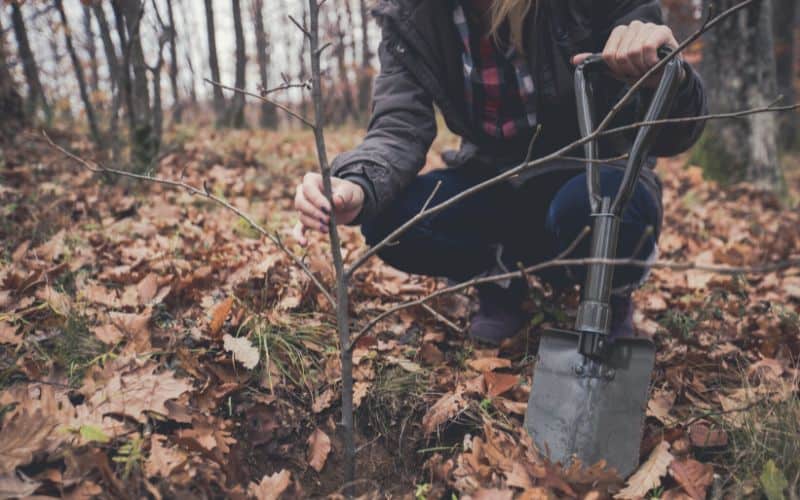 Pros
Get paid per tree (not by the hour), which by the end of the season, can be a lot!
Most camps have chefs that provide healthy and incredibly tasty food
Improving air quality, biodiversity, and natural woodland
Cons
Very hard, grueling work
Injuries are very possible, especially to the tendons and arms
Many, many bugs
The learning curve is steep
7. Social Media
Influencers on the trail: one day they're posing in your favorite national park, the next they're across the world, hiking one of your dream trails.
Whilst the 'hike for likes' mentality is cringy to some, the lifestyle is great . . . full-time living for the trail and repping your favorite brands in cool places. This is one of the best modern backpacking jobs.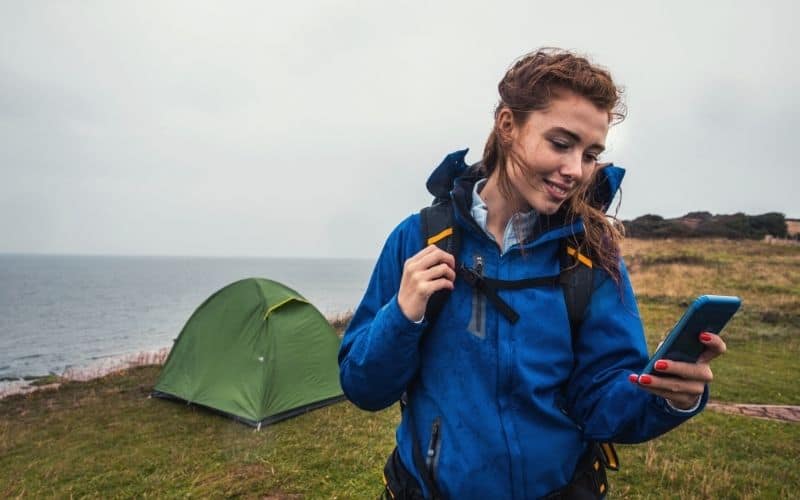 Pros
Test gear from your favorite brands
Build an online platform and community
Collaborate with other influencers to explore new locations
Cons
Spending a lot more time on your phone than you may think
Hard to be 'authentic' when you're promoting brands
Posing, posing, posing
8. Hiking Blogger
Unlike article writing, which can cover a range of topics (gear reviews, destination guides, camping tips and tricks, etc), blogging is all about what you want it to be.
Do you have a cool hiking experience you want to share? A personal story? Favorite trails? This is your space to be as creative as you want.
Pros
Maximum creativity
Opportunities for exploring
Connect with like-minded people all around the world
Build a platform, portfolio, and following
Manage your own time, output, and content
Cons
Regular output and maintenance
Navigating 'internet' persona and real-life
Minimal benefits
9. Article Writer
Is this too close to what we do? Well, there's a reason why we do it! Being an article writer is an amazing job for hikers. The benefits for this one far outweigh the cons, and whilst you may think that sitting in front of a screen isn't appealing, just know that you can make your own daily schedule (meet those deadlines though!).
Pros
Flexible working hours
Backcountry hike in the morning, write at night
You can work from any location in the world
Cons
You're not on the trail whilst writing
Payment rates between companies vary greatly
Minimal benefits
10. Outdoor Photographer
At the top of any hiker's dream job list – we're always taking photographs of those beautiful adventure moments on hiking trails. Want to improve your craft? Join a course, or seek out the many free online resources.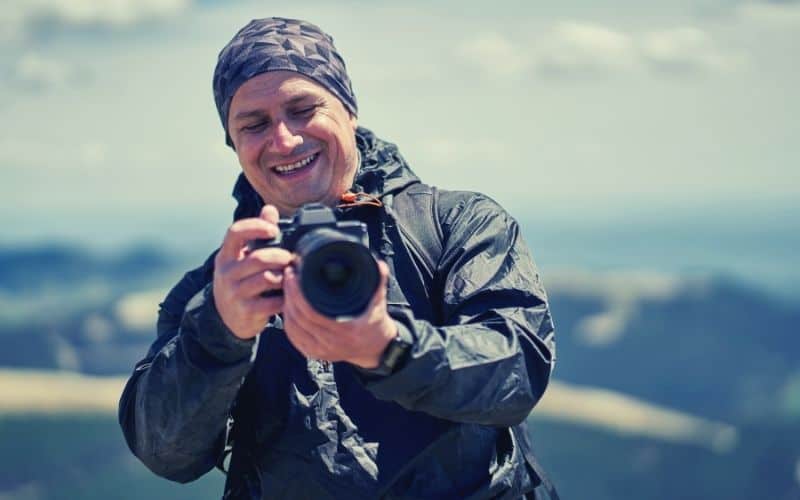 Pros
Witnessing beautiful sunrises and sunsets on your outdoor adventures
Visit many different national parks, hiking trails, and remote locations
Build a social network of friends and keen hikers all around the world
Cons
Takes hard work to build a unique style and following
Long days and hours (often freezing!) to capture the perfect shot
Camera gear is very expensive
Serious photography skills needed!
11. Cabin Caretaker
Where there are mountains and great trails, usually, there are cabins and refuges that need caretaking. In Scotland it's bothies, in France 'refuges', in Italy 'rifugios', in . . . look, you get the point!
Some of these cabins are in the backcountry, while others are much more accessible. However, regardless of where they are, they're guaranteed to be in some incredible locations. The best bit? Most of the time, you get them to yourself.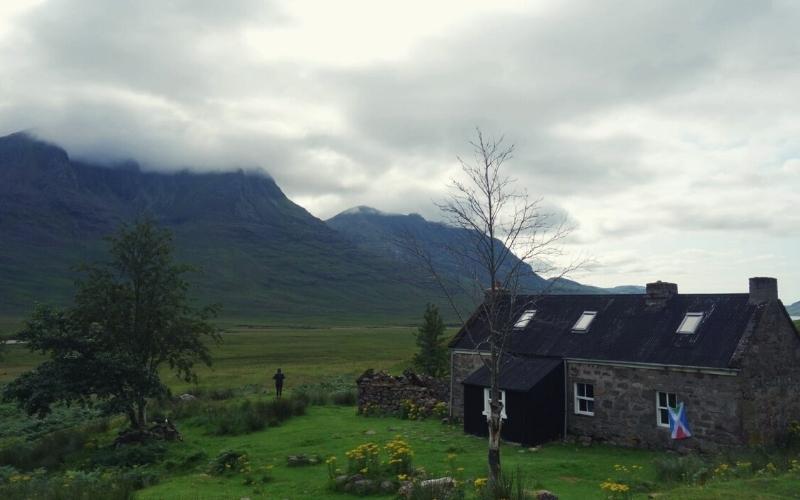 Pros
Free lodging in wild places
Often, you're there alone for an extended period of time
While you'll access most by hike, you may very well get dropped off by helicopter!
Cons
Can feel very isolating
Often, you have to know a few different languages
If anything happens, help is very far away
12. Wilderness Therapist
Whether it's biking, backpacking, or hiking, there are healing and rejuvenating properties to the outdoors.
As a wilderness therapist, you will connect with people from all types of backgrounds. Whether it's individuals or groups, pre-teens, adolescents, or adults, your work will help people overcome trauma, drug abuse, behavioral issues, and more.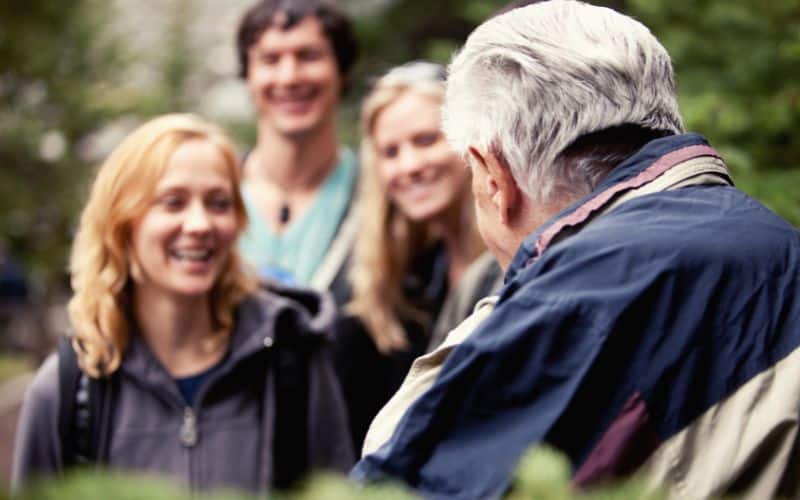 Pros
Provide a community to people who don't have one
Help patients develop tools for better self-expression, communication, connection, and healing
By helping one person, often, you start a chain reaction of healing and empathy
Cons
More training than simple First Aid is required
Stories can often be traumatic and weigh heavy
13. Get Sponsored
We've all seen athletes rep our favorite gear on the trail and wondered: how can I get that gig?
Most people think you have to be hiking the biggest peaks while crushing all the records. However, this is false! Many people are getting sponsored now because of their roles in the public sphere, their communities, and as outdoor advocates.
Pros
There are thousands of companies providing sponsorships, not just the big ones
You get paid to go hiking and backpacking in your favorite gear
You can help a company develop products, their services, and community efforts
Cons
Incredibly competitive market
If you're not an elite athlete, it's even tougher
Often, you can't represent two competing brands
List of sponsorship programs here: https://deepertrails.com/get-paid-hike-trails-sponsorship/
Let's Go Get That Hiking Job!
Hiking is one of the best activities to enjoy the great outdoors. However, we all know what it's like to return from a rejuvenating and epic adventure only to be bogged down by work we don't want to do, at a desk that's not outside. Luckily, Our list shows that whether you're an artist, elite athlete, writer, psychologist, or community member, you can get paid to go hiking!
If you liked this post, feel free to share these hiking jobs with your friends and fellow hikers! Drop us a line in the box below if you have any questions or comments.