Did you get a new sleeping bag and can't seem to get it to fit back in the stuff sack in which it came? Or can't get all that excess air out when packing and find it too voluminous to fit in your pack. 
Worry not! In this simple guide, we explain all you need to know to make quick work of packing away a sleeping bag so it stays in tip-top condition and ready for your next adventure.
What You'll Need to Follow This Tutorial
A sleeping bag
A stuff sack/compression sack for your rolled-up bag
A dry surface
Roughly 3 minutes of moderate concentration
1. Pre-Roll Prep
Layout your sleeping bag on a flat surface. If you have a ground tarp from your tent, lay it out first as this will keep any gunk or moisture from the floor from getting into your rolled sleeping bag, which could eventually lead to mold or mildew.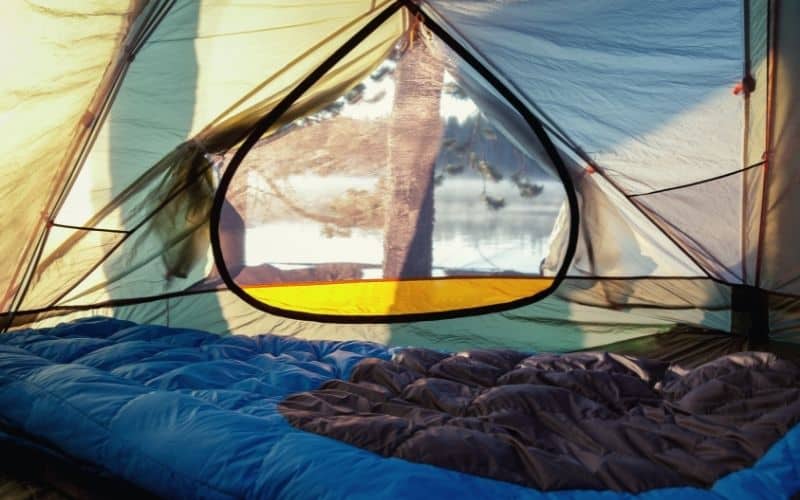 You may want to give it a good shake beforehand to remove any sand, soil, or missing socks from your last camping trip.
2. Zipper Up
Remove any large air pockets out through the head of your sleeping bag by zipping it up completely. Smooth it out with your hands to get as much air out as possible as this prevents the tight, even roll that we're looking for here.
3. Fold
Fold it in half lengthwise, folding so that the two long sides meet together.
4. Roll
Starting at the feet, begin rolling the folded sleeping bag toward the head using both hands. You'll want to tightly roll, as if you're kneading bread, making sure to push air out of the head. If the head becomes uncentered, use a heavy object or a buddy's knees to prevent it from unfolding.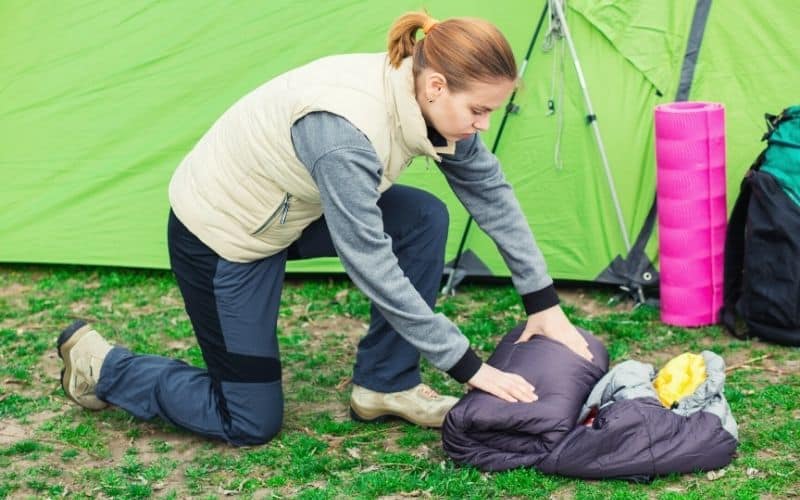 5. Use Your Knees to Expel Air
Use your knees to keep the rolled-up section in place and tightly compressed. Help your hands out and crouch over the rolls with one knee to push any more air out. Roll out 2-3 inches at a time, using your fingers in the crease to keep it tight as you work your way up.
6. Stuff
If your bag came with straps attached to the head end, wrap them around to keep the bag rolled. Tighten them down if they have a cinching mechanism. If your bag came with a stuff sack (most sleeping bags do), place the rolled-up sleeping bag inside the sack and tighten it well to save space in your backpack.
If you don't have bag straps or a sack, you can use a belt, string, rope, or a large rubber band.
7. Store
Protect your bag from moisture. Not only is a wet sleeping bag uncomfortable, but it can also cause hypothermia as moisture both impair the insulative power of the insulation and sucks heat from your body. If your stuff sack isn't waterproof, you can find one at your local sports or outdoor store.
Other Storage Tips for Sleeping Bags
1. Don't keep your sleeping bag stored in a stuff sack long-term.
Only use the advice outlined above in steps 1 -7 when you're heading into the backcountry and need to get your bag into a backpack or duffel. Many bags will come with a large mesh storage sack for when not in use. If not, let it air out in your closet or fold your sleeping bag lightly.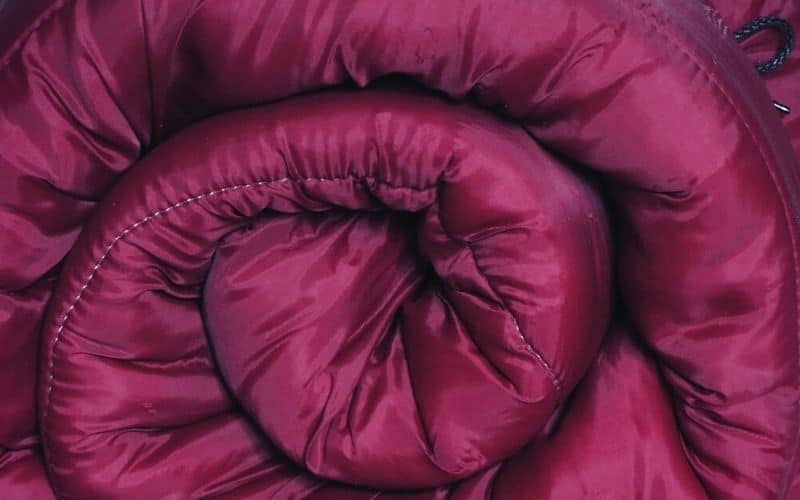 2. If you have a waterproof bag, turn it inside out when storing.
This will allow it to dry entirely and not keep unnecessary moisture in, leading to mildew and general unpleasantness.
3. Be sure to let your bags dry out after your trip.
Remove any debris, including leaves, dirt, and small twigs. Under no circumstances should bags be left in damp stuff sacks to deteriorate.
Sleeping bags can also be left to dry out outside on a dry day. Just be sure to only leave it outside for as long as it takes to dry, as UV light can wear down the fibers.
4. take extra care with Down bags
With a down bag, push any rogue feathers (not uncommon in down-filled bags) gently back inside the shell fabric to prevent further damage.
How to Roll Up a Sleeping Bag = Simple!
Now you know how to roll up a sleeping bag the easy way, you'll soon be well on your way to rolling like a pro!
If you have any questions or comments, please drop them in the box below. And if you'd like to share this post with your friends, share away!