It's a well-known fact that hikers, backpackers, and campers are serious about their gear. One debate, in particular, has been raging around the ol' campfire for some time now… which is better when it comes to vacuum-insulated water bottles, the Yeti Rambler or the Hydro Flask?
We're here to settle the debate once and for all so you can stop arguing with your campmates and get back to roasting marshmallows. Which of these two water bottle titans will win the best-insulated bottle showdown? Read on to find out!
Meet the Products: Hydro Flask Bottle and Yeti Rambler Bottle
Both the Hydro Flask and the YETI Rambler are vacuum-insulated water bottles. But what does that actually mean? It means that both water bottles feature a dual-wall construction. In other words, they're one water bottle nestled within another bottle, with only a slight space separating the two.
Empty Weight
Empty Weight
11.3 oz.
18.9 oz.
Height x Diameter
Height x Diameter
8.7″ x 2.81″
10.125″ x 3″
Cold retention time (in-house testing)
Cold retention time (in-house testing)
22 hours
24 hours
Hot retention time (in-house testing)
Hot retention time (in-house testing)
4 hours
6 hours
Mouth type
Handle
Handle
Strap-style
3-finger grasp
The air that would normally rest in the space between the two bottles, or walls, has been vacuumed out and then sealed shut. Since the remaining vacuumed space is bad at conducting heat, these types of bottles are ridiculously good at maintaining temperatures. If you want your cold drinks to stay cold and your hot drinks to stay hot, these bottles are a great option.
Hydro Flask bottles and Yeti bottles appear quite similar at first glance. They're both premium, 18 oz. vacuum-insulated bottles made from 18/8 stainless steel. This stainless steel construction helps eliminate odor-causing bacteria and won't leave behind a metallic taste. Both the Yeti and Hydro Flask also feature a no-sweat exterior, so you won't have to worry about them slipping from your hand.
Despite all their similarities, each bottle does have a few unique features that set them apart and might sway you to pick one over the other. Let's check them out!
Comparison: Yeti Rambler or Hydro Flask 
Buy the Hydro Flask Water Bottle if:
You're looking for the best bang for your buck
Don't need "bulletproof" durability and awesome temperature retention tests
Customization or style is a priority (you can choose the size and color of your bottle, and pick up numerous accessories)
Want a lifetime warranty
Buy the Yeti Rambler Bottle if:
If keeping your drinks at the optimal temperature is of the utmost importance
You want a bottle whose size, ease of use, and convenient carrying handle make it great for everyday use
Yeti Vs Hydro Flask: Features Face-to-Face
Cooling Performance
Let's get right down to the important stuff… How highly does each insulated water bottle score in temperature retention? And most importantly for hikers and backpackers, how long does each reusable water bottle keep water cold?
Thanks to its double-wall vacuum insulation, the Rambler Bottle claims to keep cold beverages cool for up to 24 hours and hot beverages hot for around 6 hours. We're happy to report that Yeti wasn't exaggerating. In one test, the Yeti was filled with cold refrigerated water of roughly 45°. Within 8 hours of being filled, the water temperature had risen by just 9 degrees.
Compare that to the Hydro Flask bottle, which faced the same cold water test and 8-hour waiting period but saw its water's temperature rise by roughly 11°. Not a major difference, but enough for use to declare Rambler the temperature retention winner.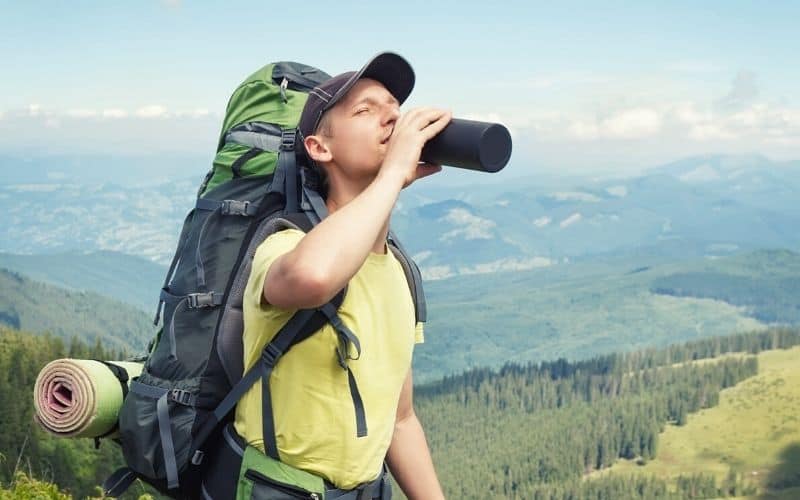 So if you're looking for a vacuum-insulated water bottle that will keep your cold drink cold and hot beverage hot to the last sip, the Yeti Bottle earns the top spot.
With either bottle, pre-use prep goes a long way. With cold liquids, throw in a few ice cubes to lower the internal temperature before adding water. With hot drinks, swill some warm water inside before adding your beverage.
Materials & Durability
Whether you're summiting mountain peaks or bringing it alone on your morning commute, you want an H2O holder that's made with tough and durable materials.
Yeti Rambler Bottles and Hydro Flasks are both made from 18/8 kitchen-grade stainless steel, and both brands claim their bottles are shatter-resistant. While it's true that both bottles are made from premium materials and display impressive durability, the Rambler is the slightly more durable option of the two.
During our drop test, the HF sustained far greater damage than the Rambler, although the Rambler's TripleHaul Cap did completely crack during one fall. While both models did suffer some major dents from their respective falls, the HF came off worst.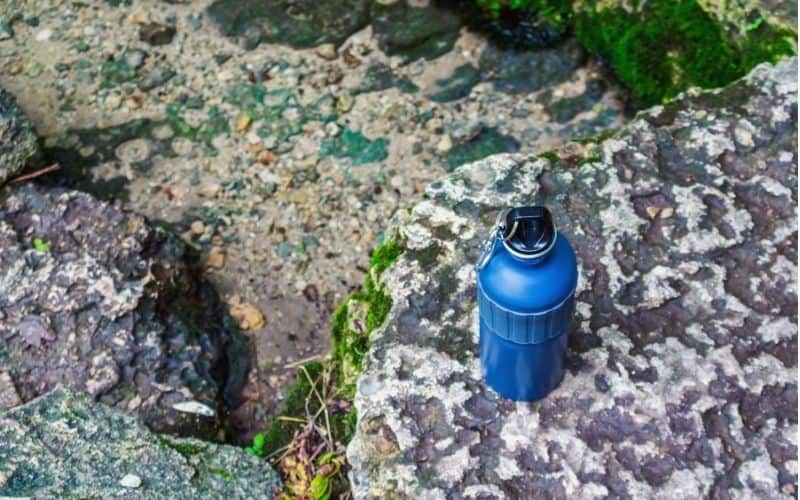 When it comes to the scratch resistance of the powder coating, both bottles left much to be desired. Both the Hydro Flask and Rambler can easily be scratched by items like car keys, and the outer coating of their HF started chipping away after just a few weeks of regular use.
Yet again, the Rambler comes up trumps in the durability metric.
Ease of Use
One ease-of-use feature you should always consider when shopping for a new water bottle is portability. The portability of a water bottle is determined by the bottle's weight, size, carrying handle, and bottle's exterior grip.
The Rambler comes with a quick-twist cap and a well-designed, 3-finger carrying handle. The only slight drawback is its weight, which is more than double the weight of the Hydro Flask's Standard Mouth bottle. If you're looking for a durable water bottle and don't mind the extra bulk, the Rambler is a good fit.
The HF is considerably lighter, especially if you opt for their lightweight, and rather pricey, Trail Series. It can be hard, however, to get over its somewhat flimsy carrying handle. The HF makes an ideal choice for minimalist hikers or backpackers that don't mind sacrificing some ease of use to save on precious ounces!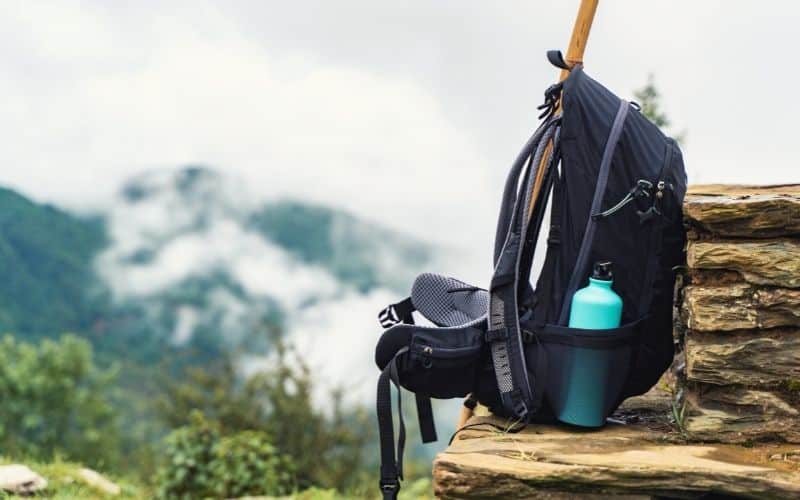 One seemingly innocent detail that might be a real game-changer for some people is the size of the water bottle's mouth, a.k.a where you drink from. The Rambler is a wide-mouthed bottle and it's considerably larger than the Hydro Flasks Standard Mouth size, although HF does offer a wide-mouth bottle too.
While a larger mouth allows for easier cleaning, you're also more prone to spilling your beverage while drinking. It's a matter of personal preference which style you prefer drinking from, but it's still something to consider before making your choice.
Cleaning
If you've ever tried to clean the inside of a water bottle, you'll know it's no easy task. So how do the Hydro Flask Bottle and the Rambler fare in this metric?
Both the Rambler and the HF have a wide mouth, which allows for easy cleaning, but you're still going to want to invest in a bottle brush to make your life a whole lot easier. Make sure to wash the spout thoroughly with hot water and remember to always remove any leftover water because, yes, water can go bad.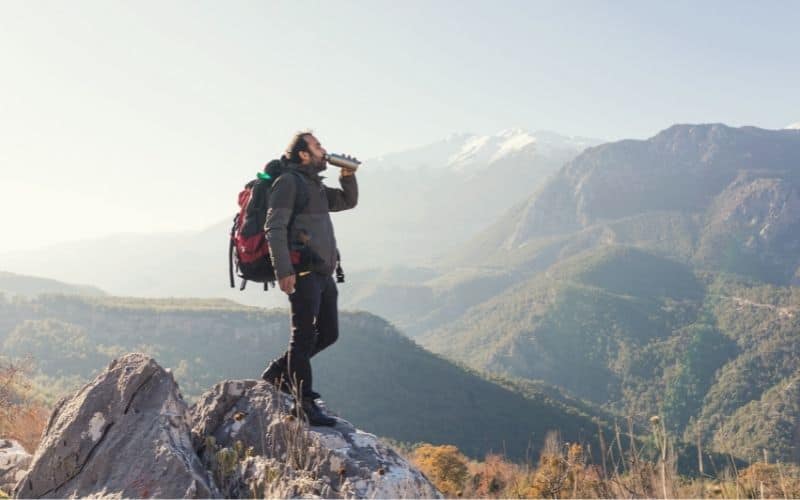 No matter which model you own, it's important to learn proper water bottle maintenance. Although both bottles are dishwasher safe, we recommend always washing your bottles by hand to maximize their lifespans.
Most insulated water bottle manufacturers suggest using soapy water to clean your bottle but we propose using a vinegar and baking soda mixture instead. Not only will it help remove stubborn stains, but it will keep your bottles looking pristine for years to come.
Warranty
The Hydro Flask offers a lifetime warranty while the Yeti's warranty is limited to 5 years. Both warranties only cover manufacturer's defects. While HF's lifetime warranty is no guarantee that the bottle is more durable than a Rambler, it does give you a little more peace of mind!
Standout Features
Despite sharing many similarities, each bottle does have some standout features.
While both bottles share great durability and an 18/8 steel construction, the Yeti just feels like the sturdier bottle in your hand. This is confirmed by drop tests, where the Yeti suffered fewer dents.
Yeti bottles come with a firm, 3-finger grasp handle while the Hydro Flask features a strap-style handle. We know of a few HF users who have had problems with the bottle's somewhat flimsy handle.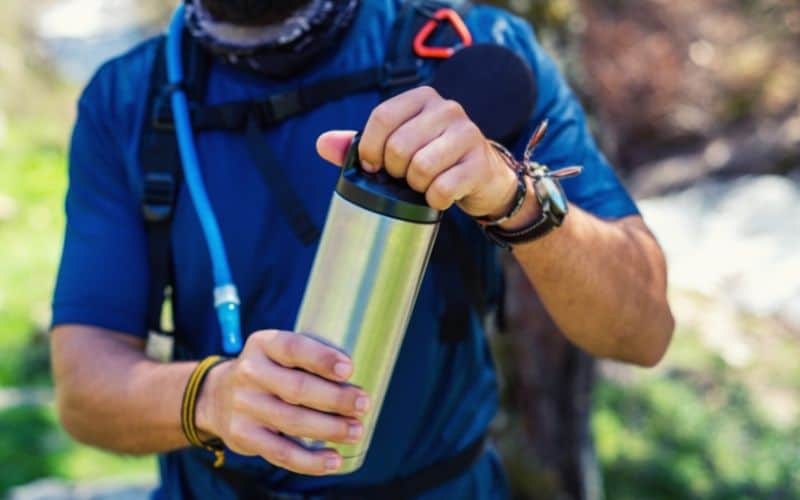 The Hydro Flask is more customizable. You'll find more colors, more sizes, and have the option to choose from a standard or wide-mouthed bottle. It also has a wider range of compatible accessories.
Other Yeti and Hydro Flask Products to Consider
If you still haven't found your perfect drinkware companion, both Yeti and Hydro Flask offer lots of other options suitable for hiking, backpacking, or camping.
The Yeti Lowball features the same double-walled vacuum insulation we've come to love from the Rambler line. Its shorter height, along with its Magslider Yeti lid, helps to reduce the likelihood of knocking it over and spilling any beverage inside all over your campsite.
If you're all about enjoying the perfect cup of coffee even while on the trail, be sure to check out the Hydro Flask Insulated Coffee Mug. A press-in, closable lid does a surprisingly good job of taming spills, and it's smaller, more compact size makes it easier to throw into your pack when not in use.
For the ounce-counting minimalists, be sure to check out Hydro Flask's new Trail Series.
Hydro Flask managed to take everything great about the original HF and shave off 25% of the weight. You're going to have to sacrifice some volume (the biggest model carries 32oz) but if you're looking for an ultra-lightweight solution, this is it!
Hydro Flask vs Yeti: The Verdict
If you're looking for the absolute best vacuum-insulated water bottle to accompany you on all your adventures, choose the Yeti. Thanks to its superior temperature retention, ease of use, and user-friendly features like a no sweat-exterior and convenient carrying handle, the Yeti Rambler Bottle comes out as the clear winner.
Do you agree? Is the Yeti the one bottle to rule them all? If you disagree with our conclusion, feel free to let the Yeti vs Hydro Flask debate rage on in the comments below!