Whether you're a minimalist backpacker, thru-hiker, or regular camper, you might be side-eyeing hard at the thought of giving up on your trusty sleeping bag. But what if we told you there's another option available that offers similar warmth and portability for less bulk and weight?

Camping quilts provide incredible versatility and comparable warmth to traditional mummy sleeping bags. Although quilts are starting to gain in popularity, however, there's a lot of conflicting and confusing info out there making it hard to choose between the two.

If you're thinking about ditching your bag to embark on the quilted life, our straightforward guide will help you decide if this is the right move by walking you through the benefits and drawbacks of each system. We've also included a bunch of helpful tips for choosing one or the other based on your sleep style and activity type.
The Contenders: Sleeping Bags, Backpacking Quilts, and Hybrids
Sleeping Bags
Traditional mummy bags (hood, wide shoulders, narrow foot box) have been the go-to of campers everywhere for decades. By using a tapered design that does away with dead air space around the sleeper, they create a cozy cocoon that maximizes thermal efficiency.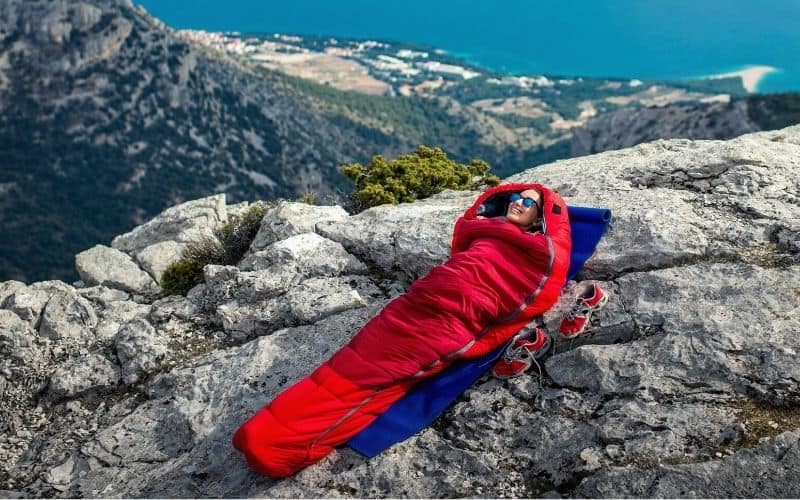 While mummy bags are heavier than quilts, ultralight sleeping bags range from 1 to 2 pounds, which is light enough to satisfy even the most weight-averse adventurers.
Some ultralight bags, like the Haglofs LIM, even ditch the hood and zipper altogether, creating a tube-style design. Because these bags fully enclose the sleeper and only your head remains outside of the tightly swaddled bag, claustrophobics need not apply!
Backpacking Quilts
A backpacking quilt is a bag missing a few (arguably unnecessary) components. The theory is that when you're catching Zs in a bag, the material underneath you can't fluff or "loft" up, so it does little in terms of insulating you and keeping drafts out.
Quilts cut out extra weight and bulk by eliminating this unnecessary insulation and fabric from the underside of the bag. They attach to your pad to form a fully enclosed system designed to keep cold air out. And on warmer nights, they can be draped over your body and used as a normal blanket or comforter.
Many models also eliminate hoods and full-length zippers and replace them with weight-saving drawstring necks and toggle closures.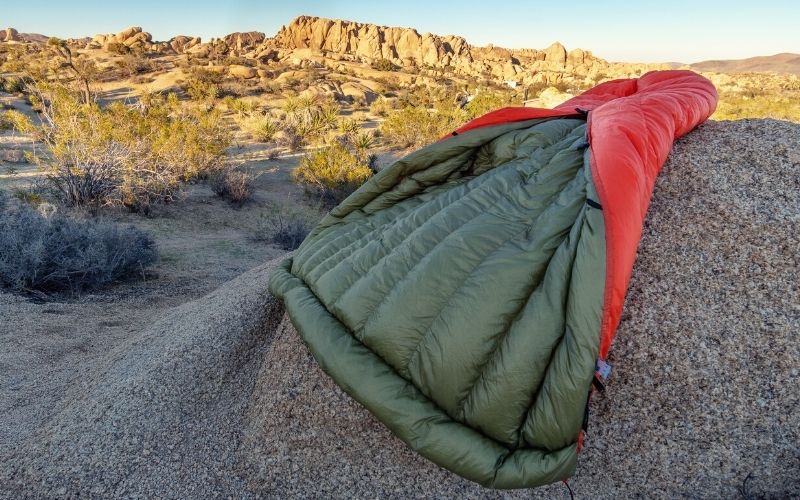 Hybrids
New on the scene are hybrids that enjoy the best characteristics of both bags and quilts. For example, the Enlightened Equipment Convert Custom Quilt can be zipped all the way to your head to be used as a bag (without a hood) or fully unzipped to be used as a quilt. A strap keeps it snug around your hips.
The Therm-a-Rest Ohm is another great example of an ultralight sleeping bag that converts into a quilt. Lightweight materials, less fabric, and a compact design allow for a much smaller packed size than many sleeping bags.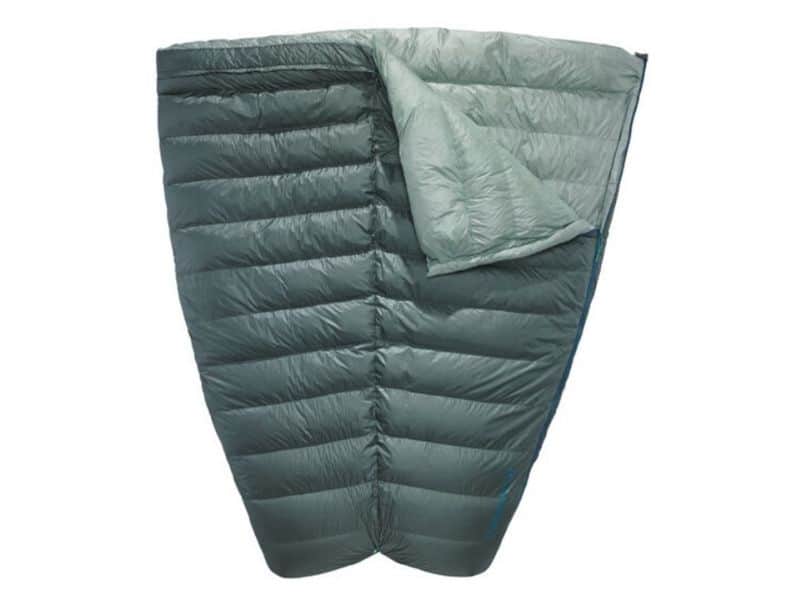 Head-to-Head Analysis
Here's a comparison of how each system performs in key metrics:
Warmth
When it comes to quilts, many people think they simply can't keep you as warm as sleeping bags. And that's partly true. Thanks to features like a tube-shaped design, hoods that can be fully cinched, and narrow foot boxes, it's hard to beat the heat retention/thermal efficiency of a mummy sleeping bag. If you're a cold sleeper or regular winter camper, therefore, a mummy's the way to go.
That's not to say that a quilt can't keep you just as warm as a bag, especially when compared to ultralight bags that are often missing key heat-retaining features like hoods. Just like bags, quilts have a warmth rating and many models have ratings comparable to those of sleeping bags.
If you do choose a quilt, you'll need to think about the warmth rating (R-value) of your sleeping pad too. Since quilts are missing their underside, the only thing protecting you from the cold, hard ground will be your pad.
Sleeping pads have R-values ranging from 1 to 8. All-season campers should stick to pads with a rating of 3 or more, while winter campers will want to boost that to at least a 6. 
Winner: Sleeping bags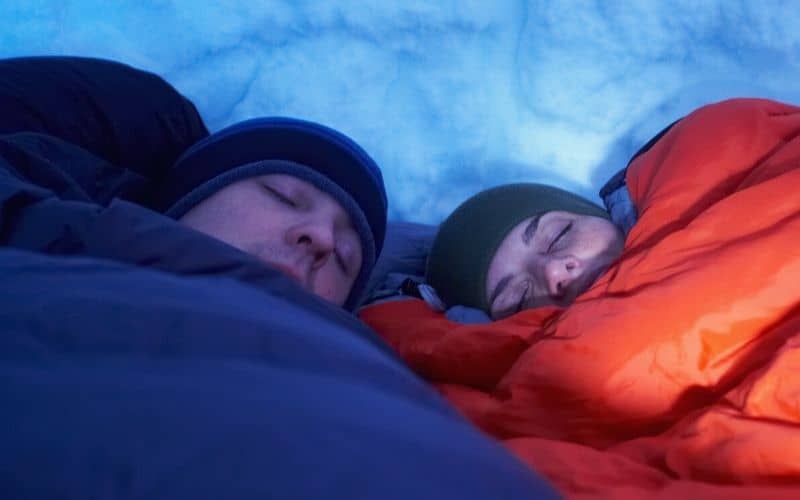 Weight & Portability
Hands down, quilts outperform sleeping bags when it comes to weight and portability. Quilts are designed to be ultra-lightweight and portable by removing superfluous features like the underside, hoods, and zippers. Thanks to highly efficient down and synthetic fills, however, the amount of warmth you sacrifice for these weight savings is often minimal.
The smaller size of quilts brings another unexpected bonus. In order to keep you warm, the insulation of your bag or quilt needs time to decompress after being crammed inside its stuff sack. Since quilts require less compression due to their small size, they'll be ready to warm you up after a long day of outdoorsy fun much faster than sleeping bags.
Winner: Quilts
Warmth-to-Weight Ratio
When determining which system has the better warmth-to-weight ratio, you need to examine each individual model. Sometimes, a quilt might win in terms of absolute weight, but when you factor in other features, like the fact that its zipperless design lets in drafts of cold air, things aren't so clear cut.
When you're comparing two models, don't fall into temptation and go straight for the lightest model. Find two competitive sleep systems that share the same temperature rating and closely compare both their weight and other specs. You'll be surprised at how often the weight savings comes down to just a few ounces, yet one bag is clearly more efficient than the other!
For the best insulation and warmth-to-weight ratio, you can always depend on 100% down or goose feathers, just make sure to choose a company that complies with the Responsible Down Standard.
Winner: It depends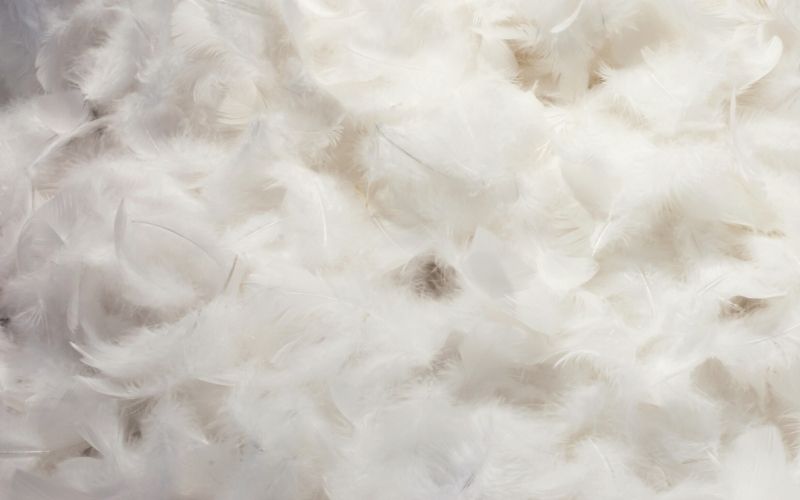 Versatility
Quilts win in the versatility metric by a country mile. Sure, when the mercury drops and the chill sets in, there's nothing quite like snuggling in and cinching the hood of a traditional bag. But if you're a larger camper, a side sleeper, or just like to toss and turn in your sleep, sleeping bags tend to leave you feeling an overstuffed (and often overcooked) burrito.
Quilts, on the other hand, can be adapted to various conditions and sleep styles. On warm nights, simply leave the quilt open and unattached and use it like any old blanket. Getting chilly? No problem. Secure it to your pad and get cozy. You can even combine a quilt with a not-so-warm mummy bag and go double duty.
Another factor to consider is the positions that each system allows. To keep you warm, sleeping bags rely on a swaddling system that doesn't allow for a lot of movement. Think either on your back or on your side with your legs pinned together. That's about it.
With a quilt, nothing is restricting your arms or legs, so you'll enjoy all the freedom of movement restless sleepers need to catch some zzzs.
Winner: Quilts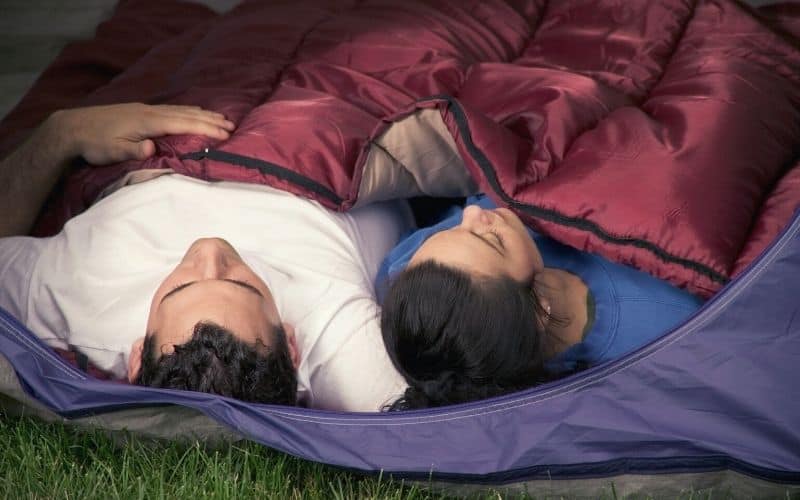 Ease of Use
When it comes to ease of use, it's hard to beat ultralight mummy-style bags. Just unstuff or unroll and hop on in. You won't have to fumble with any clasps or clips… but you may have to deal with the occasional snagged zipper.
Quilts aren't so basic and they require a bit of fiddling to set up. Quilts need to be attached to a pad or bag or secured shut through a series of hooks, clasps, or closures, something that's not exactly easy to do with cold hands or when you're hitting the hay tired or after a few nightcaps!
Every quilt manufacturer is different and some closure systems work better than others. If the attachment system comes loose, cold air can sneak in making for a rather unpleasant and chilly night.
It's worth mentioning that while sleeping bags are easy to get into, some can be hard to get out of. Anyone that's been winter camping with a hood cinched so tightly they can barely blink will attest to that!
And if you're a toss-and-turn sleeper or you enjoy your nightly bathroom breaks, consider choosing a quilt, as these will allow you to just slip through the opening and be on your way.
Winner: Sleeping bags
Value for Money
You might think that less material means that quilts are cheaper… but that's not always the case. Quilts are still a relatively niche product that can be hard to come by anywhere but online. This scarcity, combined with premium materials like high-quality down and synthetic fills, can lead to some pretty daunting price tags.
Apart from some super high-end models, though, quilts are usually cheaper.
Price aside, when it comes to value for money, quilts are the clear winner. As we already mentioned, it's hard to beat their versatility and adaptability. With all things like warmth rating and weight being equal, you simply get more ways to use your sleep system for your dollar.
Winner: Quilts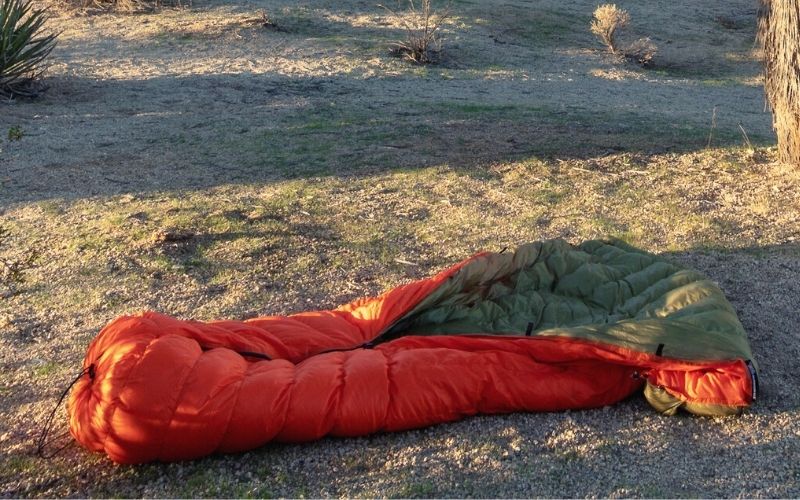 Availability
Even if you decide to snag your own quilt, you might have trouble finding one. Many quilts are made by small cottage brands with smaller-scale production facilities, and some are even made to order. Even after you order your new quilt, it could be a long while before it makes its way from your online shopping cart to your front door.
On the other hand, most sleeping bags are made by large-scale outdoor brands, so you won't have any problems finding even the latest models. You'll also be able to try out and get a feel for your bag before purchasing it, something that shopping online for quilts doesn't allow.
Winner: Sleeping Bags
Which Should You Buy?
Why Buy a Camping Quilt?
For ounce-counting minimalists, there's no better choice than a quilt. Not only will you shed extra weight from your pack, but 3-season campers will enjoy the awesome versatility of being able to use their quilt in various conditions. If you're dedicated to ultralight backpacking, a quilt offers the perfect tradeoff between warmth and weight savings.
Just remember, sometimes it takes practice to create the perfect closed system to trap warm air between your quilt and pad. Practice setting up your quilt before your next trip and don't get discouraged if you spend a drafty first night!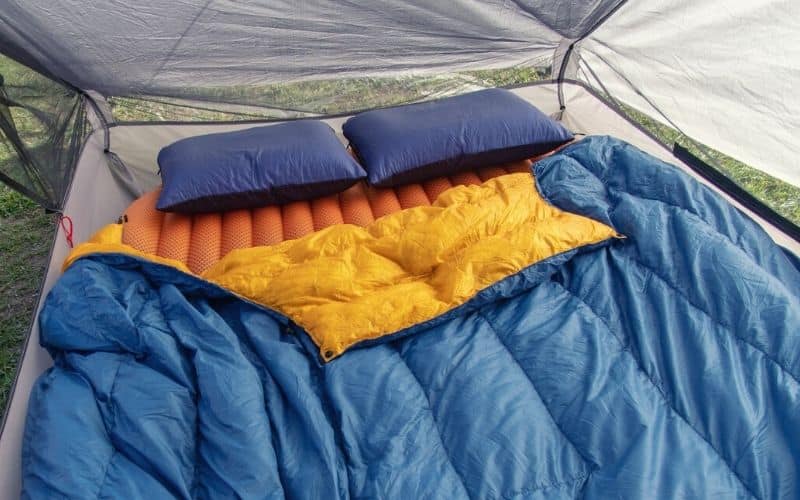 Why Buy a Bag?
If you're a cold-weather camper, there's truly no quilt vs sleeping bag debate to be had: you'll need the extra warmth and heat retention of a bag to sleep soundly in low nighttime temperatures. While the hood, baffles, neck collars, full-length zipper, and extra material all add weight, they also add a few degrees of warmth that may be much needed come bedtime.
Quilt Vs Sleeping Bag: The Verdict
So, which of the two is the best for you?
This, as always, largely depends on exactly what you'll be doing with it.
When it comes to long backpacking or thru-hiking journeys, every ounce matters. For this reason, quilts are our go-to for this type of adventure.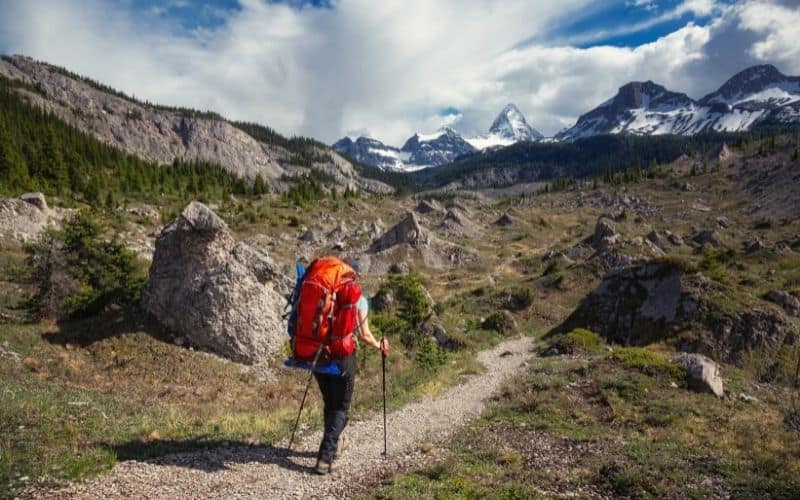 But that ain't all they're good for. A quilt's main USP is versatility. We love that we can use our quilt in varying conditions, from balmy summer nights to nippy nights in the shoulder season. The fact that they're more accommodating of side-sleepers and larger campers earns them further brownie points.