Now and then, we're asked whether or not using a tarp as a tent footprint is a good idea. As with so many questions related to the best application of outdoor gear, the answer to this one goes as follows: it depends. 
This setup can bring many benefits, but only when used in the right way and in certain situations. In this guide, we take you through these benefits and provide further insights into what the "right way" looks like and in which situations you might need the added protection of a tarp under your shelter.
Reasons to Use a Tarp Underneath Your Tent
There are various reasons why using a tarp or ground cloth under your tent is a great idea. This could be a matter of extending the lifespan of your camping equipment or providing more insulation on particularly cold camping trips. We delve a little deeper into these reasons, and others, below.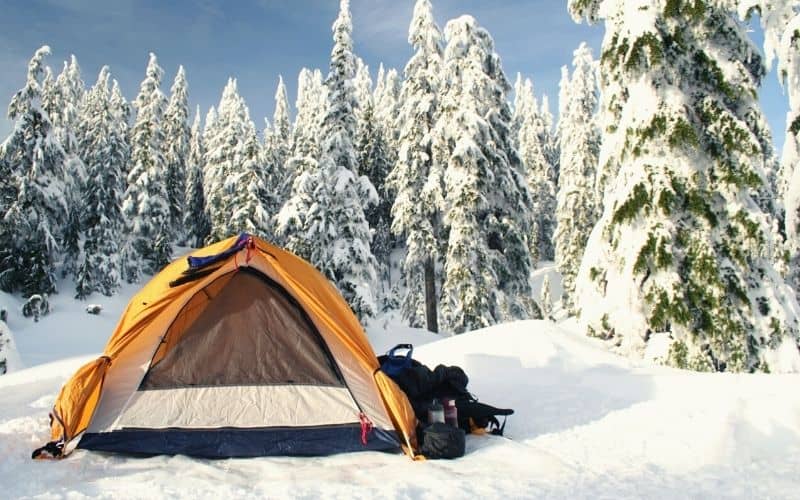 1. Keep Your Tent Dry
First and foremost, ground covers protect your tent bottom from rain, groundwater, and morning dew. Even if you have a water-resistant or waterproof tent, all of the above could push the impermeability of the tent floor to break (or leaking) point, thus exposing your sleeping bag, pad, and your other camping gear to a potential soaking.
A waterproof tarp, in short, is a great way to keep your gear dry and reduces the risk of the above by doubling down on ground protection.
Finding the right size groundsheet for your tent size is vital. If it's too large it can create pooling around your shelter, which will increase, rather than decrease, the risk of rainwater seeping in through the flooring.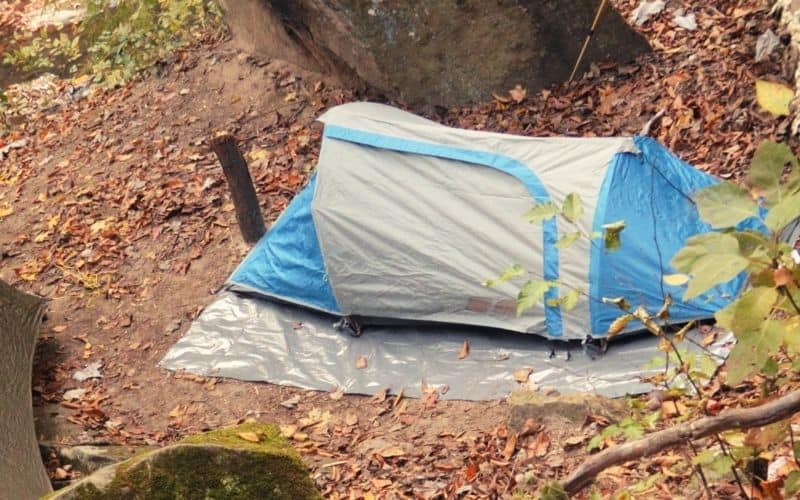 2. Tent Protection
Tarps protect the bottom of your tent from wear and tear caused by rugged terrain. The floors of most tents aren't strong enough to prevent holes from sharp sticks and rock, but most tarps are. Even if you buy a cheap tarpaulin, using this will be better than the tent floor being exposed to the rugged ground.
Whether you use a tarp or tent ground cloth or a footprint, the extra protection is well worth the investment and will save you money in the long run by extending the lifespan of your camping tent.
3. Keep Your Tent Clean
Keeping your shelter clean is essential to prolonging its lifespan. Dirt, sand, oil, and grit are all corrosives that can – and will – wear down the fibers given enough time and exposure. Buying a tarpaulin sheet to throw under it, then, might set you back a few bucks, to begin with, but it could save you a handful in the long run.
4. Adds Insulation
On cold nights, every little bit of extra insulation counts. Having an extra layer under your tent will help to reduce conductive heat loss – i.e. heat lost from your body to the cold ground.
Reasons Why You Might Want to Leave Your Tarp at Home
In the interests of balanced discussion, here are some reasons why ground cloths might not add value to your camp setup:
You only camp at well-maintained campgrounds where you're unlikely to be camping on rough terrain
The forecast shows nothing but blue-sky days and cloud-free nights
There is very low moisture or no wet ground where you're camping
You're a minimalist and don't want to carry the extra weight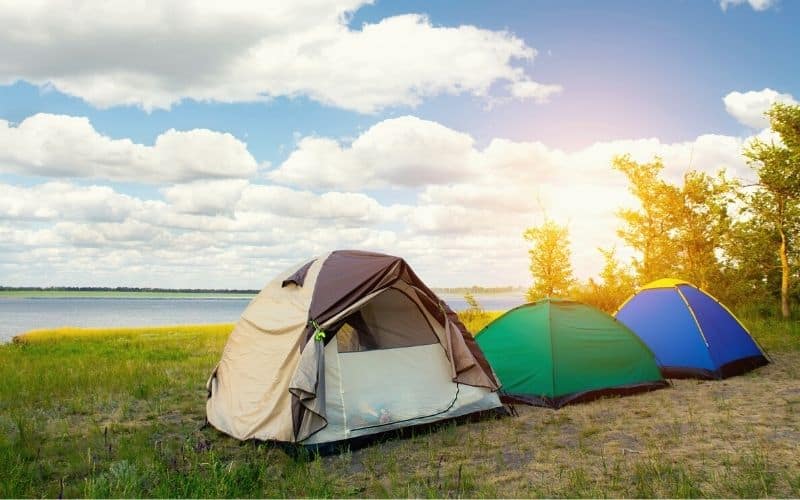 One thing to keep in mind if you're a dedicated backpacker is that tent footprints are much more efficient. They're much lighter and also easier to transport as they have customized measurements that allow them to fold down to a smaller size. Customized measurements also mean you won't have to fold or fiddle with the fabric to avoid pooling around the edges.
You can also buy custom-sized tarps, though you'll usually have to pay a little extra.
How to Use a Tarp as a Groundsheet
Pick a cover that is a suitable size for your tent. Ideally, your tarp footprint will be slightly smaller than your entire tent footprint to avoid pooling in the excess fabric.
Clear the ground where you plan on pitching your tent, removing any twigs and rocks if possible.
Either pitch your tent directly over the tarpaulin or set it up to the side and then shift it over. In our experience, the latter method makes it easier to avoid creating folds or wrinkles in the tarpaulin.
If you have a custom tent footprint or a custom tarp, they should have grommets into which you can insert your tent poles or stakes. This secures the tarpaulin under your shelter and prevents it from creasing or bunching.
So, Do I Need a Tarp Under My Tent?
The need for a tarp under your tent depends entirely on where you're camping and the weather you're camping in. 
A rough forest floor in heavy rain? You're going to need a cover beneath your shelter to both protect the flooring and keep your tent (and yourself) dry. Sunny, clear skies, and a clean, rock-and-root-free campsite? In this case, you can leave the tarp at home…
So, how did you like our article? If you have any thoughts or questions about using a ground cover for your tent, feel free to let us know in the box below! And if you would like to share this post with your friends, please do so!