With any new pursuit, it's a good idea to find out what you are letting yourself in for before jumping in at the deep end. In this guide, we aim to give you the full lowdown on scrambling, providing a short definition, an explanation of the grades, tips for beginners, and a list of some of the best scrambles in North America and elsewhere.
Ready to learn more about scrambling? Read on to find out and join in the fun!
Key Takeaways
Scrambling in a nutshell – Using both your hands and feet to ascend steep, often exposed rocky terrain
Level up – It has its own grading system, which varies from country to country
Warning – While not as technical as rock climbing, scrambling can be every bit as dangerous without adequate experience and safety equipment
Be prepared – Scrambling requires a good head for heights, good decision making, appropriate gear, and, on harder scrambles, proficient ropework
Enjoy – Scrambling is fun!
Scrambling Defined
In a few words, scrambling can be described as a middle ground between hiking/hill walking and technical climbing in which you have to use your hands to progress in exposed and steep terrain.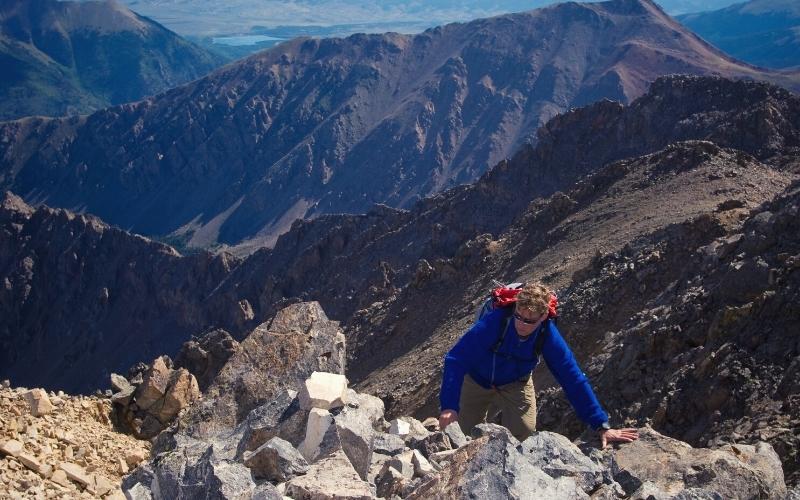 Scrambling Grades Explained
As is the case in rock climbing, the grades assigned to scrambling vary from country to country.
In North America, rock scrambles are graded using the Yosemite Decimal System (YDS). In this system, routes range from Class 1 (hiking) to Class 4 (moderate/easy rock climbing). The threshold to technical rock climbing is crossed at Class 5.
Class 1: Normal hiking.
Class 2: More challenging hiking in which you'll need to use your hands and feet.
Class 3: More sustained routes with steeper sections and exposed sections.
Class 4: Technical ascents in terrain where a fall would result in serious injury or death. Similar to moderate rock climbs.
Class 5: Moderate rock climbing for which ropes are required.
In the UK, the grading system for rock scrambles ranges from grade 1 to grade 4.
Grade 1: A difficult hike with some sections of easier scrambling with limited exposure.
Grade 2: A longer, more exposed, and more sustained scramble on which a rope might be necessary for inexperienced scramblers.
Grade 3: Technical scrambling in exposed, no-fall terrain. A rope will be necessary for more exposed, challenging, and steep sections.
Grade 4: The point where scrambling and climbing/mountaineering meet. Only to be undertaken by climbers with extensive scrambling experience. Expect steep slopes, difficulty in finding routes, loose rock, increased exposure, and/or technical passages.
Scrambling Tips
1. Route Selection
When starting out, choose a route that isn't too technical, exposed, or committed. Cut your teeth on lower grades and then progress to harder routes once you've gained confidence and improved your technique.
When choosing a route, pay close attention to descriptions online or in guidebooks. Numerous routes at the lower end of the grade scale have a "crux" or "bad step" where you'll encounter more exposure or trickier moves than elsewhere on the route. If these feel above your pay grade, find another route or be sure to take a rope.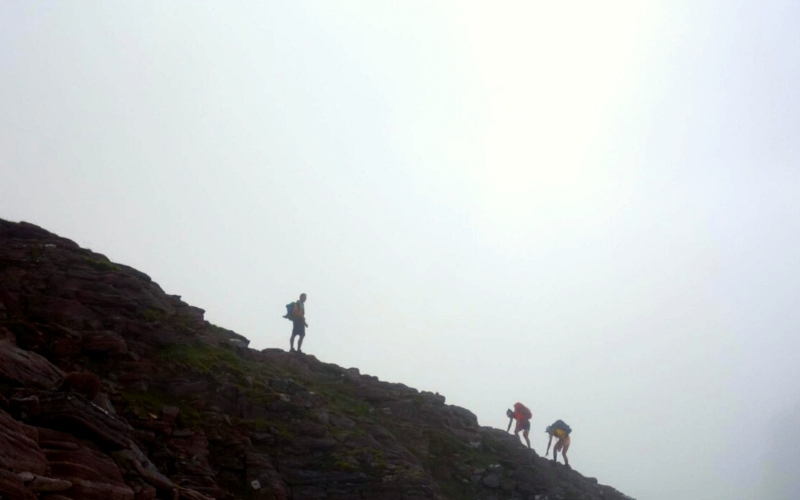 2. Find the Right Footwear
Even the most basic scrambles require good foot placements – something that's tricky to achieve with a pair of trail runners or regular hiking shoes. A pair of more technical approach shoes with a grippy rubber outsole, more low-profile toe, and a slightly stiffer sole will make a world of difference. Our favorites? The La Sportiva TX4.
Otherwise, appropriate clothing for scrambling is the same as for hiking.
3. Do It On a Dry Day
As all rock climbers will tell you, climbing wet rock is no fun, and, for obvious reasons, far more dangerous than climbing dry rock. Before setting off on a scramble, check the forecast carefully and don't attempt after periods of rain, particularly if the route is north-facing and likely to dry slowly.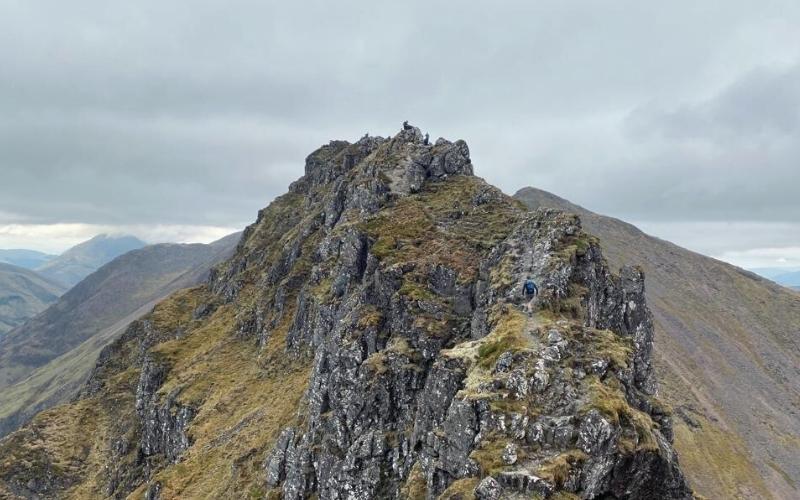 4. Maintain Three Points of Contact
Ensuring you have three points of contact at all times (two hands and one foot or vice-versa) will help you maintain your balance and reduce the risk of falling if you slip.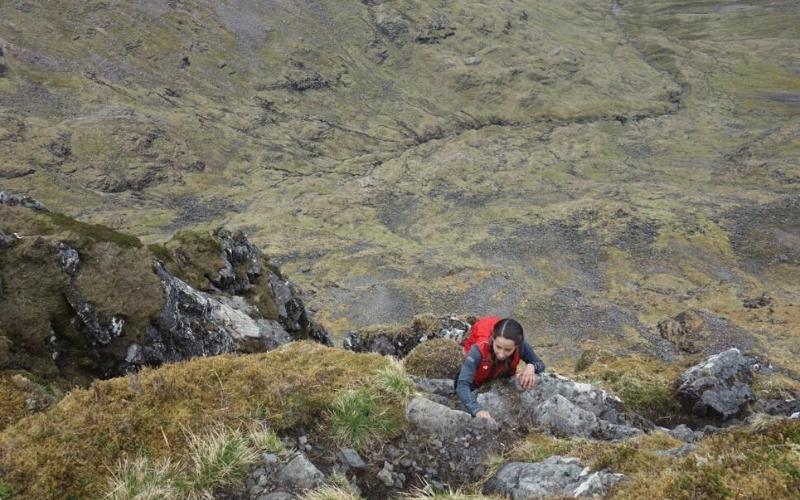 5. Get the Gear
Even on easy scrambles, we recommend wearing a helmet and roping up with a partner. Even if you're a competent scrambler, there's always a risk of rockfall, slipping, or encountering loose handholds, all of which could spell disaster if you don't have protection for your head or the security of a rope.
If you don't want to carry a trad rack when using a rope, we recommend taking a few slings and carabiners to thread spikes, chockstones, or other features. Particularly on steeper routes of a higher technical difficulty. On trickier routes, a small rack of wires, cams, and/or hexes will be useful.
6. Test the Rock
Before committing to any move, make sure to test handholds and footholds by placing weight on them. As above, only do so when you have three other solid points of contact.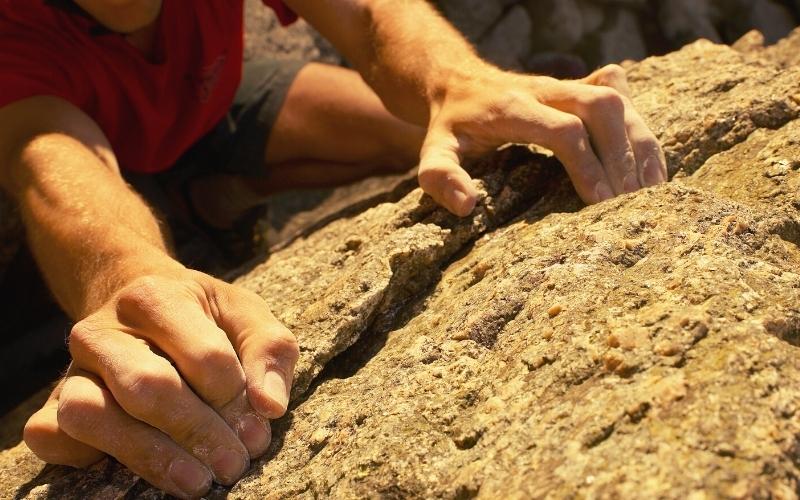 7. Find a Descent Route
Going up is always far easier than going down, whether you're hiking or scrambling. Given this, we recommend identifying a safe descent on which you can walk off the top of the route rather than attempting to downclimb it.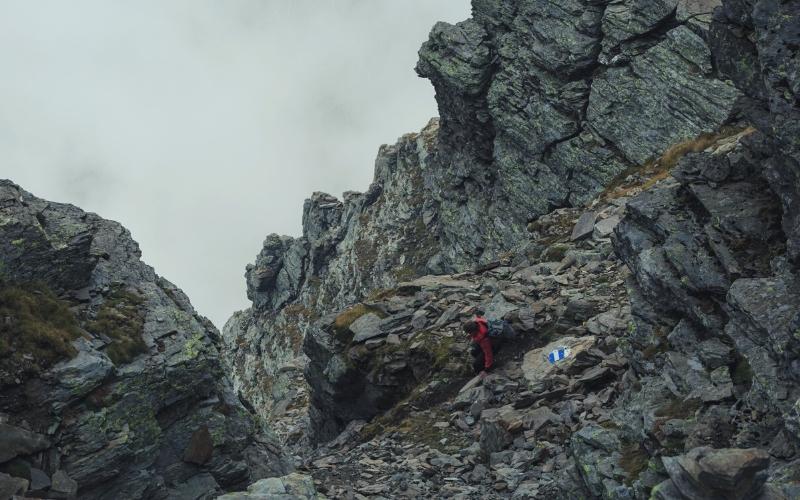 10 Awesome Scrambling Routes Worldwide
The Sawtooth, Mt. Evans, Colorado (YDS 3)
Angels Landing, Zion National Park, Utah (YDS 3)
Curved Ridge, Buachaille Etive Mòr, Scotland (YDS 3)
Forbes Route, Baboquivari Peak, Arizona (YDS 5)
Weavers Needle West Face, Arizona (YDS 5)
Crib Goch, Snowdon, Wales
Aonach Eagach Ridge, Glencoe, Scotland
Devil'sThumb, Banff National Park, Canada (YDS 1–2)
Mt Superior South Ridge, Utah (YDS 1–2)
Pinnacle Ridge, Lake District, England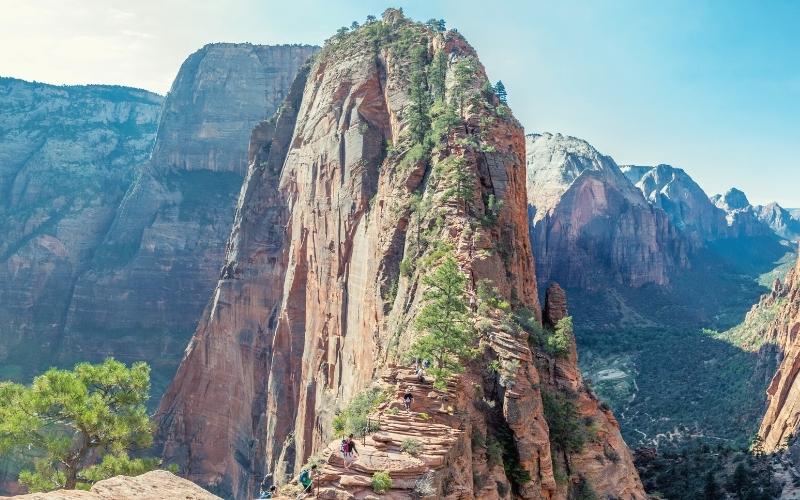 What is Scrambling in Hiking? Final Thoughts
Scrambling is a hiking-climbing hybrid activity that lets you enjoy some of the thrills of rock climbing without quite so much risk. If you've already cut your teeth on the trails, it provides an excellent way to up your game and take on new challenges.
We hope this article has inspired you to give scrambling a go and we would love to hear about any awesome scrambles or tips we might have missed out. Let us know in the comments box below! And if your friends are wondering 'what is scrambling in hiking?' then share this post with them too!