Backpacking and roughin' it don't have to go hand-in-hand.
In fact, with the right camping chair, your next trip into the wilderness can be almost as comfortable and cozy as nights in your favorite lounger at home. However, because finding the perfect pew for your needs can be a challenge, we've created this guide to help you on your way.
In this article, we'll introduce you to the best models in 11 separate categories and have you the perfect place to chill and rest up at the end of a long day on the trails. Below our reviews, we've also included some guidance so you know what to look for when you shop.
Top Choices by Category
Budget: REI Flexlite Camp and iClimb Ultralight
Sit Pad: Therm-A-Rest Z-Seat Pad and NEMO Chipper
High Capacity (Weight): NEMO Moonlite, Big Agnes Skyline UL, and iClimb Ultralight
Ultralight: Helinox Chair Zero and REI Flexlite Air
Helinox Chair Zero
Editor's Choice
What do you get when you combine portability, practicality, and comfort on a par with (no exaggeration!) your favorite armchair at home? The Helinox Chair Zero.
This backpacking seating solution takes relaxation to a new level with its packable design. It even has a breathable fabric seat for use on muggy summer days as well as a rugged frame for enhanced support, durability, and, of course, peace of mind.
Good things like this model don't come cheap, of course, so that's one thing to consider before you buy. But if you're willing to splurge for near-perfection, you can't go wrong with the Helinox Zero.
Bottom line: When only the best will do, the Helinox Chair Zero ought to be on the top of your list.
At a Glance: Quick Recommendations
Best Backpacking Chair: Our Top 11 Picks
Helinox Chair Zero
Editor's Choice
The Helinox Chair Zero scoops our award for the best chair for backpacking out there this year.
Tipping the scales at 1 lb. 2 oz. (510 g), this model is one of the lightest portable chairs with back support available today. It also packs down to a tiny size in its included stuff sack for increased portability on the trail.
It's plain to see that Helinox crafted this lightweight chair with durability and comfort in mind. With the Chair Zero, Helinox incorporated a rugged DAC aluminum frame system and a rugged, breathable fabric into one innovative design. It also has a convenient 11" seat height, making it easy to get into and out of your seat.
As with many quality pieces of gear, though, the Helinox Zero doesn't come cheap. It also has a fairly low maximum weight capacity and its legs can sink somewhat easily into muddy ground. However, if overall performance is key, the Zero is hard to beat!.
If you're looking for a higher weight capacity and roomier seat, be sure to check out the Helinox Chair One and Chair One XL. The Chair One is significantly heavier than the Chair Zero, but has a deeper seat, larger seat width, and is one of the best camping chairs out there.
PROs

Lightweight for a full-sized backpacking chair
Durable DAC aluminum poles
Compact and portable packed size
Highly breathable fabric

CONs

Pricey
Legs tend to sink into muddy ground
Somewhat low weight limit
Bottom-Line: When only the best will do, this tough but lightweight backpacking chair is one piece of gear you shouldn't leave home without.
Therm-A-Rest Z-Seat Pad
Best Seat Pad
On the lookout for an ultralight backpacking chair? If so, the Therm-a-Rest Z-Seat Pad is a shoo-in for your shortlist.
This sit pad-style model is made with sleeping pad-style molded closed-cell foam for comfort and performance. It also has Therm-a-Capture technology built right in to help reflect radiant heat toward your body for extra warmth on the cold dirt.
At just 2 oz. (57 g) in weight, the Z-Seat is light enough for remote backpacking adventures. Its accordion-style design and bungee closure system also allow it to fold down to a small size in your pack and make it just about the most compact backpacking chair alternative out there.
The downside? Even though the Z-Seat is very budget-friendly, it's not exactly the most comfortable option around. It doesn't provide any back support and using one requires sitting on the ground. But, if weight savings and portability are a priority, the Z-pad's a winner!
PROs

Lightweight design
Very durable construction
Provides insulation from the ground
Affordable price point

CONs

No lumbar support
Not the most comfortable "chair" on our list
Bottom-Line: If you're okay with sitting on the ground in exchange for weight savings, the Z-Seat Pad padded seat is one of the best backpacking chairs on this list.
REI Flexlite Camp Chair
Best Budget Camp Chair
With the REI Flexlite Camp, you can be comfortable in the backcountry without breaking the bank.
This budget-friendly, classic backpacking chair is made from bluesign-approved ripstop polyester for durability. Its seat fabric is also treated with a durable water repellent (DWR) to help it shed moisture and prevent stains while you're out and about.
At the same time, it provides ample back support through its easy-to-set-up aluminum frame. Then, when it's time to leave camp in the morning, the Flexlite folds down to a small packed size in its stuff sack for increased portability.
The drawback to this affordable and comfortable camping chair, however, is that it's fairly heavy (1 lb. 11 oz.). Its leg design also isn't very stable in rocky terrain. If you can deal with these shortcomings, however, you'll be getting a great hiking-chair-cum-backpacking-chair at a great price.
PROs

Quick set-up design
Made with bluesign-approved materials
Durable ripstop polyester
Has a DWR coat for stain and moisture-resistance

CONs

Fairly heavy
Leg design isn't very stable
Bottom-Line: Quite heavy but a great backpacking chair for buyers on a tighter budget nonetheless.
Big Agnes Skyline UL
Best For Portability
The Big Agnes Skyline UL is an ultra-compact chair specifically designed for trips deep into the wilderness.
Crafted for convenience, it has a color-coded aluminum pole frame system that's quick to set up. At the same time, its hubless frame system and pre-bent poles are easier to get in and out of the included stuff sack to minimize frustration.
For performance, Big Agnes made the Skyline with 70D Robic nylon, which is durable enough to withstand regular use and abuse. They also treated it with a waterproof coating to prevent stains and mildew.
Like most premium backpacking chairs, the Skyline UL isn't very affordable. However, it is one of the few compact options with both a high 15-inch (38 cm) height and a wide seat. So it's a good choice for campers that want functionality and comfort in the mountains.
PROs

Highly compact design
Color-coded, lightweight aluminum frame allows for quick set-up
Pre-bent poles create a wider and more stable seat
Waterproof coating for stain-resistance
Ripstop nylon seat

CONs
Bottom-Line: Comfortable, sturdy, and as compact as full-sized backpacking or camping chairs come.
NEMO Chipper Seat Pad
Best Backpacking Sit Pad
If you need a quick, simple, and comfortable seat for a weekend adventure, the NEMO Chipper Reclaimed Closed-Cell Foam Pad is a solid choice.
Made entirely out of reclaimed and remolded polyethylene foam scraps, the Chipper is the most ethically produced option on our list. While it isn't going to win any awards for comfort, it does exactly what it's supposed to do, i.e. provide a little cushioning and a dry spot for your posterior that beats sitting on the ground.
The Chipper has a tiny packed size and weighs just 5.6 ounces. While not the lightest "chair" on our list, it provides a little more cushioning than the Z-pad and is nevertheless a great option if you want a halfway house between a traditional chair and an ultra-minimalist seat pad.
PROs

Can double as a pillow
Provides insulation from the ground
Very compact design

CONs

Provides no lumbar support
Not comfortable enough for regular use
Bottom-Line: It might not be the epitome of luxury, but the NEMO Chipper's compact and lightweight design makes it a good option for long-distance backpacking trips.
Therm-A-Rest Trekker
Best For Versatility
One of the most unique backpacking chairs available, the Therm-a-Rest Trekker is a versatile choice for a range of outings.
The Trekker is designed to transform your inflatable sleeping pad into a fully-fledged backpacking chair. It's made from lightweight and packable 75D ripstop nylon with fiberglass stays for enhanced performance.
As one of the more convenient camp chairs on this list, the Trekker can be set up in just a few seconds. Since it uses your sleeping pad as a frame, it has a high back height, even if it is low to the ground.
We should mention, though, that this model does have to be used with a Therm-a-Rest sleeping pad. It also increases the likelihood of puncturing your sleeping pad while lounging. Despite this, if you want to reduce the amount of gear you have to pack and cut down on extra weight, this lightweight camping chair is well worth considering.
PROs

Low weight (10 oz.) and highly packable design
Provides lumbar support
Insulates from the ground
Quick set-up process

CONs

Requires a Therm-a-Rest sleeping pad
Risk of puncturing your sleeping pad
Bottom-Line: If cutting weight and bulk from your pack without sacrificing comfort is your goal, the Trekker is worth a place on your shortlist.
iClimb Ultralight Trail Chair
Best Value
Prioritizing comfort above all else, the iClimb Ultralight is a go-to option when we want home-like comfort in the wilds.
Boasting a wide and ergonomic seating area, this model is ideal for people who want to lounge in style. Its stable frame also positions you nearly 14 inches off the ground for enhanced comfort.
If that wasn't enough, the iClimb is made with extra-durable, 900D ripstop Oxford fabric for added ruggedness and uses mesh panels for breathability. This does add extra weight to your pack, but the extra durability might be worth it for some, not to mention the added weight capacity (330 lbs.).
PROs

Wide, comfortable seating area
Fairly stable on rocky terrain
Quick set-up process
High seat height

CONs

Some durability concerns
Quite heavy (2.2lbs)
Bottom-Line: If comfort is a priority, the iClimb is one of the best backpacking chairs your money can buy.
NEMO Moonlite
Premium Pick
If you're willing to splurge for a seriously comfortable, convenient, and altogether next-level chair that's good for everything from barbecues in the yard to short backpacking trips, the NEMO Moonlite is well worth considering.
On the face of it, the Moonlite looks like a few of the other trail chairs on our list. It has a four-legged aluminum frame with easy-attach pole hubs, a 10.5-inch seat height, and a 300-pound capacity.
Where it differs from the rest, however, is in the use of a multiposition reclining system that moves with you when you lean forward or sit back. This might seem like a negligible divergence from the norm, but it makes a big difference both in terms of comfort and how easy it is to get into and out of your seat. Whether it's worth all those extra $ is for you to decide!
PROs

Lifetime warranty
Lightweight
Compact
Lets you choose the desired reclining angle

CONs

Pricey
Mesh materials won't tolerate much use and abuse
Bottom-Line: Pricey but among the most comfortable backpacking chairs we tested.
REI Trail Stool
Best Backpacking Stool
Engineered specifically for campers who value simplicity in their gear, the REI Trail Stool is a great seating solution for minimalist backpackers.
As the only backpacking stool in our review, the Trail Stool is ideal for people who don't require back support but prefer a high seat height. In exchange for a lack of lumbar support, though, the Trail Stool brings its A-game in terms of durability and portability.
In fact, it's one of the lightest of all the chairs on our list with a weight of just over 1 lb. At the same time, its ripstop polyester and aluminum construction pack down small for portability. It even includes a shoulder strap for easy transport.
With all that in mind, we should note that this tripod stool has a low weight maximum of just 200 lbs. But, if this low limit is okay for you, it's still a great and functional option.
PROs

Great price point
Lightweight and portable
Shoulder strap included for easy transport
High height off the ground

CONs

No lumbar support
Low maximum weight capacity
Bottom-Line: The REI Trail Stool is a no-nonsense portable folding stool that's ideal for lightweight backcountry expeditions.
Crazy Creek Hex 2.0 Original
Best For Lounging
At the end of a long day of hiking, the Crazy Creek Hex 2.0 is the lounging solution you need in your pack.
This ground seat is made with an innovative EVA closed-cell foam construction to provide enhanced coziness while you relax. It also has a burly water-resistant ripstop nylon shell fabric and carbon fiber inserts to cut weight on the trail.
Furthermore, unlike many similar models, the Hex 2.0 is designed for portability. It's actually crafted to roll up to a compact size for storage in your pack. At the same time, it has hanging loops for simplified carrying to the campfire.
That being said, this model is a bit pricey for a ground seat. But weight and portability-conscious backpackers might find that the added cost is worth it thanks to this model's superb performance in the backcountry.
PROs

Extra tough foam construction
Rolls up to a compact size
Water-resistant for durability
Comes with hanging loops
Easy to set up and use

CONs

Pricey for a ground-based seating solution
Bottom-Line: It might cost you a pretty penny, but the Crazy Creek Hex 2.0 is a functional seat for lounging after a tough day on the trail.
REI Flexlite Air
Best Ultralight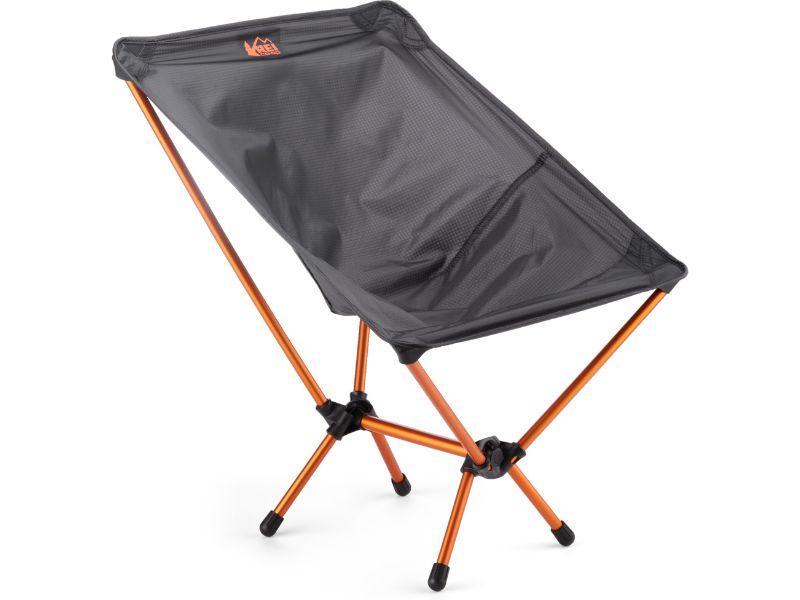 The REI Flexlite has already joined this reviewer on many a backpacking trip and has earned my highly discriminating behind's wholehearted seal of approval.
The Flexlite Air is, simply put, a lighter version of the REI Flexlite Camp featured above. It weighs in at a piddly 1 pound, but uses robust ripstop nylon material with a DWR finish, a 4-legged design, and a surprisingly stable aluminum frame.
Despite being a whole 11 ounces lighter than the Flexlite Camp, the Air boasts the same weight capacity (250 lbs.). The only significant difference in design between the two, in fact, is that the Camp has slightly larger dimensions and marginally burlier material. The Air costs more, but the added expense is well worth it if you are keen on keeping pack weight to a minimum.
PROs

Lighter than other chairs (not seat pads) on our list
Sturdy
Ripstop fabric
High weight capacity

CONs

Pricier than the REI Camp
Bottom-Line: If you want to take a traditional-style, high-quality chair backpacking without paying a huge weight penalty, they don't get much better than this.
What To Consider When Buying A Backpacking Chair
Buying the right backpacking seating solution for your needs starts with knowing what to look for as you shop. Here are some key things to keep in mind during the research process:
Comfort
The primary purpose of backpacking chairs is to give you a little more comfort at camp or rest stops on the trail. As such, this is the main thing to look for when buying.
When it comes to comfort, there are a few key things you ought to keep in mind. These include:
Lumbar Support – Back support is of the utmost importance in backpacking chairs. That's because it can greatly improve your ability to relax after a day of hiking. So, while opting for a model with lumbar support will add weight to your pack, it's well worth having if comfort's your chief concern.
Seat Height – The height of your seat is another key determinant of comfort. A sit pad might be okay for weight-conscious campers, but a higher seat height will provide more support and let you sit upright effortlessly.
Width – In our experience, wider seats are more comfortable seats. Simply put, a wide seating area won't squidge your butt or legs between the frame or sides and leaves a little more wiggle room.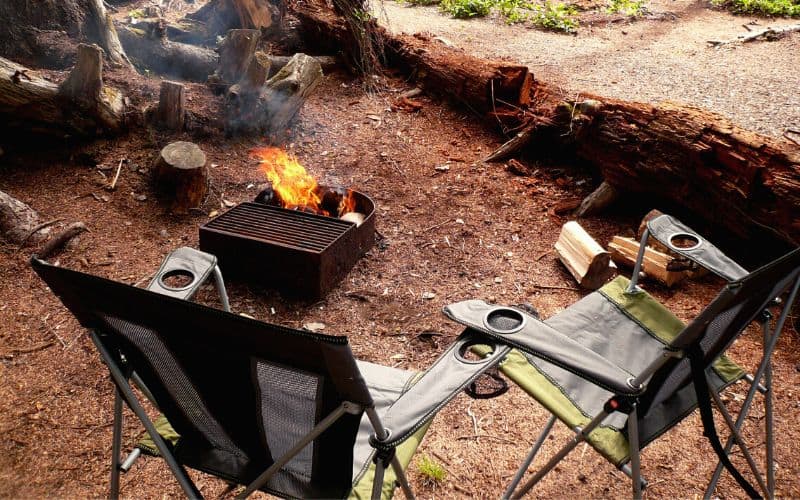 Size And Weight
Any piece of gear that you take backpacking needs to be portable enough to carry into remote terrain. Thus, you'll want to pay close attention to the packability of your potential camping seating solution.
As a general rule, sitting pads are the most portable option. However, there are some lightweight chairs that weigh around just 1 lb., like the REI Flexlite Air.
Stability
Backpacking chairs are of no use if they feel wobbly and unstable. Therefore, opting for a model with a sturdy frame is essential.
As you shop, pay close attention to the frame. Models with widely-spaced legs tend to be more stable, while those that cut weight with narrowly-placed legs tend to sacrifice stability in the process.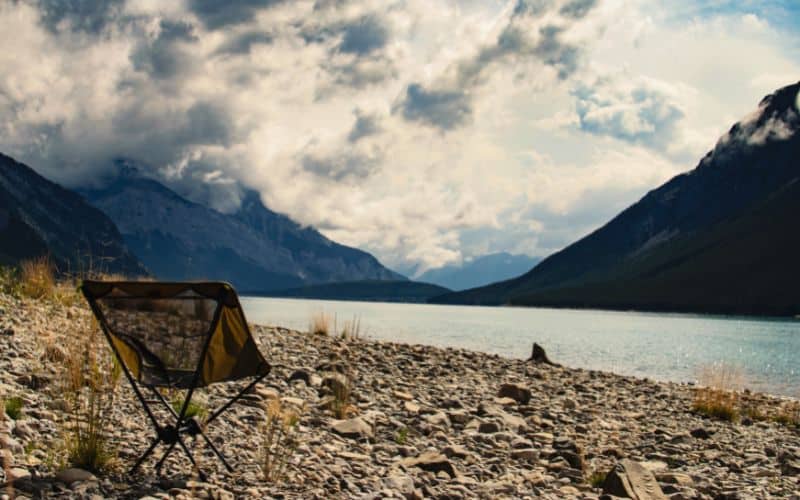 Of course, if you really want to prioritize stability, a sitting pad is ideal. But, this comes at the cost of comfort.
Ease Of Use
With a convenience-focused piece of gear like a backpacking chair, simplicity, and ease of use are very important.
Ease of use generally refers to the complexity of that model's pitching system. For example, some chairs are designed to fold open in just a few seconds while others have poles that require a bit more assembly.
While there's no single best option out there, it's essential that the backpacking chair you bring on your adventures is simple enough for you to set up with relative ease. That way, you can spend less time pitching your gear and more time lounging.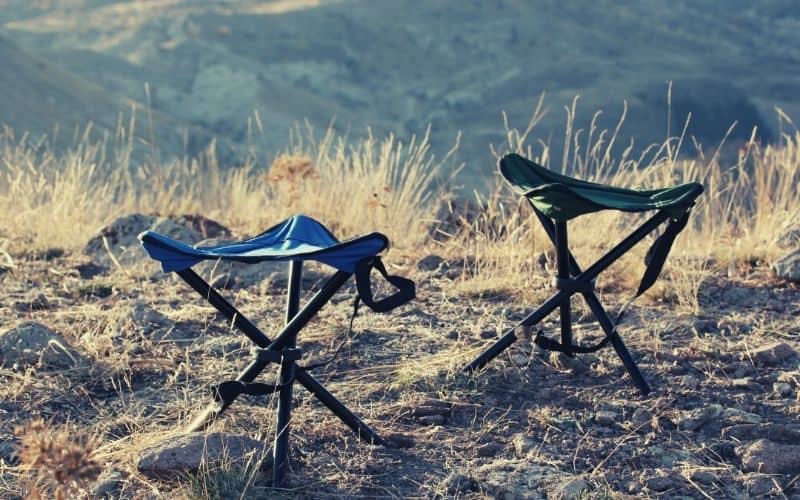 Best Chairs for Backpacking: The Verdict
Just in case you're still undecided, let's have a little recap to help you out.
The butts here at My Open Country are some of the fussiest around – not just any old chair will meet their high standards. After a few games of musical chairs and some testing in the field, our standout favorite is the Helinox Chair One. This isn't the lightest option available, the most packable, or toughest, but its average score across all metrics blows the competition away.
The Helinox Zero is, however, a touch on the pricey side. If you'd like something more affordable without compromising too much on practicality or comfort, we'd recommend the iClimb Ultralight or REI Flexlite Camp, both of which are a little heavier but don't fall too far short of the Helinox Zero in terms of comfort and trail worthiness.
If you like this post or have any questions, drop us a line in the comments box below. And if you'd like to share it with your friends, please do!