Spending time outdoors can be a fun and invigorating experience…or an absolute drag if you don't have the right gear!
There's no better way to relax and unwind in the great outdoors than a camping trip with family and friends. But failing to bring along the right camping essentials can turn your peaceful trip into an outdoorsy nightmare, and fast!
Regardless of when and where you'll be camping, there are a few camping gadgets and accessories that will help make your trip as relaxing and fun as possible. Discover them all on our list of the most important items to take camping!
Must-Haves for Camping: 19 Outdoor Adventure Essentials
1. Tent
A tent seems like an obvious choice but there are quite a few different styles to choose from. If you're a first-time camper or don't want to bother with a complicated tent setup, try a foldable tent. Foldable or instant tents have their poles pre-attached, making set-up quick and beginner-friendly.
Check out the super easy-to-assemble Quechua 2 Seconds tent for car camping.
2. Tent Stakes
Unless you want your tent to be rockin' and rollin' in the wind, you'll need to stabilize it with tent stakes. If you're out in rainy conditions, tent stakes will also prevent the tent from flapping and help it shed rain. Our favorites are the MSR Ground Hog Stake Kit, you can also buy them individually here.
Make sure to double and then triple-check you have all the tent stakes you need, and bring extras just in case. Remember to bring your tent's footprint as well!
3. Sleeping Bags
As you're catching Z's in your tent, the only thing separating you from the cold, hard ground will be your sleeping bag and pad. Do your research and invest in a decent model or risk suffering all the consequences of a cheap bag, like cold nights or inexplicable rips and tears.
If you're not exactly sure where your adventures will take you, you can't go wrong with a 3-season sleeping bag such as the R.E.I. Co-op Magma 30.
4. Sleeping Pad
If you want to enjoy a good night's sleep in your tent, be sure to add a sleeping mat or pad to your list of must-have outdoor gear. Not only will a pad add extra comfort, but it will also insulate you from the cold ground.
For a no-fuss option, opt for a lay-flat, foam pad. However, an inflatable sleeping pad such as the Therm-a-Rest NeoAir Xlite makes for a comfier choice, albeit with the risk of it puncturing.
5. First Aid Kit
Blisters, cuts, bug bites… anything can happen during a trip in the backcountry, so you'll need to be prepared. Buying a ready-made first aid kit takes a lot of the guesswork out of building your own kit, but you still might want to add your own personal touches.
Most kits are quite small and compact, so you have no excuse! We love the ultralight and waterproof Adventure Medical Kit .7.
6. Water Bottle
Many campsites offer potable water, but you'll still need a way to drink it. A stainless steel water bottle comes in handy for all sorts of tasks from making coffee in the morning to bringing water along on your hiking trips.
The Klean Kanteen TKWide water bottle is our choice for our camping capers. It simply does what we need it to, keeps hot stuff hot, and cold stuff cold, and does it well.
For longer trips, you'll want to bring some gallon jugs for easy access to H2O at your campground.
7. Water Filter or Water Purifier
Even if you're staying at a campground with potable water, it never hurts to be prepared. You should always assume every source of water you pass is undrinkable and therefore purify or filter it before drinking. These devices are available in various forms, from water pumps to straws and tablets.
8. Map and Compass
The best camping accessories to bring on any trip are a map and compass. Although one hopes they'll never need these essential pieces of navigational gear, you'll be dang happy to have them if you do! If you plan to consistently be using a compass we love the Silva Ranger 2.0 for its accuracy.
While bringing along a map and compass is a good start, make sure you know how to use them before your next trip.
9. Sunscreen
Sunburns fade but their damage to your skin is forever. The good news is that sun damage is completely preventable. Always practice sun safety during any outdoor activities and make sure you bring sunscreen with an SPF of at least 15.
10. Bug Spray
Nature is full of little insects and critters that can put a serious stop to your campsite fun. To avoid being devoured, especially while hanging around the campfire or fire pit, bring along some insect spray. All-natural products like lemon balm and citronella are good, but always have a heavy-duty backup just in case.
11. Knife
If you're at a frontcountry campground or staying in your RV, a good knife is a useful gadget to have. If you're out in the backcountry, it's an absolute must. Knives can be used for food preparation, first aid, and even self-defense. A basic pocket knife will work in a pinch, but consider upgrading before a major trip. For camping, we love the powerful blade of the lightweight Gerber StrongArm Fixed Blade Knife.
12. Headlamp or Flashlight
All it takes is one bathroom break in the pitch dark woods to realize how important a headlamp or flashlight is. While either will work, a headlamp makes a convenient choice since your hands will be free for other tasks like meal preparation (and, of course, peeing…!). Remember extra batteries too!
As far as hand flashlights go we recommend the output and versatility of the Nitecore MH23 USB Rechargeable Flashlight which make it the perfect companion for camping.
13. Camping Stove
If you're staying in the sticks for the long haul, it's a good idea to bring along a camp stove. Your fire might fail to start for a number of reasons and trail mix gets old, fast.
Choose a model that's portable and easy to set up and you'll never go without your morning coffee fix. For the most convenient option, choose a camp stove that runs on gas. The MSR PocketRocket 2 ticks all these boxes and is our top choice for camping.
14. Cooking Set & Cutlery (or Sporks)
Without cutlery, you're stuck eating food with your hands or living off of snacks. Bringing along a proper cooking set and cutlery is not only useful but also turns any basic camp cooking into a fancy affair. Go for sporks instead of forks and knives to save on precious space.
15. Collapsible Sink
While it's not absolutely essential, a collapsible sink is one of the best camping accessories to help you save on clean-up time after meals. When not in use, a collapsible sink doubles as a convenient place to store your dishes and cutlery, as a cooler for drinks, or as a washbasin for your hands.
Related reading: to make sure you always have clean water on hand, bring a collapsible container to store your H20.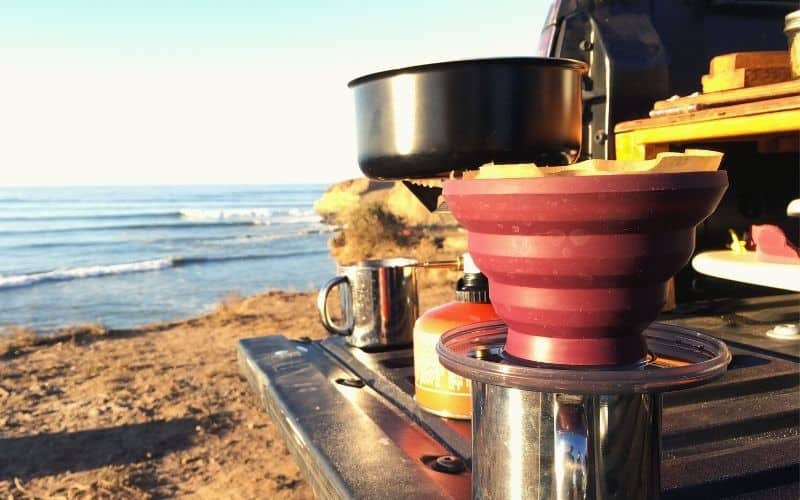 16. Towels
If you're planning to partake in some swimming or other water sports during your trip, make sure to bring some microfiber towels. Microfiber towels such as the REI Co-op Multi Towel Lite are affordable, super-absorbent, fast-drying and they'll get the job done far better than the usual cotton or terry cloth towels.
17. Matches/Lighter
No matter what outdoor adventure you're partaking in, you should always have the means to start a fire in case of an emergency. A butane lighter is the best option, but a packet of matches will do as well. Just make sure you buy waterproof matches or that you store them in a waterproof container.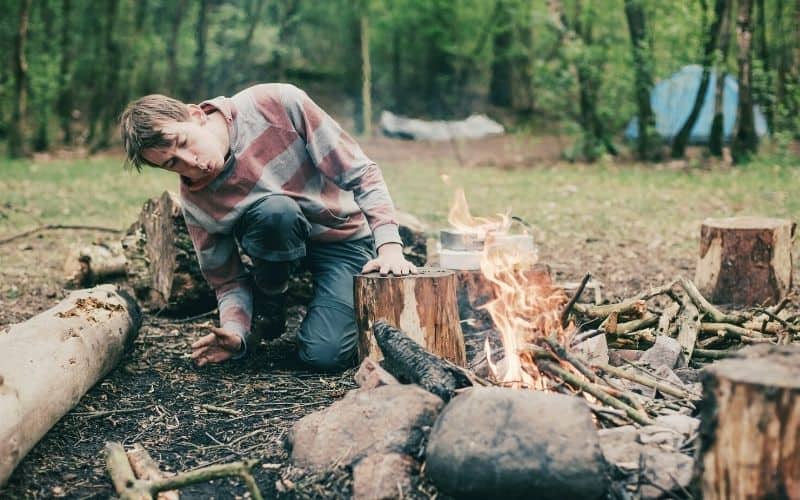 18. Camp Shovel
A camp shovel is a great tool that will help you set up your camp faster and can come in handy for several other tasks around your campsite. While mainly used for digging catholes, many models, such as the TentLab The Deuce, feature a serrated edge to help you cut wood. Choose a shovel with a 3-way folding design and you'll be surprised at how compact it becomes.
19. Trash Bag
Remember the golden rule: pack it in, pack it out. It's quite simple, you should leave no trace behind at your campsite. Bring a trash bag to carry out all your garbage, and yes, that includes biodegradable compost like banana peels and apple cores.
Camping Non-Essentials (But Good-to-Haves!)
1. Roasting Sticks
What would camping be without roasting some s'mores around the fire? Don't feel limited to the beloved chocolate + marshmallows combo either, roasting sticks will allow you to cook all sorts of delicious stuff, from hotdogs and bacon to loaded kebabs and even toasted sandwiches.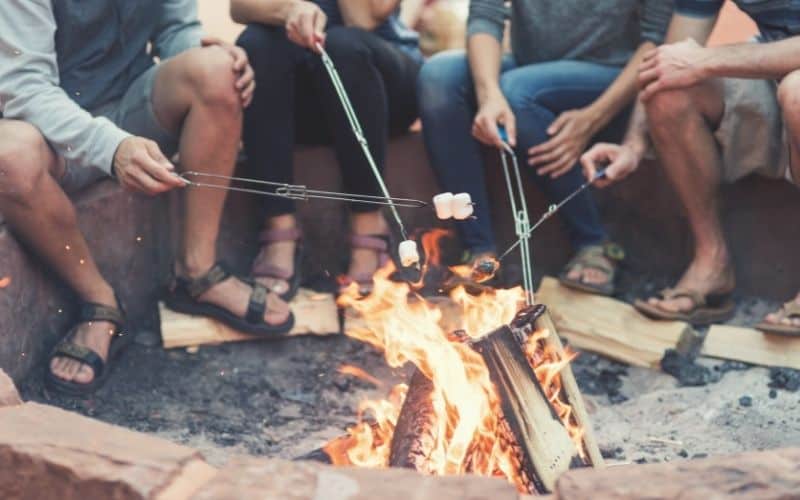 2. Games
While camping is all about relaxing in nature, it's also a great opportunity to have some fun with your family and friends. Make the most of your time away from the screens by packing lots of fun games like outdoor checkers, bocce balls, or glow-in-the-dark playing cards.
3. Hammock
There's no better way to laze around your camp than relaxing in a hammock. Compared to traditional tents, hammocks are compact, light, and simple to set up. They also double as a comfy bed!
The Original Blackbird hammock from Warbonnet has most definitely got our seal of approval, having won our top hammock prize for several years running now!
4. Solar Shower Bag
With a solar shower bag, you can enjoy a nice hot (or at least warm) shower right at your campsite. All you need to do is leave the bag in the sun for a few hours to heat the water. Many come with accessories that turn the bag into a real home-like shower experience.
5. Power Bank
A portable power bank ensures you never have to deal with the dreaded low battery symbol whilst out in the sticks. A power bank such as our recommended option the Anker PowerCore III Elite 25600, will keep all your devices charged like smartphones, GPS devices, and cameras. Choose a solar-powered model and all you need is a bit of sunlight to power your stuff.
6. Battery-Powered Fan
Do yourself a favor and bring a battery-powered fan for your next warm-weather camping trip. Depending on the breathability of your tent, it can get pretty warm inside, so a battery-powered fan will be a lifesaver in hot conditions.
We love the long battery life and high performance of the Geek Aire Rechargeable Outdoor Floor Fan.
7. Camp Chairs
Let's face it: after a while, sitting on the ground starts to suck. If you're car camping, make sure to bring along a chair or two. Your back (and backside!) will thank you. If you plan to do some cooking, a camping table isn't a bad shout either!
For our favorite smallest, lightest, and most easily packable camping chair check out the Helinox Chair Zero. If you plan on backpacking yet desire a little comfort along the way then this chair is a must!
8. Tarp
Even if you have a waterproof tent, you should still bring a tarp for extra protection. Choose a tarp made from rugged ripstop nylon and you'll be ready for whatever Mother Nature throws your way.
If you want something lighter, yet still waterproof, try out the Sea to Summit Escapist Tarp Shelter.
9. Cooler
A cooler can help keep critters away from your food and allow you to enjoy fresh food at your campsite. Besides, nothing beats a cold drink plucked fresh from the cooler on a hot day.
If you are looking for a long-term investment for your family outings then the YETI Tundra 65 Cooler is the way to go.
10. Portable Coffee Maker
When you're overnighting in the backcountry, enjoying a few of your favorite home comforts makes the experience that much better. Bring along a portable coffee maker and enjoy your usual hot coffee in the morning, right from your tent.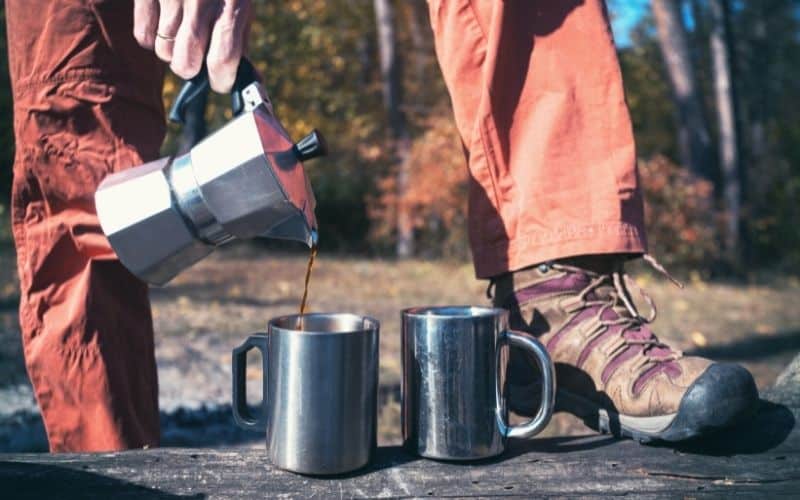 Don't Forget Those Camping Must-Haves!
That's it! Now you know all the camp essentials you'll need to truly enjoy your next camping trip.
Remember, your list of camping must-haves might end up looking a bit different depending on your destination, and that's okay! Use our camping equipment list as a starting point to help you prepare for your next trip.
If you've got questions about campsite equipment and gear, we've got answers! Feel free to ask any questions below and remember to share this article with all your pals.