If you're anything like the folks here at My Open Country, you'll know that no camping trip is underway in earnest until your tent's up, the s'mores are out, and you're kicking back in a comfortable chair with a can or bottle of something cool.
Sourcing those s'mores, pitching the tent, and keeping your can cool is the easy part. Finding a great chair in which you can chill with your feet up, however, takes a little more effort.
To help you find the best footrest-equipped chair for the campground, we've put together a list of our 10 favorites. Our list includes everything from budget buys to luxurious affairs that are fit for a Queen or King, so there's something for everyone. Below our reviews, you'll also find a few tips that will simplify finding the perfect pew for you.
Top Choices by Category
Budget: Sport-Brella Recliner and Happybuy Folding Camp Chair
Lightweight: Kamp-Rite Chair with Detachable Footrest, GigaTent Quad, and Alps Mountaineering Escape
High Weight Capacity: Guide Gear Oversized and Timber Ridge Zero Gravity
Editor's Choice
Timber Ridge Zero Gravity Reclining Camping Chair with Footrest
Want a chair that feels more like a cross between a throne and a bed? If so, the TR Zero Gravity is the one for you!
Whether you're chilling on Rio Beach or kicking back at a campsite in the mountains, this recliner is the perfect pew to do it in. It's robust, as comfortable as chairs are made, durable, adjustable, supportive, and has a few handy features that make it a true standout.
While a little on the pricey side, the TR Zero Gravity is still excellent value for money, which is the highest praise we give any product we review. For more details on this awesome "superseat" (we had to coin a new word to do it justice!), check out our more in-depth review below!
Bottom line: Boasts the perfect balance of features, stability, portability, and comfort.
At a Glance: Quick Recommendations
Best Camping Chair with Footrest
Timber Ridge Zero Gravity Reclining Camping Chair with Footrest
Editor's Choice
Weight: 26 lbs. ⸱ Folded size: 37″ x 30″ x 6″ ⸱ Weight capacity: 350 lbs.
In our pursuit of the perfect pew, we sought something tough enough to last a lifetime, incredibly comfortable, supportive, stable, and fully adjustable. The TR Zero Gravity ticks all of those boxes.
This camp chair is made with sturdy steel tubing, tough polyester fabrics, and classy-looking natural wood armrests. It measures 43.5 x 22 x 21.3 inches and 72 inches when fully extended. These dimensions, combined with a weight limit of 350 lbs., mean it can accommodate heavier users and those over 6 feet tall. Despite its size and weight (26 lbs.), it's still pretty easy to carry.
One of the main selling points of this zero-gravity recliner is its adjustability. It uses a patented locking mechanism with easy locking levers that allow you to adjust the seating angle to a comfortable position, whether you want to sit upright or lay back and have a nap.
In terms of comfort, the TR is a true standout. The material is nicely padded, and the ergonomic design cradles your body. The soft headrest pillow is just the icing on the cake!
There's no getting around the fact that this is a pricey and heavy pew. However, if you and your behind won't settle for second best, this is the chair for you!
PROs

Very comfortable
Generous dimensions
High weight capacity
Fully adjustable
Sturdy and stable

CONs
Bottom-Line: Outscores the best of the rest in every important metric.
EVER ADVANCED Zero Gravity Lounge Chair
Runner Up
Weight: 23 lbs. 9 oz. ⸱ Folded size: 40.4″ x 10.2″ x 7.5″ ⸱ Weight capacity: 300 lbs.
The Ever Advanced Zero Gravity narrowly missed out on our top spot but is still a great option for lovers of the zero-gravity style.
The EA ZG measures 30.9″ long, 25.9″ wide, 45.7″ high, and 68" when fully reclined. This makes it a little smaller than our winner, the Timber Ridge, but big enough for most users under 6' 2" tall. The maximum load capacity is 300 lbs.
What we love most about this recliner are its ergonomics and adjustability. Its locking mechanism allows you to dial in the reclining angle to anything from 0-144 degrees, while the curvature of the angles provides ultimate comfort whether you're sitting in an upright position or lying down and soaking up the sun.
The main downside is the lack of a cup holder or side table – not a big issue for most, but sure to be a deal-breaker for some given the lofty price tag.
PROs

Adjustable from 0-144 degrees
Headrest/lumbar pillow included
Nicely padded
Folds easily
1-year warranty

CONs
Bottom-Line: Comfortable enough for the patio, portable enough for the great outdoors!
ALPS Mountaineering Escape Chair
Best Value
Weight: 10 lbs. ⸱ Folded size: 43″ x 7″ x 7″ ⸱ Weight capacity: 225 lbs.
This chair has accompanied the author of this review on many a camping trip and served him well on each occasion. While nothing overly fancy, it does the job you need it to do to a very high standard and is more fairly priced than similar camping chairs with footrests on our list.
The Escape is made with a powder-coated steel frame and durable, 600-denier polyester. It measures 32.5″ wide x 17″ deep x 41.5" high. While tough, sturdy, and roomy, however, it weighs just 10 pounds, making it the second lightest on our list after the GigaTent Quad.
Our favorite features are, without a doubt, the adjustable armrests and footrest. With just the tug of a cord, you can tweak the tension to suit your body shape and easily find the optimal position for you.
There are, however, a few drawbacks. The most notable is the Escape's 225-pound weight capacity, which makes it the weakest of the bunch. In my experience, however, this low load limit doesn't impact stability or sturdiness for users under the 225-pound threshold. The only other shortcoming is the lack of padding or a pillow.
PROs

Comfortable despite lack of padding
Mesh cup holder
Adjustable armrests and footrest
Reasonable price
Lightweight

CONs

No padding
Low weight capacity
Bottom-Line: A great pick for campers who want a simple, comfortable, portable chair that's light enough to haul with you on overnighters in the wilds.
Kamp-Rite Reclining Camp Chair with Detachable Footrest
Honorable Mention
Weight: 11 lbs. ⸱ Folded size: 38″ x 7″ x 7″ ⸱ Weight capacity: 300 lbs.
The Kamp-Rite is a mid-range chair that, even if it fails to outshine its pricier peers, performs solidly in every metric.
It's made with tough polyester fabric and a sturdy, reinforced steel frame that can bear up to 300 lbs. of weight. It measures 28 x 38 x 38 inches, so can accommodate most would-be users, and weighs a pretty portable 11 pounds.
The Kamp-Rite's detachable footrest makes it a little more versatile than other chairs on our list, giving you the option of sitting upright or kicking back with your feet up. One of the main shortcomings of its design, however, is that it isn't adjustable since it's just a chair and not a recliner.
PROs

Lightweight
Practical carry bag
Sturdy
Removable footrest
Two mesh cup holders
Convenient stash pocket

CONs

Short on padding
Not adjustable
Bottom-Line: A great option if you don't mind the lack of adjustability.
Sport-Brella Recliner Chair with Removable Umbrella and Footrest
Best Budget
Weight: 10 lbs. ⸱ Folded size: 39″ x 8″ x 8″ ⸱ Weight capacity: 250 lbs.
If cheap and (very) cheerful is your bag, the Sport-Brella all-in-one recliner, umbrella, and footrest is well worth a place on your shortlist.
The Sport-Brella offers a lot considering its very reasonable price tag.
For starters, its steel frame and thick polyester fabric make it far more durable and rip-resistant than other chairs in its price range. Secondly, its features are up there with models that cost twice as much. In addition to an adjusting footrest and UPF 50+ sun umbrella, you get two storage pockets and a drinks holder. Not bad, right?
The only real grumble we have is that adjusting the Sport-Brella into recliner or sleeping mode takes a little effort. Other than that, however, this is a great little chair at a great price.
PROs

Adjustable (3 positions)
Built-in, full-coverage umbrella
Two storage pockets
Cup holder
Adjustable footrest
Cheap!

CONs

Not as sturdy as other options on our list
Adjusting takes time
Bottom-Line: An absolute steal at the price!
Guide Gear Oversized Club Camp Chair and Foot Stool
Best Capacity
Weight: 13 lbs. 2oz. ⸱ Folded size: 42″ x 14.5″ x 13″ ⸱ Weight capacity: 500 lbs.
For heavier campers, there are few options out there that can lay a glove on this one. In addition to measuring a generous 34″ x 27″ x 36″, it has a 500-pound max load capacity, the strongest option on our list by a long way.
It's made with a super-sturdy steel frame and durable, 600-denier polyester. It's plushly padded throughout, so is one of the cushiest and most comfortable models we reviewed. The included footstool can support up to 80 lbs., so can be used as a seat if you have any kids in your camping crew, and there's also a can holder and a duo of handy storage pockets to boot.
Is this chair worth its hefty price tag? Well, if you need a model with a higher weight limit, it's a great pick, but the lack of adjustability is sure to be a deal-breaker for some.
PROs

Great weight capacity
Tough fabric
2 storage pockets
Cup holder

CONs

Not adjustable
(Very) expensive
Bottom-Line: Very expensive but a decent option if you need a higher weight capacity.
GCI Outdoor 3-Position Reclining Director's Chair with Ottoman
Best for Tailgating
Weight: 16 lbs. 48 oz. ⸱ Folded size: 32.3″ x 21.5″ x 4″ ⸱ Weight capacity: 250 lbs.
If you're a fan of director's chairs and/or like having the option to use your chair with or without a footrest, the GCI Outdoor 3-Position Recliner is well worth considering.
Unlike the other camping chairs on our list, the GCI comes with a separate ottoman stool for your feet. This is rated at up to 150 lbs., while the chair itself is rated to 250 lbs.
We were initially a little put off by the idea of carrying two pieces of gear instead of one, then discovered that the ottoman slides into a little pouch on the side of the chair for easy transportation. When all packed up, the GCI measures just 21.5 x 4 x 32.3 inches, so it's fairly portable given what you get.
At 16 lbs. and 48 oz., this is one of the heaviest options on our list. It is, however, its also one of the sturdiest and comes with a flip-out side table, which probably adds a pound or two of weight.
When opened, this recliner measures 21.5 x 24.4 x 40 inches. While wide enough for most users, the main drawback is that the shorter back means taller users will have little or no head support.
PROs

Plastic side table
Cup holder
Nicely ventilated back panel (great for the summer heat!)
Solid armrests
Adjustable, 3-position backrest
Ottoman can be used as a stool for kids or lighter adults
Lifetime warranty

CONs

Quite heavy
No adjustable headrest
Separate footrest (a 'pro' for some!)
Bottom-Line: One of the sturdiest options on our list and a great camping chair for lovers of the "director's" style.
Happybuy Folding Camp Chair with Footrest
Best for Summer
Weight: 2 lbs. 8 oz. ⸱ Folded size: 35″ x 7″ x 7″ ⸱ Weight capacity: 330 lbs.
Let's get straight to the bottom line: this beach-chair-camp-chair hybrid is the ideal option for hot days.
Unlike other chairs on our list, the Happybuy is made with breathable mesh fabric. This provides plenty of airflow, helps keep you cool in high temps, and prevents the back of the chair from becoming soaked in sweat. While the mesh is fairly tough, it will naturally be easier to tear than solid fabrics, so bear this in mind if durability is a concern.
This chair can be set to two additional positions – reclined and sleeping – so you are covered whether you want to catch some Zs, lie back and read a book, or keep an eye on the kids.
The Happybuy's features and max load capacity also make it a standout compared to other chairs in its price range. It can hold up to 330 pounds and, in addition to the standard cup holder, has a handy stash pocket for small items and a plush pillow for neck support.
PROs

Affordable
Breathable mesh fabric
Handy stash pocket
Nice headrest/pillow
High weight capacity

CONs

Mesh fabric is easy to tear
Bottom-Line: A fairly priced recliner that's ideal for warm-weather camping.
Ostrich Deluxe Chair
Best Features
Weight: 10 lbs. 13 oz. ⸱ Weight capacity: 275 lbs.
As the name implies, the Ostrich chair is the fanciest on our list, and far more luxurious than anything aside from the GCI Director's Chair.
It's made with heavy-duty polyester and a lightweight aluminum frame to bring you the best of both worlds – portability and durability. But the materials are only a small part of what makes the Ostrich Deluxe so awesome.
The Deluxe weighs in at just 9 pounds but incorporates several great features that are often lacking in chairs in its price range and weight class. These include a built-in organizer with three pockets, a cup holder, a carry strap, a large pillow, and a lumbar support cushion. All of these help to make it one of the most practical and convenient chairs we tested.
PROs

15 reclining angles
Wooden armrests
Choice of 2 headrests/pillows (mesh or padded)
Lightweight
Three-pocket organizer

CONs
Bottom-Line: A pricey but otherwise nigh-on perfect pew for days on the beach or chilling at camp.
GigaTent Outdoor Quad Chair
Best Lightweight
Weight: 7 lbs. 14 oz. ⸱ Folded size: 38″ x 8″ x 6″ ⸱ Weight capacity: 250 lbs.
If you want a lightweight chair that doesn't compromise on comfort, the GigaTent Outdoor Quad is a great option.
This quad seat weighs under 8 pounds but has a sturdy steel frame, a nicely padded seat and headrest, reasonably rugged materials, and a weight capacity of 250 pounds. All of this makes it impressively comfortable and stable for such a lightweight chair.
The seat is 21 inches wide and 41 inches tall, which means it can accommodate wider posteriors and will support the head of most users under 6' 4" tall.
What we really love about the GO Quad are its features. In addition to an easily adjustable footrest and cup holder, different color schemes come with either a cooler pocket for storing your drinks or a tablet holder/viewing panel in the footrest.
PROs

Lightweight
Built-in cooler pocket
Adjustable footrest
Sturdy, powder-coated steel frame
Practical carry bag

CONs

Some features are not available in all colors
Bottom-Line: A lightweight, feature-rich chair that's surprisingly comfortable for the weight.
How to Choose a Camping Chair with Foot Rest
Material
All of the chairs on our list are made with tough materials designed to withstand a little bit of rough and rumble. That said, some are more durable and rugged than others.
The least rugged options are generally those with extensive mesh panels like the HappyBuy Folding Camping Chair and, to a lesser extent, the GCI Outdoor Director's Chair.
The most rugged options tend to be the heaviest, using thicker fabric and sturdier, more robust frame material. A few cases in point include the TR Zero Gravity and Ever Advanced Zero Gravity.
Weight
If you're car camping, weight isn't so much of an issue. If you plan on hiking into your camping spot, however, finding a good balance between weight and comfort is the name of the game.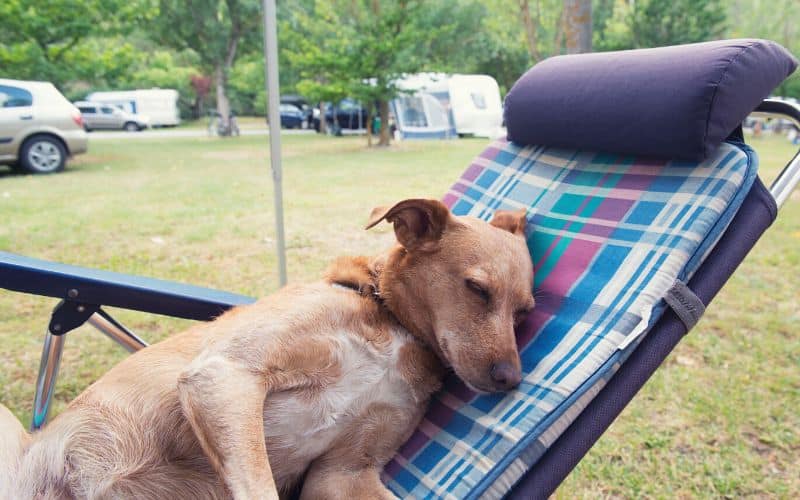 The lightest model on our list is the GigaTent Outdoor Quad, weighing just 7.85 lbs. While you wouldn't want to carry this too far, it shouldn't pose too much of a burden over a distance of a few miles. Impressively, this chair doesn't skimp on comfort to achieve its light weight.
The heaviest option on our list is the TR Zero Gravity with Footrest, tipping the scales at a hefty 26 lbs.
Weight Capacity
This is the most important thing to check before clicking 'buy'. What use, after all, is a chair that can't support your weight?
Most of the chairs on our list have a weight capacity of 250-300 pounds. The outliers are the Alps Mountaineering Escape (225 lbs.), the TR Zero Gravity (350 lbs.), the Guide Gear Club Camp (500 lbs.), and the HappyBuy Folding Camp Chair (330 lbs.).
Extra Features
Some camping chairs are far more than just a perch for your posterior, boasting a few handy add-ons that make them all the more practical and convenient. Footrests aside, the most important extra features include things like cup holders, side table, padded headrest, adjustable armrests, and a storage pocket or storage pouch.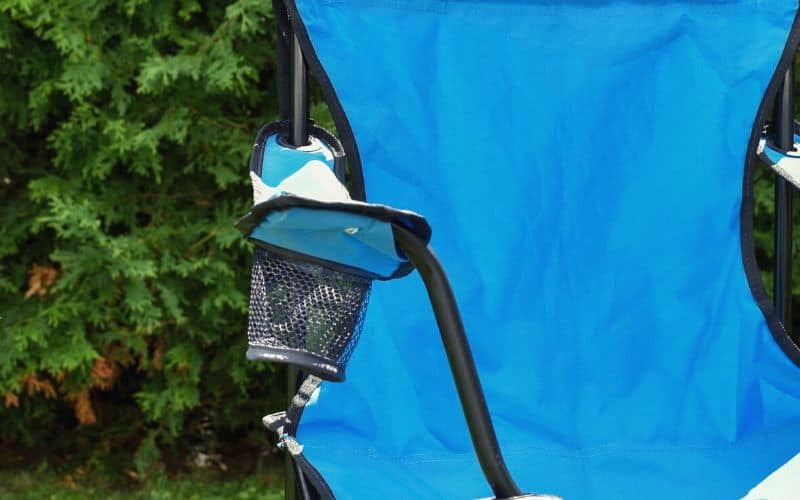 The Perfect Camping Chair with a Footrest: The Verdict
Still undecided? Let's have a little recap of our top picks!
Our top pick is the Timber Ridge Zero Gravity. There are other chairs on our list with higher max load limits and better features, but none of them perform quite so well across the board as the TR Zero. It's super comfortable, adjustable, highly durable, strong, and nicely padded in all the right places.
If you're looking for a cheaper option, it's hard to go wrong with either the Happybuy Recliner or the Sport-Brella Recliner, both of which are very good chairs for the price (and the latter of which has so many great features we can't believe it doesn't cost more!).
If you liked this post or have any questions, let us know in the comments box below! And if you'd like to share it with your friends, please do!