Everybody's gotta at some point… even outdoor enthusiasts.
And when you gotta go, it's best to be prepared. When out in the sticks, flush toilets, bidets and such like are, eh, hard to find. In their place, proper and polite pooping practice requires that you have a few additional tools to hand – a handful or two of TP, a ziplock bag for post-poop TP disposal, and a shovel (aka "backpacking trowel") for safe interment of you scat.
In this roundup review, we'll tell you our top 7 picks and give you the low down on dropping a load while backpacking and camping, Leave No Trace style (spoiler: make sure you bury waste!).
Editor's Choice
The TentLab Deuce Backcountry Trowel
The TentLab Deuce, in our opinion, is the best shovel for backpacking out there. It's light as a feather, as packable as they come, comes in a bunch of colors, and digs with ease through hard, soft, and root-filled soil alike.
The Deuce is popular among backpackers of all kinds, and for good reason.
It does everything you need a backpacking shovel to do. It only weighs 0.6 ounces (yep, you read that right!), has serrated edges that are sharp enough for food prep (not recommended), and has a curved profile for added strength. It's also made with aerospace-grade aluminum, so is cut out to cave many a cathole for years to come.
Bottom line: A lightweight, effective, durable tool that does everything you need it to do.
At a Glance: Quick Recommendations
Best Shovels for Backpacking Reviewed: Our Top 7 Picks
The TentLab Deuce Backcountry Trowel
Editor's Choice
The TentLab Deuce is one of the most popular shovels among backpackers. Simply put, this is lighter than most other shovels but still highly practical and effective. Its sharp edges cut through dirt and any roots that get in the way with ease. You can also use either end of this shovel – the narrow end for digging and the wider end for scooping.
This portable shovel is made of ultralight aluminum. The thin material used in its construction isn't the most comfortable in your hand but, given that it weighs about half an ounce, we'll give it a pass in this department. And despite being so thin and light, it's still very durable.
The Deuce is also available in an assortment of bright colors so you won't have the same color as everyone else on the trail.
Specs
Material: Aluminum
Length: 6.8"
Weight: .6 oz
PROs

Ultralight
Lifetime warranty
Aluminum is recyclable
Tough enough for rocky soil

CONs

Handle could be better
A bit pricey
Bottom-Line: The Excalibur of backpacking shovels.
GSI Outdoors Cathole Sanitation Trowel
Best Budget
The GSI Outdoors Cathole Sanitation Trowel is made of recycled plastic. It's very inexpensive so it's great for the budget-oriented backpacker. It has a serrated edge for chopping roots or other vegetation. It's 10 inches long and has a slick little ruler on the blade to measure the depth of your hole.
This trowel works well enough in easy-to-dig soils, but the plastic material struggles in tough soil.
Specs
Material: Plastic
Length: 10"
Weight: 3.1 oz
PROs

Affordable
Lightweight
Anti-slip handle
Serrated blade edge and sharp point

CONs

Less durable materials
Struggles in hard ground
Bottom-Line: Affordable, but not nearly as tough as most shovels on our list.
Vargo Titanium Dig Dig Tool
Best Titanium
The Vargo Titanium Dig Dig Tool is a great choice for ultralight backpackers. This tool's titanium construction makes it not only one of the lightest on our list but also one of the strongest.
The design's kinda smart, too. It has a serrated edge for cutting through roots and other plant matter. The handle has a rolled edge, which gives it a more comfortable grip than some other ultralight trowels.
Even though it's heavier than the lightest ultralight camp shovel/trowel, the Vargo can also help you secure your tent if you find yourself camping on snow, sand, or other loose ground.
Specs
Material: Titanium
Length: 8.1"
Weight: 1.25 oz
PROs

Titanium is durable
Lightweight
Serrated edge

CONs

A bit pricey
Handle could be better
Bottom-Line: A lightweight backcountry trowel made of durable titanium.
Coghlan's Backpacker's Trowel
Best Value Backpacking
The Coghlan's Backpacking Trowel is as inexpensive as it is ubiquitous. I first picked up one of these for cheap from an army surplus store when I was assembling my first ever backpacking kit. This lightweight shovel gets the job done, and is strikingly light for the price. Its bright orange color also makes it hard to miss when you're digging around for your poop kit in the dark!
Specs
Material: Plastic
Length: 11"
Weight: 2 oz
PROs

Affordable
Ultralight
Cool color (for a poop-hole tool, that is…)

CONs
Bottom-Line: A very affordable and lightweight option. Its plastic construction will appeal to some, but be a dealbreaker for others.
SOG Entrenching Tool
Best Value Car Camping
The Sog Entrenching Tool is a heavy-duty steel folding shovel that packs down into a surprisingly small package. It has a very comfortable triangular-shaped handle, which makes digging a breeze. Its tempered steel blade is adjustable and has a serrated wood saw edge on one side for cutting through whatever gets in its way.
Throw this thing in your car for your next camping trip, you'll be glad you did. You never know when this small and mighty tool will come in handy!
Specs
Material: Steel
Length: 18.25"
Weight: 24.50 oz
PROs

Durable stainless steel handle and blade
Long
Adjustable blade
3-way folding design

CONs
Bottom-Line: The only digging tool in this review that comes with an adjustable blade.
Deuce Scoop Camping Shovel
Honorable Mention
This ultralight trowel is a great pick for the ounce-counters.
It weighs a tiny 0.75 oz., yet is ultra-durable and strong thanks to its aerospace-grade titanium construction and curved design. Unlike most ultralight trowels, the Deuce Scoop has smooth edges that make it very comfortable to handle. Though it lacks sharp serrated edges for cutting, it's strong enough to slice through debris while you're digging.
Specs
Material: Titanium
Length: 7"
Weight: .75 oz
PROs

CONs

A little pricey
Handle isn't very comfortable
Bottom-Line: Has the highest strength-to-weight ratio on our list.
Gerber Gorge Folding Shovel
Best for Car Camping
This offering from Gerber isn't quite a backpacking shovel but is an ultra-portable foldable shovel that can be put to many uses. It's made with extra-strong, high-carbon steel and has a rubber grip on the glass-filled nylon handle, which makes digging with this tool a pleasant experience.
The Gerber folds down small and unfolds easily. Folded down, the GG is 9.25 inches long. That's small enough to fit in the door pocket of your car. You can also fold the shovel blade to a 90˚ angle to use this as a pick and the built-in hammer head can be used for driving in tent stakes when setting up camp.
Specs
Material: Steel
Length: 16.5"
Weight: 28 oz
PROs

Durable construction
Multi-purpose head
Push-button locking mechanism for stability
Rubber handle
Rotating spade

CONs
Bottom-Line: The only multi-purpose shovel on our list.
How to Choose a Backpacking Shovel
Types of Camping Shovels
Backpacking Trowel
This type of camping shovel prioritizes size and weight. You won't be digging any giant holes with these, but they will do the job when you've gotta go.
Garden Trowel
Garden trowels are often used as camping shovels since they're about the right size to dig a cathole. And if you choose a garden trowel made of plastic, it will be sufficiently light to take backpacking. Garden trowels often have a more ergonomic handle because they're designed to be used for longer periods. As such, they are often the most comfortable to use.
We tested a couple of lightweight shovels that have a garden trowel design – the Coghlan's Backpacker's Trowel and the GSI Outdoors Cathole Sanitation Trowel, both of which have actual handles that are comfortable to grip. You could comfortably use either of these shovels in the garden all day.
Tactical Trowel/Military Shovel
Tactical trowels and Military shovels are often bigger and heavier but much more versatile than their smaller cousins.
The Gerber Gorge (16.5 inches) and the SOG Folding Shovel (18.25 inches) fold down into a small enough package to fit in a pack. Even so, they are still significantly bigger and heavier than 6-10 inch backpacking and garden trowel shovels. You'll have one big pack if you pack one of these with your camping gear!
These shovels are great for basecamps where you'll be digging a fire pit, car camping trips, or just for stashing in your car in case you need a snow shovel or sand shovel. Since they have bigger handles and blades, they're more suitable for digging larger holes.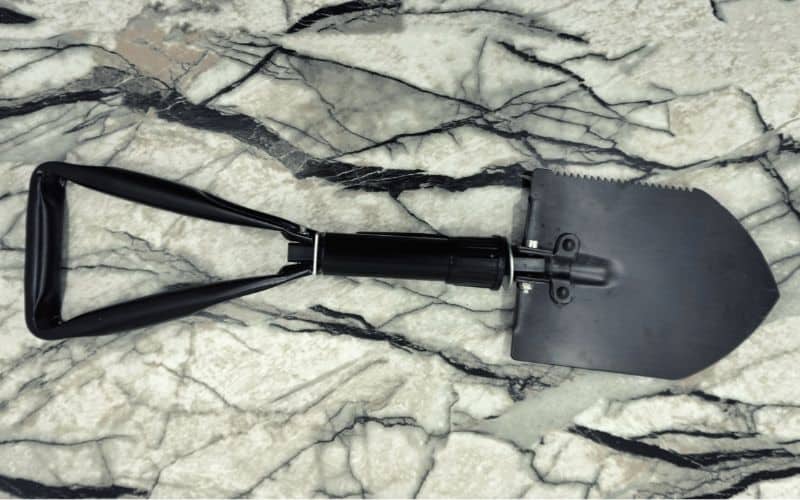 We especially like that the Gerber Gorge doubles as a hammer. Sometimes we need a hammer when we're out camping, but we always forget to pack one!
Materials
Generally, the stronger shovels are made of metals, whether that is steel, titanium, or aluminum.
Steel is used in the construction of the strongest digging tools we tested. The Sog Entrenching Tool (tempered steel) and Gerber Gorge (high carbon steel) are the strongest offerings in this list. They're also the biggest, which is a factor when considering strength.
However, the titanium Deuce Scoop and Vargo Dig Dig tool were also very strong considering how light they are. The aluminum Deuce has never broken on us, either, and we've used that to dig loads of catholes.
Plastic shovels like the Coghlan's Backpacker's Shovel and the GSI Cathole Trowel tend to be least strong but are the cheapest of the bunch.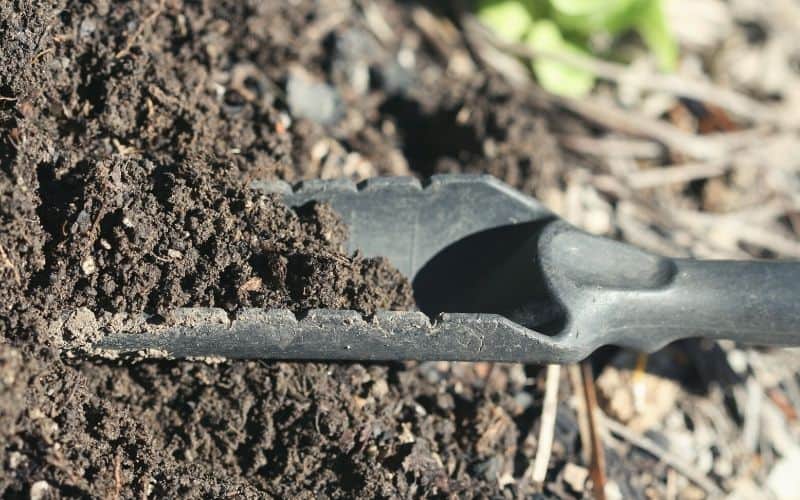 Most backpacking shovels on this list use the same material throughout their construction. The only exception to this is the Gerber Gorge, which has a glass-filled nylon handle and a rubber grip with a steel blade.
Packability and Weight
Most of the trowels we tested are made of lightweight material. However, not all materials are created equal. The lightest we tested here comes in at .6 ounces (TentLab Deuce #2), while the Deuce Scoop and Vargo Titanium Dig Dig Tool weigh a very backpacking-worthy .75 ounces and 1.25 ounces respectively.
Also worth mentioning are the offerings from Coglan's (2 ounces) and the GSI plastic shovel (3.1 ounces).
Do You Need a Camping Trowel?
There are plenty of backpackers that don't carry a camping trowel. A tent stake or a trekking pole will work to dig holes, but they won't work as well as a dedicated trowel. Our opinion? If you want to be able to dig a proper Leave No Trace-approved cathole, you need a real trowel to do the digging with.  
How to Sh*t in the Woods
When you gotta go, get your poop kit ready. You'll need a backpacking shovel, toilet paper or wipes, hand sanitizer, and a bag to pack out your toilet paper. Now follow these easy steps: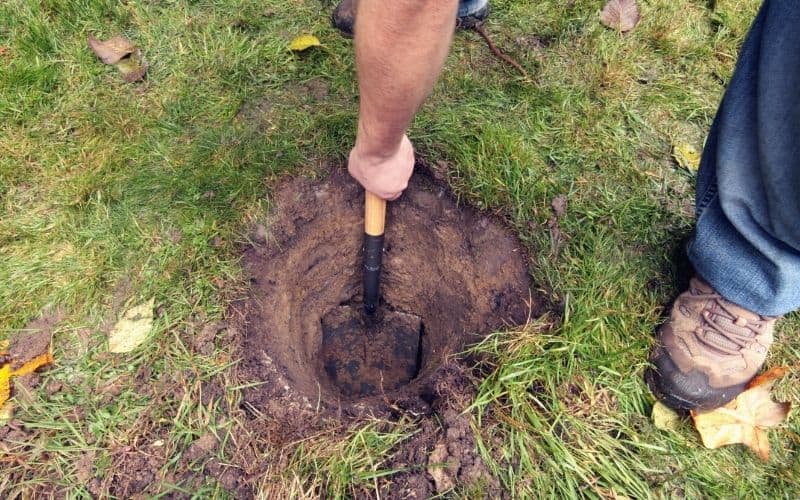 Look for a site that is in a discreet location at least 200 feet away from streams, lakes, ponds, trails, and campsites.
Dig a hole that is at least 6 inches deep.
Do your business.
Bury that sh*t! Stir the dirt with some liquid using a stick.
Be sure to NOT bury your toilet paper. Pack it out in that ziplock you brought along for this very purpose.
Clean your hands with hand sanitizer.
See, wasn't that easy? If you want to go more in-depth check out this guide.
Best Backpacking Shovel: The Verdict
Let's have a quick recap:
If you plan on backpacking, our top pick is the TentLab Deuce. This stool-burying tool is lightweight, robust, and cuts through hard soil with ease.
On a budget? The GSI Outdoors Trowel is a great choice. It ain't the toughest trowel out there but will do the job in all but the rockiest soil.
Car camping? If so, the Gerber Gorge Folding Camping Shovel is the way to go. This multipurpose shovel can clear snow, hammer in tent stakes, and, of course, dig a darned good poop hole when needed.
How did you like our article? If you have any questions or comments, drop us a line in the box below. And If you'd like to share this post with your friends, share away!