Whether you're digging a cathole, extracting tent stakes, creating a fire pit, or building sandcastles with the kids, a good shovel is a great tool to have on any trip in the great outdoors.
In this article, we review seven great options for all kinds of campers, whether you're a frontcountry family camper or a badass backcountry backpacker.
Our list includes everything from basic folding models to multi-functional options that can open your beers and scale your fish! Below our reviews, you'll also find detailed advice to help you choose the right camp spade for your needs and budget.
Top Choices by Category
Budget: Rhino USA Folding and Tabor Tools Folding
Backpacking: TentLab Deuce and FiveJoy Military
Multi-functional: Sahara Sailor, SOG Survival Shovel, and Fivejoy Military
Editor's Choice
Sahara Sailor Survival
The Sahara Sailor SS scoops our award as the best camp shovel out there. Not only does the Sailor perform better than most of the competition in its core function – digging – but it has myriad other tricks up its sleeve…twelve of them, to be exact.
The SSSS isn't just a great, easy-to-use folding shovel, but a multifunctional tool that can be used as a saw, hatchet, hoe, hunting spear, cleaver, and hook. Its modular add-ons also include multiple essential survival tools, including a wrench, knife, bottle opener, whistle, screwdriver, compass, fire starter, disgorger, and wirecutter.
In short, it can perform pretty much any campsite task you might need it for short of boiling your evening brew!
Bottom Line: An awesome, multi-functional shovel that excels in every task.
At a Glance: Quick Recommendations
Best Camping Shovel: Our Top 7 Picks
Sahara Sailor Survival
Editor's Choice
Our top pick is everything we could want in a shovel, and so much more.
The Sahara Sailor is made with military-grade, solid carbon steel with aerospace-grade anodized aluminum tubes. This, in short, makes it as tough as nails (tougher, even) and capable of dealing with even the most heavy-duty tasks.
The SSSS's collapsible design means it packs up small but can be extended to 31.5 inches, which gives you plenty of leverage for serious digging. The folding head can also be configured in various ways, letting you transform it into a hoe, hatchet, cleaver, saw, hammer, hook, or even a spear.
We're mightily impressed by all of the above functionality and would recommend this awesome tactical shovel on the strength of this alone. However, it also boasts a ton of add-ons that seal the deal. These include a hexagonal wrench, a knife, a bottle opener, an emergency whistle, a screwdriver, a compass, a fire starter, a disgorger, and a wirecutter. Not bad, right?
There are no downsides to the Sahara Sailor. If we were nitpicking, we might suggest that the 18.5-inch folded length will be a little too long for some. However, this is only worth factoring into your considerations if you're backpacking or seriously short on space. In any case, the SSSS can easily be lashed to your backpack, so portability shouldn't be an issue.
PROs

Tough
Lifetime warranty
Multifunctional
Long!
Collapsible
Great carrying pouch

CONs

Not packable enough for some?
Bottom-Line: An awesome tool that's so, so much more than just a shovel.
REDCAMP Military Folding Camping Shovel
Runner Up
If you're in the market for a fairly basic but highly reliable, well-made, and affordable camping shovel, the REDCAMP Military is a solid choice.
This portable folding shovel isn't as long as our top pick, nor does it have all of the bonus features. However, it's significantly lighter, a lot more compact, and does pretty much everything the average camper might need it to do.
The REDCAMP folds down to just 10.2 inches and weighs 2.5 lbs. While it's a little heavy for backpacking, it's ideal for car camping. Its wider head makes any digging task a little easier, while its 23-inch length means you'll have enough leverage for most jobs.
PROs

Sturdy
Compact
Relatively lightweight
Affordable
Made with the toughest, military-grade material

CONs

Short on added features/tools
Bottom-Line: This frill-free but highly functional tool is ideal for anyone looking for an emergency shovel to keep in their vehicle just in case.
Rhino USA Folding
Best Value
If you're looking for a compact camp shovel capable of handling heavier tasks, the Rhino USA folding survival shovel is a great option.
The Rhino weighs 2 lbs., so isn't lightweight by any means. However, those extra few ounces translate into superior sturdiness and chunkier, more durable materials.
It's made with powder-coated carbon steel and measures 23 inches when extended, but it packs down to a highly portable 9 inches x 6 inches, so takes up very little space in our pack.
Like other shovels on our list, the Rhino is multifunctional, doubling as a saw, hoe, and pickaxe thanks to its rotating blade, which locks easily into place with a twist-lock mechanism. While shorter than the Sahara Sailor, it's longer than most other ultra-compact models. In the field, this made it just a little easier to handle, particularly if you're tall.
PROs

Versatile
Compact
Sharp cutting edge
Affordable
Doubles as hoe and pickaxe

CONs
Bottom-Line: Compact enough for backpacking but still burly and big enough for heavy-duty tasks at camp.
FiveJoy Military Folding
Premium Pick
If you're happy to pay a little more for a tool that's both ultra-portable and capable of handling heavier-duty tasks, the FiveJoy Military tactical shovel is well worth considering.
This military shovel weighs just 1.43 pounds, so is one of the lightest full-size shovels on our list and a good option for backpacking. Nevertheless, its solid carbon steel construction makes it extremely tough and its 34-inch length means it's more convenient for larger digging jobs.
The FiveJoy is also multifunctional, packing a lot more extras than cheaper alternatives. For starters, the blade can be adjusted to multiple angles to use as a hoe, pickaxe, or hook. On top of that, it also boasts a firestarter, ruler, knife, food cutter, saw, bottle opener, whistle, and multi-use rope attached to the handle.
PROs

Multifunctional
Tough
Longer enough for larger tasks
Blade can be adjusted to 3 angles
Relatively lightweight

CONs
Bottom-Line: A great survival tool for anyone who can swallow the princely price tag.
TheTentLab The Deuce Trowel
Best Minimalist
The TentLab Deuce is one of the most popular backpacking shovels out there. The reason for this is simple: it weighs next to nothing and yet can accomplish most of the tasks a backpacker needs it to with ease.
The sharp edges on this ultra-compact shovel make short work of cutting through dirt and roots when making catholes or holes for tent stakes. It has a narrow end for digging and a wide end for scooping, so you're covered for almost any task that isn't too heavy-duty.
This portable model weighs just 0.6 ounces and measures 6.8 inches long, so it'sideal for backpacking, campers who are short on space, or car campers who want to store a shovel in their vehicle just in case.
While the Deuce is a standout in many metrics, it does have a few shortcomings. The handle isn't the most comfortable and it's too small for heavier tasks like digging a rain trench around your tent or liberating the wheel of your vehicle during an offroading mishap. For this, you'll need a model like the Sahara Sailor or the SOG folding shovel, which provide far more leverage and digging power.
PROs

Available in 3 sizes and several colors
Ultralight (0.6 oz.)
Lifetime warranty
Aluminum is recyclable
Tough enough for rocky soil

CONs

Handle could be better
A bit pricey for what it is
Too small for heavier tasks
Bottom-Line: A little too short and light for serious digging but a convenient, lightweight hand shovel for ultralight ounce counters regardless.
Tabor Tools Folding Shovel
Best Budget
This survival tool is a great choice for anyone looking for a halfway house between ultralight, trowel-style shovels and heftier heavy-duty models.
The Tabor Tools Foldable Shovel weighs just 1.3 lbs. Despite this, it has a decent-sized blade and measures 18" extended and 8 inches collapsed. While shorter than other survival shovels on our list, it's long enough to perform most campsite tasks and will let you free tires stuck in snow or sand with a little bit of extra effort.
This military-grade shovel is made with alloy steel and has a sharp, serrated edge that cuts through roots, hard soil, and snow, with ease. The blade can also be set to a 90-degree angle, converting the tool into a hoe or hook.
PROs

Compact
Lightweight
Doubles as a hoe and hook
Stainless steel construction
Serrated edges

CONs

A little on the short side for serious digging
Fewer bonus features
Bottom-Line: A great camping shovel for anyone who wants something more sizable than a trowel but lighter and more compact than a full-sized model.
SOG Survival Shovel with Wood Saw Edge
Honorable Mention
The SOG SS is another model that fills the gap between ultralight trowels and heavyweight, full-length shovels.
It measures just 10 inches when folded but extends to 18.25 inches, long enough to make it comfortable for extensive digging. It weighs 24.5 ounces, so is comparable to the Tabor Tools FS, which is a fraction shorter but also significantly cheaper and more compact.
Carefully constructed with a high-carbon tempered steel blade, this SOG tactical shovel is hardy enough to deal with repeated use and abuse. Its rotating spade blade also allows you to convert it into a hoe or pick, while its pointed tip is ideal for digging into stubborn soil. Its standout features are a wood saw edge that comes in handy for prepping firewood and a large, comfortable, triangular handle.
PROs

Relatively lightweight
Compact
Nice handle
Rotating shovel blade

CONs

A little on the short side for taller users
Short on "bonus" features
Bottom-Line: A fairly priced, compact tool that's suitable for both car camping and backpacking.
How to Choose Camping Shovels
Size
The ideal size of shovel depends on how you plan on using it.
If you're a backpacker, or simply looking for something to dig the odd cathole or fire pit, then an ultralight model like the TentLab Deuce will do the trick.
If you want something for heavier-duty tasks like digging a rain trench or getting car tires unstuck when offroading, then you'll need a longer and larger model that provides a little more leverage and digging power. Fit for this purpose on our list are the Sahara Sailor, the FiveJoy Military, and the Tabor Tools FS, though the Sahara's 30.5-inch length makes it a standout.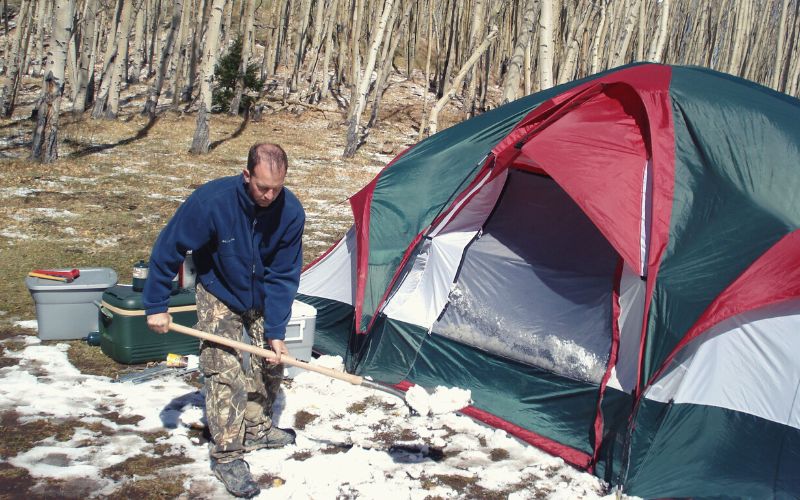 Weight
As with size, weight is only a critical consideration if you plan on using your shovel when backpacking.
If backpacking is your bag, we recommend a lightweight mini-shovel like the TentLab Deuce, which weighs just 0.6 oz and measures 6.5 inches. For a regular car camping trip, you can get away with heavier models like the Rhino Folding (2 lbs.) or Sahara Sailor (3.45 lbs).
Material
The material your shovel is made with has the greatest impact on durability and cutting/digging power.
The toughest materials are hardened, heat-treated, high-carbon steel. If it's military-grade, all the better.
All of the shovels on our list are made with high-carbon steel except for the TentLab Deuce (aerospace-grade aluminum) and the Tabor Tools FS (alloy steel). While the Deuce might be susceptible to the odd ding or dent, the Tabor Tools FS isn't noticeably weaker than the high-carbon competition.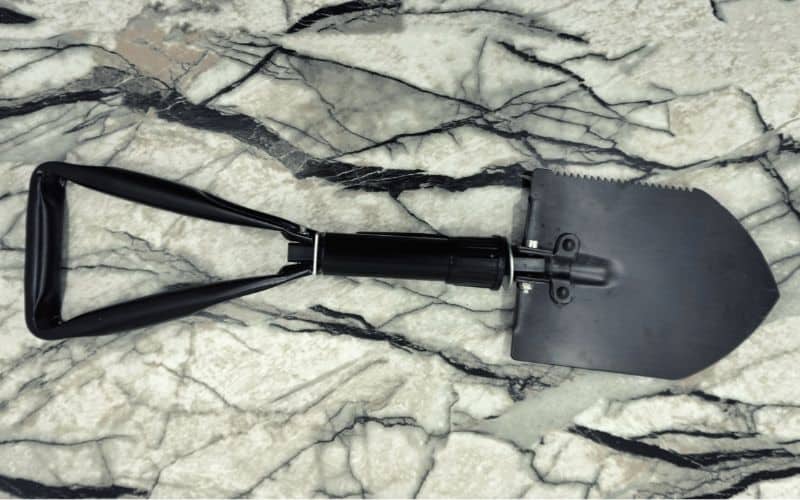 Having swung and stomped on all of the shovels on our list multiple times in testing, the one that felt the burliest was the FiveJoy Military, though the Sahara Sailor and Rhino FS were a close second.
Blade Design
The difference between a good blade and an average, middling blade is vast. Good ones will make light work of whatever tasks you put them to and, in most cases, are capable of doing far more than just digging.
The first thing to check is the size of the shovel's blade or head. Larger heads like those on the Sahara Sailor and Tabor Tools FS will make hole digging a lot easier, while smaller models like the TentLab Deuce will give you a bit of a workout.
Many shovels incorporate a serrated edge that functions as a saw – handy to have if you plan on making a campfire. With the exception of the Tentlab Deuce, all of the tools on our list have folding heads that allow you to use them as an entrenching tool, hoe, hook, or cleaver.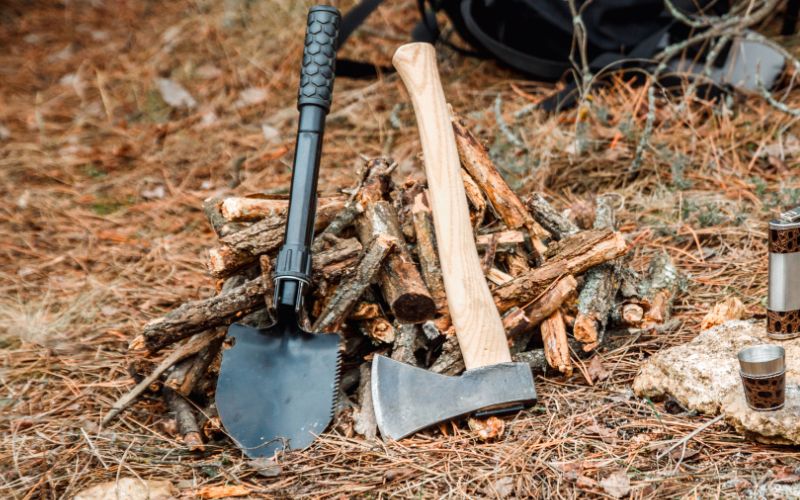 Extra Features
A few extra features can seriously enhance the convenience and practicality of any portable outdoor shovel, and make it into a full-blown survival tool.
Some of the things we've found on the most feature-rich shovels include a serrated knife, wrench, wire cutter, saw, bottle opener, hammer, screwdriver, fire starter, and compass. All of these features are mightily handy and could also save you a lot of weight by negating the need to carry all of the above items.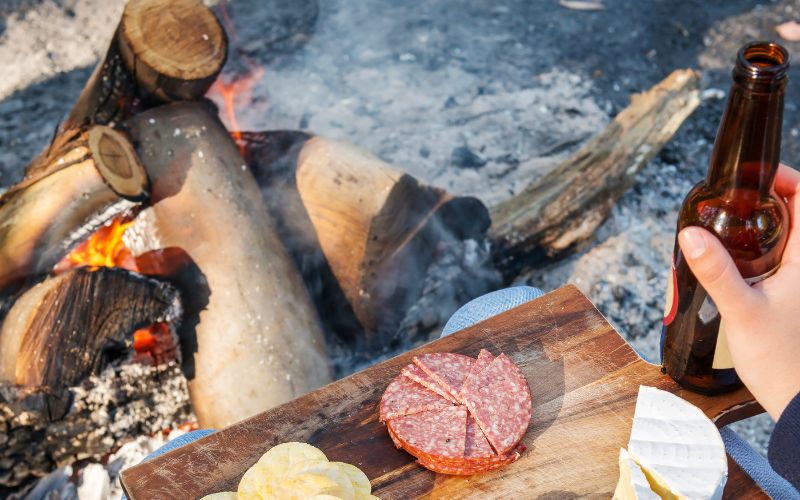 Best Shovels for Camping: The Verdict
Just in case you're still undecided, let's have a little recap of our top picks.
Our favorite model is the Sahara Sailor. While a little too heavy for backpacking, this extra-tough, practical, and multifunctional tool is perfect for car camping or leaving in your vehicle in case of emergencies.
If you need something a little lighter, we recommend the 0.6-ounce TentLab Deuce. And if you're working on a tighter budget, it's hard to go wrong with the Tabor Tools FS, a basic, lightweight model that does everything most campers will need it to do.
If you liked this article or have any questions, drop us a line in the box below. And if you'd like to share it with your friends, please do!