Enjoying a good day of hiking revolves around having the right clothing for your adventure. And if there's one piece of gear that's going to make or break your outing, it's the pants you pull over your pins.
There are plenty of high-end hiking pants out there that offer exceptional performance and all-day comfort, of course. But for many of us, the associated price tags can rule them out as realistic options.
If that applies to you, we're here to help. We've put together a list of the 8 most affordable options currently on the market, all of which strike the optimal balance between price and performance. At the bottom of the page, you'll also find detailed, straight-talking advice on how to choose the perfect pair for your tastes and adventure type.
Editor's Choice
Patagonia Quandary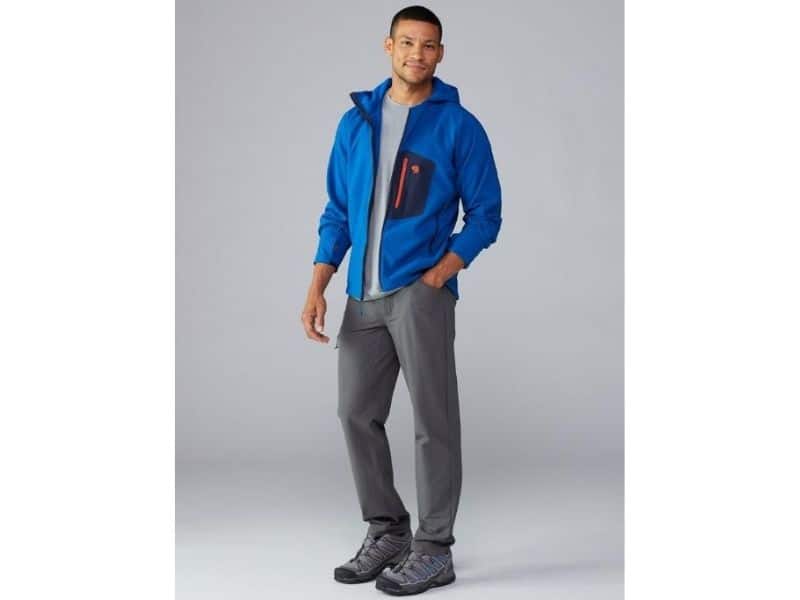 When a good quality-to-cost ratio is your main priority, the Patagonia Quandary are the pants you need for your time on the trails.
Blending style, comfort, and affordability into one neat package, the Quandary are an award-winning pair of hiking pants suitable for any adventure. They're also made with bluesign-approved materials so you can feel good about your gear.
While some hikers will find the Quandary a little too thick for scorching hot conditions, otherwise it's helluva hard to find any fault with these tough, lightweight, super-comfortable, and performance-oriented hiking pants.
Bottom Line: They may not be our number one choice for extreme heat, but for overall performance, the Patagonia Quandary can't be topped.
Cheap Hiking Pants: Quick Recommendations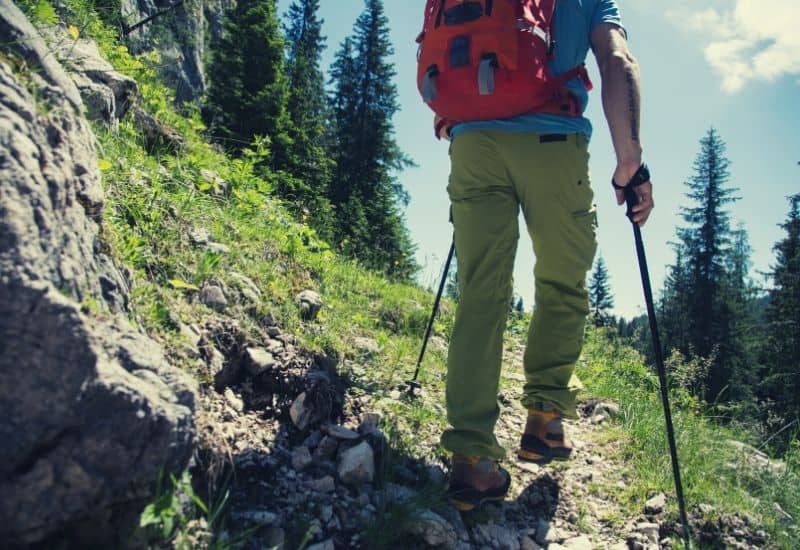 Related reading: If you didn't find what you were looking for and are willing to pay a little more for a quality pair of hiking pants then check out our main guide.
Best Budget Hiking Pants
Patagonia Quandary
Editor's Choice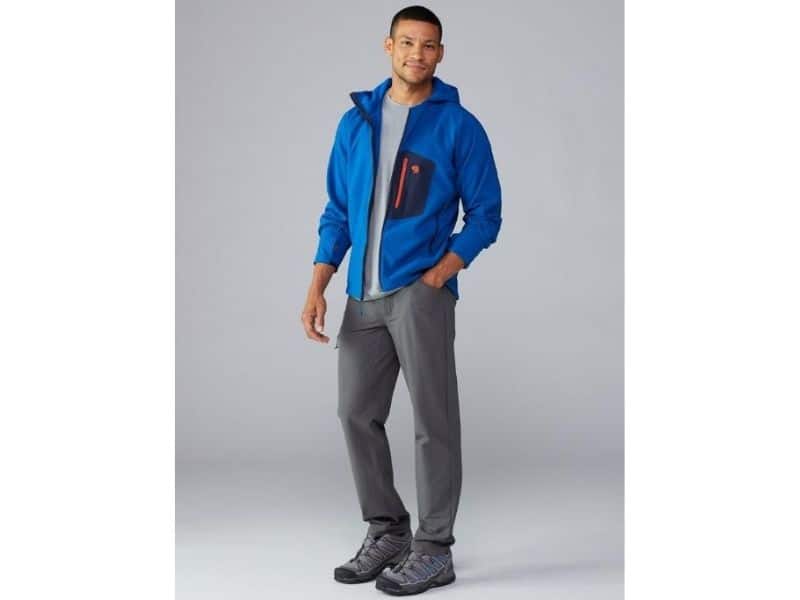 Taking gold in our review of the top low-cost hiking pants is fully featured, high-performing, and impressively hard-wearing Patagonia Quandary.
Engineered with bluesign-approved materials, these pants feature a mostly recycled nylon/spandex construction that provides plenty of stretch, durability, and breathability. They have a UPF 50+ sun protection rating, a DWR coating for water resistance, and superior moisture-wicking properties.
As far as features go, these hiking pants don't disappoint. They have a full set of hand, back, and thigh pockets for gear storage. There's also a full crotch gusset and a curved waistband to provide a better fit throughout your adventures.
Some folks do find the Quandary to be a bit too warm for very hot conditions. However, if you want one set of pants to do it all in the alpine, this model is a solid choice.
PROs

Crotch gusset and curved waist belt for a better fit
Water-resistant treatment
Plenty of pockets for gear storage
Eco-friendly and recycled materials
Zippered thigh pocket
Lightweight (10 oz)

CONs

Too warm for very hot weather
Bottom-Line: A pair of budget-friendly hiking pants that offer performance on a par with their far pricier peers.
Prana Stretch Zion Pants
Runner Up
If you plan on tackling more technical hikes that demand the perfect balance between ruggedness, breathability, and flexibility, the Prana Zion are well worth considering.
Designed specifically with functionality in mind, these incredibly well-thought-out trousers are made with the company's abrasion-resistant Stretch Zion fabric for added durability with sacrificing mobility. This 97% nylon, 3% spandex, high-wicking, quick-drying fabric is also breathable enough to keep you cool on sweaty uphill climbs.
To provide a better range of motion, these trousers come with a gusseted crotch and an adjustable waistband. They also have roll-up legs with snaps that work well when you need a bit of extra ventilation.
Like the Quandary, the Stretch Zion are a little on the thick side, so they're not the ideal option in extremely hot conditions. But, when you need a comfortable and versatile hiking pant that's good for everything except searing heat, this is one option you won't want to overlook.
PROs

Durable and stretchy material
Moisture-wicking for high-output pursuits
Adjustable waistband for comfort
Roll-up leg snaps provide extra ventilation
DWR coating

CONs

Fabric is a bit too thick for very hot weather
Quite heavy (13.3 oz.)
Bottom-Line: If you want a pair of hiking pants that are good to go wherever you're willing to take them, the Stretch Zion are an excellent choice.
Outdoor Research Ferrosi
Best for Sun Protection
Boasting top-end breathability and exceptional comfort, the uber-popular OR Ferrosi are our top pick for hot days on the trail.
The Ferrosi are made with Outdoor Research's proprietary 86% nylon, 14% spandex Ferrosi fabric, which offers enough stretch and abrasion-resistance enough for hikes on steeper and more rugged trails, and breathes better than any other fabric on our list.
The Ferrosi also have a UPF rating of 50+, so they provide ample protection from the sun's rays on even the sunniest of days or when you're hiking at altitude.
The OR Ferrosi are also winners in terms of features. In addition to a harness-compatible waist, these trousers have a plethora of hand, back, and thigh pockets for stashing gear on the go, and drawcord cuffs for a snug fit over your hiking boots.
Despite weighing a fairly hefty 12.2 oz., the material in these softshell trousers is very thin, so they're not a great choice in cold weather. Plus, despite their DWR coating, the Ferrosi tend to soak through in moderate or sustained light rain. However, if fair-weather hiking is your jam, the Ferrosi definitely deserve a place on your shortlist!
PROs

Excellent freedom of movement
UPF 50 sun protection
Multiple cargo pocket options
Slim-fit, harness-compatible waist
DWR coating

CONs

Too thin for cold weather
Tends to soak through in modest rain
Bottom-Line: A feature-rich, well-designed, and extra-mobile softshell pant that's ideal for hiking in hot and humid conditions. 
Columbia Silver Ridge Convertible
Best Value
For folks that want to get the highest value for their money, the Silver Ridge are our affordable hiking pants of choice.
These budget-friendly hiking pants are made with Columbia's 100% nylon OMNI-SHADE material to keep you cool in the heat. This material provides UPF 50 sun protection for those hot summer days and it has OMNI-Wick Mesh panels for enhanced ventilation.
With these quality hiking cargo pants, you also get a full set of front, thigh, and back pockets for gear storage, while the zip-off lower legs let you quickly turn them into shorts on those scorching hot days on the trail.
And the downsides? Well, these are an entry-level model and, as such, make a few compromises. The 100% nylon materials make the Silver Ridge both noisy and a little stiff and restrictive when hiking uphill, and they're a less durable option than models like the Stretch Zion or Quandary. All in all, though, the Silver Ridge are a solid choice for the cost-conscious hiker.
PROs

Convertible pant legs for ventilation
Built-in mesh paneling for breathability
Plenty of cargo pockets
UPF 50 sun protection

CONs

100% nylon material can be a bit noisy
Lack flexibility
Bottom-Line: Combining functionality, durability, and affordability in one neat package, the Silver Ridge Convertible is a solid bet for buyers looking for the top bang for their buck.
REI Co-op Sahara Convertible Hiking Pants
Coolest Convertibles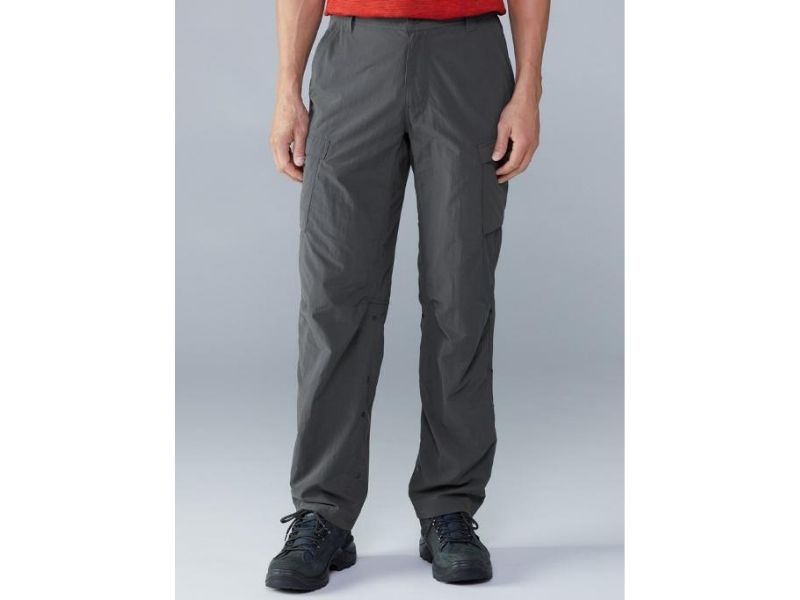 Our number one choice for the top convertible hiking pants, the REI Co-op Sahara are a must-have for hot days in the mountains.
These high-quality hiking pants are made with bluesign-approved nylon material for eco-friendliness as well as a relaxed fit for added comfort. They also boast a UPF 50+ sun protection rating and a DWR coating for added water resistance in wet conditions.
As their name suggests, the Sahara have zip-off legs that let you switch to "short mode" in hot weather. As an added bonus, though, the legs have a color-coded zipper system to make sure the shorts-to-trousers conversion is as seamless as possible – a feature not included in the Columbia Silver Ridge or Smith Creek.
Perhaps the most endearing feature of the Sahara compared to these two other convertibles, however, is the stretchiness of the material, which provides a little extra comfort and more freedom of movement when hiking in steeper terrain.
PROs

Color-coded zippers for easy conversion
DWR coating
UPF 50+
Available in women's version

CONs

Inside leg is a little long
Slimmer fit is a little too slim for some
Bottom-Line: These well-designed pants will make you prepared for whatever kinda weather you encounter on your hikes. 
The North Face Motion
Most Versatile
These uber-durable trousers are made from the unique Sonora Triexta fabric, which uses cotton and synthetic materials for comfort on the trail. It offers unparalleled breathability as well as quick-drying properties to help you stay cool in the heat.
To provide increased functionality, The North Face also crafted these hiking pants with 2 front pockets for gear storage. They also have an elasticized hip belt to make sure that you get the perfect fit while you hike and articulated knees that prevent the material bunching behind your legs on inclines.
The Motion look like denim, feel like denim, and are stylish enough to wear at the office or on a night on the town. However, their light weight, breathable fabric, and mobility-enhancing features make them outstanding performers when you hit the trails.
And the downside? These midweight hiking pants aren't ideal in rainy conditions because of their partial cotton construction. However, the FlashDry technology and a DWR finish do make them more effective at managing moisture than regular cotton fabrics.
PROs

Durable Sonora Triexta fabric
Stylish design
Elasticized waist for comfort
Highly breathable materials
Relatively lightweight (10 oz.)

CONs

Partially cotton fabric isn't great for wet weather
Bottom-Line: A stylish pant that's smart enough to wear to work but comfortable, breathable, and mobile enough to wear on even the most adventurous backcountry wanders.
Columbia Smith Creek Convertible Pants
Best for Summer Hikes
If endless sunshine is in the forecast for your outdoor adventures, the Columbia Smith Creek Convertible should be at the top of your list.
These convertible trousers are crafted out of an extra-rugged nylon material for added durability and abrasion resistance. They also feature Omni-Shade technology with UPF 50 protection to keep you shielded from the sun's harmful rays.
Furthermore, the Smith Creek Convertible have a full set of hand and back pockets with velcro closures to keep your gear secure as you hike. They can also quickly convert into shorts thanks to their zip-off legs.
While not as stretchy as the REI Sahara convertibles, the Smith Creek are worth considering for their slightly superior breathability.
PROs

Omni-Shade UPF 50 technology
Velcro pockets for secure gear transport
Extra-durable nylon construction
Zippered legs for quick conversion to shorts

CONs

No cargo pockets for bulkier pieces of gear
Bottom-Line: Offering solid UV protection, ample breathability, and the ability to switch to "short mode" when temps are high, the Smith Creek Convertible are a great choice for adventures in sunny climes.
The Best Cheap Hiking Pants: How To Choose
Below, we've put together an overview of the most important things to look for as you shop for your next pair of affordable hiking pants.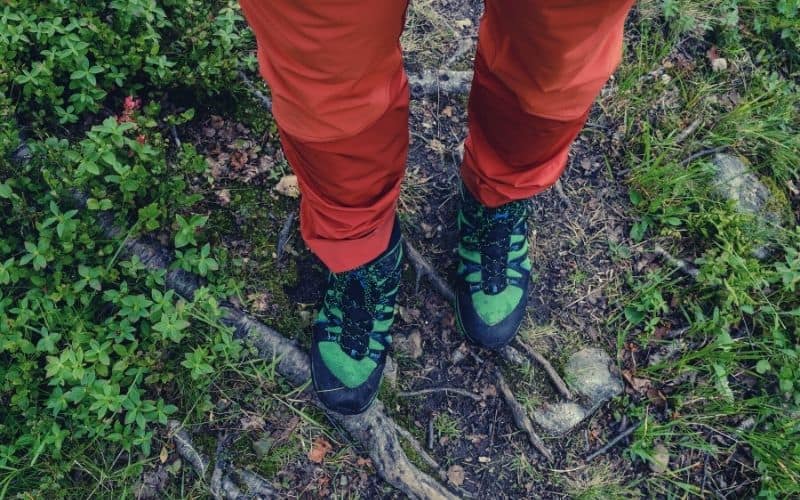 Price
If you're reading this article, chances are pretty high that the price of your hiking pants is a top concern. The good news is that it is possible to find affordable pants for trekking and outdoor adventure—if you know where to look.
As far as price goes, we should note that you often get what you pay for when it comes to outdoor clothing.
Does that mean you should spend your life's savings on your next pair of pants? Of course not. But, it does mean that you'll want to adjust your expectations appropriately as you shop.
In particular, budget-friendly hiking pants are usually made with cost-effective materials like nylon/elastane blends. There's nothing wrong with these materials, of course (more on them and their many features in a bit). But they won't provide the same amount of stretch and breathability you often find in higher-priced models with softshell materials.
Nevertheless, there's great value to be had in a set of cheap hiking trousers if you're okay with the fact that budget trousers lack some of the premium features found on pricier models.
Materials
As we've mentioned, the majority of affordable trekking trousers are made with a select number of different materials. The most popular materials include nylon, polyester, and spandex/elastane, and you'll find that most of the trousers on this list boast a blend of these materials.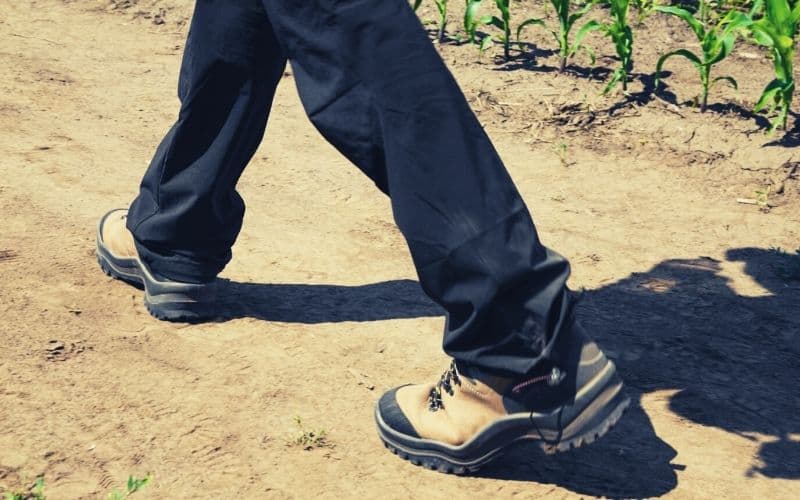 Some of the most common blends are 94-7% nylon and 3-6% elastane, but anything made with nylon/polyester and some spandex for added stretch is ideal.
The benefit of these abrasion-resistant fabrics is that they offer a good mix of value, durability, and performance, by which we mean flexibility and mobility, breathability, and the ability to dry quickly and wick moisture away from your body.
Generally speaking, the most flexible options are those with higher elastane content, like the OR Ferrosi, while the most durable are heavier models made with nylon, which is just a fraction tougher, but also less breathable, than polyester.
If you're hiking in hot weather, it's also wise to pick a pair of hiking pants with a high UPF sun protection rating – anything from UPF 40 to UPF 50 will suffice for most in even the sunniest conditions.
Water Resistance
If you spend enough time in the mountains, at some point, you'll get caught out in the rain. In these situations, having water-resistant trousers is ideal.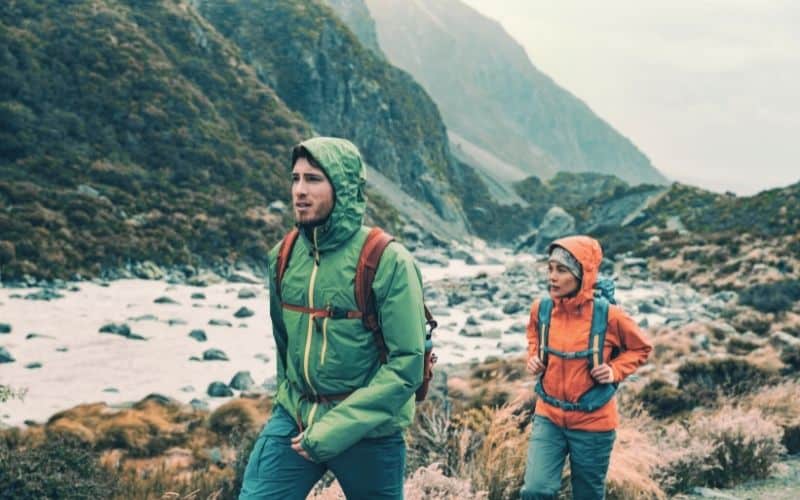 Thankfully, many trousers are now made with durable water-repellent (DWR) coatings, which offer superb short-term weather resistance. These durable water-repellent treatments are great because they don't add weight or bulk to your gear and let you carry on hiking without having to stop and put on your rain pants.
Do keep in mind, though, that DWR treatments need to be reapplied every few months. They're also not going to do much for you in a torrential downpour (you'll need waterproof trousers for that). But, for damp conditions, DWR-treated trousers are ideal.
Fit & Comfort
Fact: A pair of hiking pants isn't going to do you any good if they don't fit you properly. As a result, the fit of your trousers is of the utmost importance for your comfort on the trail.
When it comes to fit and comfort, there are a few key features that are worth looking for. These include:
Stretchy Fabrics – As you can imagine, the stretchier the material, the more comfortable your trousers will be on the trail. This is particularly true when it comes to elasticized waists. And if your hikes typically involve lots of ascents, the stretchier, the better, because stiffer materials will inhibit your stride.
Articulated Knees – Trousers with articulated knees have pre-bent legs that are designed to contour to the natural shape of your body. This design provides a greater, freer range of motion as you hike.
Gusseted Crotch – A crotch gusset is a diamond-shaped piece of material that connects the two pant legs of your trousers in the crotch area. This makes it easy to move your legs when walking uphill and provides more comfort in the area of the groin.