With beautiful beaches, historic sites, and charming New England towns, Massachusetts has loads of things to see and do outside.
In our quest for the perfect campground, we've found some great places to sleep under the stars. From pristine beachfront campsites to isolated forest retreats, there's something for everyone on our list.
The best time to go camping in the Bay State is between mid-April and mid-October. But if you want to avoid the crowds, we recommend going early or late in the season. Massachusetts is perfect for a nature retreat, and you won't be the only one looking for a great spot to camp.
1. Pinewood Lodge Campground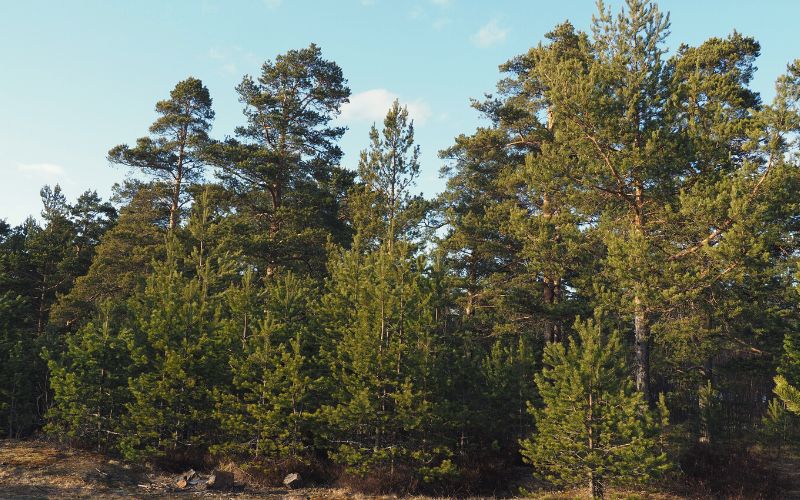 Type: Tent, Car, and RV sites
Hookups: Yes
Tucked away in 200 acres of white pine forest, this campground offers 300 shaded sites. There are some isolated tent camping areas to enjoy the peace and quiet. For the RVs, there are full facilities for almost any size rig. Need a pull-through site? No problem. There are also some back-in sites that provide more privacy.
Bring your fishing pole, because Pinewood Lodge sits next to a 50-acre lake. They also have canoe, kayak, and rowboat rentals if you want to get out there and explore. Feeling lazy? Kick back after a day on the water with a book from their library or grab a drink at their cocktail lounge and take it all in.
RELATED READING: For more outdoor adventures check out our guide to the best hiking in Massachusetts.
2. Laurel Ridge Camping Area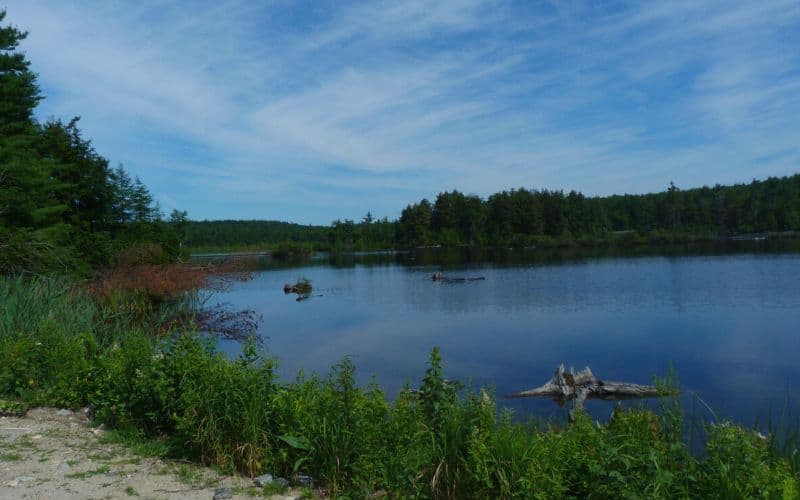 Type: Tent, Car, and RV
Hookups: Yes
Located in Southwestern Massachusetts the Laurel Ridge Camping Area sits next to the Otis Reservoir. The campground is also on the edge of Tolland State Forest, 4,415 acres of dense trees.
The campground has activities such as horseshoes, a basketball court, and a playground for the kids. It also has a swimming pool. Or if you'd rather, go swimming at the Otis Reservoir beach. This Reservoir is a popular location for fishing and boating (boat rentals available!). Bring your fishing pole and catch a bass or trout.
There's also a well-stocked store here, and there are restaurants nearby in the town of East Otis.
3. Jug End Dispersed Camping on the Appalachian Trail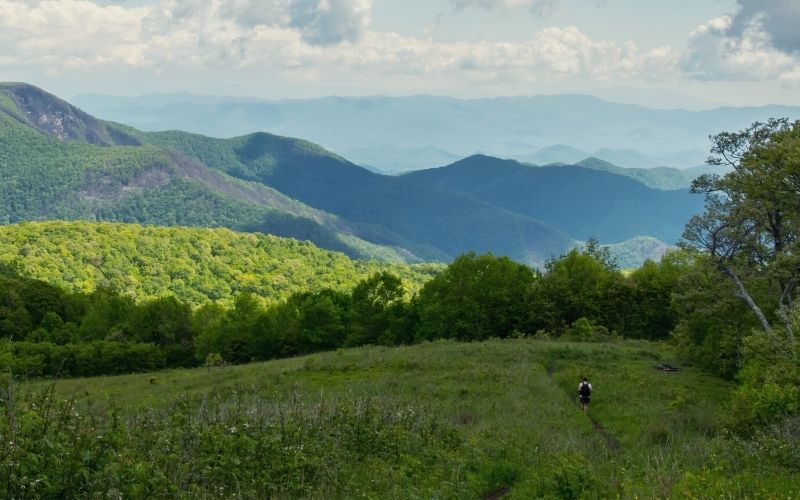 For those looking for a truly remote camping experience, start your trip with dispersed camping along the Appalachian Trail from Jug End Trailhead. There is no camping at the trailhead, but there is dispersed camping in both directions on the AT.
Really, there are camping opportunities for 100s of miles in both directions from here since the AT extends for roughly 2,190 miles! Take a rugged hike to Bear Mountain, 10 miles south of Jug End Road, and camp in the woods.
If you'd rather not sleep in a tent, you can also hike to one of several shelters along the Appalachian Trail. There are four shelters in 15 miles heading south from Jug End Road: The Riga, Brassie Brook, and Glen Brook Lean-tos each sleep 6, and the Hemlocks Lean-to has room for up to 10 people.
4. Boston Harbor Islands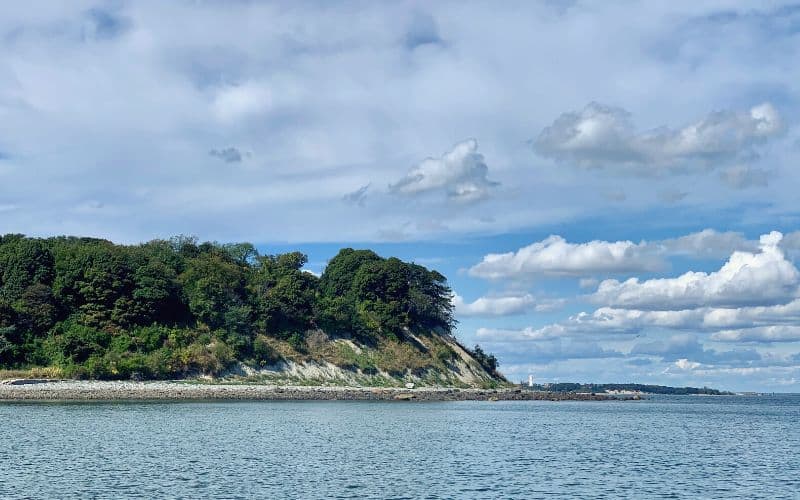 Boston Harbor Islands National Recreation Area is a small collection of about 34 islands just off the coast of Boston. While some of these islands allow camping, others are preserved for wildlife. Take a ferry out to these pristine islands and do some bird watching or peaceful sightseeing.
Definitely make advanced reservations for this campground. There are only 33 total sites on all the islands. But, these tent campsites are quiet and serene. What's better than waking up with ocean views to the sound of waves crashing?
5. Shawme-Crowell State Forest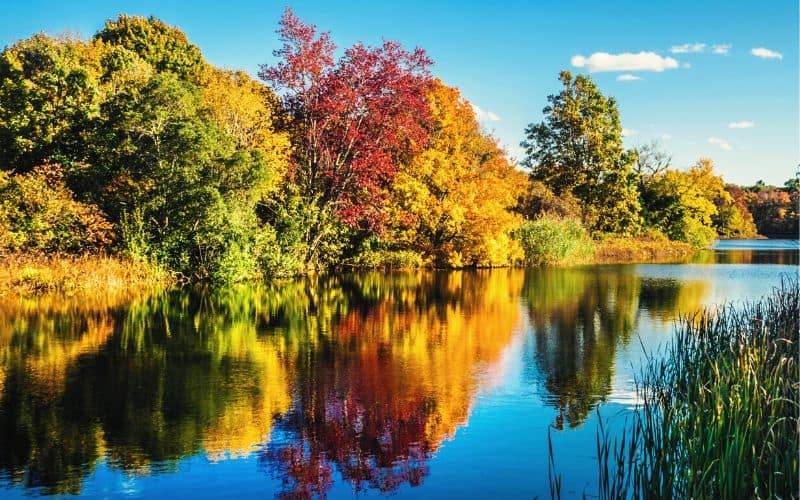 Type: Tent, Car, and RV
Hookups: No, but dump state is available
This campground sits in Shawme-Crowell State Forest, a 700-acre scrub oak and pine forest. It's located on the west end of Cape Cod and features two large campgrounds with 285 sites in total. You can also rent a yurt to camp here. Glamping, anyone?
You'll be close to the beach here. But, there are also over 15 miles of nature trails for hiking and horseback riding in these scenic woodlands, too. Go for a morning hike, then cool off in the ocean.
6. Horseneck Beach State Reservation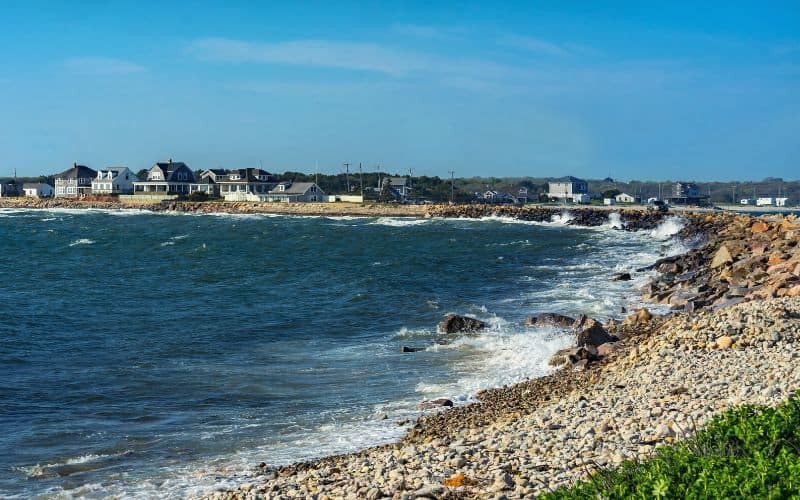 Type: Tent, Car, and RV sites
Hookups: No, but dump station available
The campground at Horseneck Beach State Reservation is very close to one of Massachusetts' most popular beaches. Located at the western end of Buzzards Bay, the 2-mile long beach is great for swimming, boating, fishing, and bird watching. You won't see any buzzards here, but you will see plenty of ospreys and other seabirds flying overhead.
The campground itself has about 100 campsites. Though there aren't hookups available, there is a dump station. You'll enjoy great views of the bay from the comfort of your campsite. This can be your base camp for all sorts of adventures. Buzzards Bay is also just down the Cape Cod Canal from the National Seashore. And Martha's Vineyard is just across the bay, too.
7. Nickerson State Park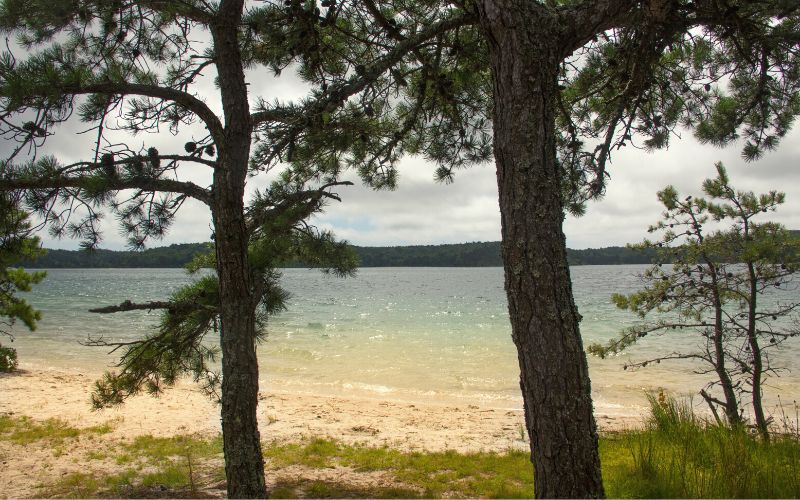 Type: Tent, Car, and RV sites
Hookups: No, but dump station is available
Nickerson State Park is 1,900 acres and located on Cape Cod, Massachusetts. This large camping site sits on Big Cliff Pond. It has 418 campsites and yurt rentals are also available. You can go boating, hiking, fishing, and swimming in the pond. Or, head over to Crosby Landing Beach on the Cape Cod Bay for some more waterfront activities.
From the campground, you can take an 8-mile bicycle trail that connects to the 26-mile Cape Cod Rail Trail. From this trail, you can explore all of Cape Cod by bike. There are some mountain biking trails in the state park, too.
There is no alcohol allowed at any Massachusetts state park, including this one.
8. Wompatuck State Park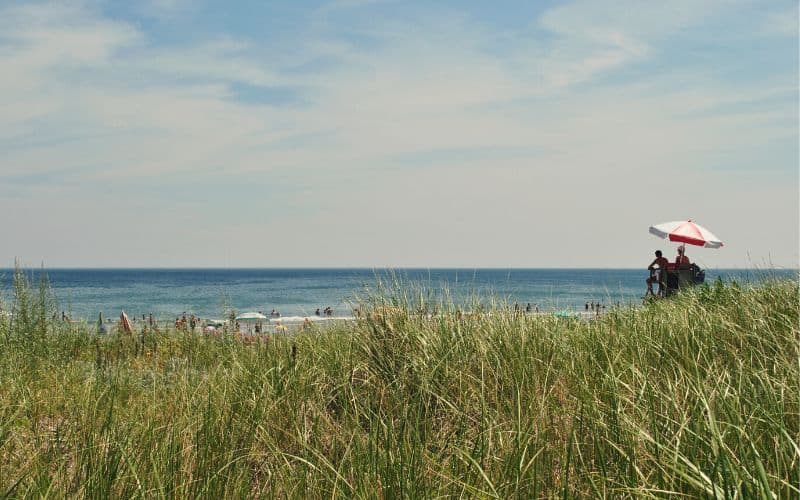 Type: Tent, Car, and RV
Hookups: Yes
Owing to its proximity to Boston, Wompatuck State Park is very busy. It does, however, boast 12 miles of car-free roads, 40 miles of singletrack through beautiful forest, and some of the best mountain biking in Massachusetts. You can also go fishing or boating in the Cohasset Reservoir. Or if that's not your cup of tea, walk over to Nantasket Beach for a swim.
The park has 250 campsites, 140 of which have electric hookups.
9. Harold Parker State Forest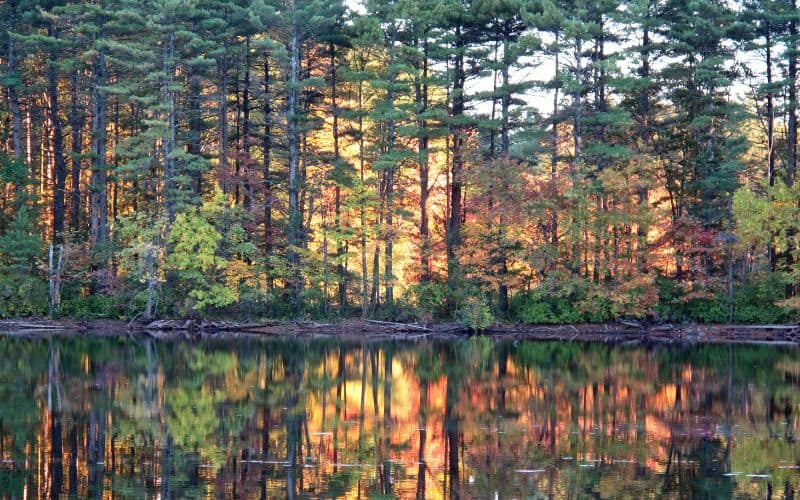 Type: Tent, Car, and RV
Hookups: Yes
At Harold Parker State Forest you'll find swamps, ponds, and rolling hills through a Central Hardwood forest. You'll see white pine and hemlock as you travel the many miles of hiking and mountain bike trails. If being on the water is more your thing, there's fishing, swimming, and boating here too.
There are 91 campsites here. The sites are spaced far enough apart to give you that real "alone in the forest" feeling. Each campsite has a picnic table and a fire ring. There is no alcohol allowed here, either.
10. North of Highland Camping Area, Cape Cod National Seashore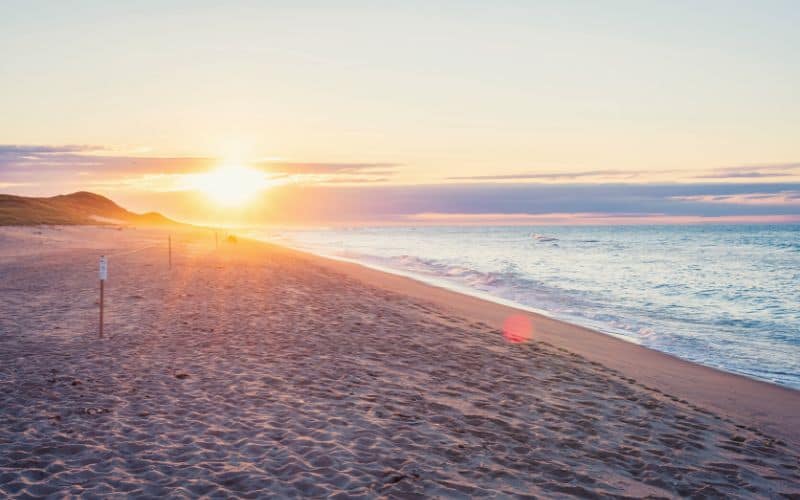 Type: Tent and Car
Hookups: No
The North Highland Camping Area in the Cape Cod National Seashore is a quiet, forested oasis. And, it's within walking distance of the beach. There's lots of room here. And it doesn't cater to RVs. For all the tent campers out there, this is your place. Take a walk to the beach with views of Salt Meadow and the Coastal Dunes.
You'll have plenty of privacy in this Massachusetts campground. There are 237 sites, and they're spread across nearly 60 acres of coastal pine forest. You'll feel like you're alone in the wilderness, except with showers, laundry, picnic tables, and restrooms nearby. To maintain the peacefulness of this location, no generators or motorcycles are allowed here, either.
11. Myles Standish State Forest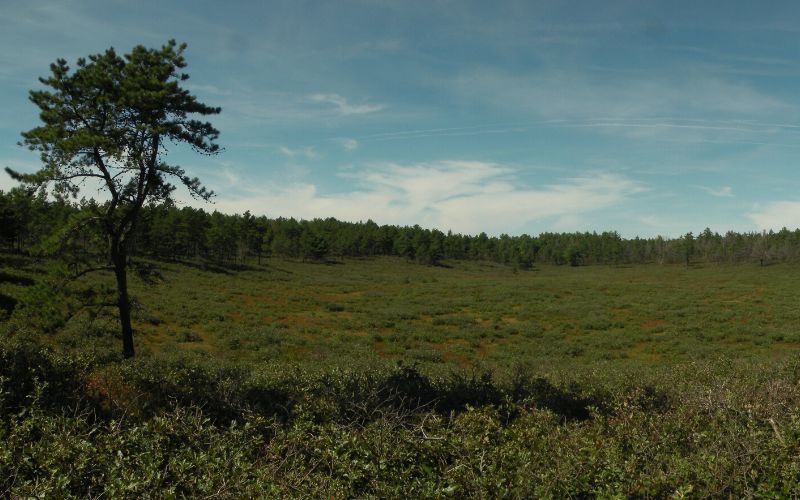 Type: Tent, Car, and RV
Hookups: No
Just inland from Cape Cod Bay you'll find Myles Standish State Forest. This state forest is the largest public recreation area in southeastern Massachusetts. And, it's one of the largest contiguous pitch pine and scrub oak forests north of Long Island.
There are five camping areas here. Some of them are nestled in the forest while some are along the edges of the park's many ponds. There are nearly 400 campsites spread throughout the park. RVs are allowed here, but there are no hookups. The ponds here are great for swimming, fishing, and boating.
In the state forest, you'll also find fifteen miles of bicycle trails, 13 miles of hiking trails, and 35 miles of equestrian trails. You can spend the whole day getting deep into the forest on these trails.
12. Spacious Skies Minute Man Campground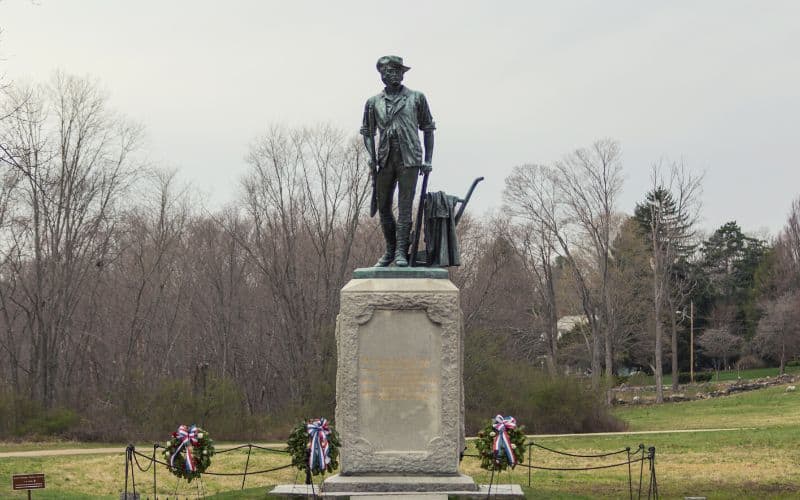 Type: Tent, Car, and RV
Hookups: Yes
Formerly called Boston Minuteman Campground, Spacious Skies Minute Man Campground is near Walden Pond and between two National Historic Areas. This spot is also only a short drive away from downtown Boston.
And there are loads of historic adventures to be found here. Lexington Common National Historic Site and Minute Man National Historical Park are close by and there's plenty more history to explore around here if you look for it.
This campground is in a small forested enclave tucked away from the surrounding urban development.
It has 100 sites with full hookups. Both pull-through and back-in sites are available, and all sizes of camper vehicles can be accommodated. Tent camping sites are available too. You'll also enjoy the free Wi-Fi and a swimming pool when you aren't out exploring the rich history nearby.
13. Prospect Mountain Campground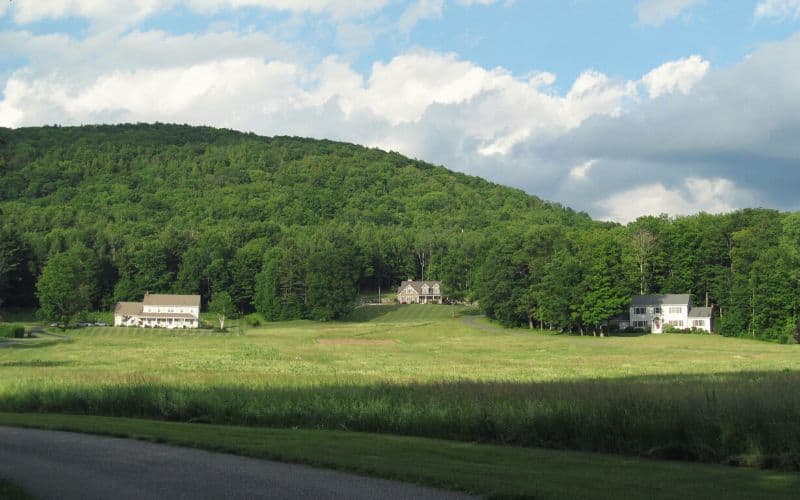 Type: Tent, Car, and RV
Hookups: Yes
Prospect Mountain Campground sits in the foothills of the Berkshires in Western Massachusetts. Next to the Connecticut River, you'll have views of the Pioneer Valley and mountainous, wooded landscapes. There are two lakes nearby for fishing and paddle boating.
This mountain oasis features 200 campsites and most of them are suitable for rigs up to 40 feet long. The sites have plenty of space to lounge all day. Tent camping is available, too, as well as a few log cabins. There is a swimming pool and basketball court on-site, as well as a dining hall, pavilion with live music, and more.
14. Peters Pond RV Resort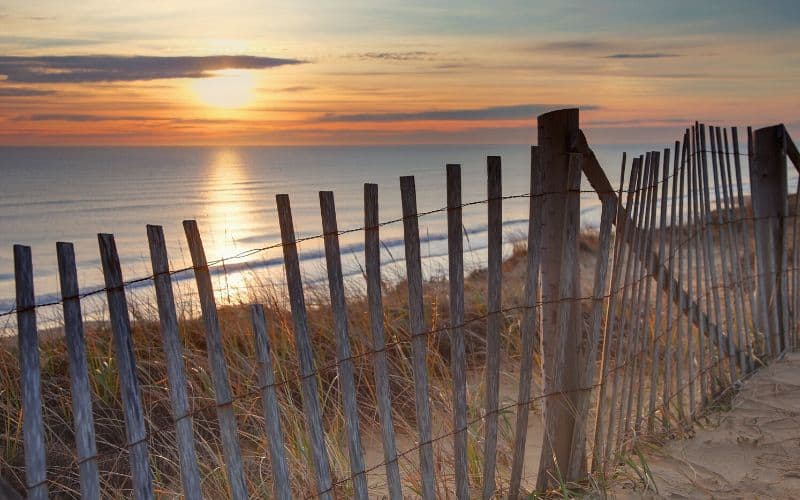 Type: Tent, Car, and RV
Hookups: Yes
Peters Pond RV Resort is one of the most luxurious RV parks around. From here you can experience everything Cape Cod has to offer. Explore the historic town of Sandwich as well as the entire Cape Cod National Seashore. This RV camping resort sits on the shores of a serene spring-fed pond. What could be better?
This campground has 400 sites with full hookups. It also boasts two beaches for boating, swimming, or fishing. There is also a pool with a water slide. If that's not for you, there are many other activities to keep you busy: softball, volleyball, horseshoes, gaga ball, and bocce ball, to name a few.
15. Mt. Greylock Campsite Park, Mount Greylock State Reservation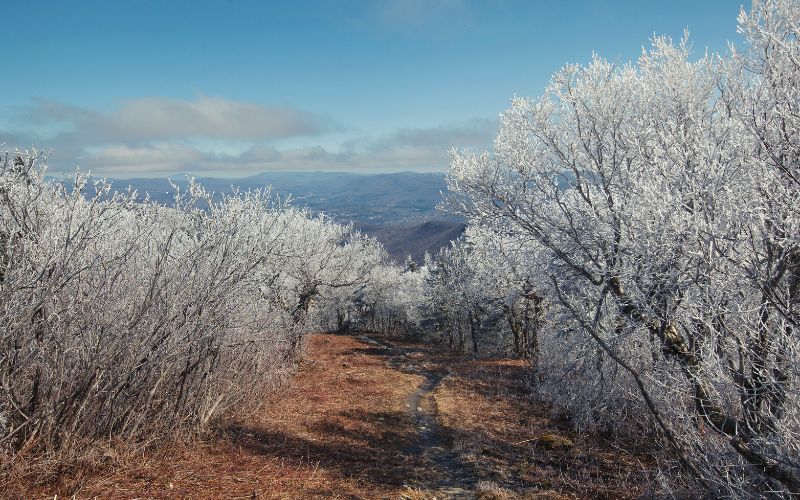 Type: Tent, Car, and RV
Hookups: Yes
Mount Greylock Campsite Park used to be called Hidden Valley Campground. Mount Greylock State Reservation is located in the Berkshire highlands of western MA. There is great hiking around here. Mount Greylock is the tallest peak in the state, too. Climb to the top for some awesome views.
There are almost 100 sites here, most with full hookups. This campground features all the amenities: hot showers, clean restrooms, and running water. There is a swimming pool and a fishing pond, so you've got options for summertime activities. This is also a popular winter destination for snowmobiling, snowshoeing, and cross-country skiing.
16. Otter River State Forest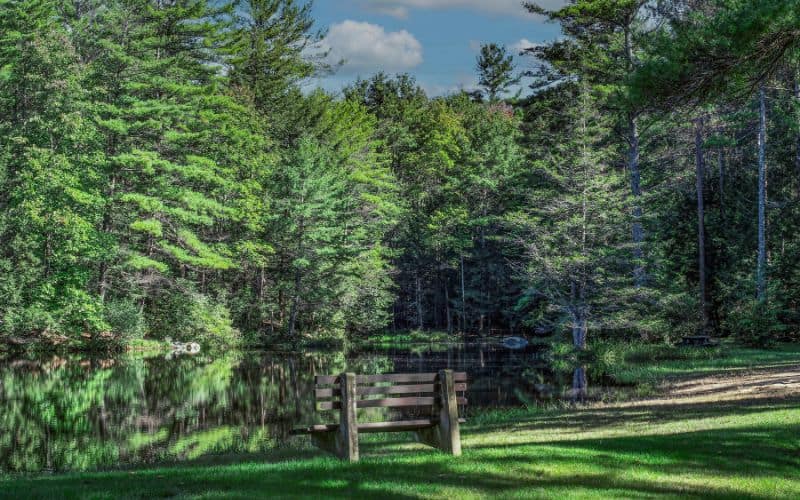 Type: Tent, Car, and RV
Hookups: No
Otter River State Forest is found in north-central Massachusetts. This area consists of freshwater marshes at the confluence of the Otter and Millers Rivers. It is mostly wooded, with stands of northern hardwoods and pine trees.
There are 85 sites here, as well as 4 yurts you can rent. The campground also sits on Beaman Pond, which has a swimming beach and picnic tables. You can also go hiking, mountain biking, or cross-country skiing on the large network of trails in the surrounding forest. Only one vehicle is allowed per campsite, so plan accordingly.
17. Beartown State Forest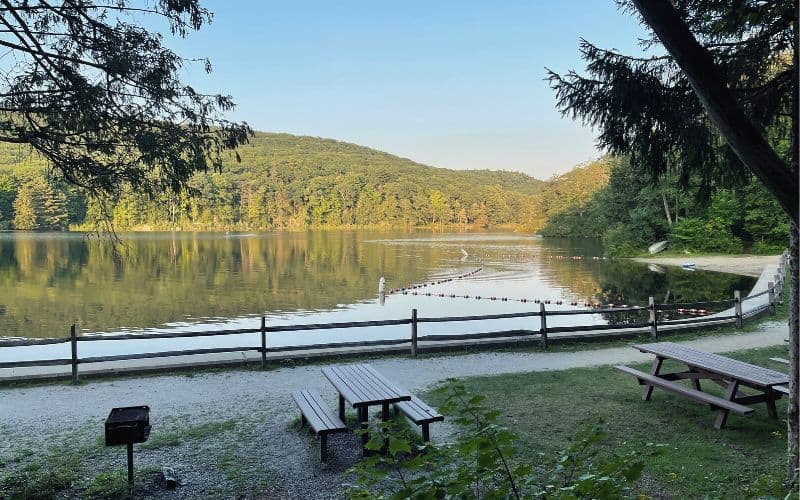 Type: Tent and Car
Hookups: No
Beartown State Forest stretches for 12,000 acres in southwest Massachusetts. There are many hiking trails in the area, including the Appalachian Trail. This makes it ideal for a weekend of hiking and secluded camping. This campground is also near the 35-acre Benedict Pond, very popular for swimming, boating, and fishing in the summertime.
There are only 12 primitive campsites here, and no showers or flush toilets. You will find composting toilets and fresh water, though. The campsites have fire rings, picnic tables, and little else. There are also food storage lockers, which you should use. There are bears in the area, as you might have guessed from the name!
18. Savoy Mountain State Forest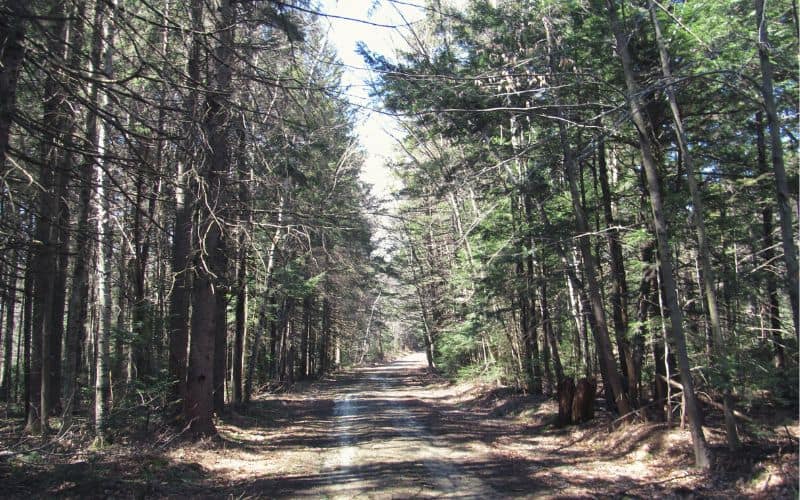 Type: Tent, Car, and RV
Hookups: No
Savoy Mountain State Forest sits in the Hoosac Mountain Range. You'll be in the remote northwest corner of Massachusetts here, closer to Vermont than Boston.
There are excellent hiking trails to lakes, ponds, and waterfalls in this state forest. Tannery Falls is a highlight here. You can go see a 100-foot waterfall (Tannery Falls) or hike to the summit of one of the many mountains in the park, where you'll have views for miles.
A large section of this campground is in an apple orchard, which makes for a pleasant stroll come evening. There are 46 sites in total. It's not a huge campground, but it isn't tiny either. It has hot showers and running water, but no hookups. You can reserve a cabin here as well if that's more your thing.
19. Salisbury Beach State Park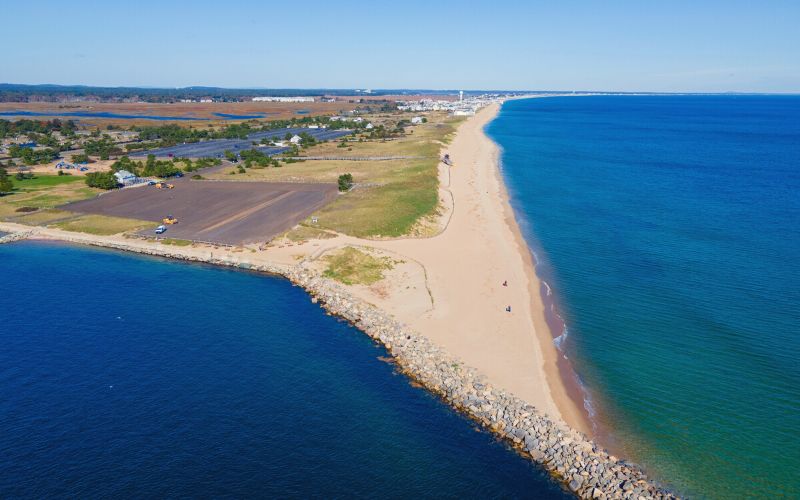 Type: Tent, Car, and RV
Hookups: Yes
The campground at Salisbury Beach State Park is a very short walk to the ocean. What's better than an oceanside campsite? Salisbury Beach stretches from the Merrimack River to the New Hampshire border, but most of it is privately owned. The state park is the best place to access this beautiful coastline.
This is a large and popular camping area. There are almost 500 sites here. They're pretty packed together, too, so you might make some friends during your stay. Most of these sites have hookups, but not all of them. There are restrooms, hot showers, picnic tables, and a sandy beach. What more could you ask for?
20. Normandy Farms Campground
Type: Tent, Car, and RV
Hookups: Yes
Normandy Farms Campground is a luxury camping facility tucked in the woods between Boston and Cape Cod. You'd never know you were only 5 miles from the home of an NFL football team, but the New England Patriots play right over there!
There are over 400 sites here, with full hookups. Some are even pull-through sites so you don't have to back up that giant rig. There are luxury cabins and yurt rentals here, too.
This place has loads of activities: two large swimming pools, a fitness center, multiple playgrounds, a dog park, bike park, disc golf, and tennis courts, to name a few. There is also a business center for those on working vacations and you can even get fresh farm food delivered to the country store from a local farm. Just tell them to deliver it to Normandy Farms.
21. Adventure Bound Camping Resorts, Cape Cod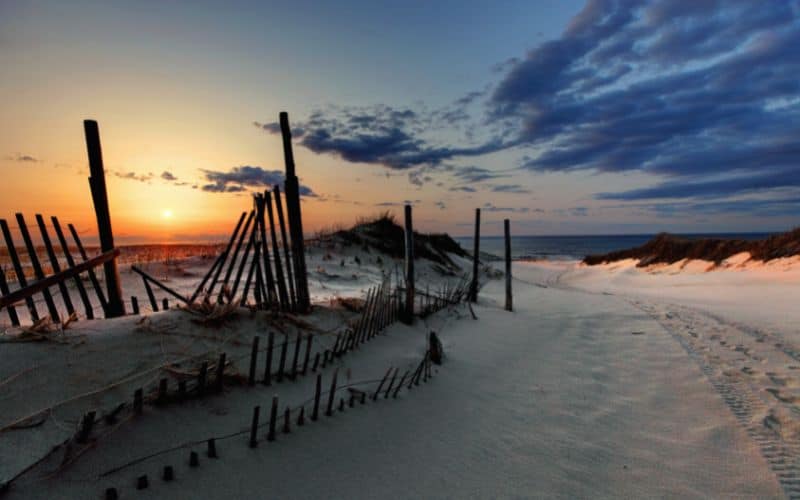 Type: Tent, Car, and RV
Hookups: Yes
Adventure Bound Camping Resort is a Cape Cod campground near the town of Truro, Massachusetts. As you know by now, Cape Cod is famous for its pristine beaches and beautiful countryside. Millions flock to this area every summer to enjoy the beaches and have a relaxing vacation, so you won't be alone if you go.
This spot is usually booked all summer long and definitely caters to RV camping, so you'll have to make reservations early to stay here. There are 260 sites and they all have full hookups. They even offer rentals if you don't have your own RV. This is a great basecamp for exploring everything Cape Cod has to offer.
Best Campgrounds in Massachusetts!
Massachusetts has a lot more going for it than quirky accents, good colleges, and New England IPA. With so many stunning state parks, so much history, and outdoor activities galore, camping in Massachusetts is something every lover of the great outdoors should add to their bucket list.
We hope you liked our guide to the best campgrounds in Massachusetts. Did we forget your favorite Massachusetts campground, camping sites, or state park? Have something else to say? Leave us a comment below! If you liked what you just read and think your friends want to read before their Massachusetts camping trip, please share this guide!