17 Best Hiking Trails in Massachusetts
Looking for the best hiking in Massachusetts?
You're in the right place! In this guide, we will be covering the following:
The 17 best hiking trails in Massachusetts
Key travel information to get you to the trailhead
What you can expect when hiking in MA
Which trails are right for your preferred hiking style
Known for its stunning coastline and rugged trails, Massachusetts is a true hiker's paradise. Planning a hiking trip to the Bay State can pose a challenge because there are so many trails to explore.
If you want to get out and enjoy the best trails Massachusetts has to offer, we're here to help. In this guide to the best hikes in Massachusetts, we'll introduce you to 17 of the Bay State's top hiking trails and provide all the info you need for a fun and safe hike.
Our list includes everything from family hikes in state parks to all-day peak-bagging missions for more hardcore hikers.
Best Hikes in Massachusetts: Our Top 19 Trails
1. Peabody Loop, Noanet Woodlands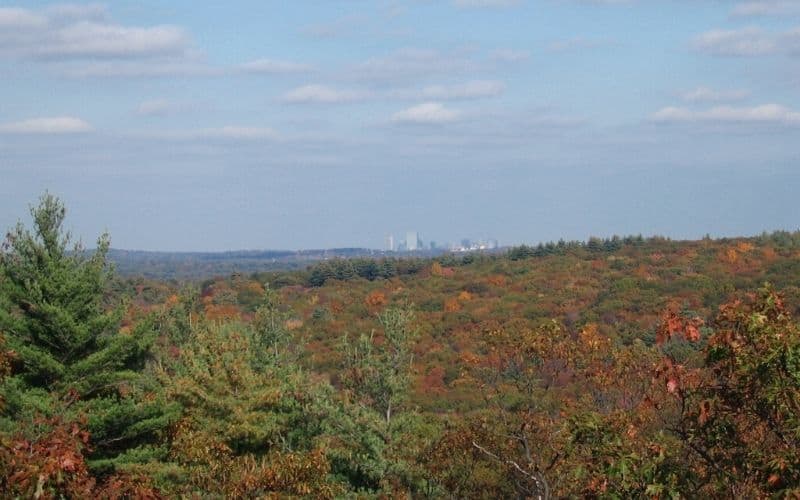 Type: Loop
Length: 2.6 miles (141 ft. ascent)
Difficulty: Easy
Access: Noanet Woodlands Parking Lot on Powissett Street near Dover
A mere 30 minutes from downtown Boston, Noanet Woodlands is one of the best Massachusetts hikes for anyone keen to escape from the hustle and bustle of the big city.
Inside this stunning forest preserve, you have access to a 16-mile-long network of trails. Although all the trails make for a great wonder in the woods, the Peabody Loop is a fantastic afternoon adventure.
To access the Peabody Loop, you'll start at the Powissett Street trailhead and follow the blue blazes. Along the way, you'll enjoy pristine woodlands, chirping birds, and views of glistening ponds.
If you're short on time, you can stick to the Peabody Loop and follow the path back to the parking lot. Or, for more of a workout, you can hop on the path to nearby Noanet Peak. From the summit of the peak, you can even see the Boston Skyline in the distance.
RELATED READING: For more outdoor adventures check out our guide to the best campgrounds in Massachusetts.
2. Mount Greylock Loop, Mount Greylock State Reservation
Type: Loop
Length: 6.6 miles (2,226 ft. ascent)
Difficulty: Moderate to hard
Access: Bellows Pipe Trailhead on Gould Road near Adams
The tallest peak in the state, Mount Greylock is a must-do for serious adventurers and one of our favorite day hikes in Massachusetts. Located in the northwest corner of MA, there are many paths to the summit of Greylock. However, this loop allows you to experience as much of the peak as possible for the full hiking experience.
To access Mount Greylock, start at the parking lot on Gould Road near the town of Adams. Be warned, however, that the lot is near private property, so be sure to park in the designated lot to avoid any access issues.
For this 6.6-mile hike, you'll first make your way up the Bellows Pipe Trail. This is a well-marked trail and even overlaps with the Appalachian Trail (AT) for a short section. You'll climb switchbacks for quite a while before topping out on the summit of Mount Greylock.
Once on the summit, you can sit back and enjoy the spectacular views over Western Mass and check out Bascom Lodge and the War Memorial Tower. After you've enjoyed the vistas, follow the AT south for a short time until you hit the Gould Trail. This path will take you down toward a small parking lot that's just a short walk down the road from your original starting point.
For a more direct route to the summit, take the Campground Trail and Hopper Trail. This 5.6-mile trail begins roughly 5 miles from the Visitor Center on Rockwell Road at the campground parking lot and takes you past a peaceful beach and through pretty forest on your way to the peak.
3. The Great Island Trail, Cape Cod National Seashore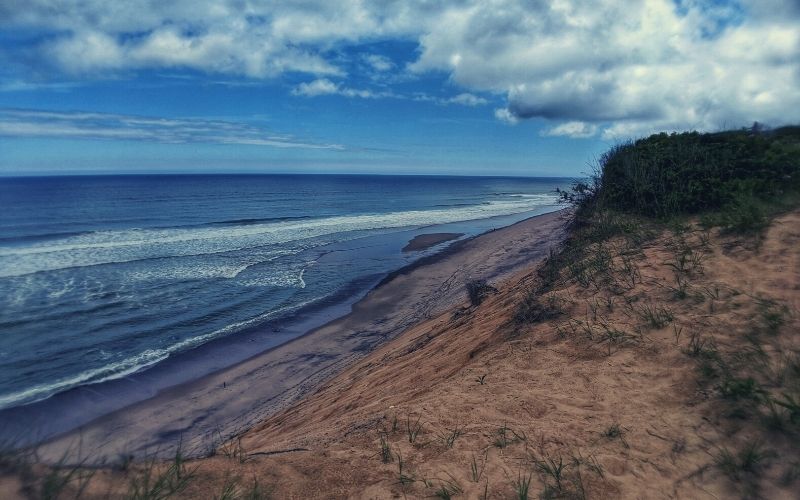 Type: Loop
Length: 8.8 miles (132 ft. ascent)
Difficulty: Moderate to hard
Access: Great Island Parking Area near Wellfleet
One of Massachusetts' premier seaside hikes, the Great Island Trail is the perfect summer activity.
From the trailhead at Wellfleet, you have a choice of 4 different destinations on this hike: Jeremy Point, Jeremy Point Overlook, Great Beach Hill, and Great Island Tavern.
To visit all 4 points of interest, you'll venture out on an 8.8-mile hike across sandy beaches and grassy plains. Along the way, you'll be treated to unparalleled vistas of Cape Cod Bay and the Atlantic Ocean.
Nevertheless, it's important to note that a decent portion of this path is a sandbar. That means parts of the hike are submerged during high water, making travel difficult, if not impossible, at high tide.
So, if you want to hike out to Jeremy Point, check the tide tables before you head to the park. You can always ask for tide information at the Cape Cod National Seashore Visitor Center before starting your journey, just to play it safe.
4. Mount Watatic and Nutting Hill Loop, Watatic Mountain State Wildlife Area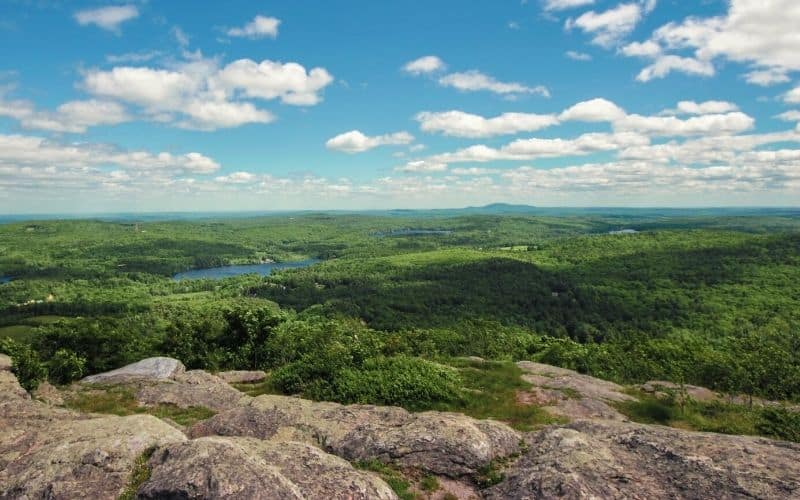 Type: Loop
Length: 2.8 miles (644 ft. ascent)
Difficulty: Moderate
Access: Rindge State Road near Ashburnham
Nestled along the Massachusetts-Connecticut border, this short peak ascent of Mount Watatic is an exceptional day hike.
To access this hike, you'll start at a small trailhead at the southern end of the Watatic Mountain State Wildlife Area. From the parking lot, you'll head off on a rocky trail with a few minor stream crossings in the first quarter-mile.
After navigating the creeks, you'll start climbing upward until you arrive at your first destination: the summit of Mount Watatic. Once you get your fill of the beautiful views, you can descend a mellow little path on the northwest side of the peak.
Eventually, the route will start to climb again, leading you to the summit of yet another high point. This time, you'll stand atop Nutting Hill, which is a nice rest area, albeit with fewer views than its taller neighbor.
As soon as you get a chance to catch your breath, you can head down the hill and loop back around to the parking lot. Overall, this hike is short, sweet, and well worth the effort if you're looking for a fun day hike in southern MA.
5. Walden Pond Hiking Trail, Walden Pond State Reservation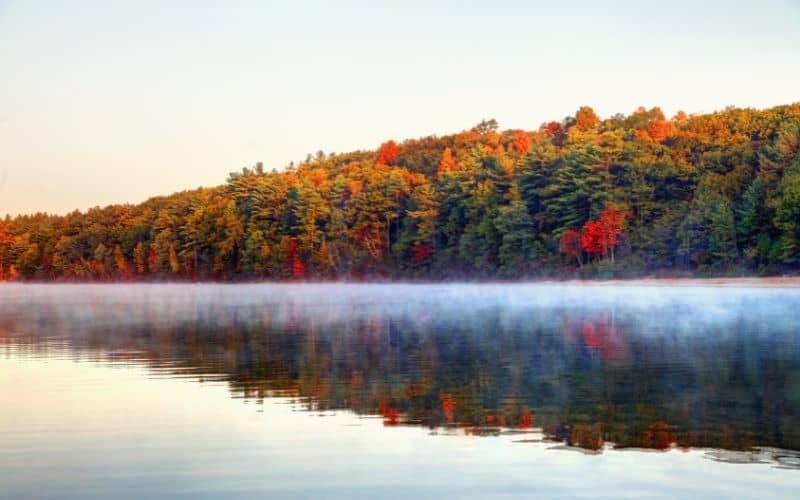 Type: Loop
Length: 1.8 miles (44 ft. ascent)
Difficulty: Easy
Access: Off of Route 126 near Lincoln
One of the most historic hiking trails in all of MA, the trek around Walden Pond is an excellent option for history buffs and naturalists everywhere.
Departing from the small parking spot at the southeastern corner of the state park, this leisurely stroll is great for the whole family. It follows a relatively flat and wide path around Walden Pond, with lush forests and plenty of wildlife.
The highlight of this hike, however, is easily Henry David Thoreau's cabin site. Although Thoreau's original cabin (of Walden; or, Life in the Woods fame) is no longer there, you can see a replica of his home on this hike.
Plus, if you're visiting in the summer months, don't forget to bring your swimsuit! There are some great swimming beaches on Walden Pond, which make for an excellent way to cool off in the summer heat.
6. Bash Bish Falls Hike, Bash Bish Falls State Park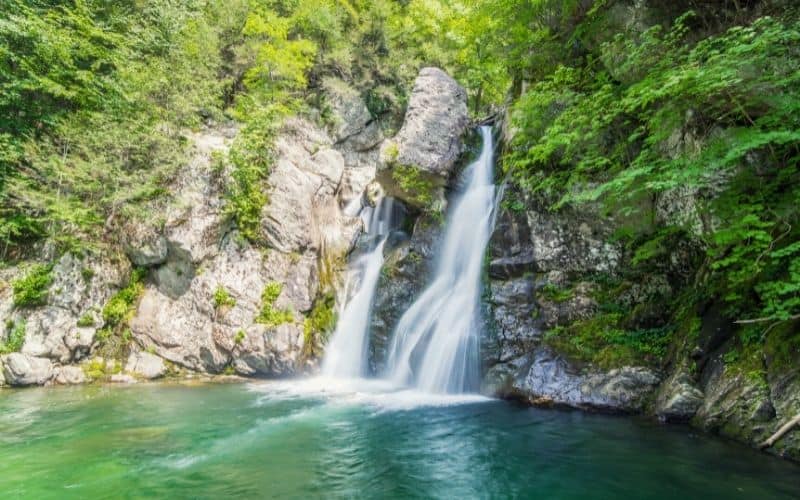 Type: Out and back
Length: 1 mile (346ft)
Difficulty: Easy to moderate
Access: Falls Road near the town of Mount Washington
Bash Bish Falls is Massachusetts' highest single-drop waterfall and the hike to see it is one of the best family-friendly hikes in the state. Interestingly, the falls can be accessed from either the New York or the Massachusetts side of the border, though we'll discuss the MA hike here.
The hike starts at a small parking area on Falls Road. Immediately after leaving this, you'll pick up a fairly wide path that heads directly into the woods.
Throughout this short, yet mildly steep hike, you'll climb up a short hill to a viewing area. From here, you can walk up to the banks of Bash Bish Brook, where you can gaze up at the magnificent falls.
That being said, it's worth mentioning that the path can be very icy in the winter months. So, this hike is best during the early summer, when the falls are flowing at their highest levels. Alternatively, the falls are well worth visiting in the autumn when the fall foliage adds lovely colors to the landscape. 
7. Skyline Loop, Blue Hills Reservation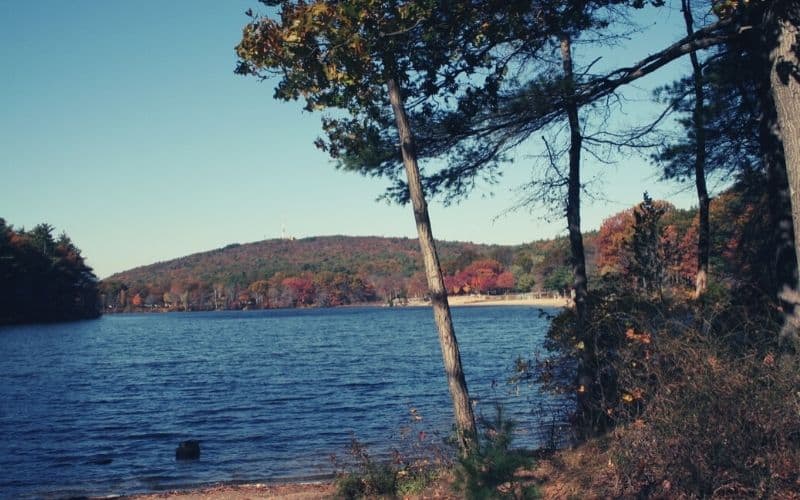 Type: Loop
Length: 3 miles (1,100 ft. ascent)
Difficulty: Moderate
Access: Reservation Headquarters parking area near Milton
Perhaps the most scenic Boston-area hike, the Skyline Trail Loop is undoubtedly one of the best hikes in Massachusetts. Offering gorgeous scenery that rivals that of the White Mountains in New Hampshire, this hike offers a chance to summit Great Blue Hill – one of the tallest peaks on the Atlantic Seaboard.
To start this hike, park at the Blue Hills Reservation headquarters near the town of Milton. From there, you'll follow a blue-blazed path that meanders its way up and down the Blue Hills.
Along the way, you'll get to tag 5 separate high points, including Great Blue Hill. From the summit of Great Blue, you can even see the Boston Skyline in the distance. Once you get your fill of the exceptional views, continue down the path until you return to the parking lot.
Alternatively, if you want more of a workout, you can make a quick side trip to Buck Hill. Although Buck Hill is a relatively short trail, it provides particularly good vistas of the Greater Boston Area. So, it's well worth the visit!
8. Harrington Trail, Mount Wachusett State Reservation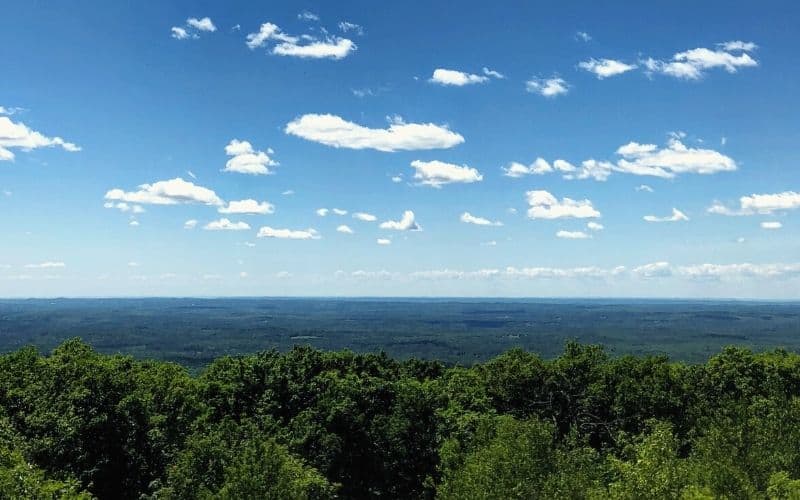 Type: Out-and-back
Length: 2.5 miles (746 ft. ascent)
Difficulty: Easy
Access: Harrington Trailhead on Westminster Road near Princeton
Situated in the heart of central MA, the Mount Wachusett Reservation is a superb destination for a day of adventure. The Harrington Trail offers unparalleled access to the reservation, as well as a chance to summit its highest peak: Wachusett Mountain.
After parking your vehicle at the trailhead on Westminster Road, you'll start walking through a lush forest. The trail climbs slowly but surely upward as you make your way toward Wachusett's summit.
The path itself is quite wide, though it's particularly rocky. This being so, good hiking shoes and even trekking poles are highly recommended.
Once you are near the summit, you'll need to do a bit of scrambling to reach the viewing area. However, at the top of Mount Wachusett, you're treated to 360º views of Boston and even Mount Monadnock in New Hampshire to the north.
Plus, if you're keen on more adventure, you'll be happy to know that the state park has a large network of trails to choose from. For added fun, you can even descend Wachusett via the Jack Frost Trail and create a mini loop back to the parking lot.
Another great way to climb Mt. Wachusett is from the north side, on the Old Mountain Trail and Semuhenna Trail. This 3.9-mile loop begins on Bolton Rd. on the west side of Wachusett Lake, and takes in a scenic pond before reaching one of the route's highlights, Balance Rock, which is a car-sized boulder perched improbably (and precariously!) atop another car-sized boulder.
9. Atlantic White Cedar Swamp Trail, Douglas State Forest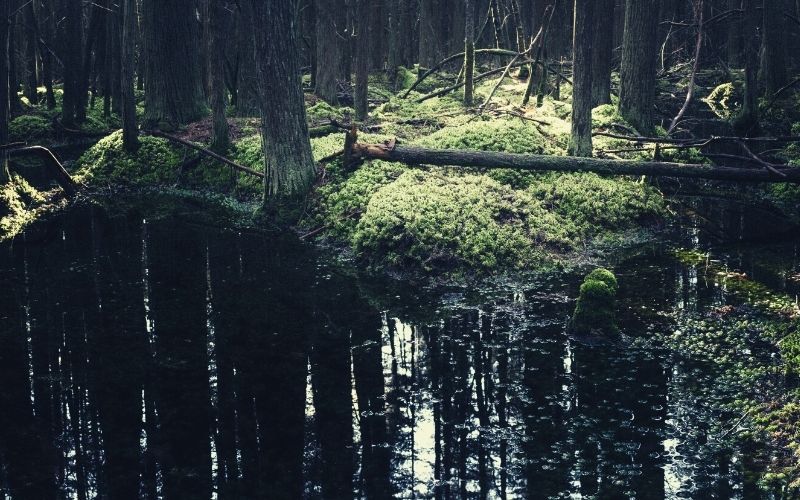 Type: Loop
Length: 0.5 miles (30ft)
Difficulty: Easy
Access: Wallum Lake Road near Douglas
One of the more unique hiking trails in Massachusetts, the Atlantic White Cedar Swamp is a must-visit for nature lovers. This family-friendly hike offers a chance to experience one of the Bay State's last remaining cedar swamps on a casual walk for all to enjoy.
You can access the hike from the parking spot on Wallum Lake Road, which is well-signed and fairly easy to find. From the trailhead, you'll follow a narrow, mostly flat boardwalk path through the swamp that's perfect for kids and adults alike.
The path also has several numbered markers along the way. These numbered markers correspond to educational content in the state forest's informational brochure, which you can pick up at the trailhead to learn more about the now-rare cedar swamp ecosystem.
10. Mount Race & Everett via Race Brook Falls and Mount Everett Trail, Mount Everett State Reservation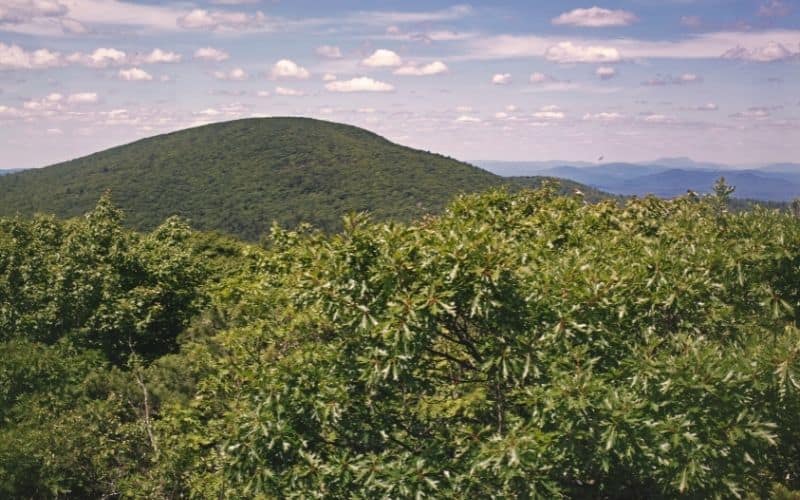 Type: Out and back
Length: 7 miles (2,700 ft. ascent)
Difficulty: Hard
Access: Race Brook Falls on Route 41 near the town of Mount Washington
If you're keen to hike a section of the Appalachian Trail (AT) in Massachusetts, this trek to Mount Rance and Mount Everett is a sure bet. Located in the heart of Mount Everett Reservation, this challenging hike offers excellent views for your efforts.
To access this trek, you'll begin at the Race Brook Falls parking area. You'll start climbing uphill right out of the gate as you enter into a stunningly lush hardwood and pine forest. This early part of the trek can get very steep, however, so be sure to wear proper footwear.
After navigating some steep sections of the path, you'll be at the base of the three-tiered Race Brook Falls. Once you snap some photos of these gorgeous falls, you can head up the trail where you'll find yourself in a saddle where you can stop for a quick break on the AT. At this saddle, you have the option of heading north to Mount Everett or south to Mount Race.
While either peak is a worthy destination, tagging both summits offers the best chance for panoramic views. Then, you can either retrace your steps and head back to the trailhead or you can follow the AT in either direction for more adventure.
11. Lynn Woods Loop, Lynn Woods Reservation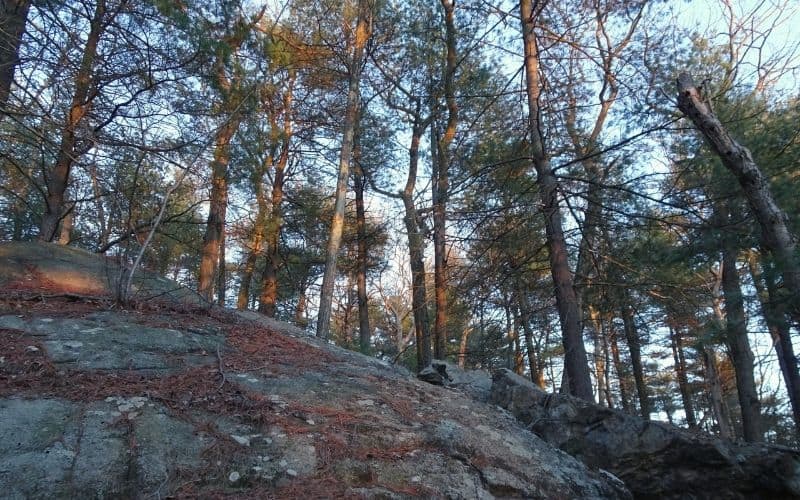 Type: Loop
Length: 7 miles (543 ft. ascent)
Difficulty: Moderate
Access: Great Woods Road near Lynn
Located on the shores of Massachusetts Bay, Lynn Woods is the ideal escape from the hectic streets of Boston. The reservation offers nearly 30 miles of hiking trails, and this 7-mile loop allows you to see as much of the area as possible.
The best place to start your hike in Lynn Woods is from the large parking lot on Great Woods Road. From there, you have access to nearly all of the paths in the reservation, including the large fire road that leads into the heart of the woodlands.
After ambling down the fire road for a few miles, you can turn onto Pennybrook Road (actually a trail, not a road), and then Walden Pond Road. The path will climb gradually until you reach the Mount Moriah Path. Then, you'll ascend to the summit of Mount Moriah before descending the other side.
Eventually, the path will hook back around and take you to a stone tower, which is worth checking out. At the tower, you can even get views of the Boston skyline as a reward for all your hiking before you head back to the parking lot.
12. Mount Toby Trail, Mount Toby State Forest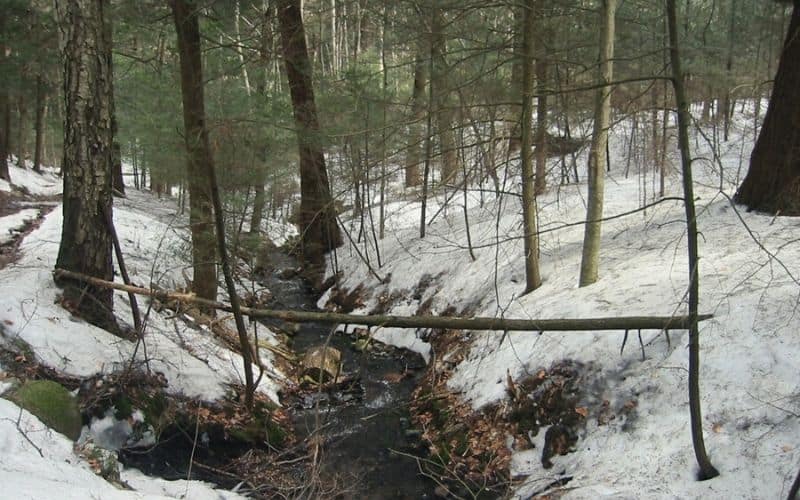 Type: Loop
Length: 3 miles (876 ft. ascent)
Difficulty: Moderate
Access: Mount Toby Trailhead on Route 63 near Sunderland
If you're visiting central Massachusetts, the Mount Toby Trail is one you won't want to miss. The highlight of the Mount Toby State Forest, this hike begins on Route 63 near Sunderland and summits the beautiful Mount Toby.
To follow the loop, you'll start in a counter-clockwise direction and ascend the steep, but steady Blue Trail to the summit. At the summit of Mount Toby, you can sit back and appreciate the marvelous views over the surrounding area.
Once you're ready, you can descend the Robert Frost Trail back down to the valley floor for a longer, but easier descent. Alternatively, you can return down the steeper Blue Trail, but this isn't encouraged, especially during the icy winter months.
That said, if you take the Robert Frost Trail, you also get a chance to climb up a small observation tower. This tower is highly recommended if you have a good weather day as the views are hard to beat. The tower also has some picnic tables, so don't forget to pack a snack to enjoy along with the scenery!
13. Halibut Point Trail, Halibut Point State Park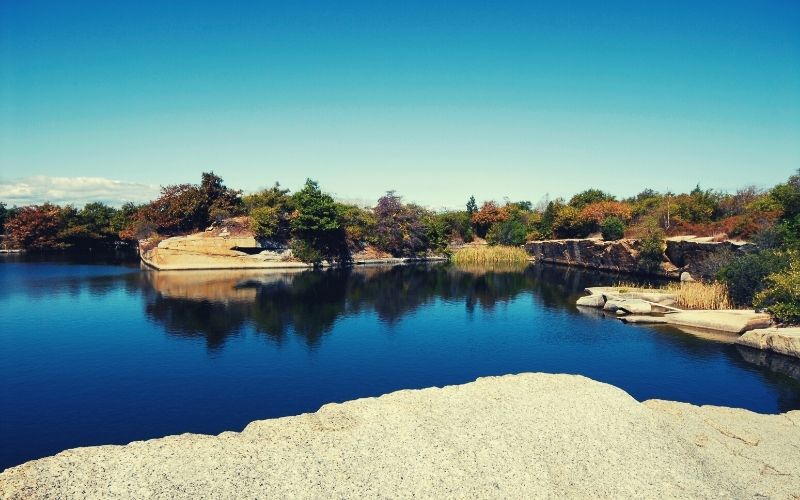 Type: Loop
Length: 1.1 miles (50 ft. ascent)
Difficulty: Easy
Access: Gott Avenue at Halibut Point State Park near Rockport
An educational experience that the whole family can enjoy, the Halibut Point Trail is one of Northern MA's finest day trips and an easy trail to follow.
You'll access this enjoyable little hike from the parking area on Gott Avenue. Once you start walking, you'll follow the trail toward an old quarry and fire tower, which is where the fun begins.
Toward the midpoint of the loop, you'll be treated to expansive views of the entire Cape Ann coastline. Plus, if you follow a short spur trail toward the beach on a sunny day, you'll even get a chance to see Mount Agamenticus some 80 miles away in Maine!
14. Monument Mountain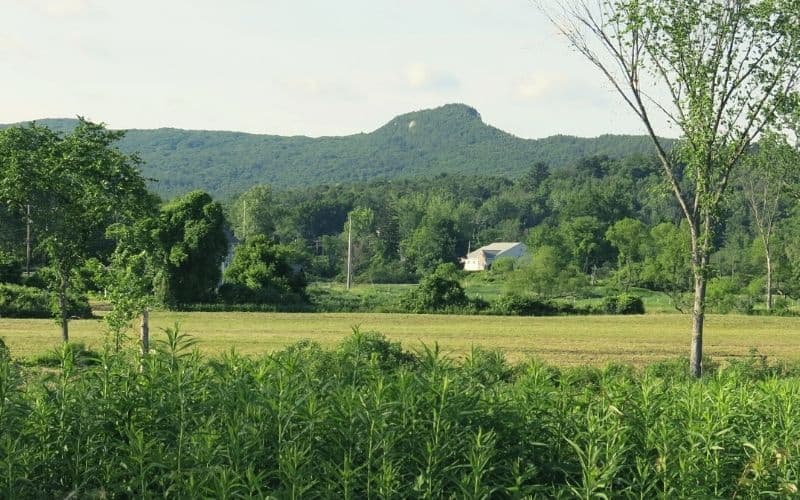 Type: Out and back
Length: Varies depending on the trail
Difficulty: Easy-Moderate
Access: Between Stockbridge and Great Barrington
Monument Mountain is one of the most storied peaks in all of the state. Over the years, it has been a popular destination for hikers and also artists and writers like Herman Melville and Nathaniel Hawthorne, who met here in 1850.
There are two ways to reach the 1,739-foot summit. The easiest is the 1.5-mile Indian Monument Trail, which is the longer option but more gradual and family-friendly. The more difficult and strenuous hike is the 0.8-mile Hickory Trail, which follows a pretty brook up through the forest to the peak, where great views of the Berkshire Range await!
When you reach the top, be sure to continue along the ridge to Peeskawso Peak and the Devil's Pulpit lookout.
15. Metacomet-Monadnock Trail (Section 7), Mount Holyoke Range State Park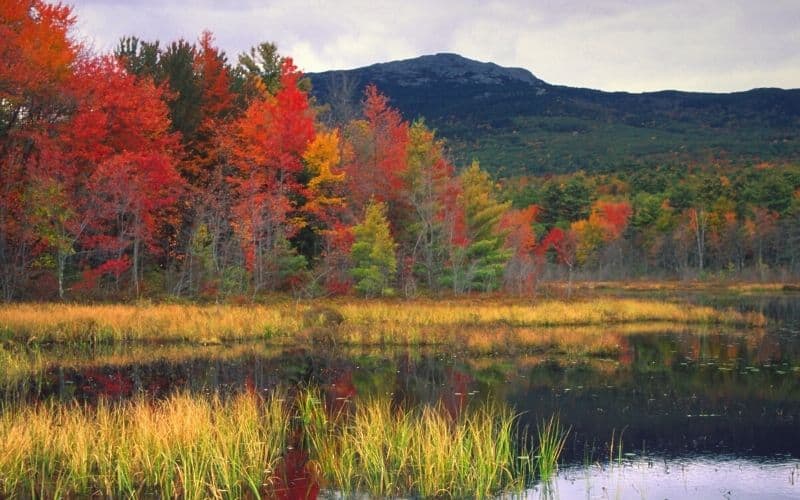 Type: Point-to-point
Length: 10 miles
Difficulty: Challenging
Access: Mountain Road, just off Hockanum Road
This is one of the most challenging hikes in the state, taking you up and over 7 minor hills called the "Seven Sisters." On the way, you'll put in a total of 2,684 feet of ascent, enjoy awesome views of the Connecticut River Valley and Pioneer Valley, and summit both Mount Holyoke and Mount Norwottuck.
There are plenty of highlights on this strenuous route, but our favorite has to be the Horse Caves, a series of overhanging bluffs that insurrectionists used as a hideaway following Shay's Rebellion in the late 1780s.
16. Cape Cod Rail Trail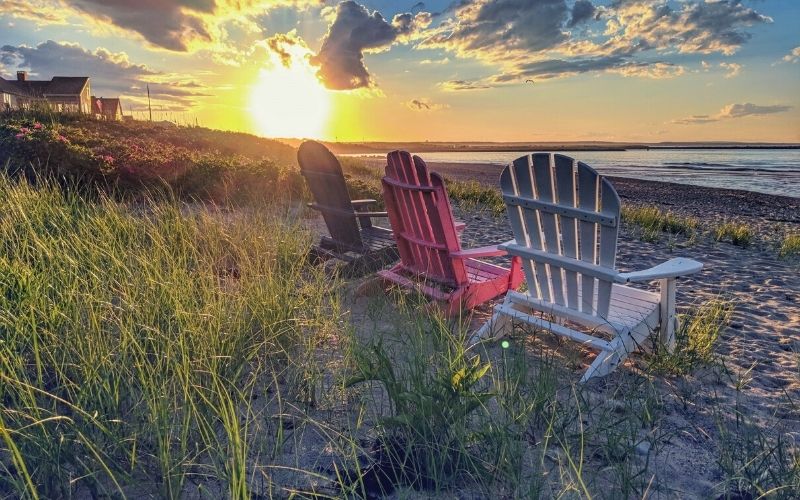 Type: Point-to-point or out and back
Length: 22 miles one way
Difficulty: Easy
Access: Various points
This 22-mile route is popular with equestrians, dog-walkers, runners, hikers, and Sunday strollers alike.
Beginning in Dennis on Massachusetts Route 134, the CCRT runs through 6 Cape Cod towns on its way to the idyllic Nickerson State Park. While long, the beauty of the CCRT is that you can hike as much or as little of it as you like, hopping on or off at various trailheads along the way.
These trailheads include Stations Avenue in South Yarmouth, Route 134 in South Dennis, Headwaters Drive in Harwich, Route 137 in Brewster, Orleans Center, Salt Pond Visitors Center in Eastham, the National Seashore at Marconi Area, or LeCount Hollow Road in South Wellfleet.
The trail is entirely paved and serves up plenty of quintessential Cape Cod scenery along the way, including pretty hardwood forest, kettle ponds, cranberry bogs, and stunning beaches.
17. Hoosac Range Trail to Spruce Hill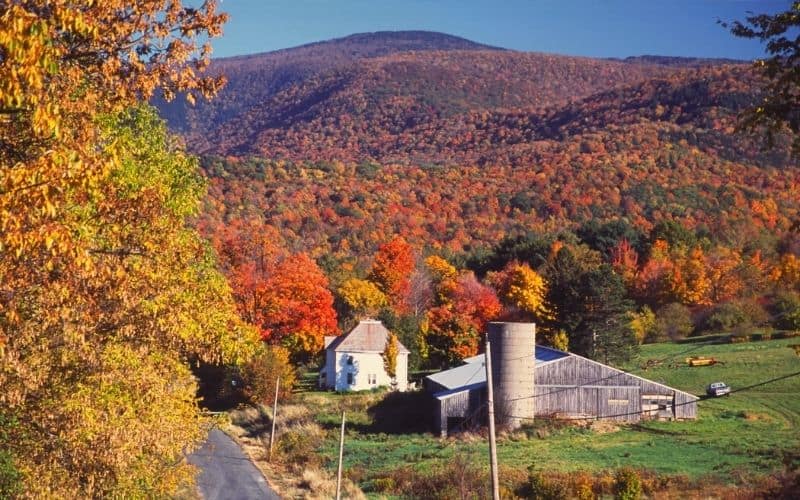 Type: Out and back
Length: 5.1 miles (770 ft. ascent)
Difficulty: Moderate
Access: Just past Western Summit House
This 5.1-mile out-and-back moderate trail can be hiked at any time of year. The shaded forest through which you hike most of the way to the top offers some respite from the heat in the summer months and is particularly popular with snowshoers in the winter.
Following the white and red blazes from the trailhead, you'll climb steadily through the forest before reaching the junction with Sunset Rock Spur. From here, you can follow the Sunset Rock Spur for a more direct approach to the summit or take the longer, and perhaps more scenic route to the top by turning right.
The summit itself is a large stone clearing affording sweeping views of the entire Greylock Range.
Hiking In Massachusetts: New England's Top Trails
Boasting everything from rocky summits to sunny beaches, the Bay State is a true outdoor lover's paradise.
We hope that our list of the best hikes in Massachusetts helped you find your next outing. If you enjoyed our article, let us know in the comments below – we'd love to hear about your adventures.
Oh, and don't forget to share our list with your friends so they can enjoy these amazing trails, too! See you in MA!