Whether you want to pitch a tent by the sea, park your RV at a glamping resort, or paddle to your remote alpine campground, North Carolina has got something for you!
North Carolina is a state filled with natural beauty, warm hospitality, and unique biodiversity. From cascading waterfalls and peaceful salt marshes to the highest peak east of the Rocky Mountains, this unique state is a real mecca for outdoor adventure.
Before embarking on your next camping trip, get inspired by our guide to the top 20 Old North State campgrounds.
1. Croatan National Forest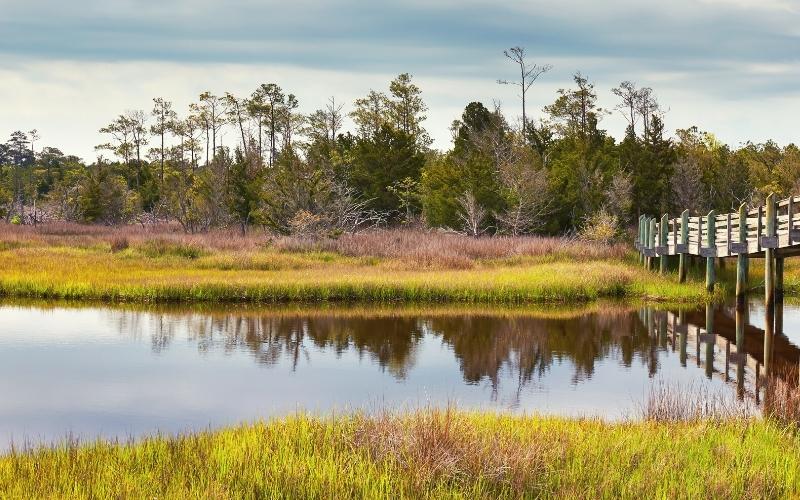 If you've ever wanted to see a Venus flytrap up close, this is your chance!
The Croatan National Forest offers close to 160,000 acres of beauty to explore. Known for its varied landscapes and unique biodiversity, you'll find everything from bogs and raised swamps to pine forests and vast alpine lakes.
Anglers better bring their rods because Catfish Lake and Great Lake offer some prime fishing. There are also plenty of opportunities for hiking on remote trails like the Neusiok Trail and the Island Creek Forest Walk Trail.
Keep an eye out for the varied wildlife too – alligators, black bears, turkeys, and ospreys all call this forest home.
Our favorite campground in Croatan is Oyster Point Campground. Located on the banks of the Newport River, this spacious campsite is just a short drive from several popular beaches. The camp offers two vault toilets and fire rings, tent pads, and picnic tables at each site. There are only 15 camping spots up for grabs, so book early!
2. Jordan Lake State Recreation Area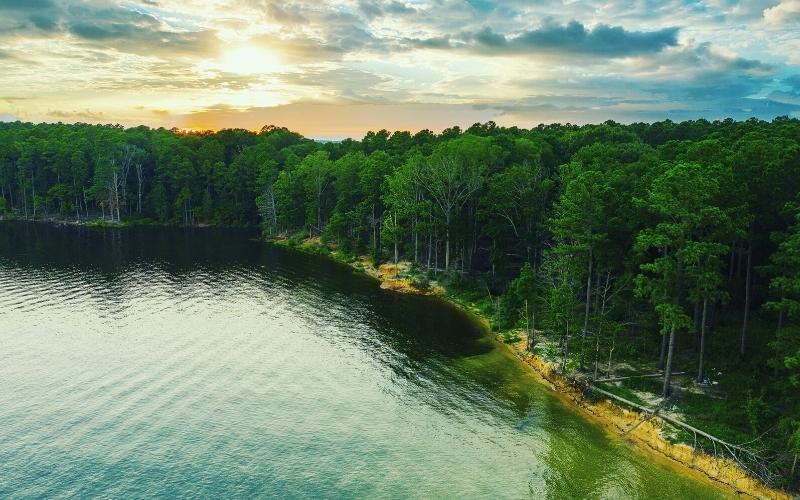 The Jordan Lake Recreation Area is a collection of 9 areas scattered across a massive reservoir. There are seven swimmable beaches to visit, along with boat ramps for canoeing, kayaking, and boating.
If you prefer dry land, you'll find over 14 miles of hiking trails winding their way through the hills surrounding the lake. The family-friendly visitor's center offers plenty of info on the ecology of the lake and an 18-hole golf course is just a short drive away.
There are camping options available to suit everyone. Our personal favorite is the Poplar Point Campground. You'll find both electric and water sites and a dump station not too far from the camp. Almost every site offers some shade and many are lakeside. Available amenities include a showerhouse, vault toilets, a playground, and picnic areas.
Bring a pair of binoculars because you won't want to miss the bald eagles and osprey that regularly soar above the lake!
3. Davidson River Campground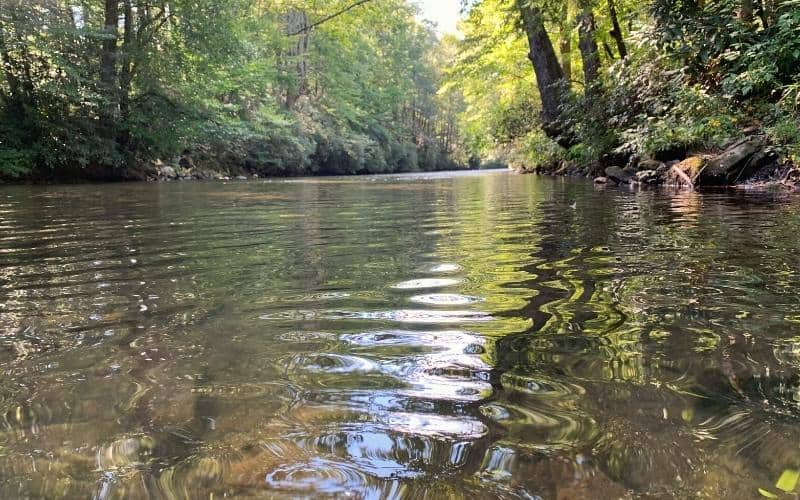 Nestled inside the never-ending pine trees of Pisgah National Forest, you'll find this rugged and peaceful getaway.
Davidson River Campground is conveniently located at the trailhead of many of Pisgah National Forest's best trails, so you'll have plenty of options for family-friendly walks or quad-busting, all-day treks. After a day of exploring the wild beauty of this scenic national forest, cool off with a dip in Davidson River or try and reel in dinner.
The campground offers all the amenities you need to camp in comfort. Over 144 tent and RV sites with electric and water hookups are available, each with the usual tent pad, picnic table, and fire ring. Some of the sites even have direct river access.
Other amenities at the Davidson River Campground include hot showers and flush toilets, a dump station, and firewood and ice. The campground is located just 3-miles from the beautiful town of Brevard and its many restaurants, bars, and breweries.
4. Jones Lake State Park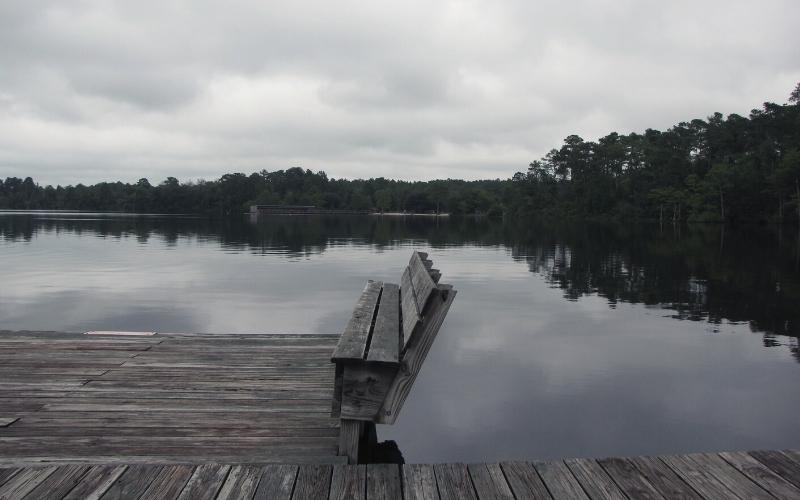 The mysterious Carolina Bays are filled with unique and fascinating geology that you simply must experience at least once (but hopefully more!). Check out the local visitor's center to learn more about the unique geology of the area and why not pack a picnic lunch and make a day of it by exploring the nearby 4-mile Bay Trail?
Jones Lake State Park surrounds two unusual bay lakes that are popular for fishing, swimming, and other water sports, although Salters Lake can only be reached with a permit. Canoes and paddle boats can be rented in the summer and all motorized crafts with less than 10 horsepower are welcome.
Jones Lake Campground is a peaceful campground with over 20 first-come, first-serve, wooded sites for RV and tent camping. Each site features picnic tables and charcoal grills, while the camp at large offers public bathhouses and hot showers.
5. Carolina Beach State Park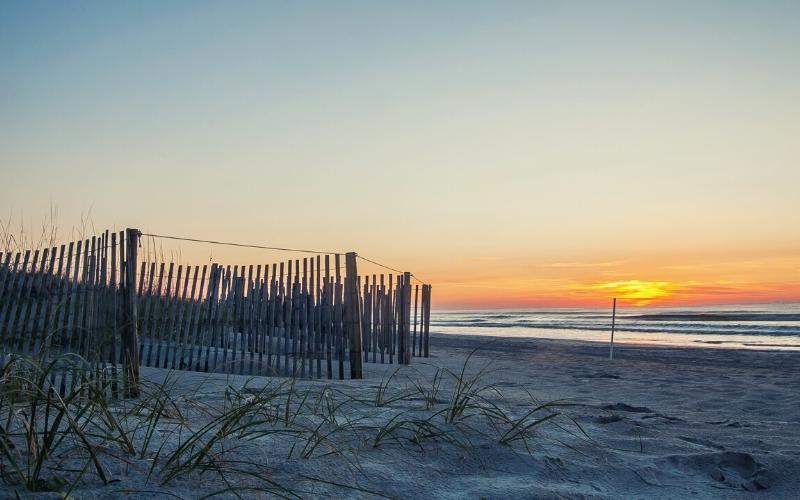 If you're hoping to enjoy a relaxing, beachside vacation, head on down to Carolina Beach State Park. The park is found on the wild and untamed Pleasure Island – an island steeped in history and teeming with nature.
The island features over 9 miles of hiking trails and most are lined with carnivorous plants like Venus Flytraps. If you fancy some fishing, you can reel 'em in at both Cape Fear River or directly in the Atlantic Ocean.
At the Carolina Beach campgrounds, you'll find tent and RV sites, primitive camping, and rustic cabin rentals. While amenities vary at each campground, each features potable water, restrooms, picnic shelters, and a concession stand.
6. Hanging Rock State Park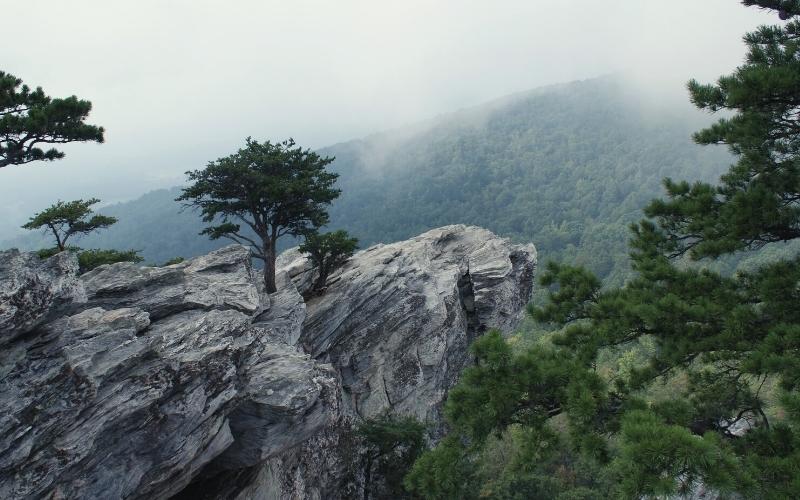 Few other North Carolina campsites provide as many opportunities for outdoor adventure as Hanging Rock State Park. Try hiking, rock climbing, mountain biking, and more in the hills and quiet forests of this outdoor mecca.
On top of the 20 miles of hiking trails leading up to spectacular views, Hanging Rock State Park also features many waterfalls, lakes, and rivers, including the popular paddling spot, Dan River. Free interpretive programs are offered all year that showcase the rich history of the Sauratown Mountains.
The park features 73 tent and RV sites as well as rustic cabin rentals. Camp amenities include hot showers, flush toilets, and a bathhouse on the lake. The visitor's center and museum are open daily.
7. Lake James State Park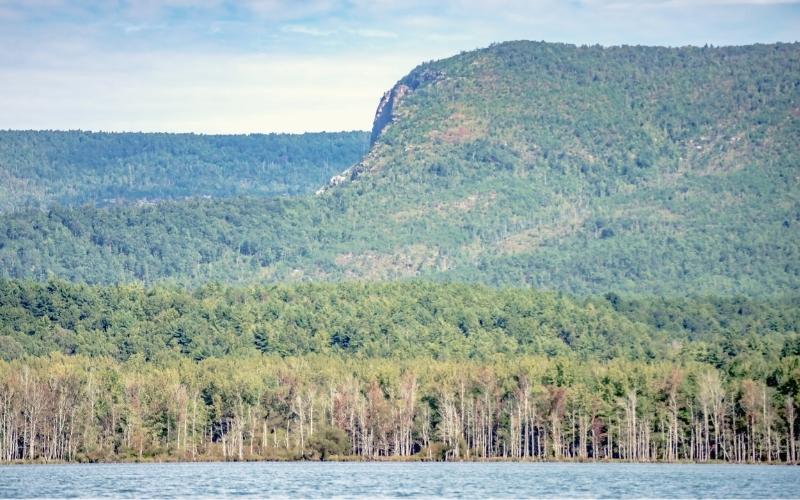 Enjoy the clear, blue waters of 6,812-acre Lake James and its wealth of recreational activities including swimming, fishing, and boating. On land, you'll find over 15 miles of hiking and mountain biking trails, picnic areas, and Guided Ranger weekend activities all summer long.
Local trails vary from the short and educational Holly Discovery Trail to the quad-busting Overmountain Victory Trail. Wildlife and wildflowers are plentiful along the well-maintained trails, as are stunning Appalachian views along the way.
Of course, the best thing to do at Lake James State Park is to simply relax along any of the 150 miles of shoreline!
Lake James State Park offers three different camping experiences. At the Catawba River Area, you'll find 20 walk-in sites with stunning lakeside views. Head to the Long Arm Peninsula for a peaceful and remote boat-in campground or try the Paddy's Creek Area for family-friendly camping.
8. Smoky Mountains National Park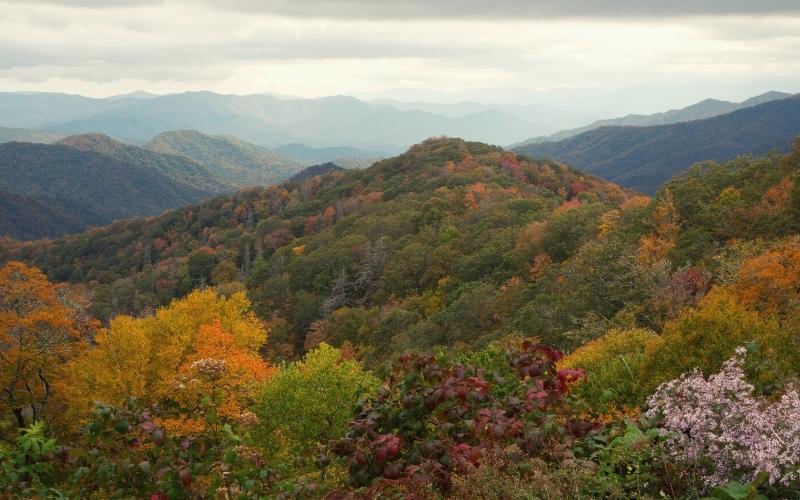 Tucked away in Western North Carolina you'll find the majestic Great Smoky Mountains. Affectionately called 'the Smokies', this rich and varied landscape is the ancestral home of the Cherokee People.
Smoky Mountains National Park is the most visited national park in the US…and with good reason! 850 miles of hiking trails, including a portion of the famous Appalachian Trail, brilliant fall colors, and impressive waterfalls are just a taste of what you can expect in this jaw-droppingly beautiful national park.
Countless rivers and streams wind through the park, so wildlife viewing and bird watching are popular. Try out the Bradley Fork River for some fishing or check out one of the best collections of log buildings in the eastern United States
Smokemont Campground is the ideal setting to enjoy all that the Great Smoky Mountains have to offer. You'll be surrounded by nature, wild and untamed, with the added convenience of flush toilets and potable water. Both tent and RV sites are available at Smokemont Campground, each with picnic tables, fire rings, and tent pads.
Remember that bears are quite active in the Great Smoky Mountains, so always practice bear safety. 
9. Mount Mitchell State Park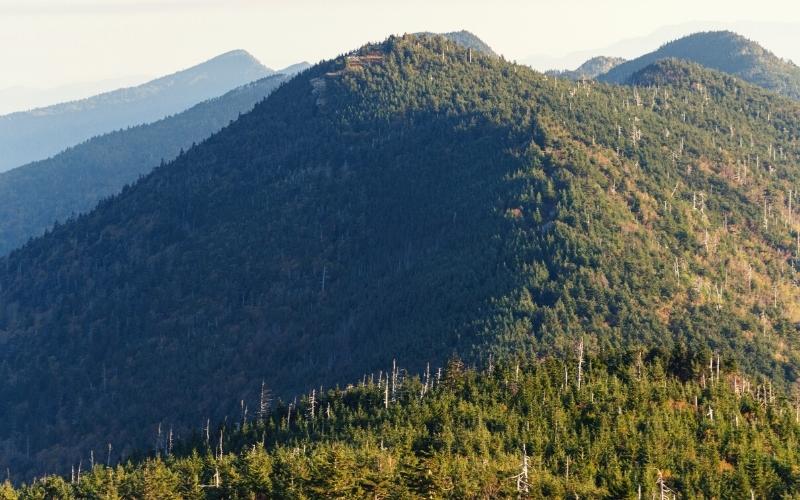 Mount Mitchell State Park is a 1,996-acre state park located along the world-famous Blue Ridge Parkway. The park is named after its most impressive landmark – 6,684-ft Mount Mitchell, the highest peak east of the Mississippi River.
Take the Old Mitchell Trail to Mount Mitchell's summit and you'll find an observation deck that offers unmatched views of the spruce-fir forest below. If you want to skip the hike, you can also drive almost all the way to the summit.
In the warmer months, a nine-site campground is open to visitors with each site featuring a grill and picnic tables. Other available amenities are flush toilets, showers, and a dump station. Recreational activities in the area include hiking, mountain biking, horseback riding, waterfalling, and wildlife viewing.
10. New River State Park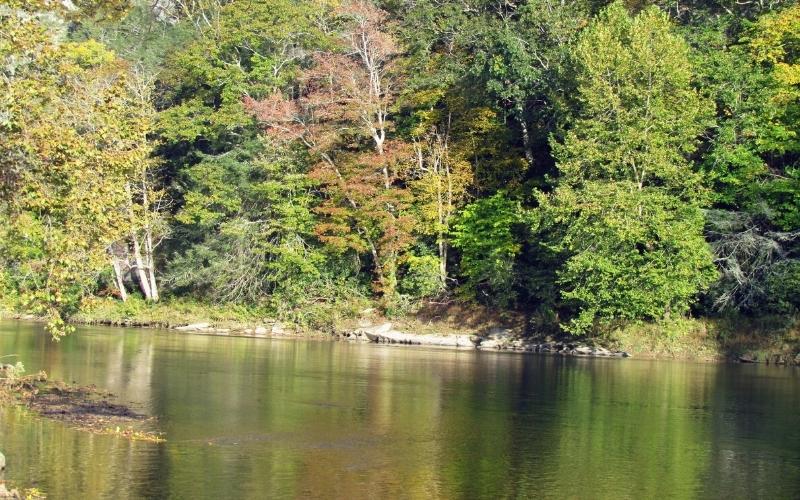 New River is considered to be one of the oldest rivers in North America and its now gentle waters have carved beautiful landscapes into the area, including rugged hillsides and pastoral meadows.
The scenery in New River State Park is simply mesmerizing. Small mountain roads wind through the area, passing by farms, churches, and quaint little towns. The river is tranquil, providing plenty of opportunities for some bass or trout fishing. Or for a different perspective enjoy the views by canoeing or kayaking down New River's slow-flowing water.
There are three access areas to the New River State Park and each provides spots for camping, canoeing, and fishing. Each of the comfortable campgrounds offers modern amenities like electric and water hookups, hot showers, flush toilets, and a dump station. The Wagoner Access Area offers canoe and paddle-in campsites.
11. Yogi Bear's Jellystone Park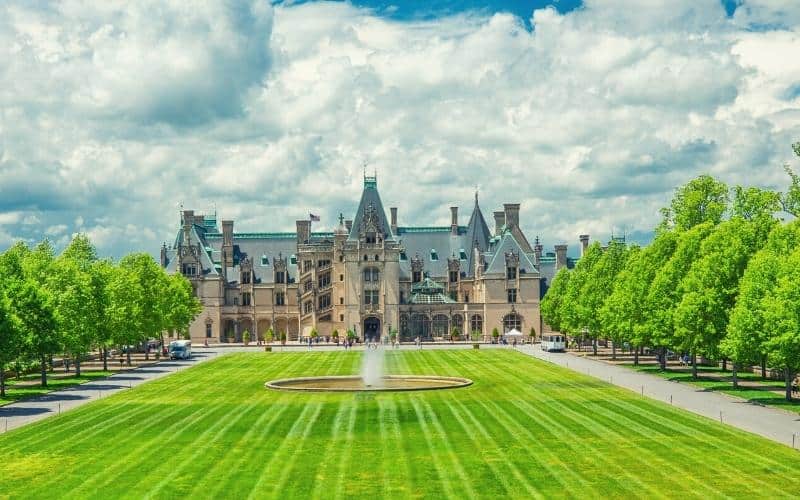 Enjoy family-friendly fun and exciting outdoor activities at this massive cabin and RV park
Nestled at the base of the Blue Ridge Mountains, Yogi Bear's Jellystone Park is the perfect spot for a family getaway. The camp features over 600 acres to explore and a wide variety of accommodations including glamping cabins and tents with lake views.
Plan to stay a while because Yogi Bear's Jellystone Park is jam-packed with fun activities to try. There's an interactive water play park complete with slides, laser tag, a jumping pillow and jump pad, an 18-hole miniature golf course, and fun activities organized by camp staff all summer long.
There's plenty of exploring to do in the surrounding areas as well. Try the Beanstalk Zipline course or head to the historic Biltmore Estate for a trip back in time to a 19th-century mansion.
There are a variety of ways to stay, too. Rent a luxury cabin or group lodging or try one of the premium tent and RV sites. The camp has all the facilities you need to camp in comfort, from on-site dining options and a camp store to air-conditioned restrooms and hot showers.
12. Nantahala National Forest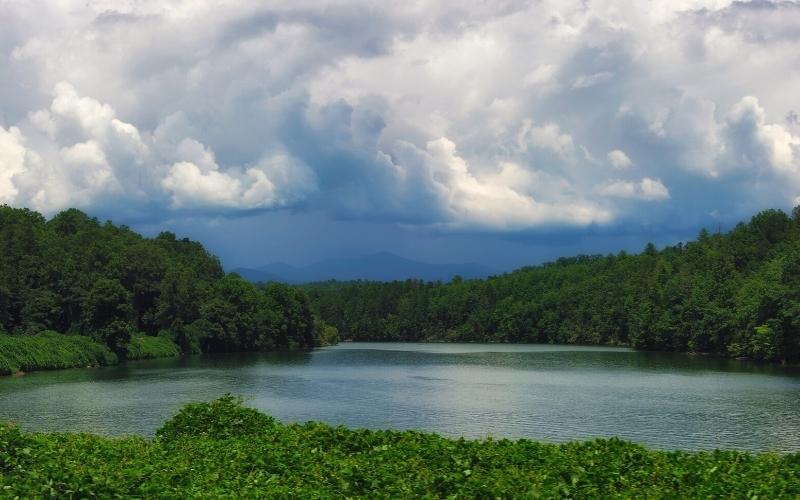 Nantahala National Forest is North Carolina's largest and it's hard not to be impressed by its natural beauty. The wild and untamed forest in Nantahala is so dense the sun breaches its canopy only by midday.
There's no better place to camp out in North Carolina if you're seeking some peace and solitude. With over 600 miles of maintained trails to check out, it's a paradise for hikers, mountain bikers, and equestrians.
There are three designated Wilderness Areas where you can camp. If you can only choose one, try Standing Indian Campground. The camp features several loops with plenty of space for both RV and tent camping. Amenities include fire pits and tent pads at each site along with hot showers and flush toilets around camp.
You'll be just a 20-minute drive away from the town of Franklin and its many restaurants, shops, and breweries too.
Another great option is Mount Pisgah Campground. Mount Pisgah Campground is situated on one of the prettiest stretches of the Blue Ridge Parkway and has 127 sites for RVs, tents, and trailers.
13. South Mountains State Park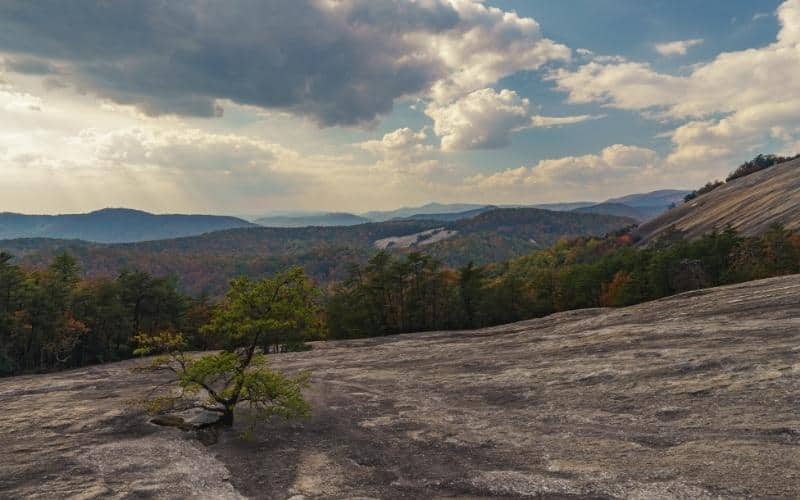 South Mountains State Park is a true outdoor mecca for backpacking. Nestled deep in the woods, you'll find over 24 backpacking campsites along with unparalleled natural beauty. Elevations up to 3,000-ft, an 80-ft waterfall, and over 40 miles of hiking trails are just some of what you'll experience.
Many outdoor adventures can be enjoyed, whether you're hiking, trout fishing, waterfalling, and horseback riding. Don't forget to check out the visitor's center for exhibits on the cultural and natural history of the Stone Mountains too.
Camping options include tent and RV camping and backpacking sites. Remember that backcountry campers must make a reservation before setting up camp. Equestrian camping is also available along with over 33 miles of bridle trails.
14. Rocky Bluff Recreation Area
Surrounded by the beautiful Pisgah National Forest, Rocky Bluff Recreation Area is the ideal spot for a tranquil vacation in nature. This gem is still a well-kept secret despite its location just 3 miles from Hot Springs, NC.
Take a splash in Spring Creek or try your hand at some trout fishing. The wildlife is plentiful in this picturesque setting, and the nearby French Broad River offers whitewater rafting.
Rocky Bluff Campground is small, with just 15 sites available. Each site has a parking spot, picnic table, tent pad, and fire grate. Potable water and restrooms are also available. Several trails can be accessed from the camp, including the famous Appalachian Trail.
15. Stone Mountain State Park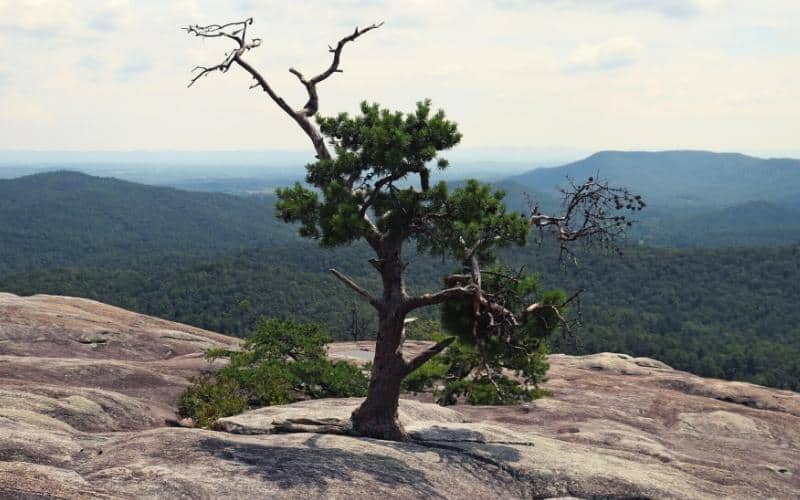 Stone Mountain State Park straddles both Alleghany and Wilkes counties and is one of the best campgrounds in North Carolina. The park's namesake is a towering, 600-foot granite dome visible from anywhere in the park. Climbing the dome is allowed with a permit.
Nearby recreational activities include 18 miles of hiking trails, waterfalls, a swimming hole, and Hutchinson Homestead, a restored 19th-century farm.
The best way to experience Stone Mountain State Park is from its family-friendly campground. 90 sites are available, each with a tent pad, table, and fire ring/grill. Electric and water hookups are available at some sites. Other camp amenities include showers and flush toilets.
16. Uwharrie National Forest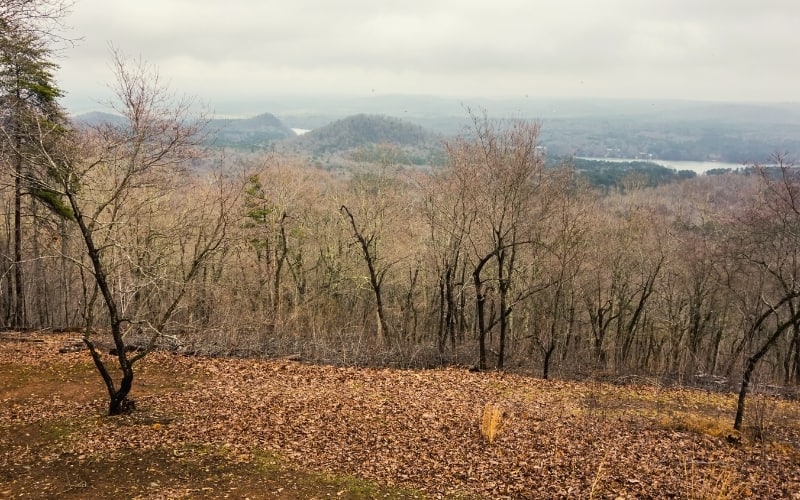 Uwharrie National Forest comprises almost 50,000 acres of woodland across Montgomery, Randolph, and Davidson Counties. The forest features three major rivers, Uwharrie, Yadkin, and Pee Dee, along with the majestic Uwharrie Mountains.
Recreational activities in the area include hiking, mountain biking, and fishing. A shooting range is open year-round, and both hunting and fishing are permitted in-season.

There are a variety of camping areas available for both tent and RV camping. Backcountry camping is also allowed here, except in areas with "No Camping" signage.
17. Goose Creek State Park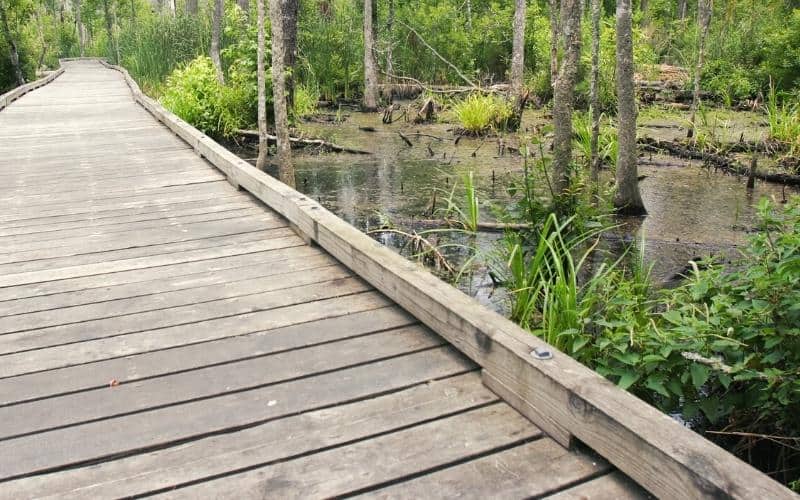 Goose Creek State Park offers a broad variety of coastal experiences. A sandy swim beach allows visitors to soak up the sun or enjoy water sports like swimming, canoeing, and kayaking. Eight miles of hiking and paddling trails allow you to savor the peaceful setting and the show-stopping, iconic oak trees draped in Spanish moss.
Another cool fact about Goose Creek is that it's alleged that the famous scoundrel pirate Black Beard roamed these waters. If you visit the nearby historic town of Bath, there's a historical marker detailing his adventures.
There are 14 spacious campsites up for grabs including some areas for dispersed camping. Amenities are basic – just potable water and pit toilets – allowing you to enjoy nature without the screens!
18. New Bern KOA Holiday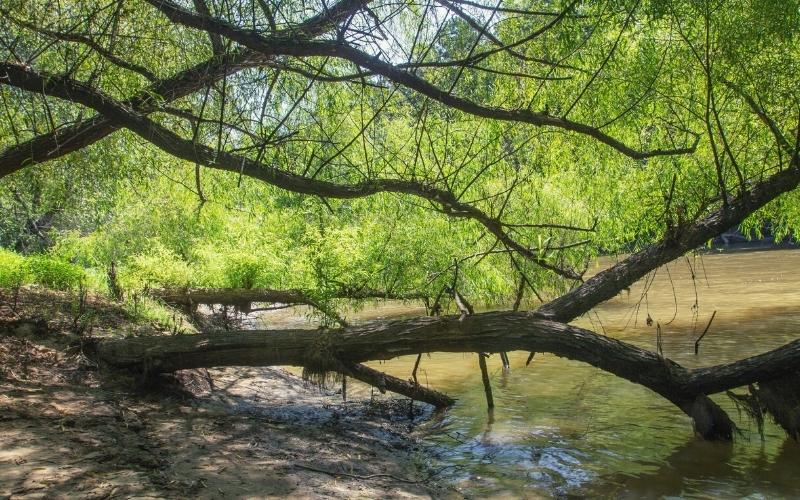 The New Bern KOA is a family-friendly, river campground that is open all year long. The campground is located just a short drive from the historic city of Bern, North Carolina.
New Bern KOA offers an endless amount of fun for the whole family. Camp activities include fishing off the private 100-ft pier, swimming in the outdoor pool, barrel train rides, gem mining, bike rentals, and more. All of this makes it a contender for our favorite North Carolina Campground for trips with the kids.
The greater New Bern area is also jam-packed with fun historical and cultural activities to try. Take a trolley tour through historic Bern, visit the state's first capital building, or enjoy a day trip to Carolina Beach or Emerald Isle.
Like most KOAs, New Bern has a variety of ways to stay. Both full-hookup and tent sites are available, as are cottage rentals. Amenities are plentiful, including free Wi-Fi, a camp store, clean restrooms and showers, a laundry room, and a playground.
19. Cape Hatteras National Seashore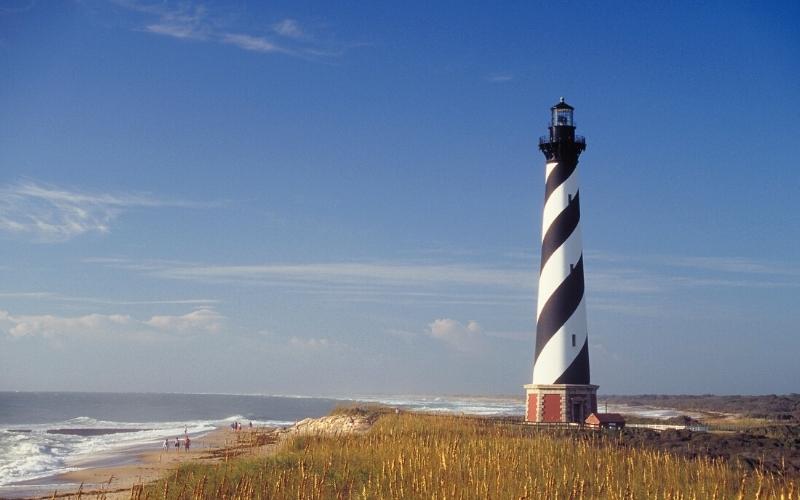 The 75 miles of coastline known as the Cape Hatteras National Seashore share a rich and long history. This is the largest preserved parcel of the Outer Banks. Cape Hatteras encompasses over seven villages on Hatteras Island, including miles and miles of pristine shoreline.
Walking along the beach, swimming, kayaking, and climbing the historic Cape Hatteras Lighthouse are all activities you can experience during your trip. The fishing from the beaches of Cape Hatteras is simply phenomenal, while the veritable "point" of Hatteras Island is often considered to be the best surfing spot on the East Coast.
There are four campgrounds available at Cape Hatteras: Cape Point with 202 sites, Frisco with 127 sites, Ocracoke with 136 sites, and Oregon Inlet with 120 sites. These campgrounds are all open seasonally for RV and tent camping.
Remember that camping on the beach is not allowed and you must stay in one of these campgrounds run by the National Park Service.
20. Raleigh Oaks RV Resort
If you're in east-central North Carolina and want to take a little nature trip to leave behind the noise and bustle of the city, Raleigh Oaks RV Resort & Cottages is the place to be!
This family campground has over 100 spots with full RV hookups and a wealth of convenient amenities, including free Wi-Fi, a swimming pool and spa, mini golf, and a state-of-the-art fitness center. The resort also puts on events and invites you to join in special activities throughout the summer, so there's plenty of fun to be had.
While there are sites for RVs and tents, you can also choose to live it up a little by renting out one of the cute and plush cottages.
Best Campgrounds in North Carolina…
There's no doubt about it – North Carolina is a dream camping destination!
Choose any one of these campgrounds and you're in for one heck of an adventure! Whether you enjoy a seaside campsite, a fancy glamping spot, or a rugged camp in the forest, you'll find something to suit you in this beautiful state.
If you enjoyed this article, let us know in the comments below. And if you'd like to share this article with some of your friends, go right ahead!
Further Reading