The sprawling state of Wisconsin is often overlooked when it comes to camping and outdoor adventures. Locals and travelers who've given the area a try, however, can all attest to the state's unique beauty, plethora of recreational activities, and stellar campgrounds.
With 66 campgrounds in the state's park system alone, it can be overwhelming to decide where to stay to enjoy the best the Badger State has to offer. To help you out, we've compiled a list of 15 of the best campgrounds in Wisconsin with activities and amenities for the whole family.
Wisconsin's Top 15 Camping Locations
1. Devil's Lake State Park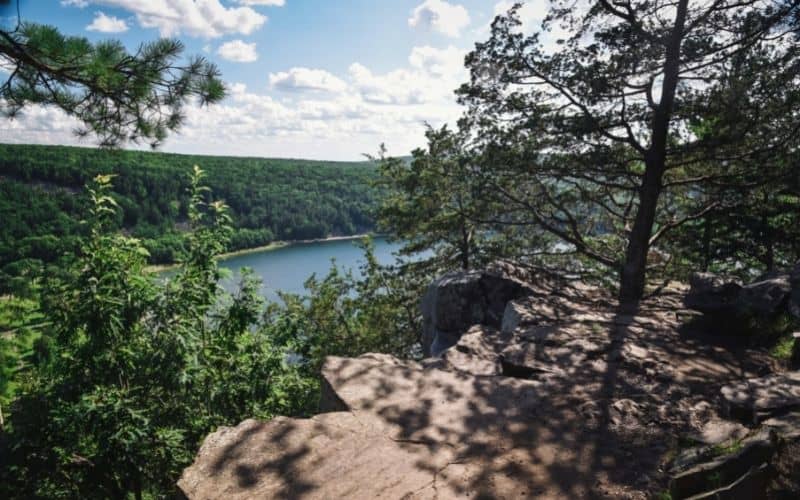 Type: Tent and RV
Full RV Hookups (water and electric hookups): No
Nearest town: Baraboo (3.7 miles away)
Near Baraboo and north of Madison is perhaps the state's most popular state park and one of the best Wisconsin campgrounds, Devil's Lake. Over 3 million people visit this state park every year, so make sure to reserve ahead of time.
Only Quartzite campground has a first-come-first-served reservation system and offers only 10 sites. It is also the only camping area open in the winter.
The main attractions on and around Devil's Lake State Park include a beautiful sandy beach for swimming; kayak, rowboat, and canoe rentals; and award-winning rock climbing. If that's above your adrenaline needs, take a hike to circumnavigate the glacial lake on towering quartzite bluffs.
The park is home to 29 miles of hiking trails which range in difficulty from mellow and kid-friendly to challenging. Our pick of the bunch is the East Bluff trail, a short, 3.2-mile out-and-back hike that delivers stunning views each step of the way. The trail also leads you to the iconic Devil's Doorway, and the Elephant Rock and Elephant Cave rock formations.
RELATED READING: For more outdoor fun check out our guide to the best hiking in Wisconsin.
2. Mirror Lake State Park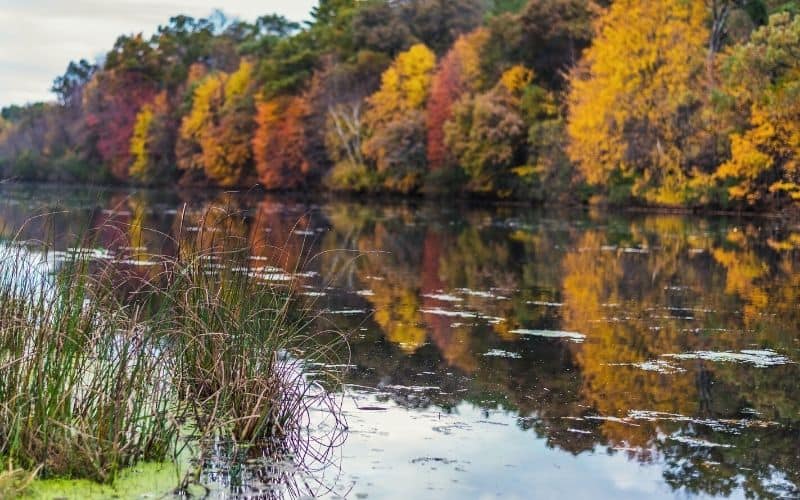 Type: RV, tent, walk-in, cabins
Full RV Hookups: Yes
Nearest town: Lake Delton (3.5 miles away)
Mirror Lake State Park is a quintessential lakeside camping spot just west of the state's capital, Madison. It's an easy jump from the waterparks of Wisconsin Dells ("The Waterpark Capital of the World") if you and your family are hoping to make a bigger trip out of your journey down I-90/94.
The main draw to the park is Mirror Lake itself. You can rent a plethora of watercraft, ranging from kayaks and canoes to rowboats and pontoon boats.
Mirror Lake is also a no-wake destination, meaning there will be no whining jet skis to interrupt your peace and quiet.
A few private campgrounds can also be found within easy driving distance of the park. The pick of the bunch is Yukon Trails RV Resort, which serves RV and tent campers alike and is one of our favorite Wisconsin campgrounds for rustic family camping.
A close second is Bonanza Camping Resort, located just 5 miles north on the Wisconsin River and a short drive from Castle Rock Lake.
3. Patricia Lake Campground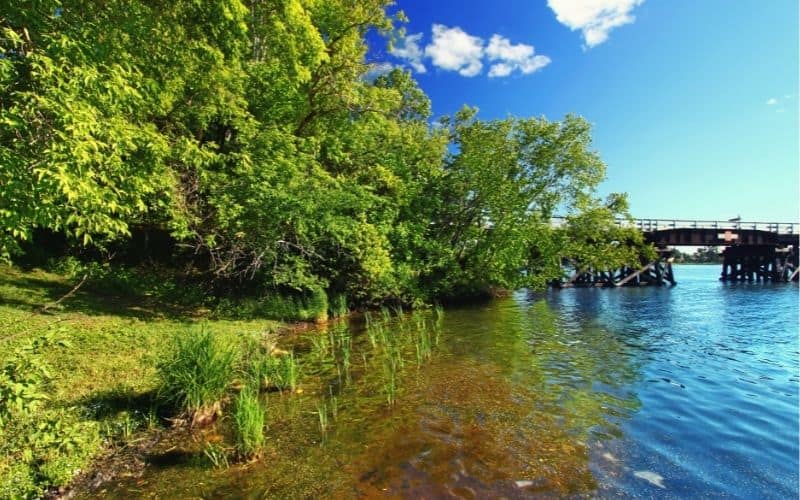 Type: RV, tent
Full RV hookups: Yes
Nearest town: Minocqua (4.3 miles away)
Situated just outside the beautiful tourist town of Minocqua, this Wisconsin campground serves as an excellent basecamp for families of RV campers.
This family campground has a mixture of permanent and seasonal campsites – both RV and group camping areas – set in beautiful, shady wooded lots. It also has volleyball and basketball courts, on-site laundry, shuffleboard, and a sandy swimming beach.
While you're there, make sure to explore the town of Minocqua, where you'll find the Wildwood Park and Nature Center, ziplining, and even surfing!
The campground has flush toilets, electrical hookups, and a handful of pull-through sites.
4. Governor Dodge State Park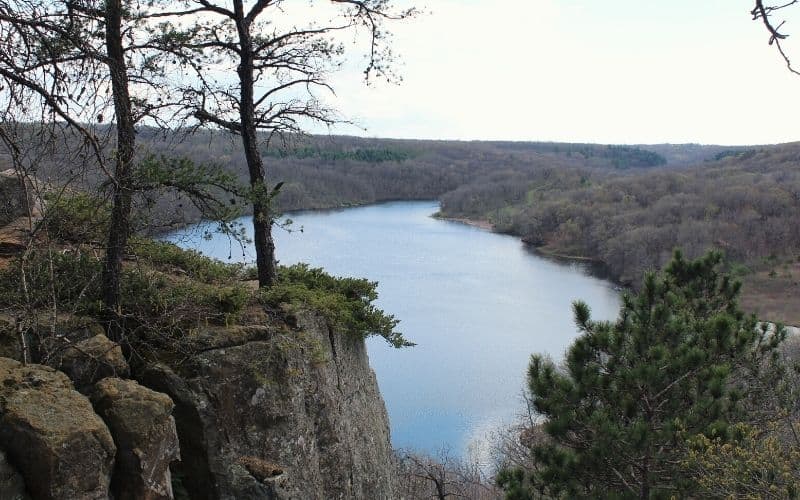 Type: RV, tent, backpack
Full RV Hookups: Yes
Nearest town: Dodgeville (4.2 miles away)
Not far from the beautiful state capital of Madison is Governor Dodge State Park. Here you'll find plenty of hiking for the more active members of your family. If you're fans of waterfalls, be sure to check out the gorgeous waterfall on a short jaunt up the Stephens' Falls Trail. Equestrian and mountain bike trails also abound.
If you're looking for a picturesque lake campground, Governor Dodge is the place to go. The motor-free lake features a soft sandy beach with epic views of the surrounding oak and hickory forest and rocky bluffs. And if you feel like spending some time on the water, watercraft rentals are available.
For the extra-active bunch, bring a bouldering pad to take part in the park's popular climbing routes. Make sure you have a spotter, though, because the bouldering problems are notoriously high!
5. Fox Hill RV Park and Campground
Type: RV, Tent, Cabins
Full RV Hookups: Yes
Nearest town: Baraboo (5.3 miles away)
If you're hoping to explore Devil's Lake with more amenities, drive just 7 miles down the road to Fox Hill RV Park and Campground.
An excellent hub for exploring the whole area, this Wisconsin campground is pet-friendly and includes a heated pool, playground, nature trail, and laundry. It also offers a complimentary casino shuttle to the famed Wisconsin Dells for the adults in your group.
6. Plymouth Rock Camping Resort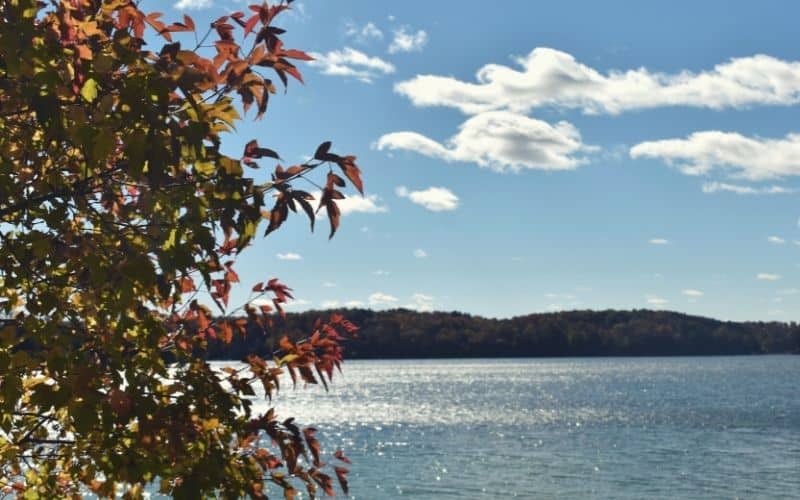 Type: RV, tent, cabins
Full RV Hookups: Yes
Nearest town: Plymouth (4.2 miles away)
Plymouth Rock Camping Resort, located just minutes from Lake Michigan, is a great choice for avid RVers. The full hook-up sites at this gated RV park include everything you might need for life on the road, and the resort also has plenty of themed activities and events for families. For a more cozy glamping experience, cabin rentals are also available.
Plymouth Rock Camping Resort is just minutes from Elkhart Lake and the 17-mile long hiking trail that leads to the Lake Michigan lakefront in Sheboygan. You'll also find a short commute to Indian Mound State Park and Kettle Moraine State Forest, where further hiking opportunities abound.
For you museum-goers, check out the Wisconsin Maritime Museum or the Elkhart Lake Depot Museum, both of which are just a short drive from PR Camping Resort and listed on the National Register of Historic Places.
7. Lake Arrowhead Campground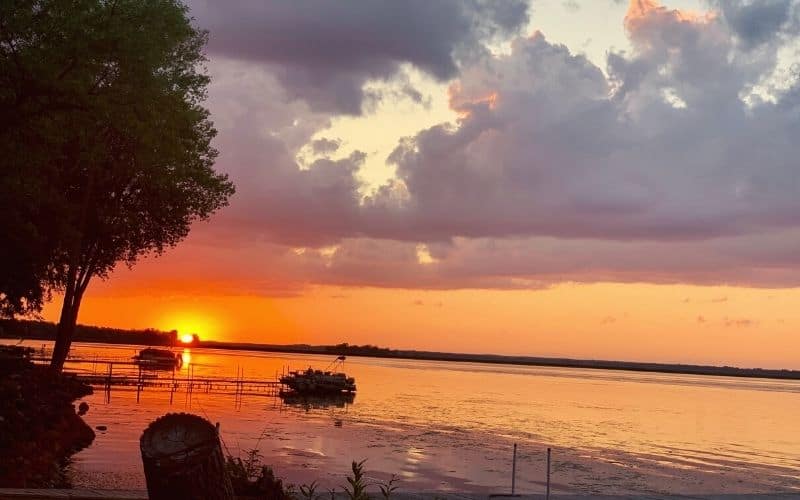 Type: RV, cabins
Full RV Hookups: Yes
Nearest town: Montello (6.3 miles away)
Forty-five miles northeast of Wisconsin Dells is Lake Arrowhead Campground, which boasts all the amenities of a classic RV resort and also plenty of opportunities for fun family recreation. Unlike many camping areas on lakes of Wisconsin, motorized watercraft are allowed here.
The campground also has two pools and a volleyball court, and campers can cool down in summer months by taking a dip in Lake Puckaway.
If you feel like treating yourself to a little luxury with hot showers and air conditioning, you can also rent one of the campground's cabins.
8. Smokey Hollow Campground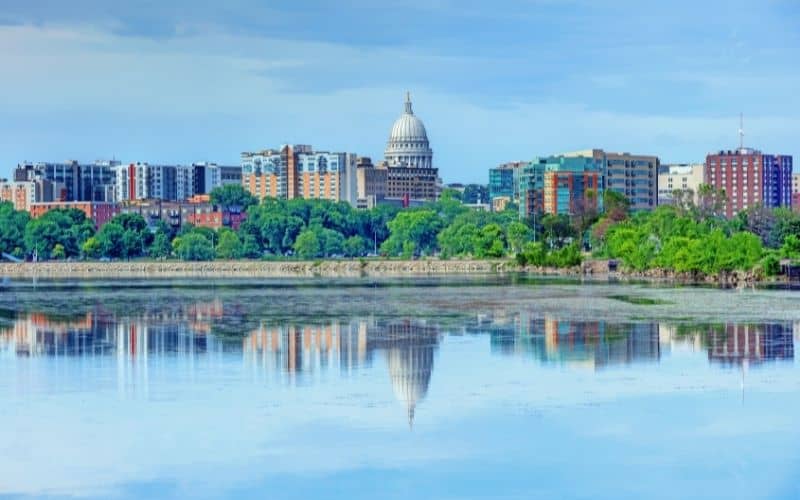 Type: RV, cabins
Full RV hookups: Yes
Nearest town: Lodi (4.7 miles away)
Featuring plenty of activities just outside Madison in the small town of Lodi, Smokey Hollow Campground has something for everyone.
Here you can play a round or two of mini-golf, trek to the candy or convenience stores, and dip into the large swimming pool or dunk tank. There are also activities scheduled throughout the whole summer, meaning there's plenty of fun to be had for kids and adults alike.
Just down the highway is the state capital of Madison, where you'll find restaurants, shops, and watersports on the famed Mendota and Monona Lakes.
9. Mississippi Bend Campground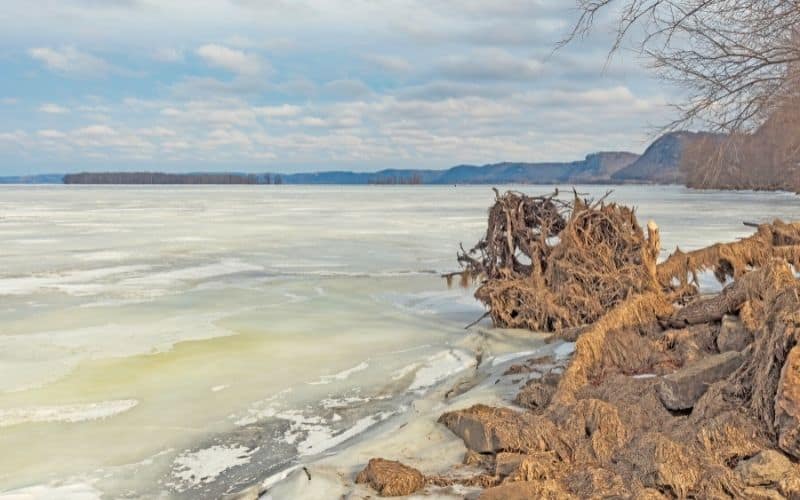 Type: RV, tent
Full RV hookups: Yes
Nearest town: Lynxville (0.5 miles away)
Mississippi Bend Campground is located in Lynxville on the western border of Wisconsin and boasts both diesel and electric sites, tent camping, and 40 seasonal RV sites.
From the campground, a short hiking trail leads to a scenic overlook and provides easy access to the Mississippi River, where plenty of additional recreational opportunities await. Within just two miles of the campground, you'll find four boat launches as well as excellent birdwatching in the bordering wetland area. Fishing and canoeing are also popular on this stretch of the river.
10. High Cliff State Park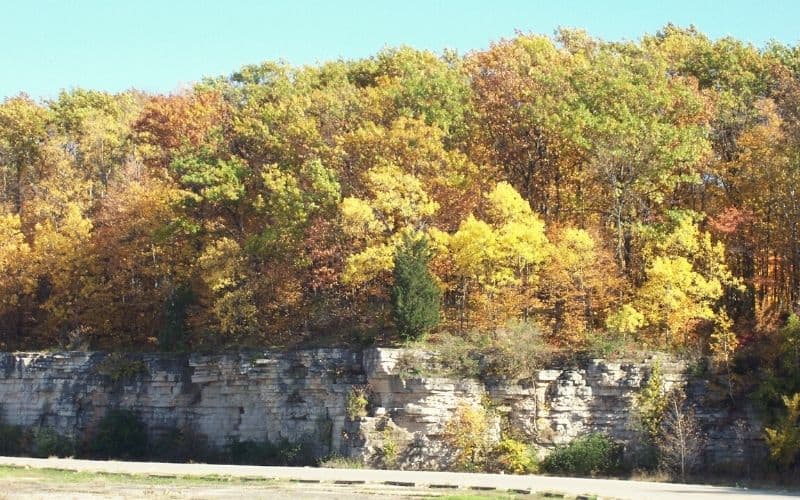 Type: RV, tent, cabins
Full RV hookups: yes
Nearest town: Sherwood (2 miles away)
Looking for a state park with stunning views and a few cool cultural attractions to boot?
At High Cliff State Park, you can climb to the top of high limestone cliffs to overlook Wisconsin's biggest inland lake, Lake Winnebago, then take the kids to see the 12-foot statue of Winnebago Indian Chief Red Bird, which sits on a huge slab of granite overlooking the lake.
The statue can be reached on the mellow, 3.4-mile Red Bird Trail, which takes you along the Niagara Escarpment and serves up sumptuous views of the lake.
Also, be sure to check out the quirky General Store Museum to learn about the area's intriguing past as one of the country's biggest limestone quarries.
11. Kettle Moraine State Forest (Northern Unit)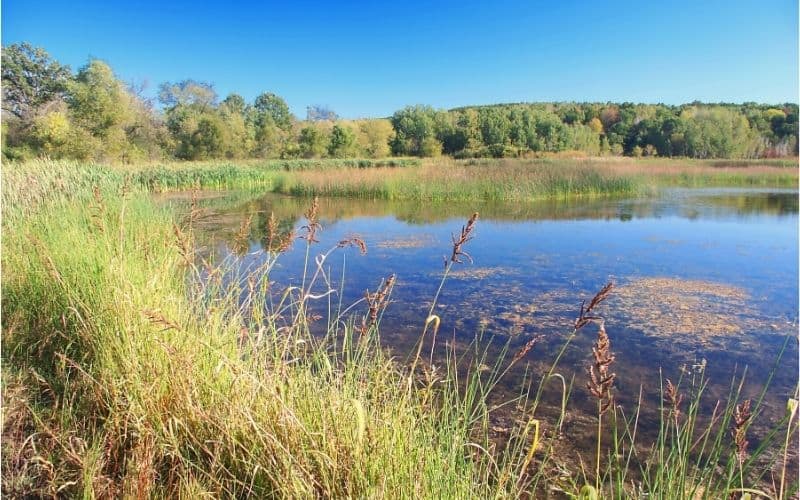 Type: RV, tent, walk-in, horse
Full RV hookups: Yes
Nearest town: Dundee (6.0 miles away)
Kettle Moraine State Forest, located 45 minutes from the town of Cedarburg, is a great camping destination for families who like to dabble in a wide variety of recreational activities.
For the fishing enthusiasts in the family, you'll find northern pike, bluegill, crappies, and largemouth bass in the park's 12 ponds and lakes. (These ponds are lakes called the "kettles.") If you don't have your own gear, renting fishing supplies is easily done.
This park has every kind of camping, even backpacking shelters along the 1200-mile long Ice Age Trail that meanders throughout Wisconsin.
For your horse riding enthusiasts, bring along the trailer and camp at the horse campgrounds to check out the park's many miles of trails. And for hikers and bikers, there are 13.5 miles of trails to be explored, too.
For incredible lakeside campsites, head to the Long Lake Campground. Here you can take advantage of the lake's sandy beaches, and take a dip in the water when temps are high. If you come to the area in June, head to Cedarburg's Strawberry Festival or September's Wine and Harvest Festival.
12. Harrington Beach State Park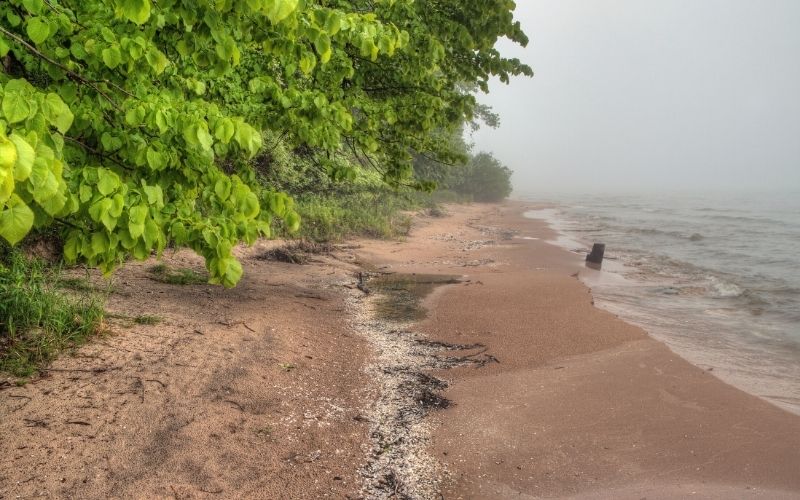 Type: RV, tent
Full RV hookups: Yes
Nearest town: Belgium (1.9 miles away)
Just 25 miles north of Wisconsin's largest city, Milwaukee, is lakeside Harrington Beach State Park. At 715 acres, this park takes up more than a mile of Lake Michigan's shoreline.
This campground's lakeside location will allow you to enjoy beautiful sunrises and also makes it the ideal location for fishing enthusiasts.
If you're a hiker, be sure to meander around the hardwood swamp and lovely limestone quarry lake. Bring along your birding binoculars, and you'll likely spot plenty of interesting specimens around the wetland pond, which is also the ideal spot for a picnic.
13. Rock Island State Park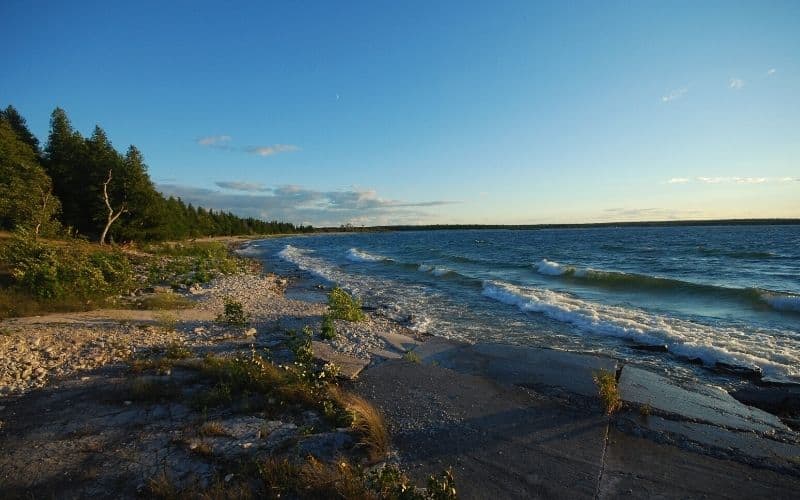 Type: RV, tent, walk-in
Full RV Hookups: Yes
Nearest town: Washington (3.9 miles away)
Located just 40 minutes south of Green Bay and a ferry ride away in Wisconsin's famed Door County, Rock Island State Park offers a variety of recreational activities.
Campers will love the park's many RV and tent sites, though cabins are available for those who'd like a little more luxury.
There are several different types of camping here including primitive, group, and individual sites. You can also reserve sites with electricity.
Check out the park's nature center to learn about its natural history as well as Wisconsin's oldest lighthouse, Pottawatomie Lighthouse. For a more adventurous day trip, hop on the ferry and check out Washington Island, where you'll find one of the nation's largest lavender farms and a handful of idyllic, crowd-free parks and beaches.
14. Blue Mound State Park
Type: RV, walk-in, bike-in, tent, cabins (for people with disabilities only)
Full RV hookups: No
Nearest town: Blue Mounds (0.5 miles away)
Blue Mound State Park is one of the most popular parks in Wisconsin, and with good reason. Located at the highest point in southern Wisconsin, it overlooks beautiful rolling hills and farm fields and serves up views all the way to Madison. You'll also find a multitude of biking and hiking opportunities within the park.
This state park is also home to a large sand dune system, a scenic boardwalk, and a small lake, and is the only state park in Wisconsin with a swimming pool.
You'll find a variety of camping options here. In addition to tent and RV sites, there are cabins available to rent for people with disabilities.
15. Stoney Creek RV Resort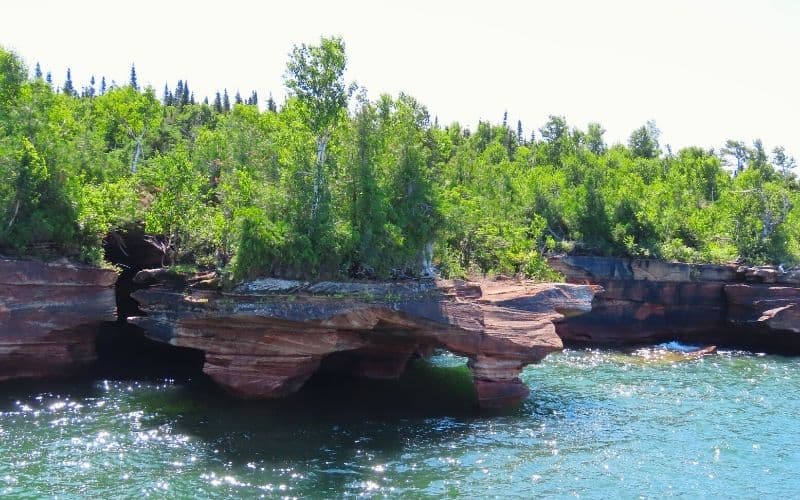 Type: RV, tent, cabins
Full RV hookups: Yes
Nearest town: Osseo (2.6 miles away)
Just south of Eau Claire in the town of Osseo is the spacious Stoney Creek RV Resort, which boasts 130 pull-through RV camping sites for the big riggers out there as well as cabins and tent sites for the travel-light crowd.
Noted for being incredibly kid-friendly, the park even has laser tag and a skate park, while games of horseshoes or volleyball are available for the adults.
If you have more time on your hands, Stoney Creek is ideally situated for a day or overnight trip to Apostle Islands National Lakeshore, one of Wisconsin's two national parks. Just remember to bring your own camping gear, because there's no RV or car camping on the islands.
Camping in Wisconsin FAQs
1. Are there bears in Wisconsin?
Surprising to many, there are black bears in Wisconsin! Many of the RV campgrounds will account for this with bear-resistant garbage cans and fencing, but if you're tent camping or backpacking be sure to have a bear canister or bear bag to lift food and "smellies" (toothbrushes, toothpaste, deodorant) into a tree, out of a bear's reach.
Also, be sure to keep grills and your picnic tables clean. If a bear associates you with food, it's likely to come back for more.
2. Can you camp anywhere in Wisconsin?
Almost! On public land in Wisconsin, you can pitch your tent just about anywhere and indulge in a spot of "dispersed camping." This is permitted as long as you pitch at least 150 feet away from hiking trails or roads and at least 200 feet from any water source.
3. Can you camp anywhere in Kettle Moraine Forest?
This one's a 'no.' Sadly, camping in Kettle Moraine is restricted to designated walk-in campsites.
Wonderful Wisconsin!
The often-overlooked Midwestern state has some of the most beautiful campgrounds in the country. From lakeside RV camping sites to tent-camping on the mighty Mississippi River to renting a cabin on Lake Superior, the state has something for everyone.
So, what did you think of our article on camping in Wisconsin? Did we miss any of your favorite Wisconsin campgrounds? If so, drop us a line in the comment box below!