South Carolina is a charming state known for its rich history and Southern Hospitality. But there's a lot more to the Palmetto state than good manners and wild parties at Myrtle Beach! With beautiful landscapes running from the rolling hill country of the Appalachian Mountains to the pristine Atlantic coast beaches, South Carolina is the ultimate adventure destination.
We've narrowed down the list from a whopping 3,000 to the top 17 campgrounds in South Carolina. Get ready to be charmed by their natural beauty, impressive campsites, and fun recreational
Our 17 Favorite Campgrounds in the Palmetto State
1. Calhoun Falls State Park
Located on the shores of Lake Russell, Calhoun Falls State Park is a rustic gem that's anything but hidden. In fact, it's probably the most coveted park in all of South Carolina. Once you get a glimpse of the majestic lake surrounded by stunning, unspoiled pine forests that surround it, you'll understand why.
As if that weren't enough, Calhoun Falls offers three campgrounds with over 86 standard campsites. The park is full of amenities to keep campers happy, too. These include flush toilets, hot showers, and laundry facilities. Pets are welcome too.
Remember, when we said this spot was popular, we weren't kidding. Make sure to book early unless you're a gambler hoping to snag one of the 14 walk-in tent sites available.
RELATED READING: For more outdoor adventure check out the best hiking in South Carolina.
2. Devil's Fork State Park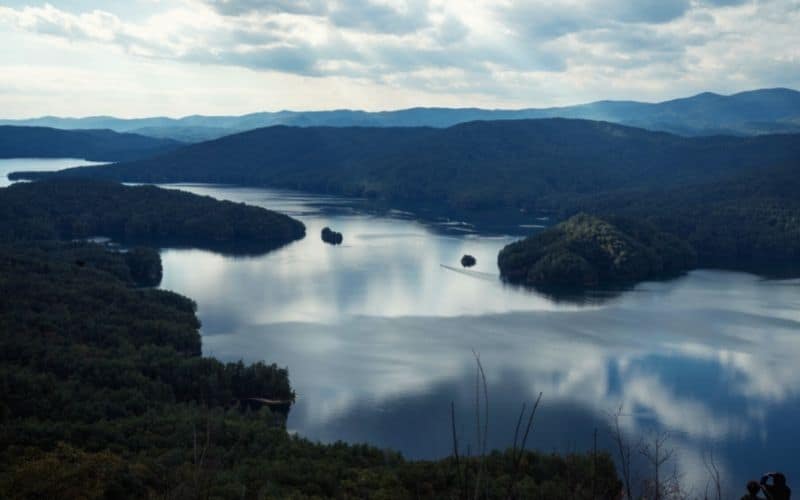 In the foothills of the Blue Ridge Mountains lies the spectacular Lake Jocassee. This 9,000-acre crystal blue lake is the perfect spot for those looking for a relaxing mountain getaway.
The lake has a rich, and slightly unsettling, history. Jocassee Lake is a man-made lake created by damming and flooding the town once located in the same spot. Because the mountain water that feeds the lake is crystal clear, you can still see the skeletons of the former houses and buildings below you as you swim!
Pitch your tent or park your RV in one of the 115 standard sites available or rent a rustic log cabin. Enjoy the finer things in life with amenities like elevated tent pads, fire rings, water, and electric hook-ups, hot showers, and restroom facilities. The two campsites stand next to Devil's Fork State Park, so you'll have full access to the park's amenities too.
3. Andrew Jackson State Park
Who said camping wasn't educational? Head on over to the old stomping grounds of Andrew Jackson, where history and nature meet. Located in Lancaster County, this park's lakeside campground offers natural beauty, two scenic hiking trails, and lots of historical sites to visit.
Andrew Jackson famously grew up here in a log cabin, but don't worry, you won't have to rough it 18th-century style as he did! This campground features 25 paved and 20 gravel RV sites with all the amenities you'd expect from a state park. There are water and electric hookups, hot showers, restrooms, and a dump station.
If you're interested in learning about the history of the area, check out the museum. You'll find lots of Revolutionary War artifacts and learn more about Jackson himself. For outdoor enthusiasts, try fishing on the lake or rent a boat and visit the hiking trails on the island in the middle of the lake.
4. James Island County Park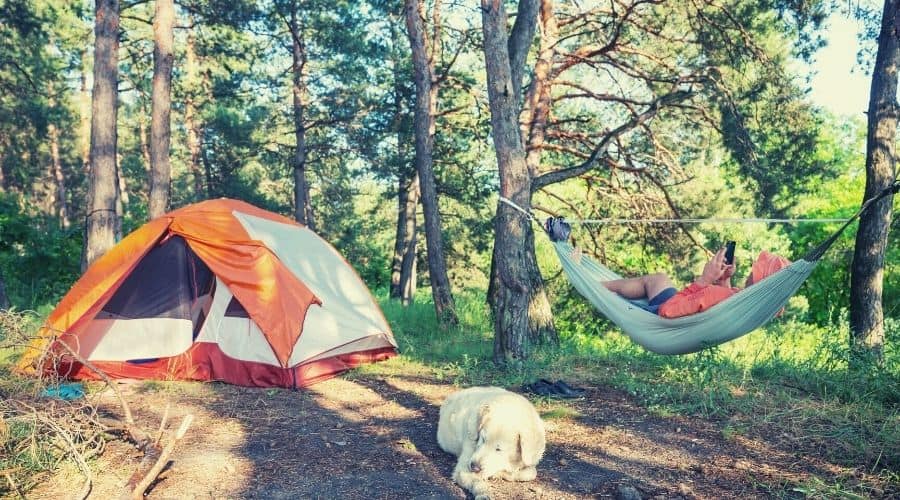 Just a short drive from downtown Charleston lies James Island County Park. This is the perfect place to get away from the hustle and bustle of city life and enjoy some wholesome family fun!
The park features 124 spacious tent and RV spots available, but book early since they fill up fast. Primitive camping is available for adventurers, as are log cabin rentals for those looking for a glamping experience. Enjoy amenities like a fully-stocked market, Wi-Fi, a ceramic bathhouse, and on-site laundry facilities.
There are endless fun activities to partake in too. The campground itself is surrounded by lush forests brimming with scenic trails to explore. In the summer, a water park opens up and a tidal creek offers opportunities for some salt-water fishing and crabbing.
5. Ocean Lakes Family Campground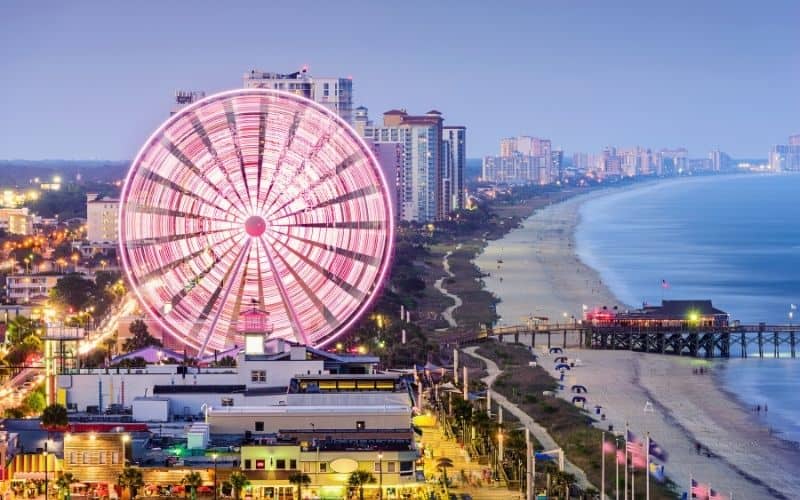 Ocean Lakes Family Campground 403 is so big it might as well be a resort. Founded in the 1970s, this family-friendly campground is the largest on the east coast and one of the biggest in the US.
We'd be here all day if we tried to list all the activities and amenities the park offers, so let's cut right to the best parts:
There's 1 mile of beachfront for all your favorite beachy activities, 8 freshwater lakes, and several swimming pools. A family center is packed with activities like arcade games, mini-golf, and horseshoes. Food delivery is available right to your campsite. Bikes and golf cars can also be rented on-site.
With over 850+ campsites, RV parks, and cabins for rent, it's safe to say that you've got to love company to camp here. With the campground receiving up to 30,000 visitors in the peak season, things can get a little crowded. But if you love a bustling campground filled with fun, outdoorsy activities, this is your spot!
6. Hunting Island Oceanfront Campground
Looking for the best beachfront camping in South Carolina? This is it! Nestled Northeast of Savannah on St. Helena Island, every site in the park is just a quick walk away from a beautiful, sandy beach.
With over 100 sites, including both primitive and full-service RV spots, you'll have a lot of choice. Remember that the sites closest to the beach offer spectacular ocean views, but lack privacy. The sites further back miss out on the panoramic ocean views, but they make up for it with lots of privacy and vegetation coverage.
There are tons of unique activities in the area to enjoy. Try booking a tour of nearby Phillips Island, fishing in Johnson Creek, surf fishing, or go on a dolphin-spotting cruise!
7. Lake Wateree State Park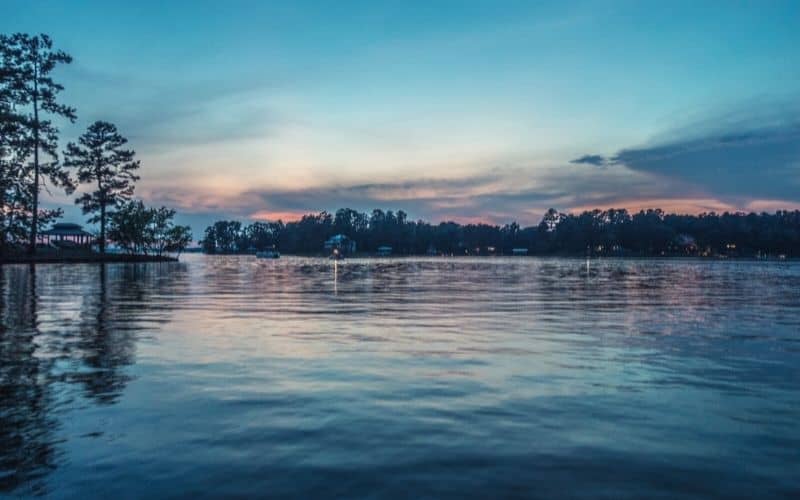 Head to the Wateree Campground only if quiet, secluded wilderness and spectacular fishing sound like a good time. Located an hour south of Charlotte, this remote gem is off the beaten path, making it the perfect spot to take in the great outdoors.
The campground is located on Wateree Lake, an almost 14,000-acre angler's paradise thanks to all the bream, crappie, catfish, and bass populating the lake. In fact, many fishing tournaments are held here throughout the year.
Both RV and tent paved sites are available, including 28 sites with 50-amp electrical, water, and sewer hookups. The camp features all the basic amenities you'd expect from a state park such as restrooms, hot showers, and picnic areas.
8. Huntington Beach State Park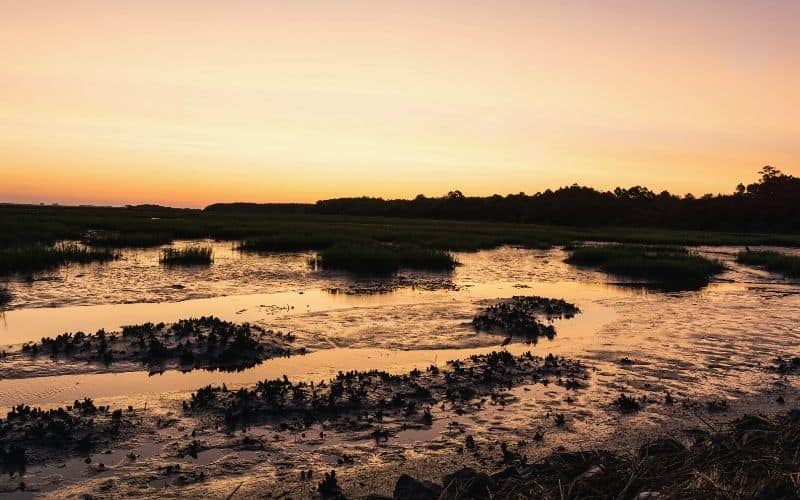 A welcome break from some of the chaotic main beaches, Huntington Beach State Park lies only 16 miles away from Myrtle Beach. This state park and campground feature hundreds of acres of unspoiled wilderness to explore. From marshlands and lush forests to three miles of protected shoreline, this campground is bustling with wildlife and exhilarating outdoor activities.
The saltwater marshes attract bird watchers while fishing enthusiasts can cast a line from the main fishing pier. Make sure to explore the Huntington Beach Nature Center to learn about the variety of wildlife that calls this park home.
There are 107 standard sites in the park and over half of them have full hookups. For tent campers, 16 designated tent sites are available. While the park might be immersed in nature, you can stay well-connected thanks to the complimentary Wi-Fi available at each site.
9. Lake Greenwood State Park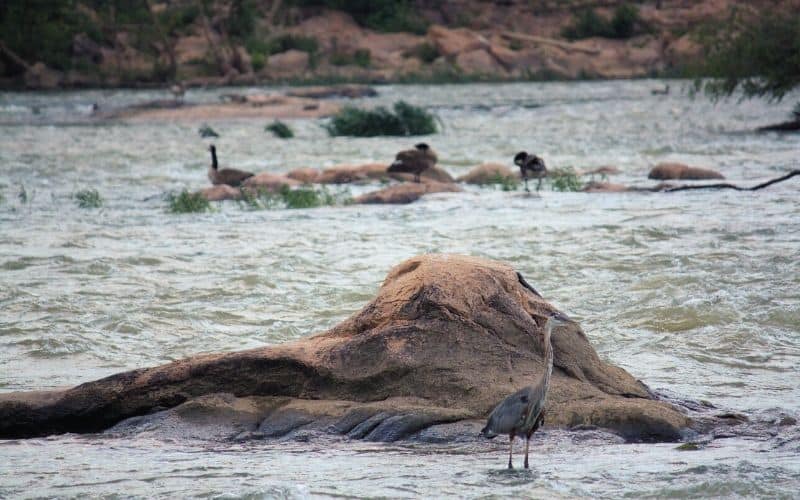 Located on a picturesque 11,000-acre reservoir, this lakeside campground has plenty of fun in the sun, unspoiled wilderness, and great fishing to offer!
Lake Greenwood SP is a popular fishing spot thanks to the abundant black crappie, stripers, perch, channel catfish, and bream found in the reservoir. Not into fishing? There are over 900 acres of nature to explore through hiking, biking, and geocaching. If you head to the park in the springtime, you may even catch the beautiful wisterias in full bloom!
Both tent and RV campers will enjoy the variety of amenities offered. All 125 campsites are paved and include electric and water hookups. Other park features include a boat ramp, a playground, flush toilets, hot showers, and a camp store.
10. Cheraw State Park
If you're hoping to tee off during your next camping trip, the Cheraw Campground is for you! Featuring an 18-hole golf course right next door, this is the perfect place to golf by day, and camp by night.
While 17 sites are available for both tents and RVs, beware of the gravel! Those pitching a tent might want to bring along a heavy-duty tarp to avoid a bumpy night. 
Don't worry, there are lots of other activities available for those that aren't so golf-minded. Spend some time exploring one of the many local hikes or try your hand at fishing on Lake Juniper. Don't have a rod or reel? Just borrow one from the park office!
11. Keowee Toxaway State Park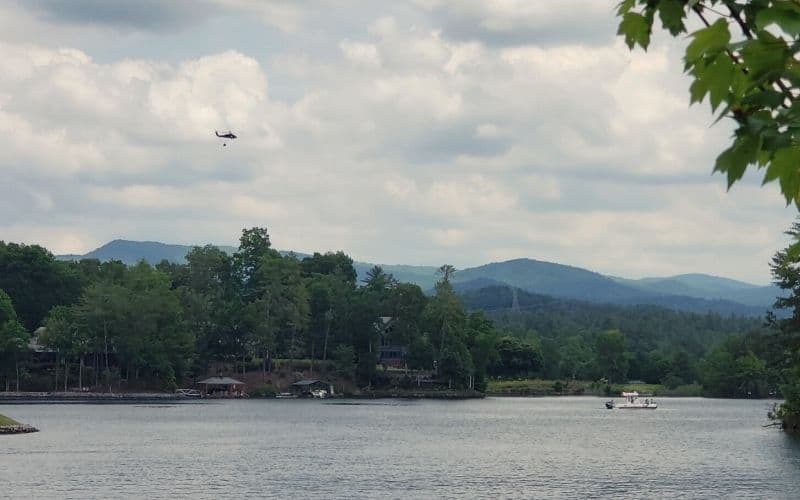 Nestled in the foothills of the Keowee-Toxaway Natural Area lies this hidden lakeside gem. Pitch a tent right along the wooded shoreline and spend a night under the stars with the majestic Blue Ridge mountain range in the distance!
While this South Carolina park is small, it still offers 24 sites with all the basic amenities you need like tent pads, fire rings, and access to central water and restroom facilities. If lakeside camping isn't for you, there's also a luxury, all-inclusive cabin available for rent.
Make sure you check out the local Jocassee Gorges Visitor's Center for information about the thousands of animal and plant species that reside in the park. You can also rent a paddleboat or kayak here.
12. Myrtle Beach State Park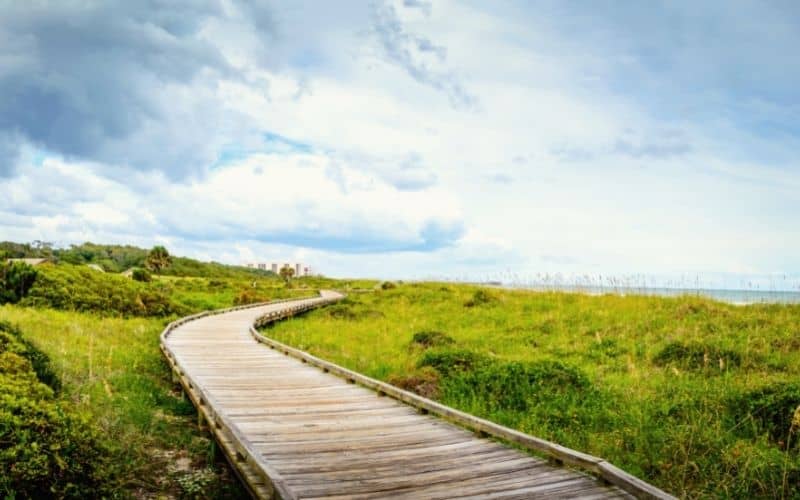 Enjoy the best of two worlds at the Myrtle Beach State Park: man-made attractions and the natural beauty of the South Carolina coastline. Considered to be one of the best campgrounds on the east coast, you'll enjoy both modern conveniences and unspoiled coastlines and forests to explore.
The park features 138 full-hookup sites for both tent and RV camping. The campground and surrounding areas offer all the basic amenities like restrooms and hot showers along with a wide variety of family-friendly extras. Check out the hiking and biking trails, the outdoor theater, the nature center, a Big Bouncer, hay rides, a nearby water park, and so much more!
Don't forget that the park's maritime forest is so brimming with wildlife it's now a Heritage Trust Site. Everything from alligators to small grey squirrels can be spotted at Myrtle Beach State Park!
13. Edisto Beach State Park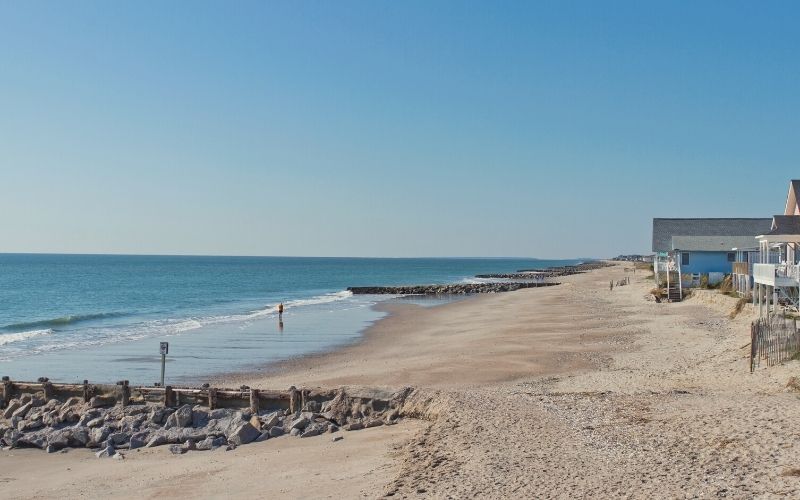 Edisto Beach State Park doesn't get the same love as some of the more popular parks, and we're thankful for that! It means you'll get to enjoy the 112 tent camping and RV spots this quiet and secluded park features without the droves of summer vacationers.
Nature lovers are in for a real treat. The park is located right on the edge of the ACE basin, an area of massive ecological importance for the South Carolina low country. Head down any of the 4.2 miles of network trails for a chance to glimpse waterfowl, migratory birds, and a number of endangered species!
14. Table Rock State Park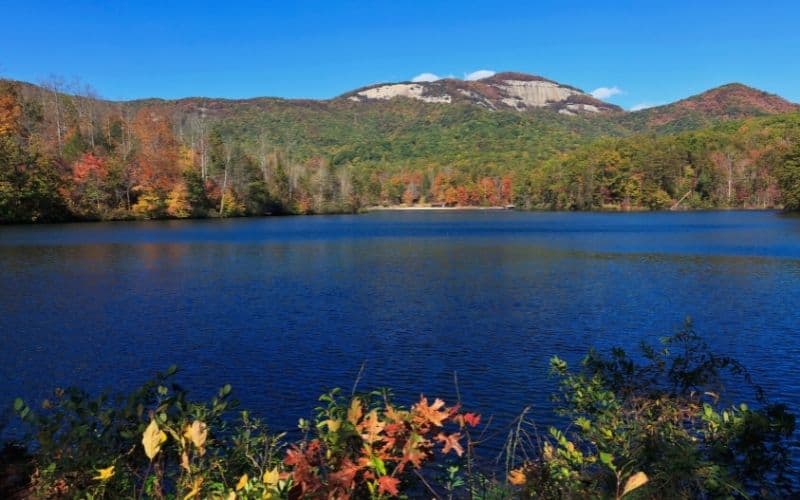 Over 3,000 acres of lush temperate forests and two picturesque lakes are yours to explore at Table Rock. With the Table Rock natural rock formation glimmering in the distance, this is one of South Carolina's most scenic parks to visit.
There's plenty of room thanks to two campgrounds with over 94 sites between them. The area around the camps is pure, rugged South Carolina wilderness. The park even features Carrick Creek Falls, a 15-foot waterfall with a refreshing swimming pool underneath. Perfect for cooling off after a long trek!
15. Oconee State Park
With a community name like Mountain Rest, you'll know exactly what to look forward to at the Oconee Campground. Located in the high foothills of South Carolina, this is a relaxing, mountain campground just a short walking distance from two major lakes.
Enjoy fishing, hiking, biking, and geocaching all over the 1,200 acres of this state park. The campground itself features 125 single-family campsites and boasts amenities like flush toilets, showers, laundry facilities, and even a camp store.
16. Dreher Island State Park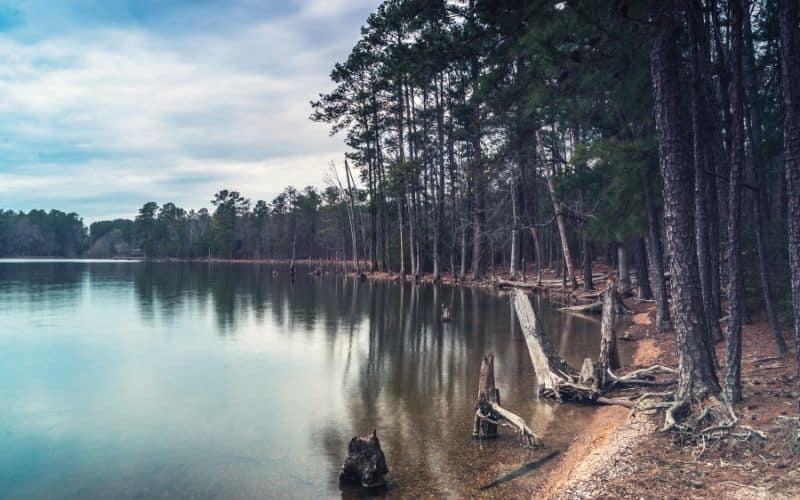 Take your camping experience to the next level and try some scuba diving in Dreher Island State Park! That's right, grab your flippers because Dreher Island is one of the few state parks that permits scuba diving. Just bring your own gear and get a permit beforehand!
If getting up close and personal with some fish isn't your thing, there are many other activities to enjoy on Lake Murray. Try fishing, swimming, boating, or birdwatching all around the lake, or check out one of the many gorgeous woodland trails in the surrounding area.
17. Pee Dee State Park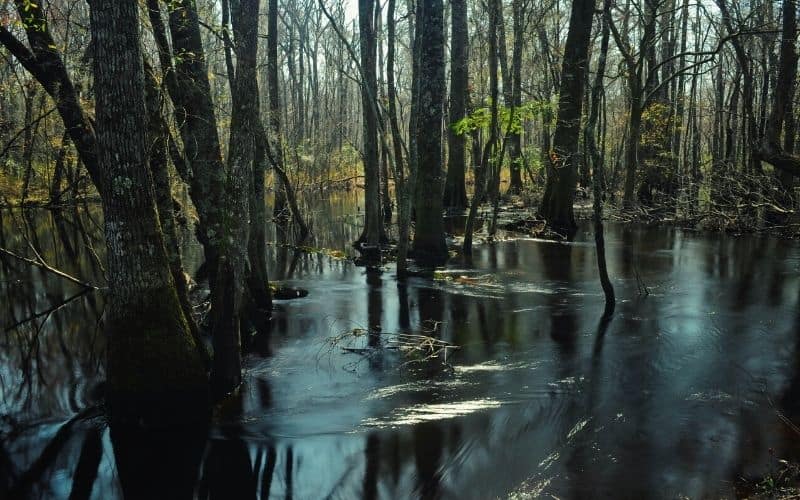 This rustic South Carolina campground offers a feast for the eyes thanks to its diverse landscapes. Explore woodland hiking trails, a black swamp, a picturesque lake, and even "Carolina Bay", an ancient geographical landmark.
With over 50 campsites available including some primitive camping spots, there's lots of room but you'll still want to book early as it's a popular getaway.
Since we know you're wondering, this state park is named after the blackwater Little Pee Dee River, which runs through the whole of South Carolina. Come see it for yourself on your next camping adventure!
Happy Camping!
Hopefully, we've convinced you to drop everything and head to beautiful South Carolina for some camping! Where else can you pitch a tent along the charming Atlantic coastline one day and rent a rustic log cabin in the mountains the next?
If you've enjoyed our guide to the top 17 campgrounds in South Carolina, be sure to comment below or share this page. We'd love to hear all about your adventures glamping it up or camping under the stars in the Palmetto State.