Heading camping or hiking in bear country? If so, one of the most important safety measures you can take is to store your edibles and scented items in a dedicated bear bag or canister.
A bear's sense of smell is 7 times better than a bloodhound's and 2,100 times better than a human's. They also have among the most powerful jaws and claws in the animal kingdom. This means they'll have no problem locating and accessing your food unless you stash it in something capable of checking their prying claws and jaws: enter, the bear bag and canister!
Over the past few months, we've been busy trying and testing a selection of the best bear-proof canisters and bags on the market. Below, we introduce you to our top picks and provide all the info you need to find the perfect model for your adventure type and budget.
Bear-Resistant Storage Systems by Category
Budget: Liberty Mountain Stuff Sack and Udap No-Fed Canister
Canister: BearVault BV500 and Counter Assault Food Keg
Bag: Ursack Major and Ursack AllMitey
Hang bag: Sea to Summit eVAC Sack, Liberty Mountain Stuff Sack, and Skog Å Kust LiteSåk 2.0
Editor's Choice
Ursack Major
In our pursuit of the best bear bag out there, our criteria were simple. We wanted a bag that is certified bear-resistant, portable, waterproof, and easy to hang, which pretty much sums up the Ursack Major.
This bag is a trailblazer. It was the first of its kind to receive Interagency Grizzly Bear Committee certification – an accolade that up until this point had been reserved for canisters only. In short, this means you get the security of a canister without the bulk and weight.
The Ursack Major's 15-liter capacity means it's big enough for weekend trips in a group or multi-day trips for solo hikers or backpackers. At 8.8 oz., it's the second heaviest bag we reviewed after the Ursack AllMitey. However, that weight penalty is well worth paying if you want to keep your food safe without having to carry a far heavier and bulkier canister.
Bottom Line: One of few certified bear-resistant bags out there, the Ursack Major is a great alternative to bulky and heavy hard-sided canisters.
At a Glance: Quick Recommendations
Best Bear Bags Reviewed
Ursack Major
Editor's Choice
Imagine a bag that's very nearly as effective in deterring grizzly bears and black bears as a hard-sided canister. That, folks, is precisely what the awesome Ursack Major offers.
This bag is the ideal solution for campers and backpackers who want to avoid the bulk and weight of a canister but don't want to compromise on security. Like all bags, the UM is far more portable than any canister. And despite weighing a fairly hefty 8.8 oz., it's still around four or five times lighter than most canisters.
What we love most about the UM is its versatility. While you could use it in a traditional bear hang, it's so tough that Ursack recommends simply tying it to a tree trunk. And if you're in tree-free terrain, you can simply stash it under a rock at least 200 ft from camp – any ursine that finds it might crush the contents, but their chances of eating them are minimal.
There's no getting around the fact that this is a very pricey bag and much heavier than other stuff sacks. As such, it might be overkill if you're proficient in creating tree hangs, know you'll be able to find a suitable tree en route and won't be in an area where IGBC certification is required. If none of the above apply, however, it's the best bear bag in the business.
PROs

Certified by IGBC
15-liter capacity
Bear-resistant Spectra fabric
Comes with an integrated 6 ft., 2,500 lb. tensile-strength cord

CONs

Pricey
Heavier than other bags
Bottom-Line: The perfect solution for campers and backpackers who want the security and certification of a canister without the weight and bulk.
Sea to Summit eVAC Dry Sack
Best Value
If you're looking for a tree-hang bag for long-term backpacking camping trips in iffy weather, the Sea to Summit eVAC is a safe bet.
Like most bags not made by Ursack, the eVAC isn't certified bear-resistant. It is, however, fully waterproof, tough for the weight, and has a trick up its sleeve.
The eVAC is air-permeable, which sounds nutty given that its core function is to keep its contents dry. However, this feature allows air to be pushed out yet prevents water from entering, which means you get a far tighter, space-saving bundle to store in your backpack.
Is this worth the added cost? This comes down to how you plan on using it. If you're on a thru-hike and pack space is at a premium, the answer is a resounding 'yes'. If you're car camping or heading for a shorter backpacking trip, you might want to save some $ and opt for a cheaper, more basic stuff sack like the Liberty Mountain (below).
PROs

Air permeability lets you pack it down small
Waterproof
Available in multiple sizes
High-quality construction

CONs
Bottom-Line: Great for tree hangs and backpacking trips where pack space is in short supply.
Liberty Mountain Stuff Sack
Best Budget
Liberty Mountain Stuff Sacks are a frequent sight on popular thru-hikes, and there's a good reason behind their popularity. They're cheap, functional, durable, and the ideal food bag for tree branch hangs.
How much food do you need to carry? Whatever the answer, these tidy little sacks have you covered as they're available in 4 sizes, ranging from S to XL.
In size medium, these bags weigh just 3.2 ounces, so they're a great option for backpacking and thru-hiking. They aren't waterproof, but the 210-denier coated oxford fabric should keep the contents dry as long as you don't get hit by a heavy downpour.
LM sacks are available in several colors, allowing you to keep your kit organized by color coding. Their cord-lock and drawstring closure makes them easier to use than roll-tops, while the burly grab handle lets you attach them to any hanging system with ease.
PROs

Great for a tree hang
Affordable
Burly grab handle
Available in several colors and sizes
Durable fabric

CONs
Bottom-Line: A simple, affordable, practical option for anyone planning on storing food in/on a tree hang.
Skog Å Kust LiteSåk 2.0 Waterproof Lightweight Dry Bag
Best Ultralight
If you plan on hanging your food out of the reach of marauding bears and need to keep weight to an absolute minimum, look no further than the Skog Å Kust LiteSåk 2.0.
The LiteSåk 2.0 is available in sizes ranging from 1.5 liters to 40 liters. It weighs just 1 oz. in the 1.5-liter size, 2.5 oz. in the 10-liter size, and 4.23 oz. in the 40-liter size. This makes it the lightest bag on our list by a sizeable margin, and a shoo-in for ounce counters.
Despite its light weight, this is a highly practical bag. The 2.0's 70-denier rip-stop fabric is three times higher than the previous version (and most ultralight competitors), while its silicone coating gives it an IPX-6 waterproof rating. This means it's one of the toughest and most waterproof UL sacks in the business.
Each bag size has a space-saving roll-top closure and comes with two burly D-rings and an integrated carabiner that make it easy to attach to your backpack and/or haul when using a tree hang.
PROs

Ultralight
Ripstop nylon fabric
Waterproof
Integrated carabiner and D-rings
Roll top closure to save space when not full

CONs

Pricier than other UL bags (but worth the extra cost!)
Not certified bear-resistant
Bottom-Line: Tough, waterproof, and the lightest option on our list by a long way.
Ursack AllMitey
Premium Pick
Like the winner of our review, the Ursack Major, the appropriately named Ursack AllMitey offers a happy medium between the security of a canister and the portability of a bag.
Made with bulletproof Kevlar materials, the AllMitey is even more reliable than the Ursack Major when it comes to thwarting the intentions of hungry bears and other critters. Like the UM, it's also IGBC-certified, so can be used in parks and wilderness areas that require you to use bear-resistant products.
At 9.5 oz., the AllMitey is the heaviest bag on our list. This potential drawback, however, is mitigated by its ability to hold up to 5 days' worth of food – roughly the same amount as a canister weighing between 35 and 45 oz.
The second major drawback is the price, which is around the same as you might expect to pay for a mid-range backpack. Then again, how many backpacks out there will keep your food supply safe from insistent and smart bears?
PROs

Bulletproof Kevlar fabric
10.7-liter capacity
Comes with a 6-foot, high-tensile-strength cord for hangs
Certified by IGBC

CONs
Bottom-Line: Heavy and pricey but still a great option if you want a bag that performs like a canister.
Best Bear Canisters Reviewed
BearVault BV500
Best Canister
Over the years, we've tried several different canisters on hikes in bear country and none of them have come close to matching the BV500 for user-friendliness and reliability.
The BV500 is made from tough, transparent polycarbonate material, and has an 11.5-liter capacity. Despite this, it weighs just 2 lbs. and 9 oz., giving it the best weight-to-volume ratio of all the canisters on our list. While it's as bulky as any canister, its built-in carry straps make it easy to lash to the exterior of your pack, so you won't need to buy a separate carry case.
While the weight and capacities are the biggies, there are a few other attributes that make the BV500 our go-to canister.
For starters, it has a contoured exterior with ridges that make it easier to handle especially with wet or sweaty hands. The top opening also measures 8.7" in diameter, so it's easy to get stuff (food and hands) in and out. That wide diameter also makes it pretty comfortable as a makeshift stool!
PROs

Transparent exterior lets you see what's inside and locate items easily
Good weight-to-capacity ratio
Makes a handy stool
Built-in carry straps
Certified by Sierra Interagency Black Bear Group and IGBC

CONs

Transparent exterior also lets bears see what's inside!
Expensive
Bottom-Line: Relatively lightweight for its size and easy to lash to the exterior of your backpack. Worth the extra cost.
Counter Assault Bear-Resistant Food Keg
Runner Up
The CA Food keg is a great option for car camping and shorter backpacking trips.
Weighing 3 lbs. and 10 oz., this is the heaviest food container on our list, but has a few attributes that will make it worth the extra weight for some buyers.
First up, its closure system takes the form of three stainless-steel locks that are very easy for humans to open with a coin multitool, but impossible for even the wiliest of bears.
Secondly, its lemon-yellow, opaque coloring means bears and other hikers won't be able to see what's inside your stash, so they'll be less likely to try and access it.
Thirdly, that ultra-secure closure, combined with its ultra-strong polymer construction has earned it certification from both the IGBC and the SIBBG, so it can be used in all national and state parks.
And the downsides? In addition to its hefty weight, it is a little tricky to open and we would have appreciated the addition of something we could use to attach it to our backpacks.
PROs

Ultra-secure locks
Certified by IGBC and the SIBBG
11.7-liter capacity
Opaque coloring hides contents

CONs

Quite heavy (3 lbs. 10 oz.)
Carry case not included
Bottom-Line: Heavy, but ultra-secure and approved for use in all national and state parks.
Garcia Backpacker's Cache 812
Honorable Mention
The Garcia Backpacker's Cache is a solid alternative to the BV500 if you're looking for an opaque-colored canister with steel-screw closure.
This canister, which is rented to campers by several national parks, is made with virtually bombproof ABS polymer. This makes it a little on the heavy side for the size (10L) but is worth it for the added peace of mind. Its smooth sides and rounded edges also make it almost impossible for bears to grip onto and easy to slide into a pack.
Like the Counter Assault Keg, the Cache 812 uses stainless-steel locks that are easy for us humans to open with a coin, even in cold weather, but can't be breached by bears.
PROs

Secure locks
Made with bombproof ABS polymer
Smooth exterior makes it difficult for bears to grip
Comes with a food-grade bag for food storage
IGBC-certified

CONs

Smaller capacity than competitors
A little more time-consuming to open
Bottom-Line: Makes up for its smaller capacity with its virtually bombproof construction and more affordable price tag.
Udap No-Fed-Bear Canister
Best Lightweight Canister
If you want an ultra-secure canister without paying too hefty a weight penalty, your search can end here!
The Upad No-fed is the lightest and most compact canister on our list, tipping the scales at just 36 ounces and measuring just 10 inches high by 8 inches wide. It's also the cheapest, outpricing all other options on our list by the cost of a mid-trail meal or a few pounds of fancy trail mix!
Like all of the containers we've reviewed, this one is certified bear-resistant and tough as nails. While not as large as the BV500, and a little fiddlier to open, it's big enough for 3-4 day backpacking trips and is a little more secure (if it's trickier for a human to open, it's also trickier for bears!).
PROs

IGBC Certified
Approved for Yosemite and Sequoia & Kings Canyon Wilderness
Makes a great chair!
Compact and lightweight

CONs

Less space for eats than the BV500
Bottom-Line: Tough, secure, and the lightest, cheapest, and most compact canister on our list.
Why It's Important to Use a Bear Bag or Canister
There are several reasons why you should do everything you can to prevent a bear from detecting and accessing your food.
First and foremost, "a fed bear is a dead bear." The reasoning behind this rather grim saying is that, once bears get a taste for human food, they'll actively seek it out in the future. This makes them more likely to become "pests", frequent popular areas, and even display aggressive behavior. When this happens, authorities often have no option but to exterminate them.
Secondly, bags and canisters help to reduce the risk of bear attacks by shielding the scent of your edibles, making bears less likely to approach your camp.
Thirdly, having to go without those edibles on a backpacking trip because a bear got his/her paws on them would suck.
Fourthly, bear attacks also suck – if bears can't smell your food, they're far less likely to approach your camp.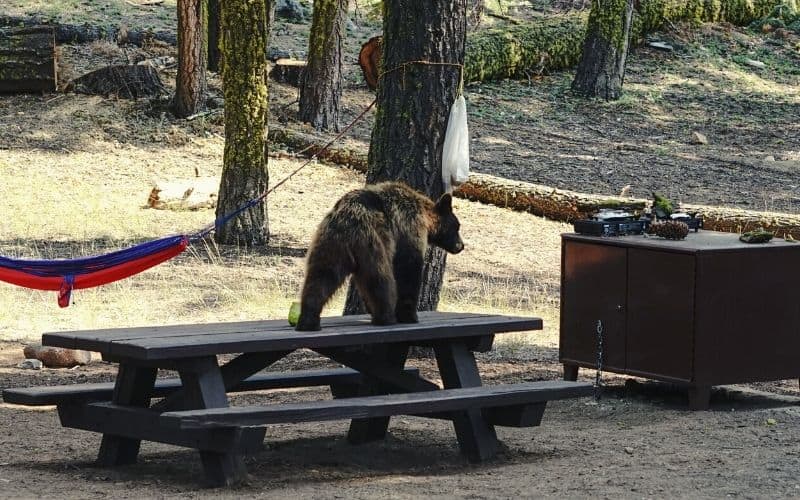 Finally, many national and state parks require that you use a canister, so investing in one of a suitable size could save you a lot of hassle (and money in rental fees) in the long run.
Bag or Canister?
Both systems have advantages and disadvantages.
Bags are lighter and easier to carry than canisters, and often cheaper. However, canisters are usually the safer option. While bulky and heavy, they are more effective in preventing bears from accessing your food supply because their materials are hardy enough to resist bears' claws and teeth.
Like all outdoor gear, the choice will ultimately come down to personal preference and your specific needs for any given trip.
If you're happy creating tree hangs, then you can save yourself some dough and shoot for a stuff-sack-style bag like the Sea to Summit eVAC Dry Sack. If you're traveling in treeless terrain or simply don't want to bother hanging your food after a long day on the trails, then a canister is the better option.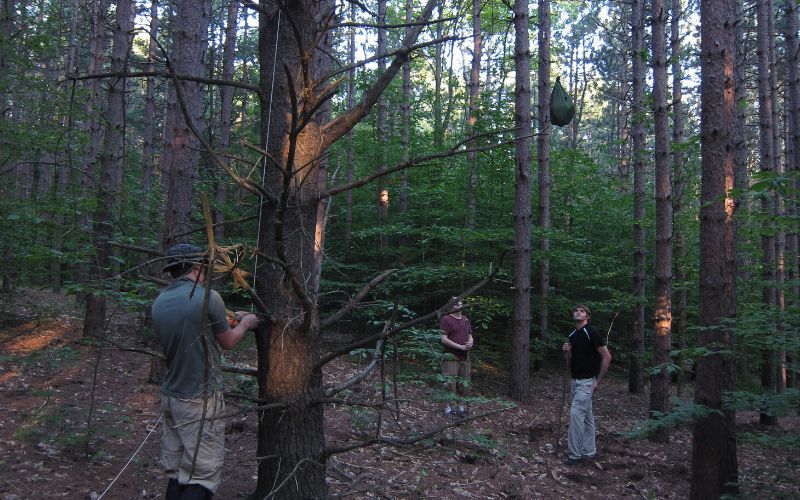 Also, keep in mind that most national and state parks in areas that experience regular bear activity require the use of a certified bear-resistant product. If you're headed here, you'll need a canister or one of the two bags made by Ursack (featured above).
Whichever option you choose, we recommend investing in a scent-proof aluminum liner to help prevent bears from locating your stash in the first place.
How to Choose a Bear Bag or Canister for Backcountry Food Storage
Level of Bear Resistance
Most bear bags are not bear-resistant. Strange, right? Well, yes and no. Unlike Canisters, many bags aren't designed to thwart a bear's attempt to access your food. Instead, they are designed to be hung out of a bear's reach in tree branches. For this reason, waterproofing and general durability and ruggedness take precedence over resistance to plundering ursines.
That said, certain bear sacks, like the Ursack Allmitey and Major, are made with bear-resistant material that bears can't bite or claw through. The downside? They cost you an arm and a leg!
If you plan on using dry bags or other bags that aren't bear-proof, it's vital to learn how to hang a bear bag.
Bear canisters are containers made with robust materials and locks that can withstand attempts by bears and other wild animals to access the container's contents.
Bear canisters take various forms, from lightweight, scent-proof options to nigh-on bombproof, certified bear-resistant models like the BearVault BV500 and Counter Assault Keg, which are made with tough ABS polymer and use stainless steel locks.
The most bear-resistant option? While this largely depends on how you store your bag or canister, canisters are generally the most effective. All of the options on our list are highly reliable, but the screw-top closure and grip-resistant design of the Counter Assault Keg gives it the edge over the competition.
In many state and national parks where canisters are required, moreover, national park service authorities will not accept bear-resistant bags as a substitute for canisters.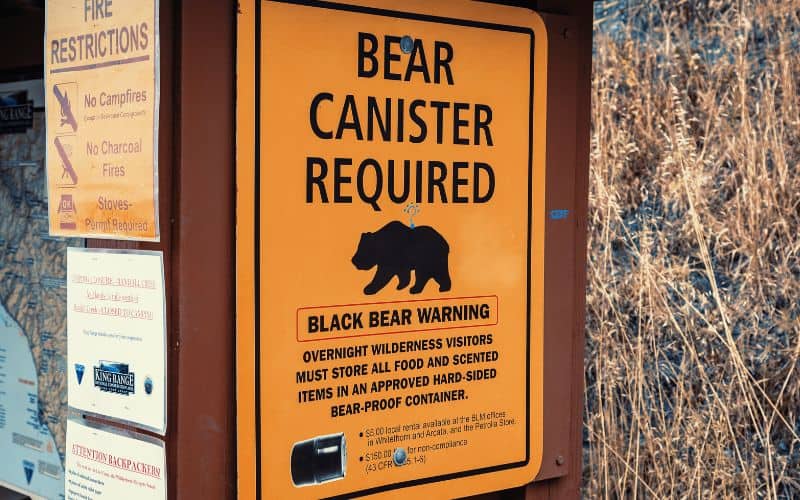 Certification for bear resistance is granted by the IGBC (Interagency Grizzly Bear Committee) and SIBBG (Sierra Interagency Black Bear Group). The SIBBG is no longer operational, but its acronym still appears on many park websites' rules and regulations.
Size
The size of canister or bag you need will depend on two things: the size of your group and the duration of your trip.
You'll need roughly 1.5 to 2 liters of space per person per day, depending on your nutritional needs. For weekend solo adventures or overnight trips in a group of two or three, a 5–7-liter bag or canister will do the trick. For thru-hikes or multi-day stays with a larger group, you'll need a high-capacity canister like the BearVault BV500 (11.5L) or an XL sack like the LiteSåk 2.0 40L.
Weight
As mentioned above, one of the main advantages of using a sack over a canister is the weight savings. The heaviest bag on our list, the Ursack AllMitey, weighs just 9.5 oz., while the lightest canister, the Udap No-Fed-Bear Canister, weighs a whopping 36 oz.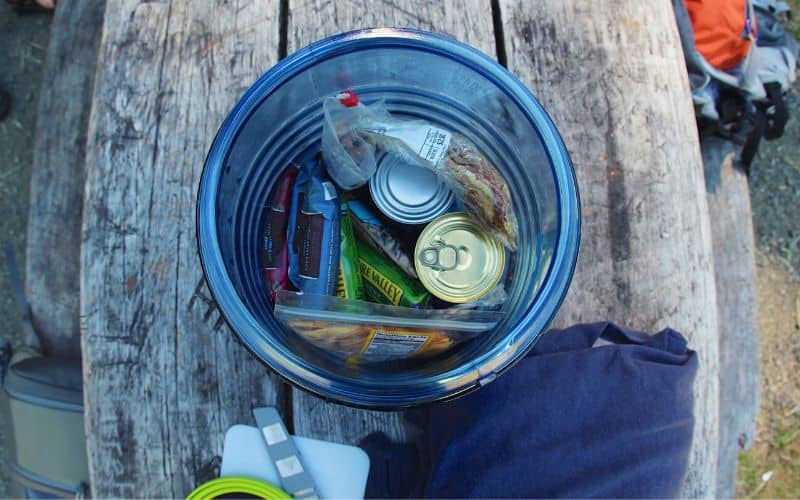 While the above may suggest that a bag is the best option for thru-hikes, it's worth bearing in mind that many, if not most thru-hikes pass through National Park areas, many of which may require the use of canisters.
Intended Use
As with any outdoor gear, finding the best bear-proof bag or canister for you requires thinking about how you plan to use it.
If you're heading into the desert, above the treeline, or into otherwise treeless terrain, then the choice is simple. Because you won't be able to hang your bag in a tree, you'll need a bear-proof bag or canister.
If you are backpacking in a large group, or are heading on a longer trip in a smaller group, we recommend buying two or three smaller sacks or canisters instead of one big one so you can share the pack weight.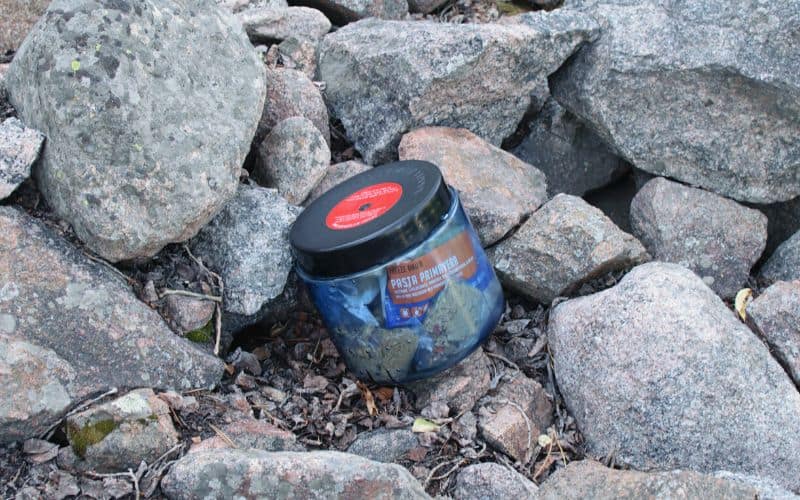 As mentioned above, in many popular hiking areas it's compulsory to carry a canister. If you regularly hike in such areas or are planning a thru-hike that passes through one, it's worth checking if this is the case before you buy.
Best Bear Canister and Bag: The Verdict
Just in case you're still undecided, let's have a quick recap of our picks for the best bear bags.
If you're in the market for a bag but want similar resistance to a canister, we recommend theUrsack Major, which is certified bear-resistant and far lighter and more compact than any canister out there.
Our favorite canister is the BV500. While we'd have to mark it down a little on account of its clear, see-through exterior, it's otherwise the most convenient and reliable canister we've ever used and ideal for longer backpacking trips.
If you liked this article or have any questions, drop us a line in the box below. And if you'd like to share it with your friends, please do!