Artists, writers, explorers, and naturalists have been finding inspiration in the beautiful backcountry of the Catskill Mountains for hundreds of years. Before the iconic Woodstock festival shook these woods in the 1960s, Washington Irving's Rip van Winkle took one of literature's most famous naps in them and the painters of the Hudson River School immortalized them on canvas.
Today, the Catskill Mountains provide an outdoor playground bursting with adventure. They're also home to a shedload of hiking trails that are so good you'll want to hike them twice!If you're ready to experience the enchantment of the Catskill Mountains for yourself, check out our guide to the 15 best Catskill hikes. From hikes for all the family to grueling 3,500ft summit climbs, you'll find the right trail for your next adventure!
15 Unmissable Trails in the Catskills
1. Giant Ledge, Eastern Catskills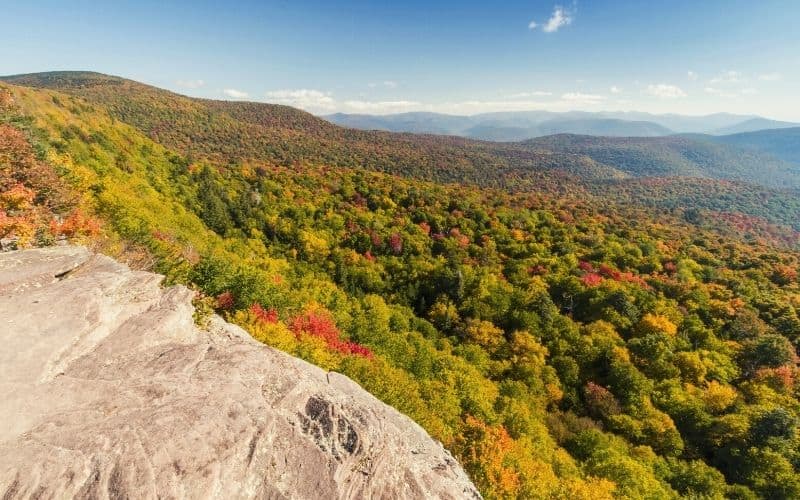 Type: Out-and-back
Distance: 3.75 miles
Difficulty: Moderate
We're about to make a bold claim: the Giant Ledge hike offers the best views in all the Catskills! Giant Ledge is a moderate, out-and-back trail with almost 1,000ft of elevation gain. Thankfully, five scenic ledges (overlooks) along the trail offer the opportunity to take a breather and enjoy the magnificent views below.
Despite the moderate challenge it poses, Giant Ledge is a popular hike, so you're going to want to head out early to avoid the crowds.
Experienced hikers looking for an extra challenge can extend the hike another 6.9 miles by conquering the 3,700ft Panther Mountain. For those looking to spend the night, two primitive campgrounds are available along the trail.
RELATED READING: Fore more outdoor adventure check out our guide to the best hiking in New York.
2. Ashokan Rail Trail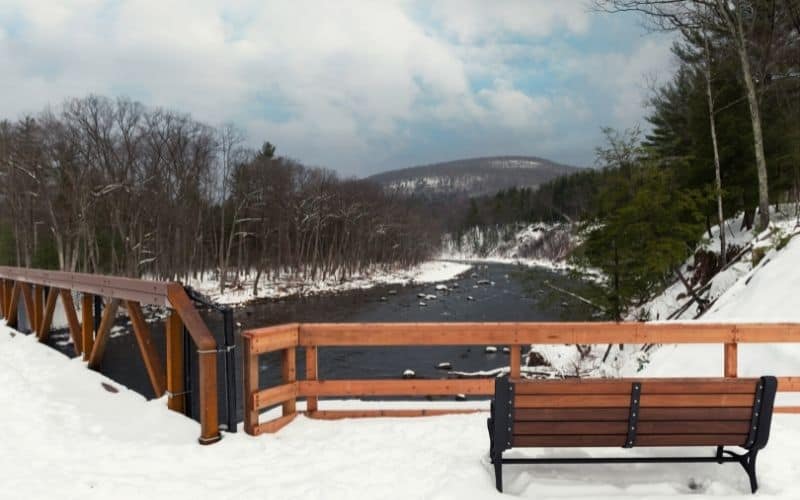 Type: Out-and-back
Distance: 11.5 miles
Difficulty: Moderate
Trace the route of the old Ulster & Delaware Railroad along the Asokan Rail Trail. Despite its length, you'll be walkin' easy thanks to a packed gravel road and level terrain. The Ashokan Rail Trail takes you through some truly stunning and varied landscapes, including wetlands and scenic woodlands with pretty creeks and rivers.
The trail is open year-round from sunrise to sunset, It's also ADA-compliant and accessible for persons with disabilities. The ART is accessible for all non-motorized uses including running, hiking, biking, snowshoeing, and cross-country skiing.
Although there are three trailheads, we suggest starting at the Ashokan Station Trailhead. This way, you can enjoy the best of the views even if you don't finish the whole trail.
3. Kaaterskill Falls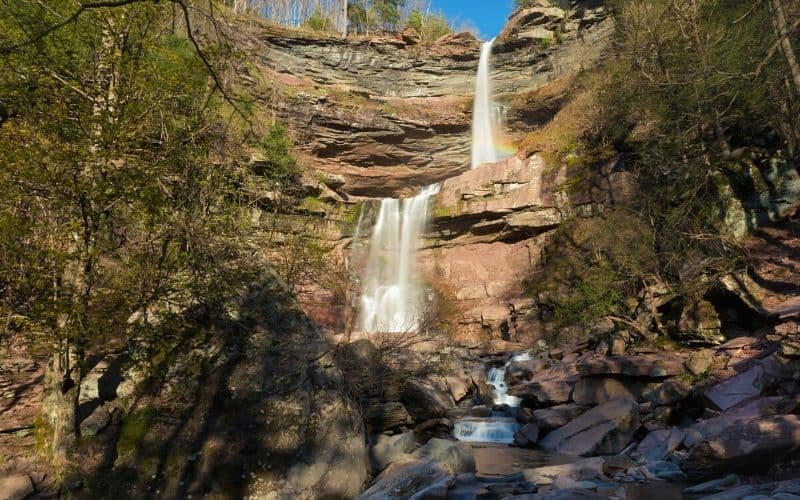 Type: Out-and-back
Distance: 1.3 miles
Difficulty: Easy
Ready to check out the tallest two-tier waterfall in all of New York state? Kaaterskill Falls is a captivating 260-ft waterfall first made famous by painter Thomas Cole in his 19th-century landscapes. Recent additions, including new handrails, staircases, and a viewing platform, have made Kaaterskill Falls safer and more accessible than ever.
Your journey to Kaaterskill Falls starts on Laurel House Road. There are two ways to do the hike: a short, family-friendly walk to the upper falls observation deck or a trickier 200-stair descent to the lower falls, which is the perfect place for a picnic lunch or a refreshing dip in summer.
4. Hunter Mountain Fire Tower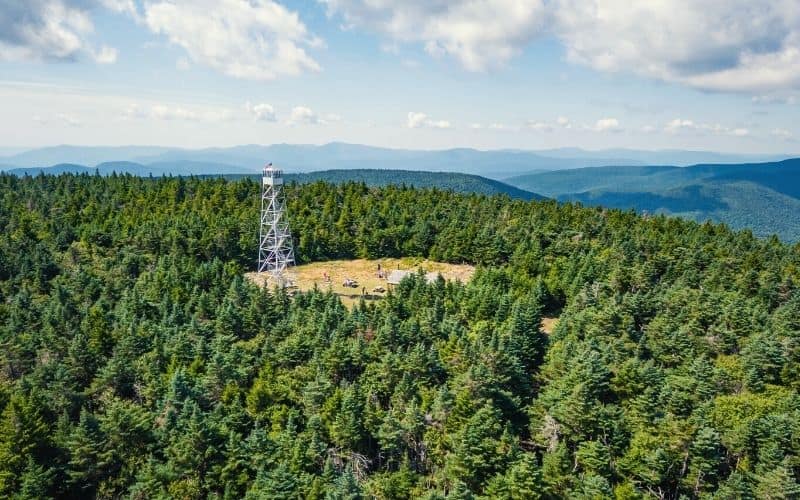 Type: Loop
Distance: 8.2 miles
Difficulty: Challenging
With almost 2,200ft of elevation gain, the Hunter Mountain Fire Tower Trail is a difficult hike that will test your determination and physical fitness. You'll be heading to the summit of Hunter Mountain, where on a clear day the fire tower provides views of three different states: Vermont, Connecticut, and Massachusetts.
Make sure you have a good Hunter Mountain Fire Tower trail map before setting off on this hike. Hunter Mountain is filled with a vast network of crisscrossing hiking trails and it's easy to lose your way.
If you're looking for a place to sleep under the stars, extend your trip along the Hunter Loop Trail. You'll find the perfect spot for some primitive camping at the John Robb Lean-to.
5. Windham High Peak via Burnt Knob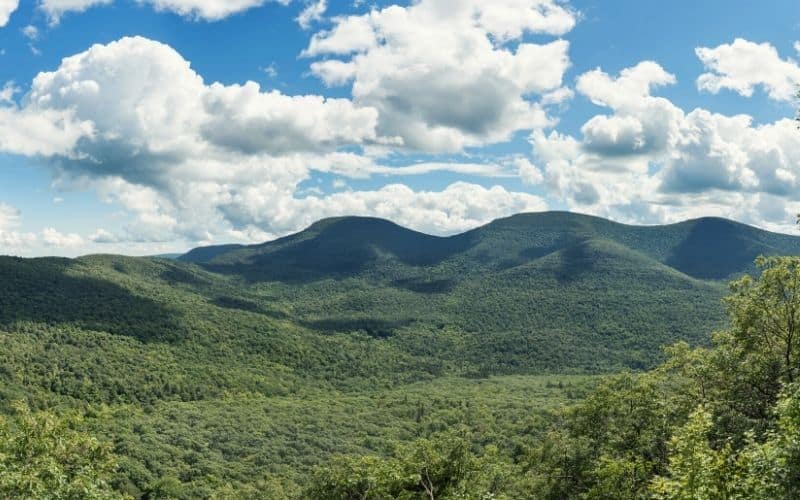 Type: Out-and-back
Distance: 7 miles
Difficulty: Moderate
The Windham High Peak via Burnt Knob Trail hits you with one stunning vista after another. Windham High Peak is the most northern, yet one of the smallest, of all the Catskill 3500 Club high peaks. Views of the commanding Blackhead Range will accompany you on every step of the steep ascent as you make your way to the summit.
Although moderately challenging, reaching Windham High Peak will take you about 5 hours. The Burnt Knob trek is actually the steepest and longest approach to the summit, but it's well worth it to experience the breathtaking views of the Catskills as you ascend.
6. The Huckleberry Trail
Type: Point-to-point
Distance: 2.3 miles
Difficulty: Easy
Following the route of a historic railway track, the Huckleberry Trail is one of the easiest treks on our list and offers the perfect opportunity for a leisurely stroll with the kids. The railroad tracks were historically used to transport tourists to the Catskill Mountains. They are now repurposed into trails for hiking, biking, snowshoeing, and cross-country skiing.
Sights you'll see along the way include serene woodlands, small creeks, Rip Van Winkle Lake, and a golf course. Thanks to its short distance and level terrain, the Huckleberry Trail is the perfect way to spend a little time in nature without the quad-busting workout required by other hikes in the Catskill Mountains.
7. Plateau Mountain Via Warner Creek Trail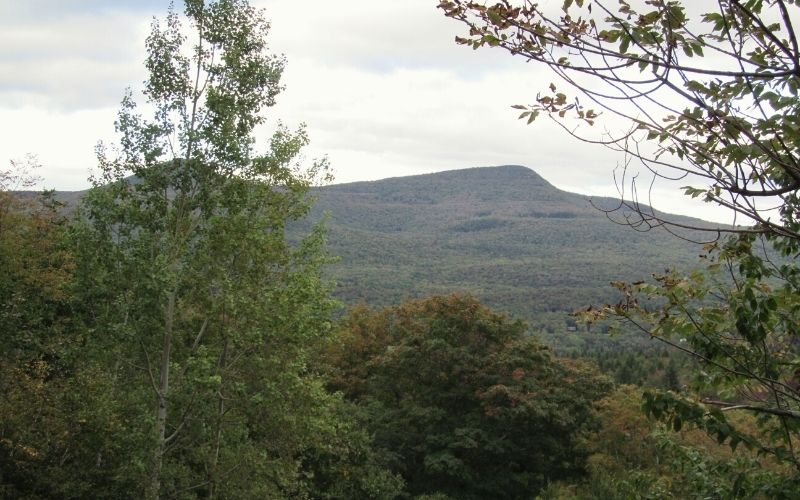 Type: Loop
Distance: 8 miles
Difficulty: Moderate
This is one of the best hikes in the Catskills for novice hikers looking for a bit more of a challenge.
For the first part of the hike, you'll be following Warner Creek on fairly flat ground, but the trail quickly steepens through a number of switchbacks.
It's a tough climb to the sign marking the 3,500-foot contour, and you'll have to endure one last stretch through an area eerily named 'The Dark Woods', but the views of Hudson Mountain and Kaaterskill High Peak provide more than adequate compensation for your efforts.
8. Frick Pond Loop
Type: Loop
Distance: 2.2 miles
Difficulty: Easy
Those looking for a gentle hike through varied terrain like forests, marshlands, and meadows should check out the Frick Pond Loop. This family-friendly trek is easily accessible and perfect for hikers of any skill level. You'll find the trailhead on Beech Mountain Road. From there, follow the red trail blazes.
During the spring, or after particularly heavy rain, hiking through the wetlands can be a rather, well, wet experience. Although boardwalks are present in some areas along the trail, we suggest doing this one in the summer months, when conditions will be drier. If not, hiking boots are recommended.
9. Neversink River Unique Area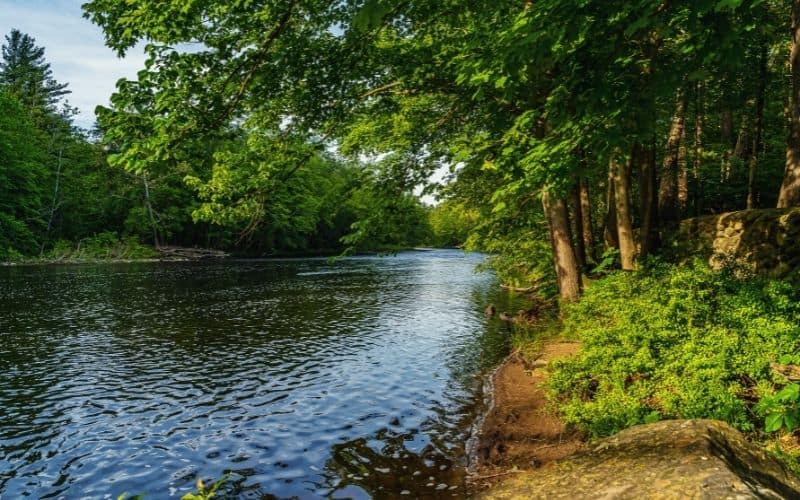 Type: Loop
Distance: 11 miles
Difficulty: Challenging
The Neversink River UA is your chance to visit one of the Nature Conservancy's "Last Great Places in the US." And great it is! Explore a fascinating gorge, several waterfalls, and 6,500 acres of beautiful, unspoiled terrain.
There are three main trails available totaling 11 miles. To get the most bang for your buck, take the trail from the Katarina Falls Trailhead. From there you'll be able to access side trails to visit both Mullet Brook Falls and High Falls.
Cell phone reception is poor in this area, so don't rely on your phone for navigation.
For more adventurous souls, we highly recommend a guided whitewater rafting trip through the gorge when you've had your fill of the fun on dry land.
10. Bramley Mountain Trail
Type: Loop
Distance: 4 miles
Difficulty: Moderate
The Catskill Mountain Club recently completed this trail to the summit of Bramley Mountain and it has quickly become one of the most popular routes in the western Catskills. Complete the entire loop and you'll visit fascinating sites like an abandoned bluestone quarry, a fire tower, several caves, and many scenic overlooks along the way.
You can access the BMT from the parking lot on Glen Burnie Road. Although the loop is short at just 4 miles round-trip, almost 800ft of elevation gain makes for a moderately tough challenge.
Those looking for a pleasant and easy trek should head for the quarry, about a mile from the trailhead, before turning back. The path towards the quarry is mainly flat with little elevation gain, making it an easy out-and-back.
11. Overlook Mountain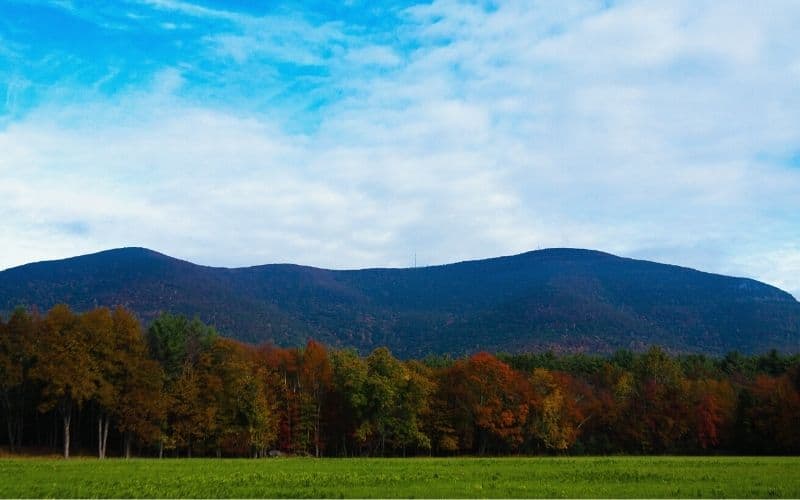 Type: Out-and-back
Distance: 5 miles
Difficulty: Challenging
Hike the Hudson Valley on your way to the summit of Overlook Mountain. You'll enjoy a wide, clear, and (mostly) paved trail from start to finish. It's also one of the most popular hikes in the Catskills, so expect some company along the way.
Overlook Mountain's popularity comes from all the fun things to do and see along the trail, such as the Buddhist temple across from the trailhead, old hotel ruins, and a fire tower. At the summit, you'll enjoy spectacular views of the Hudson Valley below.
This area of the Catskill Mountains has the highest population of timber rattlesnakes. As the most venomous rattlesnake in New York, make sure you know your rattlesnake safety before setting off on your hike.
12. North Point, Catskill Park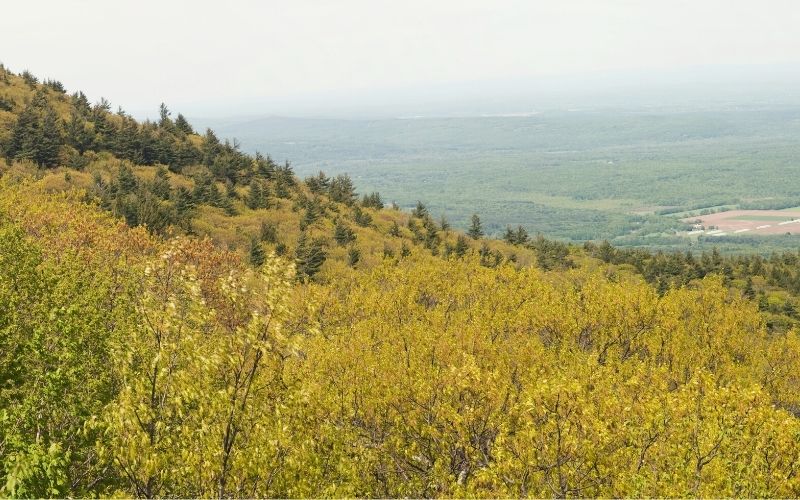 Type: Out-and-back
Distance: 3 miles
Difficulty: Moderate
The hike up to North Point in Greene County is the perfect hike to combine with a day trip to the historic Catskill Mountain House.
There are several ways to reach the summit of North Point, but we suggest taking the Escarpment Trail. That way, you'll enjoy views from all three of the most popular vantage points: Artist's Rock, Sunset Rock, and Newman's Ledge, all of which serve up sublime views of the Hudson River Valley and the Catskill Mountains.
To extend your hike, hop onto the North-South Lake Loop for another 2.5 miles of peaceful forest hiking. Alternatively, take the yellow trail to Kaaterskill Falls or the blue trail to Boulder Rock, adding roughly 2 miles to your hike.
If you're looking for a place to stay, we highly recommend the North-South Lake Campground.
13. Balsam Lake Fire Tower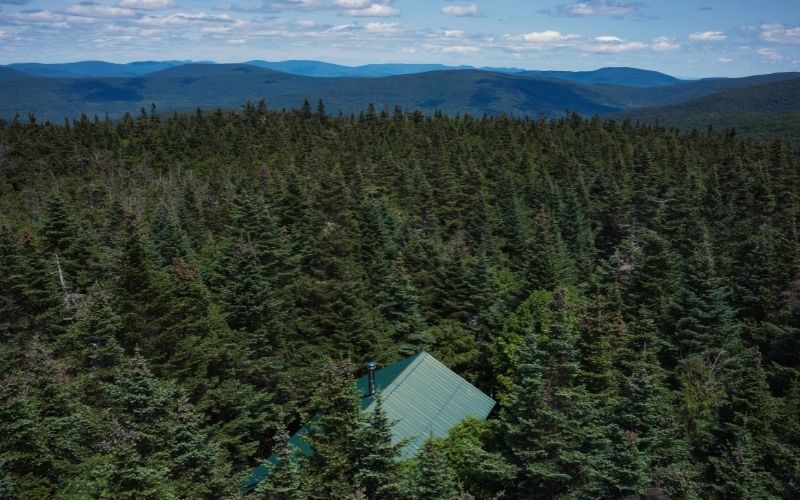 Type: Out-and-back
Distance: 6 miles
Difficulty: Moderate
If the hike up to the Hudson Mountain Fire Tower seems a bit too challenging, Balsam Lake Mountain offers a fire tower trail that's far more doable, though still involves 1,200ft of ascent. While Balsam Lake is an area popular for winter outdoor sports, during the summer months you'll be able to climb the actual fire tower and take in the 360-degree views.
The hiking trails leading up to the Balsam Lake Fire Tower are simply magical. You'll be walking on well-maintained trails through a dense, balsam fir forest, with the canopy slowly opening to reveal increasingly gorgeous views of the Hudson Valley below.
14. Dry Brook Ridge Trail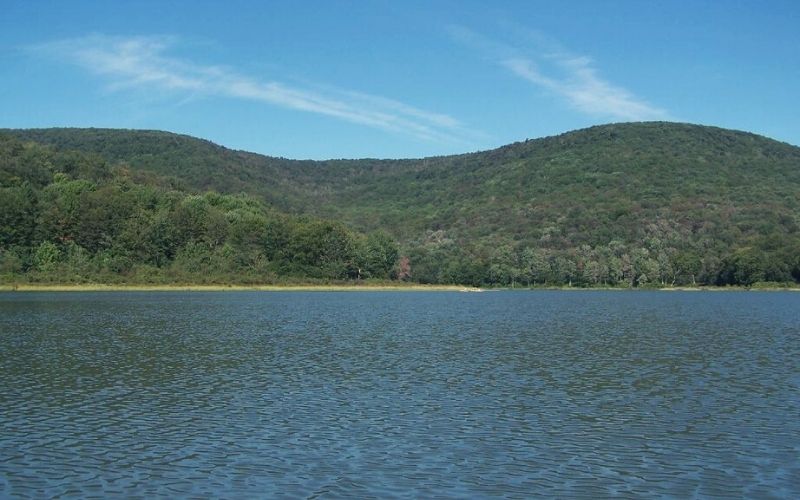 Type: Point-to-point
Distance: 13.6 miles
Difficulty: Challenging
You'll find some of the most rugged and wild terrains in the Catskills Mountains at Dry Brook Ridge Wild Forest. Located near the village of Margaretville in one of the less frequented corners of the Catskills, Dry Brook offers hikers the opportunity to experience true solitude.
The Dry Brook Ridge Trail is a 13.6-mile point-to-point that runs from Margaretville to the Balsam Lake parking area. The terrain on this hike is challenging in places, so wear sturdy hiking boots, and don't forget your map!
15. Devil's Path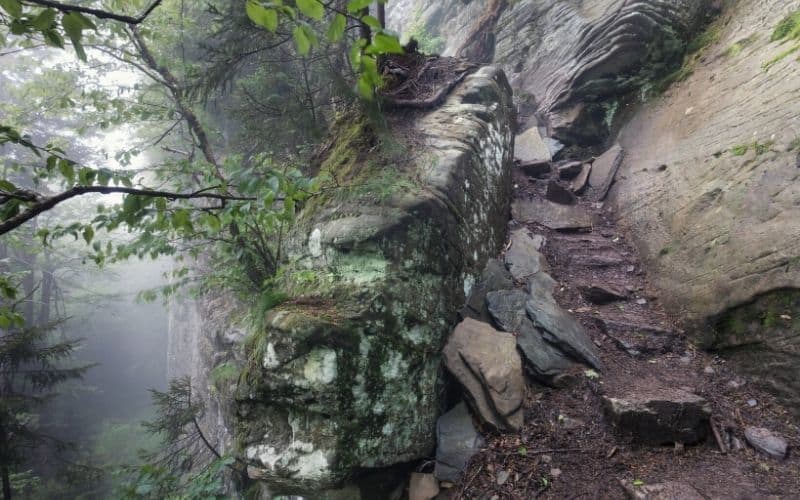 Type: Point-to-point
Distance: 24 miles
Difficulty: Extremely challenging
The Devil's Path is by no means an ironic name. In fact, the trail earned this daunting name from New York's earliest settlers, who found the terrain so inhospitable they believed only the devil himself could reside there. Considered to be one of the most challenging and dangerous hikes in the US, you're going to need to bring your A-game if you want to finish this hike.
Few hikes in the Catskills offer a challenge comparable to this one. You'll put in over 14,000ft of total ascent, hike on rugged trails, and even have to do a spot of moderate scrambling and boulder hopping. There's also very little water along the way, so be sure to bring plenty with you.
Most people will backpack the trail in two to three days, but it can also be tackled in one long, grueling push by anyone in great shape and with energy to burn. Black bear encounters are common along the trail, so make sure you know proper bear safety.
Happy Hiking!
Thanks to their incredible landscapes and breathtaking natural attractions, it's easy to see why New York's Catskills offer some of the best hiking in New York state. We hope our guide has inspired you to go see for yourself!
If you think we're missing any of your favorite hikes in the Catskills, let us know in the comments below. We'd also love to hear all about your adventures in upstate New York. For more trip inspiration, give us a follow on our socials!