When hiking, no gear item has more of an impact on the quality of your trail time than what you put on your feet. A great hiking boot will let you cover countless miles in safety and comfort; one that's anything less than perfect will turn your hikes into suffer-fests and experiences to be endured rather than enjoyed.
To help your feet find their way into a pair of boots that will make your time on the trail great rather than grim, we're going to introduce you to our favorite hiking boots for men and women – 13 pairs in total. We'll also provide you with all the info you need to make the right choice for your hiking style and recommend different boots for different activity types and budgets.
Top Choices by Category
Budget: Vasque Breeze AT Mid GTX and Merrell Moab 2 Mid WP
Lightweight: Salomon X Ultra 4 Mid GTX, Altra Lone Peak, Merrell Moab 2 Mid WP, and La Sportiva Nucleo II
Leather: Zamberlan Vioz GTX and Lowa Renegade GTX Mid
Waterproof: Asolo Falcon GV, Salomon Quest 4 GTX, and Scarpa Zodiac Plus GTX
Best Hiking Boots Reviewed
Hiking Boot Buying Advice
Fit and Comfort
Comfort is the most important thing to consider in hiking footwear, which is why fit should be your top priority when looking for hiking boots. Hiking footwear that doesn't fit well in the toebox, around the ankles, across the forefoot, at the heel, or around the calf will cause blisters and discomfort after just an hour or two on the trail.
The best thing you can do when looking for a new pair of hiking boots is to find what makes your feet happy, and then make those needs your top priority when choosing between different styles and brands.
Knowing whether you need extra cushioning, arch, or ankle support can help to match you with the right pair of hiking boots for you. They will quickly become your best trail buddies, rather than your worst frenemies.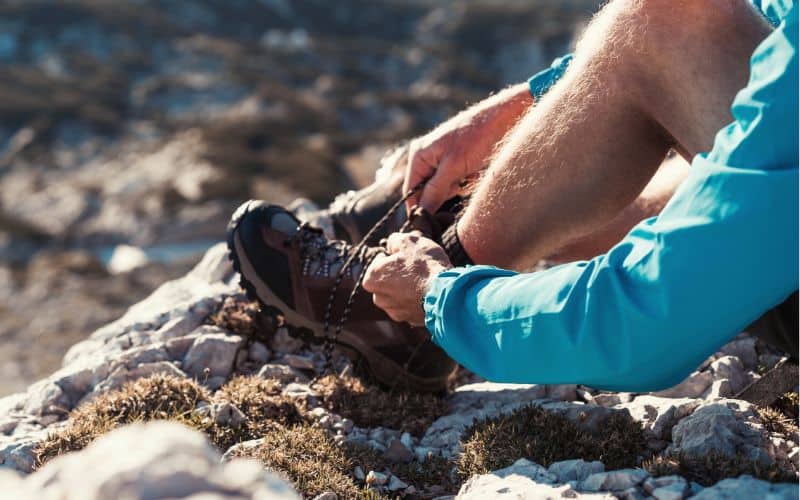 Comfort is a largely subjective metric, so it's tricky to say which boots will score the highest for you. Nevertheless, we can make a few more general observations to steer you in the right direction.
As mentioned above, the Salomon Quest are the kings/queens of comfort. Their beefy midsole, plush padding, and chassis all combine to give them a sneaker-like but supportive feel. The same can be said of the Merrell Moab, whose blended EVA midsole and air-cushioned heels make them a pleasure to wear.
If you have wider feet, then the Keen Targhee's roomy toebox and wider forefoot make them the best option.
Midsoles
Covering long distances puts a lot of stress on your feet, particularly if you are carrying a lot of weight. To help lighten the load, the part of the boot known as the midsole plays an important role, mainly as a shock absorber.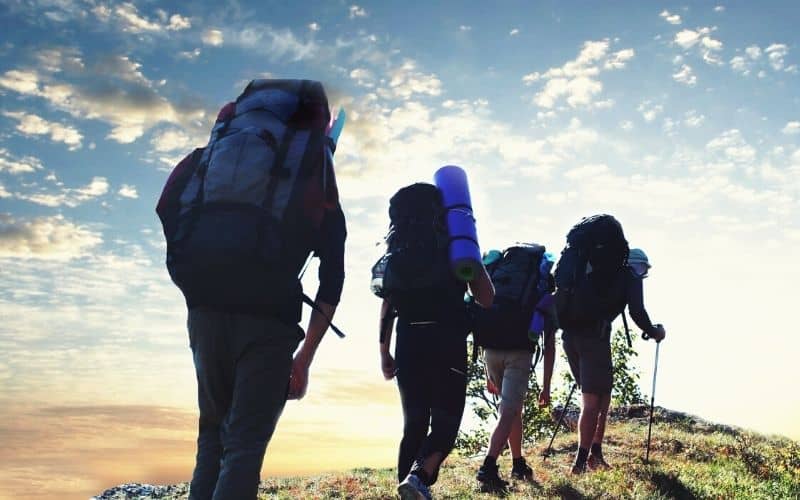 The midsoles in most boots are made from either an EVA foam or Polyurethane (PU) – which one you should pick will depend on the terrain you expect to cover and how your own feet react to your hikes.
The majority of hiking boots use EVA foam in the midsole. This type of foam is extremely lightweight and reduces the impact of your footfall. Different compositions of EVA vary from soft to stiff. We recommend a supportive and firm variety for tougher terrain, as this will reduce shock when your feet strike the ground.
To protect your feet from rough terrain, bombproof boots like the Zamberlan Vioz GTX use PU midsoles. This foam has a longer lifespan and is better at handling heavier loads without compressing or deforming.
Lacing Systems
Hiking boot laces are an often-overlooked feature yet play an important role in fit and comfort. Many boots have poor lacing systems that will result in the boot being too tight or loose, which will inevitably leave you to deal with blisters and sore spots.
If the laces are to blame, then a replacement pair is a quick fix. However, if the design of the lacing system doesn't fit or hold your foot well, then it's best to find another boot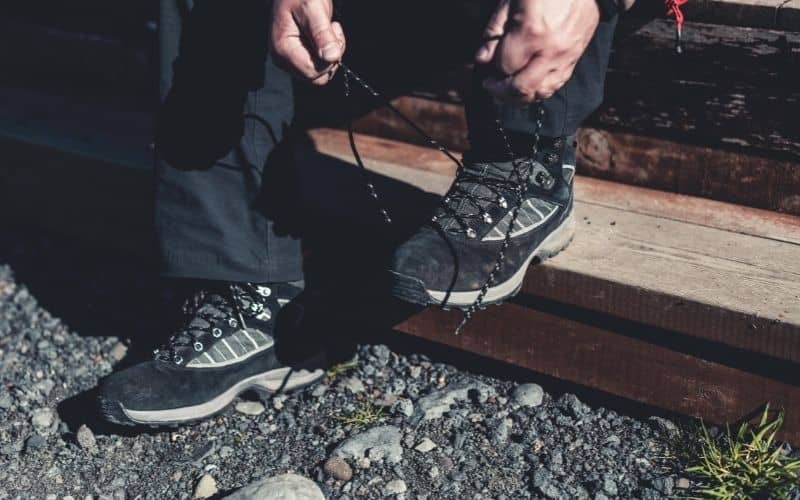 Lock hooks near the bend at your ankle help you get a customized and comfortable fit by allowing you to tie your hiking boots several different ways and allowing adjustment for your feet and the terrain. These are a common feature on more rugged boots like the Lowa Renegade GTX Mid.
Lightweight options like the Altra Lone Peak Hiker Boots typically have simpler designs that are more convenient to slip on and off, however, reduce the ability to customize the fit.
Socks and Insoles
Generic, flat insoles can be one of the main issues that stop you from getting the perfect fit you've been looking for. This can be easily solved by buying an aftermarket model specific to your foot size and shape.
New insoles are great because they help fill out shoes, improve the fit under your arch and also increase or decrease cushioning depending on what feels best for you. But keep in mind that inserting insoles might require going up a half size.
Support and Stability
We would choose hiking boots over wearing sneakers or shoes, as they are designed to provide more ankle support and stability over long treks and rugged terrain.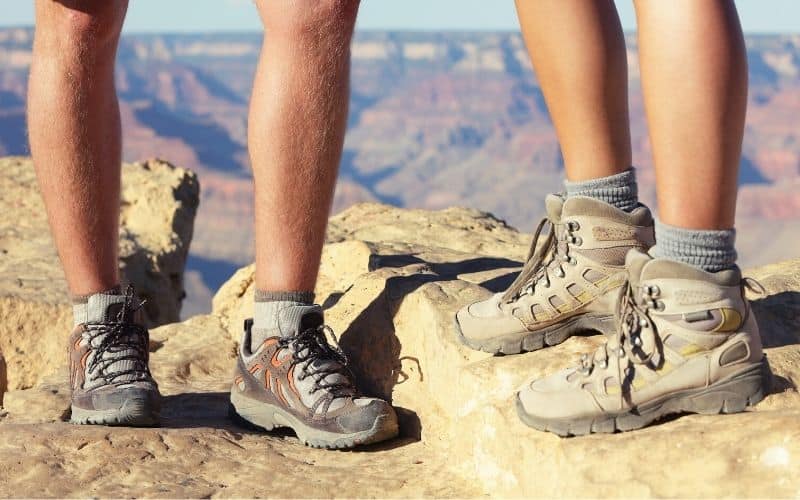 To add rigidness and improve stability, a shank (a 3-5mm thick piece of hard plastic) is inserted between the outsole and the boot's midsole. The length of the shank varies depending on intended use but can range from being just under the arch to the full length of the boots. In short, the longer the shank, the stiffer the boot.
There is an almost direct correlation between a boot's rigidity and its technical abilities. At one end of the scale, you have unyielding mountaineering boots that are designed to handle long summit hikes; at the other end, there are a few lightweight options that may not have a shank at all.
While it may be fairly obvious that a stiffer boot will provide more stability, an overlooked advantage is that they also reduce calf fatigue on ascents. During ascents, your heel will want to drop, and a stiffer boot will prevent this, meaning fewer muscle aches as you climb.
If you're embarking on longer trips with heavier packs, bushwhacking, or will be traveling over rough ground, then a stiffer boot with increased ankle support is your best bet. Options such as the Scarpa Zodiac Plus or the Lowa Renegade are top picks when the trail gets tougher.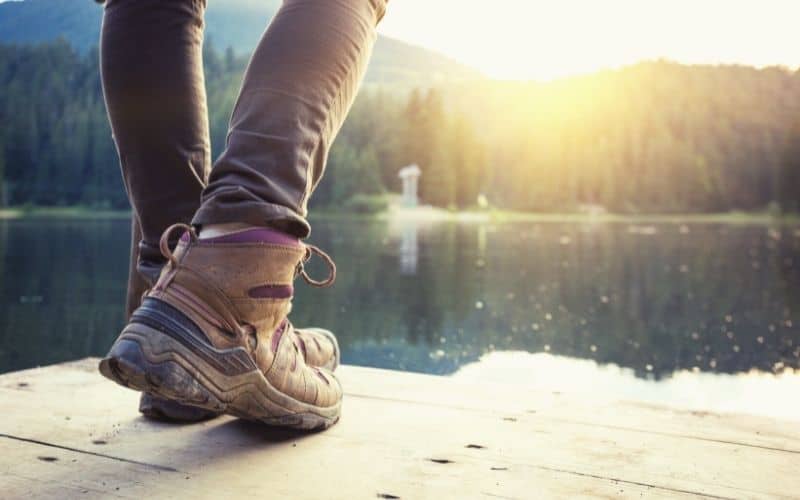 Flexible lightweight footwear such as the Salomon X Ultra 4 or La Sportiva Pyramid are recommended for flatter or less technical trails.
When considering the stability of a boot, the heel brake (the sole area under your heel) is another area to consider. The heel brake, as its name suggests, is there to prevent slides and slips on steep descents. A more prominent heel brake will be seen in a more technical boot than a lightweight hiking shoe or boot such as the Altra Lone Peak.
Contrary to popular belief, high-collar hiking boots don't provide greater ankle support than mid (or low) collar ones. According to a 2014 study by the Journal of Foot and Ankle Research, they may inhibit your ankles from engaging on inclined surfaces.
So why bother with high-cut boots? While they may not offer ankle support, they do three things better than mid- or low-cut boots/shoes:
Reduce debris ingress around the ankle, meaning less rubbing and blisters
Protect your ankles from scrapes and bumps
Keep your feet/ankles drier during wet and cold hikes in winter or shoulder-season
Traction
One of the key reasons to choose a hiking boot over sandals or trail running shoes is the improved traction they offer. Because of this, hiking boots are the best bet when any hike is rocky, slippery, muddy, or steep.
When it comes to traction, there are three things to consider, the rubber composition, the tread design, and the depth of the lugs.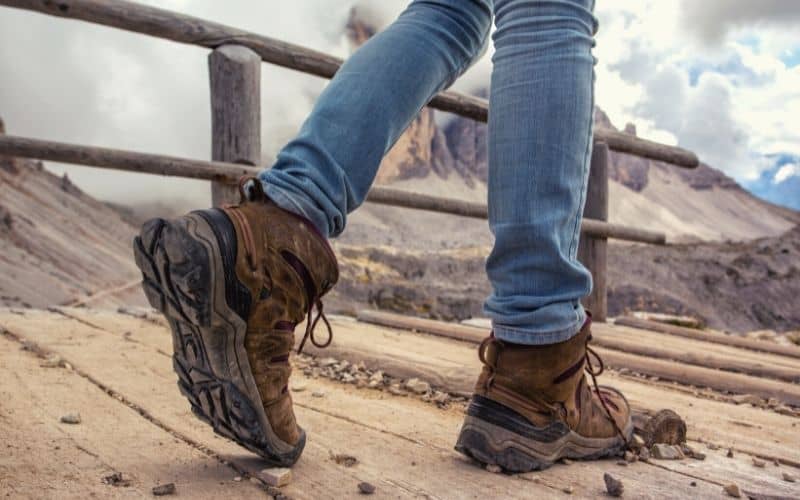 Softer, sticky rubbers are much better for rock scrambling but will wear through quicker. If you expect a wet trail, then you are better to go for larger, deeper, more aggressive lugs that will give you a better grip on muddy and slippery surfaces.
You may notice that the majority of hiking boots use Vibram® outsoles, although a few brands, like Salomon, use Contragrip® or other types. However, this doesn't mean that all outsoles can be assumed as uniform though, as Vibram® tailors its outsoles to each different brand and model.
Weight
A quote attributed to Sir Edmund Hillary states that "a pound on your feet equals five on your back". While there is a touch of hyperbole to the statement, research by the US army has indeed found that small increases in weight on the feet truly do have a significant impact on leg fatigue and energy expenditure.
That's why we advocate keeping the weight of your boots (or shoes) to the minimum possible. Less weight means less muscle fatigue, less stumbling, and can help prevent knee and hip flexor problems from developing.
Note that we say, the "minimum possible"! Lighter boots tend to offer less protection, support, and stability over the long term.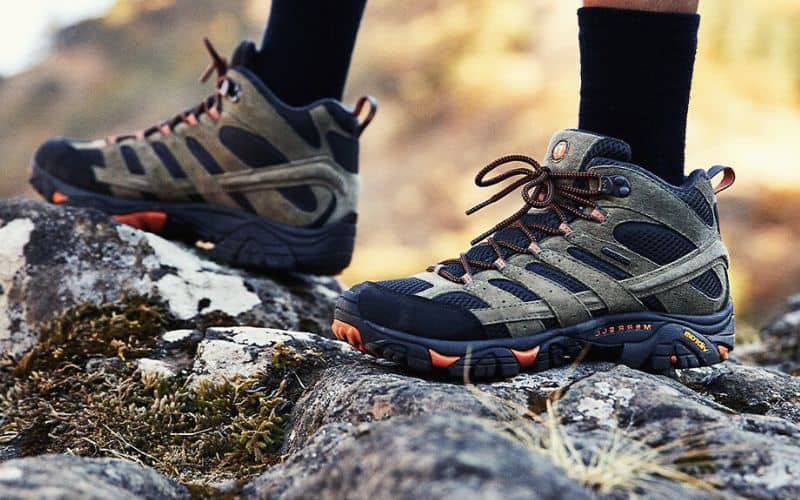 If you know that you'll be traveling over rough and challenging terrain, then choose a pair at the minimum possible weight that still meets the comfort, support, and traction that you require. This may mean a lightweight trail-runner style for fastpacking, all the way up to a burly boot for trekking through the Andes.
Ultralight thru-hikers heading out on week-long backpacking trips may be the exception to the rule. If you're going to be walking for weeks (or months) on end, then a lightweight hiking boot or shoe is a good idea.
The boots that made it onto our final testing list range in weight from 1 lb. 7 oz. (Altra Lone Peak,) up to the 3 lbs. 8 oz. (Zamberlan Vioz). Due to its light weight and flexibility, the Lone Peak is best suited to easier to moderate trails. Whereas the Vioz is a hardy boot suited for difficult trail conditions and heavy packs.
Water Resistance
A typical hiking boot on the market today will be waterproof to some degree. The majority of designs feature a waterproof/breathable liner inserted inside the outer fabric, with a water-repellent coating (DWR) added to the outer boot.
Gore-tex (GTX) liners have dominated the waterproof membrane market for years. However, there are several other brands including eVent, M Select by Merrell, and Keen.Dry by Keen, all of which are just as water-resistant and breathable.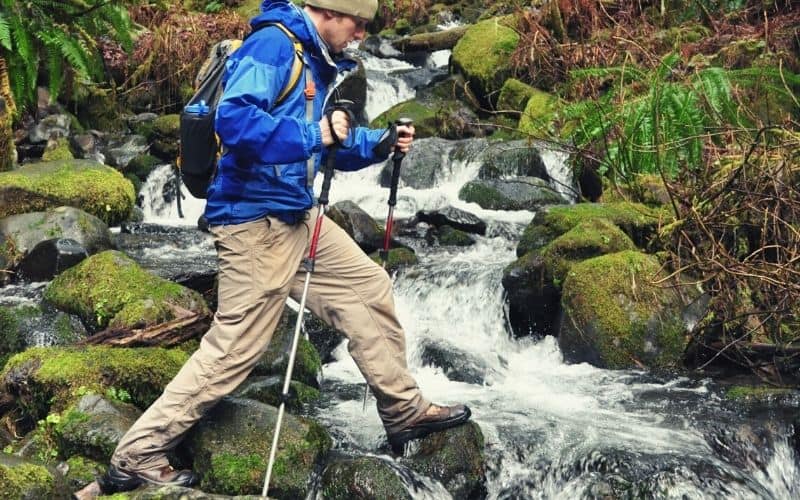 Waterproofing is obviously a boon for hiking in wet conditions, but it can have a major impact on the breathability of your hiking boots. A waterproof hiking boot makes it difficult for sweat to escape in warmer weather, which may lead you to have warm, sweaty, and uncomfortable feet.
There is a huge variation in the breathability of different waterproof hiking shoes and boots. However, heavy-duty hiking boots, particularly ones with a leather upper, tend to be the poorest performers.
So, should you invest in a pair of waterproof boots?
If you're not a fan of wet, sweaty feet, and your hiking trips are typically in arid, hot locations, and don't involve crossing streams, then wearing waterproof boots is like taking a gun to a knife fight, i.e. overkill.
You can still enjoy some water protection without using a waterproof boot by wearing gaiters when need be. Non-waterproof boots and shoes with a breathable mesh upper will get wetter than their waterproof counterparts, but they also dry out faster.
For the vast majority of us who don't tend to hike in dry regions like the southwest, and regularly encounter at least a little rainfall or mud, waterproof boots are the best choice.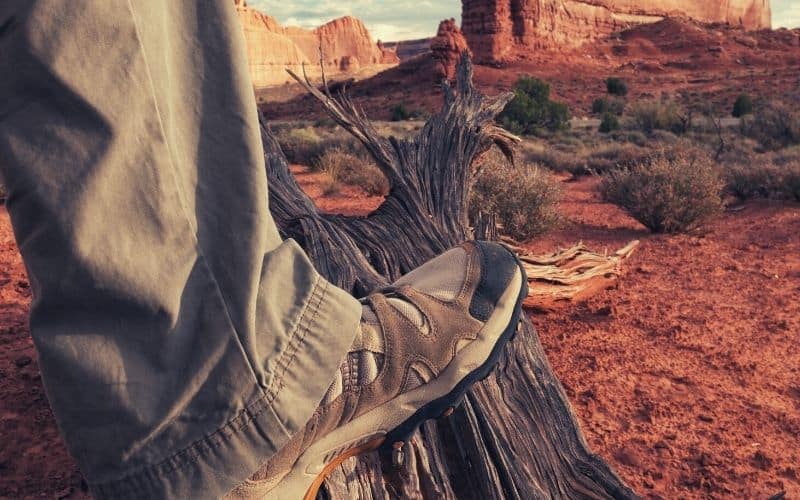 Durability
The type of material used in hiking boot uppers has an impact on its durability, breathability, and water resistance. Most hiking boots use a combination of three different materials – leather, synthetics, and mesh. Each material has benefits but also drawbacks.
Synthetic nylon and mesh are not great for durability, but help make a boot more breathable. These materials can be found on entry-level boots like the Merrell Moab 2, as well as some mid-tier models, and do a good job of cutting weight. The REI Co-Op Flash takes a novel approach, using a knitted polyester upper to aid breathability.
Nubuck leather, a type of cowhide, is a popular material for mid-range boots, such as the Lowa Renegade and the KEEN Targhee III. It's lighter and more flexible than traditional leather, but also less durable. However, you will get more mileage out of nubuck leather uppers than nylon or breathable mesh uppers before needing to replace your boots.
At the top end of the scale, full-grain leather is a tough but heavy material that's not as breathable as mesh or nubuck. Heavy-duty hiking boots with leather uppers like the Zamberlan Vioz GTX are one of the best water-resistant boots out there and a great pick if you're expecting a combination of rough terrain and poor weather.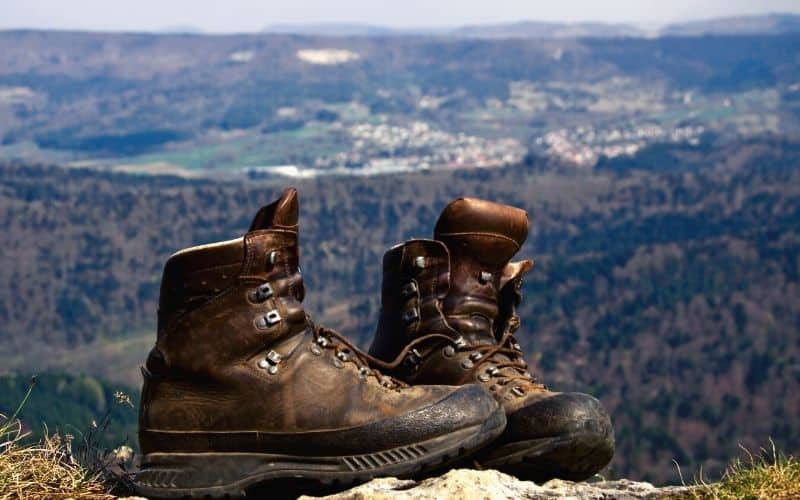 Many boots also add rubber to the upper, on areas such as the heels and the toe box, to help lengthen the boot lifespan.
Best Hiking Boot: The Verdict
Ready for a quick roundup of our top picks? Let's do it.
Our favorite hiking boots for non-technical trails are the Salomon Quest 4. The Quest aren't the lightest or the most nimble, but they're super-stable, supportive, waterproof, grippy, and as comfortable as they come.
For more technical trails, we recommend the Scarpa Zodiac Plus GTX, which boasts all the precision, agility, and stability needed to negotiate trickier terrain.
And if you're looking for a budget buy, it's hard to see past the Vasque Breeze AT Mid GTX. The Breeze aren't the lightest option, but they perform exceptionally well in every other metric for such a fairly priced boot.
If you like our article, let us know in the comments box below. And please feel free to share it with your friends!