The Best Hiking Boots: Our 12 Top Picks for the Trails
Looking For The Best Men's Hiking Boots
You're in the right place! In this guide, we will be covering the following:
Why you need good hiking boots
What you should consider when buying
Reviews of the best walking boots on the market
Our unbiased recommendation on the best hiking boots for men
When hiking, no gear item has more of an impact on the quality of your trail time than what you put on your feet. A great hiking boot will let you cover countless miles in safety and comfort; one that's anything less than perfect will turn your hikes into suffer-fests and experiences to be endured rather than enjoyed.
To help your feet find their way into a pair of boots that will make your time on the trail great rather than grim, we'll introduce you to the top 12 mens hiking boots out there. We'll also provide you with all the info you need to make the right choice for your hiking style and recommend different boots for different activity types and budgets.
Editors Choice
Salomon Quest 4 GTX
The fourth iteration of the Salomon Quest hiking boot is a solid choice for any type of hiker. The overall fit of the boot, and adaptability of the lacing system, is what pushes the Quest onto the top of the podium. The interior is soft and comfortable, while allowing you to lock your heel completely into place.
The updated ADVC chassis has one goal: provide excellent support and stability through every twist and turn while still giving your feet breathable air circulation. The Contagrip TD rubber outsole with deep aggressive lugs makes for great traction on most surfaces.
The Quest 4 GTX are one of the heavier options in our hiking boots reviews, but in our opinion the upgrade in performance on tougher trails is well worth the extra ounces. While there are few other boots that come close to the performance of the Quest, it wins top prize due to its high scores across the board.
At a Glance: Hiking Boot Quick Recommendations
RELATED: The Best Budget Hiking Boots
The Top Pairs of Hiking Footwear Reviewed
Salomon X Ultra 4 Mid GTX
Best Lightweight
In the race for reducing weight, in our opinion the X Ultra 4 Mid GTX stands out as the best lightweight hiking boot. While not the lightest hiking boot we reviewed, it wins the top price by offering a reduced weight without severely compromising on stability or traction.
Like other Solomon boots such as the Quest, the X Ultra is built around Salomons hugely comfortable and supportive ADV-C chassis. However, while the Quest offers a very rugged feel, the X Ultra 4 is a pound lighter and feels more like a trail running shoe. This comfortable lightweight feel is great if you want to travel fast and light, while still providing good stability, traction and protection.
While you could opt for the Altra Lone Peak 4 which is over 4 ounces lighter(or a pair of hiking shoes), we felt that X Ultra's extra weight is worth it for the improved protection and traction.
The downside to having such a flexible light hiking boot is that challenging technical terrain will remain…challenging. If you want lightweight hiking footwear then the Asolo Falcon and the La Sportiva Pyramid provide stiffer and more supportive boots at the cost of only a few additional ounces.
Specs
Class: Lightweight
Weight: 1 lb 14.4 oz
Waterproofing: GTX
Upper: Textile/Leather Upper
PROs

Lightweight, feel like trail runners
Flexible
Comfortable straight out of the box

CONs

Cushioning is a little thin
Not suited for rough terrain
Lacks traction on smooth rocky terrain
Bottom-Line: These are an excellent pair of lightweight and flexible hiking boots for less strenuous trails, or when you want to travel fast and light.
Merrell Moab 2 Mid WP
Best Value Lightweight Hiking Boot
If you are looking for a great hiking boot at a bargain price, then it's hard to look past the Merrell Moab 2. This is one of the cheapest pairs of boots we reviewed while providing great breathability and are amazingly comfortable.
The Moab has been around for some time, and the upgraded 2 version has only had minor adjustments made to one of Merrell's most popular designs. Protecting your feet from the hardships of the trail, the Fit.Eco+ blended-EVA midsoles combined with the Air Cushioning in the heels give a great bouncy feel. While the improved insole design has a more contoured finish to provide more support to your heel and arch.
The Moab 2 are one of the most breathable boots we've reviewed, making them a great pick for hot summer hikes. The Moab also comes in a Ventilator model that is a little cheaper and does away completely with waterproofing if you need a boot for extremely hot arid hikes in the desert areas of the southwest.
For such a low price you shouldn't expect premium features like Gore-Tex. Merrell's in-house waterproofing M-Select is not the greatest, making them far from the most waterproof hiking boots on the market. If you're willing to pay extra you can upgrade to a gore-tex version of this model, however, this does also result in a reduction in breathability.
The other downside is that while a little bulky, they are not particularly supportive, making them more suited for well-maintained trails. If you need a little more support and stability without breaking the bank then upgrading to the Vasque Breeze AT would be a good shout.
If your particular foot shape runs a little wide, then the KEEN Targhee III offers a very similar boot in terms of price and performance.
Specs
Class: Lightweight
Weight: 2 lbs 4 oz
Waterproofing: M Select
Upper: Mesh/Leather Upper
PROs

Excellent comfort and fit
Superb price tag
Very breathable

CONs

M Select waterproofing can't match its peers
Soles aren't the sturdiest
Lacks support on more rocky ground
Bottom-Line: The Merrell Moab 2 is an affordable boot that is great for fair-weather day hikers who hike easy to moderate trails.
Lowa Renegade GTX Mid
Best for Hauling Heavy Loads
The Lowa Renegade GTX Mid was one of the most comfortable hiking boots we tested, providing superb support and protection for your feet on rocky trails. Despite the all-leather hiking boot uppers, full-length nylon shank and thick Vibram rubber outsole, the Renegade is one of the lightest boots in its class.
The Renegade is a classic-looking mid-cut hiking boot that offers great ankle support even when carrying heavy loads thanks to its external polyurethane Monowrap® frame. The polyurethane helps cut some of the weight from the boot and gives a sturdier and more supportive feel. The slightly higher than normal ankle cuff helps protect from scrapes, bumps, and debris ingress while still providing a comfortable fit.
Weighing 2 lbs 7 ounces, the Renegade is one of the lightest midweight hiking boots to offer this level of ankle support and stability. Which makes them an excellent choice if you need more support carrying heavier loads or if your backpacking trips take you over more technical terrain.
If we're going to be picky then we'd zone in on the lacing system, which made it tricky at times to find the perfect fit. While the Renegade offers more cushioning than the Salomon Quest, the ability to get a precision fit is where the heavier Quest stole the top award.
Specs
Class: Midweight
Weight: 2 lbs 7 oz
Waterproofing: GTX
Upper: Nubuck Leather
PROs

Lightweight for its class
Great support and stability
Comfortable mid-height ankle cuff

CONs

Lacing is troublesome
Price
Some experience stitching issues on the boots upper
Bottom-Line: The Lowa Renegade boots are a great pick if you're looking for great support and stability combined with a low weight.
Altra Lone Peak 4 Hiker
Best Ultralight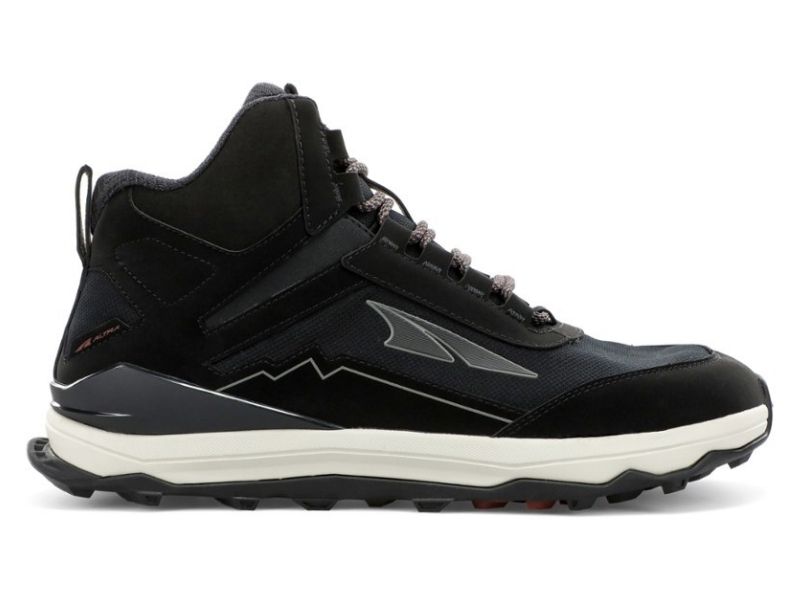 Shoe running company Altra has taken a traditional trail runner and given it some upgrades to meet the demands of the hiking trail. Their first hiking boot, the Lone Peak Hiker has the fit and feel of a trail running shoe and has been winning over fans in the ultralight community.
The standout feature is of course the 1 lb 7-ounce weight making it over half-pound lighter than its closest rival in this category, the Salomon X Ultra 4. The roomy toe box and very flexible design make for a comfortable choice.
As a step up from running shoes, Altra has made the ankle collar a little higher cut, giving them a beefier outsole lug design, and added a little more cushioning to the footbed. Their Balanced Cushioning™ platform is designed to reduce heel dropping on ascents.
For such a dramatic reduction in weight, there are a number of compromises that Altra had to make. The all-synthetic upper offers little in the way of protection and can't match the durability of a suede/leather boot or hiking shoe. The pair we've highlighted here are non-waterproof hiking boots, although Altra does make an ALL-WTHR version that costs a little more.
Then there is the lack of stability and traction that you will find in other boots. If you still want a pair of light boots then the Salomon X offers more stability and traction than the Lone Peak Hiker.
Specs
Class: Lightweight
Weight: 1 lb 10 oz
Waterproofing: eVent
Upper: Synthetic
PROs

Very lightweight
Wide toe box
Great flexibility/comfort

CONs

Offers little protection
Traction could be improved
Non-waterproof boot
Bottom-Line: If you like the feel of trail runners but want a tad more stability, then Altra Lone Peak 4 are our pick as the best ultralight boots.
Zamberlan Vioz GTX
Best Traditional Design
The Zamberlan Vioz is everything you would imagine in a traditional pair of heavyweight leather boots for hiking. Made for more serious treks with heavy pack weights, and even a little light mountaineering, the Vioz provides some of the best traction, stability, and durability in our hiking boot reviews.
The full-length thermoplastic urethane shank and stiff leather uppers make for one very rigid boot that offers great stability even on precarious terrain. Combine that with the Vibram® rubber outsoles, polyurethane midsoles, and the padded, soft interior and you'll be cushioned from even the most demanding of trails. If you are choosing hiking footwear for a difficult hike then the Vioz is one of the best hiking boots to meet the challenge.
The stiff leather design also gives you solid toe protection and durability that you won't see in many synthetic or suede leather designs. Add to this the fact that the Vibram sole is resoleable, and these boots will last for years.
The downside to the Vioz, and the reason why there has been a wider retreat from using traditional leather boots is their weight. At 3 lbs and 8 ounces, they are heavier than other boots we have reviewed — a huge 9 ounces of extra weight as compared to the next heaviest, the Salomon Quest. The stiff leather will also require a longer break-in time so make sure to pace around the house in them before trying them on the trails.
Specs
Class: Heavyweight
Weight: 3 lbs 8 oz
Waterproofing: GTX
Upper: Full-grain Leather Upper
PROs

Top class support and stability
Extremely comfortable
Durable leather uppers
Resoleable

CONs

Heavy
Stiff boots, requires a long break-in time
Some reports of sole issues
Bottom-Line: If you need a heavy-duty technical boot for alpine climbs on rocky trails and poor weather conditions then the Zamberlan Vioz are a good shout.
Salomon Quest 4 GTX
Editors Choice
If you were to force us to pick our favorite hiking boots then the Salomon Quest 4 would be the first hiking boot on that list. The Quest's fourth iteration is a solid boot with across the board levels of performance that in our opinion isn't matched by any of the others that we tested.
Like many other Salomon boots, the Quest builds off an updated ADV-C chassis, which provides greater support and stability. Combined with the deep aggressive lugs of the Contagrip® TD rubber outsole, these boots are designed to handle all the trail has to throw at them. One area that really improves the overall fit is the Quest's lacing which allows you to really lock your heel in place while allowing for adjustability when needed.
The mixed leather and textile upper marks the Quest as one of the coolest boots and provides ample protection and durability.
The Quest is one of the heavier boots reviewed at 2 lbs 14 ounces, and while this is 5 to 6 ounces heavier than the lightest midweight models such as the Scapa Zodiac or the Lowa Renegade, the upgrade in performance is well worth it in our opinion.
These boots are designed for more technical trails, bushwhacking and carrying heavier packs so they will be overkill for short day-hikes on well-maintained trails. In which case we'd opt for the Salomon Ultra which features many of the same boot features but at a much-reduced weight.
Specs
Class: Midweight
Weight: 2 lbs 14.4 oz
Waterproofing: GTX
Upper: Leather/Textile
PROs

Rugged
Well balanced
Great across the board

CONs

Heavy for most day hikes
High price
Breathability in hot weather
Bottom-Line: The Salomon Quest 4 are our top pick again this year, thanks to their great metrics across the board.
KEEN Targhee III Mid WP
Best Lightweight Wide Fit
Superb comfort, good traction, and at a great price, it's not hard to see why the KEEN Targhee III has been a perennial favorite amongst day-hikers. At 2 lbs 2.8 oz the KEEN Targhee is a lightweight pick that still provides good protection and durability despite its low price.
Despite its nubuck leather construction, the KEEN Targhee surprisingly doesn't need much of a break-in period — it's trail-ready straight out of the box. The interiors are soft and hug your feet, with dual-density midsoles providing more than enough cushion for your average trail. While the deep lugs offer great traction even in muddy conditions.
The Targhee as a lightweight option does lack some of the support of midweight boots such as the Scarpa Zodiac Plus or Lowa Renegade which are not that much heavier (although are pricier).
It was a close runner-up to our value pick, the Merrell Moab. While the Targhee is more durable, it tends to run wide so is not so great for folks with narrow feet. It is also less breathable and more expensive than the Moab, which ultimately just gets the nod.
Specs
Class: Lightweight
Weight: 2 lbs 2.8 oz
Waterproofing: KEEN.Dry
Upper: Nubuck Leather
PROs

Great Price
Great traction
Very comfortable

CONs

Not the greatest durability
Lacks some breathability
Wide fit won't suit folks with narrow feet
Bottom-Line: The KEEN Targhee III Mids are a great, comfortable boot that offers good traction at an affordable price. The fit is great for folks with wider feet.
Asolo Falcon GV
Best Waterproofing
Great waterproofing, brilliant craftsmanship and excellent out-of-the-box comfort are some of the defining features of the modern-looking Asolo Falcon GV.
At 2 lbs 3 oz, the Falcon is light for a boot classed as midweight, although this does mean that it doesn't offer the same stability of its peers such as the Lowa Renegade or the Scarpa Zodiac Plus (both 4 ounces heavier). Giving more support and stability than a lightweight boot, but not as much as is typical for a midweight one, this uniquely places the Falcon somewhere between lightweight options the La Sportiva Pyramid or the Merrell Moab and it's (supposed) midweight peers.
Despite this, the Falcon still performs admirably and we'd still recommend it for tougher hikes. However, if you would feel safer with the extra ankle support then you're going to have to opt for a heavier boot. For that we'd recommend the Quest, which while a lot heavier does come with a big step up in terms of performance.
The suede leather and Gore-Tex liners combine to give very breathable yet extremely waterproof footwear. Unfortunately, thanks to the Falcon's lug design, it is not the greatest performer in the mud. Which is disappointing considering how well it performs in wet conditions.
Specs
Class: Midweight
Weight: 2 lbs 2.6 oz
Waterproofing: GTX
Upper: Suede Upper
PROs

Superb out of the box comfort
Quality construction and build
Excellent waterproof boot

CONs

Expensive
Lacks some of the support of its peers
Sole pattern lacks traction on muddy trails
Bottom-Line: The Asolo Falcon GV is a well built boot with excellent comfort and waterproofing.
La Sportiva Pyramid GTX
Best for Backpacking
One of our favorite lightweight waterproof boots, the La Sportiva Pyramid performs well on easy through to moderate treks.
By adding Gore-Tex Surround to the sides, as well as the top of the upper boot, La Sportiva has put a lot of thought into how to improve breathability. In spite of this, the boot still performs well when wading through icy mountain streams.
At only 2 lbs 1.6 ounces, the low weight makes it a great choice for hikers and backpackers who prefer a lighter, faster trail shoe or boot. The traction is superb and comes close to the overall winner in this category, the Scarpa Zodiac Plus.
The lower weight does mean that it's not as sturdy as some heavier options like the Vioz or the Quest. However, the Pyramid is more than capable of handling all but the most technical of ascents and treacherous descents.
If you have wider feet, then you may be out of luck. The Pyramid (like all La Sportiva footwear) tends to run narrow and is not available in a wide version. If this is the case, we would say the Asolo Falcon is the closest comparable boot that we would recommend for wider feet.
Specs
Class: Lightweight
Weight: 2 lbs 1.6 oz
Waterproofing: GTX
Upper: Nubuck Leather/Mesh
PROs

Lightweight
Waterproof yet breathable
Great traction on the Vibram sole

CONs

Runs narrow/small
Some break-in required
Bottom-Line: For day hikes and backpacking trips on easy to moderate trails, the La Sportiva Pyramid is a great choice for a pair of lightweight waterproof hiking boots.
Scarpa Zodiac Plus GTX
Best Boot for Technical Terrain
If you know you are in for a slog over rough terrain then the Scarpa Zodiac Plus is a semi-stiff boot that will provide ample support and stability. Surprisingly, it does this whilst only weighing a light 2 lbs 6 ounces.
The Zodiac Plus excels on rugged terrain, rock scrambling and snowy trails where its superb traction and stability put it ahead of its competitors in these categories. The Salomon Quest 4 comes a close second, but not quite matching the performance of the Zodiac Plus.
It's hard to knock Scarpa's Zodiac Plus boots, but if your typical trail is well-maintained and free from crazy ascents and tricky descents, then they will likely be overkill for your needs. We'd recommend you look at either the Asolo Falcon or the X Ultra from Salomon depending on your preference for weight vs support and stability.
While the Zodiac Plus offers better traction and stability, it narrowly lost out on the top prize to the Salomon Quest due to the Quest's superior comfort and fit. That said, if you need to trust your tread, then Zodiac Plus may be the better option for you.
Specs
Class: Midweight
Weight: 2 lbs 6.4 oz
Waterproofing: GTX
Upper: Suede Upper
PROs

Amazing on rocky approaches
Very durable
Highly breathable

CONs

Overkill for easy-moderate trails
Asymmetric lacing could use a redesign
Price
Bottom-Line: If you are looking for a great boot to tackle snowy alpine or rugged terrain then the Scarpa Zodiac reigns supreme.
REI Co-op Flash
Best Vegan Hiking Boot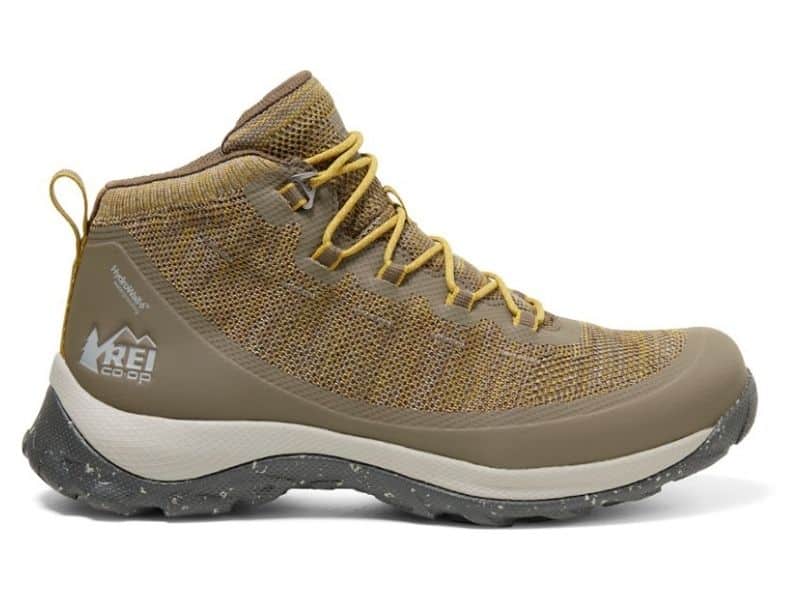 The REI Co-op Flash are the odd one out in our line-up with the unique polyester knitted upper giving the Flash a look all of its own. Aside from aesthetics, the Flash are a flexible, lightweight, and breathable pair of boots most suited to easy-going day hikes.
The knitted polyester may be great for breathability, but it lacks the durability of suede, nubuck or leather. With only a midfoot shank and the limited stiffness coming from the knit design, don't expect the support and stability you'd see in its lightweight peers like the Salomon X Ultra or the Merrell Moab.
REI does a good job of using recycled materials and algae-based foam to make these waterproof shoes more environmentally friendly. Overall, this is a fun and interesting lightweight boot that works well for easy to moderate trails but don't expect it to be as durable as its peers.
Specs
Class: Lightweight
Weight: 2 lbs 2 oz
Waterproofing: Hydrowall
Upper: FirmaKnit™ Polyester
PROs

Lightweight
Price
Waterproof yet breathable

CONs

Durability
Top metal rivet can rub against ankle
Bottom-Line: If you're looking for a cheap, lightweight hiking boot for easy day hiking then the REI Flash offer a great (vegan-friendly) boot.
Vasque Breeze AT Mid GTX
Best Value Midweight
The Vasque Breeze AT uses modern materials to give the traditional hiking boot look an update. The boot is extremely comfortable with a snug heel and a wide toe-box. It offers great support and stability making it well suited for tougher trails and days with a heavy pack.
The Breeze uses a mix of Nubuck leather with mesh vents to give the boot some extra breathability (there is also a full-leather version that improves durability/water resistance at the cost of diminished breathability).
The Vasque Breeze AT is a pretty heavy and bulky boot compared to its peers, making it more energy-sapping and less nimble than other midweight options like the Asolo Falcon or the Scarpa Zodiac. However, the Breeze AT does perform significantly better out on the trail than lightweight picks such as the Targhee or Moab. In terms of performance, the Lowa Renegade is its closest rival, with the Renegade a lighter but more expensive boot.
While it packs on a little more weight than other midweight peers, the Breeze is one of the cheapest boots in this category.
Specs
Class: Midweight
Weight: 2 lbs 11 oz
Waterproofing: GTX
Upper: Mesh/Nubuck Leather Upper
PROs

Great price for a midweight boot
Very comfortable
Stable and supportive
Mesh vents provide good breathability

CONs

Very heavy/bulky
Tall collar is stiff
Takes a while to break-in
Bottom-Line: While heavier when compared to its peers the Vasque Breeze AT is a good midweight hiking boot at a great price.
Hiking Boot Buying Advice
Fit and Comfort
Comfort is the most important thing to consider in hiking footwear, which is why fit should be your top priority when looking for hiking boots. Hiking footwear that doesn't fit well in the toe box, around the ankles, or around the calf will cause blisters and discomfort after just an hour or two on the trail.
Pro-Tip: Your feet will swell up while you clock miles on the trail, so always select at least a half size larger when purchasing new hiking boots.
The best thing you can do when looking for a new pair of hiking boots is to find what makes your feet happy, and then make those needs your top priority when choosing between different styles and brands. Knowing whether you need extra cushioning, arch or ankle support, can help to match you with the right pair of hiking boots for you. They will quickly become your best trail buddies, rather than your worst frenemies.
Midsoles
Covering long distances puts a lot of stress on your feet, particularly if you are carrying a lot of weight. To help lighten the load, the part of the boot known as the midsole plays an important role as a shock absorber. The midsoles in most boots are made from either an EVA foam or Polyurethane — which one you should pick will depend on the terrain you expect to cover and how your own feet react to your hikes.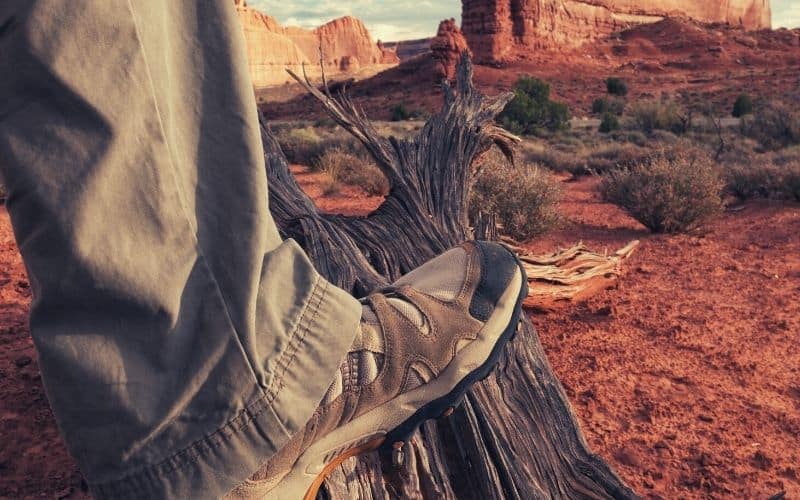 The majority of hiking boots use an EVA foam in the midsole. This type of foam is extremely lightweight and reduces the impact of your footfalls. Different compositions of EVA can vary from soft to stiff. We would recommend a supportive and firm forefoot for tougher terrain, as this will reduce the shock your feet experience when they strike the ground. Unsurprisingly, improved midsole designs and better EVA compounds will result in a more expensive boot.
To protect your feet from rough terrain, bombproof boots like the Zamberlan Vioz GTX use PU (polyurethane) for midsoles. This foam has a longer lifespan and is better at handling heavier loads without compressing or deforming.
Lacing Systems
Hiking boot laces are an often overlooked feature yet play an important role in fit and comfort. A number of boots feature poor lacing systems that will result in the boot being too tight or loose (or both) — which will inevitably leave you to deal with blisters and sore spots.
If it's the laces that are to blame, then a replacement pair are a quick fix. However, if the design of the lacing system doesn't fit or hold your foot well, then it's best to find another boot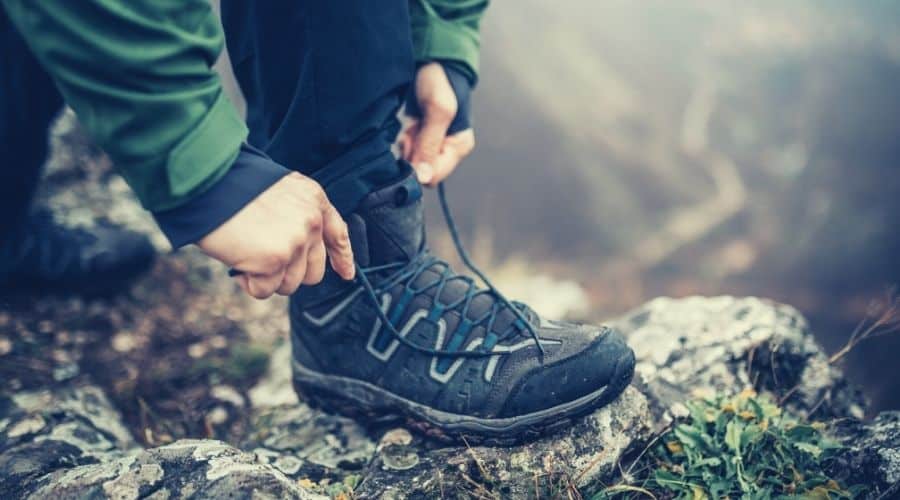 Helpful in guaranteeing you get an optimum customized and comfortable fit are lock hooks near the bend at your ankle. These hooks allow you to tie your hiking boots several different ways, allowing adjustment for your feet and the terrain. These are a common feature on more rugged boots like those seen on the Lowa Renegade GTX Mid.
Lightweight boots like the Altra Lone Peak 4 Mid RSM typically have simpler designs that are more convenient to slip on and off, however, reduce the ability to customize the fit.
Support and Stability
We would choose hiking boots, over wearing sneakers or shoes, over long treks and rugged terrain as they are designed to provide more ankle support and stability.
RELATED: The Best Lightweight Hiking Shoes 
To add rigidness and improve stability, a shank (a 3-5mm thick piece of hard plastic) is inserted between the outsole and the boot's midsole. The length of the shank varies depending on intended use but can vary from being just under the arch to the full length of the boots.
There is an almost direct correlation between a boot's rigidity and its technical abilities. At one end you have unyielding mountaineering boots that are designed to handle long summits and at the other end, there are a few lightweight options that may not have a shank at all.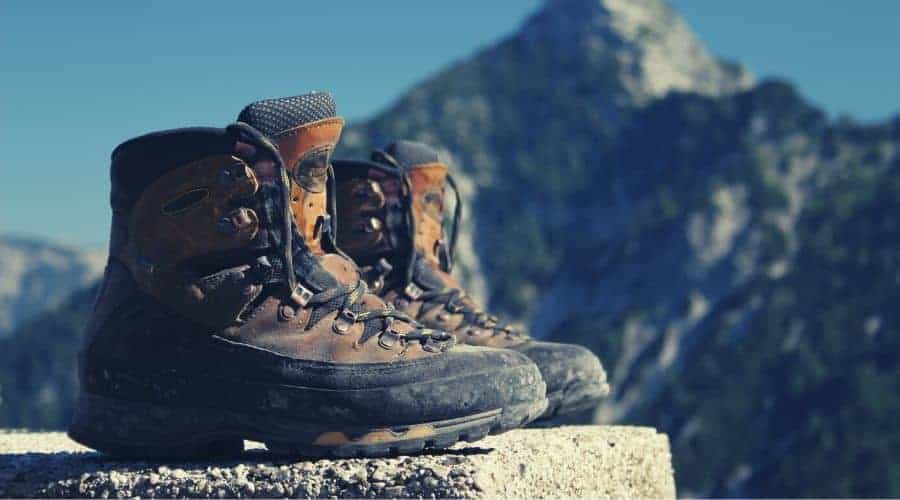 While it may be fairly obvious that a stiffer boot will provide more stability, an overlooked advantage is that they also reduce calf fatigue on ascents. During ascents your heel will want to drop, a stiffer boot will prevent this, meaning less muscle aches as you climb.
If you're embarking on longer trips with heavier packs, bushwhacking or will be traveling over rough ground, then a stiffer boot with increased ankle support is your best bet. Options such as the Scarpa Zodiac Plus or the Lowa Renegade are top picks when the trail gets tougher.
Flexible lightweight footwear such as the Salomon X Ultra 4 or La Sportiva Pyramid are recommended for flatter or less technical trails.
When considering the stability of a boot, the heel brake (the sole area under your heel) is another area to consider. The heel brake, as its name suggests, is to slow and prevent sliding during steep descents. A more prominent heel brake will be seen in a more technical boot than a lightweight hiking shoe or boot such as the Altra Lone Peak.
Contrary to popular belief, high collar hiking boots don't provide greater ankle support than mid (or low) collar ones. According to a 2014 study by the Journal of Foot and Ankle Research they may actually inhibit your ankles from engaging on inclined surfaces.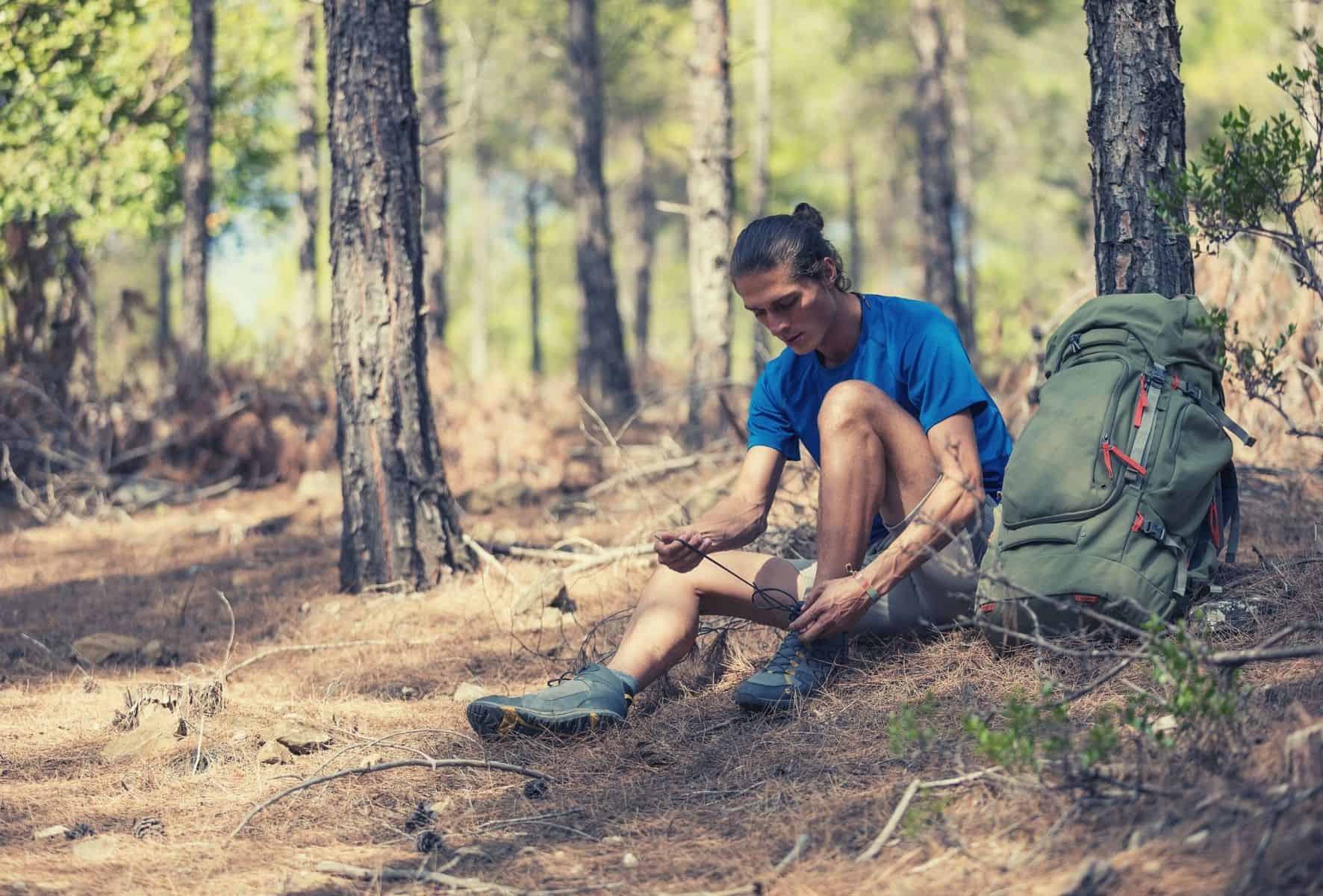 So why bother with high-cut boots? While they may not offer ankle support, they do three things better than mid- or low-cut boots/shoes:
Reduce debris ingress around the ankle meaning less rubbing and blisters.
Protect your ankles from scrapes and bumps.
Keep your feet/ankles drier during wet and cold hikes in winter or shoulder-season.
Socks and Insoles
Generic, flat insoles can be one of the main issues that stop you from getting the perfect fit you've been looking for. This can be easily solved by buying an aftermarket model specific to your foot size and shape.
Pro-Tip: Whenever you are trying out new hiking boots always wear the socks you wear out on the trail. Hiking socks are thicker than everyday ones and may result in a tighter than expected fit.
New insoles are great because they help fill out shoes, improve the fit under your arch and also increase or decrease cushioning depending on what feels best for you. But keep in mind – inserting insoles might require going up a half size.
Traction
One of the key reasons to choose a hiking boot over sandals or trail running shoes is the improved traction they offer. Because of this hiking boots are the best bet when any hike is rocky, slippery, or steep.
When it comes to traction there are three things to consider, the rubber composition, the tread design, and the depth of the lugs.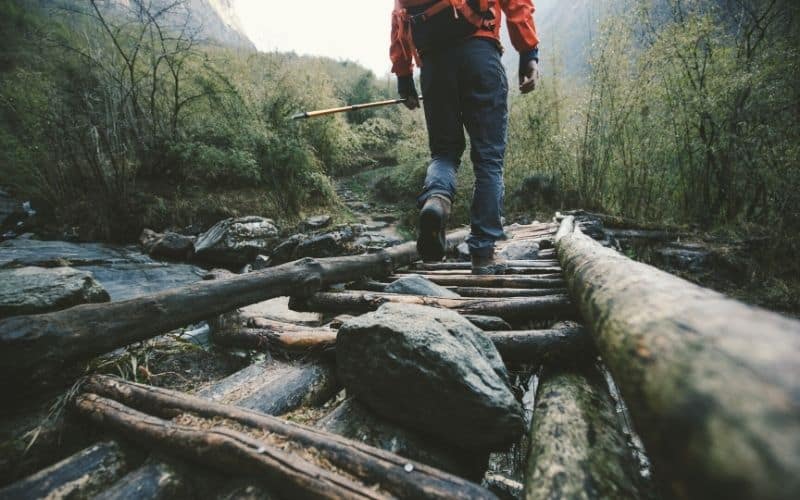 Softer, sticky rubbers are much better for rock scrambling but will wear through quicker. If you expect a wet trail then you are better to go for larger, deeper more aggressive lugs that will give you a better grip on muddy slippery surfaces.
You may notice that the majority of hiking boots use Vibram® outsoles, although a few brands such as Salomon use Contragrip® or other types. However, this doesn't mean that all outsoles can be assumed as uniform though, as Vibram® tailors its outsoles to each different brand and model.
Weight
A quote attributed to Sir Edmund Hillary is that "a pound on your feet equals five on your back". While there is a touch of hyperbole to the statement, research by the US army has indeed found that small increases in weight on the feet truly does have a significant impact on the energy used by hikers.
That's why we advocate keeping the weight of your boots (or shoes) to the minimum possible. Less weight means less muscle fatigue, less stumbling, and can help avoid knee and hip flexor problems from developing.
RELATED: Best Hiking Sandals
Note that we say, the "minimum possible"! Lighter boots tend to offer less protection, support, and stability over the long term. If you know that you'll be traveling over rough and challenging terrain then choose a pair at the minimum possible weight that still meets the comfort, support, and traction that you require. This may mean a lightweight trail-runner style for fastpacking, all the way up to a burly boot for trekking through the Andes.
Ultralight thru-hikers heading out on week-long backpacking trips may be the exception to the rule. If you're going to be walking for weeks (or months) on end, then a lightweight hiking boot or shoe can be a good idea.
The boots that made it onto the final testing list range in weight from the 1 lb 10 oz Altra Lone Peak 4, up to the 3 lbs 8 oz Zamberlan Vioz. Due to it's light weight and flexibility, the Lone Peak is best suited to easier to moderate trails. Whereas the Vioz is a hardy boot suited for difficult trail conditions and heavy packs.
Water Resistance
A typical hiking boot on the market today will be waterproof to some degree. The majority of designs feature a waterproof/breathable bootie inserted inside the outer fabric, with a water-repellent coating (DWR) added to the outer boot.
Gore-tex (GTX) liners have dominated the waterproof membrane market for years. However, there are several other brands including eVent, M Select by Merrell and Keen.Dry by Keen whose waterproof membranes are just as water-resistant and breathable.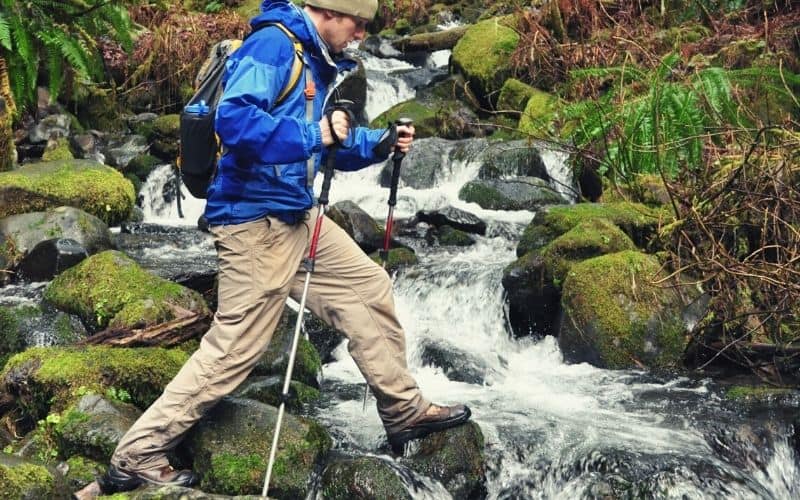 Waterproofing can have a major impact on the breathability of your hiking boots. A waterproof hiking boot makes it difficult for sweat to escape in warmer weather, which may lead you to have warm, sweaty, and uncomfortable feet. There is huge variation in the breathability of different waterproof hiking shoes and boots. However, heavy-duty hiking boots, particularly one's with a leather upper, tend to be the worst performers.
So, should you invest in a pair of waterproof boots?
If you're not a fan of wet, sweaty feet and your hiking trips are typically arid, hot and don't involve crossing streams, then the reduced breathability of waterproof boots might not be the best idea. You can still enjoy some water protection without using a waterproof boot by wearing gaiters. Non-waterproof boots and shoes with a breathable mesh upper will get wetter than their waterproof counterparts, but they also dry out faster.
For the vast majority of us who don't tend to hike in dry regions like the southwest, and regularly encounter at least a little rainfall or mud, waterproof boots are the best choice.
Durability
The type of material used in a boot upper has an impact on its durability, breathability, and water resistance. Most hiking boots use a combination of three different materials — leather, synthetics, and mesh. Each material has its own benefits but also drawbacks. The exception to this is one-piece leather constructions like the HOKA ONE ONE Sky Kaha.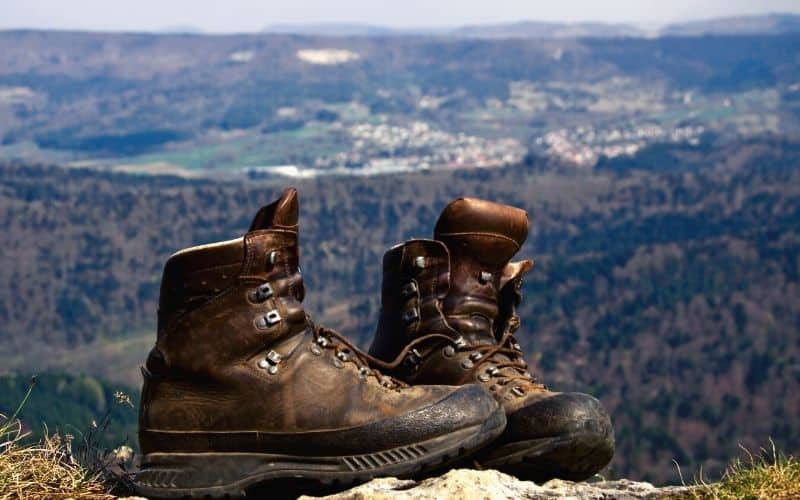 Synthetic nylon and mesh are not great for durability, but help make a boot more breathable. These materials can be found on entry-level boots like the Merrell Moab 2, as well as some mid-tier models, and do a good job of cutting weight. The REI Co-Op Flash takes a novel approach with a knitted polyester upper to aid breathability yet comes at the price of durability.
Nubuck leather, a type of cowhide, is a popular material for mid-range boots, such as the Lowa Renegade and the KEEN Targhee III. It's lighter and more flexible than traditional leather, but less durable. However, when compared to nylon or breathable mesh uppers you will see more significant mileage out of nubuck leather uppers before needing to replace your boots.
At the top end of the scale, full-grain leather is a tough but heavy material that's not as breathable as mesh or nubuck. Heavy-duty hiking boots with leather uppers like the Zamberlan Vioz GTX are one of the best water-resistant boots out there and a great pick if you're expecting a combination of rough terrain and poor weather.
Many boots also add rubber to the upper, on areas such as the heels and the toe box, to help lengthen the boot lifespan.