Love camping but don't want to give up all the comforts of home? A generator is a useful camping tool that will allow you to power all of your tech gadgets, camping equipment, and even your RV.
If you don't want to be left out in the dark, there are a lot of considerations you should make before choosing a portable camping generator. The noise level, fuel type, and power input of the model you choose will all make a major difference in how suitable your new generator will be to your camping style.
If you're thinking about buying a generator before your next trip, here is our no-nonsense guide to help you choose the best one for you.
Editor's Choice
Champion 3800-Watt RV-Ready Portable Generator with Electric Start
If you're looking for both power and convenience in a portable camping generator, this is it!
The Champion 3800 is an inverter that can run off both propane and gas. You'll enjoy the flexibility of being able to use your preferred fuel type while switching to the other if supplies run low.
Despite its dual-fuel nature, this Champion generator offers a hefty output for both types of fuel – with propane you can expect around 3240-watts and up to 3,800-watts with gasoline.
While the Champion isn't a budget model per se, you get tremendous value for your buck. You'll enjoy all sorts of user-friendly features like a push-button electric start, cold start technology, a low-oil shut-off sensor, and 4 surge-protected outlets.
All in all, the Champion is a great choice for both first-time campers and seasoned experts alike.
Bottom Line: Thanks to its phenomenal energy output, impressive features, and lightweight design, the Champion 3800-watt is our top pick for portable camping generators.
At a Glance: Quick Recommendations
Best Generator for Camping: 9 Top Options
Honda EU2200i Portable
Best Fuel Efficiency
The Honda EU2200i is a portable inverter designed for high-energy demands.
If you need to use big camping appliances like AC units or fancy grills, this Honda generator has you covered thanks to 2,200 surge watts and 1,800 running watts. Other user-friendly features include a fuel shut-off valve, a thick carrying handle, and parallel capability.
Despite its generous output and fuel-efficient engine, the Honda is surprisingly quiet and portable. In fact, it offers one of the lowest noise levels of any inverter on our list.
PROs

Consistent power delivery
Fuel-efficient
Quiet

CONs
Bottom-Line: Reliable power and first-rate fuel efficiency for campers with high-energy demands.
Yamaha EF2000iSv
Honorable Mention
The Yamaha EF2000iSv2 is a highly-portable inverter generator that's perfect for campers looking for a lightweight yet potent power supply.
Weighing in at just 44lbs, it's one of the lightest, non-solar generators on our list. Despite its small size, its running power output registers at 1600-watts, giving you more than enough juice to power your stuff.
If you're looking for a super-quiet generator, it's hard to beat the Yamaha EF. It's so quiet, in fact, that the US Forest Service has approved it for use at all their sites. Its rated noise level is only 61dB and scales down to 51dB at a quarter load, making it one of the quietest generators out there.
The only drawback to the Yamaha EF is its hefty price tag. But if you're looking for a reliable, quiet camping generator to get you through years of camping trips, the Yamaha's compact size and ultra-quiet energy output is worth the investment.
PROs

Useful economy control function
Fuel efficient
Ultra-quiet
Parallel compatible

CONs
Bottom-Line: If you need lightweight, quiet, and portable power, the Yamaha ETF is worth every penny.
Goal Zero Yeti 400 Portable Power Station Kit
Best Value
Rugged, reliable, and affordable, the Goal Zero Yeti 400 is an all-in-one power station that will charge your camping gadgets with clean and rechargeable power. On top of charging the unit with solar energy, you can also power it up through a carport, making it the ultimate car camping solution.
With the Goal Zero, you won't have to deal with the usual nasty fumes or noise pollution of other generators. While the Goal Zero does have minimal power capacity when compared to a conventional or portable inverter generator, it will offer up more than enough energy to power small, personal appliances.
If your power demands are minimal, consider choosing the Jackery Power Station instead. You'll sacrifice half the energy output, but you'll save on half the weight and half the price when compared to the Goal Zero.
PROs

Fuel type
Environmentally-friendly
Extremely quiet

CONs

Heavy for a solar-powered device
Bottom-Line: A convenient, environmentally-conscious power station that provides enough clean energy to power small appliances.
Jackery Portable Power Station Explorer 240, 240Wh Backup Lithium Battery
Best Solar
In the market for a budget-friendly and environmentally-friendly power source? The Jackery Portable Power Station is for you!
The Jackery is a solar generator that has no running costs and requires very little maintenance other than occasionally replacing the battery. One of its best features is that this model is chainable, so you can keep your gadgets going for longer.
If you want to power up a bunch of high-energy appliances at your campsite, the Jackery isn't a good fit. But if you're the type of camper looking for a small and compact solution for powering up small gadgets like your smartphone and laptop, the Jackery is the best camping generator to get the job done.
PROs

Affordable
Portability
Extremely quiet

CONs

Low output
Solar panel sold separately
Bottom-Line: If you're looking for a simple device with just enough power to keep your small gadgets going, the Jackery is the perfect solution!
Lightweight Camping Generator Options
Champion Power 2000
Most Affordable Inverter
The Champion Power 2000 is a great portable generator with inverter technology that offers up to 11 hours of run time. Its stackable, space-saving design is parallel-ready and can be hooked up to another device to double input.
What we love about the Champion is that despite its modest price tag, you'll still enjoy a number of impressive features. Cold start technology means you won't find yourself without power in the cold while a smart economy mode allows you to reduce the electrical load, allowing for quieter operation.
If you're only looking to charge a few gadgets at your campsite, consider the Champion Power 2000 over other inverters on our list. Both the Honda EU2200i and the Yamaha EF2000iSv2 offer more output, but that extra power comes at more than double the price tag!
PROs

High output for the price
Cold start technology
Smart economy mode

CONs

Lower output than pricier options
Bottom-Line: The perfect compact and inexpensive option for campers who need reliable, yet quiet, stable power. 
Renogy Phoenix All in One Solar
Best Lightweight
The Renogy Phoenix is a solar power system that's ideal for campers looking for a lightweight and clean power solution for their camping energy needs.
The Renogy Phoneix's standout feature is the flexibility of its 3-power-source design: the unit can be charged by solar power, AC power, or car power. A replaceable 16Ah lithium-ion battery bank offers up 20-watts of power and is expandable to 120-watts through the use of additional solar panels.
If you're a minimalist camper, then you'll love the Renogy's ultra-portable briefcase design and sturdy handle (although it's still twice as heavy as the Jackery Power Station). As an added bonus, it's the quietest generator on our list.
PROs

3 power sources
Portable design
Environmentally-friendly

CONs

Pricey for a solar device
Bottom-Line: Quiet generators don't come much more practical and functional than this!
Rockpals Portable Power Station
Best Budget
The Rockpals Power station is one of the most affordable portable generators on our list… but don't let that fool you! Thanks to a 280-watt rechargeable lithium battery, it'll still pump out enough power to charge your small gadgets and appliances.
On top of its small, compact size and light weight (only slightly heavier than the Jackery Power Station), the Rockpals features a 12-volt port, your typical AC outlet, and 4 USB ports, two of which are fast charging. No more fighting over who gets to charge their phone first at your campsite!
PROs

Affordable
Environmentally-friendly
Extremely quiet

CONs
Bottom-Line: Reliable, clean power without the hefty price tag.
High Powered Camping Generator Options
Champion 3800-Watt RV Ready Portable Generator with Electric Start
Editor's Choice
The Champion 3800-Watt RV generator is a dual-fuel generator that allows users to choose the fuel they prefer. Thanks to a hefty 3.4-gallon fuel tank, you'll get about 9 hours of running time from one fuel tank and a bit more from propane.
If it's your first time operating a generator, have no fear. A handy toggle switch powers the device and the push-button power with cold start technology means you'll have no trouble running it in cold weather.
All that power comes at a price. The Champion 3800-watt is quite heavy at 119lbs (compare that to the lightest generator on our list, the Renogy Phoenix, which only weighs 11.7lbs!)
Despite its size, this Champion model is quite portable thanks to thoughtful features like never-flat tires and fold-away, easy-grip handles. Other useful perks like a low-oil shut-off sensor and 4 surge-protected outlets just seal the deal.
PROs

Dual-fuel operation
Big tank size
Cold start technology
Lifetime technical support
Ideal for RV camping when you need more power

CONs

Heavy
Noisy operation
High fuel consumption
Bottom-Line: A dual-fuel model that's heavy but as powerful as they come.
Yamaha EF6300iSDE
Best Inverter
Yamaha wasn't kidding when they called this their "most powerful inverter ever"!
Many inverter generators only produce enough power to run one low-demand appliance at a time. The Yamaha EF6300iSDE really does earn its title thanks to its four-stroke engine which can produce a whopping 6,300 surge (starting) and 5,500 rated (running) watts of power.
You'd be hard-pressed to find a 6,000-watt device that's small, but the Yamaha inverter generator does a good job of making its bulky size portable with never-flat rolling casters which makes moving this 200lbs beast more manageable.
One downside is that the Yamaha EF6300iSDE isn't parallel compatible, which is surprising for a Yamaha. But with all the power surging through this one, it's unlikely you'd need a second model for camping anyway.
PROs

Portability
Big tank size
Tank size
CO Sensor

CONs
Bottom-Line: Extremely powerful, yet surprisingly quiet, the Yamaha EF6300iSDE can handle the power demands of even your most energy-hungry appliances.
How to Choose a Generator for Your Camping Trips
Type: Conventional, Inverter, or Solar
Conventional generators (aka "gas generators") are the most widely used generators today. They run on gas, diesel, or propane that powers a motor attached to an alternator to produce electricity.
Inverter generators use advanced electronic circulatory and powerful magnets to produce electricity. They produce fewer emissions than gas-powered generators and are generally very quiet. An inverter generator will produce AC power and then convert it into DC power, allowing for long-term power storage.
Solar generators produce clean, renewable energy with the help of solar panels. You can even run them indoors since there are no emissions. The downside is a lower energy output than other types of generator.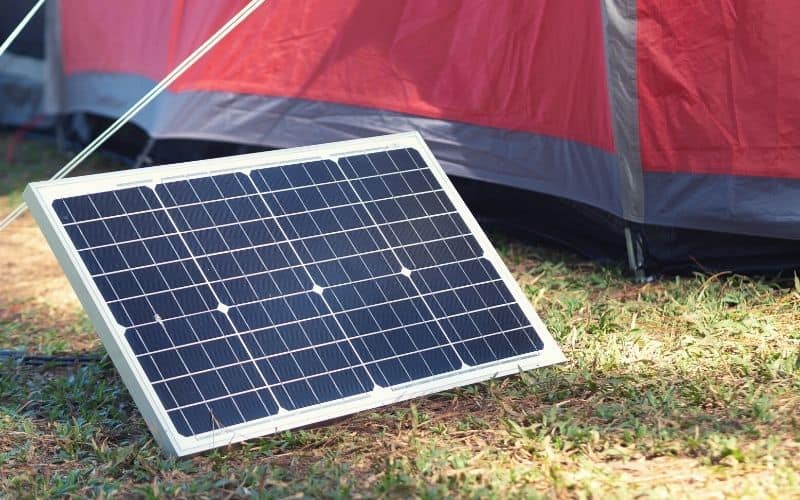 Power Output
Power output is measured in watts. The higher the wattage, the more energy you'll have to power your devices. When choosing, you want to make sure the energy output matches the energy consumption of all your equipment and gadgets.
A power output of 3,000 watts should suffice for most campers, while campers that don't use an air conditioner can scale down to around 2,000 watts. If you want to power multiple electronics at a time, make sure you check the surge/peak power performance.
Remember, as the power output goes up, so do the noise and size levels.
Portability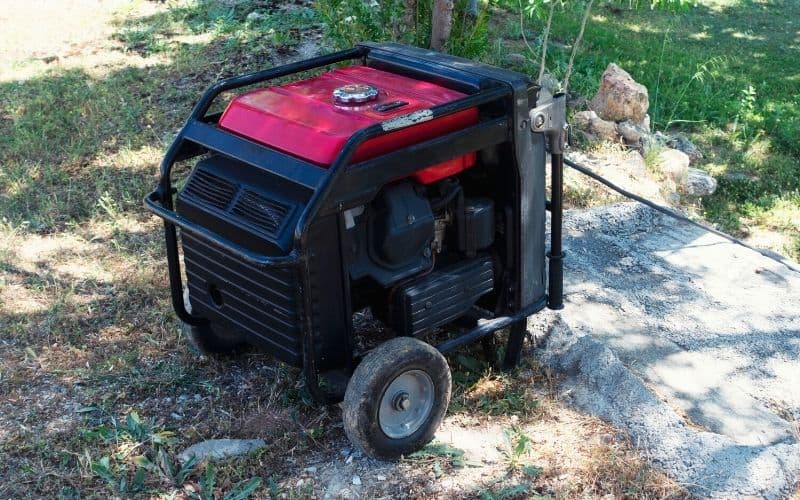 For camping, you want to look for a small, portable generator that's easy to load into your car or RV. The bigger the device, the more juice you'll get for powering your stuff, but it will come at the cost of portability. Large generators do have wheel kits and handles to enhance maneuverability.
A good starting point is to look for a device that weighs between 50 and 70 lbs.
Noise Level
A portable generator for camping should hum along at a gentle 45dB to 70dB. To give you a comparison, a normal human conversation measures in at 60dB, while a vacuum cleaner clocks in at 70dB.
When choosing your device, be sure to pick a quiet model since many campgrounds won't allow noisy generators. Look for noise-reducing features built into the design of the mufflers and casing.
Fuel Type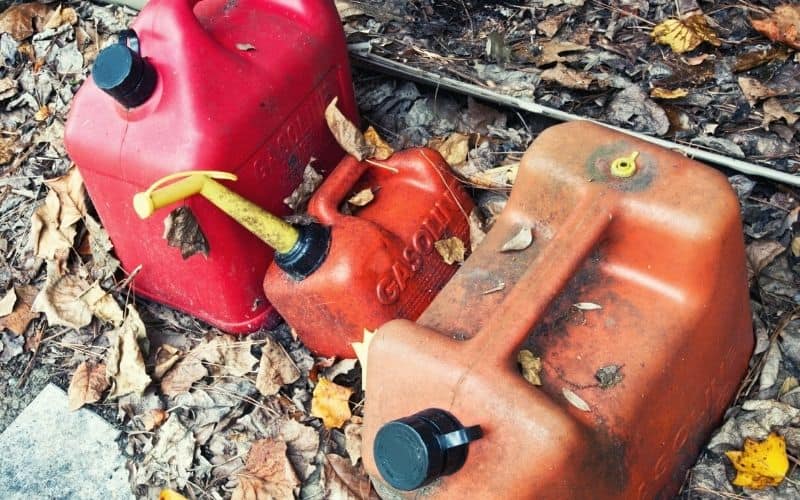 Conventional generators run on gasoline. This is a popular choice since gasoline is so readily available. You might run into problems with the exhaust fumes, so bring a long extension cord to keep your device away from your campsite.
Generators that run on diesel are much more fuel-efficient, but you will have a hard time finding one that's small and portable enough for camping. Diesel generators are quite durable and require far less upkeep and maintenance than other generators.
For the most reliability and convenience, choose a dual-fuel portable generator. These can run on both gas and propane, allowing you to choose your fuel based on your needs.
Fuel Tank Size
The exact runtime of your generator will depend on its fuel tank size and wattage. Depending on their size, portable generators can hold anywhere from 1 to 12 gallons of fuel. On average, you can expect to get between 9-11 hours of continuous runtime from a standard portable generator, and even more from dual-fuel or propane models.
Number of Outlets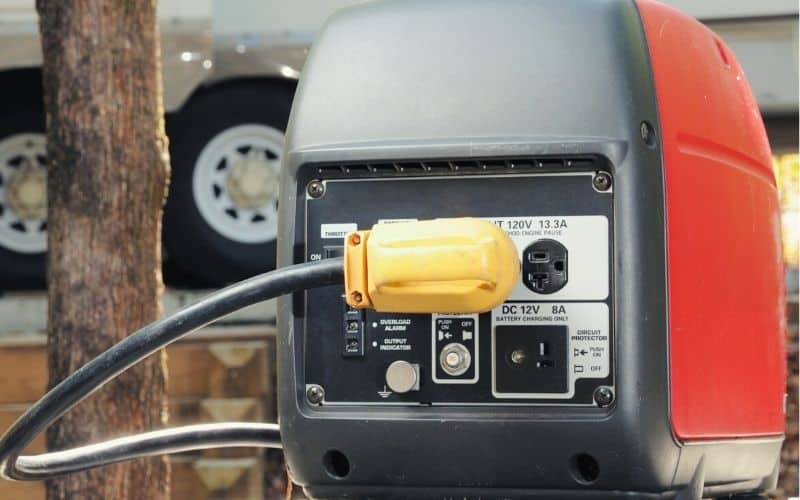 Double outlets are commonly found on portable generators and each one supplies 120 volts. Each generator comes with different types of outlets, so make sure the generator you're purchasing has the right type of outlet to power your devices. In general, the bigger the generator, the more outlet combinations it will provide.
Warranty
Generators require regular maintenance. Choosing a model with a warranty can save you from expensive repair bills down the road. The type of warranty your generator holds will depend on the manufacturer and model.
Whichever generator you choose, make sure you understand the kind of servicing facilities that are available in case your generator requires maintenance or repairs.
Best Portable Camping Generator: The Verdict
If you're in the market for a portable camping generator, you can't go wrong with the power and convenience of the Champion 3800-Watt. But if you choose any of the other generators for camping on our list, you won't be disappointed!
We hope this guide and our portable generator reviews have offered some clarity on choosing the best camping generator. If you've still got some questions looming, don't hesitate to ask them in the comments below!