These days, it's hard to find a hiker's pack that isn't filled with outdoor tech gadgets. From rechargeable headlamps to smartphones and GPS devices, tech gear brings some home-like comfort to the great outdoors and is indispensable in case of emergencies.
But keeping all that fancy tech stuff powered up in the backcountry is going to require a portable power source. To help you choose the best one for you, we've tried and tested many of the most popular power banks out there to come up with this list of our favorite adventure-ready portable chargers.
Editor's Choice
Goal Zero Venture 35
If you need portable power for all your off-grid adventures, look no further than the Goal Zero Venture 35!
The Goal Zero wins our grand prize thanks to its high output, multiple ports, and user-friendly features. With a battery capacity of 35.5-watt-hours, you'll get an impressive 3 smartphone charges out of one full charge.
Thanks to its dual charging capabilities, you can harness the power of the sun and charge your Goal Zero with the help of a solar panel. No more lugging around multiple batteries! Other user-friendly features include a built-in flashlight, a protective sleeve, and a waterproof port.
Bottom Line: If you're looking for a versatile outdoor companion to juice up all your gear and gadgets, this is it!
At a Glance: Quick Recommendations
Best Power Bank for Backpacking: Our Top 9 Picks
Goal Zero Venture 35
Editor's Choice
Capacity: 9,600 mAh ⸱ Weight: 10.1 oz. ⸱ Output: 3A ⸱ Ports: 5
The Goal Zero Venture 35 is a versatile device with a good weight-to-power ratio and an impressive battery capacity.
In terms of output, the Goal Zero offers 9,600 milliamp hours – more than enough to recharge all your backpacking gadgets and devices. Add a solar panel to your kit and you can recharge your bank on the go thanks to its dual charging capabilities (USB and solar).
With a recently upgraded IP rating of IP67, the Goal Zero is now waterproof, dustproof, and always adventure-ready! Another useful perk for campers and backpackers is the Goal Zero's built-in 50-lumen LED flashlight.
Overall, the Goal Zero Venture 35 is a well-rounded backpacking power bank for anyone looking for a simple and no-fuss solution to powering up their devices in the backcountry.
PROs

High output
Many ports
High IP rating
Solar panel and regular charging

CONs
Bottom-Line: The perfect option for backpackers looking for the ideal balance of capacity, portability, and rugged durability.
NiteCore LC10
Best Ultralight
Capacity: 3,400 mAh ⸱ Weight: 0.98 oz. ⸱ Output: 1A ⸱ Ports: 1
The NiteCore LC10 is a three-in-one portable battery pack, flashlight, and backup light all in one teeny tiny compact case. Weighing in at an incredibly light 0.98oz, it's our top pick for backpacking minimalists who love saving on every ounce.
On top of being impressively light weight and portable, the NiteCore adds a few other handy features into the mix. It's got an integrated USB input and output port along with a built-in lightning adapter for Apple devices. As an added safety feature, charging protection automatically disconnects your devices upon charging completion.
While it's true the NiteCore doesn't offer a tremendous amount of juice, it remains an affordable and ultralight battery bank suitable for weekend warriors and day-trippers.
PROs

Price
Weight
Multiple functions
Dual output ports

CONs
Bottom-Line: A highly functional and lightweight choice for minimalist backpackers. The smallest power bank on our list.
Charmast Power Bank
Best Value
Capacity: 26,800 mAh ⸱ Weight: 15.2 oz. ⸱ Output: 4A ⸱ Ports: 4
Looking to squeeze some value out of every dollar you spend? If so, we think you'll be impressed with the Charmast.
There's a lot to love about the Charmast. It's a high-capacity battery and high-output charger with a sleek and pocket-friendly design that resembles a smartphone. Four ports allow you to charge multiple devices simultaneously while LED indicator lights let you know the exact charge remaining.
While the Chamast is up there with the Anker PowerCore+ 26800 PD for the highest capacity charger on our list, it's lighter and less expensive. You'll also enjoy high-speed charging through both a USB-C cable or micro USB input.
PROs

High capacity and output
Many ports
12-month warranty
LED indicator light

CONs
Bottom-Line: If you're willing to carry the extra weight, the Charmast is the ultimate high-capacity solution for charging multiple devices.
MyCharge Adventure 15,000 mAh
Most Durable
Capacity: 15,000 mAh ⸱ Weight: 12 oz. ⸱ Output: 2.4A ⸱ Ports: 2
Heavy-duty, drop-resistant, and weatherproof, the MyCharge Adventure is ideal for hikers, backpackers, and campers that love to push their gear to its limits.
With its small, compact design and high portability, the MyCharge is the ultimate outdoor companion. Thanks to a waterproof case and rubberized finish, you'll never have to worry about the weather forecast or dirt and debris damaging the battery pack. A convenient, built-in carabiner lets you clip the device right to your pack for easy access.
With a 2.4A output, you can fully recharge a phone battery five times from one full charge, making it a suitable choice for multi-day backpacking or camping trips.
PROs

High IP rating
Built-in carabiner clip
Rubberized finish

CONs
Bottom-Line: A heavy-duty, backpacking power bank capable of handling extreme weather conditions. 
The Anker PowerCore 5000
Best Budget
Capacity: 5,000 mAh ⸱ Weight: 4.8 oz. ⸱ Output: 2A ⸱ Ports: 1
The Anker PowerCore 5000 offers top-notch performance at a budget-friendly price. With fast charging and recharging speed along with a sleek and portable design, this compact power bank makes a great choice for budget-conscious backpackers.
Due to its low output, the Anker PowerCore may not be the best choice for multi-day adventurers loaded up with energy-guzzling gadgets. But if you're heading into the backcountry with just a smartphone, this device is a great, affordable, and highly portable companion.
PROs

Price
Weight
Quick charging time
18-month warranty

CONs
Bottom-Line: An affordable yet functional device with an impressive 18-month warranty. 
Goal Zero Flip 12
Best Portable Design
Capacity: 3,350 mAh ⸱ Weight: 2.5 oz. ⸱ Output: 1A ⸱ Ports: 1
Looking for a highly portable power bank suitable for everything from your office commute to hitting the trail? If so, the Goal Zero Flip 12 will make a great addition to your backpacking must-haves list.
Thanks to a slim profile, metal outer casing, and compact size, this battery bank wins our top spot for best portable design. Another outstanding feature is the fact that this handy device can be conveniently charged through either its USB port or through a solar panel. Pair it with most modern solar panels and you'll find it fully charged in just 3 hours.
While the Goal Zero Flip does have one of the lowest outputs on our list, you'll still get one full charge for most smartphones. It also ties with NiteCore as the most affordable option on our list.
PROs

Affordable
Ultralight
Solar charger

CONs
Bottom-Line: A good choice for backpackers looking for a portable and solar-ready bank for powering their smartphone.
Anker PowerCore+ 26800 PD
Best for Multiple Devices
Capacity: 26,800 mAh ⸱ Weight: 25.6 oz. ⸱ Output: 2.25A ⸱ Ports: 3
If you need to charge all sorts of fancy tech while backpacking, the Anker PowerCore+ 26800 has your back.
To start with, it offers one of the highest battery capacities on our list alongside the Charmast. Unlike most portable battery packs, all that extra power will allow you to charge big devices like laptops and tablets.
All that power comes at a cost in both weight and $, as the Anker PowerCore is one of the priciest and bulkiest battery packs on our list. But if you're desperate to keep multiple, energy-hungry devices charged up while out on your adventures, there's no better choice for a backpacking power bank.
PROs

High capacity
Enough power to charge a laptop
18-month warranty
Can charge two devices at the same time
USB C port

CONs
Bottom-Line: The Anker PowerCore is the ideal choice for backpackers with multiple gadgets to charge. 
Anker Astro E1 6700
Most Versatile
Capacity: 6,700 mAh ⸱ Weight: 4.4 oz. ⸱ Output: 2A ⸱ Ports: 1
The Anker Astro offers all the durability and top-notch performance of the Anker PowerCore+ 26800 at a fifth of the weight and for considerably fewer bucks.
You'll indeed be sacrificing a lot of the juice that makes the Anker PowerCore+ 26800 PD so powerful, but if you've only got 1 or 2 small gadgets to charge, the Anker Astro becomes the obvious choice.
The Anker Astro also has a few features that set it apart in its own right. Its light weight and compact size make it perfect for carrying in your pocket, while a smart USB port allows you to charge most devices at full speed (2 amps). Conveniently, you'll find the necessary micro USB cable right in the box.
PROs

Affordable
Lightweight
18-month warranty
Included micro USB cable

CONs

Not waterproof
Only 1 port
Bottom-Line: A no-fuss, small power bank for backpackers looking for a simple solution for charging small gadgets. 
BioLite PD
Best High Capacity
Capacity: 20,000 mAh ⸱ Weight: 16.4 oz. ⸱ Output: – ⸱ Ports: 3
The BioLite PD Power Banks is a feature-packed portable charger that's always adventure-ready thanks to its durable build.
With a 20,000 mPh battery capacity, you'll have plenty of juice for charging up all your gear (that's roughly 4–5 full smartphone charges!). In addition to its impressive output, this backpacking power bank provides several ports, including ​​2 x USB-A quick-charge out ports.
If you're looking for durability and portability, it's hard to beat the sleek design and ruggedness of the BioLite.
PROs

High capacity
Multiple ports
Durable
Rapid charging

CONs
Bottom-Line: A high-capacity device with a durable design. Perfect for multi-day camping or backpacking trips.
How to Choose a Backpacking Power Bank
mAh-to Weight Ratio
Capacity is shown as milliamps per hour (mAh) and it's just a fancy way of describing how much power a portable charger has to charge your devices. The higher the capacity, the more gadgets it can fully charge before the bank itself runs out of juice.
When backpacking, you always want to consider the mAh-to-weight ratio. As mAh capacity increases, so do size and weight. Find a middle ground between the power you need and the size and weight you're comfortable lugging around.
For a one-night trip, aim for at least 5000–9,000mAh like the Anker Powercore 5000 (roughly 1 to 2 smartphone charges). These models are usually small enough to conveniently fit into your pocket.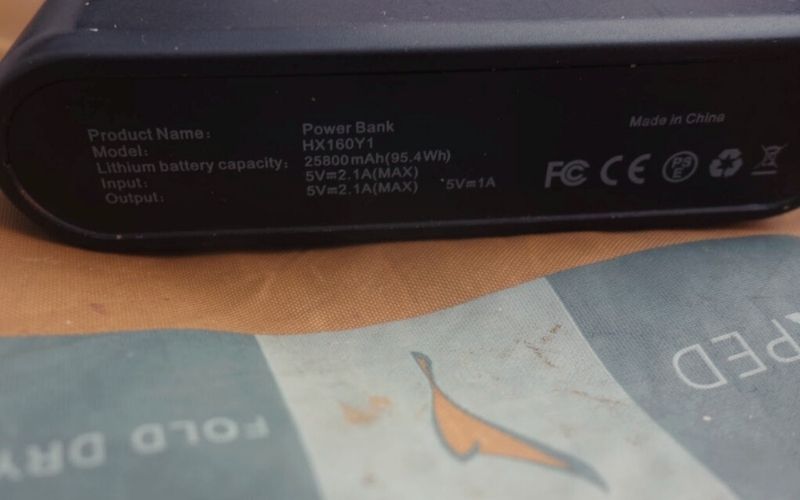 If your trip spans multiple days and you need more power, aim for a bank with an mAh capacity of 20,000+, like the Charmsat or the Anker PowerCore+ 26800 PD. Any bigger and you'll be adding considerable bulk and weight to your pack.
Charging Speed
For impatient backpackers, you'll want to choose a bank with a fast charging speed. Battery output is measured in voltage and amperage (here's an in-depth look at how both work).
The important thing to remember is that it doesn't matter how fast your bank charges devices if you don't match the input and output charging speeds. For instance, if your smartphone has an input of 5V/2A (5 volts and 2 amps), then you need to find a bank with the same output. Otherwise, you won't be able to charge your devices at full speed.
Keep in mind that most power banks offer different charging speeds for different port types.
Number of Outlets
If you're looking to charge several devices simultaneously, you'll need a charging device with multiple outlets.
For many people, one port will be enough. But if you've loaded your pack with a number of gadgets and don't want to take turns charging up your stuff, aim for a bank with more than one port.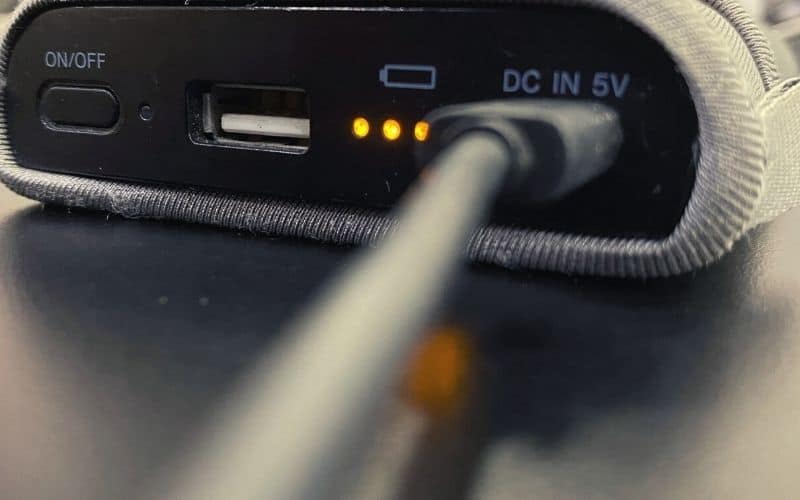 Just remember, when you charge multiple devices your portable charger might not give maximum current to each port.
Waterproofing?
If you regularly romp through the backcountry in questionable weather, you might want to double-check the IP rating of any device before purchasing. Power banks all have an IP rating (ingress protection) which describes how much water, dirt, and debris it can safely tolerate.
If you're looking for a charging bank that can withstand rough weather, aim for a rating of at least IP67 (like our top pick, the Goal Zero Venture 35, or the MyCharge Adventure).
Added Features
Some other useful features you might want to keep an eye out for are pass-through and wireless charging.
Pass-through charging means that you can charge a device connected to your battery pack while charging the battery of the bank itself. While this might not be relevant for backpackers who have no means of recharging their power pack, it can be very useful for campground campers.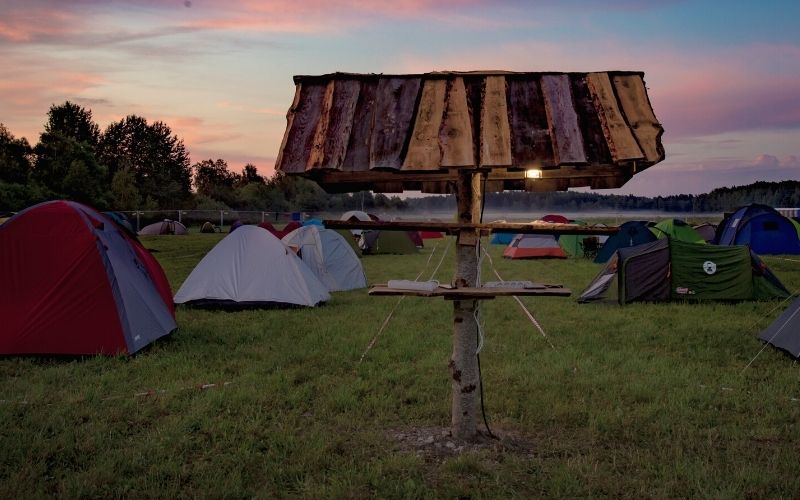 Wireless charging allows you to skip the cables and charge your devices by laying them on top of the battery. This is an easy way to lighten your pack, although usually, only smartphones are compatible with this technology.
Best Power Banks for Backpacking: The Verdict
The power struggle is real in the backcountry! If you're worried about how to keep all your gear powered up during your next backpacking trip, we think no hiker, camper, or outdoor adventurer can go wrong with the Goal Zero Venture 35.
What did you think of our list? There are many other power banks for backpacking out there, so do let us know if we forgot your favorite. Feel free to share this list with your friends too!