Most of the time, spending a night or two in the backcountry means going without a few of the conveniences of home. The ability to charge your gadgets, however, needn't be one of them.
Having your own power bank for your camping adventures gives you the freedom to camp anywhere, safe in the knowledge that your phone, camera, headlamp, GPS, or other electrical devices will have enough battery life when you need to use them.
To help you find a reliable, trail-ready power source, we've rounded up 9 of the top products on the market. Whether you need something basic for your phone, a way to charge several devices at once, or something for bigger appliances, we've got you covered.
Editor's Choice
Anker PowerCore III Elite 25600 87W Portable Power Pack
For weekend trips where you want to recharge your devices a few times, the Anker PowerCore III Elite 25600 is a great choice. Anker is a titan in the world of portable power solutions, and the PowerCore III Elite shows why.
With sleek styling and smart features like high-speed charging and 4 USB outputs, this portable charger makes as much sense in your travel duffle as it does in your briefcase. Use it to charge your smartphone, headlamp, or even your laptop. We've even seen this model used for backpacking!
The PowerCore Elite comes with an 18-month warranty and Anker's customer service has a reputation for taking care of any problems that arise. If this camping power bank doesn't quite fit your needs, Anker has lots of other reliable and trail-ready options to choose from.
At A Glance: Quick Recommendations
Best Portable Battery Charger for Camping: Our Top 9 Picks
Anker PowerCore III Elite 25600 87W Portable Charger
Editor's Choice
The Powercore III Elite is the top all-around performer on this list. Pack this small, lightweight, portable charger in your duffle bag and forget about it until you need it.
Its 25,600mAh capacity is enough to charge most phones, tablets, GPS devices, and other mobile devices several times. The four USB output ports allow high-speed charging of multiple devices at the same time and the pack can be fully recharged in just 2 hours.
Specs:
Size: 7.22 x 3.24 x 0.94 inches
Weight: 19 oz
Capacity: 25,600 mAh
Ports: 2x USB-C, 2x USB-A
Max Output: 87W per port, 24W total
PROs

18-month warranty
Small and lightweight
Fast charging speed
Can charge four devices simultaneously

CONs

Pretty expensive
Not the highest capacity
Bottom-Line: Lightweight, reliable, and boasts a high capacity for the size.
HALO Bolt
Best Value
The HALO Bolt is a portable battery pack and emergency car kit combined, which means it's a ideal choice for road trips. It has a large, 58,830 milliamp capacity and can charge up to three devices at once with its outputs: two USB ports and one AC plug.
Not only can the HALO Bolt recharge your tech, it also comes with a set of jumper cables that will allow you to jump-start your vehicle! As if that wasn't enough, makers HALO threw in a handy built-in flashlight for added convenience.
Specs:
Size: 7.2 x 3.8 x 1.5 inches (18.3 x 9.7 x 3.8 cm)
Weight: 2.8 lb
Capacity: 58830 mAh
Ports: In: 1x DC, Out: 2x USB-A, 1x AC
Max Output: 12W (USB-A), 60W (AC)
PROs

Can jump-start vehicles
90-day warranty
Very affordable
AC plugin and DC car adapter included
Portable
Built-in micro USB cable

CONs

Only 3 charging ports
Outdated USB ports
Bottom-Line: This is the only power bank we tested with the capability to jump-start vehicles!
Dark Energy Poseidon Pro Portable Charger
Most Waterproof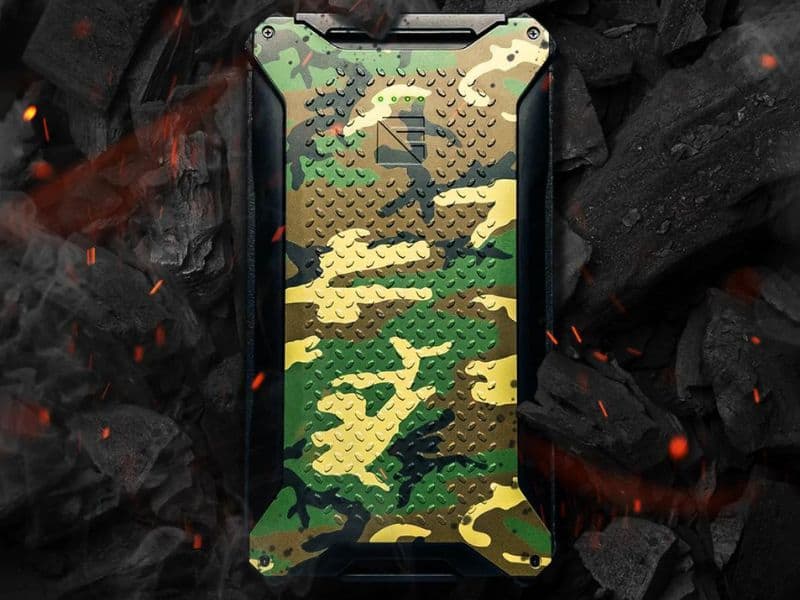 Worry about getting your portable power supply wet? If so, then the Dark Energy Poseidon Pro should be somewhere very near the top of your shortlist.
This awesome little device can be submerged in water for up to 45 minutes and has an ingress protection rating of IP68, which is the highest water and dustproof rating there is.
The Poseidon Pro is also highly portable and extremely durable. Its ultra-strong polymer shell can handle huge falls and strong crushing forces. It also comes with a ballistic-fiber-reinforced USB-C cable and a 5-in-1 carabiner (which is more multitool than carabiner, really!).
The 10,200 milliamp battery pack can recharge your small devices a few times. And it has USB C and USB output ports, so it can charge two devices at the same time.
Specs:
Size: 6 x 0.81 x 3.5 in
Weight: 11.2 oz
Capacity: 10,200 mAh
Ports: 1 USB port, 1 USB-C port
Max Output: 10W
PROs

Lightweight
One of the most portable chargers on our list
Waterproof
Dustproof
Shockproof

CONs
Bottom-Line: Tough, lightweight, and the only waterproof battery pack on this list.
Goal Zero Sherpa 50 Solar Recharging Kit with Nomad 13 Solar Panel
Best for Off-the-Grid Travel
The Goal Zero Sherpa 50 Solar Recharging Kit includes the Sherpa 50 energy bank and the Nomad 13 solar panel. This solar charger weighs just under three pounds, so it's portable enough to bring to basecamp with all your tech gadgets.
Every plug on this device is color-coded, so it's very easy to use, even for Boomers or the tech-averse!
This portable pack can be charged by solar energy over the course of a day, via a regular electric outlet in just 3 hours, or even using your car battery. Once charged, it holds enough power to charge a full-size laptop once and a smartphone 3-4 times.
The included Sherpa Inverter even turns this bank into a wall plug that lets you charge most laptops, tablets, and camera batteries.
Specs:
Size: (pack) 5.3 x 4.5 x 1.3, (solar panel) 10.5 x 7 x 1, (inverter) 5.25 x 1.5 x 1 inches
Weight: 2.5 lbs
Capacity: 5200 mAh
Ports: USB port, 6mm port, laptop port, sidecar port, AC inverter US, AC inverter Int., Charging port
Max Output: 120W
PROs

High output
Solar powered
Charges laptops or anything else
Inverter included

CONs

Pretty pricey
Not waterproof
Bottom-Line: One of the highest-output devices we tested and comes with a solar panel and multiple inverters for world travel.
BioLite Campstove 2
Most Multifunctional
With this campstove-charger combo device, you can charge your phone and other small gadgets using the excess heat produced when cooking your meals.
Yeah, you read that right…
Load the BioLite Campstove 2 with wood or pellets and the heat from your fire will be converted into electricity – enough of it to charge small devices like phones, tablets, and GPS units.
This groundbreaking little device also has an LED dashboard that lets you monitor fire strength, battery life, and fan speed, so there'll be no guesswork involved in gauging how much juice you have to do your charging with.
To get the full cooking experience, it's advised to buy the complete kit version of this stove and battery bank. With the complete kit you'll get a grill attachment, a coffee French press, and a KettlePot that also works as a carrying case for the stove. It comes with a light so you can see what you're cooking at night, too.
The BioLite Campstove 2 has a small battery storage capacity, low output, and only one USB port, so it's ideal for travelers with minimal tech or as a backup for your main charging device.
Specs:
Size: 5 x 7.9 inches
Weight: 2.1 lb
Capacity: 2600 mAh
Ports: 1 USB-A
Max Output: 3W
PROs

Multifunctional!
LED dashboard
Works for cooking and charging
Easy to transport

CONs

Pricey
Internal battery lacks power
Accessories sold separately
Can only charge a small device
Bottom-Line: This device might have the lowest output, but it's also the only battery bank on our list that can use biomass as an energy source!
OUTXE 20000mAh Portable Charger with Flashlight
Best Budget
How does an affordable, highly portable, and reasonably powerful charger that can re-juice 4 devices simultaneously sound? If your answer to the above was 'perfect', then your search for a new power bank for camping can end with the OUTXE Portable Charger.
OUTXE might not be a brand name that carries the same cachet as Anker or Goal Zero, but with this tidy little device they provide these top dogs with stiff competition.
The OUTXE has dual micro USB and USB-C inputs, so is a little more versatile than other devices in its price range. It can also be recharged in a respectable 5 hours via an AC wall outlet, can recharge cell phones 4-6 times on a single charge, and is remarkably small given its 20,000-milliamp capacity.
Specs:
Size: 6.6 x 3.2 x 0.9 in
Weight: 16.5 oz
Capacity: 20,000 mAh
Ports: 2 USB, 2 USB-C
Max Output: 5W
PROs

Affordable
Charges 4 devices at once
Portable
Thin and Lightweight

CONs
Bottom-Line: A 20,000 mAh battery capacity is pretty good for the most affordable battery bank on this list.
Jackery Explorer 500
Best for Glamping
With a whopping 144,400 mAh of power, the Jackery Explorer 500 Portable is capable of charging everything you'd possibly want to bring on your camping trip. You can run a TV, a blender, or portable cooler off this device, and it has plenty of outlet choices to recharge your devices from, too.
You can recharge the Explorer 500 with a wall outlet or from your car, and you can also turn it into a solar power bank using a Jackery SolarSaga 100W solar panel.
PROs

Highest capacity
Multiple outlets
High output
2-year warranty
Solar capable

CONs
Bottom-Line: The highest capacity portable battery on our list, this one's ideal for power-hungry devices.
Goal Zero Yeti 150
Best Value for Car Camping
The Goal Zero Yeti 150 is a great choice for longer-term camping trips. It's very affordable, and its capacity of 168 water hours means you can recharge all your devices many times over. If you pair it with a Goal Zero Solar panel, moreover, you can recharge the device itself from the sun.
The Yeti 150 has two USB ports, one AC outlet, and a 12V outlet, and a small screen that allows you to view the battery's remaining charge.
Though it is a compact power station and has a convenient carry handle, the device's 12-pound weight will be a dealbreaker for some.
Specs
Size: 7.75 x 6.75 x 5.75 Inches
Weight: 12 lbs
Capacity: 168 Watt Hours
Ports: 2x USB Ports, 1 12V Outlet, 1 AC
Max Output: 120W
PROs

Many charging ports
High output
Recharges from many sources

CONs
Bottom-Line: A sturdy, reliable, and affordable battery pack with one of the highest outputs on our list.
BALDR Portable Power Station
Most Versatile for Car Campers
If your idea of camping includes a mini-fridge and TV, the BALDR is an excellent choice! With tons of charging options and reassuring safety features, this battery pack is a great addition to your campsite kit. You can also easily add any solar panel with an 8mm DC port to turn this into a solar charger.
Along with four USB ports, there's a Qi wireless charging pad on top for your smartphone. There are multiple DC ports and an AC outlet to use with any wall charger, too. The USB-A ports support fast charging, too.
Specs
Size: 9.4 x 6.1 x 6.5 inches
Weight: 7 lbs
Capacity: 288 Watt Hours
Ports: AC, 2x 12V DC Ports, 3x USB-A, USB-C, 1*Cigarette Port: 12V/10A, 5W Qi Wireless Charging
Max Output: 330W
PROs

DC to AC conversion
Multiple charging options
High output
Can be charged with solar panels
Fast charging speed

CONs

Not quite powerful enough for microwaves!
Heavy
Bottom-Line: This battery bank has a total of 9 ports and has the highest power output of all the devices on our list.
How to Choose a Portable Power Bank for Camping
Solar Power Bank or Standard?
Portable solar panels will allow you to stay off the grid for longer. However, a solar setup will cost more money than a standard battery bank since you'll also be paying for the solar panels. The Goal Zero Sherpa 50 Solar Kit comes with everything you need to get into a basic solar setup and is our favorite for long-term trips on the trails.
Another thing to consider is whether or not you'll be camping in sunny locations. If you're primarily going to be camping in forested areas, then your solar panel won't be getting enough direct sunlight to charge.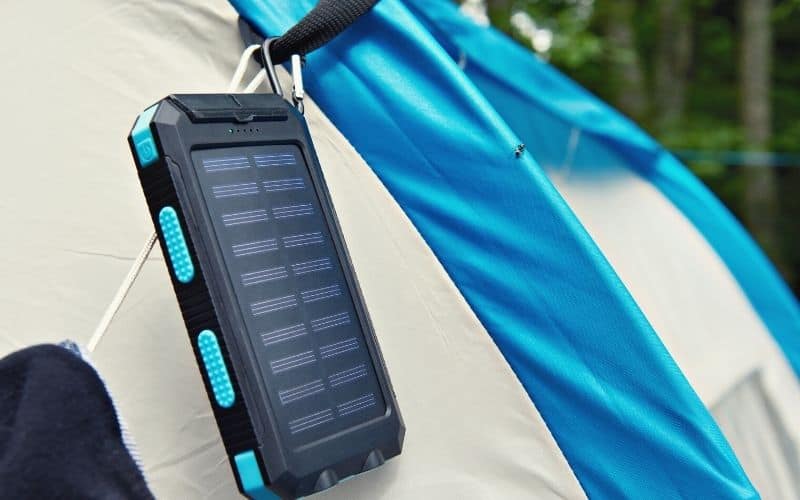 Power Output
The battery packs on our list have outputs ranging from 3 watts all the way up to 330 watts.
If you need a device to charge smartphones, laptops, tablets, and GPS devices, the output of smaller packs like the PowerCore III, OUTXE Power Bank, or Dark Energy Poseidon Pro will suffice for overnight or even multi-day trips, depending on how many of these gadgets you have.
For larger appliances – TVs, energy-hungry laptops, etc. – or if you're sharing the charger with your camping cohorts, you're gonna need a larger device like the Jackery Explorer 500 or BALDR Power Station.
Battery Capacity
Battery capacity dictates how many times your battery bank will be able to charge your electronic devices.
The more devices you have, therefore, or the longer you plan on being away from an on-grid power supply, the more battery capacity you're going to need.
We tested battery packs that have as little as 3,200 milliamps (BioLite Campstove 2) all the way to 144,400 milliamps (Jackery Explorer 500). For short trips with small devices, power banks like the Biolite or Dark Energy Poseidon will likely do the trick. For multi-day trips, or if you have larger devices, a high-capacity or solar-charged battery pack is a better option.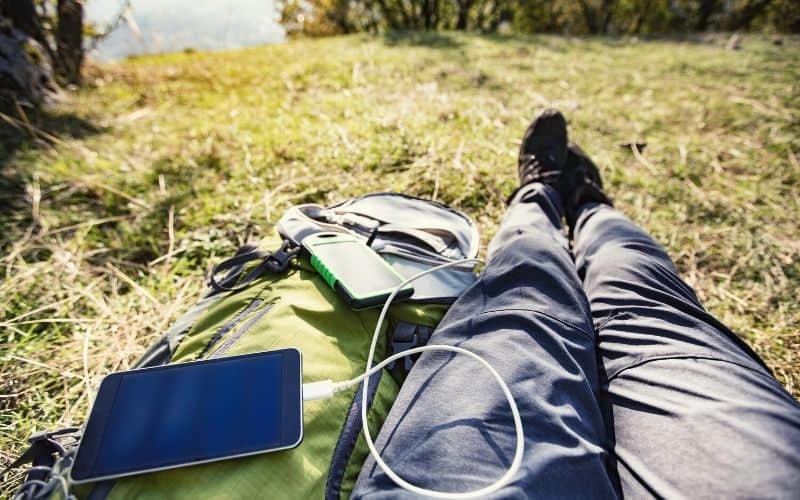 Size & Weight
Usually, size and weight are a tradeoff with output and battery capacity. If a battery pack is small, it probably won't have a high capacity or output. Generally, the opposite is true as well: bigger means more capacity.
But how big do you need to go?
Our advice is to gauge how much power you need from your external battery pack and pick one that fits those needs.
We tested battery packs of all shapes and sizes. These included models small enough to fit in the pocket in your seatback pocket like the PowerCore III Elite, HALO Bolt, Dark Energy Poseidon, Goal Zero Sherpa, and OUTXE.
We also tested some power stations that are too heavy and bulky for anything other than frontcountry camping, such as the Jackery Explorer 500, Goal Zero Yeti 150, BALDR Power Station.
Charging Ports
Multiple charging ports on your battery bank allow you to recharge multiple devices simultaneously. This is helpful if you want to get all your charging done at once. The portable power banks we tested here have as few as 1 charging port (Biolite Campstove) and as many as 9 (BALDR Portable).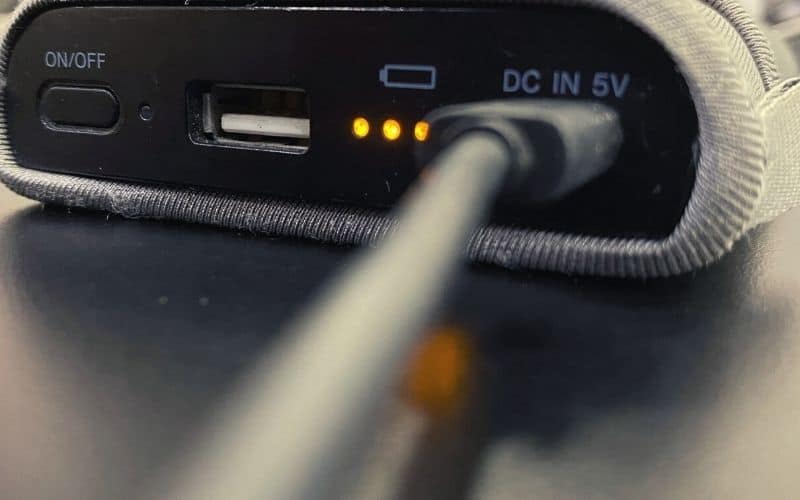 Durability
The more rugged your adventures, the more rugged and durable you'll need your battery bank to be. We've seen products from Anker and Goal Zero last a really long time, so the Anker PowerCore III Elite and the Goal Zero offerings on this list are shoo-ins if you're prone to treating your gear to a little rough and tumble.
If you really plan to put your charger through the wringer, then we recommend a pack that's drop-proof, shockproof, and waterproof, like the Dark Energy Poseidon Pro.
Best Power Bank for Camping: The Verdict
In summary, if you're heading on a backpacking trip with multiple gadgets in need of charging, our top pick is the Anker PC III Elite, a highly portable yet powerful little device that can charge up to 4 devices at a time and won't weigh down your pack excessively.
If the Anker's a little too pricey for your budget, the OUTXE Portable Charger is a solid – if less powerful – alternative. And if you need a little more juice for energy-hungry devices on frontcountry camping trips, the high-capacity BALDR Portable Power Station is hard to beat.
We hope this guide helps you find the right power bank for your needs. If you have any questions, let us know in the comments box below! And if you'd like to share this article with your friends, feel free to do so!