If you are the type of camper who heads out no matter what the weather's doing, you need to know that the shelter you'll be spending the night in is reliable and fit for the task.
Not all tents, of course, fit the bill, but we've been busy separating the wheat from the chaff. We tested more than a dozen contenders and in this guide we reveal the results with a selection of awesome tents that are standout performers in wet and windy conditions.
Our list includes a little bit of everything, from two-person backpacking tents to 6-person family tents, as well as a few budget picks for buyers less willing to splurge. Below our individual tent reviews, you'll also find detailed buying advice to help ensure you get the right option for your needs.
Our Top Picks by Category
Budget: Kelty Discovery and FLYTOP 2-Person
Family Car Camping Tent: North Face Wawona, Kelty Discovery, and Kodiak Canvas Flex
Backpacking: MSR Hubba Hubba and Big Agnes Copper Spur
Editor's Choice
MSR Hubba Hubba NX 2
Our pursuit of the best tent for wind and rain uncovered many worthy contenders, but the pick of the bunch and our standout favorite was the MSR Hubba Hubba NX2.
Designed for extended backpacking trips, this ultralight tent is compact and weighs less than most 2-person tents. Despite this, it offers plenty of room for two sleepers plus all their gear and is sturdier, more waterproof, and more durable than many tents that weigh twice as much.
The Hubba Hubba is made with a 20D ripstop nylon canopy and rain fly with a 1,200mm hydrostatic head rating. Both the bathtub floor and rain fly are coated with MSR's proprietary Durashield™ technology to boost waterproofing. The low-profile shape of the tent and its Easton Syclone poles also help to ensure stellar performance in blustery conditions.
Bottom line: Ultralight, easy to pitch, and an outstanding performer in gnarly conditions.
At a Glance: Quick Recommendations
7 Best Tents For Wet and Windy Weather Reviewed
MSR Hubba Hubba NX 2
Editor's Choice
Capacity: 2-person ⸱ Seasons: 3-season ⸱ Weight: 3.5 lbs.  ⸱ Floor Space: 29 sq. ft.
The Hubba Hubba NX 2 is a true all-rounder. It's durable, highly waterproof, lightweight, and offers enough space for two people plus gear.
The Hubba Hubba weighs in at just 3.5 pounds and packs down to 18 x 6 inches. Despite this, it offers ample living space and uses tough enough materials to excel in wet and windy weather conditions.
The inner tent is made with DWR-coated, high-tenacity nylon and has a 15-denier mesh roof for ventilation. A 1,200 mm, 20-denier ripstop rain fly and 3,000mm, 30-denier bathtub floor and integrated rain gutters make it waterproof enough for even the gnarliest 3-season conditions, while its Easton Syclone poles provide great stability in heavy wind.
We also loved how easy this excellent tent is to pitch – when the weather's wild, after all, you want setup to be as quick as possible. Thanks to its unified hub-and-pole system, use of color-coded clips, and intuitive design, we were able to transform it from packed to pitched in roughly 2-3 minutes.
The Hubba Hubba does have a few downsides…
The most notable is the aforementioned shortage of interior space. While this is to be expected with models geared towards backpacking, you might want a little more for car camping. The lack of factory-sealed seams also means you'll have to proof them yourself before heading out in wet weather.
PROs

Lightweight
Reliable in high wind
Durable materials with Xtreme Shield Waterproof Coating (3,000mm)
Good ventilation
Two-door design makes it easy to get in and get out
Easy setup

CONs

Expensive and footprint sold separately
Unsealed seams
Bottom-Line: A tough, lightweight, and well-designed waterproof tent that's built to make high-wind camping a "breeze."
FLYTOP 2-Person Backpacking Tent
Bargain Buy
Capacity: 2-person ⸱ Seasons: 3 to 4-season ⸱ Weight: 5.94 lbs. ⸱ Floor space: 24 sq. ft.
The Flytop 2-Person is best for budget-seeking hikers and campers who are new to the outdoors. It doesn't shy away from rain and wind protection and has plenty of convenience-adding features and surprisingly robust materials given its low price.
The Flytop's waterproof, double-wall design and features like a snow skirt and burlier fabric make it ideal for camping trips in three- and even four-season conditions. The anti-tear checkered polyester fabric is also tough enough to deal with strong winds and survive any coming-together with stray branches or debris blown about in the breeze.
The dome-style design of the Flytop and its strong aluminum tent poles together make it more aerodynamic and a solid performer in harsh winds.
The Flytop is, however, heavy, bulky, and a little short on space, weighing in at almost 6 lbs. and boasting a mere 24 square feet of floor space and a peak height of just 39.3 inches. Its shortage of mesh panels also means it lacks ventilation and makes it overkill for camping in warmer conditions.
PROs

Budget price
Waterproof
Durable fabric
Snow skirts to keep the ice out

CONs

Heavy and bulky
A tight squeeze for two
Not the best ventilation
Bottom-Line: Cheap, cheerful, and a solid performer in wet and windy conditions.
The North Face WAWONA 6
Best Family Tent
Capacity: 6–8-person ⸱ Seasons: 3-season ⸱ Weight: 20 lbs. 15 oz. ⸱ Floor Space: 86 sq. ft.
Almost everything about TNF's Wawona 6 is big. It maximizes its ample interior space to give much-needed comfort to campers who don't want to deal with cramped sleeping arrangements. It also has a high ceiling that allows even taller adults to walk around inside without hunching and a massive front vestibule for storing gear and even lounging.
The new, updated version of the Wawona 6 is also a strong performer in wind and rain compared to its predecessor. The previous version had only a partial-coverage rainfly, whereas the new version has a full-coverage fly and re-engineered poles that both simplify setup and boost stability in strong winds.
The Wawona offers a very generous 86 square feet of floor space (enough for two queen air mattresses), has an enormous, 44.7 sq. ft. vestibule, boasts a peak height of 80", and has plenty of storage pockets that help keep the floor free of clutter. All of the above makes it one of the roomiest and most livable six-person tents out there.
And the downsides? Well, we would've appreciated more than one door, but given that the entryway in the Wawona is big enough to drive a car through, it would feel a little nitpicky to grumble at this minor shortcoming.
If you like the look of the Wawona 6 but don't need quite so much space, check out the Wawona 4.
PROs

Waterproof
Huge vestibule and door
Plenty of pockets
80" peak height
DAC poles
High-quality materials

CONs
Bottom-Line: The perfect pick for car-camping families.
ALPS Mountaineering Taurus 4-Person Tent
Best Budget Tent
Capacity: 4-person ⸱ Seasons: 3-season ⸱ Weight: 10 lbs. 8 oz. ⸱ Floor Space: 65.3 sq. ft.
This entry on our list of best tents for windy conditions is another low-cost option that outperforms many pricier competitors in wet and blustery conditions.
So, what makes the Taurus a standout?
Well, while a little on the heavy side (10 lbs. 8 oz.), a lot of those extra ounces translate into superb waterproofing and durability. It boasts a 75D 185T polyester fly with a 1,500mm waterproof coating and a 2,000mm bathtub style floor that extends up to 4 inches to keep groundwater out. While the poles are fiberglass, they're thick enough to withstand strong winds.
The fly on the Taurus also buckles on for maximum protection and minimal flapping when conditions are blustery, while the two-door design ensures you have a dry/drier spot to cook in or change into shoes when the wind's blowing the wet stuff sideways.
PROs

Excellent ventilation
Extremely easy to pitch
Roomy interior
Vestibule for gear storage

CONs
Bottom-Line: A slightly heavy option but a great pick for car camping couples who need a little extra space or small families.
Big Agnes Copper Spur HV UL 2 mtnGLO
Best Ultra Lightweight
Capacity: 2-person ⸱ Seasons: 3-season ⸱ Weight: 3 lbs. 3 oz. ⸱ Floor Space: 29 sq. ft.
If you need an ultralight rain and wind-resistant bolthole for backpacking trips, then the Big Agnes Copper Spur is well worth considering.
The Copper Spur tips the scales at a teeny 3 lbs. 3oz., but is relatively roomy, has two doors and two vestibules, and is solid in crummy conditions.
It uses double rip-stop, mixed-denier nylon fabric for added tear strength and puncture resistance, and a pre-bent span pole and high-volume pole hub design to increase strength and stability. Both the fly and the floor also have a 1,200mm waterproof polyurethane coating to ensure you don't spring any leaks.
While there is a slightly cheaper, regular version of the Copper Spur, we chose this version because the mtnGLO technology is well worth having. This feature takes the form of LED lights integrated into the seams that illuminate the interior with the click of a button. While this may seem like an unnecessary frill, it's mightily handy for late-night reading and card games!
Other nice features include the ability to suspend the doors outwards to create extended awnings, the wealth of mixed-sized interior pockets, and a massive "mezzanine" pocket that provides extra off-the-floor storage.
Finding any flaws with the Copper Spur would be nitpicking, but it is worth pointing out that its peak height (38") might make it a little claustrophobic for taller campers.
PROs

Lightweight
Large vestibules
Easy setup
Interior lighting!
Sturdy for the weight
PVC- and VOC-free seam tape
Aluminum poles

CONs
Bottom-Line: A high-quality, ultra-lightweight tent that excels in all weather conditions.
Kelty Discovery Element 6-Person
Best Value
Capacity: 6-person ⸱ Seasons: 3-season ⸱ Weight: 15 lbs. ⸱ Floor space: 89 sq. ft.
If you're looking for a reliable shelter for wet 'n' windy conditions without breaking the bank, the Kelty Discovery is well worth a place on your shortlist.
Like all Kelty tents, the Discovery lacks a few bells and whistles but covers its bottom line very well. In this case, that means you get a sturdy and waterproof 6-person shelter sans frills like gear lofts, awnings, or sophisticated storage, but a very practical one nonetheless.
At 15 lbs., the Discovery is the second heaviest model on our list. However, it makes up for this shortcoming (or excess) with ample floor space, a great peak height (77"), and a super-sturdy pole structure that lends stability in windy conditions. The only quibble we have is that the poles are made from fiberglass, so they're more prone to breakage during transportation.
PROs

Roomy
More affordable than other tents of this size
Large vestibule
Entire tent is made with DWR/PFC-Free fabrics and coatings
Pre-attached guy lines
Waterproof

CONs

Heavy
Only one door
Fiberglass poles
Bottom-Line: Heavy, but a great low-cost alternative to the Wawona or Kodiak Canvas for car-camping families.
Kodiak Canvas Flex-Bow 6
Best Canvas Tent
Capacity: 6-person ⸱ Seasons: 3/4 ⸱ Weight: 3 lbs. 3 oz. ⸱ Floor Space: 100 sq. ft.
Canvas tents tend to split opinion. On the one hand, they're back-breakingly heavy and about as packable as your average adult cadaver. On the other hand, they're the burliest tents in the business, waterproof, extra-sturdy, and standout performers in suboptimal conditions.
This pretty much sums up the Kodiak Flex Bow. It's exceptionally durable, tough as nails (almost), and laughs in the face of gnarly winds and biblical rain. It also, however, weighs a proverbial ton (64.5 lbs. to be more exact).
The Flex Bow's walls are made with Kodiak's breathable, silicone-treated, 8.5-ounce Hydra-Shield canvas, and the floor from polyester-reinforced 16-ounce vinyl. This gives it a certain old-school style and makes it just about as rugged, durable, and rain-resistant as they come. The alloy steel poles also make it able to withstand winds of up to 50 mph.
The Flex-Bow also gives you a whopping 100 square feet of floor space, meaning there's more than enough room for 6 adults plus gear. Add to this its 6.6-foot ceiling height and a large awning that extends from the doorway, and you have one of the most livable tents on our list.
Beyond its weight, the only real downside to this durable tent is the lack of a vestibule to store gear in. That said, the interior is so spacious that you'll only really miss it if you max out the capacity with sleepers.
PROs

Solid build (heavy-duty fabric and burly tent poles)
Excellent weather protection
Spacious
Great headroom
Large awning for cooking/kicking back outside

CONs

Heavy
Pricey
No vestibule
Bottom-Line: The Canvas Flex-Bow from Kodiak is a beast of a tent that's (very!) heavy but outperforms its lighter peers by far in windy and wet conditions. The ideal pick for a long-stay family camping trip.
How To Choose The Best Windproof Tent For Inclement Weather
Aerodynamic Profile: Cabin, Tunnel, or Dome Tent?
Tents come in many shapes and sizes, some of which are better suited for harsh conditions.
Tall tunnel, cabin-style, or box-shaped tents are the most susceptible to the wind because they tend to have taller peak heights and their steep walls offer more resistance to the wind.
The spherical shape, low profile, and curved walls of dome tents, on the other hand, make them standout performers in rainy and windy weather. This design allows wind to glide over the tent and rainwater to slide off before it can soak through the fabric.
The flip side of the above observations is that dome tents tend to be less livable than tunnels and cabins because of their lower center heights and the fact that this tapers off towards the edges of the tent.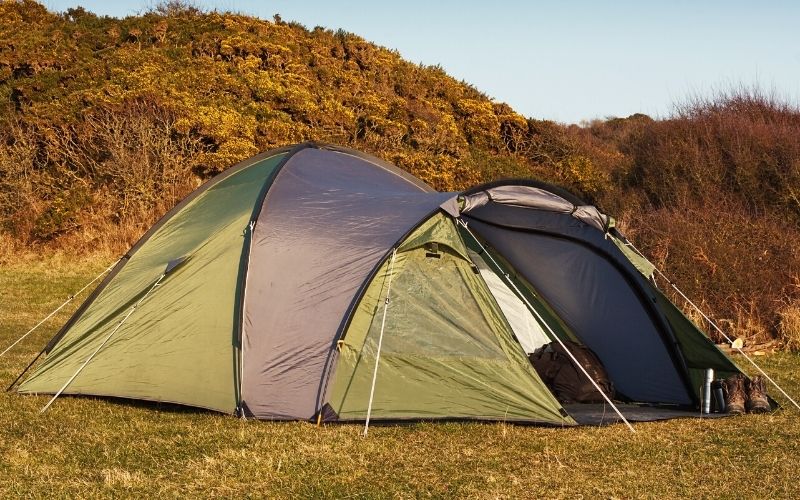 Wind & Water Protection
Water resistance in tents is measured in millimeters of hydrostatic head (HH), which refers to the amount of water pressure (i.e. how much of it) the fabric can withstand before beginning to leak.
For wet conditions, we recommend a rainfly with at least a 1,000mm rating, though a 1,200mm or 1,500mm rating will be more likely to keep you dry in sustained and torrential rains. Because tent floors are subject to more pressure – caused by the weight of the tent's occupants on the fabric – a minimum HH of 2,000 is advised.
In stormy conditions, wind resistance is equally as important as water resistance.
Wind resistance is mainly determined by the tent's shape, structure, and pole materials. Dome tents like the Hubba Hubba NX2, BA Copper Spur, and Kelty Discovery are the top performers because their curved walls and lower profiles make them more aerodynamic.
With tent poles, three options are available: aluminum, fiberglass, and steel. Of the three, steel is by far the strongest and fiberglass the weakest, though steel poles are also significantly heavier. The more poles there are, moreover, the more stable the structure will be in windy weather.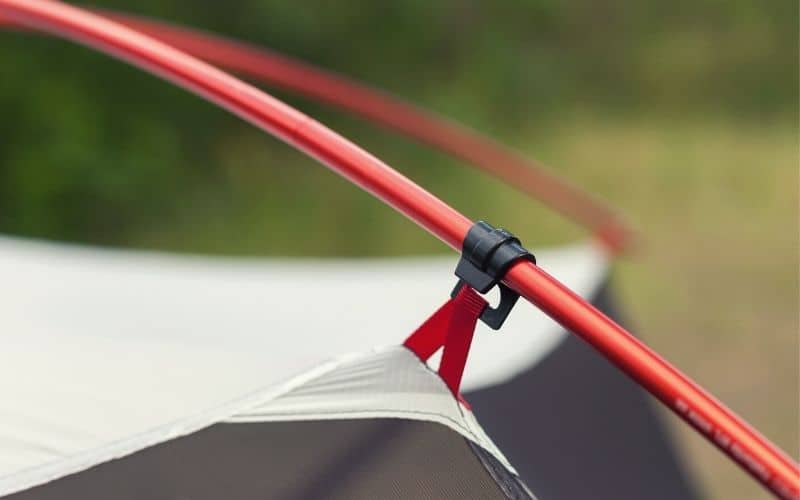 Materials and Durability
Durability is determined by the quality and thickness of the materials used in the tent's fabric.
There are two points worth noting. First, ripstop nylon or polyester is tougher than the regular kind. Secondly, the higher the denier (D) or thread count (T) of the fabric, the thicker and more resilient it will be. (Note: These measurements are used with all synthetic fabrics but not with canvas.)
The toughest tent on our list is the Kodiak Canvas, which is made with 8.5-ounce Hydra-Shield canvas and polyester-reinforced, 16-ounce vinyl.
The winner of our review, the MSR Hubba Hubba, uses a 20D ripstop nylon canopy and fly, and a 30D ripstop nylon floor, which helps make it both lightweight and extra tough. It also has reinforced patches, stitching at guy points, and anodized grommets for extra strength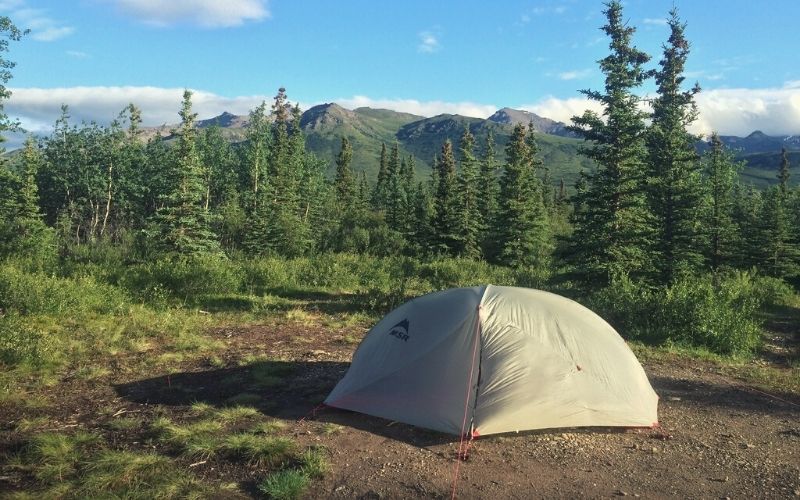 Some of the higher-end tents like the Big Agnes Copper Spur have a silicone coating applied to the fabric to add extra strength but without significant weight increase. However, as you may suspect, these treatments do come with a higher price tag.
Livability
Livability is determined by three things: Floor space, peak height, and storage.
A regular-size sleeping pad measures around 72″ x 20″ (L x W) and takes up roughly 10 square feet of space. This means the average adult sleeper will need around 15 square feet to feel comfortable and have a little extra room for their gear.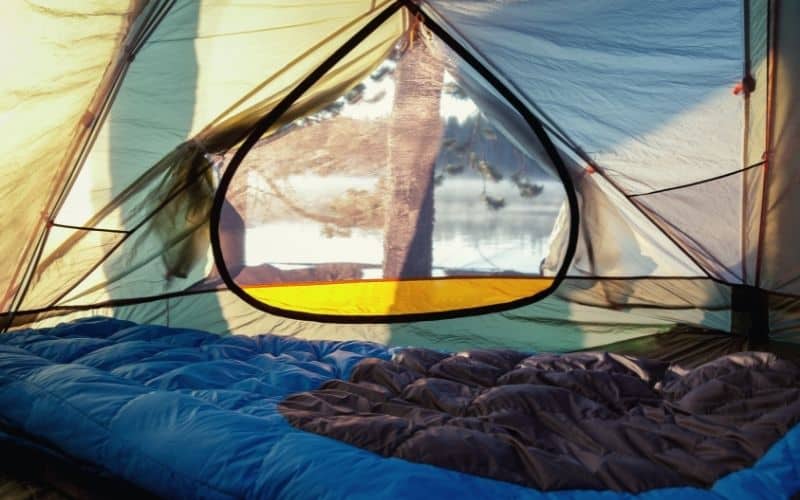 When it comes to peak height, there are a few points worth making.
Firstly, the taller the peak height, the more convenient the tent – in extra-tall tents like the TNF Wawona and Kodiak Canvas, you'll be able to walk around inside without even having to hunch.
Secondly, while the above is a huge boon for livability, taller peak heights also usually mean poorer wind resistance. For this reason, low-profile tents like the MSR Hubba Hubba and Big Agnes Copper Spur are standouts in exposed, wind-blown terrain, but are not ideal for long-term occupancy.
Because camping in crummy conditions could entail sitting out rainstorms for hours on end – something sure to induce cabin fever eventually – we recommend opting for a larger tent with a taller peak height if the weight penalty isn't too high.
And what about storage? Well, besides helping you keep things organized, storage features like vestibules, gear lofts, and wall pockets help to free up living space in the sleeping area, thus leaving more room for humans and boosting livability.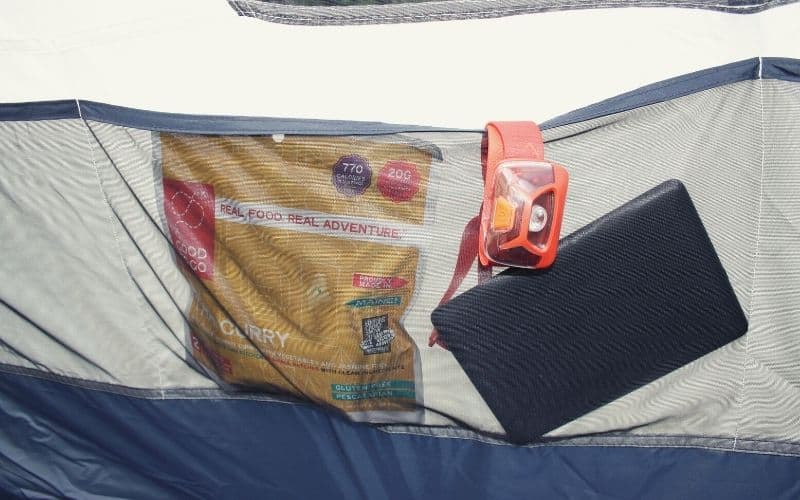 FAQs: Making Your Tents Wind-Resistant
How Do You Secure A Tent To Withstand High Winds?
To keep your tent from collapsing in high winds:
Position the strongest pole in the direction from which the wind is blowing
Bury the tent stakes or pegs deep, and cover them with rocks for extra strength.
Use all of the tent's guy lines and bring extra guy lines or paracord in case you run out
Test the guylines' tension, ensuring it's not too loose and not too tight
Where Should I Position My Tent To Avoid Strong Winds?
First, determine which direction the wind is coming from and pitch your tent downwind of natural windbreaks like rocks, boulders, or trees, if there are any. If not, look for any hollows in the terrain or the sheltered side of a ridge.
Secondly, ensure that your tent door is facing downwind. This will help to prevent the wind from entering and causing billowing.
Finally, don't pitch your tent directly under any trees – high winds could snap branches that could damage your tent (or worse).
Should I Use A Tarp Under My Tent In Rainy And Windy Conditions?
Tarps are incredibly useful during heavy rain. So if the weather conditions look iffy, don't leave home without one.
Place the tarp underneath your tent as an additional base layer. It helps protect the floor from sharp rocks and rubble and also helps to keep you dry and warm by providing another layer of insulation and protection from groundwater. Just make sure to secure it under the fly as an exposed portion of the tarp could collect water dripping from the fly and funnel it into the base.
Best Tent for Rain and Wind: The Verdict
Just in case you're still undecided, let's have a little recap to help you out.
Our favorite tent for wet and windy weather is the MSR Hubba Hubba NX 2. While not as spacious as other options on our list, the Hubba Hubba ticks every other box – it's highly waterproof, tough, lightweight, and has a dome-style design and robust pole structure that helps it withstand high winds.
If you're looking for something a little roomier, check out The North Face Wawona and the Kodiak Flex Bow. Both of these tents offer oodles of space and are stellar performers when the weather declines to play ball.
So, how did you like our article? If we missed anything or you have any questions, let us know! And if you'd like to share this post with your friends, please do!