Editors Choice
MSR Hubba Hubba NX 2
The MSR's Hubba Hubba tent is in a league of its own & is our pick for the best tent for rain and wind. It smashes the competition by mastering the essential elements that make up an excellent storm-resistant tent.
Designed for extended backpacking trips, this ultralight tent is compact and weighs less than most 2-person tents. That's perfect for daily 8-hour treks in moderate rain and wind.
The 3-pound weight doesn't affect the tent's toughness, though. The Hubba Hubba is resistant to both wind and rain. The 20D ripstop nylon that make-up both canopy and rain fly is hardwearing even with its thinness. And while it's not a rated 4-season tent, it can still withstand brutal winds with its sturdy and uncomplicated aluminum pole system.
Bottom line: Overall, the MSR Hubba Hubba is the best waterproof tent can capable of withstanding high winds of all the tents we reviewed. Ultralight, simple and durable, it's one of the best weather-resistant tents out there.
Top Tents For Rain and Windy Conditions
Looking for the Best Wind-Resistant Tent?
You're in the right place! In this guide, we will be covering the following:
How to choose the best tent for high wind
How to make your tent sturdier against high winds
Honest reviews of the top 5 wind-resistant & waterproof tents
Our pick for the best tent for rain and wind
The humble camping tent isn't just gear. It's your only refuge after a hard day of outdoor activities. It's your temporary house, a shelter for the entire duration of your stay out in the wild. So when the weather gets foul, it should be one of the safest places to be.
An excellent tent should be weather-grade. It must offer comfort and protection from the wind, the rain, and snow. Weather-resistant tents have had plenty of significant upgrades over the years. And there are now plenty of the best tents for rain and wind to choose from.
So if you're hoping to buy tents for your next camping trip, we've tested and gathered the best ones to help you stay warm, dry, and safe during the worst storms.
How to Choose the Best Windproof Tent for Inclement Weather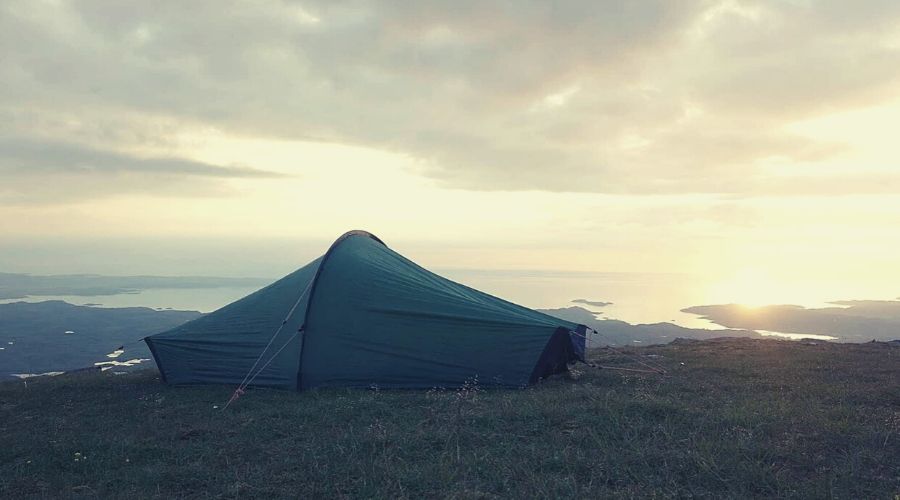 Aerodynamic Profile
Tents come in many shapes and sizes, but not all of them are well-suited for harsh climates. Tall cabin-style or box-shaped tents with high-positioned flies are popular for camping, but they're weaker against strong gusts. Instead, get a rounded tent that has a low profile.
A circular tent, such as a dome or basecamp, doesn't have a broad, flat surface that stands against high wind and pushes against it. Additionally, the spherical shape provides just enough aerodynamic surface that allows the wind to glide by safely.
The low profile keeps the tent as close to the ground as possible, lessening the wind's chances to act against it, so there's less leverage for gusts to tip it over.

Wind & Water Protection
Materials and Durability
What makes up that tent inevitably contributes to how much it can protect you and how durable it's going to be. As a general rule, focus on the fabric's Denier rating and water-resistance.
Denier or D is used to determine the thickness of the fibers in the fabric. It represents the fiber or yarn's length and weight that's weaved together to make the tent. Nylon that is typically used for outdoor activities, has 40D or 40 denier. Usually, the higher the rating, the thicker and more robust it is. However, do note that the floor may naturally have a higher denier rating compared to the walls.
With strong winds often comes rain. Tents must be resistant to the wind as well as the torrential downpour that inevitably comes with it. Check the seams if they're sealed and waterproof. Seams can look tight, but unless waterproofing is indicated in the product's description, it can leak.
The zippers should not be protruding out. Doors and windows should have small sleeves on the sides that hide them.
And lastly, look at the Hydrostatic Head or HH. Choose a tent with a water-resistance grade above 1500 mm for either the rainfly or the wall and 4000 to 8000 mm for the floor. The 1500mm number means that it can withstand the weight of a 1.5-meter column of water pressing down on it before drops will leak through.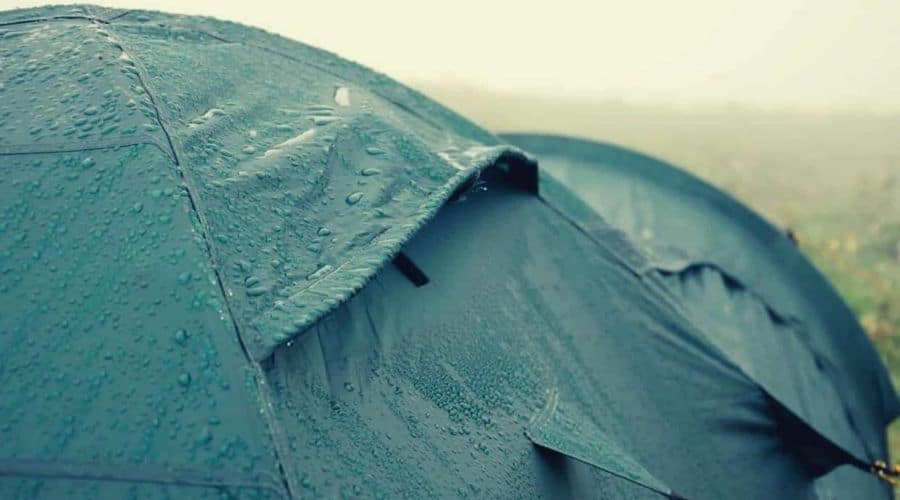 Full-Coverage Fly & Closable Mesh
For reference, a double-wall tent comes with two layers, a fly and the inner canopy with closable mesh areas. The fly is the second and outermost layer, which protects campers against the elements. Tents with flies work best for wet, damp, and humid environments as they help ventilate, releasing heat and moisture from inside the tent, and preventing dew from forming.
Capable wind-resistant tents have large low-positioned flies that cover every nook and cranny. They protect against the cold, help regulate the heat inside the tent, and provide the streamlined surface for the wind to flow by. They also give plenty of room inside the vestibule to store your shoes and other gear.
The inner canopy should have enough mesh areas that help with ventilation. Having no mesh "windows" on the tent makes it susceptible to dew drops. The mesh areas should also be closable for privacy and comfort.
Stakes, Guy Out Points & Guy Lines
Stakes are the pegs that you push into the dirt to hold your tent down. They work best if you drive them fully vertically into the ground. To secure your tent, don't just push the stakes halfway. They should be buried enough to allow you to tie a cord over them.
Similar to stakes, guy lines also provide extra stability. These are the visible loops or guy lines placed in strategic locations around the rain fly. Ultimately, they keep the entire structure from being blown away. And while they're instrumental during storms, they're mostly optionally used in fair weather.
Pole Structure
Poles are the tent's skeleton. And the rule of thumb is: the more intersections the frame has, the stronger it is.
Poles intersect when they need to "criss-cross" each other to hold the tent up. Look for tents with a decent amount of intersection in its overall frame. There's no exact ideal number, but it shouldn't go below 3.
Keep in mind that too many intersections also reduce the ease of pitching the tent. This is highly inconvenient when you're in a hurry to put up your tent in the middle of a rainstorm.
For the pole constructions themselves, you can choose high-quality aluminum or carbon fiber. Aluminum is light, cheaper, and reasonably durable. But it dents over time and may have issues at the ends of the poles inserted into the shafts.
On the other hand, carbon fiber is expensive but more hardwearing, depending on the fiber and resin used during the manufacturing process. They don't crack easily unless they've been put under immense pressure.
Look for DAC, one of the most highly reputable brands in the market. Their Wind Lab tested poles are used by MSR, Big Agnes, and other known brands.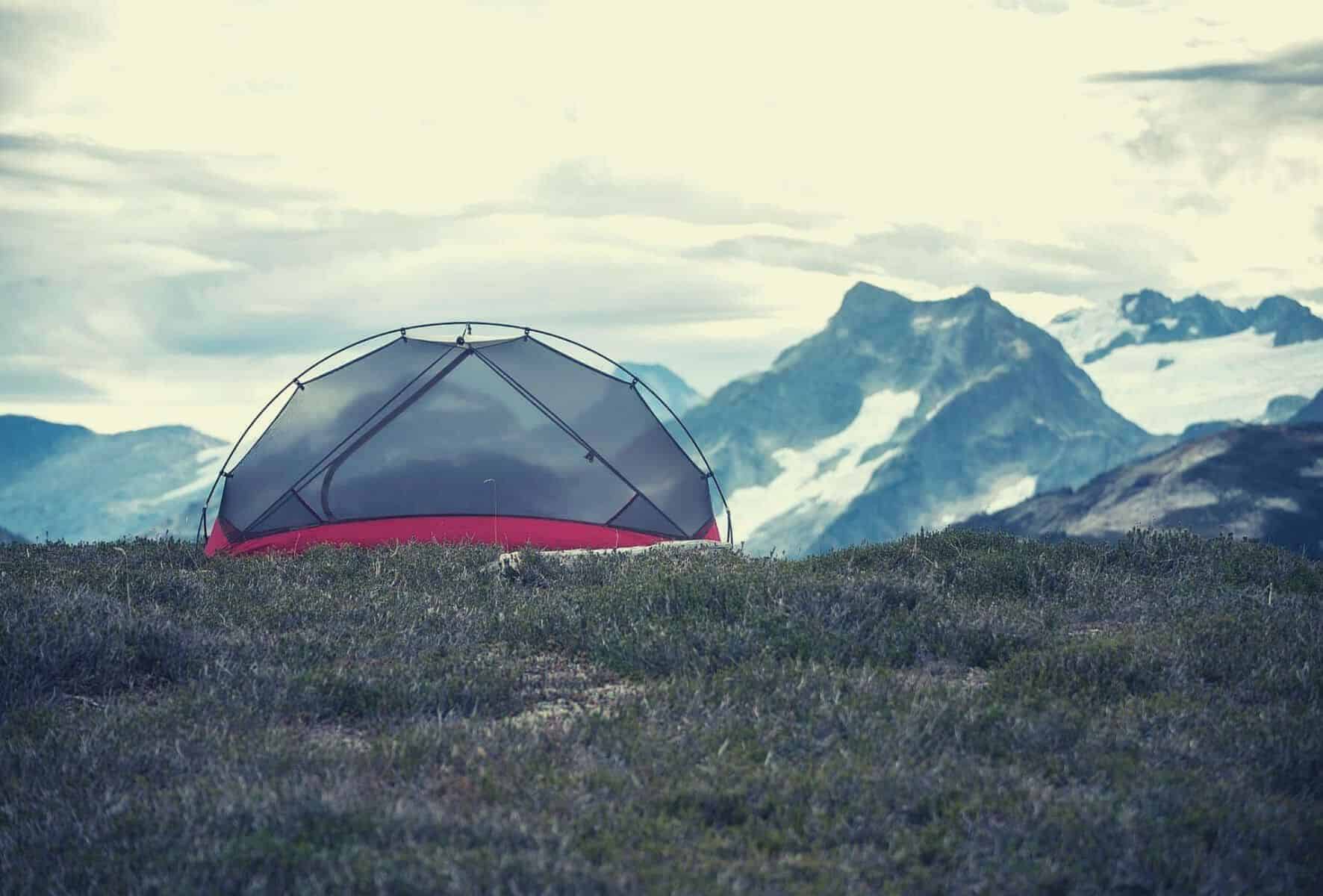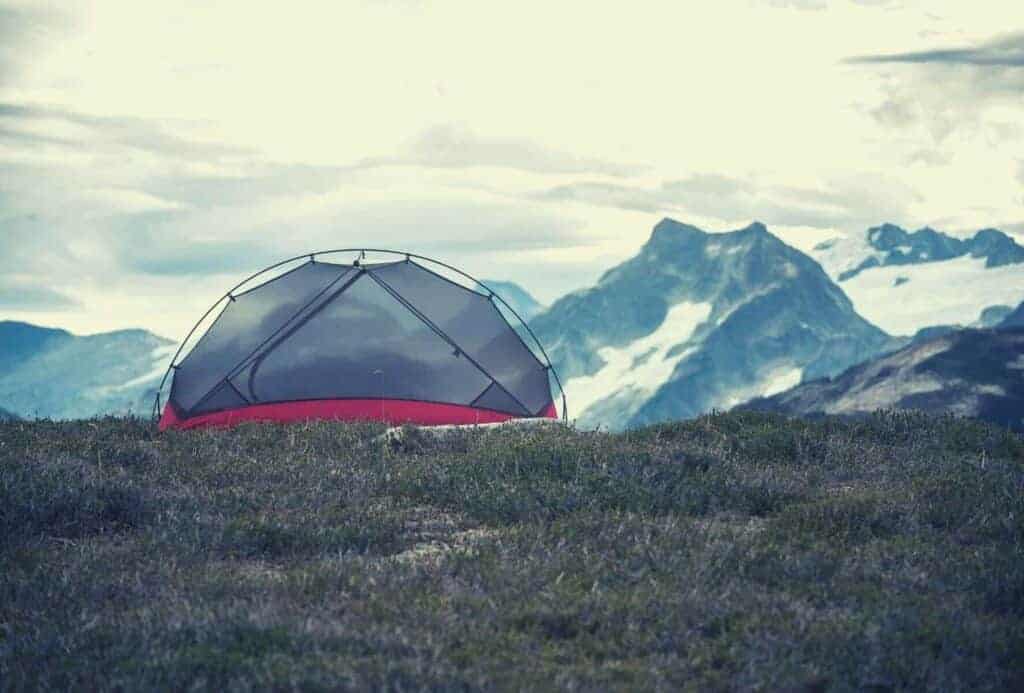 FAQs on making your Tents Wind-Resistant
#1. How do you secure a tent to withstand high winds?
Summits have unavoidable strong winds. To keep your tent from being blown away, here are our simple steps to remember:
Position the strongest pole in the direction from where the wind blows.
Stay away from weak trees and branches. They can fall on your tent.
If you can, set up a fly tarp above your tent. Lower one side to act as an additional shield against the wind.
Bury the stakes deep, and cover them with rocks for extra strength.
Use all of the tent's guy lines. Bring extra guy lines or paracords in case you run out.
Test the guyline's tension, not too loose and not too tight.
Place your rucksack and other gear inside the tent to act as an additional anchor.
#2. Where should I position my tent to avoid strong winds?
A properly sheltered spot can mean the difference between life and death when it comes to the outdoors. So finding a good area that's safe from the wind is vital.
First, find out which direction the wind is coming from. Pitch your tent a few paces behind a sturdy rock formation, a tree, or a bush. As mentioned above, check if there's any debris that might prove to be dangerous later. The goal is by staying behind them, you let those natural elements block the wind for you. However, if you are unsure of loose debris, then it's better to find a safer spot away.
#3. Should I use a tarp under my tent in rainy and windy conditions?
Tarps are incredibly useful during heavy rain. So if the weather conditions look iffy, don't leave home without one.
Place the tarp underneath your tent as an additional base layer. It helps protect the floor from sharp rocks and rubble and keeps you dry and warm during a downpour. Just make sure to secure it, tucked into the base, and away from the tent's fly. An exposed portion of the tarp can collect water dripping from the fly and funnel it into the base.
#4. What's the highest wind force that a tent can withstand?
Always ask about the tent's maximum wind speed. Excellent quality wind-resistant tents should be strong enough to brave winds that can reach up to 31 mph or 50 kph or even higher, all without tearing apart and its poles breaking. Regular quality weather-resistant tents can withstand approximately 7.5 mph or 12 kph to 15.5 mph or 25 kph.
Best Tents for Rain and Wind Reviewed
FLYTOP 1-2-person Backpacking Tent
Best Budget Tent
The Flytop 2-Person Tent is best for budget-seeking hikers and campers who are new to the outdoors. It doesn't shy away from rain and wind protection and having convenient tent features and standard materials, even if it's low-cost.
Unlike the 3-season Hubba Hubba, the Flytop is made for all seasons, in all weather conditions. This means that it can be a snow tent too. The anti-tear checkered polyester fabric is thick and durable to keep the interior dry even against colder conditions. It also has a snow skirt to keep the ice away.
This tent is most useful for days when the terrain is unfamiliar, and the weather conditions are much more wild and unpredictable, say sudden snowfalls and storms.
The Flytop is unfortunately heavy and bulky due to its thick walls and aluminum poles. It also doesn't have enough of its rainfly for a bigger vestibule space. Pair that with small ventilation windows on top, and the interior becomes too hot and humid during warmer seasons.
Capacity: 2-person
Seasons: 3 to 4-season
Weight: 5.94 lbs
Floor dimensions: 6'11 x 4'11
PROs

Budget price
All-season tent
Durable fabric
Snow skirts to keep the ice out

CONs

Heavy and bulky
Small vestibules and unremarkable ventilation
ALPS Mountaineering Taurus 4-Person Tent
Best Wind Tent for Beginners
The last entry in our list of best tents for windy conditions is for anyone new to camping and the outdoors in general. If you're looking for a storm-resistant tent with a mid-range budget, the Taurus may fit your needs.
Against a storm, the 4-person tent has hardwearing poles for high winds and a bathtub style floor that extends up to 4 inches to keep the water out.
It has a regular dome shape and a basic frame. With only one pole intersection, pitching is incredibly easy. The tent fabric can also endure rough conditions and minor mishandlings so that beginner-level care won't be too much of an issue.
The Taurus also excels in ventilation in the main canopy. This includes 2 meshed doors, 2 openings on the front and backside, and a meshed roof. However, there have been privacy concerns. Since you can't close the windows, you'd have to rely on the rainfly to give you cover. But that's quite a common minor inconvenience for many double-wall tents.
Lastly, this tent is surprisingly heavier and bulkier than the 2-person Flytop. It gets so bulky that it may become challenging to stuff it back into its sack.
Capacity: 4-person Tent
Seasons: 3-season
Weights: 7 lbs
Floor dimensions: 7'6 x 5′
PROs

Excellent ventilation in the main canopy
Extremely easy to pitch
Roomy

CONs

Cumbersome
Uncovered windows
MSR Hubba Hubba NX 2
Best Tent For Wind
MSR's Hubba Hubba NX 2, the winner of this selection, is a lightweight and compact tent that can stand against punishing winds.
This backpacking tent weighs two times less than the standard 2-P tent and a few ounces less than many other ultralights out in the market. And while these types of tents are known for looking flimsy and fragile, the Hubba Hubba is made to take a beating. Its high-quality nylon fabric, aerodynamic shape, and strong frame can resist wind speeds up to 60 mph.
Surprisingly, the frame remains uncomplicated despite its strength. The unified hub-and-pole system makes the set-up smooth and quite easy to master. However, the overly abundant mesh parts of the main canopy make it challenging to pitch mid-rain without getting the inside wet.
The rainfly, though average in size, makes up for it with its built-in rain gutters on its 2 doors. It also has a stargazer mode, a thoughtful quirk that allows campers a bigger view of the sky while staying inside the tent.
It's difficult to find faults in such a thoughtfully designed tent. Perhaps the only thing that will put buyers off is the high-end price and the tent essentials that are sold separately. Purchasing the entire set will inevitably require a bigger budget than what you're used to. But, with such an expensive price tag, the Hubba Hubba does deliver what it promises. Overall our top pick as the best tent for rain and wind.
Capacity: 2-person
Seasons: 3-season
Weight: 3.8 lbs
Floor dimensions: 7′ x 4'2
PROs

Lightweight
Sturdy wind-resistant frame that's easy to set-up
High-quality nylon fabric
Multifunctional rain fly that has 2 doors with built-in rain gutters and a stargazer view

CONs

Awkward to pitch in the rain
High price with a footprint that's sold separately
Big Agnes Flying Diamond 6
Best Family High Wind Tent
Big Agnes designed the Flying Diamond with the family in mind. Even while hosting up to 6 people, grouping inside comes easy as it's made with two rooms in different sizes. The smaller room is perfect for kids, while the more spacious one is great for adults. A removable curtain door can separate them for privacy.
The extended dome tent is burly enough for all seasons. It has a robust weather-resistant frame with four intersection points that can handle torrential downpours, high-speed winds, and even snow. But that comes with a price. That sturdy frame means a lot of poles making pitching the tent more cumbersome than some of its competitors.
The tent's full-coverage fly has been upgraded with an increase in its vestibule size, allowing for better ventilation, storage, and functionality.
However, the upgrade didn't include the tent's overall height. It's still too short for many adults. Specifically, an average 6-foot man won't be able to stand inside. Hunching over or crawling can get annoying, especially if you've paid for a supersized 6-person tent for camping.
Capacity: 6-person
Seasons: 3 to 4-season
Weight: 20.3 lbs
Floor dimensions: 12'6 x 8'/ 7'
PROs

Strong storm-resistant frame
2 big and functional vestibules
Spacious multi-sized rooms
Partition curtains for privacy

CONs

Complicated set-up
Shot apex height
The North Face WAWONA 6
Best Value
Almost everything about TNF's Wawona 6 is big. It maximizes its ample interior space to give much-needed comfort to campers who don't want to deal with cramped sleeping arrangements. It has a high ceiling for adults to breezily walk under without hunching their back. And its massive front vestibules are great for storing gear and even lounging.
For its rain and wind performance, the Wawona 6 tent may be a single-wall, but it's strong enough to withstand high-speed winds and heavy rains. It's 3-season rating, however, does not make it compatible with more frigid temperatures.
The tent's single-wall doesn't provide commendable ventilation. All it has are 2 large windows and 2 top vents. Without a rainfly to contribute to the tent's airflow, campers may experience annoying condensation and warm temperatures inside, especially in hotter seasons.
Putting that aside, the Wawona 6 tent is still a top contender for comfort and family-friendly camping. And with a low price tag, it's a good alternative of the Big Agnes Flying Diamond.
Capacity: 6-person
Seasons: 3-season
Weight: 20.9 lbs
Floor dimensions: 9'11 x 8'5
PROs

Fast pitching because of the single wall
Roomy and tall
Luxuriously big vestibules
Large vents and windows

CONs

Single walls don't have excellent ventilation during warmer seasons
Not a 4-season tent