With the holidays fast approaching, outdoor lovers are rummaging through their gear closets to see what needs upgrading. However, although it might be easy for you to come up with your holiday wishlist, you might be facing one daunting question: 'What outdoor gifts can I get for him?'
To start, try looking at the current condition of their outdoor gear: jackets, climbing shoes, trekking poles, sleeping bag, socks, boots. If (most likely) any of these are full of holes, are salt-stained, or are too smelly to even pick up, then you've got a good place to start!
Next, camping gear. Every outdoorsman loves his gear, but is there anything they keep complaining about, or a product they keep mentioning? That's another avenue worth exploring.
Last but not least, gadgets. Depending on the guy, they'll either know everything about these devices or know next to nothing. Either way, they're fast becoming indispensable in the outdoors and your loved one should have them!
Gear, gadgets, or garments? Whichever you choose, you'll find something for the outdoorsy man in your life below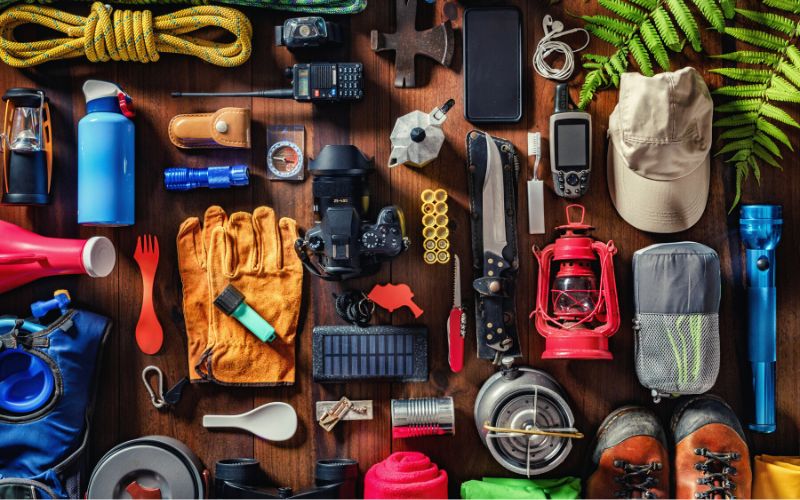 Gear
1. Leatherman Charge TTI
This is perhaps the most versatile gift on our list. Whether on local outdoor adventures, multi-day camping trips, or around the house when you can't find that bottle opener, this multi-tool is a great gift . . . or 19.
Why 19?
This durable, stainless-steel multi-tool has 19 tools! These include: can opener, bottle opener, hard-wire cutters, wire cutters, electrical crimper, wire stripper, saw, two knives, ruler, cutting hook, two files, and three screwdrivers.
This really is the perfect gift for the outdoorsy man in your life!
2. REI Co-Op Flash 55 Backpack
Has the outdoorsy guy in your life been using the same stitched-up backpack for years, though still complains about it? If this sounds familiar, this backpack is an awesome gift to show him that products evolve – and they can make your backpacking trip more pleasant.
REI's Co-Op Flash Backpack is designed to comfortably carry loads between 15-30 lbs. This lightweight backpack comes in yellow or black. Its well-padded shoulder straps can be connected to different loops to customize the fit, and the stable hip belt shifts the load to your waist for a more comfortable carry.
The backpack's storage design is amazing. The water bottle pockets are placed so you can grab your water without taking the backpack off. It features a roll-down top to cinch smaller loads. The top lid is removable, and there are loops for trekking poles and ice axes.
3. Sea To Summit Aeros Down
A pillow is one of the most underrated pieces of outdoor gear out there. Whether you and your outdoorsy guy are in the backcountry or car camping, a pillow always beats the old sack stuffed with dirty clothes.
This lightweight pillow comes in three sizes and features a down cushion top to maximize warmth and comfort on those cold nights out. Its multi-functional valve makes it easy to inflate and deflate and adjust the air inside the pillow. It comes with a 20D stuff sack, so the pillow can easily be packed for the next adventure.
4. ENO Doublenest Hammock
Not every outdoor gift should be for your outdoorsy man alone. Some of the best outdoor gifts are designed to provide proximity on your next adventure, and this one will most certainly bring you two closer.
The ENO Doublenest Hammock is extremely comfortable. At 9.5' and capable of holding 400 lbs, there's plenty of room for two. It's also breathable, incredibly lightweight, and constructed from a fast-drying fabric. It comes in an integrated and compressible stuff-sack.
The best gift ideas are those that provide shared and memorable experiences, and this is one of them!
5. Gerber Strongarm Fixed
Outdoor gifts can be so varied and obscure nowadays, but the best gifts are the most simple. Whatever you're doing outside, a knife always comes in handy.
The Gerber Strongarm is a fixed-blade bushcraft and survival knife. It has a 420HC blade, a diamond-textured handle of rubber, and a striking pommel at the base. It is durable and hard-wearing, and the blade is coated with ceramic to prevent corrosion, meaning it will serve your outdoorsman well for years.
You can also engrave the name of your outdoorsy man in a variety of different fonts for that personalized touch.
6. Gerber 17.5-Inch Freescape Hatchet
An absolute beast for your next camping trip. Whether you have to split wood or hammer in tent stakes, the Gerber 17.5-inch Freescape Hatchet can do it all.
The hatchet's construction is strong, to say the least. Featuring a forged-steel head and a composite handle, this tool will always provide a consistent, efficient, and reliable chop or bang.
And, if the outdoorsman in your life has a tendency to leave things behind at the campsite, he'll have no excuse with this hatchet. The bright-green rubber handle is visible, and the black glass will shine in any light.
7. Sahara Sailor Survival Shovel
Half the fun of giving someone one gift is knowing that there are more hidden within it, which is exactly what the Sahara Sailor Survival Shovel is all about. Aside from the collapsible shovel, there are 12 other tools. These include a bottle opener, whistler, cleaver, hammer, flat-blade screwdriver, hoe, saw, fish scaler, and a 4-size wrench.
The lightweight Sahara Sailor Survival Shovel is built from military-grade carbon steel and aluminum, so it's both extra-tough and highly portable.
Note, this isn't just a gift for serious outdoorsmen. It is especially useful in winter and can be kept in your truck or car for ease of access.
There is also a lifetime guarantee on the shovel. If anything happens, your outdoorsy man can get it replaced and keep having fun.
8. Outdoor Survival Ammo Can
When it comes to outdoor gear, we've saved the most comprehensive kit for last. This Outdoor Survival Ammo Can has everything your outdoorsy man needs to survive the gnarly outdoor activities he'll be getting up to in the new year.
Inside the ammo can there is a collapsible shovel, a knife, a field manual, a 50-foot paracord, and an emergency survival blanket and glow stick. Additionally, since you've gotta eat to survive, there are three different bars and a pack of beef jerky.
Clothing
1. Mountain Hardwear Ghost Whisperer 2
This light down hoody is one of the most popular jackets out there and with good reason. It's incredibly warm and versatile. The revamped Ghost Whisperer 2 uses recycled fabrics and responsibly sourced 800-fill RDS-certified down.
If your outdoorsman has duct tape all over his current down jacket, this is the ideal gift. The jacket comes in 7 different colors and is good for climbing, hiking, backpacking, and casual wear.
Note, the hood on this jacket may be the best feature, for when it is cinched up, no air will get in – he'll be toasty.
2. Salomon Quest 4 GTX
Grippy, robust, comfortable – the Salomon Quest 4 GTX should be at the top of your gift ideas… especially if your outdoorsman is still hiking in sneakers!
Unlike many hiking shoes, these boots provide incredible foot stability and foot protection in the outdoors. They are best for mixed terrain and technical trails. Following guidance from trail-runners, who run smoothly and fluidly, the Quest 4 GTX is built to provide a fluid stride, while providing all the stability necessary to carry a heavy pack.
The Gore-Tex membrane will also keep the feet of your outdoorsman nice and dry.
3. Teva ReEmber Moc
Comfortable, stylish, and durable, this is one of the best gifts for folks who like to camp.
Staying warm is crucial, and the Teva ReEmber Moc has just that in mind. Whether it's for the campsite, inside the RV, while belaying at the climbing gym, or for everyday wear around the house, your outdoorsman's feet will stay toasty.
These mocs come in a wide variety of different colors and the outside is protected with a water-repellent coating.
4. Outdoor Research Sombriolet
We all know those outdoorsy men who are still rocking their salt-stained and ripped-brim ball caps. And, on every outdoor adventure, they burn the back of their necks to a crisp.
If you're heading into the sun next year, this should be on your list. They may not find it fashionable at first, but after wearing it for an hour on that hot adventure, they'll be thanking you!
The Sombriolet has a UPF rating of 50 and a wide brim with piping to stabilize it in the wind and prevent it from blowing away (maybe they've lost their hat on a boat trip?).
This sun hat is very light, too. Along with the wicking fabric, a few air vents are included to keep the head cool.
5. Patagonia Down Sweater
This is an old classic – some would argue, a must-have. It is warm, lightweight, comfortable, windproof and, most importantly, versatile.
Patagonia is a leading brand in environmental ethics, values, and practices, and their gear is also specially designed for the outdoors. The Patagonia Down Sweater is fabricated from a 100% recycled ripstop outer fabric and is filled with 800-fill-power Advanced Global Traceable Down, which means that the birds are not force-fed or live-plucked.
The sweater design makes it a perfect extra layer for the winter, or the only jacket needed for crisp autumn days.
Spending a lot of time in the great outdoors means dealing with unpredictable weather. The Down Sweater packs into the internal pocket, which has a loop to attach a carabiner in. It can be stored in any backpack and pulled out as necessary.
6. Patagonia Quandary Pants
If you find yourself inundated with ideas for outdoor gifts and aren't sure what to get the keen outdoorsman in your life, these are guaranteed to not only solve your quandary(!), but to also put a smile on their face.
Comfortable, lightweight, and ultra-stretchy, the Patagonia Quandary Pants are some of the most versatile and functional hiking pants out there. Don't believe us?
They're constructed from 95% nylon (65% recycled) and 5% elastane . . . but, they don't stop there. They have a durable water-repellent (DWR) finish as well as 50+ UPF protection. And, if you thought the multi-functional stopped there, there are also two options for inseams: 30" and 32".
These pants come in a variety of colors and, simply, look good. So, if you're looking for outdoor gifts that can tick two boxes in one, these hiking pants will serve them outdoors, at home, or even in the office.
7. Darn Tough Light Hiker Micro Crew Socks
These are the workhorse of hiking socks.
Made from 61% merino wool, 36% nylon, and 3% lycra, these socks are comfortable, fast-drying, and extremely breathable.
Bonus? Since merino naturally repels bacteria and does not smell, these can be worn for a few days before needing a wash. In the summer, feet will stay cool. In the winter, they'll be warm. What more can you want?
Darn Tough socks are guaranteed for life – no strings attached. The light Hiker Micro Crew is perfect to wear with hiking shoes or mid-height hiking boots. They're seamlessly constructed from a fine gauge knitting, resulting in a performance fit that means no slipping, bunching, or blisters.
Double bonus? The socks are very stylish, and the outdoorsman in your life will find themselves reaching for these socks on all occasions.
8. Columbia Silver Ridge Lite
This short-sleeved shirt has been a staple in the Columbia line for years, and it's still selling at a fast rate. This has been a classic outdoor gift for years, and it's guaranteed to get used on nearly every summer adventure.
The Columbia Silver Ridge Lite uses Columbia's Omni-Wick™ material. An antimicrobial treatment also protects this shirt from bacterial growth, which is perfect for those multi-day treks. The shirt is vented, fast-drying, and incredibly breathable. It is made from 100% polyester.
Novelties & Gadgets
1. Zippo Hand Warmer
A great stocking stuffer!
We may know Zippo as the classic, cool-flipping lighter brand, but they've also designed these 6-hour or 12-hour hand warmers, which are amazing. Whether your outdoorsy men are keen fishers, hunters, or campers, there's simply no easier way to keep your hands warm.
Before using the hand warmers, make sure you read the instructions!
2. Garmin inReach Mini
If the outdoorsy men in your life are often in isolated and very remote parts of the world, chances are they know about this product.
The Garmin inReach Mini is a satellite communicating device that provides connection when off-grid in the outdoors. It is crucial in emergency situations since you can trigger an SOS message to GEOS, which is the Garmin-powered International Emergency Response Coordination Centre.
With this, you can share and track your location with those at home, get weather updates, and interact with folk via the global Iridium satellite network.
3. THERMACELL Backpacker Mosquito Repeller
If you spend a lot of time outside in nature, then you know how bad mosquitoes and midges can be.
The Thermacell Backpacker Mosquito Repeller creates a zone of 15 feet to protect you from mosquitoes. A good thing about this product is that it uses the same gas canister that you're probably already bringing to boil water or cook food, so this is only a small addition to your backpack for a huge gain!
If you're sitting around fishing or chatting by a lake, this is a guarantee to fend away the beasties.
4. Garmin Instinct Solar Watch
With the development of smartphones came the development of the simple wristwatch.
While it might be old news to some that you can carry a GPS on your wrist, Garmin's Instinct watch is solar-powered, meaning it has unprecedented battery levels – 54 days in smartwatch mode.
The watch has GPS, GLONASS, and Galileo, which are crucial when you're outside in remote and wild locations. However, if the outdoorsy man you plan on giving this to doesn't head on epic expeditions, don't worry – it's still phenomenal.
Not only can the watch connect to various sports applications, but it has a built-in heart rate monitor, which can tell you how well your body is absorbing oxygen at high altitudes and calculates stress levels. Really, it's an all-in-one gift – one he'll love!
5. GoPro
Taking your phone out to take a photograph is not always convenient. It might be raining, yes, but you might also be skiing down a steep face, climbing up sketchy terrain, or hiking on a knife-like ridge – and these are just the kinda place where you want to keep your hands free!
GoPro long ago figured out how to mitigate that. With a variety of different attachments, you're now able to capture incredible footage of outdoor adventures without having to hold a camera or pay attention to it. Just make sure it's on, and you're set!
Over the years, GoPro has developed many different models. From more affordable earlier models to more professional ones, there is a GoPro to suit any adventurer.
Bonus? It fits in a stocking, but is much more than a simple stocking filler – trick of the trade!
6. National Parks Adventure Pass
There are 37 national parks in Canada and 63 in the United States, and these include some of the most varied, scenic, and wild landscapes in the world. Strike up a casual conversation about nature with the outdoorsy men in your group, and we can guarantee they've got a handful of national parks on their dream list of places to visit.
So, why not encourage them to get going? A National Park Pass is a fun gift – guaranteed adventure and beautiful scenery.
National park passes are either sold individually or for multiple national parks in a certain area.
7. Bushcraft 101: A Field Guide to the Art of Wilderness Survival
This iconic book by Dave Canterbury is a classic to get the outdoorsy men in your life prepared for their next adventures in the wild.
Bushcraft 101 is based on the 5Cs of survival: cutting tools, covering, combustion devices, containers, and cordages. Knowing how to use gear is far more important than having it. This book provides instructions on how to collect and cook food in the wild, what tools to bring and how to use them, the best ways to protect yourself from rain and snow, and so much more.
This book doesn't only help you survive in the wild, but it also helps you connect with your surroundings.
8. Goal Zero Venture 35
Battery life is something most outdoors enthusiasts worry about now when they go out into the hills. Everything drains your battery: camera, map, phone calls, and even cold temperatures!
The Goal Zero Venture 35 is a small, compact, and lightweight battery charger that's ideal for the outdoors. With two high-speed USB ports and weighing only 250g, it can charge a smartphone 2-3 times before needing a recharge and won't weigh you down.
9. REI Gift Card
Still unsure of what to get? Well, you certainly can't go wrong with a gift card – they'll be able to get whatever they want!
Best Gifts for Outdoorsmen: Let's Get Shopping!
Whether it's clothing, gear, books, or the newest technology, there are so many gifts for men that it can make shopping for outdoor-related gear daunting! However, we hope our list will help you narrow down the options for the best gifts for outdoorsmen! 
If you enjoyed this post and know anyone in need of gift ideas for the outdoorsy men in their lives, feel free to share this post! If you have any questions or comments, drop them in the box below.