While most visitors to the Empire State head right to New York City or Niagara Falls, there's plenty of outdoor activities and hikes to be found all over the place, many of which are a short trip away from New York City. 
It's a real local's secret – outside of the bars and restaurants and cultural events of NYC lie some world-class hiking trails. And many of these are accessible by public transport from the Big Apple itself. Our guide to the best hikes in New York introduces you to our favorites!
NY State Hiking Trails: Our Top 14 Picks
1. Breakneck Ridge Trail, Hudson Valley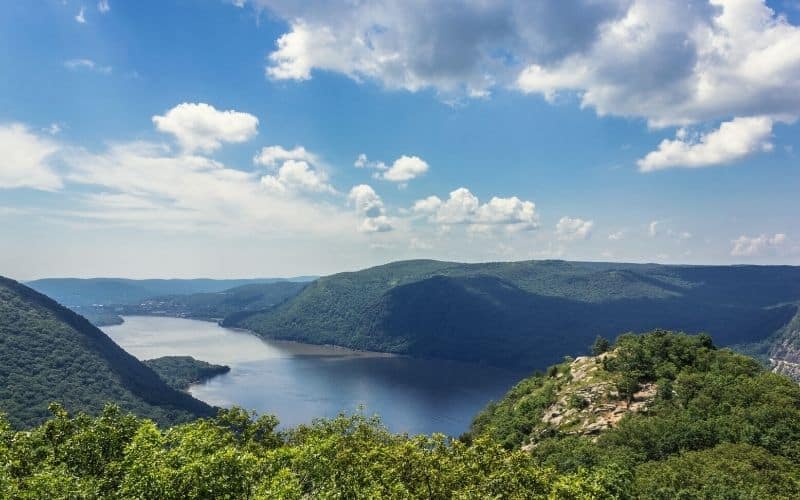 Type: Loop
Length: 9.6 miles
Difficulty: Challenging
Distance from NYC: 1 hour, 47 minutes
At 9.6 miles with plenty of scrambling, the Breakneck Ridge Trail is not for the faint of heart. Lace up your hiking boots for this one, as you'll work hard for the beautiful cliff overlooks and expansive views of the Hudson Valley.
This is one of New York State's most popular hikes, but it's far from easy. You'll find yourself doing lots of rock scrambling and will be hiking on steep terrain. As such, this trail is not great for young children. If you bring your dog, expect to give them a boost over a rock or two every now and then.
You'll hike along a sharp mountain ridge to reach a summit after 1,442 feet of elevation gain. There you'll find an old fire tower and jaw-dropping views of the Hudson Valley.
RELATED READING: For more outdoor adventure check out our guide to the best camping in New York.
2. Anthony's Nose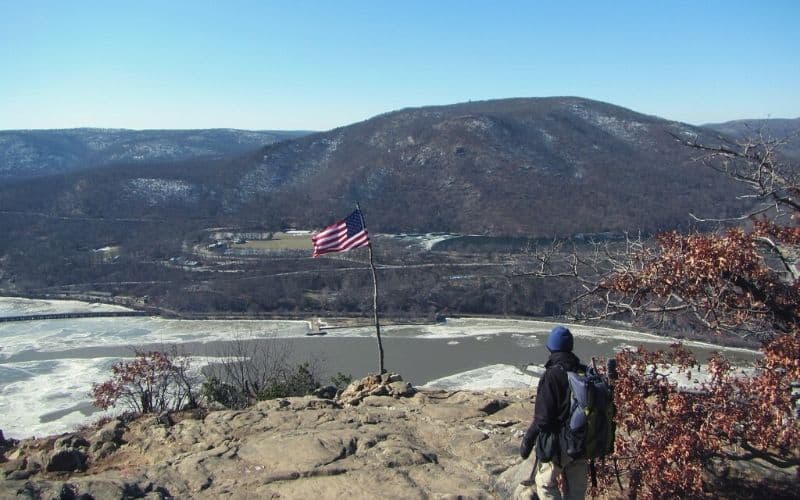 Length: 2.6 miles
Type: Out and back
Difficulty: Moderate
Distance from NYC: 1 hour, 11 minutes
Be sure to bring solid hiking shoes and plenty of water for this 2.6-mile out-and-back route along an interesting segment of the Appalachian Trail.
Anthony's Nose climbs for just over a half mile before flattening out toward an overlook.
You'll walk through the Hudson Highlands State Park Preserve, which holds 6,000 acres of public land and a large area dedicated to bird conservation. You can bring your binoculars to see any of the 55 species of migratory songbirds that have been recorded there.
You'll end at a large outcropping where you'll have a stellar view of the Hudson River and the Bear Mountain Bridge.
Be sure to start early on the weekends to avoid the crowds, or choose a weekday instead. This hike can be reached via public transportation, but you'll have to walk a fairly long (and scary!) section of road between Manitou station and the trailhead.
For more hiking, hop over the bridge to Bear Mountain State Park!
3. Buttermilk Falls Gorge Trail, Buttermilk Falls State Park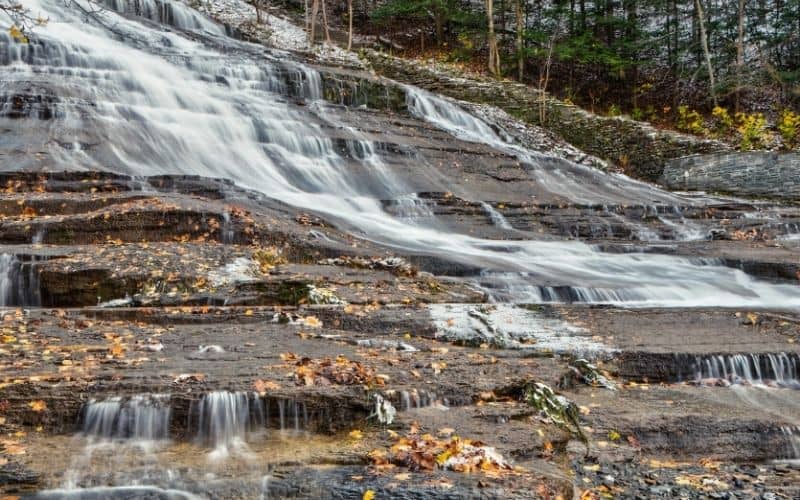 Length: 1.6 miles
Type: Loop
Difficulty: Easy
Distance from NYC: 4 hours, 14 minutes
Buttermilk Falls Gorge Trail is a 1.6-mile loop located near Ithaca. It gets its name from the cascading Buttermilk Creek that winds its way down the steep valley toward Cayuga Lake.
Pack your swimwear as you can swim around in the delightful pool at the bottom of Buttermilk Falls.
Here you can also find a small lake, more hiking trails, playing fields, and picnic areas. You may also want to check out Larch Meadows for wildlife-viewing opportunities.
4. Devil's Hole Trail, Devil's Hole State Park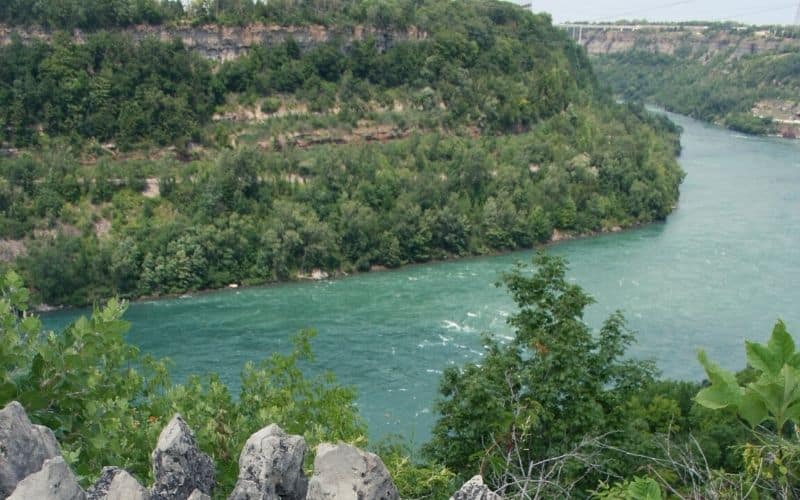 Length: 2.5 miles
Type: Loop
Difficulty: Easy
Distance from NYC: 6 hours, 47 minutes
While most visitors opt for Niagara Falls, Devil's Hole Trail – also located along the Niagara River – is equally imposing and, to our mind, offers one of the best New York hikes for lovers of riverside hiking.
Devil's Hole gets its name from the swirling whirlpool that churns alongside frothing whitewater. As you follow the stone staircase to the river, be sure to stick behind the guardrails to avoid falling into the dangerous rapids.
The trail is 2.5 miles long and involves around 500 feet of ascent, though there are plenty of scenic overlooks where you can take a breather along the way.
5. Ausable Chasm (aka "The Grand Canyon of the Adirondacks!"), Upstate New York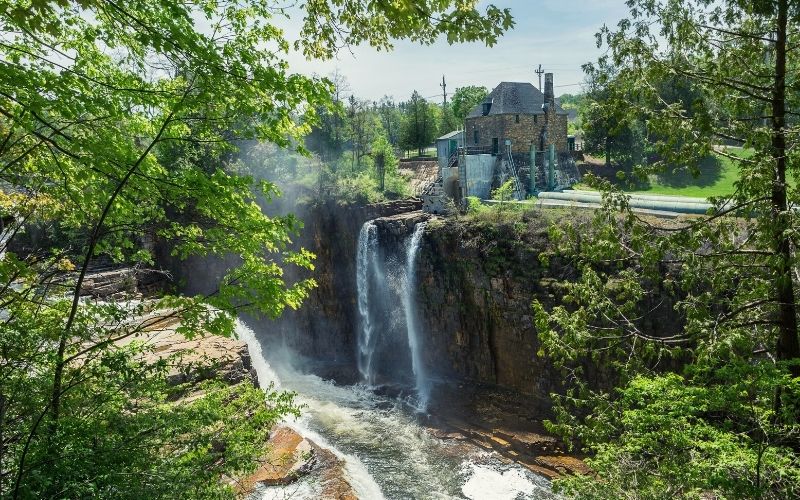 Length: 1.9 miles
Type: Loop
Difficulty: Easy
Distance from NYC: 4 hours, 49 minutes
Ausable Chasm is suitable for people of all abilities as there are plenty of options to explore the area. Some even choose an intertube!
The Grand Canyon of the Adirondacks is touted as the oldest natural attraction in the United States (est. 1870). As you hike around its over 5 miles of easily navigable terrain, check out Rainbow Falls, Elephants Head, and the Grand Flume.
You can also hire a guide to take you on a nighttime lantern hike or even an ice cleat tour.
6. Giant Ledge and Panther Mountain Summit, Catskill Mountains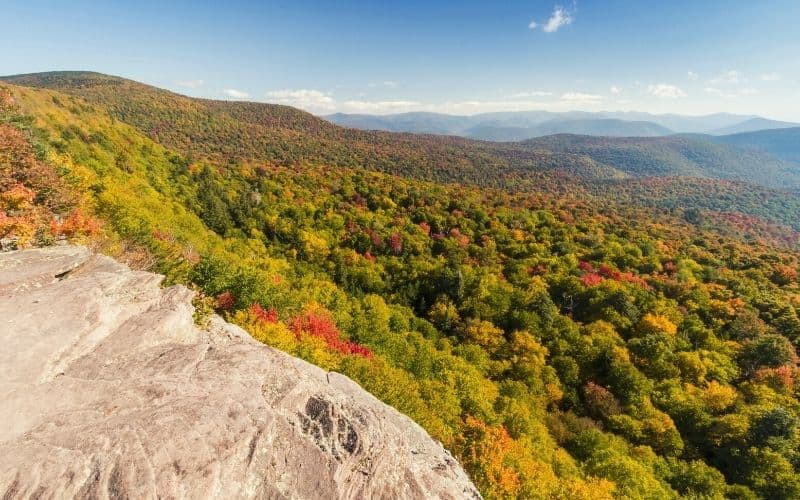 Length: 6.3 miles
Type: Loop
Difficulty: Moderate
Distance from NYC: 2 hours, 35 minutes
Be sure to bring your wildflower identification book for this beautiful 6.3-mile loop located in the Catskills' High Peaks Wilderness in Upstate New York.
There are a number of ledges to stop and take in the scenery, the greatest of which is of course Giant Ledge. You'll reach this by following yellow and blue blazes.
The trail is steep and rocky and becomes more strenuous as you continue. Experienced hikers on the trail may tell you this is a great intro to walking in the Catskill Mountains and you can check out our guide for more of the best Catskill hikes.
7. Constitution Marsh Trail, Putnam County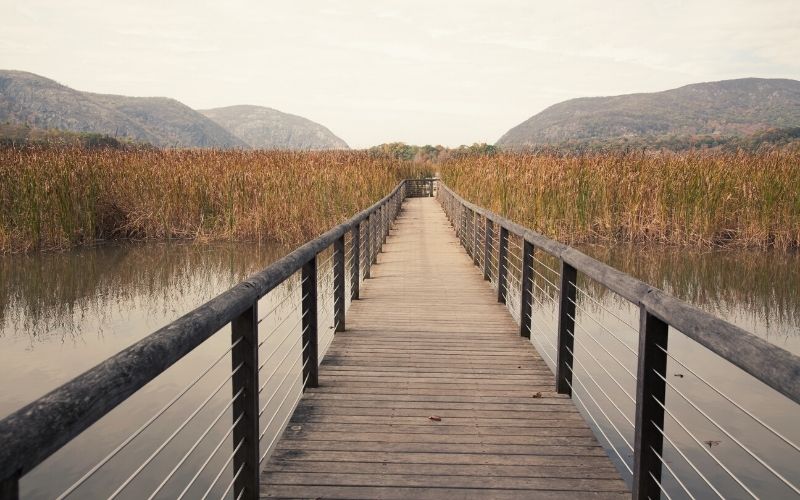 Length: 2 miles
Type: Out and back
Difficulty: Easy
Distance from NYC: 1 hour, 24 minutes
This hike is the go-to for birdwatchers everywhere. Bring your binoculars on this two-mile hike and you might just glimpse a red-headed woodpecker or an osprey. Also seen in the area are common nighthawks and loons.
Even if you aren't a birdwatcher, the hike is a beautiful way to explore the Hudson River. You'll follow a delightful boardwalk through the marsh with views of the Hudson and surrounding hills.
While you're there, check out Indian Brook Falls, just a short jaunt out of the way.
8. Overlook Mountain, Catskill Mountains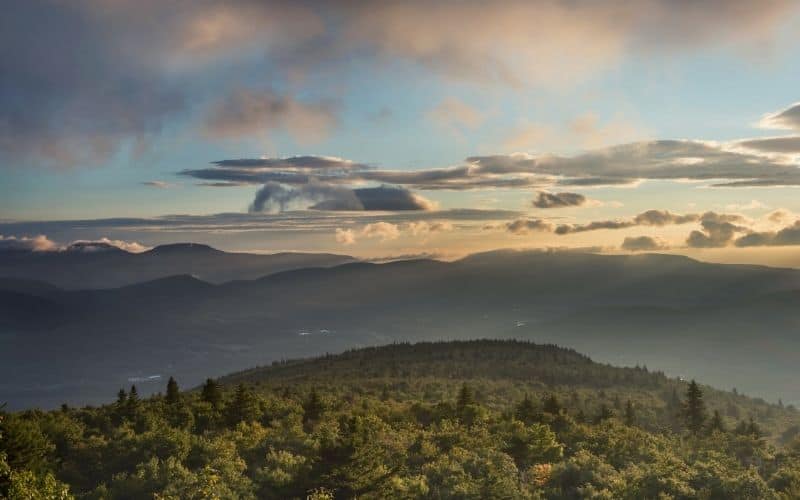 Length: 4.6 miles
Type: Out and back
Difficulty: Easy
Distance from NYC: 2 hours, 9 minutes
Overlook Mountain is a mellow, family-friendly hike that serves up awesome summit vistas without requiring too much in the way of time or effort.
This blazed trail winds gradually up an old carriage road before reaching Overlook Mountain House, which was once a booming Catskills hotel, and then the Overlook's Fire Tower, where sunset views are nothing short of breathtaking.
For those of you into the spooky stuff, you can listen for the sounds of disembodied voices and phantom footsteps that have been rumored to occur at Overlook Mountain House.
9. Saranac Lake Six, Adirondack Mountains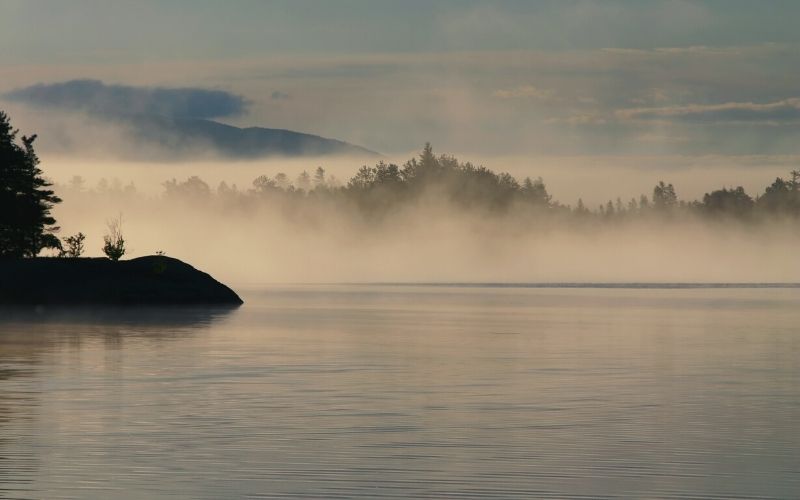 Length: 30 miles for all 6 (8,000 feet elevation gain)
Type: Out and back
Difficulty: Strenuous!
Distance from NYC: 5 hours, 2 minutes
If you're a real go-getter, you can attempt to climb all of the "Saranac Six," a group of summits in the Saranac Lake area in Upstate New York. If you do so, you'll earn the title of a certified "6er," and will be able to ring the bell in downtown Saranac Lake. But to achieve this goal, you'll have to put in over 8,000 feet of ascent over thirty miles of trail!
For those of you looking for something a bit easier that still offers top-notch views, head to Baker Mountain and attempt the two-mile slog up to the overlook of Saranac Lake.
10. Cascade Mountain Trail, Adirondack Mountains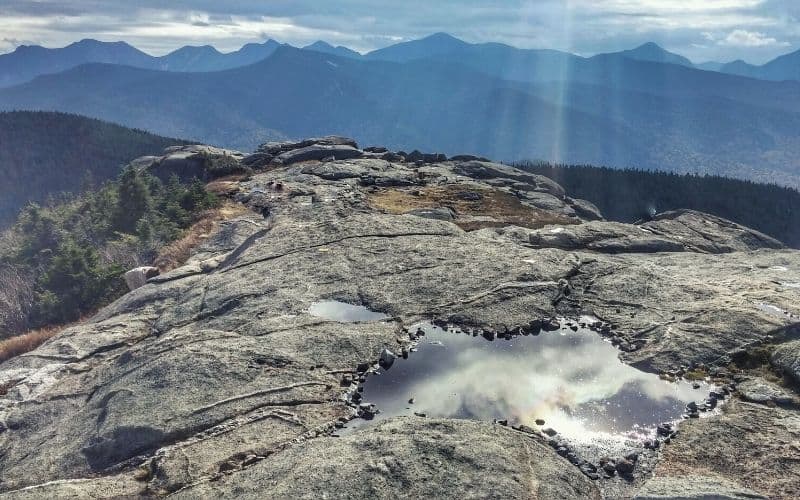 Length: 4.4 miles
Type: Out and back
Difficulty: Moderate
Distance from NYC: 4 hours, 37 minutes
Out of all of the 46 peaks in the Adirondack Mountains (aka "The Adirondack High Peaks"), Cascade is among the most popular.
That, however, doesn't mean that baggin' the peak is easy. The going is steep in places and there are even a few sections near the summit where you'll have to employ your rock scrambling skills. Just try to stay on the trail as this high alpine zone is a fragile ecosystem for certain species in the Adirondack Mountain Range.
At the summit, you can kick your feet up and chill before returning back the way you came.
11. Ice Caves and Verkeerderkill Falls, Shawangunk Mountains, Minnewaska State Park Preserve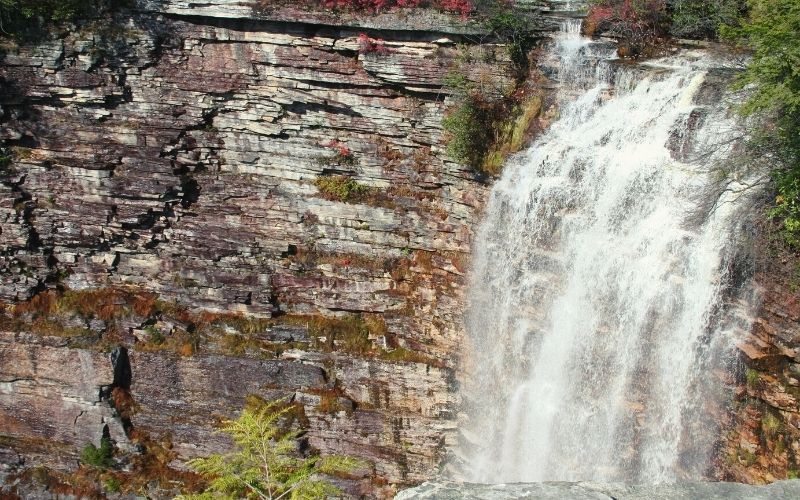 Length: 7 miles
Type: Loop
Difficulty: Moderate
Distance from NYC: 2 hours, 4 minutes
Colloquially known as "The Gunks," the Shawangunk Mountains are a ridge of bedrock near New Paltz that features more cliffs, swimming holes, waterfalls, and trails than most places in Upstate New York. You'll find it bustling with activity every weekend as locals and tourists alike escape the city to explore the Hudson Valley.
This easier-paced hike meanders through some terrific areas. Of special note are the ice caves that exist year-round, even surviving the hottest and most humid New York days.
Yet it's the falls themselves that draw the most people. You can hike to the top viewing area to get an incredible view of the 185-foot waterfall.
The park is near the notorious town of Woodstock, where you'll find plenty of places to fill up on calories after your hike or camping areas to make it a weekend event. Locals love Joshua's Café, which serves some of the tastiest Mediterranean food this side of the Atlantic!
12. Rim Trail and Gorge Trail Loop, Robert H. Treman State Park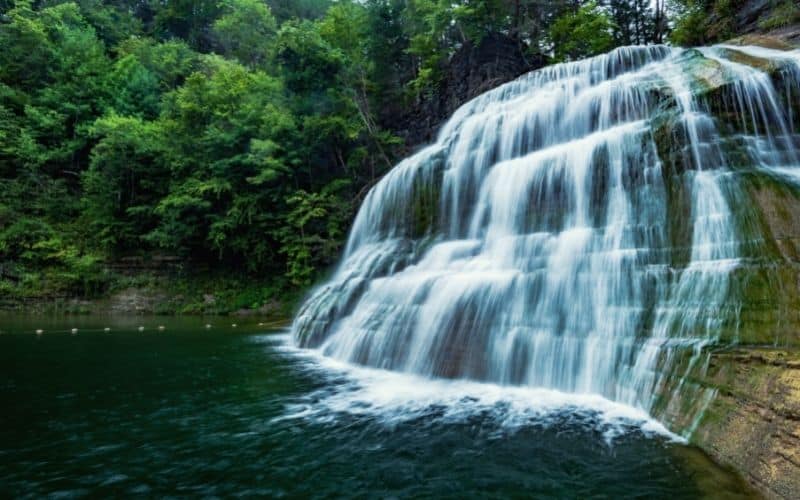 Length: 7 miles
Type: Loop
Difficulty: Moderate
Distance from NYC: 4 hours, 7 minutes
This trail passes about a dozen stunning waterfalls, most notably the 115-foot Lucifer Falls and the 70-foot Lower Falls.
You'll find a number of scenic overlooks on your meander through this spectacular glacial ravine, and also pass the multi-tiered waterfalls of Enfield Creek as you hike through an atmospheric hardwood forest that's bedecked with pretty wildflowers in spring and early summer.
If you'd like to make your trip a weekend event, you'll find heaps of camping, RV sites, and cabins available nearby. For more awesome hiking, check out Watkins Glen State Park.
13. Whiteface Mountain, Adirondack Mountains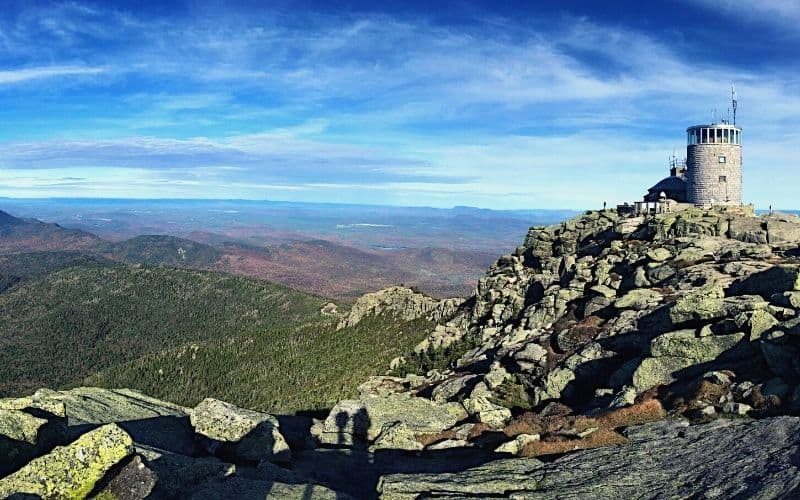 Length: 9 miles
Type: Out and back
Difficulty: Moderate
Distance from NYC: 5 hours, 1 minute
The nearly 5,000-feet high Whiteface Mountain, located near Lake Placid, is a popular hiking goal of summit-baggers statewide.
While this Upstate New York hike clocks in at over 9 miles, it's not as difficult as you might think as it gains elevation quite gradually. After meandering your way to the top, you'll be rewarded with a 360-degree view of Canada, Vermont, and over the rolling hills towards Lake Placid.
Be sure you pick a good weather day to ensure you can enjoy the excellent overlooks and panoramic views!
14. Taughannock North/South Rim Trail, Taughannock Falls State Park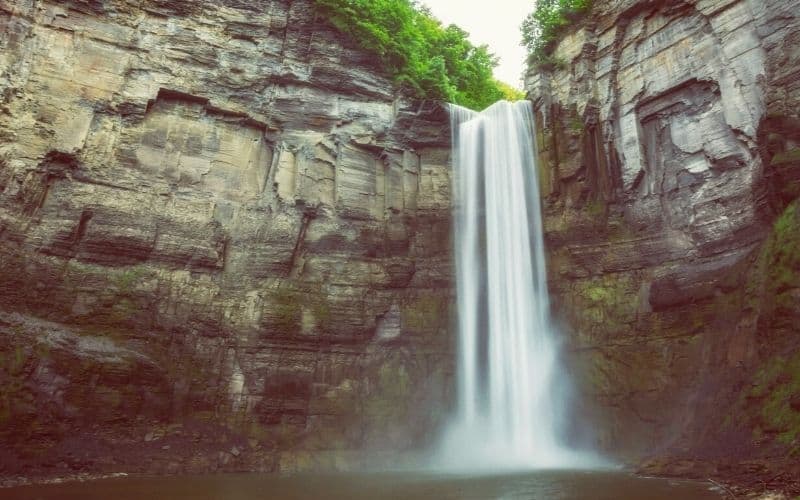 Length: 2.9 miles
Type: Loop
Difficulty: Easy
Distance from NYC: 4 hours, 17 minutes
Near Ithaca is the beautiful Taughannock Falls North/South Rim hike, which leads you to a 219-foot cascade that is well worth the relatively modest amount of effort required to get there.
You can link together the North and South Rim Trails for a grand total of 2.9 miles. The North Rim, which begins nearly at the back of the campground, is 1.5 miles long and gives you a view of the tallest single-drop waterfall east of the Rocky Mountains.
If you link to the South Rim Trail, you'll walk parallel to the canyon passing pools of crystalline water below as you go.
No Good Hiking in New York, Huh?
New York isn't just about the Big Apple, as locals can attest. From short jaunts to overlooks to high-mileage crushes, there's something for everyone in the Empire State. If you find yourself outside the city, there's plenty of outdoor adventuring to be had.
What did you think of our suggestions for the best hikes in NY? Please comment below if there are any other excellent hikes in New York State that we forgot to mention!