Have you ever had a hankering to travel to Mars but that whole space travel business doesn't appeal to you?
You are in luck since we have a mini-Marscape on our very own planet, and it goes by the name of "Utah."
Utah has the third most national parks of all US states, being usurped only by California and Alaska. There's Zion National Park, Bryce Canyon National Park, Arches National Park, Coral Reef National Park, and Canyonlands National Park, most of which are accessible from the capital, Salt Lake City.
Those parks might get the most attention, but pay attention to hikes in Utah located in a nearby state park or wilderness area to find more hidden gems. From the most popular to the lesser-known, our list features only the very best of the best hikes in Utah.
If you need somewhere to rest your head then check out our guide to the best camping in Utah!
The Top 12 Hiking trails in Utah 
#1 Navajo Loop Trail, Bryce Canyon National Park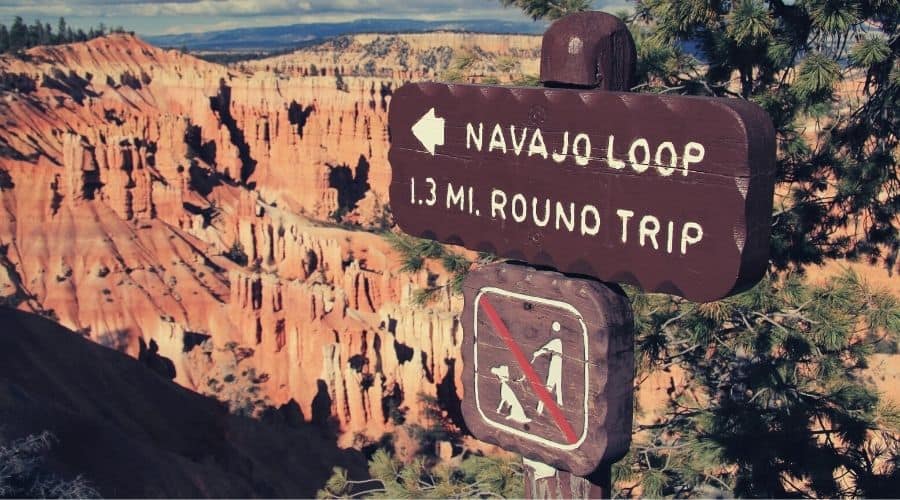 Trail Type: Loop
Length: 1.4 miles
Difficulty: Moderate
The Navajo Loop Trail is one of the most popular and accessible hiking trails in Bryce Canyon National Park. This park is famous for its monolithic hoodoo rock formations. Hoodoos are tall pinnacles of rocks weathered over time. The valley in the park is also one of the most photographed places in all of the national parks.
The Navajo Loop Trail gives you an excellent opportunity to get up close and personal with these rock formations. Some you will see on the loop include the Twin Bridges, Wall Street, and Thor's Hammer.
The trail begins at Sunset Point and immediately descends into a shallow valley. Although there are railings present, it can get dangerously icy in the winter. Bring microspikes if you hike it in the cold.
As you get up close to Wall Street, you will see two Douglas firs growing out of the rift in the rock. They have been growing in this challenging area for more than 750 years, just another of the wonders to behold on your trek.
Pay attention to the rock formations and their colors. Color changes indicate changes in the type of rock, shifting from limestone to siltstone and dolomite to mudstone. It is these layers that give the hoodoos their undulating shapes and layers of dramatic color.
RELATED: Best hikes in Bryce Canyon National Park
#2 Virgin River Walk, Zion National Park
Trail Type: Out-and-back
Length: 1.0 miles
Difficulty: Easy
The Virgin River Walk is an easier walk located in Zion, close to Springdale, Utah, a town on the opposite edge of Utah from Salt Lake City. This river cuts its way throughout one-half of Zion. It is part of the reason for the wear and tear on the mountains that gave us one of the most beautiful preserved areas of nature that we have today.
This walk is very short compared to many of the others in the area. It is one of the best hikes in Utah for a family with young children or for those who are less able or adventurous but still want to behold some of the majesties the park has to offer.
There is almost no elevation increase along this route, and most of the path is even paved. You can get into the Virgin River for a swim on sweltering days as well, making it even more fun for the kids.
#3 Delicate Arch, Arches National Park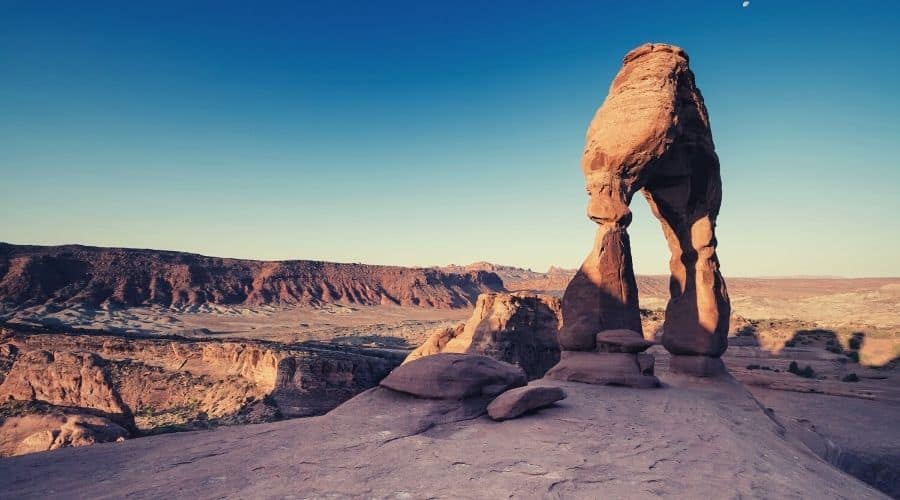 Trail Type: Out-and-back
Length: 3 miles
Difficulty: Easy
A Utah hiking trip wouldn't be complete without seeing the arches in this National Park. If you have ever seen a picture of Utah, it has probably featured this arch. It stands at 52 feet tall and is entirely freestanding.
It lies a little less than halfway through the drive into the park and is easy to access from Moab in Grand County. Arches National Park is also the closest park to Salt Lake City.
The best part about this hike for many visitors is how easy it is. There is a parking lot specifically for this arch, and after walking less than a quarter of a mile, you can see it in the distance.
If you decide you want to get closer, feel free to walk 1.5 miles to get to the nearest point. Along the entire trail, there's less than 600 feet of elevation gain. It faces towards the arch the whole time, so you get many angles before arriving at the end.
This one's easy enough to do with the whole family or to start or end your day with on a quick trip.
#4 The Wave, Vermilion Cliffs National Monument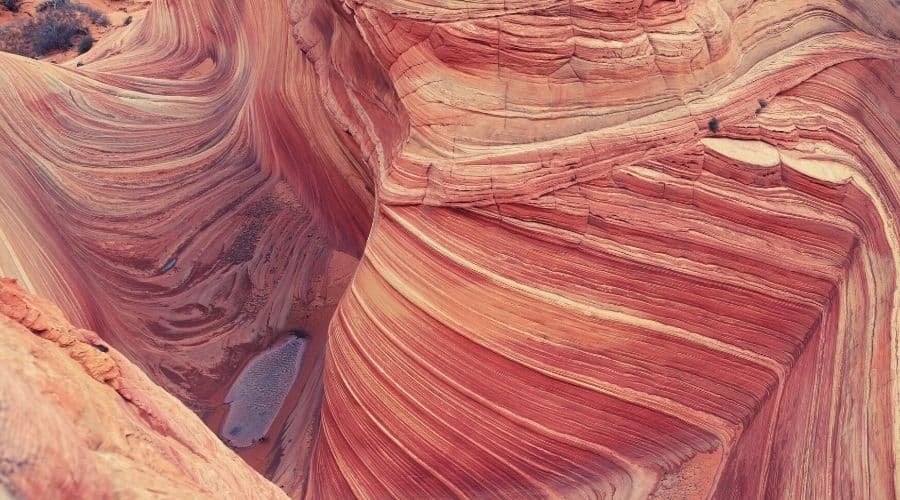 Trail Type: Out-and-back
Length: 6.3 miles
Difficulty: Moderate
The Wave is famed for its seclusion, preservation, and in November 2020, a giant metal monolith that appeared nearby. Unlike anywhere else in Utah, the rock formations are seemingly carved out of the rock, and it appears as though the air flowing between the pillars were crashing waves.
This is one of the most exclusive hikes in Utah. If you want to get into this national monument, you need to make sure and apply for a permit to get on the hike. The permits are drawn as a lottery. If you don't have a permit and are caught out there, you could be fined up to $100,000 or stuck in jail. (Get that permit!).
You hike into slot canyons, and throughout most of it, you curve with the waves. This walk is one of the hikes Utah has that allows dogs on it. If you want more of those, look for hikes in the National Monument areas.
Bring with plenty of water, sunscreen, and wear protective glasses to keep the sun and sand from your eyes. And to keep it out of your tootsies, opt for higher boots instead of approach shoes or sandals.
#5 Mount Timpanogos, Wasatch Mountain Range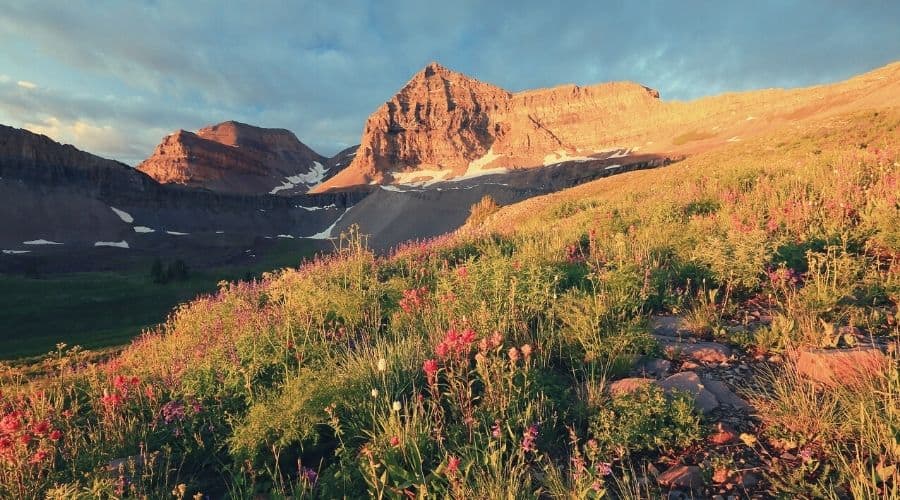 Trail Type: Out-and-back
Length: 14 miles
Difficulty: Challenging
Many Utah hikes aren't famed for their dramatic gains in elevation. However, with 80 mountain ranges within its borders, hiking in Utah doesn't always mean level trails. Mount Timpanogos is the second highest peak in the Wasatch Mountain Range after Mount Nebo.
If you decide to take on this hike, be prepared for the long haul. The 4,390 feet of ascent takes you up to 11,749 feet above sea level at the peak. Along the way, though, you'll enjoy a covering of beautiful wildflowers, especially in late spring and throughout the middle of the summer, and gobsmacking views of the neighboring peaks.
It is best to bring along a USGS 7.5′ Map of Timpanogos Cave to be prepared and get the most out of the hike. Keep in mind that there are two trails you can use to reach the summit.
One is the Aspen Grove Trail, 8.3 miles in one direction. It starts at the Theater-in-the-Pines picnic area on the mountain's east side. It is very scenic and passes several waterfalls that are especially beautiful in the spring.
The other trail is called Timpooneke Trail and is 7.5 miles one way. It starts in the Timpooneke Campground in American Fork Canyon. Choose one up and take the other down if you have a ride back to your car. You can do the trek in one long day or as an overnight backpacking trip.
#6 Buckskin Gulch, Vermillion Cliffs Wilderness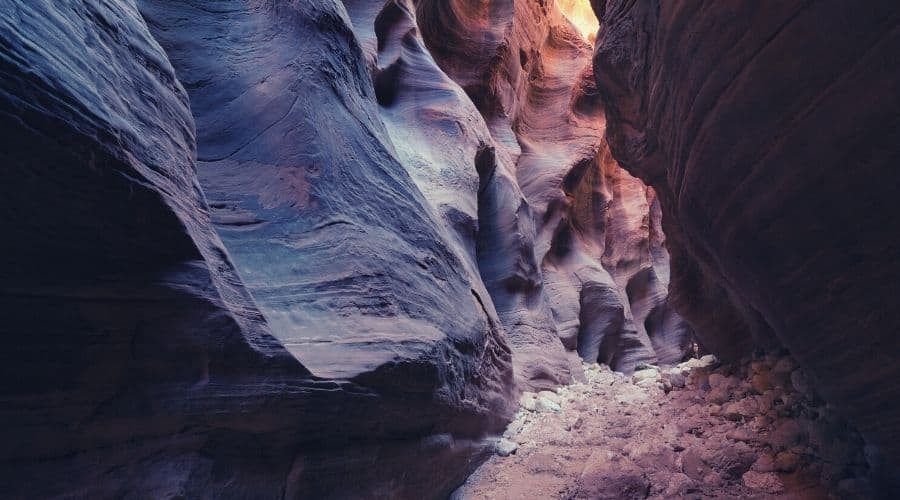 Trail Type: Out-and-back or point-to-point
Length: <16 miles one way
Difficulty: Challenging
To hike in this famed slot canyon, you must get a permit. These are not as difficult to obtain as the ones for the Wave hike. They cost $6 per person for a day of hiking or $5 per person per day if you intend on making it an overnight trip.
The gulch is right on the border between Utah and Arizona and is relatively difficult to access, coming north from Salt lake or East from Denver.
Buckskin Gulch is a part of Paria Canyon, located in the Vermilion Cliffs Wilderness. It is the longest slot canyon in the world. If you get claustrophobic, this might not be the hike for you. It can get as narrow as 2 feet with boulders you have to scale. But don't feel like you have to do the entire hike. Many people hike point-to-point, stopping at particularly ominous walls of rock.
Within slot canyons, the brutal summer temperatures drop dramatically. Since you often have to hike through pools of water, you need to bring protective coverings for your feet. Neoprene socks with proper shoes are recommended, as are dry bags for your gear.
Check the forecast before your trip since the flash flood risk is high and quickly becomes deadly. The water in the canyons is not safe to drink, so bring plenty. Make sure you get a glimpse of the ancient petroglyphs along the walls early on in the hike if you start from Wire Pass.
If this sounds like hike for you then check out our full guide to Paria Canyon
#7 Angels Landing, Zion National Park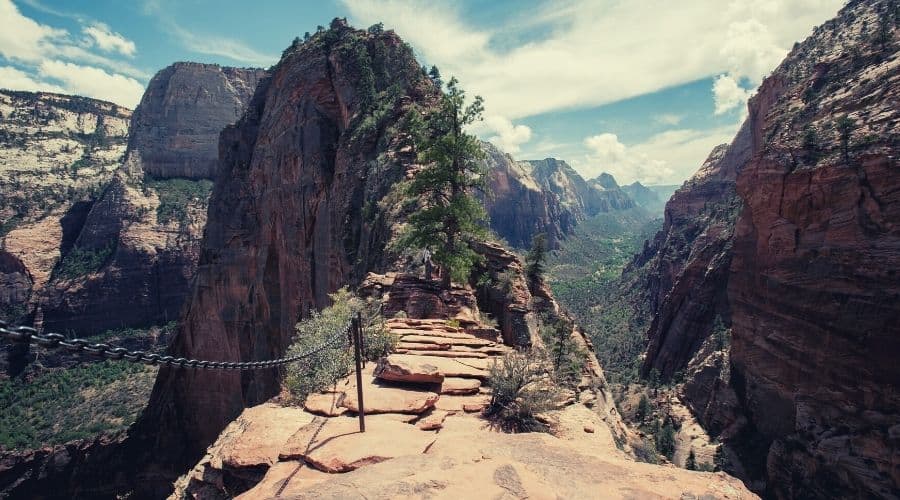 Trail Type: Out-and-back
Length: 4.1 miles
Difficulty: Moderate/Challenging
This is arguably the most terrifying of the Utah hikes you can opt to do. Even though it is one of Utah's best hikes, it is also no place for the faint of heart. You need a good head for heights when you get to the top. While undoubtedly awesome and unique, this is also one of the most dangerous hikes in Utah.
When you begin, you will see signs announcing how many people have died on this hike since it was opened. Currently, nine people have died falling off the edge, three of them since 2017.
The hike begins with a moderate walk from the Grotto drop-off point in the Valley. You take a paved path following sloping switchbacks until you are about halfway up. Don't let this fool you. The second half is much more difficult.
Once you reach the outcropping, you will see via-ferrata style chains lining a small path cut into the rock's edge. The drop to the valley below is about 1,500 feet down, with nothing to stop you. Hold on tightly and respect other hikers so everyone stays safe.
Although not recommended by park officials, if you decide to do it in winter, you MUST wear crampons or microspikes to avoid slipping.
#8 The Narrows, Zion National Park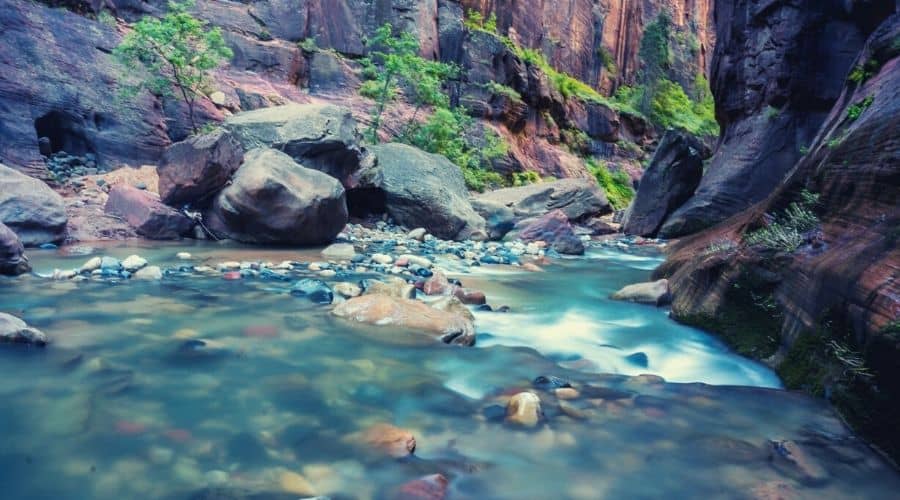 Trail Type: Out-and-back
Length: 5-16 miles
Difficulty: Easy to Challenging
One of the most unique Utah hiking experiences is The Narrows hike. It is the best place to go to cool off during the summer and can even get surprisingly cold. It is essential to bring proper footwear and a hiking pole for this hike, otherwise you are likely to sprain something or lose a toenail on the slippery rocks.
This one is another of those hiking trails that don't have a definitive end. Even though you can walk the full 16 miles, many people come to a stopping point or turn around after exploring one of the side trails further.
Throughout the hike, you walk in the Virgin River between two walls of rock, rising 2,000 feet in height at their tallest. Along the way, there are dozens of swimming holes and photogenic scenes that you are unlikely to find anywhere else. There are 12 campsites along the way that enable you to make it an overnight trip.
Such breathtaking hikes in Utah, of course, still come with their dangers. Make sure to check the weather forecast before embarking since there is a high risk of flash floods.
#9 Fairyland Loop, Bryce Canyon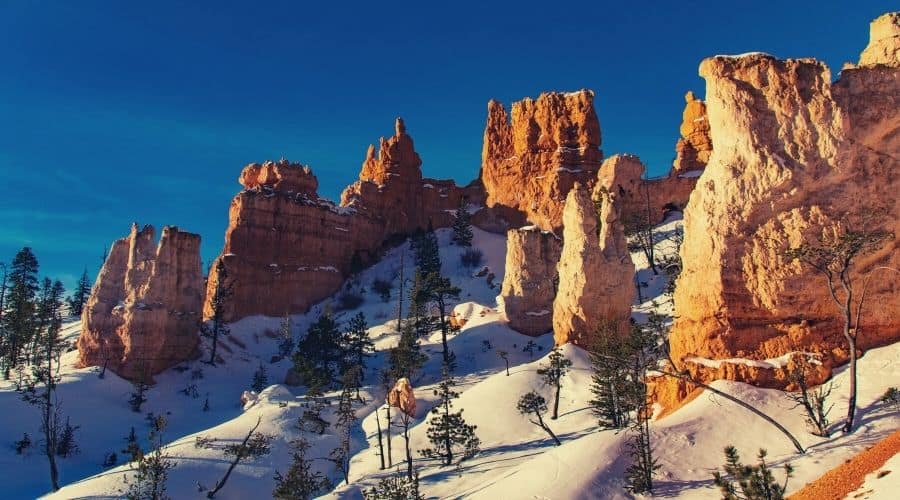 Trail Type: Loop
Length: 7.4 miles
Difficulty: Moderate to Challenging
Hiking Utah trails always gives you the feeling of being in a very strange kind of fairyland, and this trail even puts the name to it.
Fairyland Loop is one of the best hikes in Bryce Canyon NP, mainly because it gives you so many different views of the famed valley. It is a moderately long trail that's very doable in a day. However, it is considered to be anywhere from moderate to challenging in terms of difficulty, so you should only take this one on if you have reasonable fitness levels and hiking experience.
Along the way, you will gain about 1,540 feet in elevation as you walk past spiraling hoodoos and formations such as China Wall and Tower Bridge.
Fairyland Loop offers you an alternative trail to the popular combination of Navajo Loop and Queen's Garden. It gives you many similar views but is harder and, thus, less trafficked.
#10 Peek-A-Boo Loop, Bryce Canyon National Park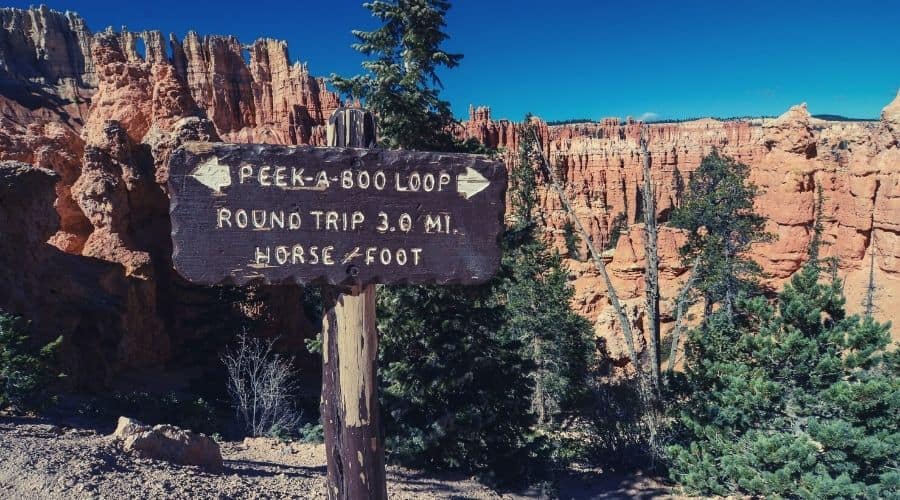 Trail Type: Loop
Length: 5.2
Difficulty: Moderate
The Peek-A-Boo Loop is a shorter loop trail compared to the others in Bryce. It is a challenging hike since you will be hiking on an angle for the vast majority of the trip.
Overall, you will do 1,555 feet of ascent (and, thus, descent), making it essential to bring microspikes during the winter to stay off your butt. The positive side is you don't have to worry about slipping down a steep slope on most of this trail if you do fall.
Peek-A-Boo trail has the densest concentration of hoodoos across all of the hikes in Utah. The path is so full of these rock spires it will almost seem like you are hiking through a forest of sand and limestone.
During the busy seasons, from late spring into early fall, expect the trail to be quite full. Though not the most popular in the park, it still receives high numbers of happy, camera-toting hikers.
#11 Circle All Peak, Big Cottonwood Canyon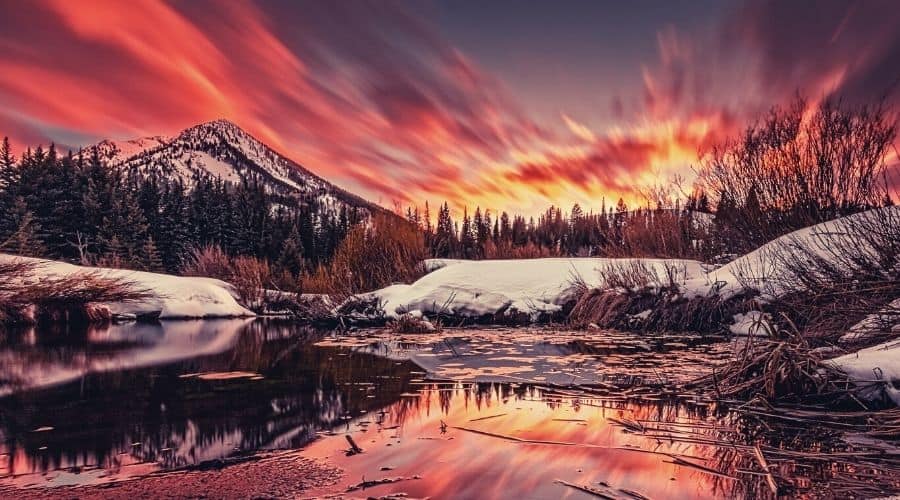 Trail Type: Out-and-back
Length: 3.3 miles
Difficulty: Moderate
Circle All Peak is unlike many of the other red rock-based hikes featured on our list. Instead, you are hiking through part of an evergreen forest up a beautiful mountain to its peak. Thus, the path is not very steep and only rated as moderate even though you gain about 1,550 feet in elevation.
The trailhead for Circle All Peak is located near Mounthaven, Utah. The walk is renowned for its wildflowers and the beauty of the surrounding forest. As you reach the top, the trail gets gradually steeper and more difficult.
One potential danger to be aware of on this hike is that the region is located within an avalanche zone. Doing it in the winter or early spring, therefore, can put you in danger without due preparation and an eye on the weather.
You can expect to be treated to spectacular views of the upper Big Cottonwood and Wasatch canyons at the top of the trail.
#12 Kanarra Falls Trail, Spring Creek Canyon Wilderness Study Area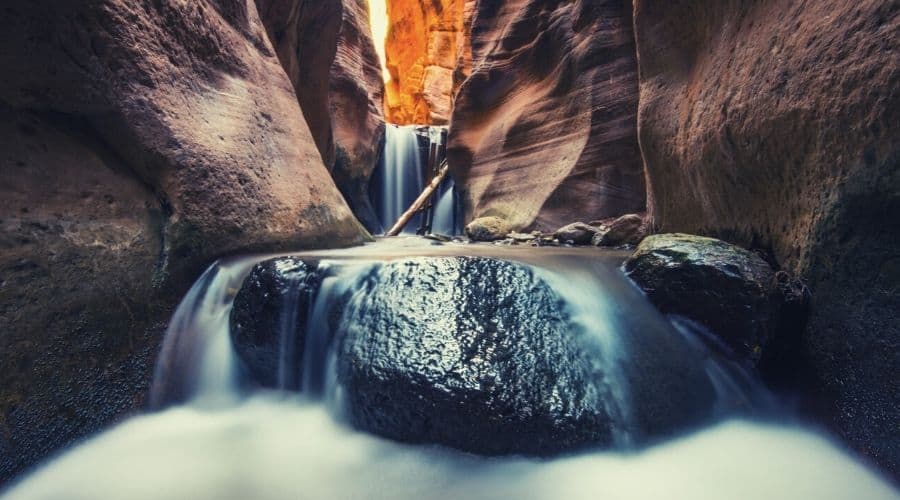 Trail Type: Out-and-back
Length: 4.8 miles
Difficulty: Moderate
Waterfalls are not typically thought to be the main attraction in Utah. However, this is one of the best hikes in Utah to view gorgeous falls contrasting against the deep-red rock.
Although this area is called a "study area" and not a park, it does feature a beautiful hiking area for those that might want a break from the books(!). You need a permit to hike this trail. It costs $12 per person and is non-refundable. The trailhead starts just outside Kanarraville, a tiny town in Iron County, Utah.
The high price of hiking this relatively short trail is due to the dramatic rise in usage since 2004. It has attracted unseemly amounts of interest when before it had been one of southern Utah's most hidden gems. The town tries to limit the number of people filling its streets by increasing the permit price year after year.
To get to the waterfall, you hike along a short path towards a slot canyon. At the end, you must climb down a ladder to reach the bottom of the waterfall.
RELATED: Take a trip to Idaho to visit the Goldbug Hot Springs
Find Your Favorite Trails in Unbelievable Utah!
From bottom to top, Utah has it all in terms of scenery and hiking opportunities. Whether you prefer evergreen forests, waterfall treks, or monolithic sandstone structures, you can expect amazement from every angle.
We hope you enjoyed our list of the best hikes in Utah. If you have any questions or think we missed a hike, let us know in the comments below. Are you excited about your next trip yet? And feel free to share this with your friends to inspire other hikers!