Located in the western region of the U.S., Utah boasts some of the most breathtaking scenery in the whole country, which makes the Beehive State a prime camping vacation destination.
It's home to vast deserts, fascinating rock formations, and towering, snow-capped mountain peaks, and has five National Parks, 43 State Parks, and 13 National Park Service units altogether.
So where are the best spots for camping in Utah? Well, that all depends on what you want from your vacation experience. Some folks enjoy primitive camping and extreme white-knuckle hiking in the remote wilderness of the Zion National Park. In contrast, others prefer a fully-serviced RV hookup at a campground with flush toilets and hot showers.
Whatever your preference, rest assured that there is a campsite here for you!
Best Utah Campgrounds: Our Top 10 Picks
With so much country to consider, finding the perfect campground can be a time-consuming task. So, we've taken the hassle out of the job by compiling this list of our favorite ten spots for camping in Utah.
All you need to do is sit back, relax, and let us take you on a tour of the very best camping experiences that the Utah has to offer.
For some trail inspiration check out our guide to some of the best hiking trails in Utah.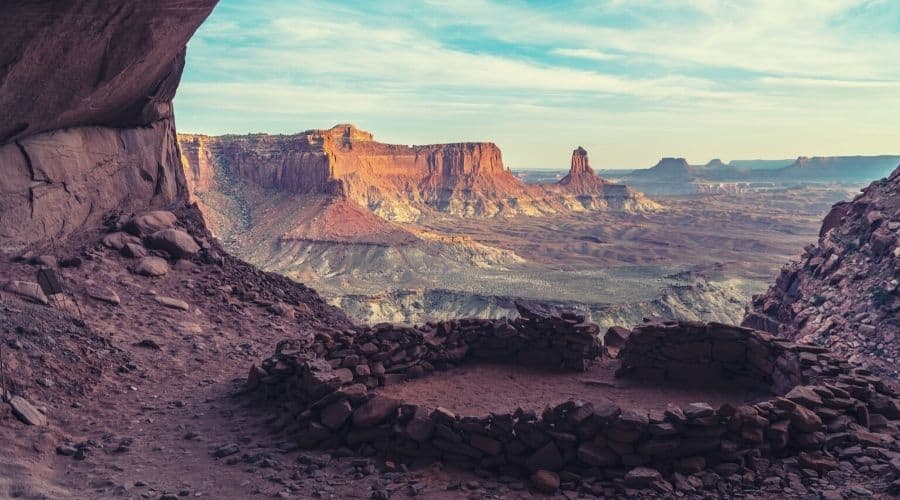 Canyonlands National Park, Moab
Canyonlands National Park is located close to the town of Moab in the southeast of the state.
The national park is home to a spectacular landscape of buttes, mesas, and canyons was carved out millennia ago by the activity of the Green River and the Colorado River. The colorful topography is divided into four areas, each with its own distinctive character.
RELATED: Best hiking trails in Canyonlands National Park
For camping, check out the Needles District. Hiking and overnight camping among the spires of Cedar Mesa Sandstone is a truly memorable experience, and the rock formations are fantastic for bouldering. If you're into climbing, you'll be spoilt for choice at this location.
Willow Flat Campground makes the perfect base from which you can explore the area with lots of hiking trails that lead to rock climbing spots nearby. There are 26 sites around the park with picnic tables, fire rings, and toilets, although there are no electric hookups. Five of the sites are tent-only.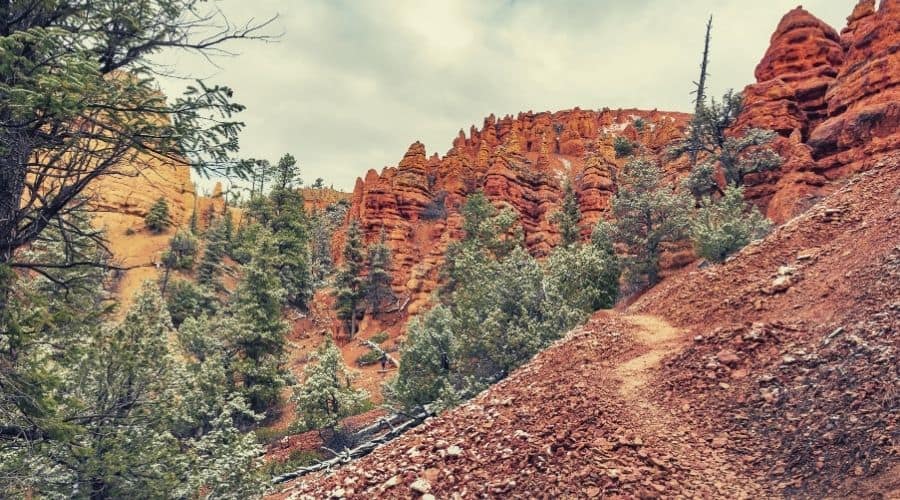 Boulder Mountain, Dixie National Forest
Boulder Mountain in south-central Utah is part of the Dixie National Forest and is a popular destination for outdoorsy types who come here for the superb hiking, horseback riding, and ATV adventures.
Boulder Mountain forms half of the Aquarius Plateau, one of the most extensive high-elevation plateaus in the U.S., rising to the west of the Capitol Reef National Park. The mountainsides are formed of sheer cliffs and slopes, and over 50,000 acres of rolling meadowland and forest sit atop the peak. Lots of lakes up here offer excellent fishing, and there are almost unlimited primitive camping opportunities.
The Boulders have thousands of miles of dirt roads that make fabulous terrain for off-roading and ATV fun. You can also take pack trips through here by llama or horse, and several guides and outfitters are offering such excursions into the wilder backcountry. On the eastern side of the mountain range, to the south of Teasdale, you'll find four more campgrounds, although the one at Lower Bown Reservoir has no potable water, so you'll need to bring your own.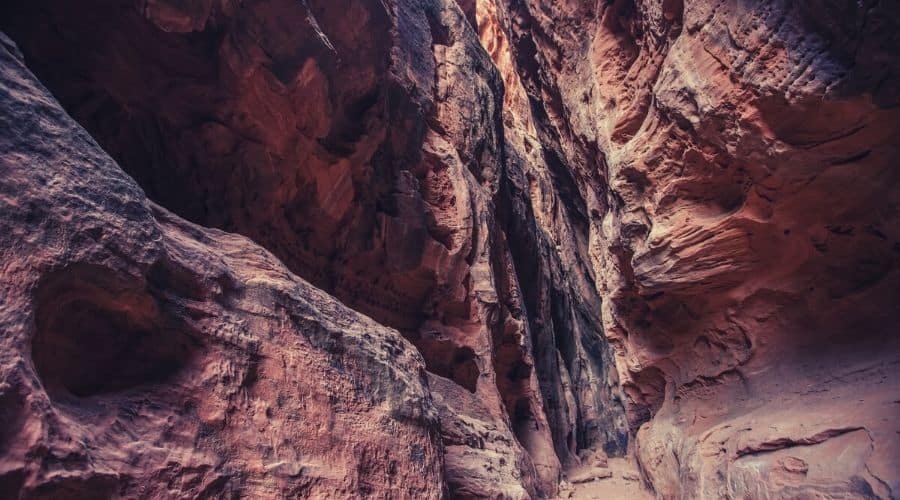 Snow Canyon State Park, Irvins
Snow Canyon State Park is located near Irwins, St. George, and Washington town.
The park was named for early Utah Leaders Erastus and Lorenzo Snow and features a spectacular canyon that's carved from the red and white Navajo sandstone, which is found here in the Red Mountains. There are many other quirky and unusual geological features of interest to see, including extinct lava tubes, sand dunes, lava flows, and cinder cones. One thing's for sure; you'll never run short of photo opportunities in this jaw-droppingly beautiful landscape!
Snow Canyon has lots of trails to hike, including the Butterfly Trail, which overlooks the Petrified Dunes, before winding its way down to the lava tubes and West Canyon Overlook. If you don't fancy the hike, you can take a gondola ride up to the top of the mountain to take in some incredible panoramic vistas.
Another must-see feature in the park is the White Rocks Amphitheater. Unlike the remainder of the park, this small, natural amphitheater is created entirely from white Navajo sandstone and is quite something to see, especially under bright sunlight.
The campground here has 17 multi-use sites and 14 RV sites that have electric hookups and water. Close by are equestrian, biking, and hiking trails that extend for over 18 miles through beautiful scenery beneath a backdrop of imposing sheer red stone cliffs. Despite the wilderness feel, it's almost home-from-home here with showers, modern restrooms, and an RV dump station too.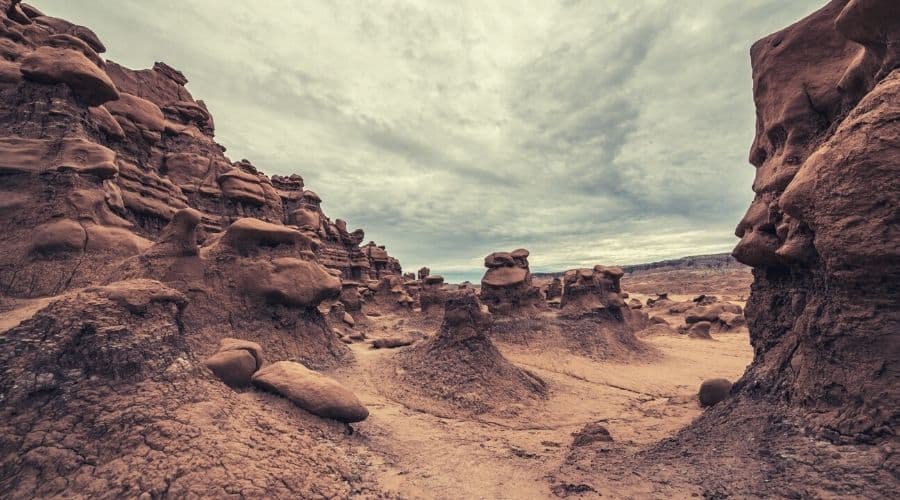 Goblin Valley State Park, Hanksville
Goblin Valley is so named for the mushroom-like sandstone formations called hoodoos, known locally as "goblins" that cover the landscape.
The park is located in the southeastern part of Utah, and it's the weird and wonderful eroded sandstone rock formations that draw visitors to the site. Some of the natural sculptures have formed in such a way that a maze is created, adding to the otherworldly feeling of this alien landscape. In fact, the location was used in the making of the Hollywood spoof sci-fi movie "Galaxy Quest." Also, ATV enthusiasts love it because of the park's proximity to hundreds of miles of accessible dirt roads.
The facilities provided for campers are pretty good. There are 21 units on the campground, including two yurts that you can rent, both of which have air conditioning and heating. The remainder of the sites are for tent camping and RVs. Hot showers, modern restrooms, and a sanitary disposal station are provided for the use of visitors.
However, you should note that there is a limited supply of water available, and it can get pretty hot out here, so remember to bring plenty of hydration with you.
Bear Lake State Park, Garden City
Bear Lake State Park is located close to Garden City on the shores of Bear Lake. The park is actually on Utah's border with Idaho and snuggles high up within the magnificent Rocky Mountains.
The lake is the most spectacular aqua blue color thanks to suspended calcium carbonate particles in the water. That, together with the lake's delightful sandy shoreline, creates the impression of a seaside resort location even though the area's elevation is 5,923 feet above sea level.
At 8 miles wide, 20 miles long, and with an area of around 112 square miles, the lake is a trendy destination that is popular for those who enjoy watersports and fishing, with whitefish, mackinaw, and cutthroat being the catch of the day. In the snowy winter months, folks come here to enjoy skiing, snowmobiling, and ice-fishing too. And in January, people flock to Bear Lake for its famous annual Cisco Disco!
There are 157 campsites spread around the lake and its valley, catering for RVs, trailers, vans, and tents. Electricity hookups and toilets are dotted around the sites, and there are fire circles at most of the sites too. Wherever you choose to camp here, you'll be treated to an outstanding direct view of the mesmerizing blue water and the beach.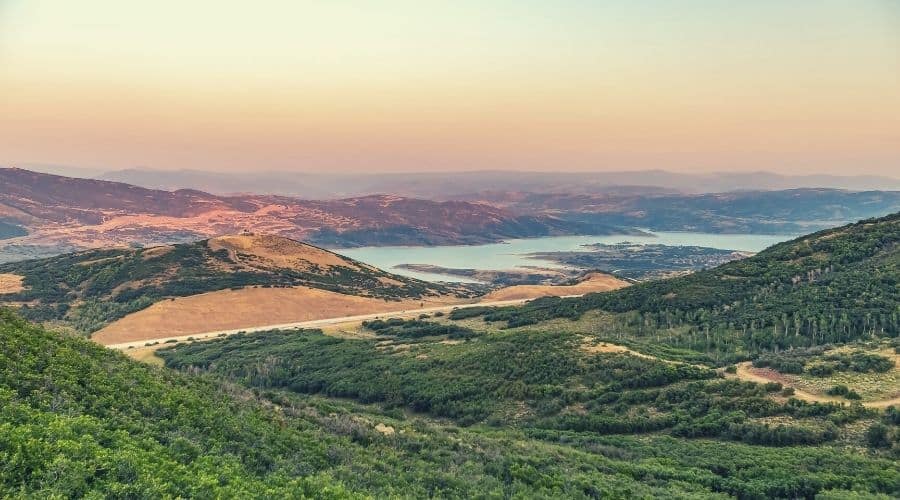 Jordanelle Reservoir and State Park, Heber City
Jordanelle Reservoir and State Park offers visitors glorious scenery and the opportunity for some memorable wildlife spotting. If you're lucky, you might spot one of the beavers that live round here. You'll notice plenty of evidence of these industrious creatures in the trees that line the river's edge. There's a boardwalk trail system, too, and lots of fishing for those who like to wet a line on a sunny summer day.
The peaceful, scenic campground is located on the Provo River, where it opens into the reservoir and offers visitors plenty of fun-filled activities all year-round. The campsites are positioned well back from the parking lot so that the tranquility of this gorgeous location isn't disturbed, and carts are thoughtfully provided to enable you to transport your things to your campsite easily and quickly.
Hailstone Recreation Area is a large, well-developed campground and day-use facility on the western side of the reservoir that's popular with campers, boaters, and RVers. There's an event center close to the park entrance, and many of the sites have electric hookups and water.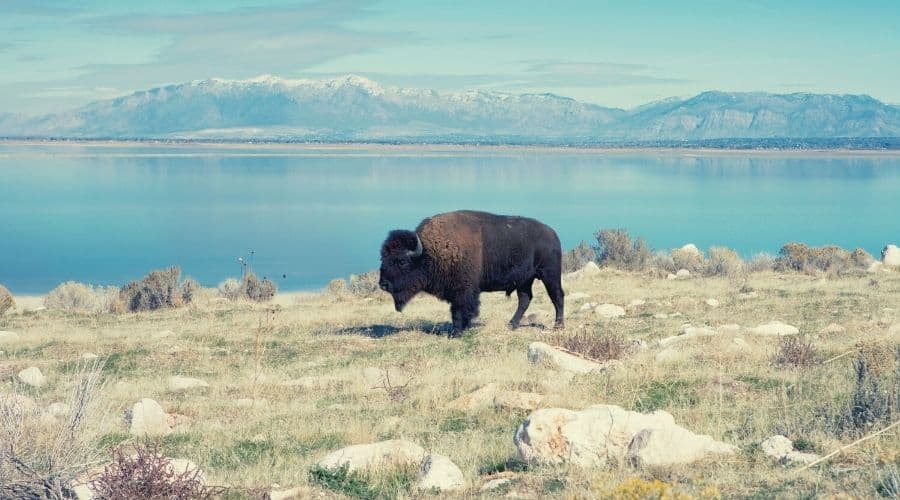 Antelope Island State Park, Great Salt Lake
If you want a camping experience that you'll never forget, you must take a vacation on Antelope Island, a state park in the Great Salt Lake, the largest saltwater lake in the western hemisphere (and only a short drive from Salt Lake City itself).
Antelope Island is bleak but still has a wild beauty and a surprising abundance of wildlife too. You can expect to see a wide variety of birdlife, as well as four-footed creatures, including mule deer, pronghorn antelope, and bison, to name just a few. The park is crisscrossed by dozens of backcountry trails that can be explored on horseback, mountain bike, or foot.
The campground at Bridger Bay is peaceful and quiet and makes the perfect location for you to get away from it all and unwind. The facility is well-equipped with vault toilets on-site, and there are 26 sites for RVs and tents. Most spots enjoy glorious views, but from the best sites, you can wake up to vistas across the Great Salt Lake to the mountains beyond.
At night, stargazing is highly recommended, as there's virtually zero light pollution here to spoil your view.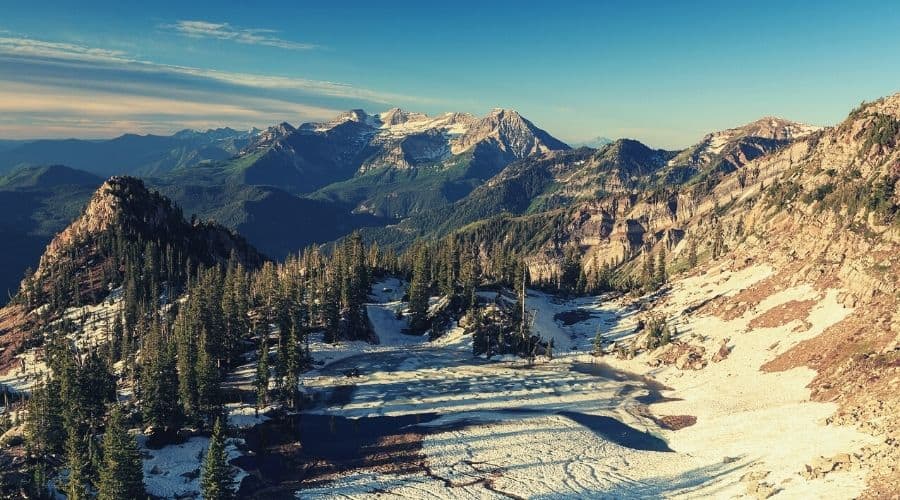 American Fork Canyon
American Fork Canyon is also known as the Alpine Loop thanks to its resemblance to the Swiss Alps, and it is named for the American Fork River that rushes through the bottom of the gorge.
The canyon runs through the Wasatch Mountains and is most famous for the Timpanogos Cave National Monument that you'll find on the south side. The location is well-known for its rock climbing, fishing, mountain biking, hiking, and camping. The scenery here is breathtaking, especially in fall, when the leaves turn color, illuminating the valley with vibrant reds and glittering golds.
There are plenty of camping opportunities within the immediate area, but you will be expected to pay a fee to enter the park, even if you only plan on driving through without stopping. At various locations around the park, there are dispersal, RV, and tent campgrounds, and there are some cabins available too.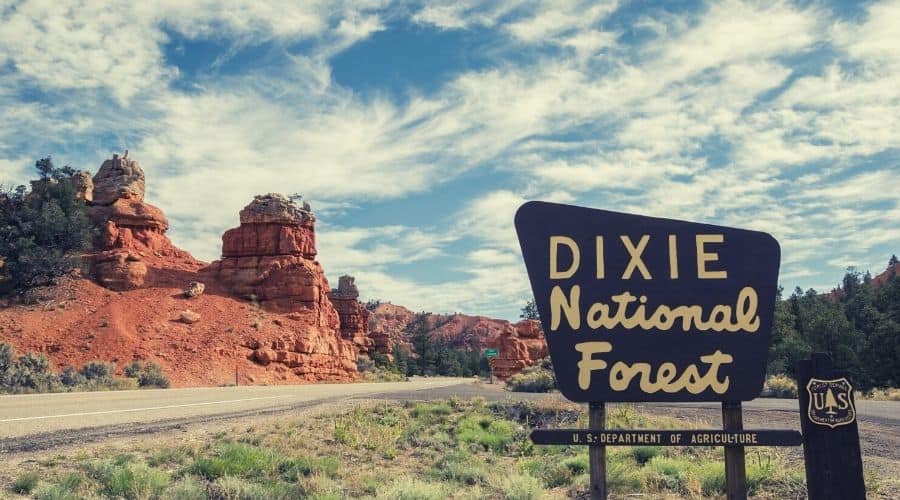 Dixie National Forest, Cedar City
The Dixie National Forest is located, close to Cedar City.
The 170-mile wide nature preserve is full of fauna and flora to be enjoyed by visitors, so it is little wonder that this spot is an extremely popular location for hiking, camping, and hunting. The Dixie National Forest straddles the Great Basin and the Colorado River in the south of Utah and is the largest national forest in the Beehive State. Views here are gorgeous with multi-colored cliffs and sheer gorges arrayed in stark contrast to aspects of the Colorado River Canyons.
Within the forest, you'll find 26 campgrounds and five picnic sites. There are also several group camping and picnicking areas, which can be reserved in advance. Check out the Honeycomb Rocks Campground in the Pine Valley. You'll find 21 campsites, all with fire pits, tent pads, picnic tables, potable water, and a vault toilet. This campground is conveniently located close to the Enterprise Reservoir, where you can fish for brown trout, among others, and there's a boat ramp available too.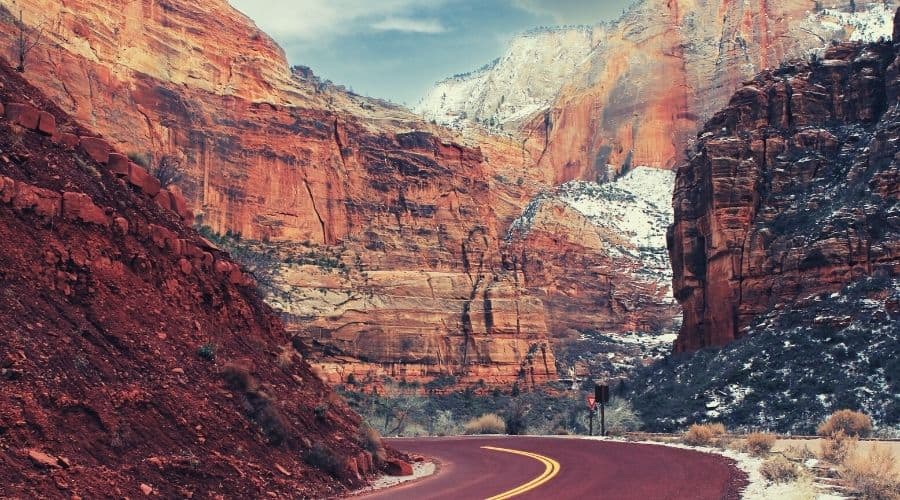 Zion National Park, Springdale
Zion National Park is famous for its towering, sandstone canyon walls and ancient red mountains and is a magnet for visitors from right across the country.
Unfortunately, such is the scenic drive's popularity, that it now has severely restricted private vehicle access, offering mass transit to the area instead. So, you must leave your car in Springdale or at the park's visitor center and take the shuttle transport provided into the canyon.
One popular activity here is canyoneering, which is an exciting challenge for a daytime adventure. Check out this YouTube video to see what it's all about! Rock climbing is also a favorite occupation, as the park has some of the highest sandstone walls anywhere on the planet. If you're an experienced climber, you can go it alone, but novices are advised to hire a guide in nearby Springdale.
Zion also has many miles of trails, both easy and more challenging. Angel's Landing Trail is memorable but not for the faint-hearted. Although the trail is only five miles long, it includes narrow ridges and steep drop-offs that really get the heart pumping, as will the view of the canyon with which you are rewarded when you finally reach the top.
Watchman Campground is a great place to pitch your tent. There are 176 campsites here, all of which have beautiful views out over the Watchman rock formation. Access to the remainder of the park is easy from here too. Ninety-six of the sites have electrical hookups, and it's highly advised that you make a reservation in advance, as this campground is very popular.
Final thoughts
If you've never considered going camping in Utah before, where have you been!
Utah has a vast wealth of beautiful locations to suit all tastes; whether you enjoy testing your mettle by taking on extreme hiking or canyoneering amid spectacular high-rise scenery, you prefer lazing away your days on an inland beach, or perhaps you long to wet a line in a glassy lake in pursuit of trout, it's all here waiting for you.