Capitol Reef is, to our minds, one of Utah's most underrated National Parks. In addition to serving up a feast of gobsmacking scenery, it's also rich in history and home to some of the most outstanding hiking trails anywhere in the US. 
To help you decide on the perfect trails for your trip, read on to discover the best hikes in Capitol Reef National Park for hikers of all tastes and ability levels.
RELATED: Check out our guide to Utah's best hiking trails
The Top 12 Hiking Trails in Capitol Reef National Park
#1. Grand Wash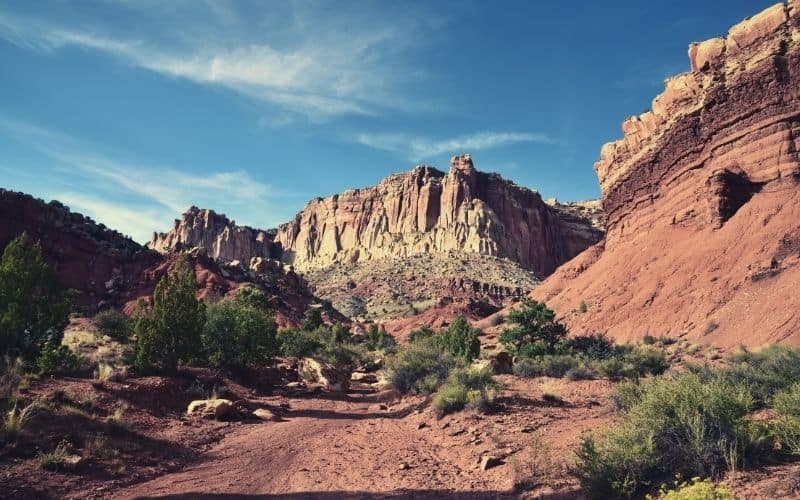 Type: Out-and-back
Length: 4.8 miles
Difficulty: Easy
Grand Wash Trail is one of the top Capitol Reef hiking trails. It is one of six drainages that cut from west to east through the Waterpocket Fold, a 100-mile-long wrinkle in the earth's crust that makes this park stand out among other National Parks. It is a medium-length hike with only about 400 feet in elevation and well-suited for a day trip.
The trailhead starts along Highway 24, the Scenic Drive or Byway that runs close to Sulphur Creek. The Grand Wash Trail's first mile involves entering the wash and starting into the narrow canyons. This part of the hike features vertical walls of Navajo sandstone on either side of you, reminiscent of Zion National Park's famous Narrows' landscape.
After that first mile, you exit the narrows and find Cassidy Arch Trail 2.2 miles in. From there, it is more of a free-for-all as you clamber over and around rocks and boulders inside the wash.
The park service offers a shuttle service from the visitor center and nearby towns to access this trail.
#2. Cassidy Arch Trail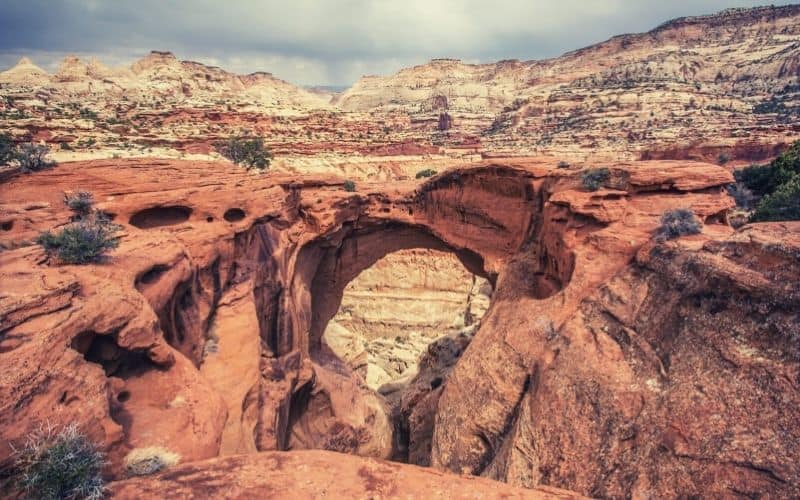 Type: Out-and-Back
Length: 3.4 miles
Difficulty: Strenuous
Cassidy Arch Trail is among the best day hikes in the park, especially if you are into wild west legends and phenomenal overlook views. It takes its name from Butch Cassidy, leader of the infamous "Wild Bunch," who kept a hideout at nearby Robber's Roost throughout their murderous raids in the late 19th and early 20th centuries.
The biggest allure of this hike is the only arch in Utah that you can legally walk on. If you are brave enough and have a good head for heights, a photo on top of the arch is a must.
This is a great hike for those who want to feel pain in their legs the next day. At 670 feet, the total ascent is moderate, but most of it is done on steep slopes that are sure to test the steeliness of your calves.
The hike typically takes about 3 hours to complete. As with any of the Capitol Reef hikes, you must make sure to bring plenty of water and energy-filled snacks, because there are no amenities nearby.
#3. Rim Overlook Trail/Navajo Knobs Trail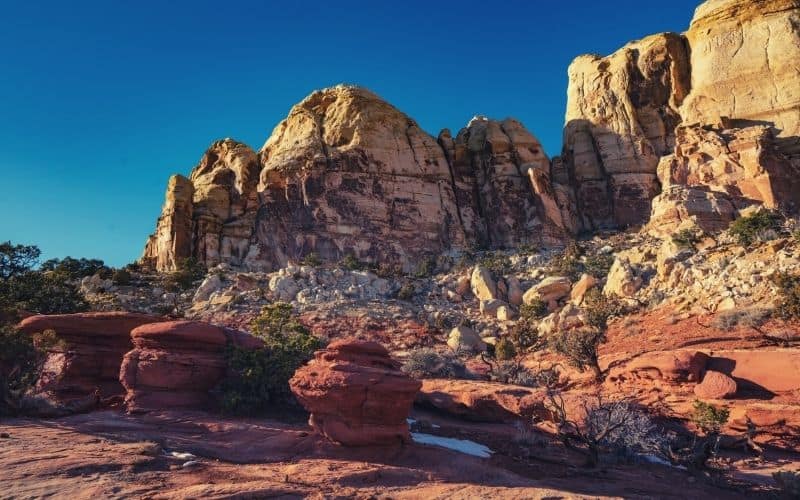 Type: Out-and-back
Length: 9.6 miles
Difficulty: Strenuous
The Rim Overlook and Navajo Knobs are technically separate Capitol Reef National Park hiking trails. However, the names are often interchangeable on account of the trails connecting to form an almost continuous, 9.6-mile route that takes you high above the Fremont River valley.
Both portions of this hike are inarguably among the best Capitol Reef hikes. To take on this hike, start at the Hickman Bridge trailhead and turn off onto the Overlook Trail after just over a mile. Because many hikers miss the turnoff, be sure to bring a map to ensure you're going the right way.
The hike is challenging, and the debate over the exact length and elevation change doesn't help. The estimated overall elevation gain is 1,664 feet one-way and 2,543 roundtrip, including all of the dips and climbs throughout, so be sure to pack that extra granola bar!
Even if you are exhausted at the end of the Overlook Trail, you should try to push through onto the Navajo Knobs trail. The scramble to the top of the knobs provides plenty of photo ops and the summit itself an utterly breathtaking 360-degree panorama.
That said, the Rim Overlook also gives you excellent views of the Waterpocket Fold, meaning that, if you have to turn back, your trip will have been well worth it nonetheless.
#4. Frying Pan Trail
Type: Out-and-back (or one-way using shuttle service)
Length: 5.8 miles
Difficulty: Moderate
The Frying Pan Trail does not have a distinctive trailhead but instead serves as a connector route between the Cohab Canyon and Grand Wash. Even if labeled a mere "connector", it is still a great hike and filled with scenic side trips that make it even more worthwhile.
The first mile takes you down into a dip in Frying Pan Canyon. It then brings you out along the top of the Kayenta formation, where you'll be treated to the kind of stunning views that only Utah, and Capitol Reef in particular, are capable of serving up.
Among the many photo-worthy features you'll find along the detours is a 400-foot sheer wall of red rock that will make your draw drop, just one of many outlandish and almost unbelievable gems tucked into the slot canyons and offshoots on this route.
#5. Cohab Canyon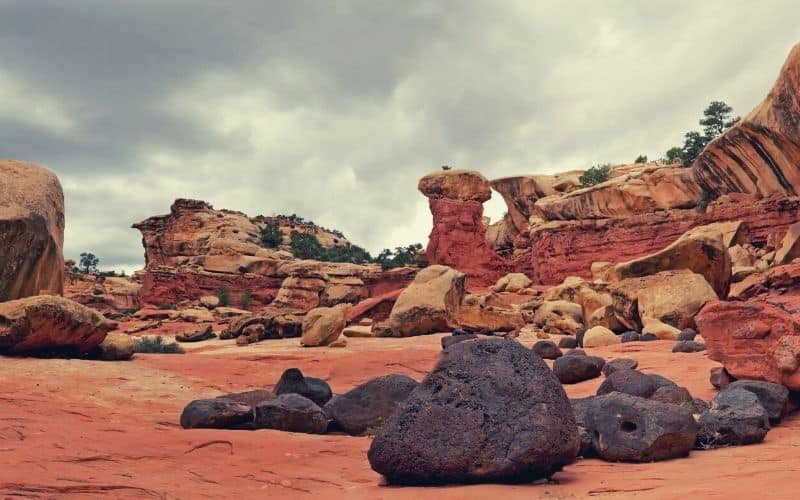 Type: Out-and-back
Length: 1.7 miles one-way and 2.9 miles, including overlooks
Difficulty: Moderate
The Cohab Canyon Trail is one of those aforementioned trails that you can reach after detouring from the Frying Pan Trail. The walk features stunning overlooks of Fremont River, the Fruita campground, and is one of the best trails in Capitol Reef for lovers of areas rich in history.
Similar to its connecting trail, many trails deviate from Cohab Canyon into slot canyons and under hidden arches. The hike itself is relatively short with only 500 feet of elevation gain, but the opportunities for further exploration are almost endless.
The history wrapped up in this national park is much more interesting than that of many other national parks. Cohab Canyon is a good example. Its name derives from an old legend that tells of Mormons in the late 1800s hiding their additional wives inside the canyon when federal law enforcement came to visit Fruita.
Whether or not this is true, it adds to the air of mystery and history you can almost feel seeping from winding the canyon walls as you go.
#6. Hickman Natural Bridge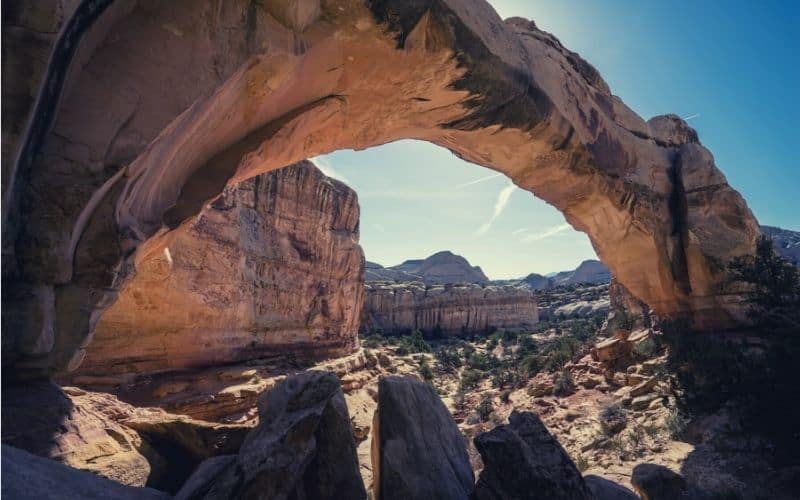 Type: Out-and-back
Length: 1.8 miles
Difficulty: Moderate
Among the many hikes in Capitol Reef, those that are good for families are harder to find.
For example, if you were dying to see a great rock arch during your visit, Cassidy Arch might've been top of your list. However, the Cassidy Arch Trail is quite tricky for young children and even for parents sherpa-ing their little 'uns in a backpack kid carrier.
Luckily, the Hickman Bridge Trail is a much easier hike overall that also takes in a sumptuous natural arch. And it can also always be paired with the Navajo Knobs route if you want to take things up a notch.
The Hickman Bridge spans 133 feet and looks like a bridge connecting two trails rather than an arch. Because the path is easier and the sights at its terminus so unique, however, you can expect this one to be quite crowded during peak season.
#8. Fremont River Trail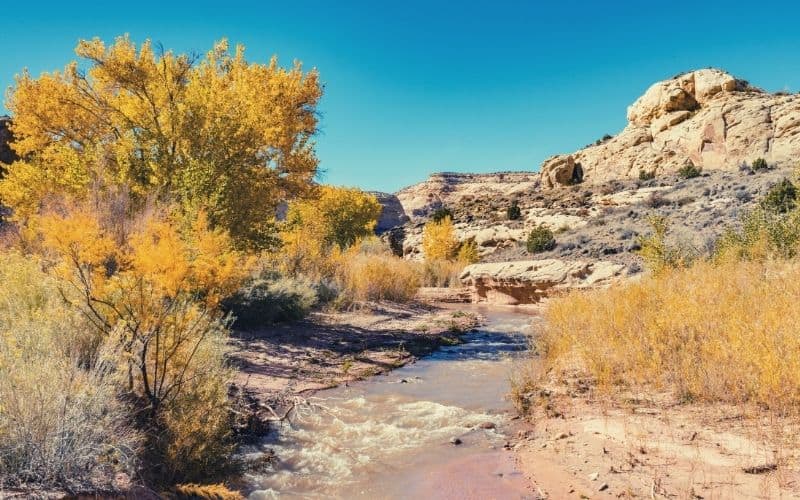 Type: Out-and-back
Length: 2.6 miles
Difficulty: Easy
The Fremont River Trail is quite an easy hike, making it one of the best day hikes in Capitol Reef National Park for families. It begins in historic Fruita at Loop B of the campground (near Gifford House), but you can also access it from the amphitheater, which takes 0.2 miles off the roundtrip hike.
This hike doesn't serve up any particular highlight, just steadily stupendous views for the duration. The best of these arrive at the top of the gorge, from where you'll be looking across to the colorful Waterpocket Fold and down upon the teal waters of the Fremont River.
The first third of this route, through the gorge, is wheelchair accessible. After that, the paved path transitions to dirt and the remainder of the hike is a steady climb out of Fremont Gorge.
#9. Chimney Rock Loop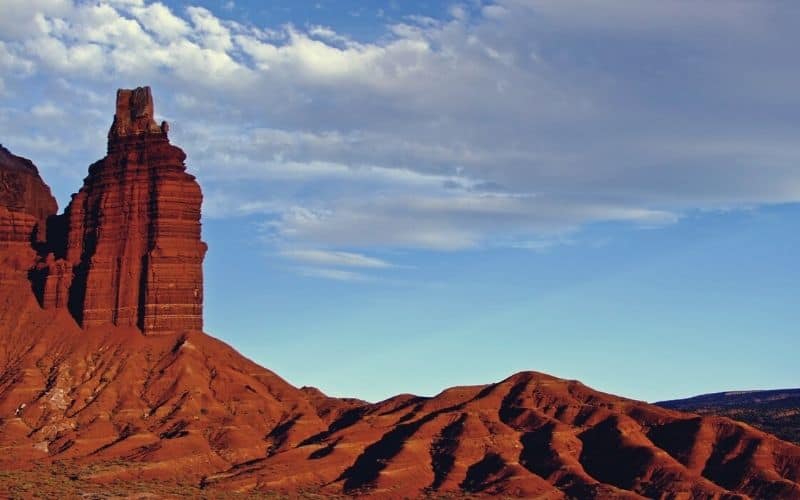 Type: Loop
Length: 3.5 miles
Difficulty: Moderate
Those who plan on hiking Capitol Reef usually place the hugely popular Chimney Rock Loop at the very top of their tick list.
One of the shortest hikes on our list, this loop around Mummy Cliffs is also one of the most family-friendly in the park. It features only 590 feet of elevation gain from start to finish and is easy-going most of the way.
The trailhead for this one is right along Highway 24, making it easy to access and combine with the Scenic Drive. This, however, does mean that you're highly likely to find the trail crowded in all but the winter months.
If you decide to include this trail on your list of must-do hikes, the best time to do it is at sunset. At the end of the hike, you get views of the sun descending over the Waterpocket Fold and Mummy Cliffs, both of which take altogether richer, more startling hues in the fading light. To be on the safe side, bring a headlamp for the descent!
#10. Golden Throne Trail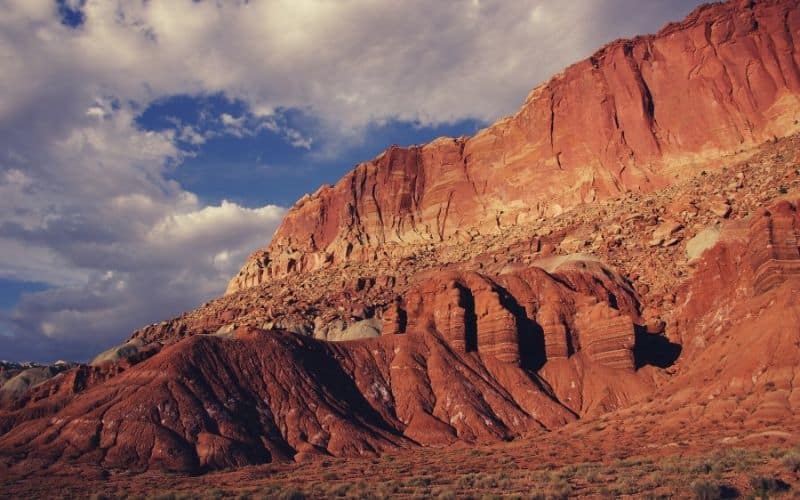 Type: Out-and-back
Length: 3.8 miles
Difficulty: Moderate
There are many places inside Capitol Reef National Park where you get to see those highly coveted Waterpocket Fold views, but not as many where you get to hike on top of it. With Golden Throne Trail, that is what you finally get to do.
The Golden Throne is a monolithic natural dome of Navajo Sandstone that, owing to a top layer of yellowish Carmel Formation, diverges from the almost uniform reds and oranges found elsewhere in the park.
The hike to the throne starts at the end of Capitol Gorge Road, meaning you have quite the drive to get there. The path gets less usage even in the prime season because it is further away from Fruita, the heart of the park. While not long, this route involves 700 feet of ascent, so be prepared to feel the burn if you're not a regular hiker.
#11. Capitol Gorge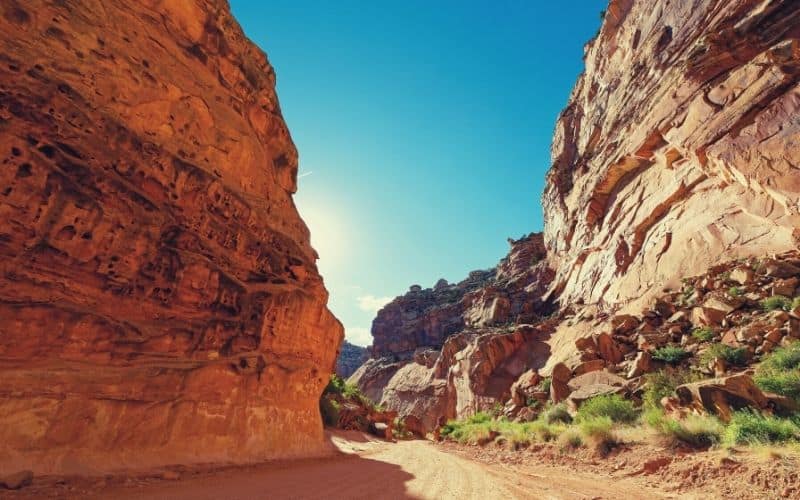 Type: Out-and-back
Length: 5 miles without the Tanks
Difficulty: Easy
Capitol Gorge is another of our Capitol Reef hikes that is easier to do when traveling with young kids. It has a bit of everything, including historical inscriptions and old telephone lines on the walls from the passengers that used to take the road they had carved through Capitol Gorge.
The road was formed in 1883 and called the "Blue Dugway." It was initially used for wagon travel and latterly by cars, and served as the only road across the Waterpocket fold for almost 80 years. Currently, this Utah canyon is open for hikers only.
Because this is an out-and-back hike, you can choose to turn around any time you like. However, we'd highly recommend carrying on to the end so you can catch a glimpse of the Tanks, a collection of curious water-bearing potholes that rest 100 feet above the canyon floor.
#12. Pleasant Creek
Type: Out-and-back
Length: 1.5 miles
Difficulty: Easy
The Pleasant Creek hike in Capitol Reef National Park is a short, simple stroll that's ideal for those who want to stretch their legs and take in some of the scenery. It is almost exactly a mile and a half long and relatively flat for the duration, making it a great option for those with kids.
Set out from a small parking lot located off Notom Rd., 6 miles south of Hwy 24. After about a mile, you will find the largest petroglyph panels in the park, a display of fascinating rock carvings made hundreds (maybe thousands) of years ago by the area's original inhabitants. They're fun for the kids and a must-see for any amateur historian.