The right pair of hiking boots can make all the difference between gliding down the trails or limping all the way back to your car or campsite. If you're hiking with wide feet, you're in for the extra challenge of finding a pair of wide-width boots that fit right.
Never fear! We've reviewed 7 hiking shoes and boots for wide footers that will keep you pain-free wherever the trail takes you.
We've also included lots of tips on how to choose the best hiking footwear based on your goals, so don't miss them!
Top Choices by Category
Budget: Merrell Moab 2, Columbia Newton Ridge Plus, Timberland Earthkeepers Mt. Maddsen
Women's: ​Keen Women's Targhee 2, Columbia Women's Newton
Backpacking: Salomon X Ultra 3 Mid GTX Wide Width, Lowa Renegade Gore-Tex, Merrell Moab 2, Columbia Newton Ridge Plus
Editor's Choice
Salomon X Ultra 3 Mid GTX Wide Width
With the comfort of a running shoe and the durability of a hiking boot, the Salomon X Ultra 3 (click here for woman's version) is the hands-down winner of our best hiking boot for wide feet.
Designed with Salomon's Descent Control Technology, these boots offer the traction and precision you need for tackling everything from wet conditions to tough descents in loose terrain. Combine that with Salomon's advanced chassis technology, and you've got a boot that provides exceptional comfort and stability for long days and heavy packs. 
If you're prone to slogging around in the wet or cold, the Solomon X Ultra's Gore-Tex waterproof bootie liners will also allow your feet to breathe while providing ample protection from the elements. 
Bottom Line: The Salomon X Ultra jusitifies its hefty price tag. It makes an easy choice for novices and experts alike thanks to impressive comfort-enhancing features, waterproofing, and excellent support and stability. 
At a Glance: Quick Recommendations
Best Hiking Boots for Wide Feet: Our Top 7 Picks
​Salomon X Ultra 3 Mid GTX Wide Width
Editor's Choice
The Salomon X Ultra (click here for woman's version) is a midweight boot made from weather-resistant, polyurethane-coated leather. Thanks to comfort-enhancing features like high-performance EVA foam, a SensiFit™ midsole, and a soft textile lining, these Salomon hiking boots will allow you to cover countless miles in absolute comfort and stability.
Thanks to a waterproof Gore-Tex membrane, your feet will stay dry from the inside out. A protective mudguard also protects your lateral and medial sides on even the muddiest of trails.
Despite meeting the requirements to be described as a "wide-width" boot, some users do find that the X Ultra 3 runs narrower than other wide-style boots. So if your feet happen to run on the really wide side, you might want to check out our runner-up, and slightly wider, Lowa Renegade instead.
PROs

Great waterproofing
Lightweight
Breathable materials

CONs

Slightly narrower than other options
Bottom-Line: An exceptionally well-crafted boot with impressive waterproofing, comfort, and stability. 
Lowa Renegade Gore-Tex
Runner-up (Unisex)
The Lowa Renegade (click here for women's version) is a midweight, Nubuck leather boot that combines all-day comfort with exceptional support.
Made from an all-weather, Gore-Tex waterproof lining, Lowa Renegade boots make a great choice for hikers that need rugged protection from cold or wet weather. Deep lugs and a full-length nylon shank provide extra stability on uneven terrain.
Some of the Lowa Renegade's defining features include a Nubuck leather construction, a moisture-wicking footbed, a durable monowrap frame, and shock-absorbent Vibram soles. Thanks to a roomy and wide toe box, your toes will have plenty of room to spread out.
If you're looking for a pair of hiking boots for wide feet that don't skimp on comfort or extra support, you can't go wrong with a pair of Lowa Renegades.
PROs

Great waterproofing
Breathable
Best traction material
Official boot of the AHGA

CONs

The priciest boot on our list
Bottom-Line: A comfortable and waterproof all-terrain boot with lots of room for wide feet. 
Merrell Moab 2
Best Value
The Moab, aka "the Mother of All Boots," is a legendary boot known for its overall value, waterproofing, and durability. Luckily for wide-footed hikers and backpackers, the Moab (click here for women's version) is available in both a medium and wide size.
While it might not be the most athletic-looking design, features like a removable contoured insole, supportive footbed, and padded tongue and collar provide impressive comfort during long treks.
While not waterproof (for that you'll need to upgrade to the Moab GTX) a closed-cell foam tongue and a breathable mesh lining will keep most water and debris out while allowing your feet to breathe.
Overall, the Moab offers great value for its reasonable price tag. If you're new to hiking or just looking for a reliable, comfortable hiking boot with excellent traction and a trusted reputation, go for the Moab.
Looking for similar stats but extra durability and waterproofing? Check out the Keen Targhee III instead.
PROs

Comfort tech
Best traction material
Breathable mesh materials – great if you're prone to sweaty feet
Good traction from Vibram outsoles
Fairly lightweight

CONs

A bit pricey
Lacks some stability on uneven terrain
Bottom-Line: The Merrell Moab is a great pick for hikers looking for a sturdy boot for easy to moderate trails. One of the top backpacking boots out there.
​Keen Women's Targhee 2
Best for Women
Women looking for the best hiking shoes or boots for wide feet should check out the all-leather Keen Women's Targhee.
Comfortable, supportive, and with a toe box wide enough for lots of wiggle room, the Keen Targhee is our top pick for women looking for spacious hiking footwear.
The standout feature of the Keen Women's Targhee is their comfort and fit. Thanks to their Torsion Stability ESS shank, which is just a fancy way of saying they have great shock absorption and load-bearing support, you'll barely feel uneven or rocky terrain.
Similarly to Gore-Tex technology, the Keen's hiking gear is made with a waterproof membrane that will keep your feet dry and moisture-free for every mile while still allowing vapor to escape. It's rare to find an all-leather hiking boot with such breathability.
Don't get discouraged by the price tag – thanks to their toughness, durability and general performance, these Keen boots are an investment that will pay for itself.
PROs

Lightweight
Sustainable design
Removable insole
Anti-odor

CONs
Bottom-Line: A lightweight women's boot that offers performance and quality at a decent price.
Columbia Newton Ridge Plus
Best Lightweight
Like to travel light? Then you'll enjoy the lightweight yet durable design of the Columbia Newton Ridge Plus.
Made from waterproof, full-grain leather, the Columba Newton is the perfect companion for all-terrain hikes. You'll enjoy all the comfort and protection of full-grain leather combined with the breathability and comfort of a mesh tongue and panels. A rubber toe guard and a rubber "Omni Grip" outsole will also help keep your feet firmly planted on rough terrain.
Let's face it – the Columbia Newton just looks good, too. Fashion-conscious hikers will approve of Columbia's stylish leather design available in a number of colors.
With a comfortable feel and minimal break-in period, the Columba Newton is a strong choice for newcomers to hiking. If you're looking for a budget boot, this is also one of the most inexpensive options on our list along with the Timberland Earthkeepers.
PROs

Affordable
Ultralight
Made in a factory that supports women

CONs

Breathability in hot weather
Bottom-Line: Love your running shoes but want some extra stability? If so, the Columbia Newton is for you. 
Timberland Earthkeepers Mt. Maddsen
Best Budget
Looking for a great pair of men's hiking boots that won't break the bank? The Timberland Earthkeepers Mt. Maddsen are an ideal choice for you. 
This full-grain leather boot is surprisingly inexpensive for its premium features and craftsmanship.
The Earthkeepers is a waterproof, mid-height leather boot with a rubber sole. Some of its premium features include leather uppers, a waterproof membrane, an internal TPU shank for ankle support, and a fully gusseted tongue that keeps debris out and your feet warm.
Thanks to Timberland's anti-fatigue comfort technology, these boots are comfortable enough for everyday use. Since Timberland boots tend to naturally run wide, they're also a solid choice for hikers with wide feet.
The Timberland Earthkeepers are by far the heaviest boots on our list, so lightweight purists might prefer the Merell's Men's Moab Boots if they're looking for similar durability without the extra weight.
PROs

Made of recycled materials
Anti-fatigue comfort tech
Responsibly sourced
Stylish design

CONs
Bottom-Line: A stylish, yet heavy, hiking boot suitable for fair-weather hikers that don't mind a bit of extra weight. 
Columbia Women's Newton Hiking Boot for Wide Feet
Runner Up Women's
The Columba Newton Plus is Columbia's take on a women's hiking boot. Built with both premium leather and mesh, the Newton offers the rugged protection of leather combined with the breathability of mesh textile.
Standout features include lightweight, cushioned EVA midsoles to absorb shock, an Omni-Tech breathable membrane, and super-grippy rubber outsoles.
While our overall women's winner, the Keen Targhee, does offer extra features like removable insoles and anti-odor properties, they're considerably more expensive too. So how do you choose between them?
Well, if you're new to hiking, the Columbia Newton's are a solid choice for even the most ambitious day trips. They've got enough stability and support to tackle any easy to moderate trail. Experienced hikers looking for a heavy-duty technical boot, however, will enjoy the extra premium features the Keen Targhee offers.
If you're all about looking good while on the trail, then the Columbia Newtons feature a much more stylish design too.
PROs

Affordable
Ultralight
Stylish design

CONs
Bottom-Line: Our runner-up for best boots for women thanks to its superior cushioning and all-weather protection. 
How to Choose Hiking Boots for Wide Feet
Measure Your Feet
The best way to find boots that fit perfectly is not through your shoe size but rather your foot's length, width, and arch length. If you don't already know these stats, most specialty outdoor stores will have calibrated devices that can help you properly measure your feet.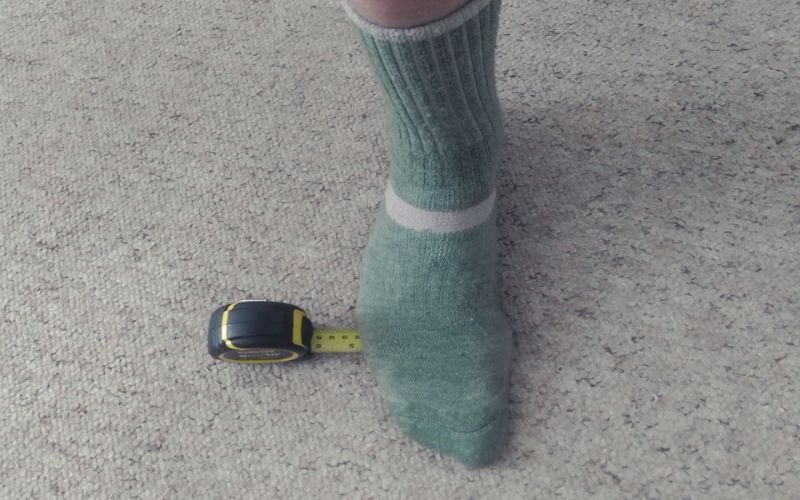 When trying on new hiking boots, make sure they fit snugly and not tightly. Try on your boots at the end of the day to mimic the swelling that naturally occurs during a hike.

If you plan to wear hiking socks, make sure you wear a pair while you're trying your new boots on. Hiking socks are thicker than normal socks and will add some sneaky extra width you'll need to account for. 
If you're ever in doubt, go up a size! Your feet naturally swell during a hike so you want your boots to be snug, but not tight.
Wide Lasts or Wide Widths?
If you can't find a pair of wide hiking boots you like, you might be able to get away with choosing a normal pair of boots from a brand that runs wide. Apart from the boot's actual size, it all depends on the last that each brand uses to create their boots.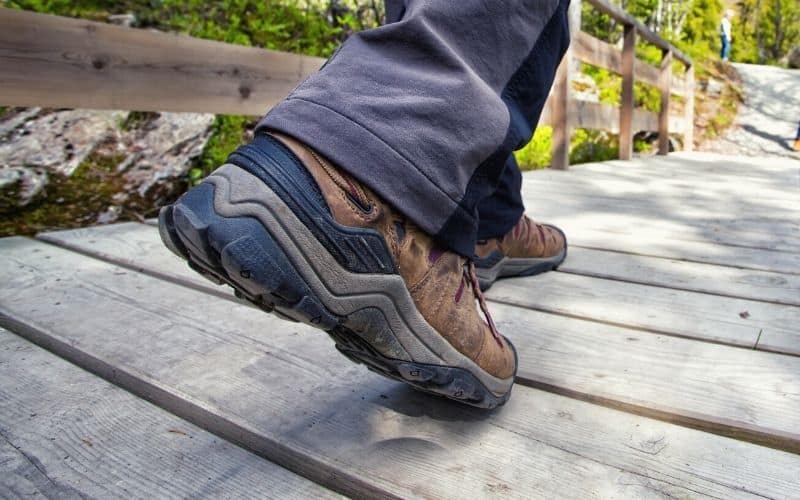 What's a last? A last is just a special type of mold used to create a shoe or boot. Since each manufacturer uses a different last, some naturally run wider than others.
Brands Whose Boots Run Wide
Certain brands, like Merrell, Keen and Timberland are known to run wide making them solid choices for hikers with wide feet.
Merrell
Merrell makes hiking boots with a "wide width" size for many of their top hiking shoe and boot models.
Keen
Keen's Original Fit boots offer generous space across your forefoot, making them the perfect choice for people with large feet. Just be sure to avoid their Contoured Fit models as they are designed to fit snugly across the toe box.
Timberland
Timberland boots tend to run large out-of-the-box, making them a good choice for people with wide feet.
Weight
The weight of hiking boots is all about a trade-off. Heavy boots offer the most durability and support, but the extra weight can, quite literally, feel like a drag while on the trail.
Lightweight trail runners or hiking shoes won't weigh you down, but they don't offer the same levels of support, especially for your ankles.
Think carefully about your hiking goals and the terrain you'll be hiking in to help you make the right decision. If you're new to hiking, choose a lightweight pair of boots as you start to tackle easy to moderate trails. As (and if!) you choose to progress to difficult trails or even thru-hikes, you can invest in a heavier technical boot.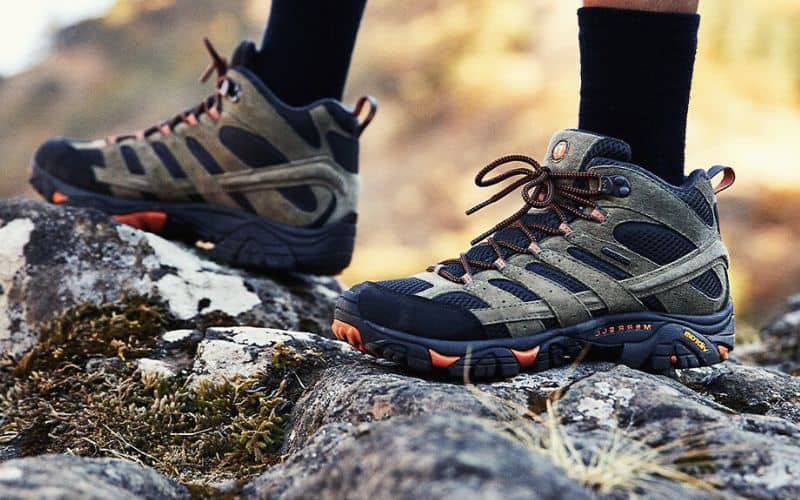 Waterproofing
Hiking boots are typically made waterproof courtesy of a waterproof membrane or liner hidden behind the uppers.
These waterproof membranes are often made from high-tech materials like Gore-Tex®, and while it does wonders for keeping your feet dry, it also limits your boots breathability. It adds significantly to the price tag, too.
Waterproof boots like the Lowa Renegade are lifesavers if you regularly hike in wet or muddy terrain, but they lack ventilation for hot weather. Non-waterproof shoes like the Moab 2 and Newton Ridge are usually lighter and more breathable, although they're susceptible to getting wet.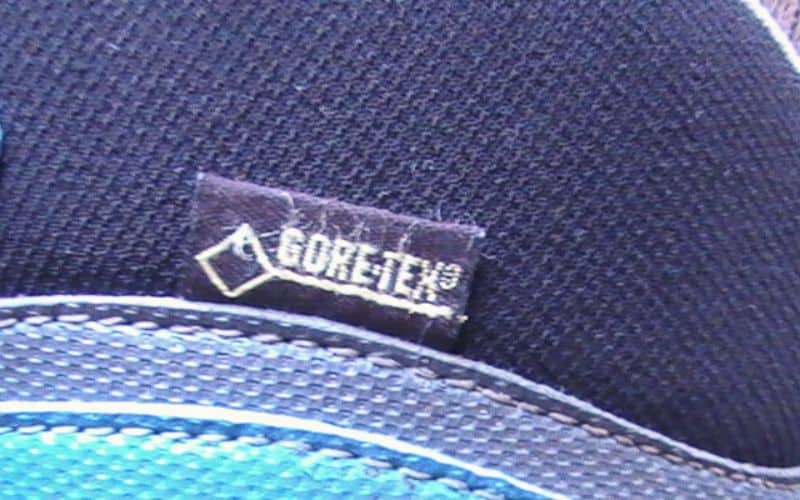 Traction
What really sets hiking boots and shoes apart from regular running shoes is their traction.
Hiking boots and shoes have a deeper level of traction on their soles to help you achieve better grip while walking or climbing. Special traction patterns, lugs, and grooves are set into the sole to add extra stability and to help prevent slips and falls.
No single hiking boot or shoe has the overall best traction, because different soles are designed to fare better on different types of terrain. For instance, soft rubber soles will provide great grip on slick rocks but will leave you slipping and sliding over snow and ice.
Make sure to match your traction to the terrain you hike or choose a multi-purpose tread if you regularly tackle different types of trails.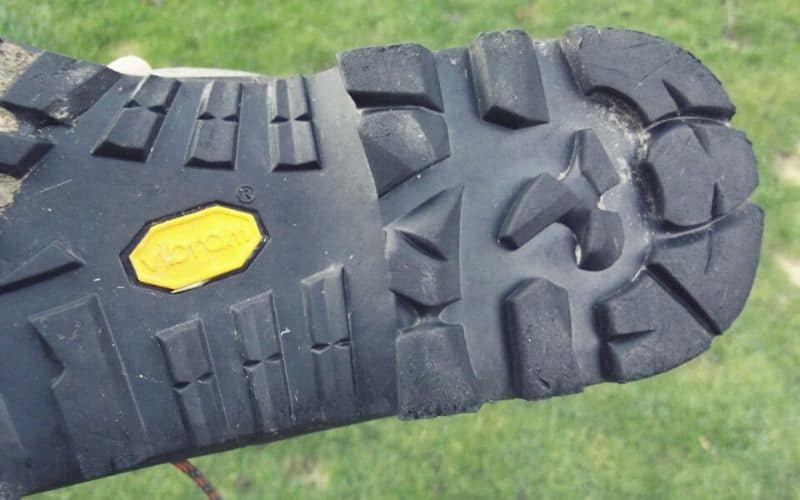 Durability
Hiking boots and shoes can be expensive, so it's important to find a durable pair that will last you for years. Traditional leather boots like the Timberland Earthkeepers tend to be the most durable, but they also add a lot of extra weight. Lightweight footwear might lack some of the durability of real leather, but it makes up for it in breathability and weight.
Best Hiking Boot for Wide Feet: The Verdict
The Salomon X Ultra 3 Mid GTX Wide Width might have taken home our top prize for the best men's hiking boots for wide feet, but any of the other boots on our list will make a fine choice for hikers looking for roomy boots.
If you're still on the hunt for the perfect hiking boots, be sure to check out some of our other guides like the best hiking boots or the best cheap hiking boots.
If you think there's a pair of wide-width hiking boots that deserve to be on our list, don't hesitate to let us know in the comments below! And if you'd like to share this post with your friends, share away!