While a smartphone or GPS watch can be used for basic navigation, having a reliable GPS unit should be a priority if you frequently venture into remote wilderness areas. However, with the abundance of models, updates, and features available, selecting the ideal device can be challenging. How do you determine the right GPS for your needs?
We've compiled a list of our favorite models on the market to assist in your decision. Leading our selection is the Garmin GPSMAP 66i, closely trailed by the Garmin Foretrex 601, Garmin inReach Explorer+, Garmin GPSMAP 64sx, Garmin eTrex 32x, Garmin Oregon 700, Garmin inReach Mini, Garmin Montana 700i, and the Magellan eXplorist 110.
Our buying advice covers the essential features of hiking GPS devices and how to select the one that suits your needs best. Key elements to consider include GPS satellite connection, battery life, durability, size & weight, user interface, altimeter, barometer, compass, as well as other more advanced features.
We've got lots of great options, ranging from premium picks to budget-friendly steals, so read on to find the ideal unit for your needs!
Best Hiking GPS Devices: Quick Recommendations
Best GPS Handheld Unit by Category
Budget: Garmin eTrex 32x, Garmin eTrex 22x, and Magellan eXplorist 110
Touchscreen: Garmin Montana 700i and Garmin Oregon 700
Two-way messaging: Garmin GPSMAP 66i, Garmin GPSMAP 64sx, and Garmin inReach Explorer+
What Are The Best Handheld GPS Models?
Our top choice for the best GPS unit for hiking is the Garmin GPSMAP 66i with the full list of recommended choices shown below.
Garmin GPSMAP 66i
Garmin Foretrex 601
Garmin inReach Explorer+
Garmin GPSMAP 64sx
Garmin eTrex 32x
Garmin Oregon 700
Garmin inReach Mini
Garmin Montana 700i
Magellan eXplorist 110
Garmin GPSMAP 66i
Editor's Choice
Taking our Editor's Choice award is the Garmin GPSMAP 66i, a rugged and feature-rich handheld GPS and satellite navigator designed for the gnarliest of adventures.
It has a MIL-STD 810 certificate (which is military-grade testing) so it's durable build can withstand drops, impacts, and even water submersion while maintaining functionality. In essence, it's the Chuck Norris of navigation devices, but smarter.
Thanks to the pre-loaded, top-end Garmin TOPO mapping software, it is possible to map out complex routes even when the Wi-Fi and mobile phone signals become a distant dream. You can also then easily follow your route on the large, 3-inch sunlight-readable color display.
It's got a rechargeable lithium battery which provides 35 hours of battery life but, with some tweaking of the settings, you can squeeze up to 200 hours out of it. This makes it great for backpacking and a serious contender for the best GPS for thru-hiking.
The 66i also tracks GPS and Galileo satellites simultaneously, which speeds up connection to satellites and improves positioning accuracy.
Other impressive features include interactive SOS to the GEOS 24/7 search and rescue monitoring center, 2-way messaging, accurate weather forecasting, multiple Global Navigation Satellite Systems support, and wireless connectivity via Bluetooth technology and ANT+ technology.
PROs

Interactive SOS and convenient 2-way messaging
Multiple GNSS
8MP camera
Tracks both Galileo and GPS satellites
High-resolution, 3-inch display screen
Waterproof
Great battery life

CONs
Bottom-Line: A tough, top-of-the-line unit with two-way satellite messaging, SOS, and weather forecasting – premium features that put it head and shoulders above the best of the rest.
Garmin Foretrex 601
Best Value
Despite the ultralight, hands-free Garmin Foretrex 601 being one of the most affordable options on our list, it's constructed to military standards and offers powerful features typically found on far pricier units.
You'll always know exactly where you're roaming thanks to 3 satellite systems, a 3-axis accelerometer, a 3-axis compass, and a barometric altimeter. You'll even enjoy a 2-day runtime in navigation mode.
One of its outstanding features is the ability to wear the Garmin Foretrex as a watch thanks to the included wrist strap. It's also the only unit on our list that features a night vision mode, which earns it a place amongst the best models out there for overnight trips in the backcountry.
Overall, the Garmin Foretrex offers a lot of value at a reasonable price. It's a good compromise between affordability and the slightly more precise navigation of some of the pricier models on our list.
PROs

Affordable
Hands-free navigation
Night vision feature
Multiple GNSS
Ultralight
Can be worn as a watch

CONs

Small screen
Can't download maps onto the device
Bottom-Line: With its hands-free navigation and military-grade construction, the Garmin Foretrex is the ideal backcountry companion for hikers who want all the boxes ticked without having to break the bank.
Garmin inReach Explorer+
Best Satellite GPS
The Garmin inReach Explorer+ offers all the features you could desire in a Satellite GPS for hiking and more. If the Foretrex is the optimal cost-effective solution, the inReach serves as the luxurious high-end alternative.
First and foremost it has a clear 2.31″ screen, which displays the birdseye satellite imagery in detailed color maps. Although not wearable, this compact device is almost as powerful as most smartphones on the market today.
In addition to the standard electronic compass and barometric altimeter, it incorporates a barometer and accelerometer to track real-time speed and altitude information. It is capable of sending SOS signals with the touch of a button, and can even support two-way text messaging if you have the associated subscription.
Real-time location sharing with other users, water resistance, and the ability to incorporate NOAA weather maps and color satellite imagery make this device one of the most complex on the market. Despite this complexity, however, it's wonderfully easy to use.
PROs

Communication
Waterproof
Additional features
Detailed maps and information
Easy-to-use button interface
Variety of basemap options

CONs

Cost
Battery life
Additional subscription needed for some features
Bottom-Line: If you are looking for a handheld GPS device with a boatload of functionality, you can't go far wrong with the inReach Explorer+.
Garmin GPSMAP 64sx
Honorable Mention
If you're looking for an ultra-reliable unit with incredible reception, consider the Garmin GPSMAP 64sx.
Thanks to its quad-helix antenna and multi-GNSS support, the 64sx is one of the most accurate devices out there, even more so than the winner of our review and its successor, the GPSMAP 66i.
On top of its superb reliability, this handheld GPS is insanely easy and intuitive to use. The large buttons make navigation a cinch, even with gloves on, and the menu is completely customizable. While not everyone will be fans of the buttons, this is one of the easiest units to use on our list, along with the Garmin InReach Mini.
There is, however, one small drawback. The Garmin GPSMAP 64sx has a limited battery life of just 16 hours, so you'll want to pack extra batteries for longer trips.
PROs

Fantastic reception
Great accuracy
Smart connectivity (via BlueTooth)
Multiple GNSS-support
Water-resistant
Easy to use with gloves

CONs
Bottom-Line: Reliable, easy-to-use, affordable, and one of the most accurate devices out there.
Garmin eTrex 32x
Best Basic
For an affordable, user-friendly device, consider the eTrex 32x. This GPS unit is simpler compared to other items on this list but still includes preloaded TOPO maps, GLONASS support, and various other features, making it a compelling choice for its price.
It features a 2.2″ touch screen which shows your maps and data in perfect color and with 25 hours of battery life, it's good for a weekend adventure, or longer if you pack extra AA batteries.
A cheaper version of the eTrex 32x is available in the eTrex 22x, which was released at the same time as the 32x to replace the hugely popular eTrex 20. The 32x differs from the 22x and its predecessors by offering the ability to add custom maps, a barometric altimeter, compass, and ANT+ compatibility (which allows monitoring devices to trade data).
With a device in this price range, you lose a lot of features as compared to top-end models, such as SOS and two-way messaging, and the smaller screen may prove a sticking point if your eyesight isn't the best.
We'd recommend the 32x to anyone who wants more features and functionality than rudimentary models like the old eTrex 10 or the eTrex 22x without the added expense of higher-end models like the Garmin Montana.
If you are happy to do without custom maps and a compass, then we recommend you save yourself some cash and opt for the eTrex 22x.
PROs

Battery Life
Price
Appearance
Different Satellite Options
Size

CONs

Limited memory capacity
Poor resolution quality
Smallish screen
No touchscreen capabilities
Bottom-Line: A great option if you're looking for above-average functionality without shelling out for top-end features.
Garmin Oregon 700
Best Touch Screen
If you prefer a device with a smartphone-like look and feel, consider the Garmin Oregon 700.
The Oregon 700 is, simply put, a more compact and cheaper version of the Montana 700i. Like the Montana, the Oregon 700 has a touchscreen display that can be used in landscape or portrait mode. Both offer accurate location data courtesy of GLONASS and GPS tracking and have 3-axis compasses and barometric sensors.
The main differences are that the Oregon has a smaller, less detailed screen (3") and, with an active satellite subscription, allows two-way messaging and lets you send an interactive SOS to the GEOS 24/7 monitoring center if sh*t hits the fan.
That said, if you pair your Garmin Oregon with a smartphone, you'll receive smart notifications like calls, texts, emails, and weather forecasts as long as you're within signal range.
Despite having a bucket-load of fancy features, the Oregon 700 is easy to use. Reception is smooth and fast, and you can store over 10,000 waypoints. It also lets you create and track multiple profiles for all your favorite outdoor activities like hiking, cycling, and fishing.
All told, the Garmin Oregon makes a fine choice for both casual adventurers and seasoned hikers. For a reasonable price, you get a smartphone-like unit with self-orientation. Only the Garmin GPSMAP 66i offers similar value.
PROs

Smartphone-like touchscreen
Sunlight readable
Multiple GNSS
ABC sensors

CONs
Bottom-Line: A powerful, reliable, and extremely easy-to-use device with touchscreen capability.
Garmin inReach Mini
Best Minimalist
Compact and lightweight, the Garmin inReach Mini is a minimalist GPS device designed to help you navigate safely and stay in touch off the grid.
Despite its small size (about the palm of your hand), this little handheld unit packs some powerful features. With the help of the iridium satellite network, you'll get 100% pole-to-pole coverage with no gaps.
In practical terms, that means if you ever hike out of cell phone coverage you'll still be able to send messages, contact emergency services, and get active weather forecasts. Another neat feature is the ability to track and share your journey online, so your family and friends can stay up to date on where you're roaming.
The Mini also has an impressive 90-hour battery life at 10-minute tracking and a 24-day battery life at 30-minute tracking. That's the highest on our list, so it's a solid choice for longer trips and thru-hikes.
The downsides? Well, the small, black-and-white interface and button controls mean the Mini isn't ideal for navigation, so is best paired with a cell phone. While this is perfectly okay, many buyers may object to the necessity of carrying a second device and, potentially, a charger to keep that device's limited battery life topped up too.
PROs

Lightweight
Long battery life
Easy-to-use
Location sharing
Rechargeable battery

CONs

Small display
Additional subscription needed for some features
Small interface means it's best used in combination with a cell phone
Bottom-Line: A compact, affordable handheld unit with GPS and satellite messaging.
Garmin Montana 700i
Premium Pick
Our premium pick, the Garmin Montana, is a beefy handheld GPS device roughly the size of a thick smartphone. With its XL size, this GPS boasts an unparalleled 5-inch diagonal touchscreen with impressive resolution.
Despite this large, seemingly fragile screen, the Garmin Montana is insanely tough. It boasts a rugged, military-grade construction and its IPX7 rating means that it's fully waterproof to boot.
Thanks to one of the most powerful antennas of any device we reviewed, the Montana is one of the most reliable units out there. You'll also find many TopoActive maps preloaded into the device and a 3-axis compass and barometric altimeter sensor for accurate navigation.
All this power comes at a cost, however. The Garmin Montana is the heaviest and bulkiest GPS device on our list, so it's not the best choice for minimalist, weight-conscious hikers or backpackers. But if you don't mind carrying the extra ounces, few other handheld GPS devices offer such exceptional satellite reception, fast processing, and precise sensors.
PROs

Multiple GNSS
Large display and impressive resolution
QWERTY keyboard
Interactive SOS
Huge internal memory

CONs
Bottom-Line: Heavy and pricey, but the most user-friendly device on the market by far. Like a virtually indestructible smartphone with fully-fledged GPS capabilities.
Magellan eXplorist 110
Bargain Buy
The Magellan eXplorist 110 is a budget-friendly device worth considering as a smart bargain buy. This entry-level unit is designed with just the essentials in mind, making it a good choice if you only hit the trail occasionally.
The Magellan is a small unit that's intuitive and easy to use. Its small size makes it easy to fit into your pocket or throw in your bag.
Despite its affordable price, the 110 offers several handy features, including the ability to mark waypoints, a sunlight-readable screen, and a detailed road network with maps for over 200 countries.
Overall, a great entry-level option for occasional hikers.
PROs

Price
Lightweight
Waterproof
Color screen
Good battery life

CONs
Bottom-Line: An affordable, entry-level unit with decent battery life for its size.
What Features Do Hiking GPS Units Have?
The standard features typically found on most GPS units include an electronic compass, base maps, barometer/altimeter, and waypoint manager.
These units are handheld and lightweight, vital when backpacking or hiking long distances. Additionally, many of them can act strictly as a digital compass or work with traditional maps, allowing you to navigate however you choose.
Although it is hard to beat a traditional compass and map, GPS units will do the majority of the heavy lifting for you. A map can tell you where to go, and a skilled outdoorsman can make their way to any destination with just a compass, but a GPS hiking device can help you avoid problems along the way and make your trip a much more comfortable and enjoyable one.
If you haven't previously considered purchasing a GPS device, the benefits are hard to ignore. They will improve your ability to navigate and make your journey significantly smoother by virtue of knowing routes before you have to take them.
These devices can also alleviate any worry or fear by offering options for retracing steps or communicating location information to rescue teams if needed. Hopefully, these functions will never be necessary for the majority of users, but the additional safety is comforting to have just in case.
Many of them will also display elevation and other pertinent data, helping you to pinpoint your exact location, and will also allow you to track useful data during your hike. You can assess how high you've climbed, or see the gradient of an upcoming section of trail to help decide if you want to scale it or simply pass around it.
While heavier than a GPS watch, the large interface is an undeniable boon, no matter how good your eyesight is.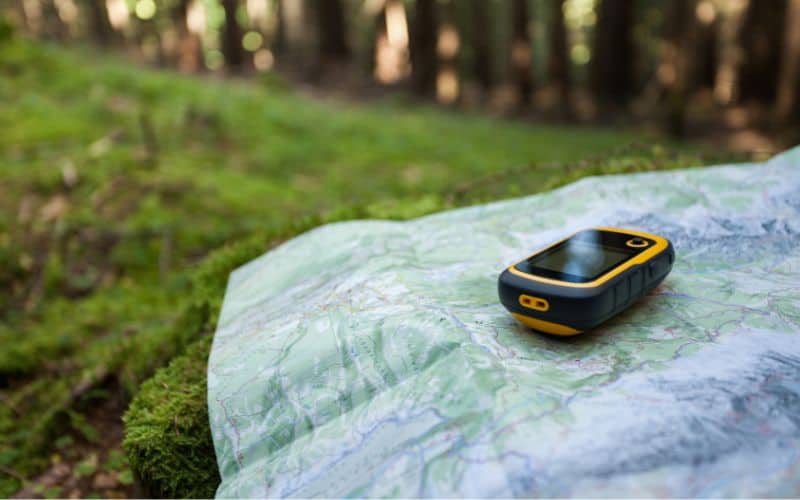 How to Choose the Best GPS For Hiking Trails?
There are many things to consider when choosing from the huge range of GPS devices on the market. Some are vital to performance, some come down to personal preference, and all are listed below.
GPS Satellite Connection
Battery Life
Durability
Size & Weight
User Interface
Altimeter, Barometer, & Compass
Advanced Features
GPS Satellite Connection
GPS devices primarily determine location and guide you to your destination by connecting to GPS or GLONASS satellites. If they fail to connect properly, they are not suitable for use in the wilderness.
For this reason, GPS position accuracy is the first and most important consideration in choosing a handheld navigator.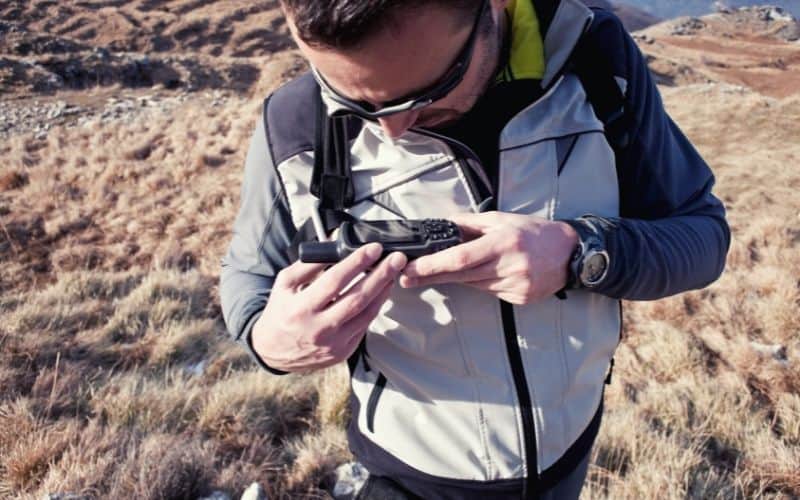 Battery Life
If you'll be relying on your device for an extended period with no charging capabilities, such as when thru-hiking, the battery life of the unit becomes crucial. Different handheld devices use different battery types, either replaceable or rechargeable, each with its own advantages depending on your circumstances.
If on the other hand, you'll only use your device intermittently or for short periods, then the battery life will fall down the pecking order (somewhat – we'd always advise having a little extra juice in case you get lost and/or are out for longer than expected).
The top performer in this metric is the inReach Explorer Mini, which can last for up to 24 days in power-save GPS mode.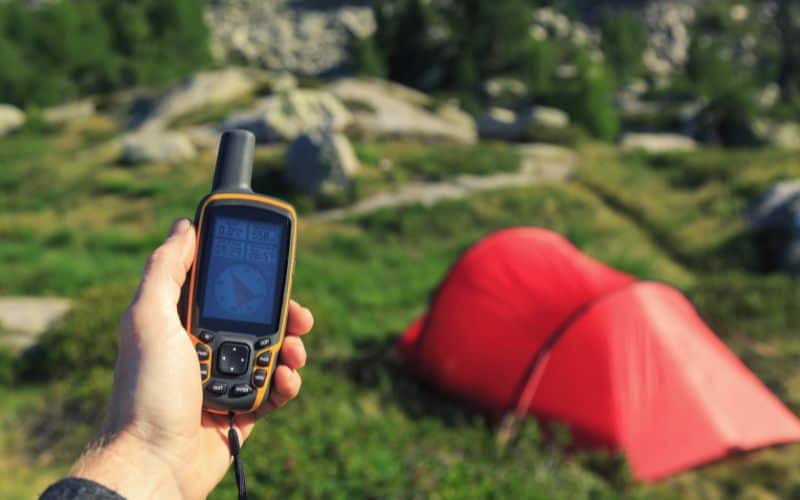 Durability
All of the best handheld GPS units are built to withstand water and rough treatment, but some are more trail-ready than others. To determine this when making a purchase, look for the IP (ingress protection) rating, which indicates how waterproof the device is. Most units on our list have an IP7 rating, meaning they can be submerged in 3ft of water for up to 30 minutes.
In this age when more and more adventurers are relying on GPS-enabled smartphones, smart devices, and apps that allow you to navigate in areas without cell service, the thing that makes handheld GPS units a worthwhile investment is their ability to withstand the elements and serious use and abuse.
The most durable model on our list is the Garmin Montana 700, which meets military standards for heat, shock, vibration, and water.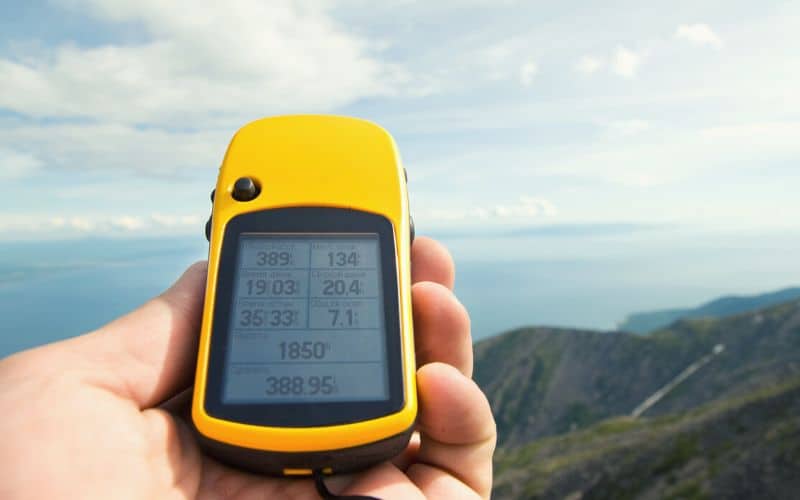 Size and Weight
Outdoor adventures often require a minimalist approach so when you can only bring what you can physically carry, it's crucial to ensure everything can fit into a small space without adding unnecessary weight. All of the products on our list are handheld, but their size and weight vary significantly.
If you're of a minimalist persuasion, we recommend the Garmin inReach Mini, which weighs next to nothing and can fit into a shirt pocket. If you're happy to carry a little extra weight and bulk in return for better graphics and a larger screen, then we recommend more feature-rich portable GPS device like the Garmin Montana 700i or Garmin GPSMAP 66i.
User Interface
Deciding on the type of user interface to choose is a matter of personal preference but is nonetheless essential in determining what you want in your product.
Some of the GPS devices we reviewed have an incredibly simplistic interface with a basic digital screen, excellent for a lower-priced product, but you may want something more dynamic.
Many devices use colored and/or illuminated screens to give you the best depiction of the terrain possible. Additionally, some of these products use a touch screen as opposed to soft keys, which is another matter of personal preference. Either way, you'll need to find what you are most comfortable with.
Also important is how easy the user interface is to use. Is that waypoint setting you are looking for buried about 24 clicks deep within the menu structure? Or does the display let you see the barometric altimeter readings simultaneously with the unit's electronic compass? Getting to the most relevant navigation features for you is just as important as the screen resolution and size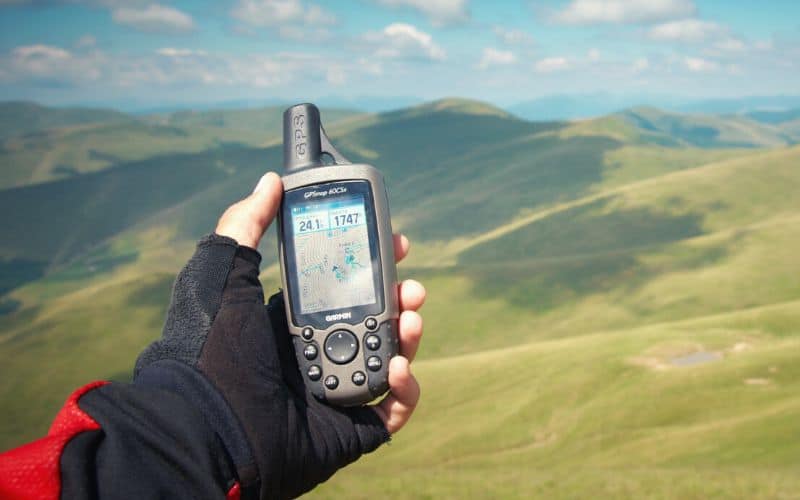 Altimeter, Barometer, and Compass
Collectively known as ABC, altimeter and barometer features measure the air pressure, while the compass determines direction. These features are standard on most handheld units, but the level of detail and functionality can vary significantly.
A barometric altimeter measures vertical height above sea level alerting you to how far up a mountain or down a valley you have traveled. A barometer measures the air pressure, which is important for gauging the weather and which also helps with measuring altitude as well.
A compass is a device that uses magnetic fields to find North. Each of these tools is incorporated into the majority of GPS units. Still, some will give you more detailed information, and some will even offer a more dynamic extrapolation of that data (such as current weather conditions and forecasts).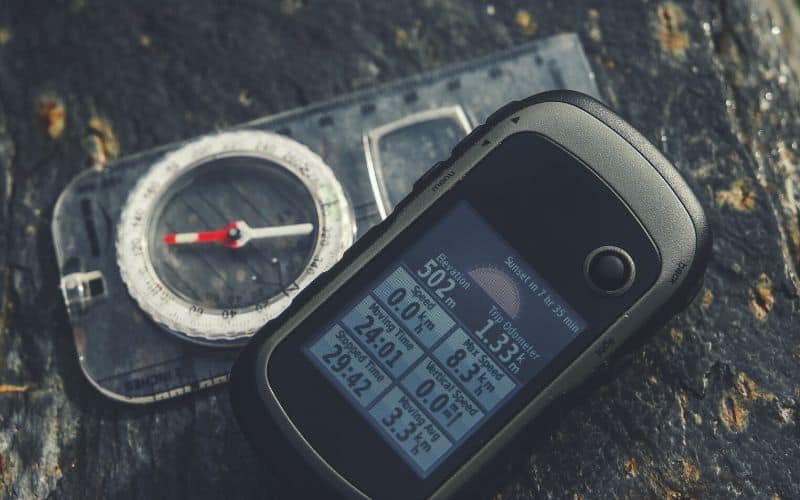 Advanced Features
Some of the best hiking GPS units come with advanced features that enable communication beyond regular range, and some even include video capabilities for communication and recording.
Many products can act as radio transmitters or even a messaging interface so you can keep in contact even when outside of cellular range. This is especially useful for relaying location information to keep your nearest and dearest updated or in the event of an emergency.
Though not necessarily vital for the casual adventurer, there are incredible features to be found in some modern handheld devices.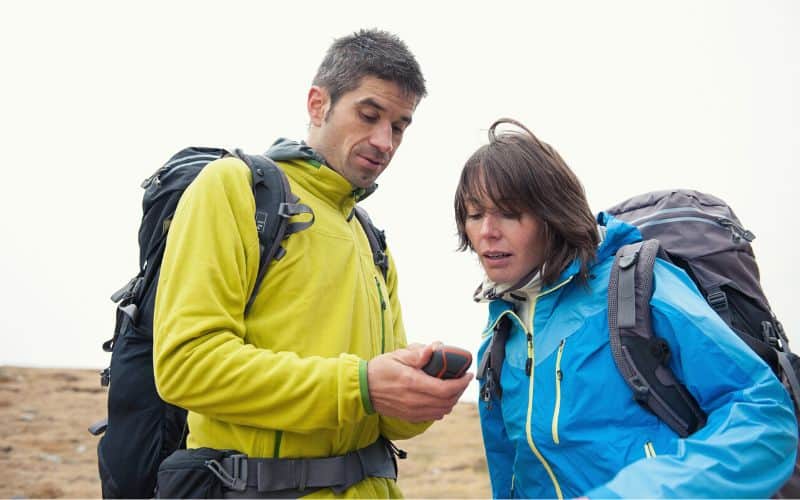 Frequently Asked Questions
What does 'GPS' stand for?
The initials GPS stand for Global Positioning System.
GPS units function by using satellite-relayed data to determine a specific location. Through triangulating the device's position with multiple satellites, you can precisely pinpoint a person's location on Earth.
The unit will transmit a GPS signal to multiple satellites, and depending on the time needed to reach each satellite, they can determine how far away the individual is from each of them. From there, the satellites will coordinate and determine where that person is on Earth.
Can a GPS replace topographic maps and compass?
No, a GPS should never be seen as a replacement for a map and compass. First of all, a GPS unit is an electronic device that has the potential to malfunction or run out of battery. While relying on your device for basic and swift navigation is advisable, carrying a map and compass remains essential in case your device becomes unusable for any reason.
What Is The Best GPS Device For Hiking? The Verdict
For the ultimate GPS capability for hiking, we recommend the Garmin GPSMAP 66i, unparalleled in terms of user-friendliness, accuracy, and features.
If you're looking for something a little more budget-friendly, then you can't go wrong with the Garmin eTrex 32x or eTrex 22x, both of which offer more than enough in the way of performance for the needs of your average hiker.
A GPS can quite literally be a lifesaver when you're out in the wilderness – at the very least, it's a hugely handy tool that can seriously simplify navigation.
If you have any questions, feel free to give us a shout in the comments below, and don't forget to share this article with your family and friends. Happy hiking!