Best GPS for Backpacking, Hiking & Outdoor Adventures
Looking for the Best GPS for Hikers?
You're in the right place! In this guide, we will be covering the following:
What features to look for in a hiking GPS units
Reviews of the top models on the market
Our #1 pick for the best GPS for hiking
Few hobbies could utilize a handheld GPS (handheld global positioning system) more so than hiking. With the perils of dangerous trails and the potential to get lost in the midst of a vast wilderness, choosing the right GPS unit can mean the difference between danger and security. While there are many different tools, you'll want to have. Owning a handheld GPS device should undoubtedly be near the top of the list.
There are many different options out there from which to choose, and finding the best hiking GPS for both your budget and your security can be daunting. We've done the heavy lifting and taken a look at some of the many options available to you, to guide you towards the right product.
With features like backtracking, barometric altimeter, heart rate monitoring, and essential information for your journey, there are numerous different options you can find in various GPS devices. This guide should help you make the best choice when selecting one for your next hike.
Best Handheld GPS for Hiking
Garmin eTrex 32x
Without a doubt, the best GPS for hiking we have seen is the Garmin eTrex 32x. This device is stunning, with a wide variety of features and incredible benefits for its price. First and foremost, the dual battery system is the best solution we've seen for charging and battery use. Even without backup AA batteries, the included rechargeable NiMH battery pack lasts up to 25 hours, longer than most of the other rechargeable products on their own.
With preloaded maps and impressive storage capacity, this GPS unit will give you all the terrain details you could want for your upcoming journey. Communication is also vital, as this product can be upgraded to include messaging and video connection so that you can stay in contact with friends and family back home while you're out in the great outdoors.
Another added benefit of this product is the availability of both GPS and GLONASS satellites systems. This improves the detail and helps identify more complex location information such as height and speed with higher resolution than your average handheld GPS units.
Offering vivid color displays that present TOPO maps and routes that are easily followed and traced on the touch screen. The easy-to-use system makes for a comfortable user experience that needs no setup. Thanks to the preloaded TOPO maps and ease of access, this product is ready to go the minute you open the box, and we couldn't be more impressed.
Features of a GPS Tracker for Hiking
Although it is hard to beat a traditional compass and maps, hiking GPS units do the majority of the heavy lifting for you. A map can tell you where to go, and a skilled outdoorsman can make their way to any destination with just a compass, but GPS hiking devices can help you avoid problems along the way and make your trip much more comfortable and more enjoyable.

A handheld GPS device has some pretty standard features that you'll find on every model, or at least the vast majority of them. These products are handheld and lightweight, which is vital when backpacking or hiking long distances. Additionally, many of them can act strictly as a digital compass or work with traditional maps, allowing you to navigate; however, you choose.
If you have not previously considered purchasing a GPS device, the benefits are hard to ignore. They improve guidance and will make your journey significantly smoother, only by virtue of knowing routes before you have to take them. These devices will also alleviate worries and fears by offering options for retracing steps or communicating location information to rescue teams if needed. Hopefully, these functions will never be necessary for the majority of users, but the additional safety is comforting to have just in case.
Many of them will also display elevation and other pertinent data, helping you to pinpoint your exact location, and also allowing you to track useful data during your hike. You can assess how high you've climbed, or see the slope of an upcoming hill to help decide if you want to scale it or simply pass around it.
How to Choose the Best Hiking GPS Device
There are many things to consider when choosing from the many GPS devices on the market. Some of these options are vital to performance, and some are a simple preference. Take a look at the different options available and see what the most important considerations are.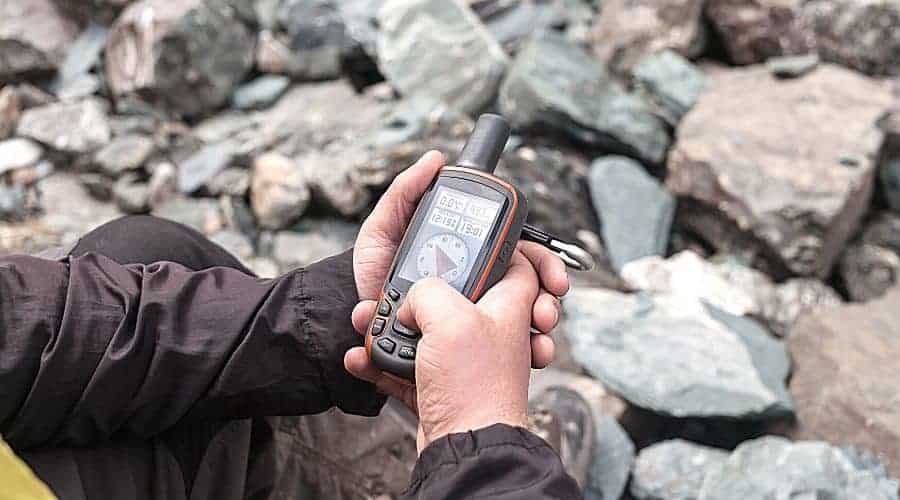 GPS Satellite Connection
The primary purpose of a GPS. Connecting to GPS or GLONASS satellites is the primary way these devices will determine location, and, by extension, guide you to your destination. If these products do not connect properly, they are not a good option for use in the wilderness.
This is why hiking GPS position accuracy is the first and most important consideration in choosing a handheld GPS navigator.
Battery life
Battery life is an important characteristic of these products. Different handheld GPS devices use different battery types – either replaceable or rechargeable. Neither is necessarily better, but you have to weigh the options. If you are going to be relying on a GPS for an extended period of time (such as multiple days) without being able to charge it, then the battery life of the product becomes crucially important.
If on the other hand, you will only be using it intermittently or for short periods, then the life of the battery, will fall down the pecking order (somewhat – we'd always advise having redundancies if you get lost and our out for longer than expected).
Durability
Durability is paramount because let's face it; you're in the woods. Handheld GPS devices are rarely going to be used in a cushioned environment. These products are all designed to get wet and dirty and will survive minor scrapes and bruises. But if you are a rugged climber or avid cyclist, you should consider something that will be sturdier and more substantial.
Broken hiking GPS units won't be much use on your quest (or finding your way back home). Find one that is rugged enough to endure your active lifestyle while balancing the cost and other features.
Size and Weight
Size and weight are also vital considerations due to the nature of hiking and trekking. Everyone knows that outdoor adventures are minimalist undertakings. When you can only bring the things you can physically carry, it is crucial to make sure everything fits into a small space and doesn't contribute much weight. All of the products are handheld, but their size and weight can vary significantly. Make sure you choose one that will be manageable for your voyage, or else you'll be stuck lugging around a pack that's far too heavy. That goes for replacement batteries as well – redundancy is as important as function.
Ease of Use
User interface is more of a personal choice but is vital in determining what you want in your product. Some of these GPS devices are incredibly simplistic, with a basic digital screen. That's excellent for a lower-priced product, but you may want something more dynamic.
Many handheld hiking devices offer colored and/or an illuminated screen to give you the best view of the terrain possible. Additionally, some of these products use a touch screen as opposed to soft keys, which is another matter of personal preference. Either way, you'll need to find what you're most comfortable with on your adventure.
Also important is how easy the user interface is to use. Is that waypoint setting you are looking for buried about 24 clicks deep within the menu structure? or does the display let you see the barometric altimeter readings simultaneously with the GPS units electronic compass? Getting to the right navigation features is just as important as the screen resolution and size.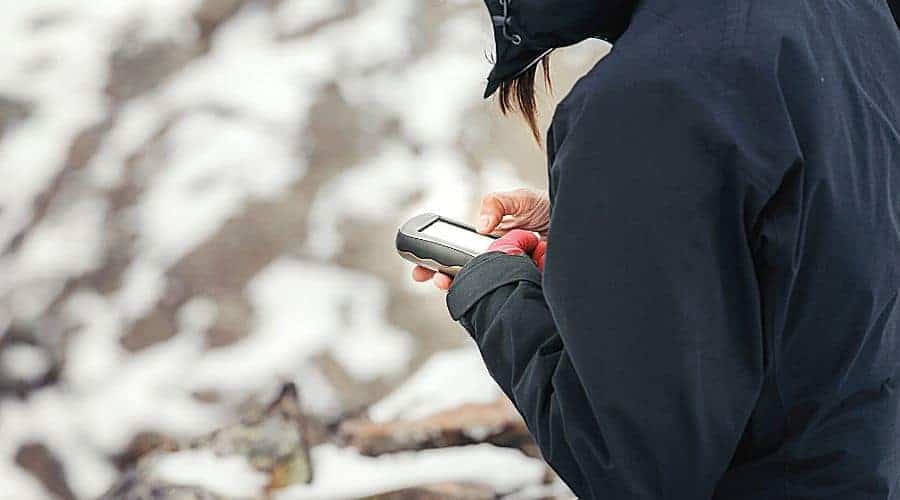 The ABCs
Altimeter, barometer, and compass are typically standard on these devices, but the level of detail and power they have varies drastically. A barometric altimeter measures vertical height above sea level so you can tell how far up a mountain or down a valley you have traveled. A barometer measures the air pressure, which is important for gauging the weather and helps with understanding altitude as well.
A compass is a device for finding the North by using magnetic fields. Each of these products are now incorporated into GPS units. Still, some will give you more detailed information, and some will even offer more dynamic extrapolation of that data (such as weather conditions and predictions).
Other Features
Advanced features are also important to consider. Though not necessarily vital for the casual adventurer, there are some incredible features that people have incorporated into their devices. Most stunning are the elements for communication. Many products have the ability to act as radio transmitters or even a messaging interface so you can keep in contact even outside of cellular range. This is useful for relaying location information to keep people updated or in the event of an emergency.
Additionally, some GPS units have incorporated video capabilities, both for communication and recording purposes. It is easier to track your location and remember landmarks if you have video documentation of them. Now, these units have that included so that you can trace back your steps as accurately as possible.
Frequently Asked Questions
What does GPS stand for?
GPS stands for Global Positioning System.
How does GPS work?
GPS units work by using information relayed to satellites to determine location. By triangulating the position of a device against multiple satellites, you can figure out exactly where someone is positioned on the face of the Earth. The GPS will transmit a signal to multiple satellites, and depending on the time needed to reach each satellite, they can determine how far away the individual is from each of them. From there, the satellites will coordinate and determine where that person is on Earth.
Can a GPS replace your topographic maps and compass?
No, a handheld hiking GPS should never be seen as a replacement for a map and compass. Firstly, an electronic device can malfunction or run out of battery. In questionable situations, a compass and map will never lead you wrong. However, for 99% of situations, a hiker or explorer will encounter, a hiking GPS will be perfectly capable of leading them to safety.
Handheld GPS Reviews
Garmin inReach Explorer+
Longest Battery Life
Garmin is known for having some of the most dependable products on the market and has always led the way with GPS solutions. If the Foretrex was the budget solution, the inReach is the high-end, luxury handheld Garmin GPS for hiking. This product has all the bells and whistles you could want and more.
First and foremost it's got a clear 2.31″ screen, which displays the birdseye satellite imagery in stellar color maps.
Although not wearable, this compact device is almost as powerful as most smartphones on the market today.
It's challenging to create a comprehensive list of the product's features since it includes the most impressive suite of additional functions out of all the products on this list. In addition to the standard electronic compass and barometric altimeter, it incorporates a barometer and accelerometer to track real-time speed and altitude information. I
t is capable of sending SOS signals with the touch of a button, and can even support two-way text messaging if you have the associated subscription.
Real-time location sharing with other users, water-resistant, and with the ability to incorporate NOAA weather maps and color satellite imagery make this device one of the most complex on the market.
PROs

Communication
Waterproof
Additional Features
Detailed Information
Easy to Use Button Interface
Variety of basemap Options

CONs

Cost
Battery Life
Additional Subscription Needed for Some Features
Bottom-Line: If you are looking for a handheld device with a boatload of functionality, you can't go far wrong with the inReach Explorer+.
Garmin GPSMAP 64st
Best Maps
The GPSMAP is a pared-down version of the dynamic inReach explorer, however, with its quad helix antenna it's rarely going to leave you in a pinch. This product can integrate with other technology you already have available, such as smartphones and watches, and can allow you to track heart rate, temperature, and more.
This device incorporates many of the traditional, standard features, while also including some more important additional features. Perhaps the best available benefit of this model is the dual battery system that incorporates options for both AA batteries and rechargeable NiMH battery packs. This way, if you're far away from a charging station, you can simply load regular batteries into the device and carry on with your journey. Which is good, since the battery life of this unit will need the extra juice.
This product offers options for Bluetooth and cellular compatibility for emergencies, just like the pricier inReach. You will have the option to use it strictly as a hiking GPS, or upgrade and utilize communication features to make sure you are safe and monitored during your journey. The robust GPSMAP is also an excellent mid-range price, balancing the features of more expensive models with the cost of more basic products.
PROs

Dual Battery System
Helix antenna makes getting satellite connection easier
Communication Options
Detailed Information
Easy to Use Button Interface

CONs

Fewer Options than Pricier Models
Shorter battery span
Additional Subscription Needed for Some Features
Garmin Foretrex 601
Best Budget
The Garmin Foretrex is a very dynamic but straightforward product. This wearable device has a simple 1.6″ screen that conserves energy, allowing it to maintain substantial battery life throughout long excursions, while still maintaining important GPS connection and displaying pertinent information.
It incorporates the basics such as a barometric altimeter, electronic compass, in addition to mapping software showing you the way back home.
PROs

Battery Life
Waterproof
Wearable
Cost

CONs

Simple
Small screen size
Slow load times
Bottom-Line: For the budget hiker, this is a fantastic device for hiking that will be durable and effective for your travels.
Garmin eTrex 32x
Best GPS for Hiking
Another Garmin product that impresses users, the eTrex takes a different approach than the others before it. By minimizing its space and incorporating more powerful processors, it can offer a wider variety of displays and map features while simplifying the controls and reducing size.
Despite the small size, this device has a clear 2.2″ touchscreen display that gives a beautiful interactive way to see your base maps.
This product boasts a large 8 GB memory for downloading and storing maps, trail marker information, and step tracing information. In addition, it features a MicroSD card slot, so you don't have to worry about running out of hard drive space. It supports multiple satellite systems such as GPS and GLONASS to help deal with more complex terrain.
Additionally, this device is preloaded with some of the more common topographical maps that people use for hiking and cycling, letting you hit the ground running when you open the box. More importantly, the AA batteries will last for up to 25 hours of continuous use, and are, obviously, replaceable, making it one of the best for long term voyages.
PROs

Long Battery Life
Memory Capacity
Sleek Appearance
Different Satellite Options
Capable of sending text messages

CONs
Bottom-Line: The Garmin eTrex is perhaps the best handheld GPS device for its price on the market.
Garmin eTrex 22x
Best Value
If you're looking for a cheaper, simpler version of the product above, look no further. The eTrex 20x is much more basic, but still carries many of the same options as the 32x version. With preloaded TOPO maps, GLONASS support, and much more, this option is much more affordable and is just as impressive for the price.
It features a 2.2″ touch screen which will show your maps and data in perfect color. With 25 hour battery life, it's good to go for a weekend adventure, or longer if you pack extra AA batteries.
PROs

Long battery duration
Price
Appearance
Different Satellite Options
Size

CONs

Limited Memory Capacity
Poor Resolution Quality
Bottom-Line: As you'd expect with a Garmin, the eTrex is a small package, but still comes with a ton of functionality out of the box making it a great backpacking GPS device.
Magellan eXplorist 110
The Magellan eXplorist tries to match the quality and functionality of the previous two Garmin devices. While it is not a perfect match – it has some limitations and flaws – it is a cheaper substitute for those who don't want to pay a high price for a trail model.
This device attempts to maximize visual features to make the product more appealing and has succeeded in creating a user-friendly product. However, the detail and availability of base map options are limited in comparison, and it is simply not as solid of choice, even for the lower price point.
PROs

Price
Appearance
Ease of Use
Size

CONs

Limited Memory Capacity
Poor Connection Quality
Availability of Different Satellite Options
Bushnell Onix400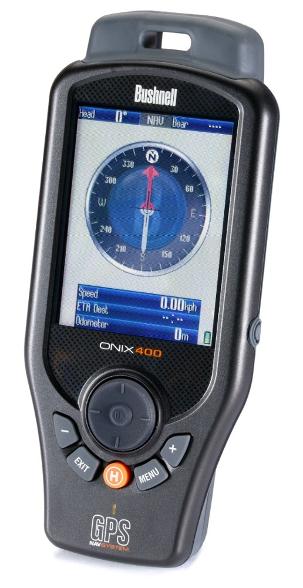 The Bushnell Onix4000 is a competitive product to some of the higher-end Garmin products. Designed to be comparable to the Garmin GPSMAP, but at a lower price point, this product misses the mark according to most reviews and specifications.
The best things it offers are the screen size and aesthetic appearance, but beyond that, it is found lacking. Though it purportedly provides many different solutions for maps and various functions, they are typically spotty and perform poorly in areas with poor connectivity.
Using it strictly for traditional GPS and electronic compass functions tends to work well, and it is useful in plotting out information before departing for an expedition, but that is the end of its benefit, unfortunately.
PROs

Price
Ease of Access
Appearance
Different base map options

CONs

Poor Functionality
Poor Connection
Breaks Easily
Battery won't last long